This post may contain affiliate links.
Please read my disclosure.
A list of 30 non-perishable vegan items that should be on your hurricane food supply list + what to pack in your emergency kit.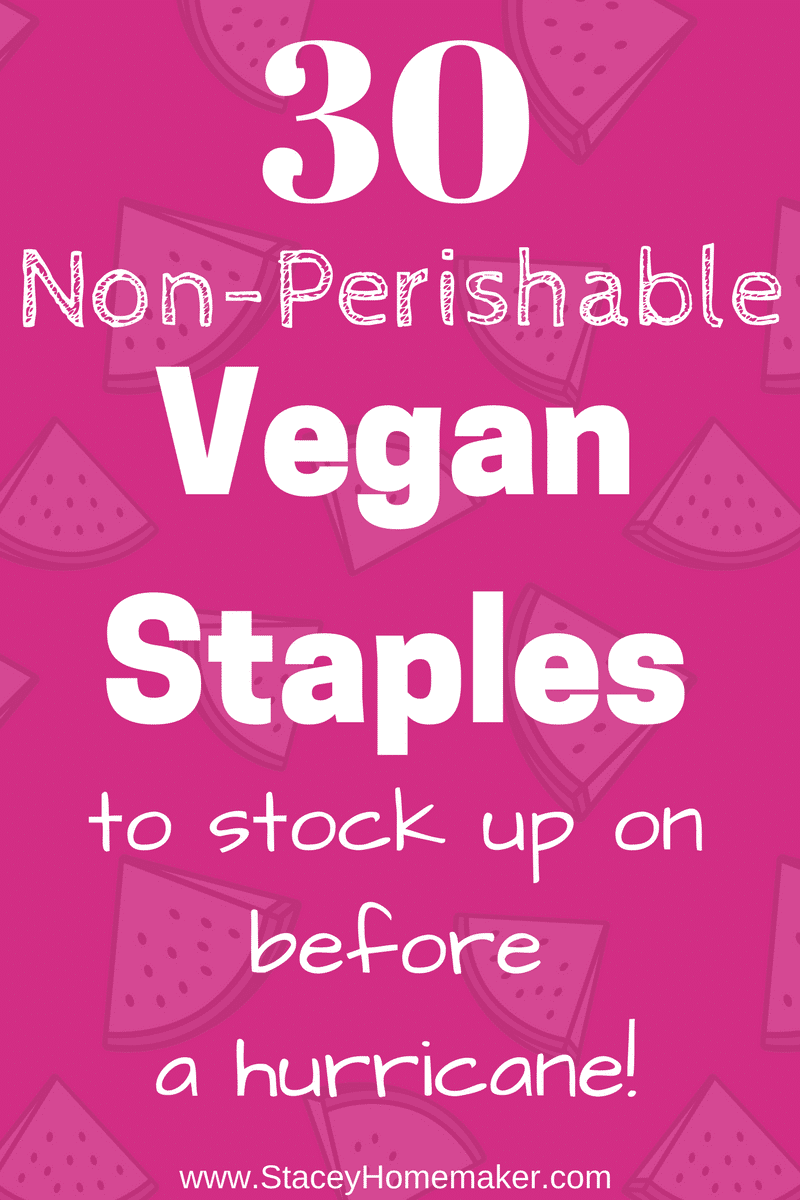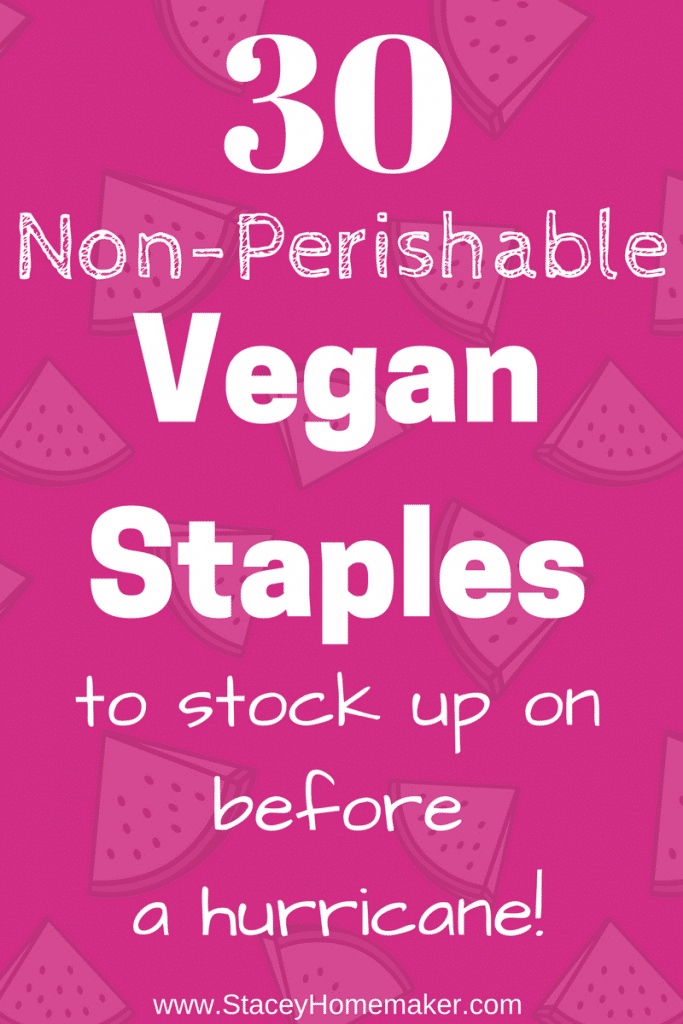 We're three days out from the arrival of Hurricane Irma here in Florida.
I'm a born and raised Floridian so I've lived through quite a few hurricanes that were on track to hit Florida. Luckily, our area hasn't seen extreme devastation like the poor islands of Barbuda or St. Martin recently did due to Irma.
We're prepped and ready for whatever might come our way but I can't help but be nervous. Last week, I started stocking up on non-perishables and supplies for our emergency box in case we needed it. Travis bought plywood and is cutting it as I type this post to fit the windows just in case the track changes and Irma goes up the west coast of Florida.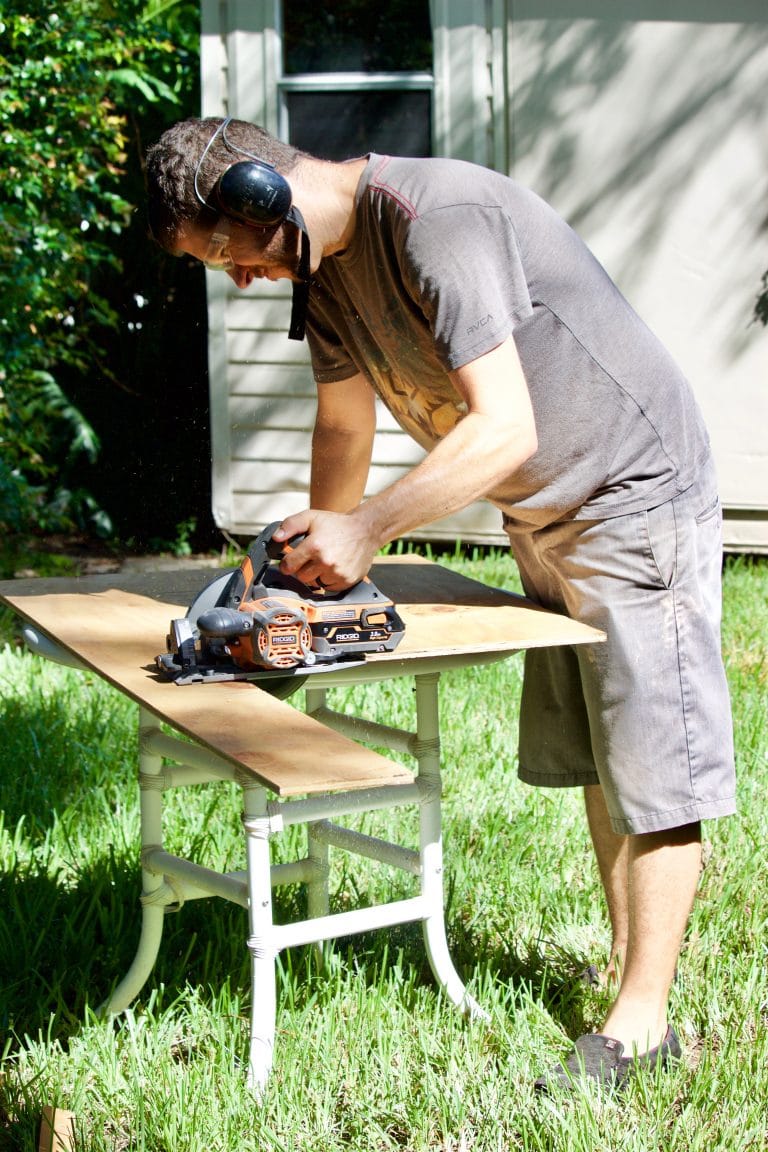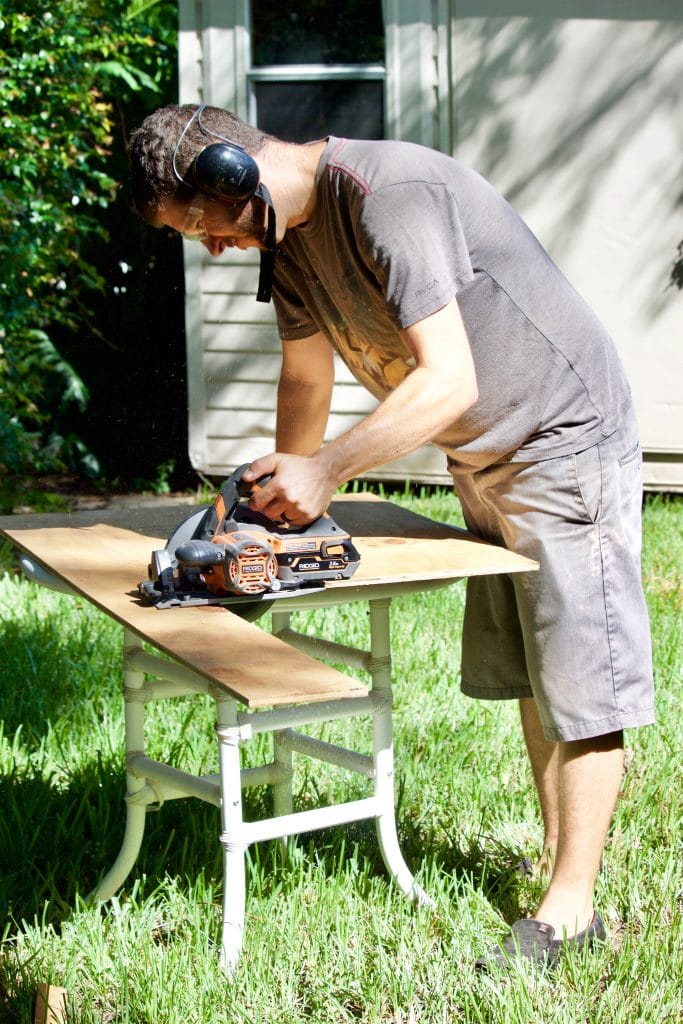 I saw quite a few people asking for recommendations about what vegan items to stock their hurricane emergency kits with so I want to share my list of what we bought to prepare. I was originally worried that stocking a supply kit with protein-packed, filling, healthy vegan items would be difficult but it was actually pretty easy!
Vegan Hurricane Food Supply List
This is what we have in our emergency food supply:
1 – Loaded nut & seed granola bars – these granola bars are our favorite! I make them all the time and they'll easily last for 5-7 days in an air tight container. You can also crumble them up and eat it like cereal with shelf stable coconut milk.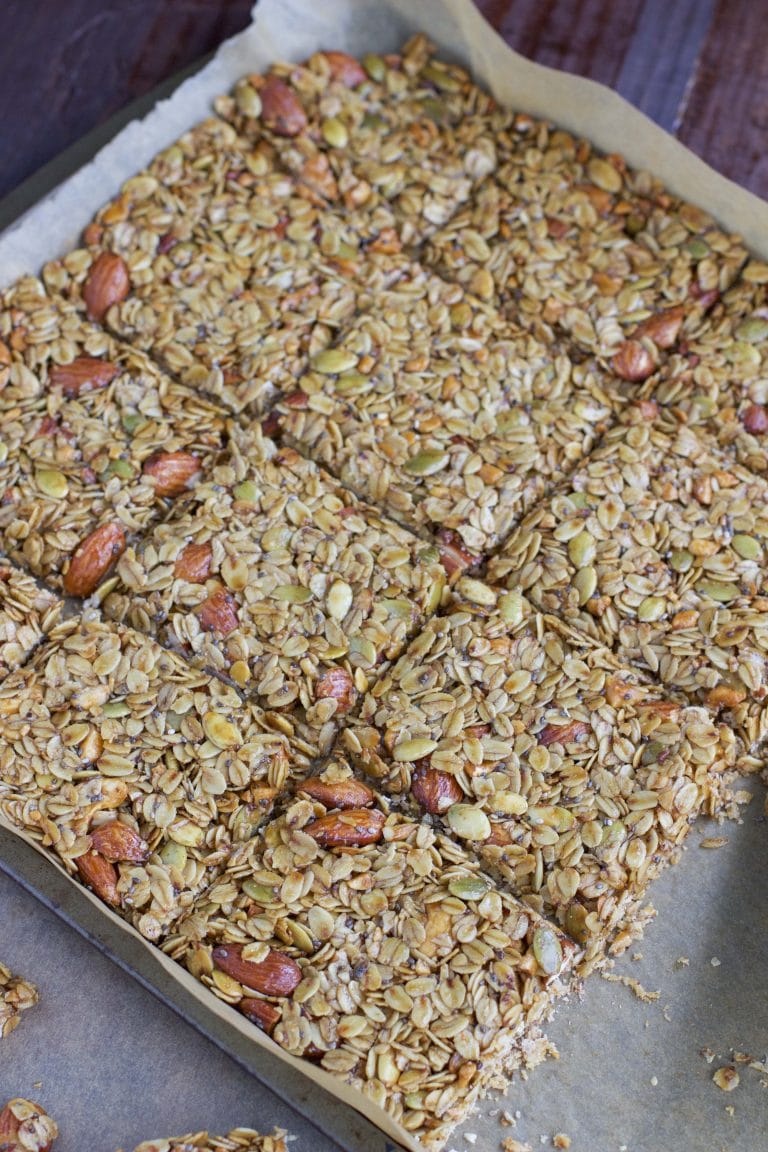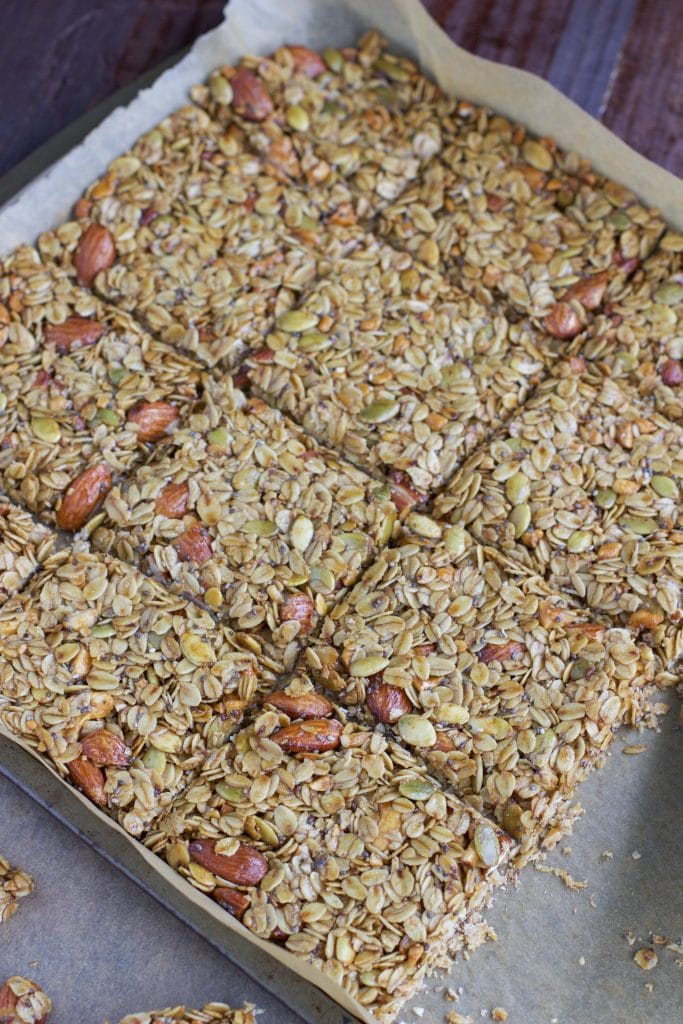 2 – Fruit that doesn't need refrigeration – Apples, bananas, oranges, tomatoes, kiwi, pears, plums or avocados.
3 – Artichoke hearts – Artichoke hearts are one of my favorite snacks, it's important to have a few of your favorite comfort foods on hand.
4 – Canned or boxed soups – try to look for low sodium options if possible.
5 – Canned black beans
6 – Canned chickpeas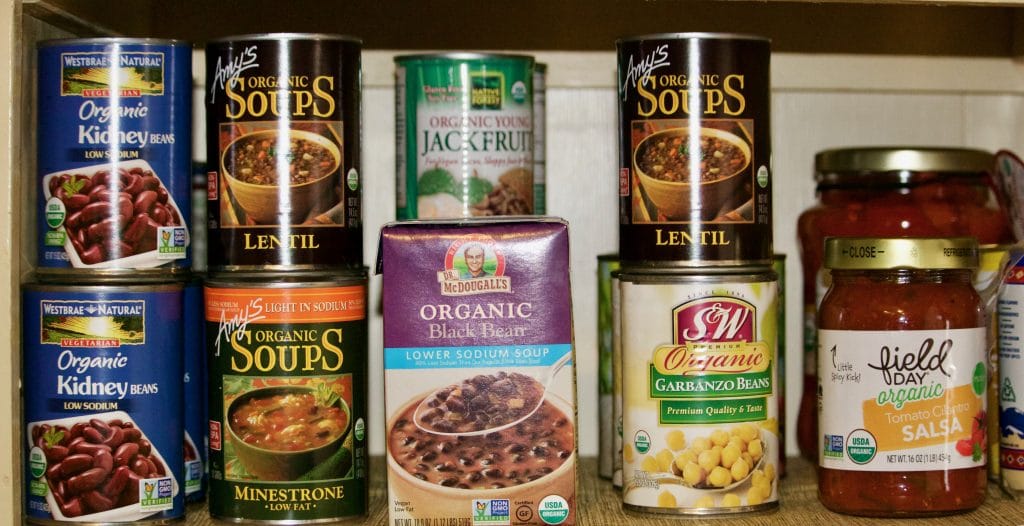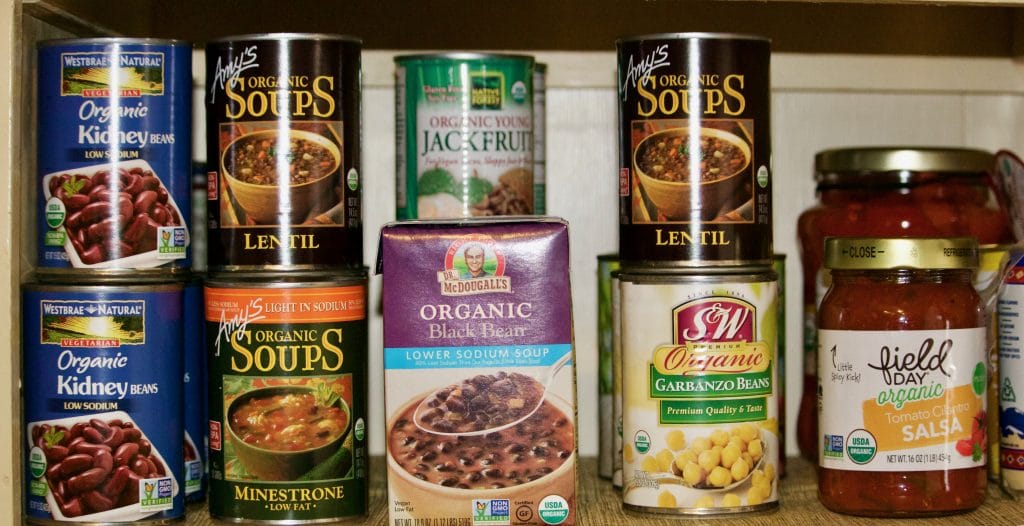 7 – Popcorn
8 – Crackers
9 – Coconut water – Obviously, stock up on water but coconut water is very hydrating too.
10 – Pickled beets 
11 – Chips and salsa
12 – Dried chickpeas – We love the spicy wasabi flavored chickpeas!
13 – Energy balls
14 – Peanut butter 
15 – Jelly – For PB&J sammies!
16 – Bread – Buy two loaves; one for the fridge and one for the freezer.
18 – Protein powder – you can mix it with water or juice for an easy protein boost.
19 – Almond butter
20 – Rice cakes – add peanut or almond butter and pumpkin seeds for a tasty snack!
21 – Pumpkin seeds
22 – Hemp seeds
23 – Almonds
24 – Cashews
25 – Brazil nuts
26 – Shelf stable coconut milk
27 – Chia seeds – Sprinkle them on peanut butter toast or make chia seed pudding with shelf stable coconut milk.
28 – Trail mix
29 – Dried fruit 
30 – Protein shakes – The cappuccino flavor is delicious and would be a great replacement for your morning cup of coffee.
How Much Water Should You Get? 
I would recommend having one gallon per person per day.
We have a water machine that holds a 5-gallon bottle and we have an extra 5-gallon bottle as a backup + a few 1-gallon bottles that we bring to Disney.
We bought this hand pump to put on top of the water bottles so we could easily pump the water out of the bottle if we lose power.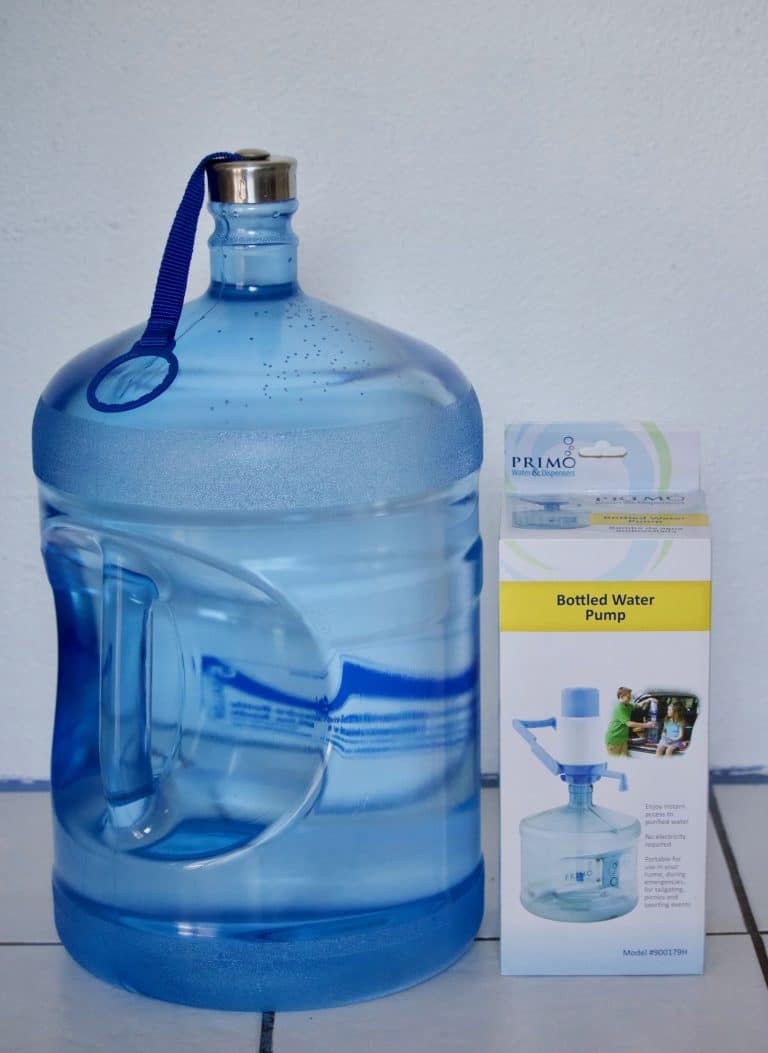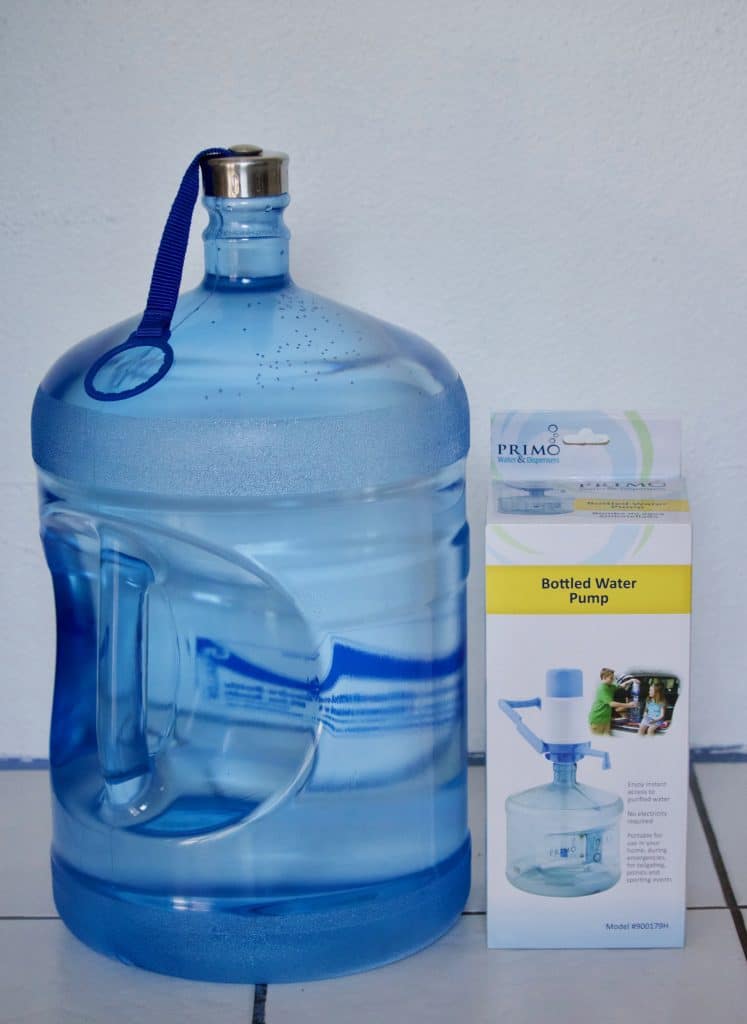 If all the stores around you are sold out of water bottles or jugs, don't stress! Find a bucket or any clean container that you can bring to a grocery store that has a water machine. There is plenty of water, just not enough water-filled plastic containers.
What Should You Pack In Your Emergency Box?
We have a large storage box that we filled with items that we might need if we have to evacuate due to a storm.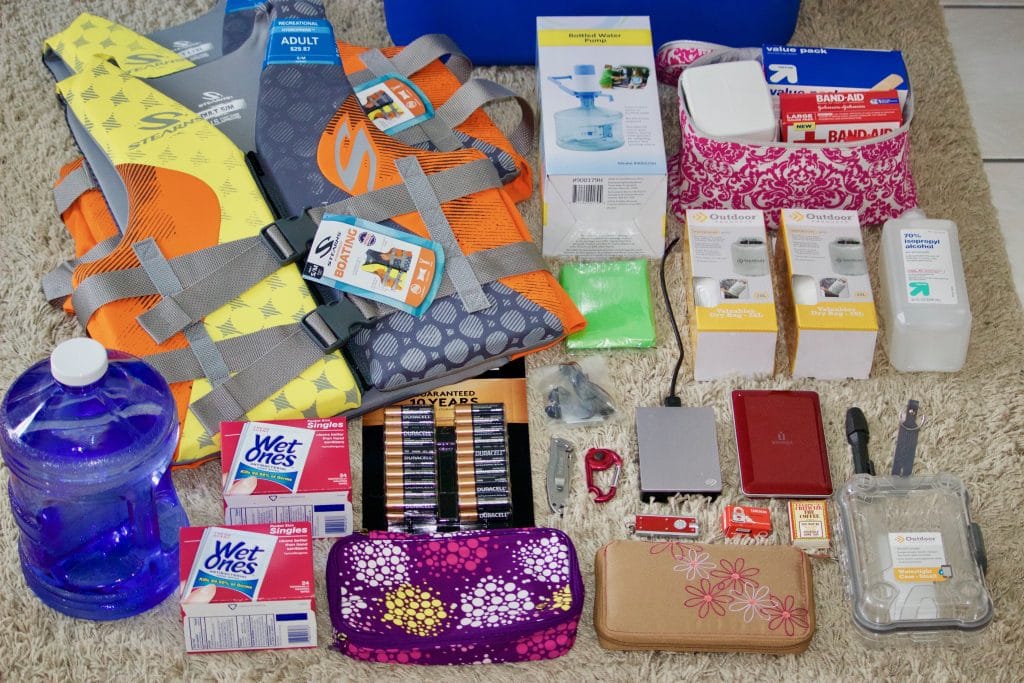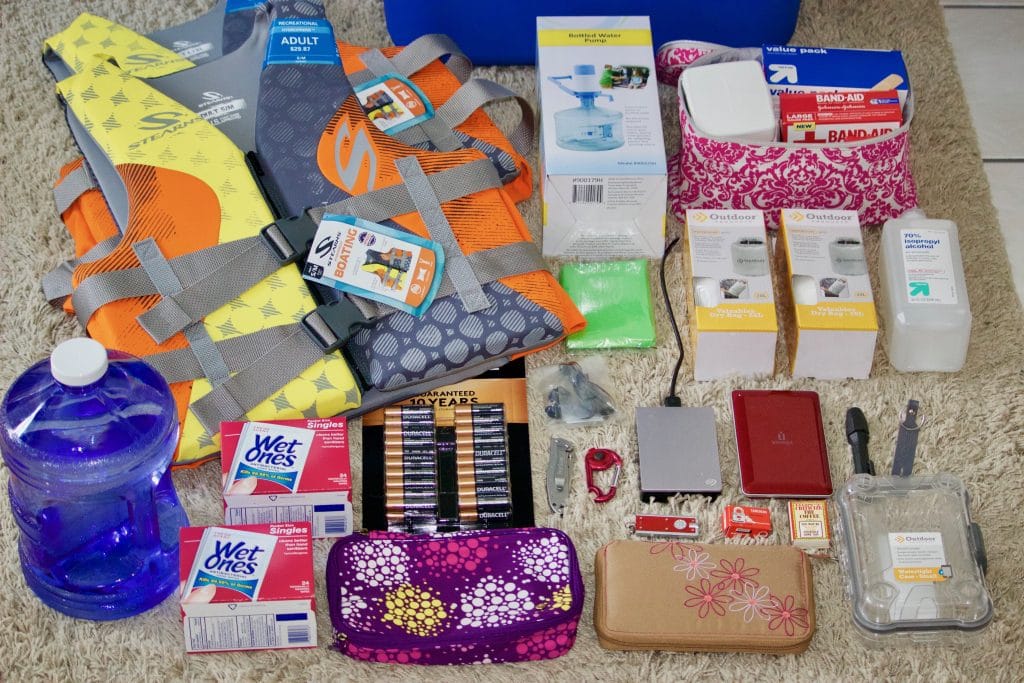 This is what we have in our box:
Necklace fan

– These will come in handy if you lose power!
Extra band aids + gauze
Matches or a

lighter

Change of clothes
Copies of our house insurance, marriage certificate, house ownership papers, medical records, birth certificates.
Hydrogen peroxide
Cash
Ziploc bags
Passports and ID's

Water proof box

for any expensive jewelry or family heirlooms

External hard drives

that have all of your pictures on them

Water hand pump

for our water bottles
Rain coat
Medication or vitamins


I hope we won't have to use anything that we've prepared for the storm. However, I'd rather be prepared rather than scrambling at the last minute trying to get things together.
The best advice I can give is to be prepared and to have a plan. Have all of your supplies ready to go, know your what zone you live in, and know where the closest safe public shelter is located if you must evacuate. If you think you might have to evacuate, pack a second box with non-perishable food and water so you can quickly load everything into the car and go.
Be safe, everyone!
Did I miss any vegan staples to stock up on? Let me know in the comments!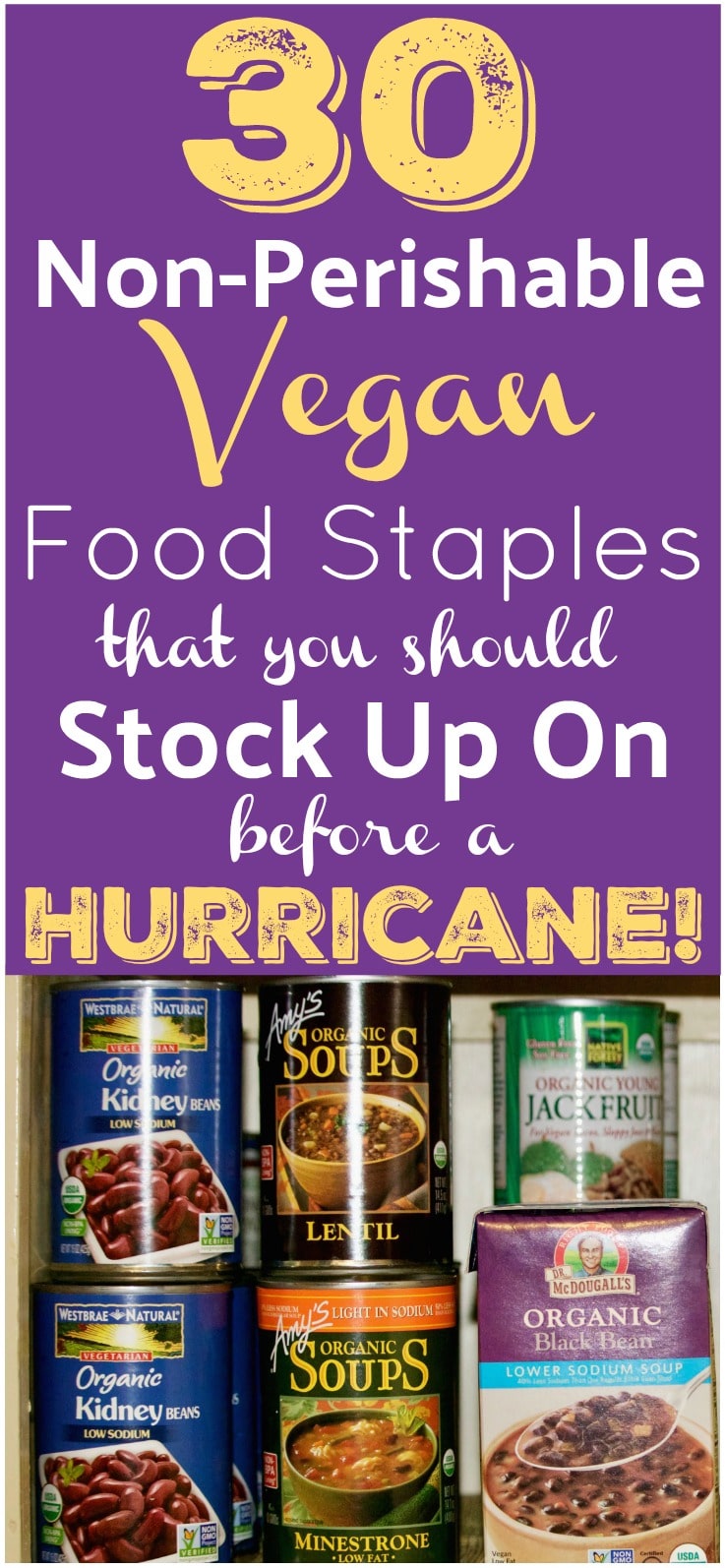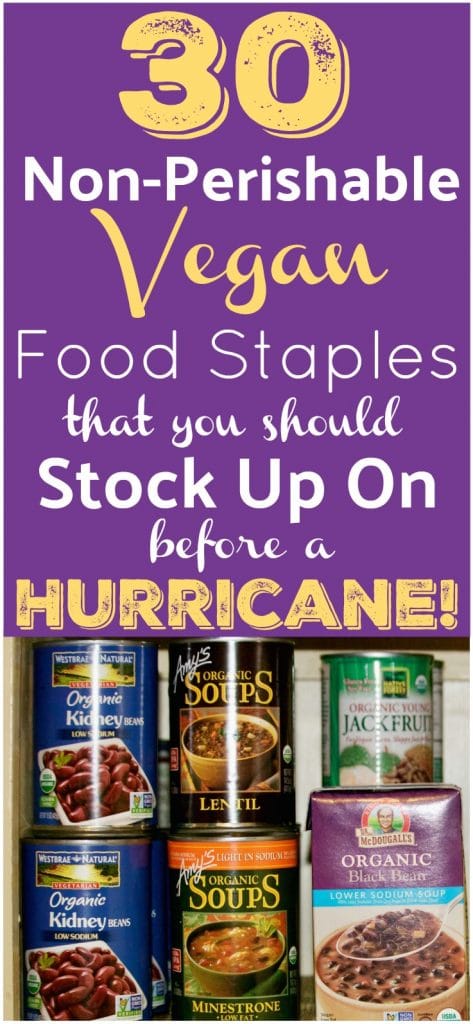 hurricane food supply list hurricane food supply list hurricane food supply list hurricane food supply list hurricane food supply list hurricane food supply list hurricane food supply list hurricane food supply list hurricane food supply list hurricane food supply list hurricane food supply list hurricane food supply list hurricane food supply list hurricane food supply list hurricane food supply list hurricane food supply list