A list of 30 non perishable food items that should be on your hurricane food supply list + what to pack in your emergency kit in case of a hurricane or natural disaster.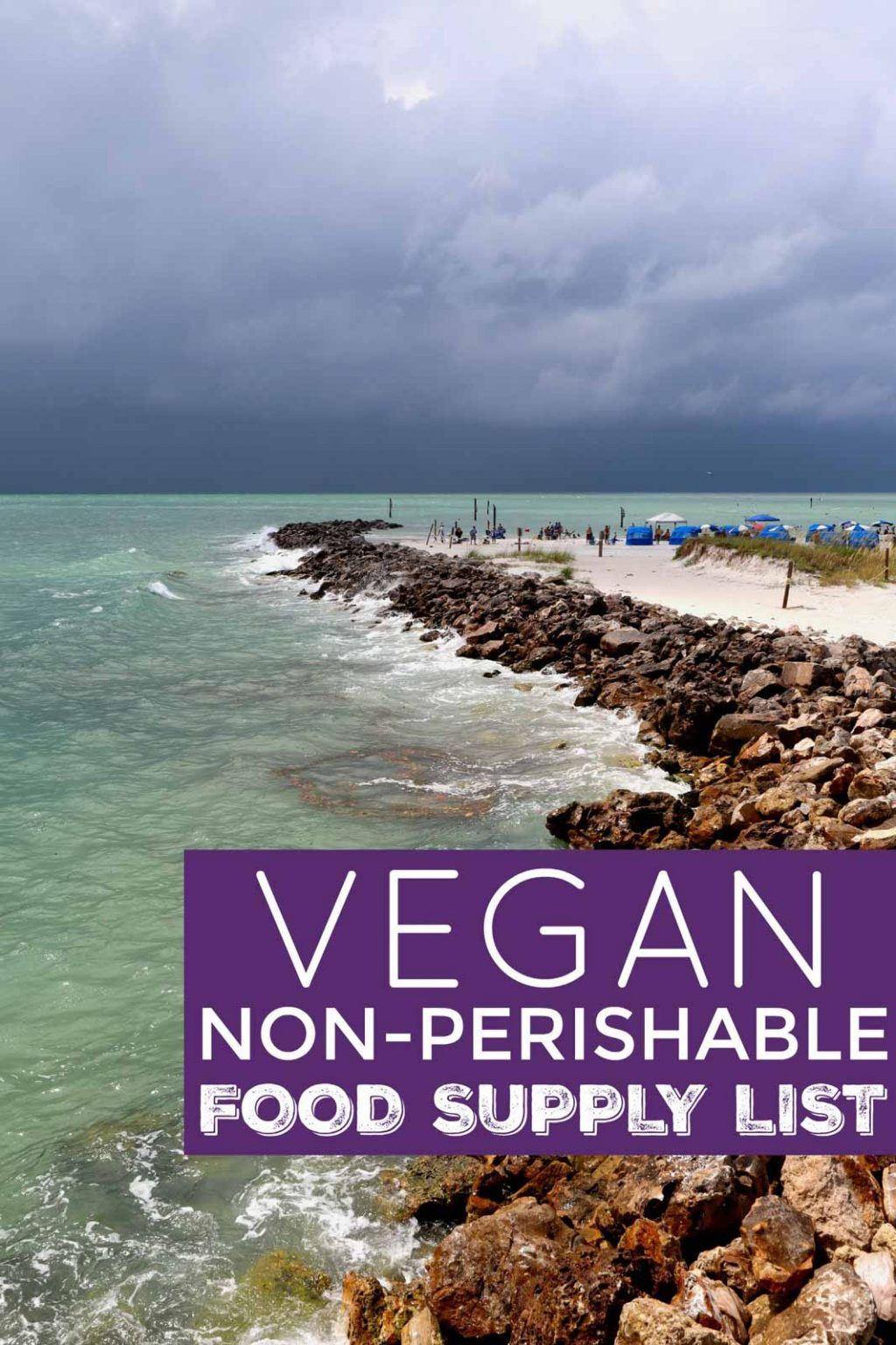 I'm a born and raised Floridian so I've experienced quite a few hurricanes that have been on track to hit Florida.
When you live in a coastal state (or anywhere near the ocean), it's important to be prepared and have non perishable foods stocked and ready just in case you need it. It's better to have it and not use it, than need it and not have it.
Now, let's go over exactly what is non perishable food.
What is Considered a Non Perishable Food Item?
Non perishable foods are items that don't need refrigeration. You can store these products for long periods of time and they are shelf stable.
What are the Best Non Perishable Foods?
The best non perishable foods for hurricanes are canned goods (soups, vegetables, fruit packed in water) nuts, nut butters, seeds, crackers, dried fruit, shelf stable plant milks, pureed foods (like applesauce), and ready to eat meals in pouches.
What is the Longest Lasting Non Perishable Food?
Canned goods will be your best bet for non perishable foods with the longest expiration date. You can buy these products 1-2 years in advance if you find a good sale and stock your emergency supply kit!
How to Prepare For a Hurricane
Stock your emergency box and food supply in advance. Hurricane season starts in June, so I would stock up on non perishable foods and make sure that you have everything that you need in your emergency box in May. If you haven't done it yet, do it now!
Follow the National Hurricane Center for updates. Always check the NHC website for official hurricane tracks and safety information first! I also like to follow Denis Phillips and Mike's Weather Page on Facebook during hurricane season because they both go over tracks and possible scenarios about what might happen during each storm.
Invest in a generator.

This is the generator that we have

 (we got it at Costco) and it saved us during the aftermath of hurricane Irma. We lost power for 10 days and the only reason our fridge and extra freezer (both stocked with perishable foods) survived is because we hooked them both up to our outside generator. Remember, NEVER run your generator indoors (the fumes can kill you!) and only set it up outside in a well-ventilated area. 
Purchase a 

Hot Plate

. While we were without power after Irma, I used this hot plate to cook our meals with power that came from the generator. It made heating food up and boiling water so easy!
Follow the storm track. If the hurricane is most likely headed your direction, don't wait until the day before to stock up on non perishable food, buy wood to board up your windows, get clean drinking water, and buy gas for your car in case you need to evacuate or to run your generator. If you haven't stocked up in advance, I would head to the store 5 days prior to when the storm is supposed to hit. The track might still shift but it's better to be prepared.
Evacuate if instructed to do so. Don't try to ride out the storm if you're told to leave, it's not worth the risk! Either drive to a safe place or check

this map

(if you live in Florida) to find an open shelter near you.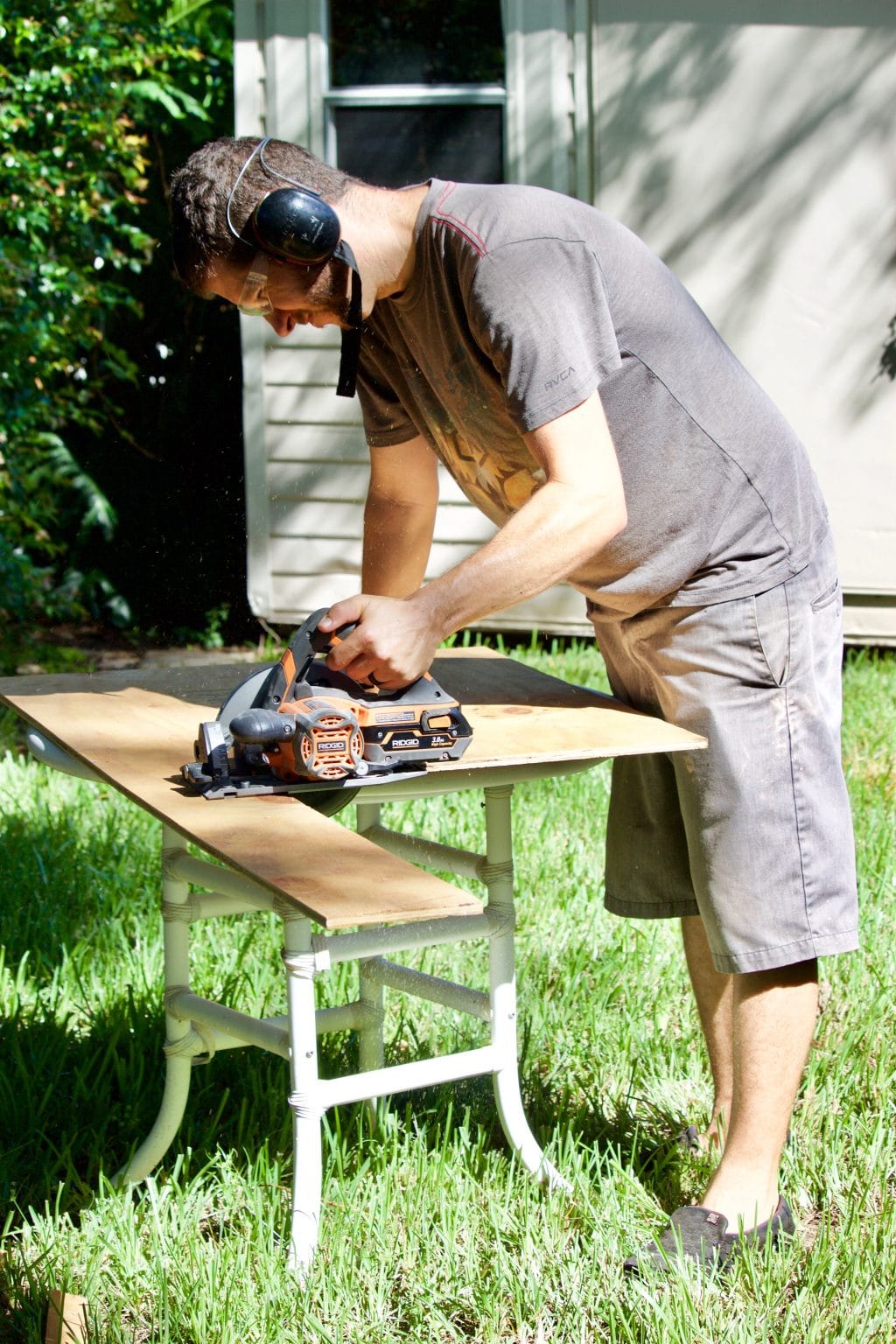 List of Vegan Non Perishable Food For Hurricanes 
I've seen quite a few people asking for recommendations about what vegan items to stock up on to prepare for a hurricane and what to put in their hurricane emergency kits. Here's my list of healthy non perishable food items that we bought to prepare.
I was originally worried that stocking a hurricane supply kit with protein-packed, filling, healthy vegan non perishable food items would be difficult but it was actually pretty easy!
This is what we have in our vegan emergency prep food box:
(1) Homemade Granola Bars - Granola bars are our absolute favorite healthy vegan snacks! They're loaded with nuts and seeds so they're very filling. I make them all the time and they'll easily last for 5-7 days in an air-tight container on the counter. You can also crumble them up and eat it like cereal with shelf stable coconut milk for breakfast or a snack.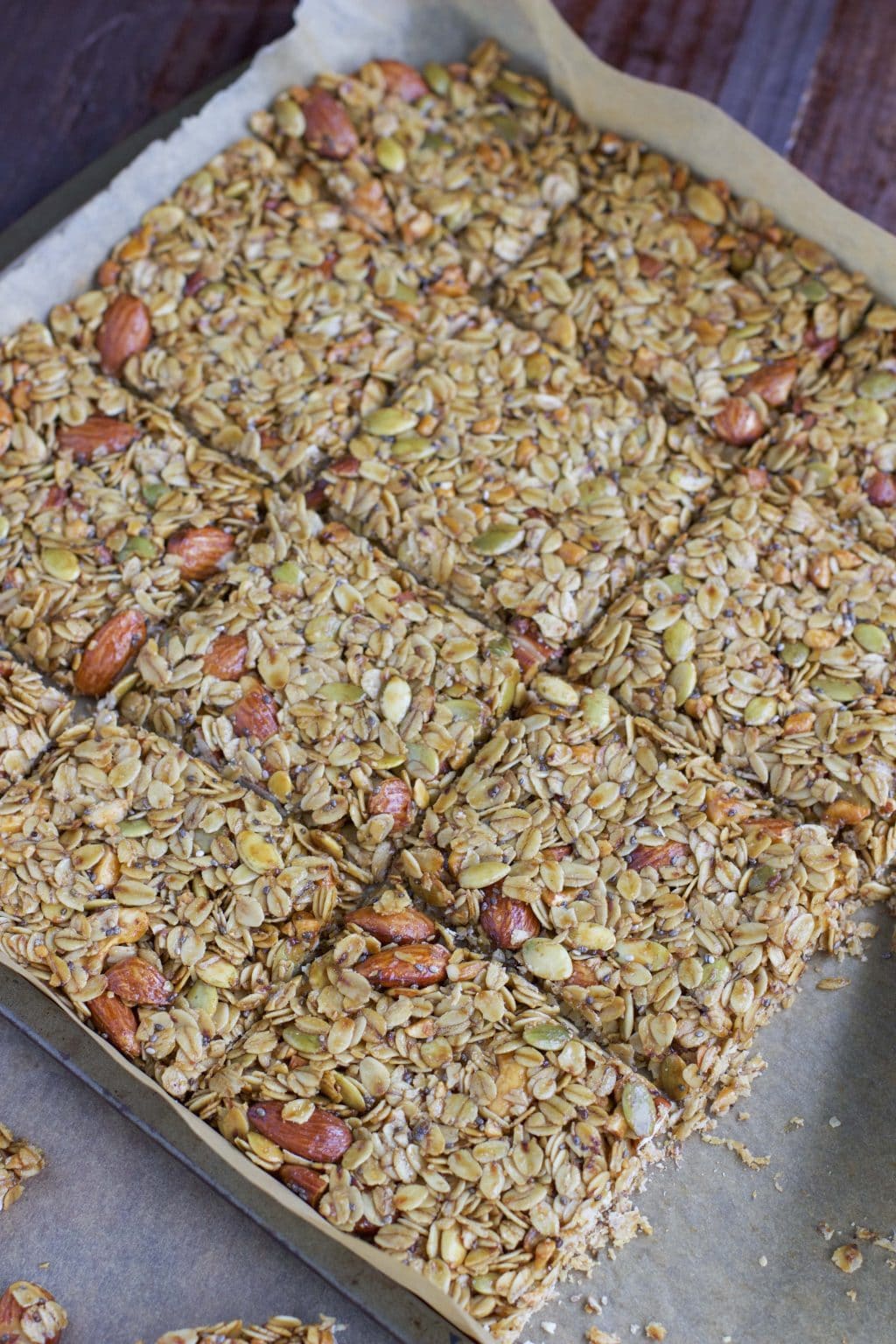 (2) Fruit and Vegetables that don't need refrigeration - Stock up on apples, bananas, oranges, grapefruit, tomatoes, kiwi, pears, plums, papaya, cucumbers, unripe avocados (they'll be good for a week!). Did you know that apples can last for up to three months if they're stored in a cool, dark place?
(3) Canned or Boxed Soups - Try to look for low-sodium non-perishable canned goods options if possible. This is our favorite ready to eat low-sodium vegan canned soup. I buy the 8-pack of Amy's Soups from Costco to keep in our food pantry for emergencies. (Here's my vegan Costco grocery list if you need it.)
(4) Bread or Tortillas
(5) High-Protein Canned Beans - Beans are such a good source of cheap, plant-based protein that you'll definitely need if you lose power. I stocked up on black beans, chickpeas, and kidney beans.
(6) Canned Vegetables - Look for canned vegetables that you actually like eating so you'll still enjoy your meal. I stocked up on artichokes, corn, green beans, peas, and carrots for our vegan hurricane food supply.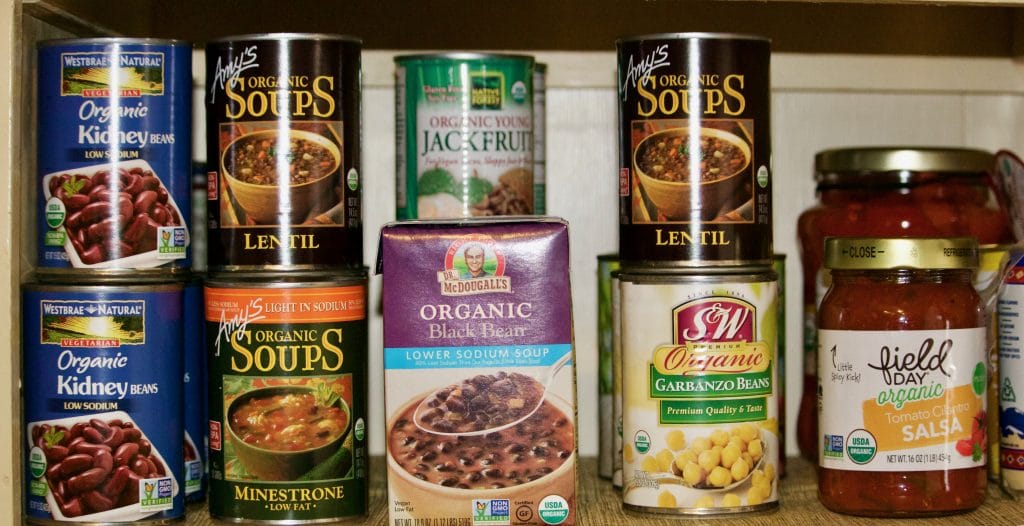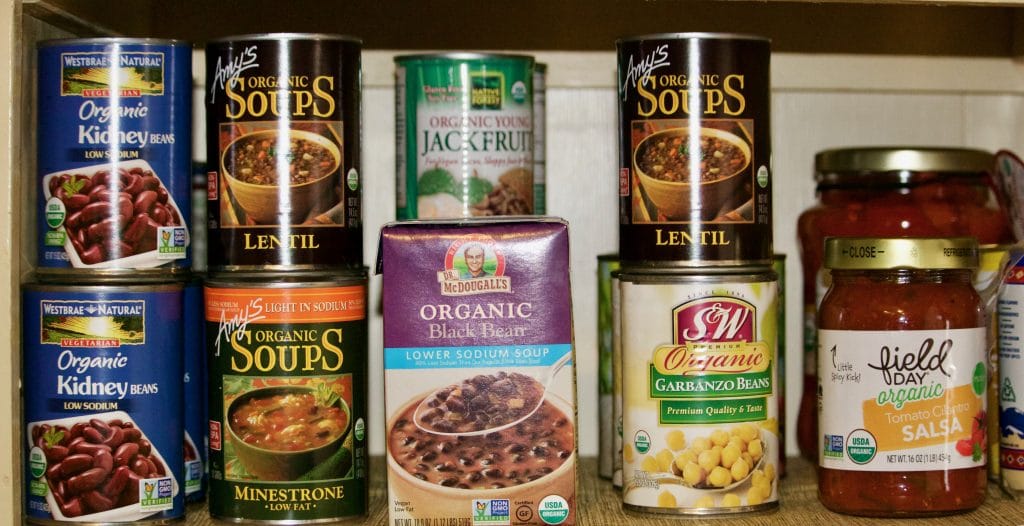 (7) Pureed Foods - Look for pureed foods in squeeze pouches like applesauce, blended fruit & veggie smothie packs, or chia seed pudding packs for a portable and nutritious snack.
(8) Popcorn - Popcorn is a tasty and filling snack that lasts a long time. You could also sprinkle some nutritional yeast on your popcorn for more flavor.
(9) Crackers - We love Hippeas, gluten-free turmeric crackers, and everything bagel crackers to eat by themselves or to dip in nut butter for an easy snack.
(10) Coconut water - Obviously, stock up on water mostly but coconut water is very hydrating too if you want to switch it up.
(11) Medjool Dates - Medjool dates are packed with fiber and nutrients. Try removing the pit and stuffing the date with a dollop of peanut butter and a walnut for a delicious and energizing snack!
(12) Chips 
(13) Dried Chickpeas - We love these flavored chickpeas for a healthy and flavorful protein-packed snack.
(14) Energy Balls - You can make the energy or bliss balls yourself (with this recipe) or you can buy these. These energy balls are easy to make and are the perfect non-refrigerated vegan food.
(15) Natural Peanut Butter or Almond Butter - Nut butter is one of my favorite non perishable foods because they're so good for you, they're packed with protein, and perfect for spreading on crackers, bread, or rice cakes. It's the perfect spread!
(16) Low-Sugar Jelly - If you want to make peanut butter and jelly sandwiches for a quick and filling meal, jelly (and bread) is a must!
(17) Non Perishable Foods for Camping - The same pre-made shelf stable vegan meals that you would buy to eat while camping are great to stock up on for a hurricane too. However, you will need a hot plate to boil water to make these meals.
(19) Protein Powder - You can mix it with water or shelf stable plant milk for a quick protein boost.
(20) Rice Cakes - Add nut butter or mashed avocado and a sprinkle of pumpkin seeds for a tasty and filling snack!
(21) Organic Seeds - Pumpkin seeds, hemp seeds, sunflower seeds, and chia seeds are all great options! You can sprinkle the seeds on top of peanut butter toast or make chia seed pudding with shelf stable coconut milk for a healthy breakfast.
(22) Vegan Jerky - Each meatless vegan jerky contains 10 grams of plant-based protein! This is a tasty, high-energy snack option.
(23) Store-Bought Granola Bars - I love these vegan chia seed granola bars from Trader Joe's. Here's my Trader Joe's vegan grocery list if you want to see what they look like.
(24) Organic Nuts - Stock up on cashews, brazil nuts, almonds, pistachios, and walnuts to have easy protein and filling snacks on the go.
(25) Cereal - You can eat the cereal plain or with your favorite shelf stable nut milk for breakfast.
(26) Shelf Stable Plant Milk - Coconut Milk, Almond Milk, Macadamia Milk, Rice Milk, Oat Milk, or Hemp Milk are all delicious options.
(27) Trail Mix - Trail mix is a combination of dried fruit, crackers, nuts, seeds, and pretty much anything else you want to add. It's a yummy non-perishable snack. If you don't want to make it yourself, try to look for a trail mix (like this one) without chocolate because it's probably hot if you don't have power and melted chocolate makes a mess.
(28) Fruit Leather - We absolutely love these layered fruit bars! They taste like fruit leather but are a little softer and chewier and have no added sugar. It's great for a sweet snack or a healthy dessert.
(29) Dried fruit - I stocked up on dried apricots, cherries, mangos, and goji berries to snack on or to add to trail mix.
(30) Protein shakes - The cappuccino flavor is delicious and would be a great replacement for your morning cup of coffee. You could also get instant coffee if you have a hot plate to boil water.
Also, while you're out shopping, grab a few cases of water bottles and put them in the freezer. The bottles will freeze and help keep everything cold if you lose power.
How Much Water Should You Get? 
I would recommend having at least one gallon of drinking water per person per day. We have a water machine that holds a 5-gallon bottle and we also have an extra 5-gallon bottle as a backup + a few 1-gallon bottles. 
We bought this hand pump to put on top of the water bottles so we could easily pump the water out of the bottle if we lose power and the water machine won't run.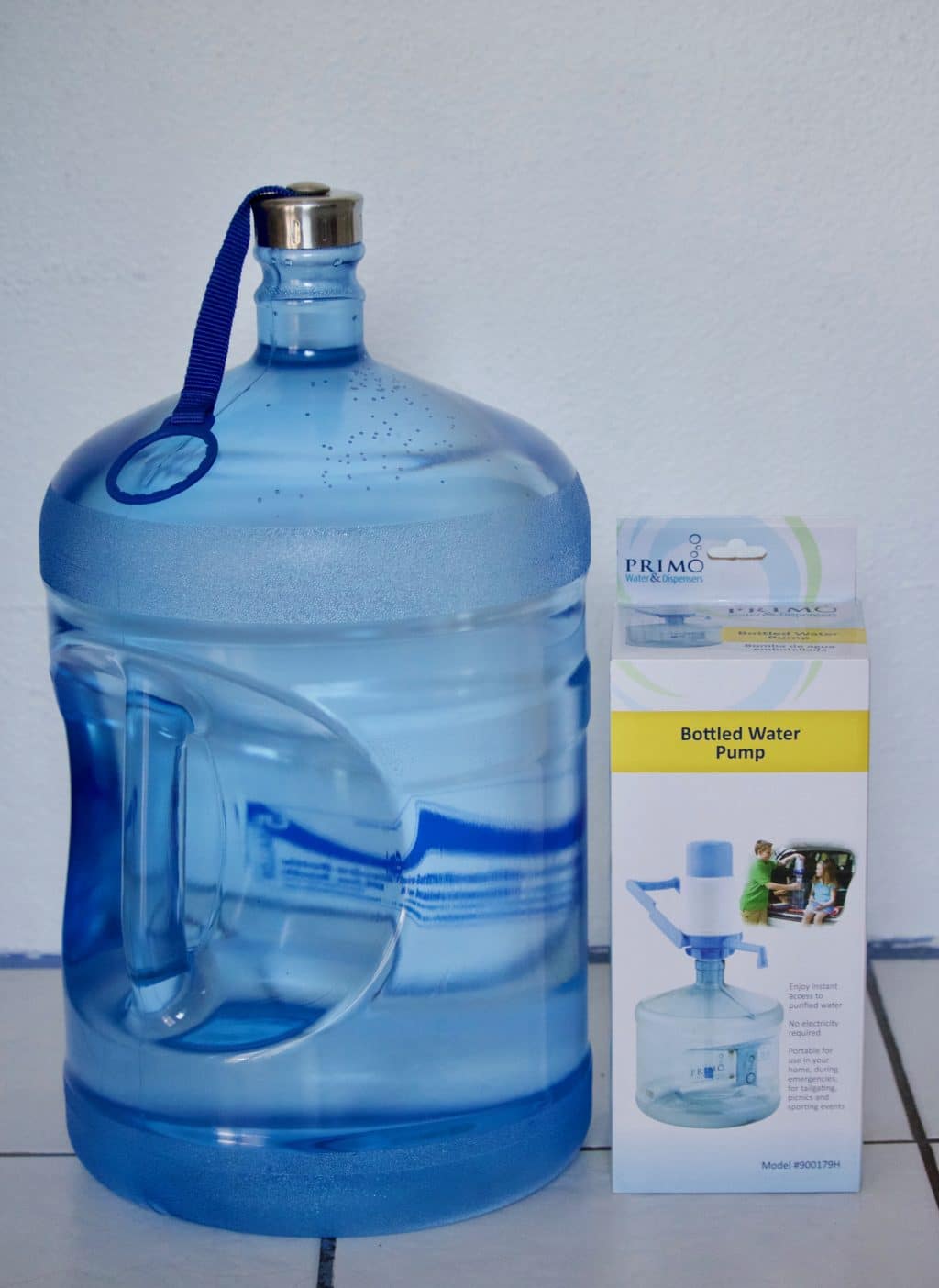 If all the stores around you are sold out of water bottles or jugs, don't stress! Find a bucket or any clean container that you can bring to a grocery store that has a water machine. There is plenty of water, just not enough water-filled plastic containers.
What Should You Pack In Your Emergency Box?
We have a large storage box that we filled with items that we might need if a storm hits and we lose power or if we need to evacuate for survival. Have this box stocked and ready to go before hurricane season starts.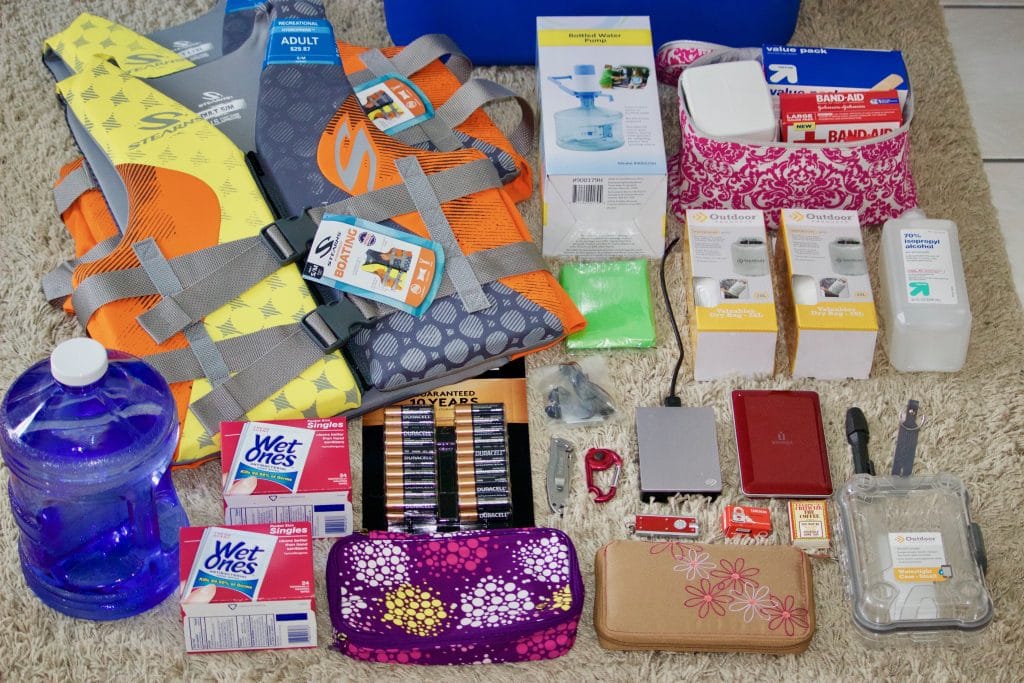 This is what we have in our Emergency Box:
Life jackets -

You never know what type of situation you might be in. If there's any high-water flooding, I want to be prepared for the worst.

Batteries -

For flashlights flameless candles, fans, etc. 

Necklace Fan or

Portable Fan

- This battery-powered necklace fan will be your new best friend if you lose power!
Flashlights

and

Flameless Candles

 - If you lose power at your house and don't want to worry about starting a fire or holding a flashlight, flameless candles are awesome! I put one in each room of the house when we lost power. 

Wet dry bags -

To hold our passports, important documents, etc. 

Extra Band Aids + Gauze
Matches or a Lighter
Change of Clothes - Just in case you need to evacuate quickly, pack a change of clothes or two so you have something.
Important Documents - Pack originals or copies of house insurance, marriage certificate, house ownership papers, medical records, birth certificates.
Hydrogen Peroxide
Cash - Just in case credit cards machines are down, you should carry a little bit of cash on you.
Antibacterial wipes 

- If you don't have any clean running water, wipes will come in very handy. 

Ziploc Bags
Passports and ID's
Water Proof Box - Put any expensive jewelry or family heirlooms in a water proof box to protect them.
External Hard Drives - Pack anything that you store your family pictures on in your emergency box.
Phone Chargers
Water Hand Pump - This is what we use 

for our bigger water jugs.

Medication and Vitamins
Also, if you have pets, please remember to stock up on extra pet food and water for them too. Hopefully, this goes without saying but NEVER leave a pet behind during a hurricane or natural disaster! There's never a reason to do that.


I hope that you found this list of non perishable food for an emergency to be helpful but you won't have to use anything that you've prepared for the storm. I'd rather be prepared ahead of time rather than scrambling at the last minute trying to get things together. Wouldn't you?
If you don't use the non perishable food items during the storm or the aftermath (if it impacts you) you can always use them after the storm has passed. You could also donate the items to a food drive that is collecting donations for people in need that were impacted by the hurricane. Either way, the items that you stock up on won't go to waste.
The best advice I can give is to be prepared and to have a plan. Have all of your supplies ready to go, know what zone you live in, and know where the closest safe public shelter is located if you must evacuate. If you think you might have to evacuate, pack a second box with non perishable food and water so you can quickly load everything into the car and go.
Be safe, everyone!
Did I miss any of your favorite vegan non perishable food items to stock up on? Let me know in the comments!
More Florida Posts You'll Love! 
Ultimate Guide to Caladesi Island + How to Walk There!
Top 14 Best Clearwater Beach Restaurants
Guide to Stand Up Paddle Boarding on the Weeki Wachee River
10 Fun Activities to do at Rainbow Springs State Park