This is the ultimate guide to going stand up paddle boarding on the beautiful Weeki Wachee River. The guide includes everything that you need to know about Weeki Wachee + tips to have the best time!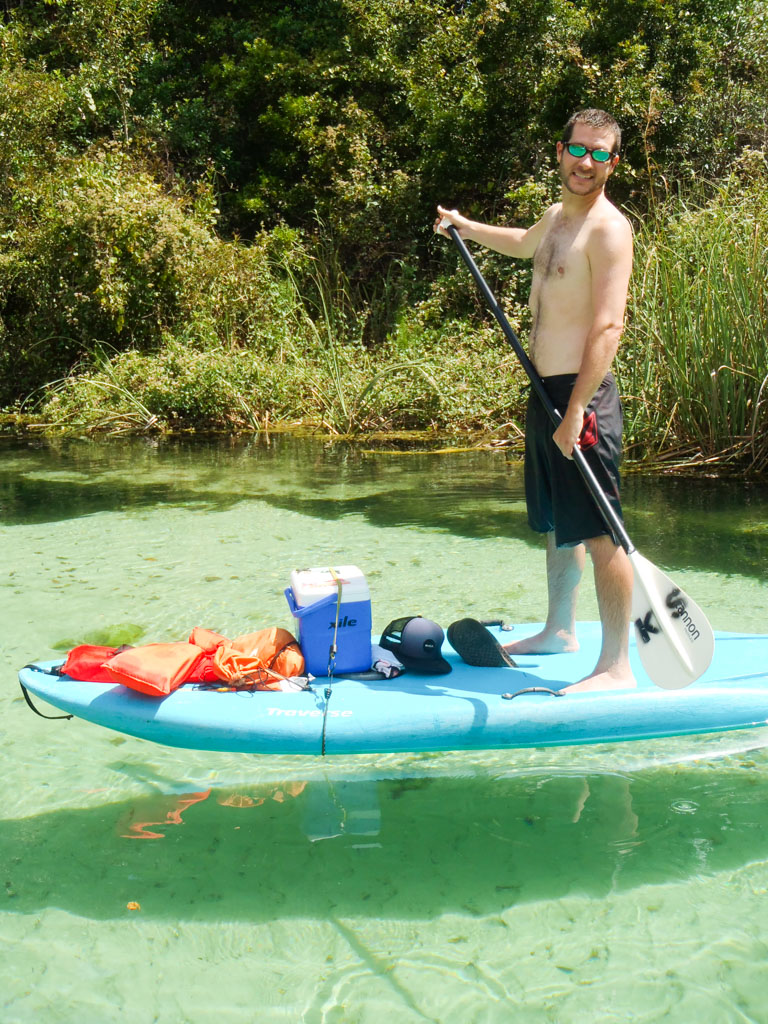 Did you know that the Seminole Indians named the Weeki Wachee river, it means "winding river" or "little spring." However, I'm not too sure why they called it Little Spring because the headsprings are filled with caverns and caves so deep that the bottom has never been seen!
The water of the Weeki Wachee river is a cool 74 degrees year round and every day, it creates 117+ million gallons of fresh water-- that's mind-boggling! The water that flows from the Weeki Wachee headsprings winds its way for 12 miles to the Gulf of Mexico. 
At the headsprings, you will find Weeki Wachee State Park as well as Florida's only spring-fed water park, Buccaneer Bay. Buccaneer Bay features a flume ride, water slides, a sandy white beach, tubing on a lazy river, kiddie pool, and a large floating dock in the middle of the spring. You can also enjoy a show featuring the world-famous Weeki Wachee mermaids! 
The vibrant crystal water of the Weeki Wachee river is absolutely stunning, and it's home to a variety of wildlife (we saw fish, turtles, and manatees!), flora, and fauna. My husband and I recently went stand up paddle boarding on the Weeki Wachee River and such a fantastic time that I wanted to share our experience to encourage others to try it too! 
If you're looking for more beautiful Florida destinations to visit, you should definitely check out the crystal clear Rainbow Springs! We love going there for the day too!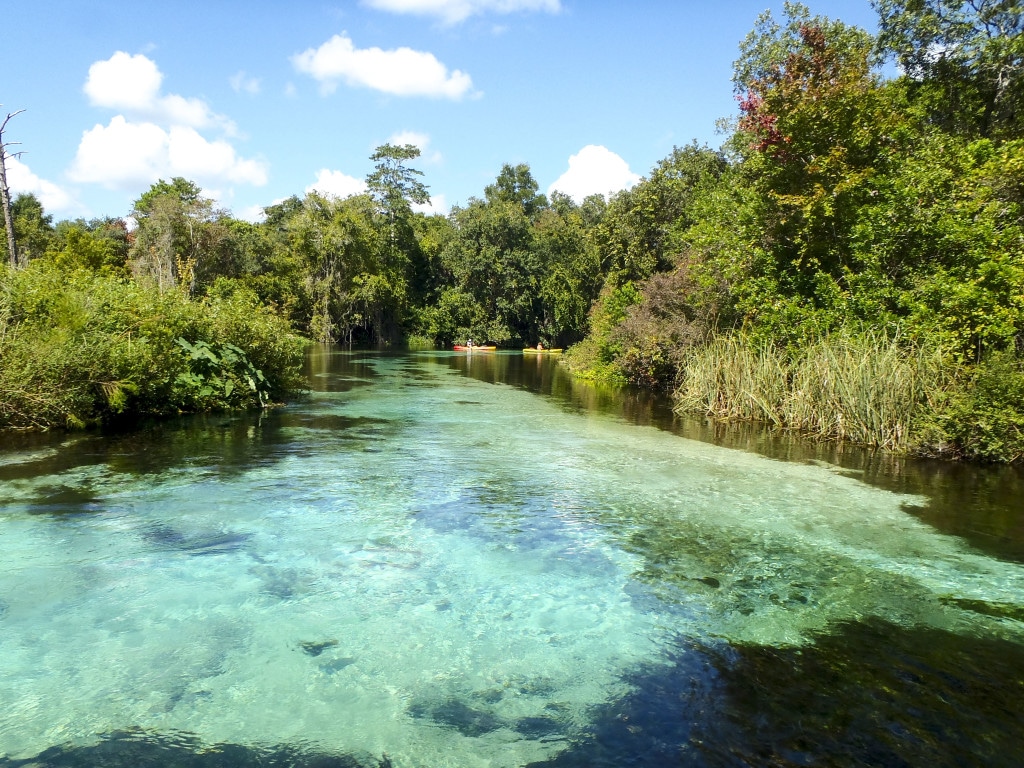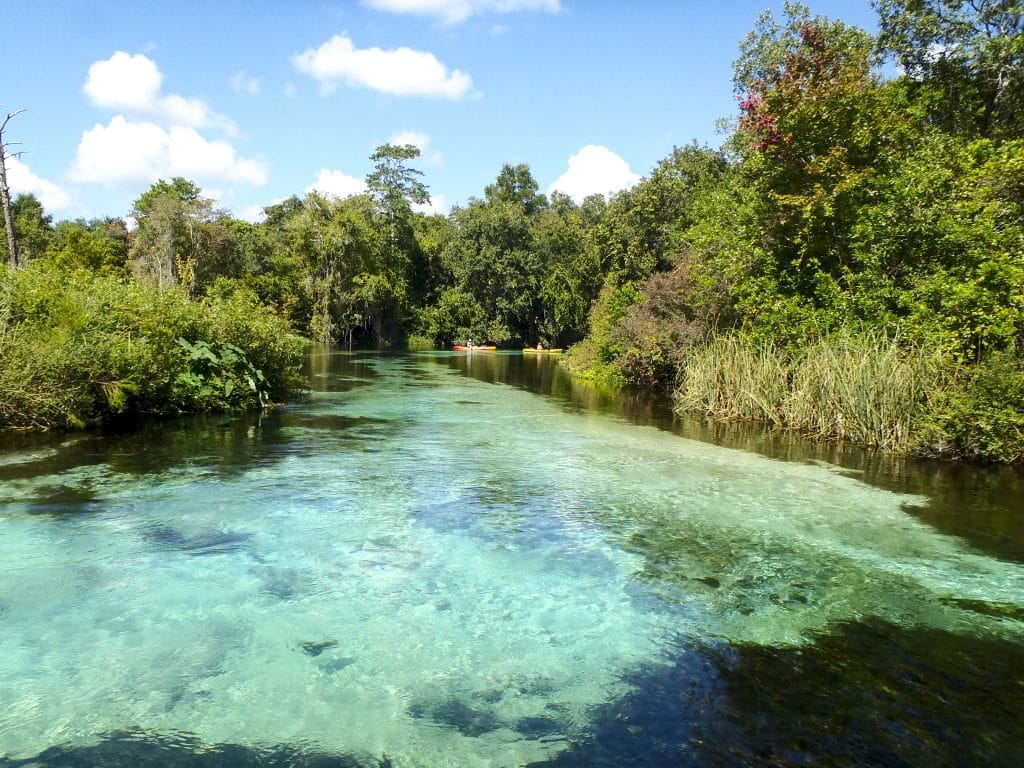 Is Weeki Wachee Still Open?
Yes, Weeki Wachee Florida State Park is open daily from 9 AM - 5:30 PM. The park is located at 6131 Commercial Way, Weeki Wachee, FL 34606. 
Can You Swim in Weeki Wachee Springs? 
Yes, you can swim in the Weeki Wachee springs but you'll need to buy a ticket to get into the Weeki Wachee park first.  
How Much are Weeki Wachee Tickets? 
Entrance to the Weeki Wachee park costs $13 for adults and $5 for kids. The small fee also gives you access to Buccaneer Bay and to see the Weeki Wachee mermaids! 
How Cold is the Water at Weeki Wachee?
The water at Weeki Wachee is a cool 74 degrees all year long.
Are There Alligators in the Weeki Wachee River? 
The Weeki Wachee River is a freshwater river so there are alligators. However, the alligators tend to stay in the marshy areas away from the areas where people are paddling. Always stay alert, just in case.  
How Deep is the Week Wachee River? 
The Weeki Wachee River varies in depth depending on where you are. The Weeki Wachee springs are very deep and contain caverns that still haven't been explored. However, a majority of the river ranges from only 1-4 feet deep. 
Kayak and Stand Up Paddle Board Rentals
In 2016, we rented two stand up paddle boards from the Kayak Shack and had a great time paddling down the river. The staff was super friendly and helpful and we were really happy with their services! Be advised that as of June 2019, the Kayak Shack now can only launch their rentals from their shop, not from the headsprings. That means that you will have to paddle upstream first before you can float back down the river. 
If you want to start out at the headsprings and only paddle downstream then you can rent a 1-person canoe or stand up paddle board for $40 or a tandem kayak for $60 from Guest Services, Inc for four hours. Reservations for rentals are required and you can make a reservation here or call them at (352) 597-8484. If you have your own vessel then there is a $10 launch fee. 
Lunch on the River
If you plan to spend the whole day on the river I highly recommend that you pack a small cooler with lunch, snacks, and lots of water. If you visit the river during the summer it will be close to 100 degrees every day. It's very important to stay hydrated. We brought our large water bottles and it was just enough! We love these reusable water bottles because they're insulated and keep your drink icy cold.
We also packed peanut butter and jelly sandwiches in these reusable snack bags (please don't litter on the river!), apples, and nuts to snack on during the day. Travis strapped our cooler to the front of the paddle board with bungee cords just in case he flipped the board. Luckily, he didn't, but it's a good idea just in case.
Before you get to the river, the staff will check your bags/cooler so don't try to sneak in any glass containers or alcohol. There aren't any stops along the river to buy drinks or food so make sure you pack your own from home or stop at the store before you take off for the day.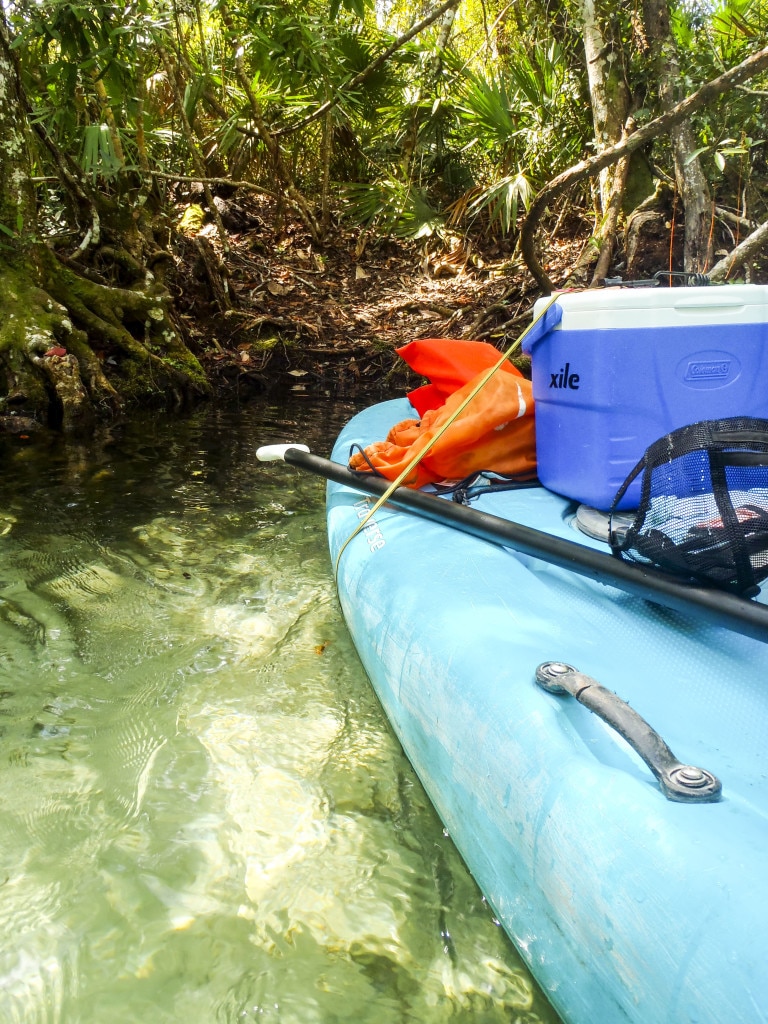 How Long Does it Take to Kayak Down Weeki Wachee
Depending on your pace and if you take any breaks to swim, rest, or eat, it will take you between 3-4 hours to kayak, canoe, or SUP down the Weeki Wachee River. 
The path we followed was 5 miles long. Each mile is marked, so you can keep track of how far you've gone. There are lots of shallow spots along the shore so you can pull over, tie up your boards, and go for a swim or eat lunch. We stopped 5 or 6 times, the water was just so beautiful and refreshing that we couldn't resist! We also saw a few rope swings set up along the river but the lines were long so we kept going.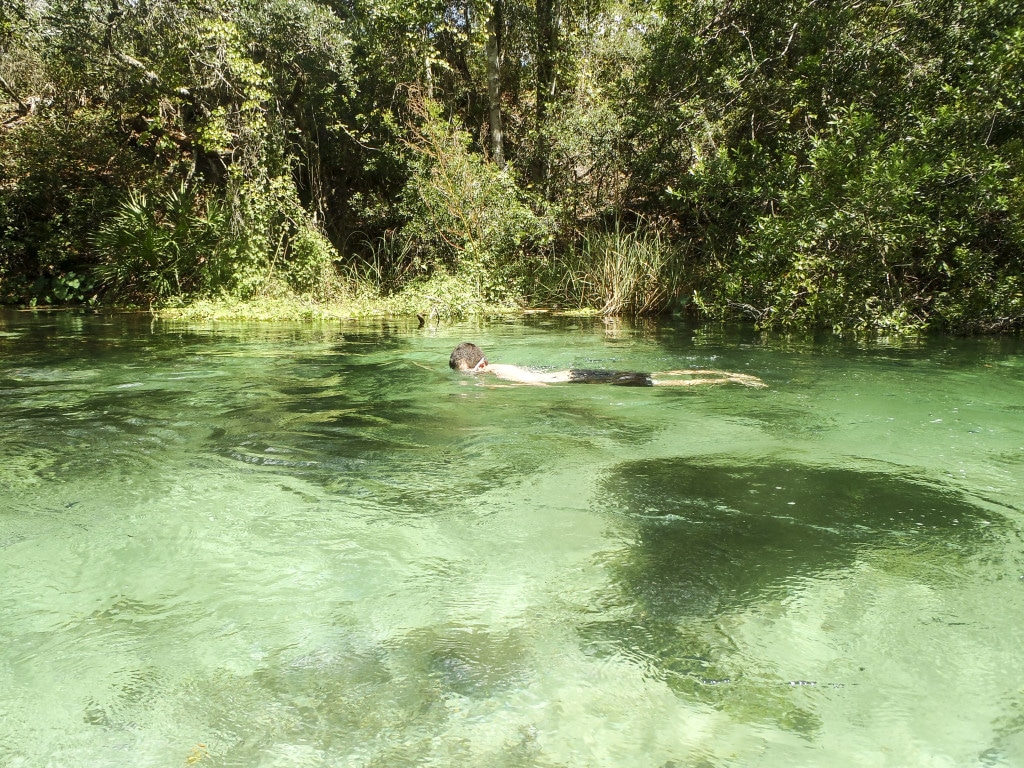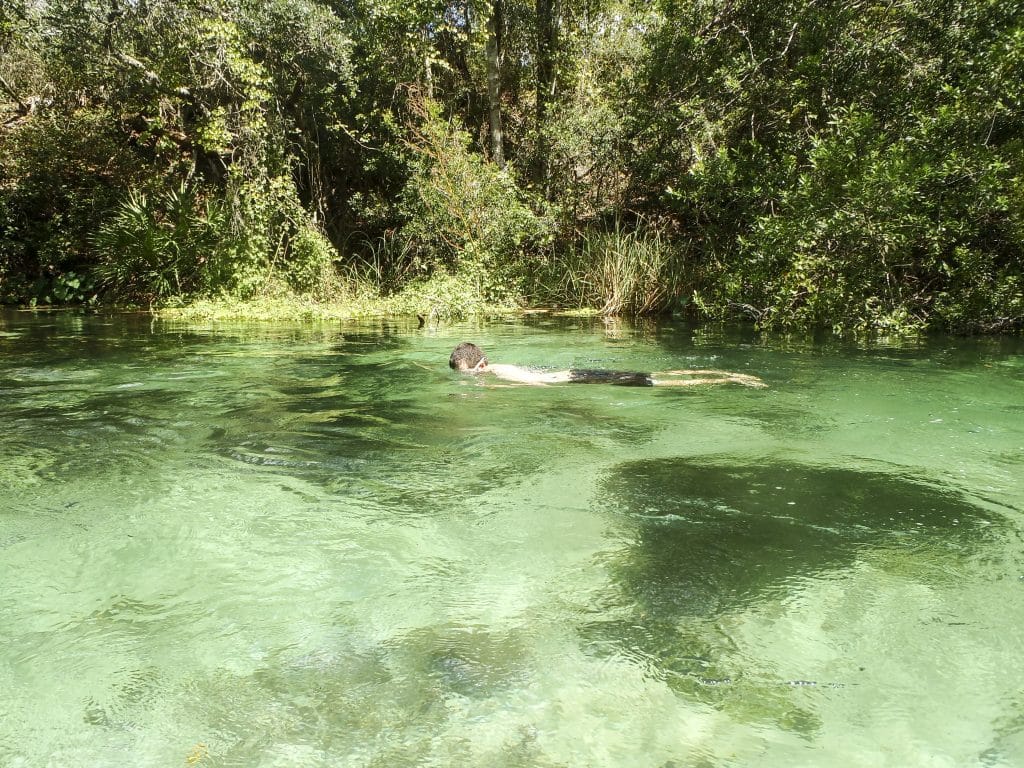 Is it Difficult to Paddle Down the River?
The Weeki Wachee River is like a long lazy river that is wide open in some parts and small and winding in others. The current of the river is strong enough to keep the paddle board moving which was a nice surprise. I'm not athletic at all and I had no problem paddling the whole time with a few breaks to swim. I think that my parent's (who are in their 60's) could easily do it too. The current really scoots you along. 
If you don't want to stand the whole time on a SUP then I would recommend that you rent a canoe or kayak. You can sit down on the paddle board but it can be a bit wobbly while you're trying to sit or stand up. 
You will see lots of other people on the river and everyone that we ran into (literally) was very friendly! There were a few times that I lost control of my board and veered into a bush, hanging vines, or other people and they were very nice to pull me out or give me a push in the right direction.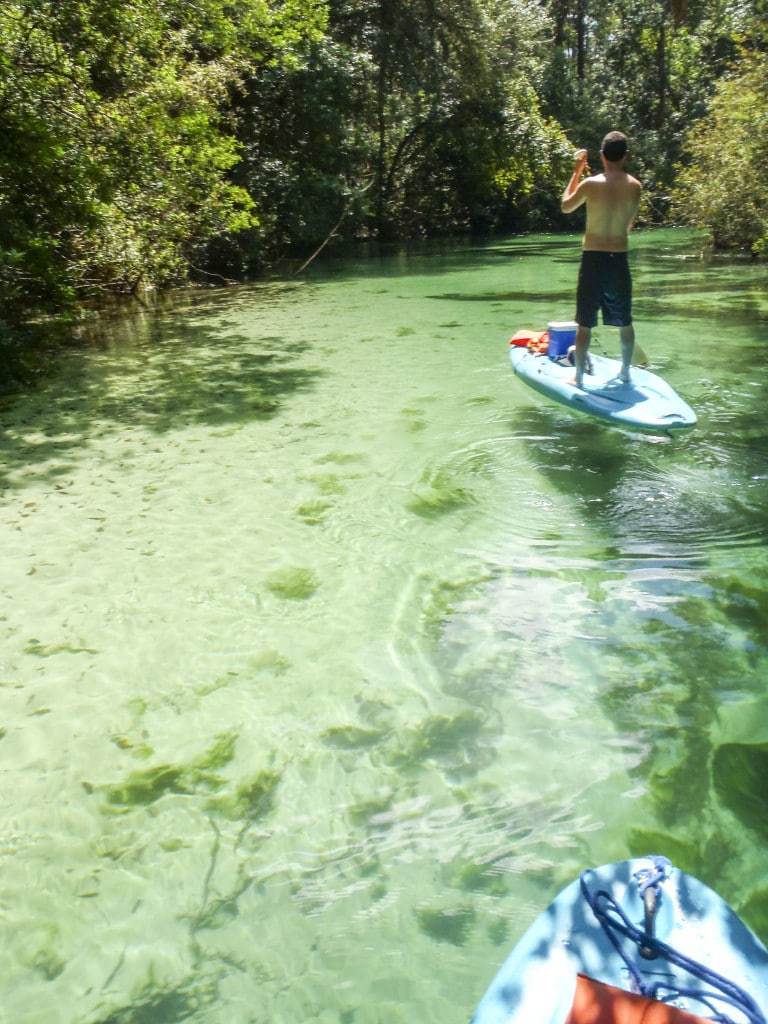 Will You See Manatees in the River? 
Before we went paddle boarding on the river, I read multiple reviews from people online that said that they did see manatees while on the river. Of course, it's not guaranteed that you will see them but we were lucky enough to see the beautiful manatees too! 
It was such a cool experience! I've seen manatees before, but I've never actually been in the water right next to them. The manatees were much faster than I expected them to be, so I wasn't quick enough to get a picture of them (darn!) but it was truly magical. We saw a group of them swim buy us as we were paddling through a neighborhood. There were a bunch of people swimming around us and the manatees just glided by everyone like it was no big deal.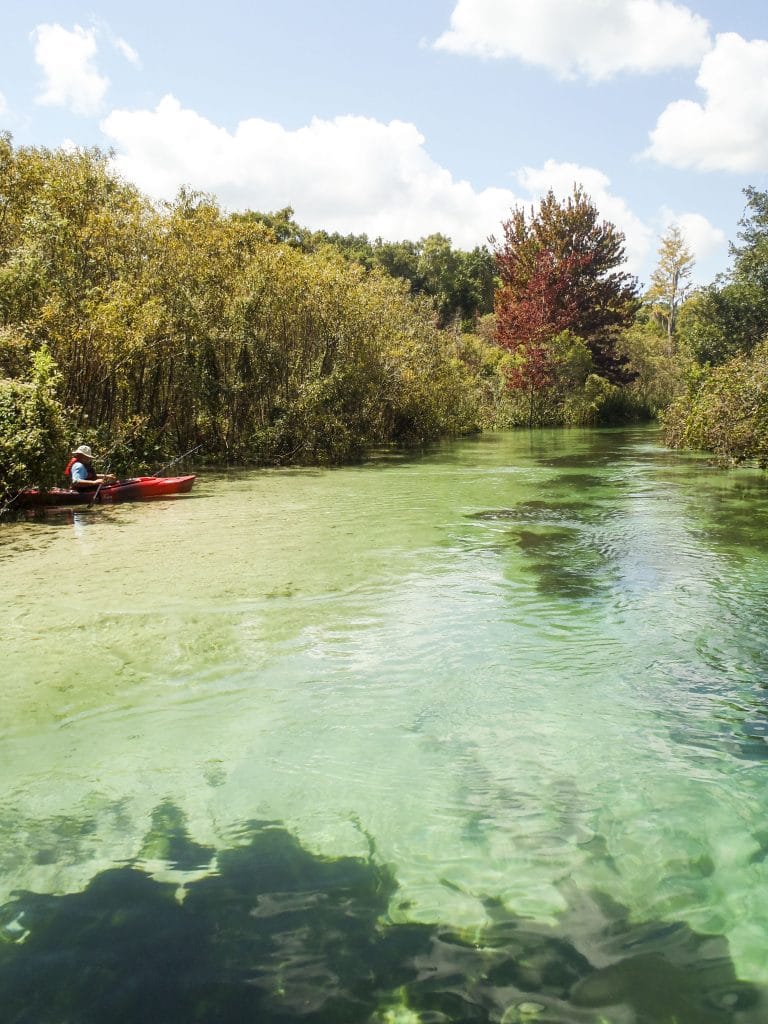 15 Things You Should Pack For a Day at the River
This is everything that I packed and brought with us for a full day paddle boarding on the Weeki Wachee River. I recommend that you bring all of these items too. 
Water in reusable water bottles - We love the attached screw tops! 
Snacks in reusable bags - Apples, bananas, pears, oranges, or grapes would be good options. 

Small cooler

with ice packs
Lunch - Pack PB&J sandwiches or something that won't spoil easily. 
Bungee cord

 - To tie the cooler or any valuables down to the paddle board in case you flip.

Two towels per person - Leave them in your car for later. 
Sunscreen - This is our favorite paraben-free sunscreen!
A water safe cell

phone case

 

or

dry box

- Just in case you tip over your valuables will be protected!

Sunglasses - My husband has these polarized sunglasses and loves them!
Change of clothes - You don't want to drive back to your home or hotel in a wet suit. 
Water Shoes - These water shoes are the best! We bought them for a cruise excursion and use them for everything water-related now to protect our feet.
Underwater camera or a GoPro - If you want to record your adventure!
Goggles
Sun hat - Pick one with neck flaps to protect your neck and head from the sun!
10 Tips to Have the Most Fun at Weeki Wachee River!
Check the weather before you make a rental reservation. Try to avoid weekends and holidays so the river will be less crowded. 
Make a reservation in advance for a kayak or SUP rental if you need one. 
Wear your bathing suit and put sunscreen on before you leave home so you're ready to jump into the water as soon as you get there. 
Arrive 15 minutes prior to your reservation, you don't want to lose any time on the river!
Pack a small cooler with your lunch and water bottles.
Stay hydrated, especially if you visit during the summer. The FL sun is intense and you don't want to overheat.
Bring sunglasses, a hat, and a sun shirt to protect yourself from the strong sun rays. 
Put your phone in a

waterproof case

that hangs around your neck just in case you fall in the water before you're ready. This is also helpful to keep your phone handy in case you see some manatees float by!
Watch out for snakes and spiders on the river. We saw multiple snakes, big spider webs, and a few decent-sized spiders hanging in the trees.
Go at your own pace and don't try to keep up with the people around you. Take lots of breaks to swim, relax, or eat while you're going down the river. Take your time and enjoy the scenery!
Overall, it was a great experience and I can't wait to paddle down the river again! I hope you get a chance to experience Weeki Wachee kayaking, canoeing, or stand up paddle boarding, you'll make memories that you'll never forget!
More Florida Travel Posts You'll Enjoy
10 Fun Activities to do at Rainbow Springs
159 Disney Cruise Tips That You Need to Know
Ultimate Guide to Caladesi Island