This is the ultimate guide to family-friendly activities to do while visiting Rainbow Springs State Park! This guide includes everything you need to know + tips to have the best experience (from a local!)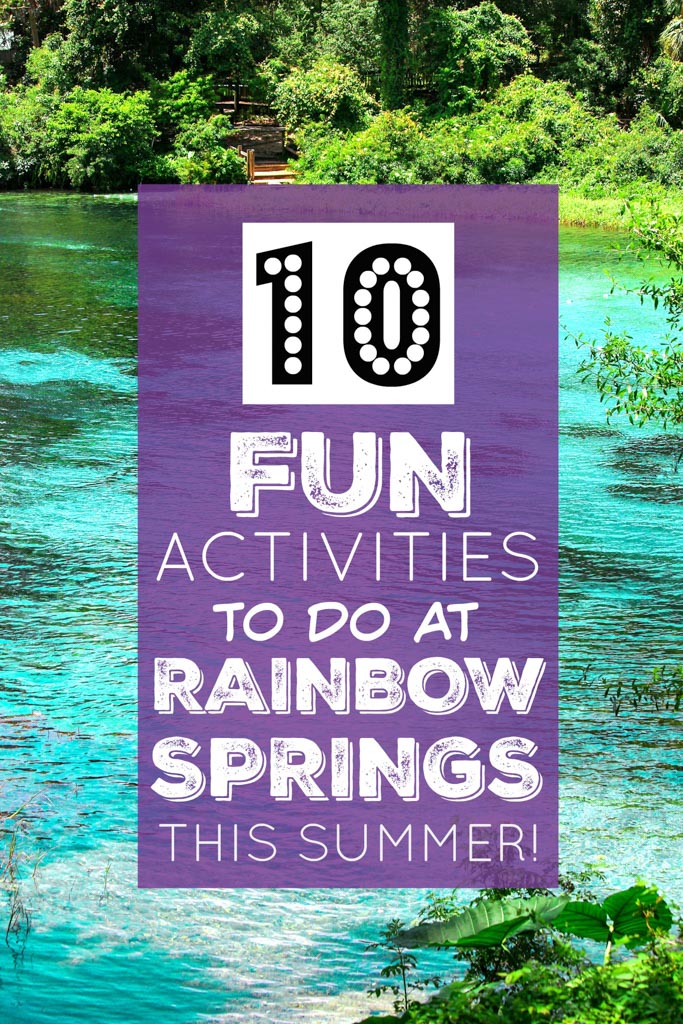 My family loves visiting Rainbow Springs every year! We've been going to the river since my brother and I were little kids and my parents went to KP Hole before that! Rainbow River is such a great place to take your family to spend the day together and make fun memories that you'll never forget!
Rainbow River is a gorgeous, crystal clear, 72-degree, 5.7 miles long river that merges with the Withlacoochee River in Dunnellon, Florida. It's also a designated National Natural Landmark, aquatic preserve, and Outstanding Florida Waterway. Rainbow River is an untouched piece of history that you just won't find anywhere else in the world.
State Park Information
Rainbow Springs State Park is located at 19158 SW 81st Place Rd. Dunnellon FL 34432.
The state park is the head spring of Rainbow River, it's also a swimming hole, and place where you can rent kayaks and canoes for the day. You can view the Rainbow Springs State Park map, here.
I feel like the park is a well kept secret spot (from everyone except the locals) because when I was in high school (which is only two hours away from the springs), all the kids just wanted to go float down the river.
They never mentioned the beautiful swimming hole at the headsprings at Rainbow Springs State Park because they didn't know it was there! I think they just thought that it was a park to walk through, not a park that you could swim in and do all of these fun activities!
How Much Does it Cost to Get in?
It only costs $2 per person to get into the park for the whole day.
Can You Swim at Rainbow Springs?
Yes, you can swim in the headsprings. There is a floating dock and a roped off swimming area for guests to enjoy.
Are There Manatees in the Springs?
I've been visiting the springs for the last 20+ years and I've never seen a manatee in the headsprings or while floating down the river. However, I did see multiple manatees while stand up paddle boarding on the Weeki Wachee river.
I did some digging and there seems to be an old lock system on the waterway between the Gulf of Mexico and the Rainbow River which prevents the manatees from entering the river.
Can You Bring Your Own Tube?
Yes, you can bring your own tube or float when you float down the river. However, the float may not exceed 60 inches.
What's the Weather Like?
Florida weather can be unpredictable and afternoon thunderstorms often occur during the summer months. If you're tubing down the river when a storm starts you're not allowed to get off the river at any exit point other then the tubing exit because you would be trespassing on private property.
Make sure you check the weather before you arrive and give yourself enough time to float down the river before any storms are supposed to start. If you're at the Rainbow Springs state park, then you could wait out the storm under one of the shelters or make a mad dash back to your car.
Are There Alligators in the Springs?
Yes, there are alligators in Rainbow River and you will see signs everywhere warning you to be careful. However, I wouldn't be that concerned about seeing any alligators at the headspring because I've been visiting the springs for 20+ years and I've never seen one.
That's one reason why I prefer to swim in the headspring because you can see the bottom of the river. If it makes you feel any better, there's never been an alligator attack on record that happened on the Rainbow River.
Are There Public Bathrooms at the State Park?
Yes, there are two public bathrooms at Rainbows Springs Park. One bathroom is located by the concession stand at the entrance to the park and the other bathroom is a little bit past the floating dock by the headsprings.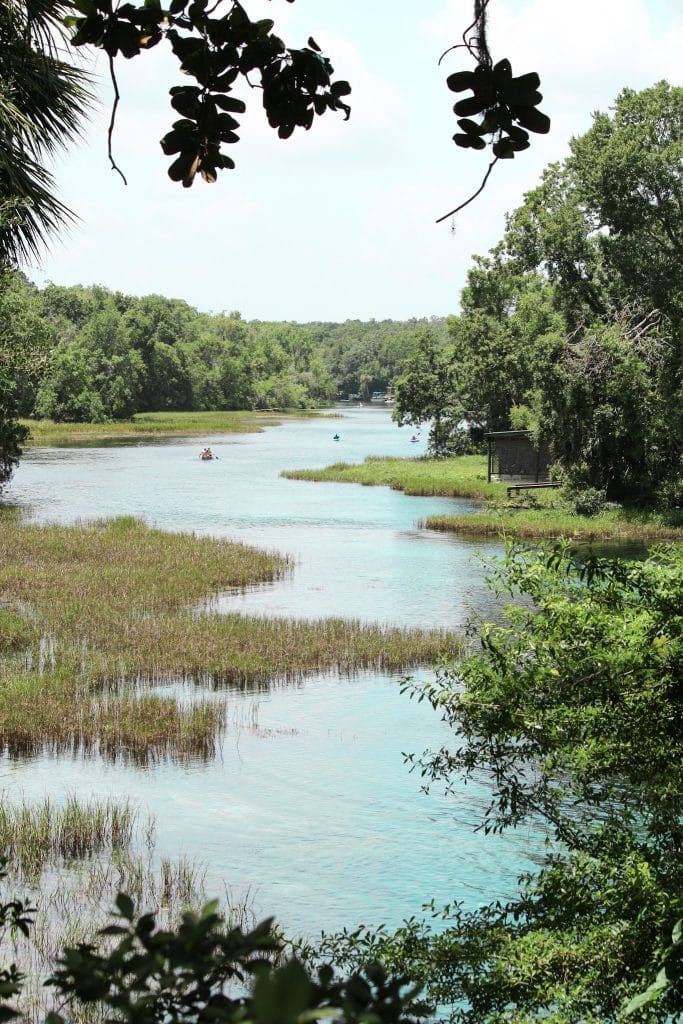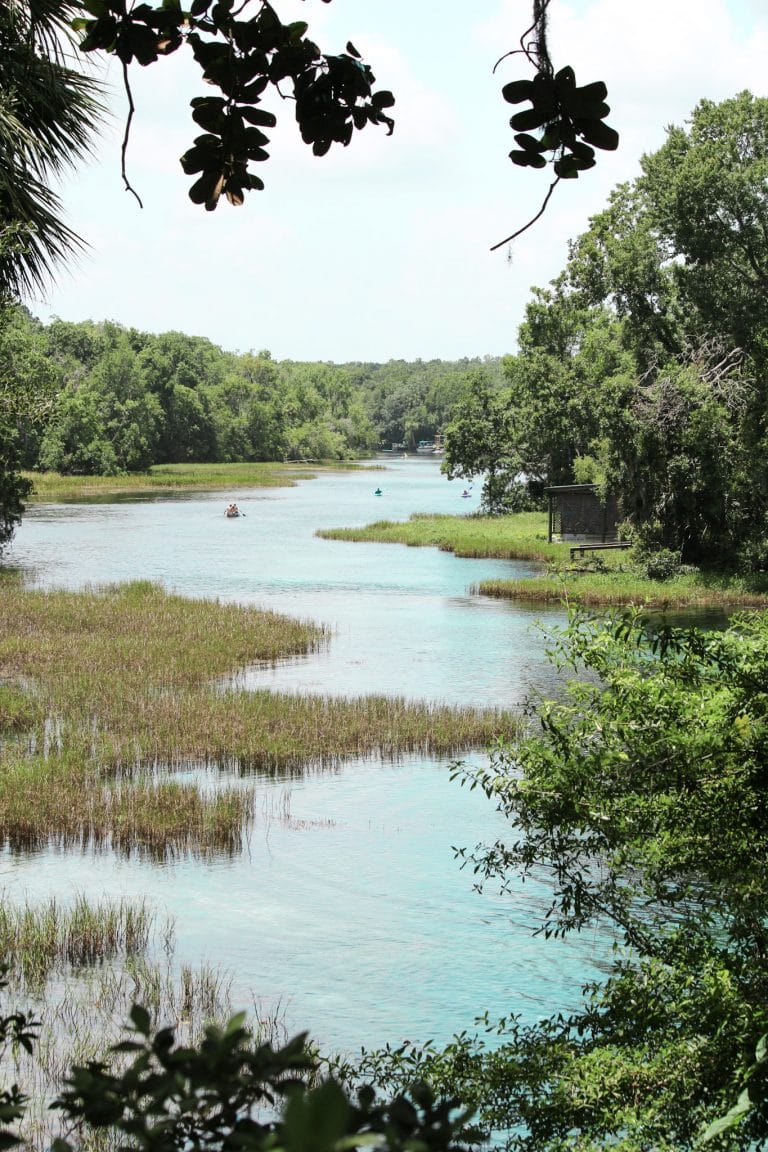 10 Fun Activities To Do at Rainbow Springs
All of the following activities are fun things that you can do while visiting Rainbow River.
1 - Jump Off the Floating Dock
There is a huge floating dock at the entrance of the headsprings that you can jump or dive from. My dad and brother always jump or dive into the springs from the huge floating dock, it's fun to see who can make the bigger splash.
If you don't want to jump off the dock, there are steps that lead into the chilly water (there is a small drop off on the last step) on the far side of the dock. If you have small kids with you, please watch them closely and make sure that they're wearing life jackets they're not strong swimmers because there is no shallow area for them to swim in. The water is deep!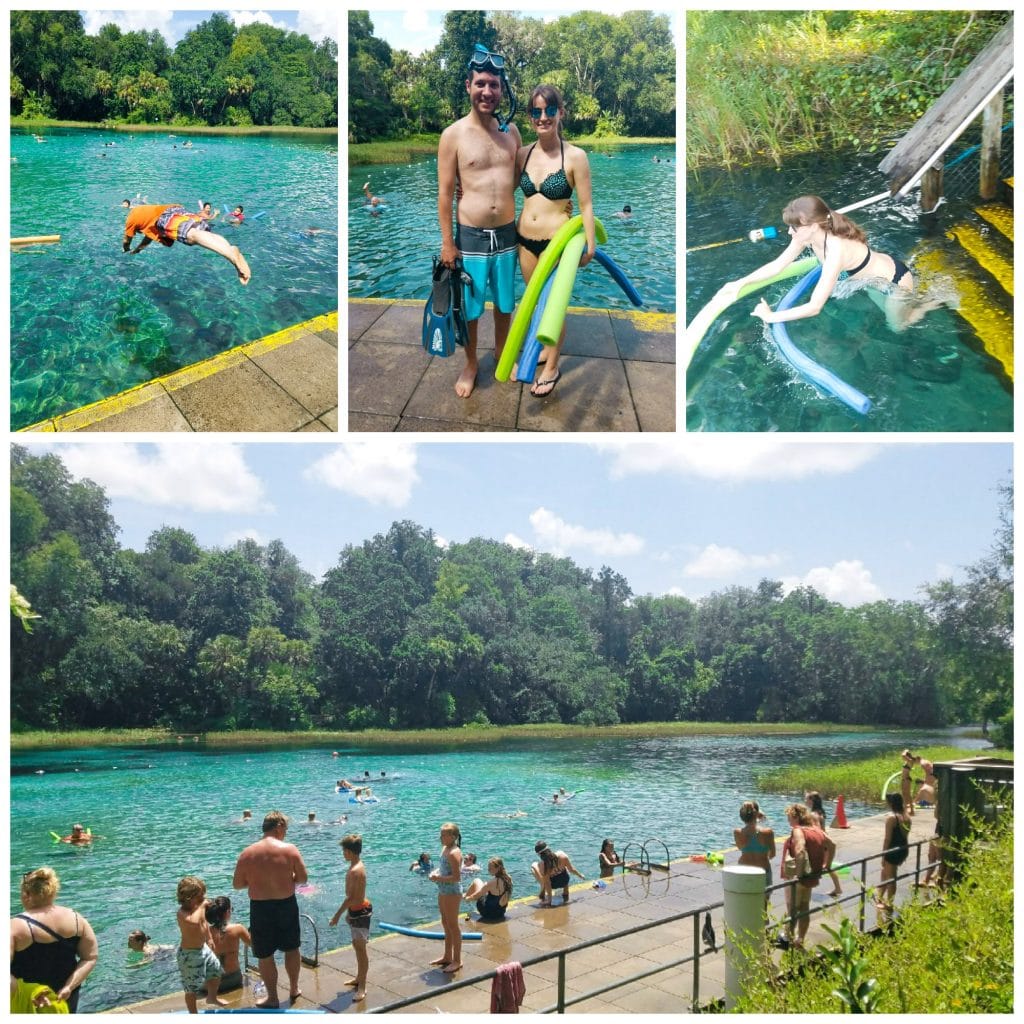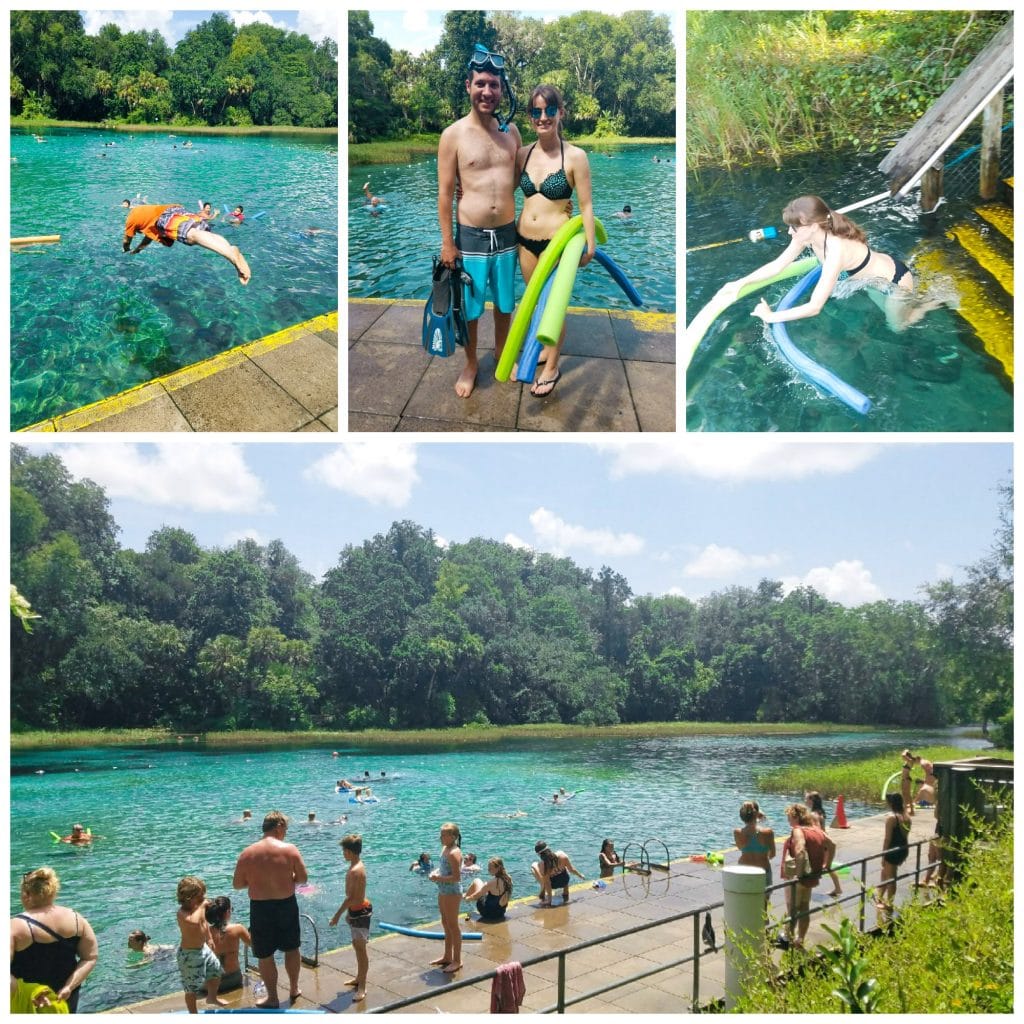 2 - Swim in the Headsprings
There is nothing better than swimming in the cool 72-degree river on a boiling hot Florida summer day. It's very refreshing! Once you gather the courage to jump off the floating dock and plunge into the chilly water (that ranges in depth from 5-18 feet, go for a swim or bring a pool noodle to float on while you soak up the beautiful atmosphere.
Most of the river has a lot of vegetation on the ground so you can't see the actual bottom even though it's crystal clear. A benefit of swimming in the roped-off headsprings is that all of the vegetation has been removed within the ropes so you can see the ground! If you're like me then this will probably stop you from worrying about something is lurking in the weeds that you can't see.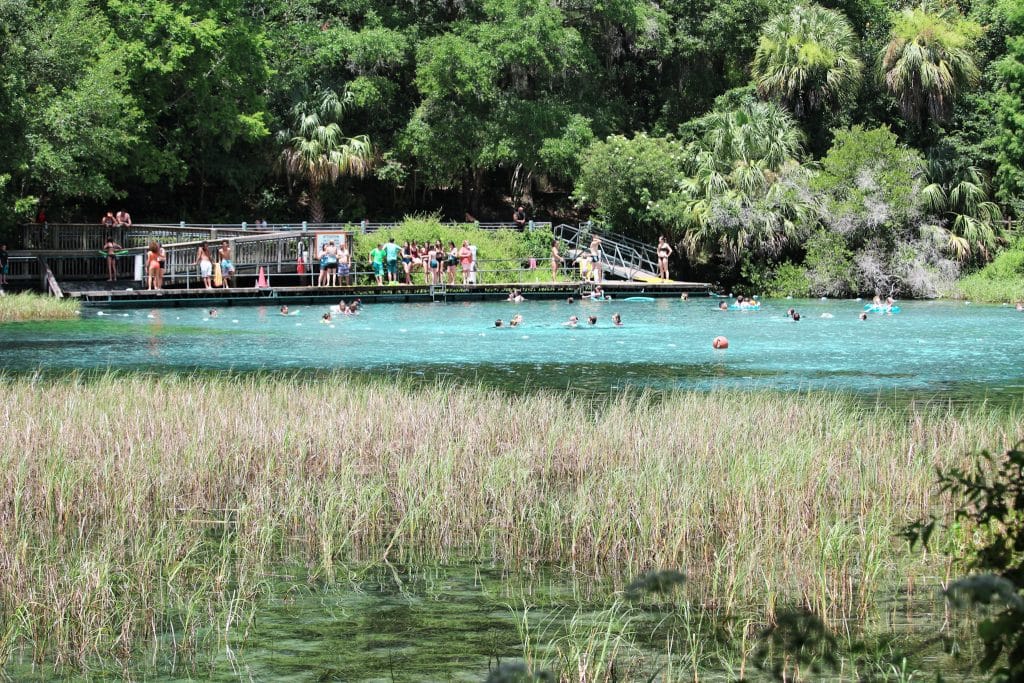 Note - Make sure you bring pool noodles to float on, no rafts or blow-ups are allowed and the water is deep!
3 - Snorkel in the Headsprings
The water is crystal clear so it's perfect to go snorkeling! Even though most of the vegetation has been cleared out in the main swimming area of the headsprings there is still lots to see! There are rock formations, fish, turtles, and you can even see the underwater spring at the far end of the swimming area.
We always bring masks, flippers, and snorkels so we can swim underwater and look at the fish and vegetation, you never know what you might see!
Be aware that snorkeling is only allowed within the buoyed swimming area of the headsprings. While on the river, you can snorkel from a boat or from the campgrounds. If you're snorkeling outside of the buoyed swimming area then you are required by law to wear a dive flag.
Note - Please don't take any souvenir rocks or shells from the water while you're snorkeling. The park rangers explained it like this, "If everyone took one piece of the spring, how long would it take to change the springs?" Not long! Let's keep the springs as beautiful and natural as they are now.
4 - Have a Picnic Lunch
You'll definitely work up an appetite after swimming all day, so make sure that you pack food to eat for lunch. If you're going on a holiday or during the summer, I would recommend that you arrive at the state park as soon as they open so you have a good chance at scoring one of the tables under the three large shelters. The park gets very busy during the summer.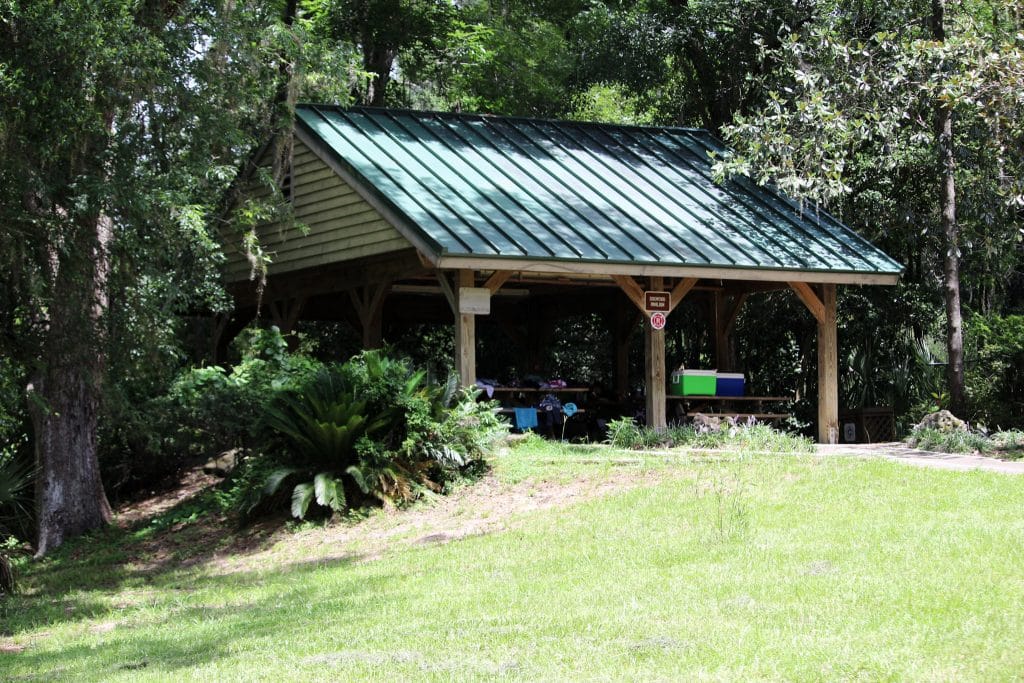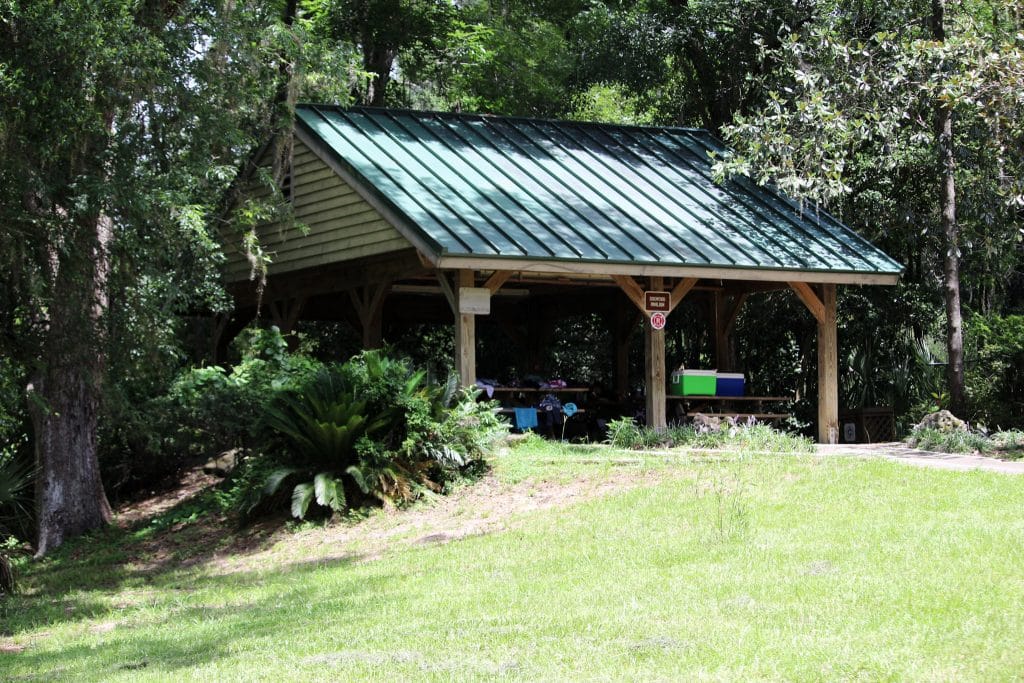 Each shelter has multiple picnic tables and a grill that you are able to use if you'd like to cook up some burgers (or veggie burgers!). We always bring a watermelon, jugs of water, and some snacks to munch on during the day.
If you aren't able to get to the park early enough to get a table under the shelter, don't worry! There are lots of trees that you could lay blankets out under the shade + a few random tables. You are also allowed to bring in your own foldable chairs and tables if you'd like. The only issue is if there is an afternoon thunderstorm (which happens a lot during the summer) then you'll have to pack up your stuff and head to the gift shop area or back to your car.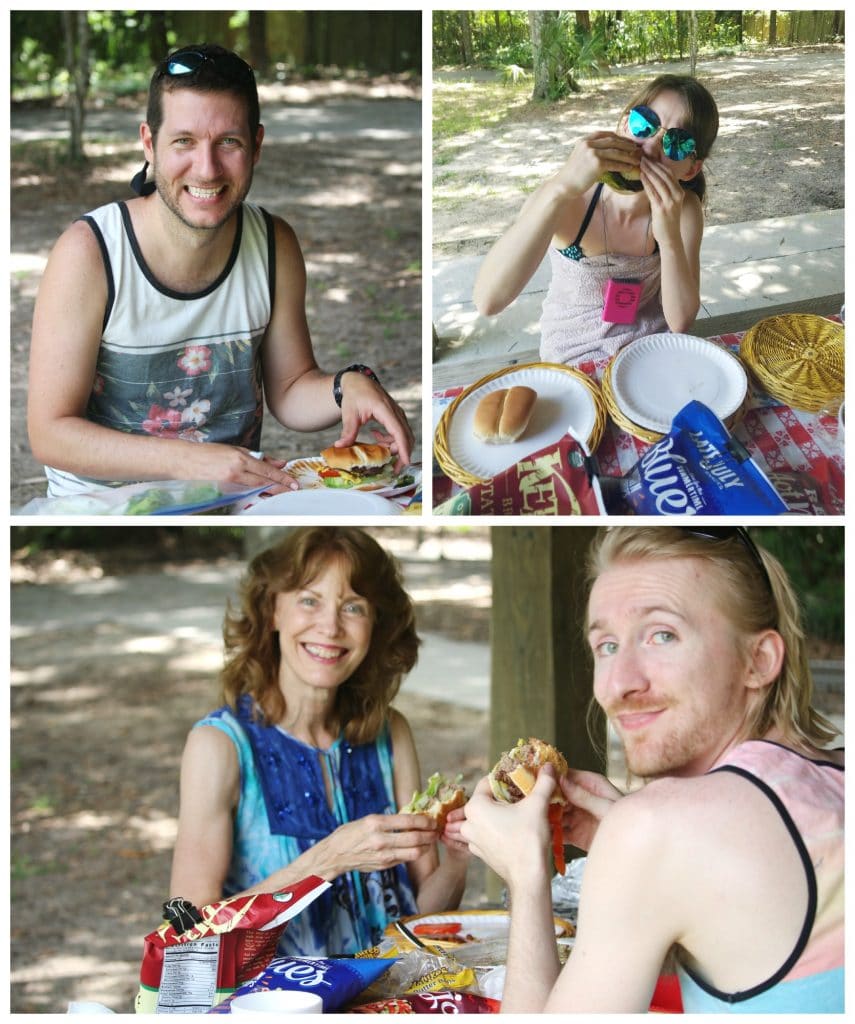 Note - If you're having a party or celebrating with a big group and want to guarantee that you get a shelter, you can call ahead and reserve a shelter for $100.
5 - Rainbow Springs Kayaking, SUP, or Canoeing
You can rent a kayak or SUP from Guest Services, Inc for 1-2 people for $16/hour or $50 for all day. Or you can rent a 3 person canoe for $22/hour or $60 for the day. If you have any other questions you can call them at this number (352)-533-4305.
6 - Rainbow Springs Tubing
I've gone tubing down the river multiple times, it's a lot of fun to go with a group of your friends or family! It takes two hours to tube all the way down the river. You can't just get off halfway through so be prepared to stay on the river from start to finish.
The tubing entrance is located on S.W. 180th Avenue Rd, Dunnellon, FL 34432. The park entrance fee is $2 per person and tube rentals are $20 (tax is included) each. Guest services, Inc will drive you two miles upstream and drop you off where you will enter the river and float down back to where your car is parked.
7 - Campgrounds Near Rainbow Springs

If you can't get enough of the beautiful river, you can stay the night and camp! The campgrounds are just a little bit down the road from the state park. You can find the entrance at 18185 SW 94th St, Dunnellon, FL 34432.


8 - Explore the Gardens & Waterfalls
Make sure to set some time aside to walk through the beautiful shady gardens around the headsprings. The gardens are thick and lush with oak trees, magnolias, azaleas (if you visit during the early spring you're in for a colorful treat!), and man-made waterfalls. There is even a waterfall called Rainbow Falls where weddings are held. There is also a path that overlooks the headsprings where you can take some gorgeous pictures of the bright blue water!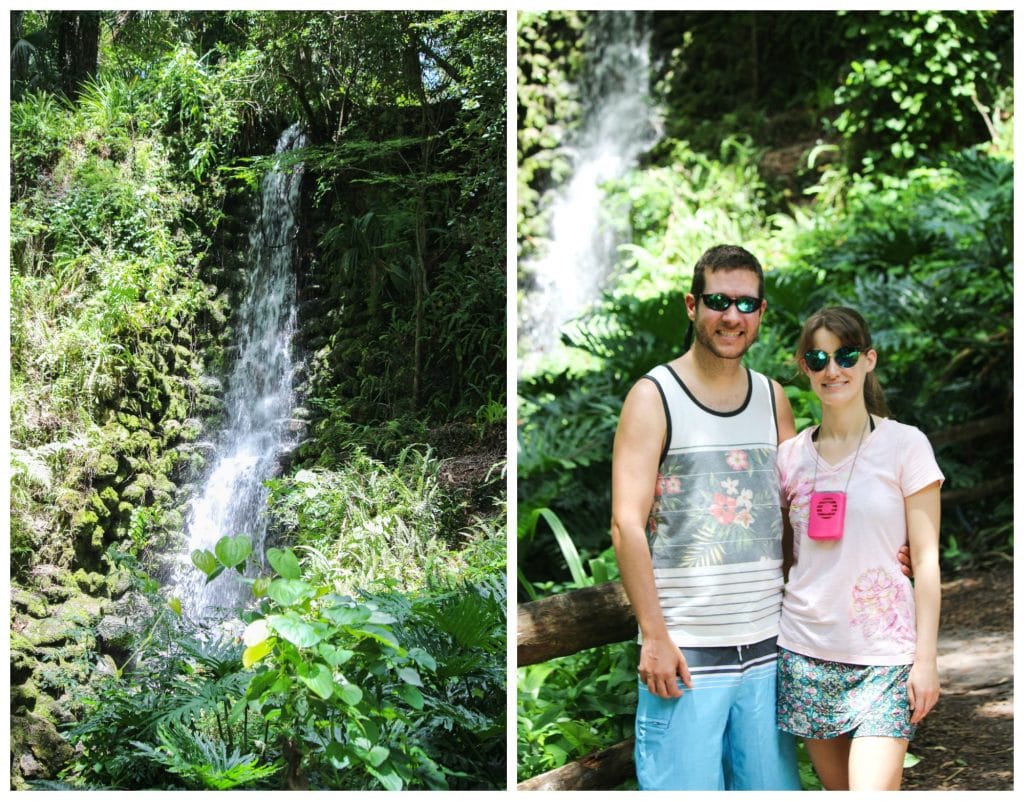 It's a little bit of a hike to walk all the trails, so make sure you bring a necklace fan, sun lotion, and a water bottle to stay hydrated. After you're done walking the trails, you're going to be so ready to jump in the cold water!
9 - Look for Wildlife
I'm not a bird expert, so I can't tell you exactly which bird species that I've seen at the state park but I have seen a lot of lot birds flying around. I do remember reading a sign on the trail that said you might see woodpeckers, wading birds, hawks, songbirds, and owls!
10 - Play Frisbee on the Big Hill
My dad always brings a frisbee to toss around on the big hill between the shelters and the head springs. You'll know exactly where I'm talking about as soon as you enter the park. It's the perfect area to play frisbee with the whole family or any new friends you might meet.
21 Essentials to Pack for a Day at the Springs
Pool

Noodles

Cooler

- Make sure you get one with wheels because it's a long walk from the parking lot.
Portable Waterproof

Radio

- This is the radio we brought on our

Disney cruise

!
Change of Clothes
Beach

Towels

Necklace Fan

- This fan will keep you cool while you walk through the gardens.

Water Bottle

- I love this because it's glass but has a no-slip sleeve on it!

Sun Lotion

- I love this brand because it's reef-safe and it's free of harsh chemicals.
Flip Flops

GoPro Hero 5

- You'll love this for all of the underwater shots you can take in the crystal clear river!
Snacks
Foldable

Lounge Chairs

Floppy

Hat

Sunglasses

Tablecloth

+

Clips

- The clips keep the tablecloth from blowing off!
Tips For Visiting Rainbow River
If you want to get a table under one of the shelters, try to arrive as soon as the park opens.
Remember to pack pool noodles to float on, the water is very deep and you are not allowed to bring floats into the headsprings.
You can bring your own food into the state park (no glass containers or alcohol is allowed-- your cooler will be checked) or you can get snacks, sandwiches, and ice cream at the concession stand.
Bring water to drink! It is very hot during the summer and you don't want to get dehydrated.
Pets are not allowed into the state park unless they're a service animal.
You must be 18 years or older (or with someone who is 18+) to rent a kayak or canoe.
If you or your kids are not strong swimmers, please pack and wear a life jacket because there are no lifeguards on duty at the headsprings.
If you'd like to explore the gardens, I would recommend that you wear sneakers because the ground is steep and uneven in some spots.
Pack a change of clothes to change into when you're done swimming. It's no fun to drive home in wet clothes or a wet bathing suit.
I hope you get a chance to visit and experience the crystal clear cold water, it's so much fun! If you've been to Rainbow Springs, please leave a comment below and tell me what your favorite part of the experience was!
MORE FLORIDA TRAVEL POSTS YOU'LL ENJOY
Your Guide to Stand Up Paddle Boarding on the Weeki Wachee River
159 Disney Cruise Tips That You Need to Know Before Your First Cruise!
Ultimate Guide to Caladesi Island + How to Walk There
Top 14 Best Clearwater Beach Restaurants!