This guide contains everything you need to know + answers to all of your questions about visiting the island + information on how to walk to Caladesi Island State Park from Clearwater Beach!
Caladesi Island is one of the Gulf Coast's last uninhabited islands in the Tampa Bay area. This isolated island features 4 miles of pristine white sandy beaches, a 3-mile mangrove-shaded kayak trail, and a peaceful nature path. It's truly an island paradise!
I've lived in Florida for 30 years and I just recently got to visit Caladesi Island State Park for the first time. I wish I had found it sooner! My family always visited Clearwater Beach because it's ranked as Florida's #1 beach. However, Caladesi is just as beautiful as Clearwater Beach with the extra perks of having fewer people and the beauty of an untouched island.
My husband and I kicked off the summer by visiting the Island and we had a wonderful time! We explored the entire island, went shelling, swam and snorkeled in the crystal clear water, and we even got the surprise of a lifetime when two beautiful dolphins swam right by us! Although it takes a bit more effort to get to Caladesi, I think it's 100% worth the trek.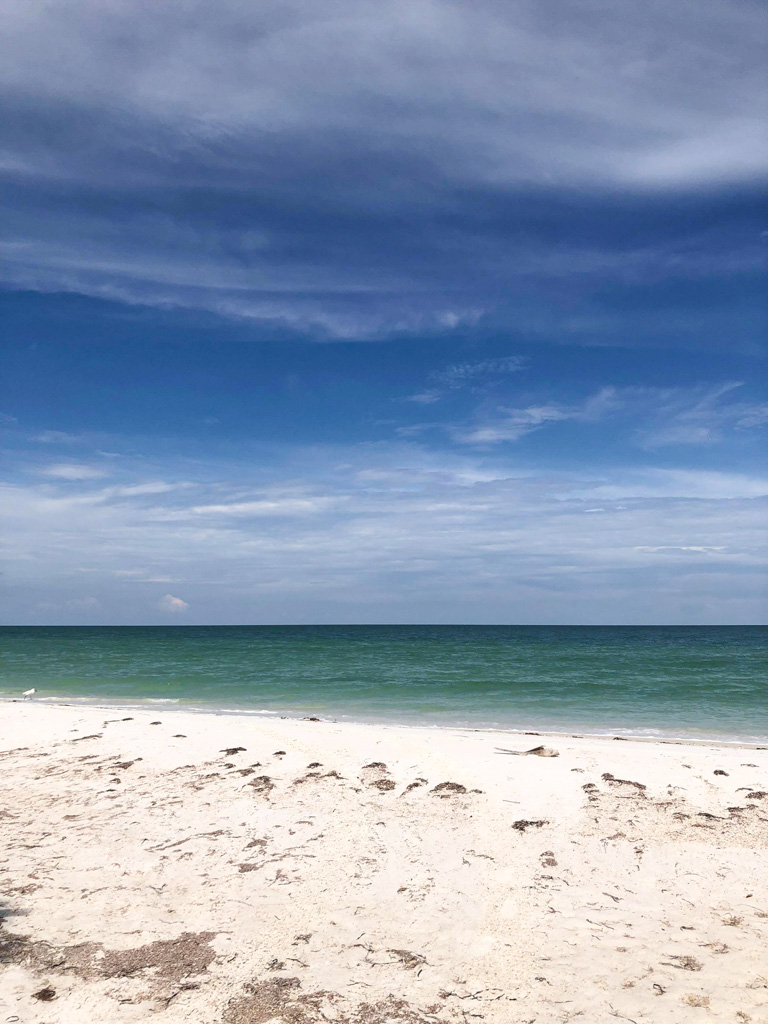 While we were at the Island I made sure to find out everything that I could so I could share the most current and up to date information with you. This guide has the answers to all of your questions + tips for having the best experience while you're visiting the island. Click here to view the Caladesi Island State Park Florida map.
Caladesi State Park Guidelines
Hours are 8 AM until sunset, 365 days a year.
Pets are permitted in designated areas only and they must be kept on a leash that's no longer than 6 feet.
Swimming, fishing, boating, and fires are allowed in designated areas only.
Fireworks and hunting are prohibited.
Alcoholic beverage consumption is allowed in designated areas only.
If you need help accessing the beach, you can contact the ranger station and they will assist you.
Caladesi Island Kayak rentals are available for $25 per person on the island.
There is a picnic area, playground, restrooms, concession (Caladesi Cafe), and showers available on the island. See the pictures below.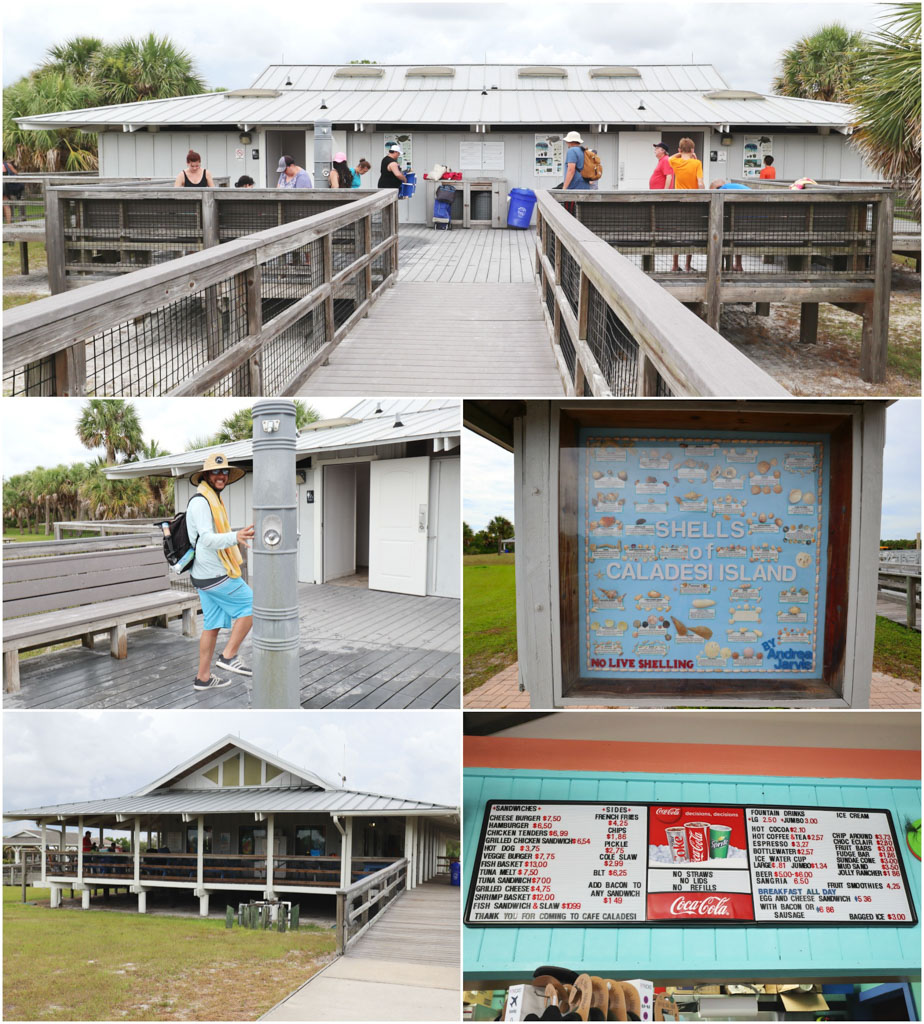 How Much Does It Cost to Enter?
There are multiple (free and paid) ways to get to the Island, but once you're there the State Park fee is only $2 per person to enter the state park.
How Do You Get To The Island?
You can get to the island by taking the Caladesi Island ferry, by private boat, by renting (or using your own) a SUP, jet ski, kayak, or by walking from Clearwater Beach.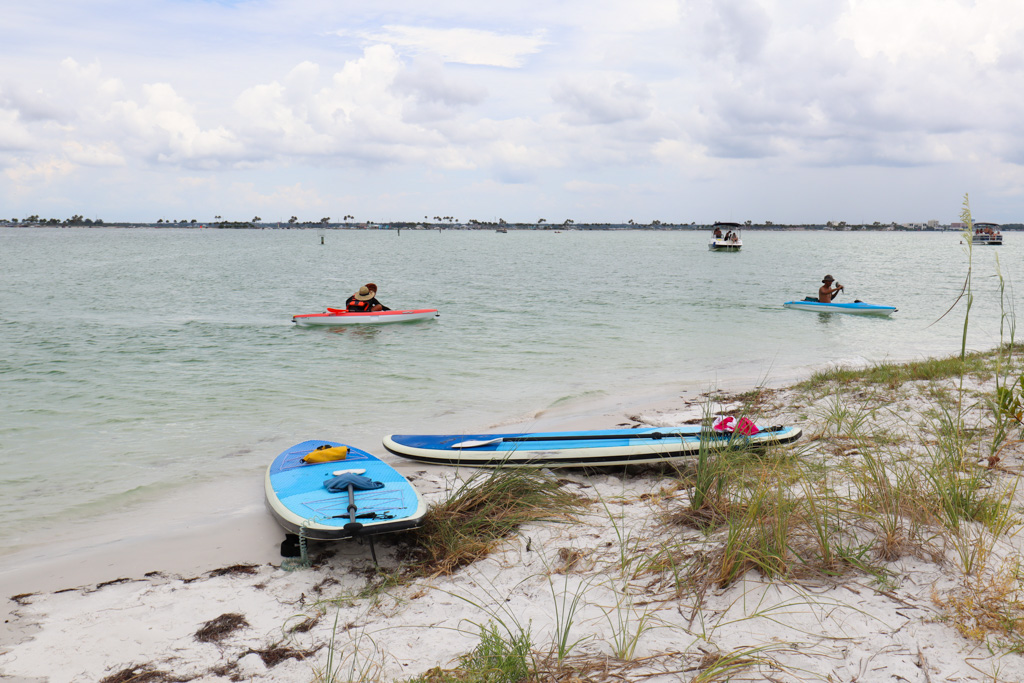 Where Do You Catch The Ferry To Caladesi Island?
You can catch the 20-minute ferry ride from Honeymoon Island State Park (starting at 10 AM) for $14 roundtrip per adult ($7 per child aged 6-12, kids 5 and under are free). You can save $1 off your ferry ticket (good for up to 6 people) by using this coupon. If you take the ferry, there is a 4-hour time limit on the island.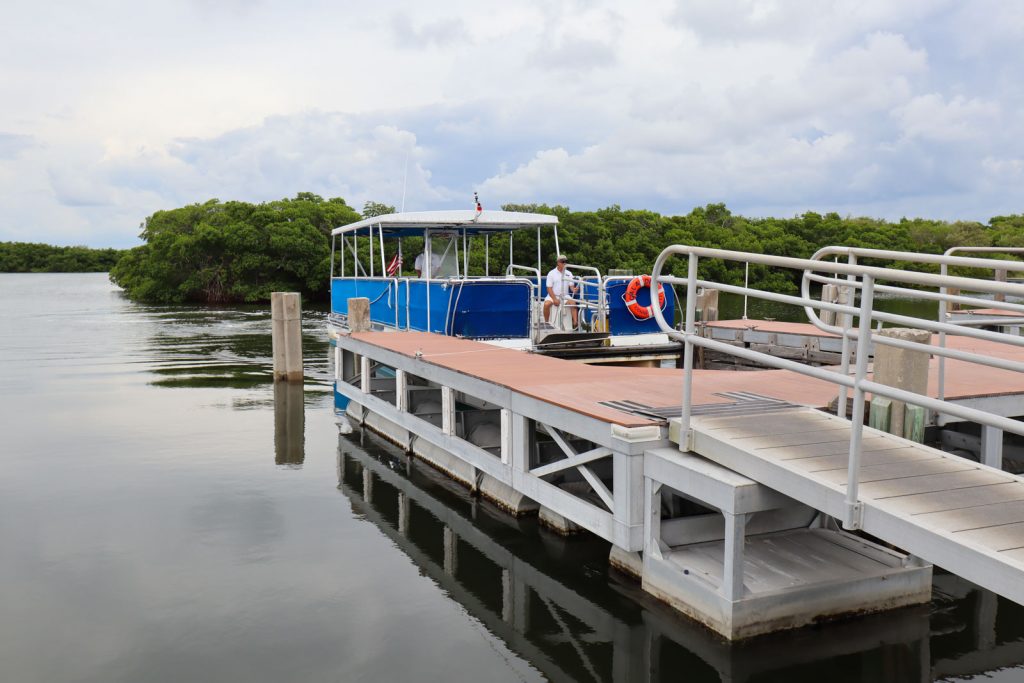 Can You Stay On The Island Overnight?
No, you cannot go camping or stay overnight on the beach as there are no cabins or hotels on the island. However, boaters can dock overnight at the 108-slip marina as long as you register before sundown. The marina as electrical and water hookups for you to use.
How to Walk To Caladesi Island State Park + FAQ
You can walk to the State Park from Clearwater Beach. It's not a short walk by any means but it definitely can be done. I can say this with 100% certainty because I've done it and you can see exactly what the walk to Caladesi Island from Clearwater Beach is like in this video.
Where Should You Park? If you'd like to walk from Clearwater Beach, I recommend parking your car on a side street across from the entrance to the beach at the northern end of Mandalay Avenue. If you visit Clearwater Beach during spring break or summer, you may have to park in a paid parking lot.
Where Should You Start Walking From? Make sure you're well-hydrated, grab your backpack, and head to the beach. We like to start walking at the public beach access on Somerset road. Once you're on the beach, head north until you see a sign that says, "Welcome to the State Park!" You'll also see a sign for the nature trail and the bridge that leads to the ferry access point and Caladesi Cafe.
How Long is the Walk? If you start at North Beach, the walk to Caladesi will take you approximately 90 minutes and it's close to 3 miles.
Is the Walk Hard to do? I don't consider myself to be very athletic but I can walk around Disney World all day with ease. I had no problem walking to Caladesi, but the walk back, after a long day at the beach, was tough. It was very hot, we were tired, and it was high tide. If you have any knee or back problems, or if you can't walk for long without pain, then I recommend that you take the ferry over to the island for a more enjoyable experience.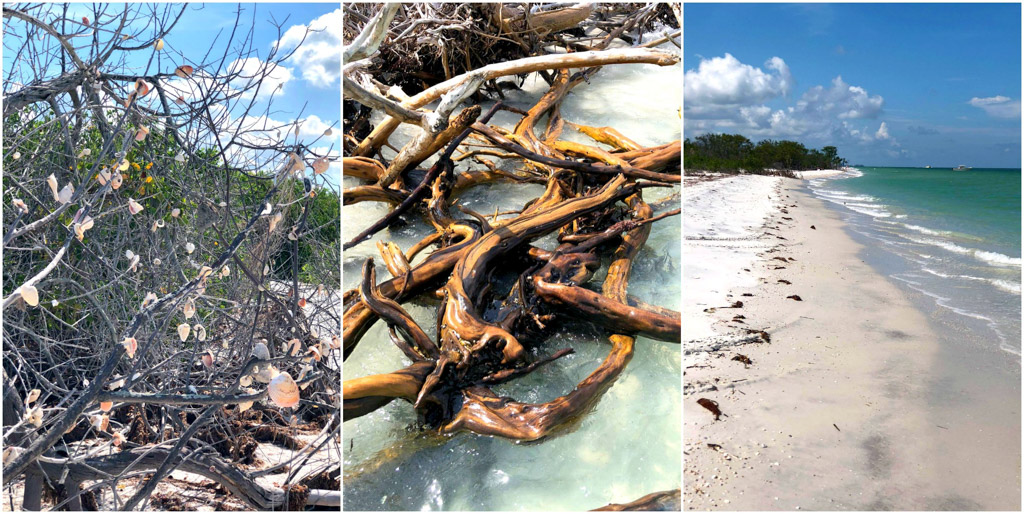 What Will You See on the Beach?

The walk to the Island is very enjoyable, it's quiet and peaceful and you'll run into very few people along the way. There are lots of birds to see, protected turtle nests, driftwood, mangroves, and you'll run into the secret shell trees! As you walk, you'll see less and less hotels and homes until it's only vegetation and the beach.
What are the Secret Shell Trees? About a half a mile before the entrance to the State Park, you'll run into a stretch of beach where all the trees and bushes have all kinds of shells hanging from their branches. It's really a sight to be seen! I've lived in Florida for 30 years and never knew about the shell trees, it's truly a well-kept beach secret! Make sure you find a shell to hang on one of the branches to prove that you were there!
Should You Check the Tides Before You Walk? Before you leave for your walk, check the Caladesi Island weather and the tides so you can plan accordingly to avoid high tide. At high tide, there are some parts of the walk that will be difficult to do because you will be walking through knee-high water. It can definitely be done but it's easier to navigate the path at low tide.
Should You Walk to the lsland? Just because it's possible to walk to Caladesi doesn't mean that you should. The walk is almost 3 miles long and takes at least 90 minutes if you keep a good pace. If you aren't in good shape, if have any health problems, or if you have small children with you, I wouldn't make the trek to the Island. It would be much easier to just take the ferry from Honeymoon Island. However, if you are looking for a good workout or if you don't want to spend the $40 it costs (for two people) to take the ferry to Caladesi ($8 per car to enter Honeymoon Island + $14 per person ferry ride + $2 Caladesi State Park fee) then walking to the island might be the best option for you!
What Should You Pack?
Whether you are walking, kayaking, or taking the ferry to the Caladesi Island beach, I recommend that you pack light and only bring what you can carry easily. Fill a backpack or a beach bag with the following items: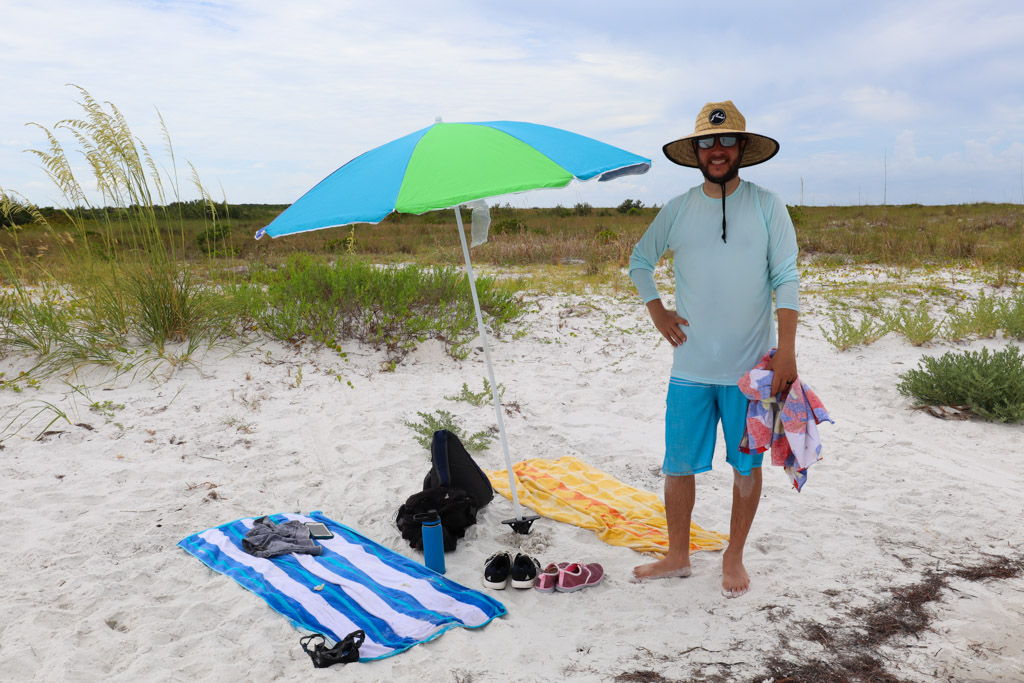 Water in Reusable Water Bottles - This is the best reusable water bottle I've ever used (see it in the picture above?), it keeps your drink so cold and I love the screw cap top. Please don't buy plastic water bottles, reduce your plastic use and purchase a reusable water bottle instead.
Food - I packed PB&J sandwiches, apples, and a steel bento box full of nuts, Medjool dates, and crackers. If you bring any food that's in a package, please make sure to throw your trash away or recycle it and don't leave it behind on the beach.
Paraben-free sunscreen - This is the best sunscreen and the only brand that I use. The Florida sun is very strong and you can burn quickly. Make sure you re-apply often and after swimming.
Sun shirts - I never go to the beach or do any outdoor activity, like stand up paddleboarding on the Weeki Wachee River or

swimming at Rainbow Springs

, without wearing my sun shirt (this is the

men's sun shirt

and women's sun shirt that we're wearing in the pictures). It blocks the sun's harmful 50+ UV rays, it's moisture-wicking, and I never burn when I wear it.
Water shoes - If you decide to walk to the island from Clearwater Beach, wearing water shoes (these are the

men's water shoes

and women's water shoes that we have) will help your feet to grip in the soft sand, especially in some more difficult parts of the walk.
Goggles + snorkel - There are lots of shells along the shore but there are even more to find underwater. You'll want to have

goggles

with you so you can find all the treasures!
Hat - I recommend wearing a

wide-brimmed hat

to protect your scalp, face, and neck from the sun but even a ball cap is better than nothing.
Beach towels - If you don't want to rent an umbrella and chairs then you must bring your own

beach towels

to sit on.
Dry box - If you plan on kayaking, I recommend that you bring a

dry box

to keep your valuables (phone, keys, wallet) in just in case you end up in the water.
Umbrella - The sun on the beach is so intense and it's much more enjoyable with shade. If you don't want to rent an umbrella for $30 then you should bring a lightweight beach umbrella (that will hold up to the wind) with you as we did.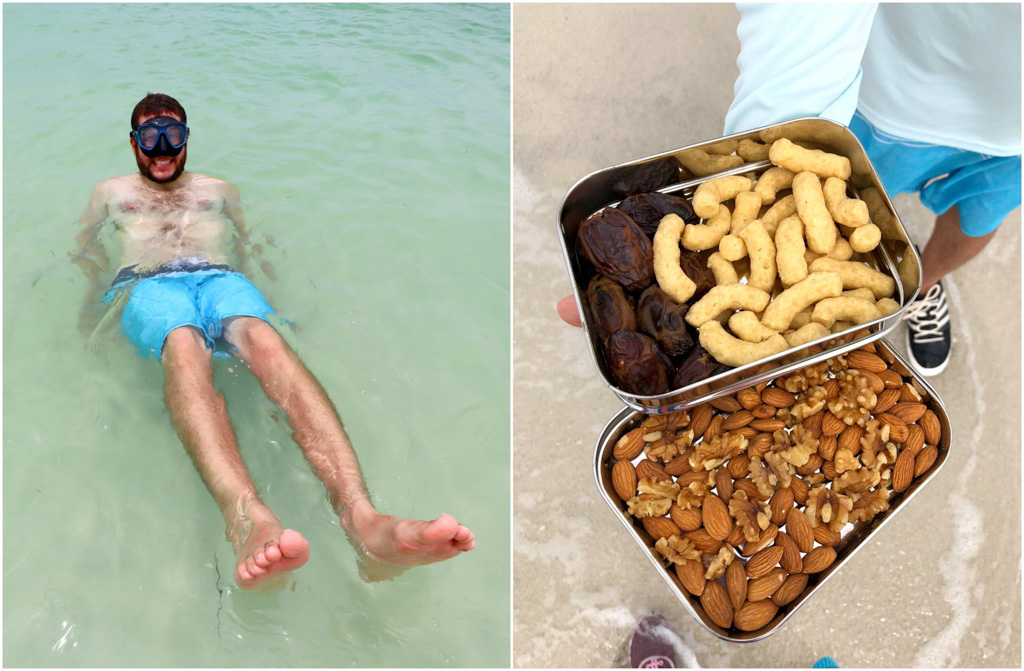 9 Fun Activities To Do At Caladesi Island State Park
The following 9 activities are all fun family-friendly things that you can do while on the island!
Swimming - The water is very clear and perfect for swimming! Make sure to shuffle your feet to avoid stingrays and look for dolphins! One swam right up to us while we were swimming in the pass between Caladesi and Honeymoon Island!
Relax on the Beach - There is nothing more relaxing than stretching out in your beach chair under an umbrella while listening to the waves crash on the beach.
Snorkeling - Some of the best shells that we found were 8-10 ft from the shore. You'll need your snorkel and goggles to looks for shells and fish!
Rent a Kayak or SUP - We saw lots of people on SUP or kayaking from the Dunedin Causeway and exploring the island. If you don't have your own, you can rent a kayak on the island.
Hike the Nature Trails - There is a beautiful nature trail that explores the middle of the island. If you plan to walk the trail, make sure to bring bug spray as there are lots of mosquitos on the trail. You will also see signs that warn you to watch out for rattlesnakes.
Fishing - A day's fishing (FL fishing license may be required) can yield catches of flounder, snook, trout, snapper, whiting, and sheepshead.
Walk to the Secret Shell Trees - It's a bit of a hike but well worth it to see the secret shell trees. I've never seen anything like it at any other beach!
Have a Picnic Lunch - We packed a picnic lunch to enjoy after swimming. We used these reusable silicone bags to hold PB&J sandwiches and apples, as well as a steel bento box full of nuts and crackers.
Shelling - Caladesi Island shelling is a very popular activity to do because the island is well known for having beautiful shells (keep your eyes open for sharks teeth too!). If you'd like to collect shells along the shore, make sure to pack a reusable bag to hold them. Remember, if you find a shell with something living inside, put it back where you found it. Live shelling is not allowed and that applies to sand dollars too.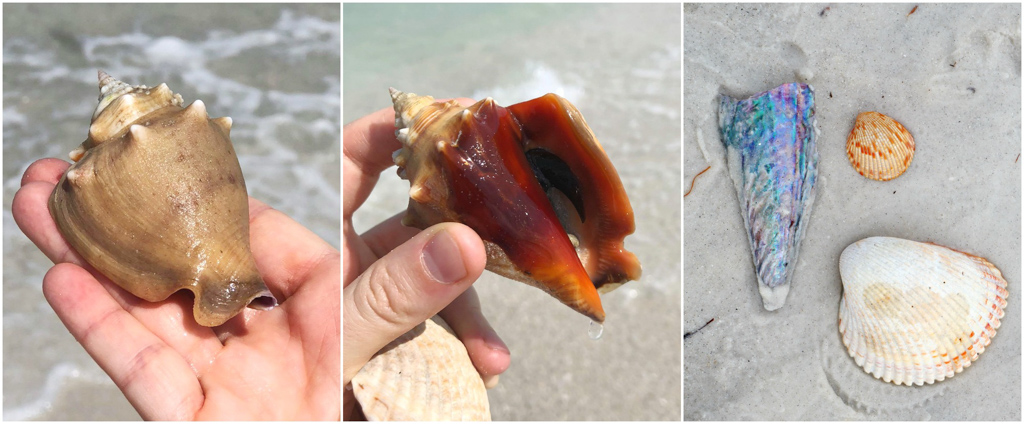 Tips To Have The Best Day On The Island
Wear your bathing suit to the park so you can jump in the water as soon as you get there.
Pack light! Even if you plan on taking the ferry instead of walking from Clearwater Beach, there is still quite a walk from the ferry loading dock to the beach on the other side of the island.
If you plan on taking the ferry from Honeymoon Island and you're active/retired military, bring your DD214 so you can get a discount on the ferry fare and so you can get into the state park for free.
Try to visit on a weekday so you can experience the beach with even fewer tourists.
If you don't want to shlep your own gear, you can rent chairs and an umbrella for $30 for four hours on the island.
Pack enough snacks and water for the day or plan to get lunch at Caladesi Cafe.
If you want to rent a kayak to explore the mangrove trails, it's more convenient to rent directly from the State Park so you don't have to paddle across Hurricane Pass first.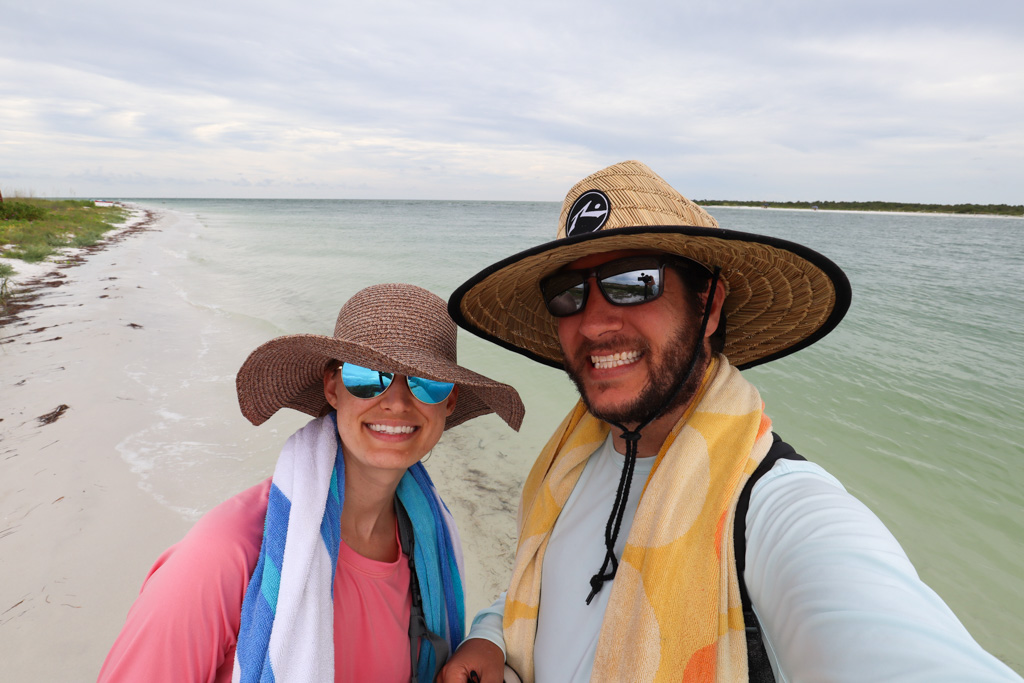 I hope that you have the best time during your visit to Caladesi Island State Park! If you have any questions, feel free to send me an email.
More Florida Adventure Posts You'll Love!