Vegan zuppa toscana is a delicious, dairy-free version of an Olive Garden classic! It's SO creamy and it's loaded with meatless Italian sausage, buttery potatoes, kale, and vegan bacon.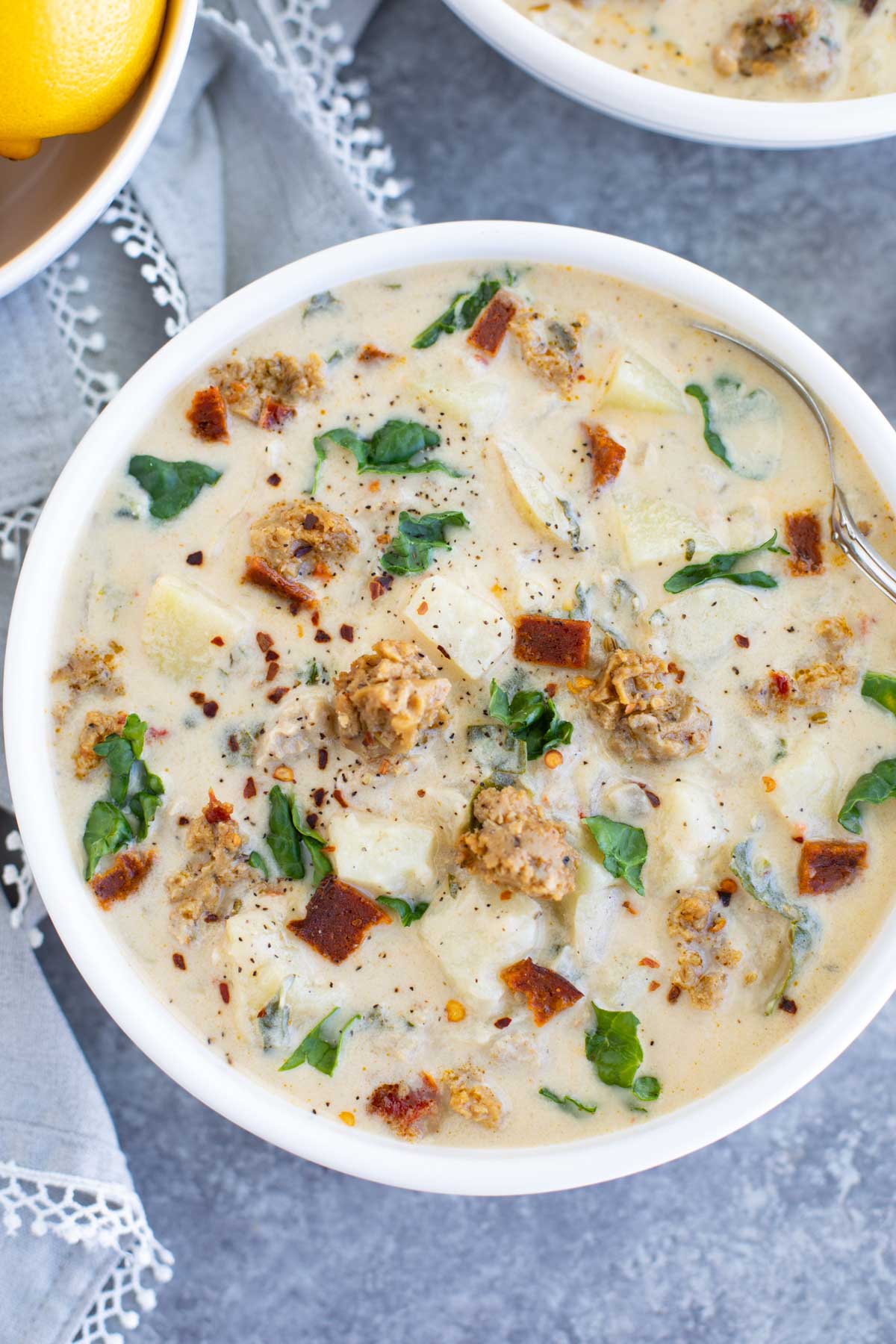 Endless soup and salad at Olive Garden with my girlfriends was my jam when I was in high school. There was nothing better than dipping a warm breadstick into a bowl of creamy zuppa toscana soup loaded with sausage and veggies.
I've really missed this dish since I've been vegan, so I created a dairy-free zuppa toscana that I think is just as delicious as the original! This version is made with meatless Italian sausage, Yukon gold potatoes, kale, vegan bacon, and the creamiest broth that's made with sunflower cream!
Have you tried using sunflower seeds to make a recipe taste super-rich and creamy (like in this lasagna soup or this wild rice soup) yet? Sunflower seeds are less expensive than cashews and they taste just as delicious!
Ingredients & Substitutions
This zuppa toscana recipe is easy to make for dinner with a combination of vegetables, seeds, meatless meats, and pantry staples. Please see the ingredients below and substitutions if you need them.
Sunflower Seeds - Raw seeds are boiled and then blended into a creamy sauce. The sunflower cream is what makes this zuppa toscana SO creamy! You can substitute cashews 1:1 if necessary.
Meatless Sausage - Olive Garden uses spicy Italian sausage in their zuppa toscana, so I used vegan Field Roast Italian sausages. If you don't want to use faux meat, you could substitute jackfruit, artichokes, or white beans.
Onion - Use your favorite variety of onion. Shallots would be delicious too.
Garlic - I used fresh garlic, but you could also use dried. Start with ½ teaspoon and add more to taste.
Chili Pepper Flakes - This ingredient adds a little spicy kick!
Yukon Gold Potatoes - These are medium-starch potatoes, so they'll hold their shape better while being cooked. Leaving the skin on also stops them from falling apart + it's extra fiber. You could also use russet potatoes.
Broth - I used vegetable broth, but you can also use mushroom broth.
Kale - I prefer to use thinly sliced lacinato or "dinosaur kale" because I like the texture better, but you could also use the curly type. Frozen kale works great in this recipe too. If you don't have kale, you could also use spinach or swiss chard.
Lemon - Fresh lemon juice finishes the soup and enhances all the flavors!
Vegan Bacon - This ingredient is optional because it's just a topping, but it does add flavor and texture to this savory zuppa toscana!
How to Make Vegan Zuppa Toscana
First, put the raw sunflower seeds in a medium pot and cover them with water. Boil it for 10 minutes and then drain the water (Photo 1). Put the seeds into a small blender cup with cold water (Photo 2) and blend until creamy (Photo 3).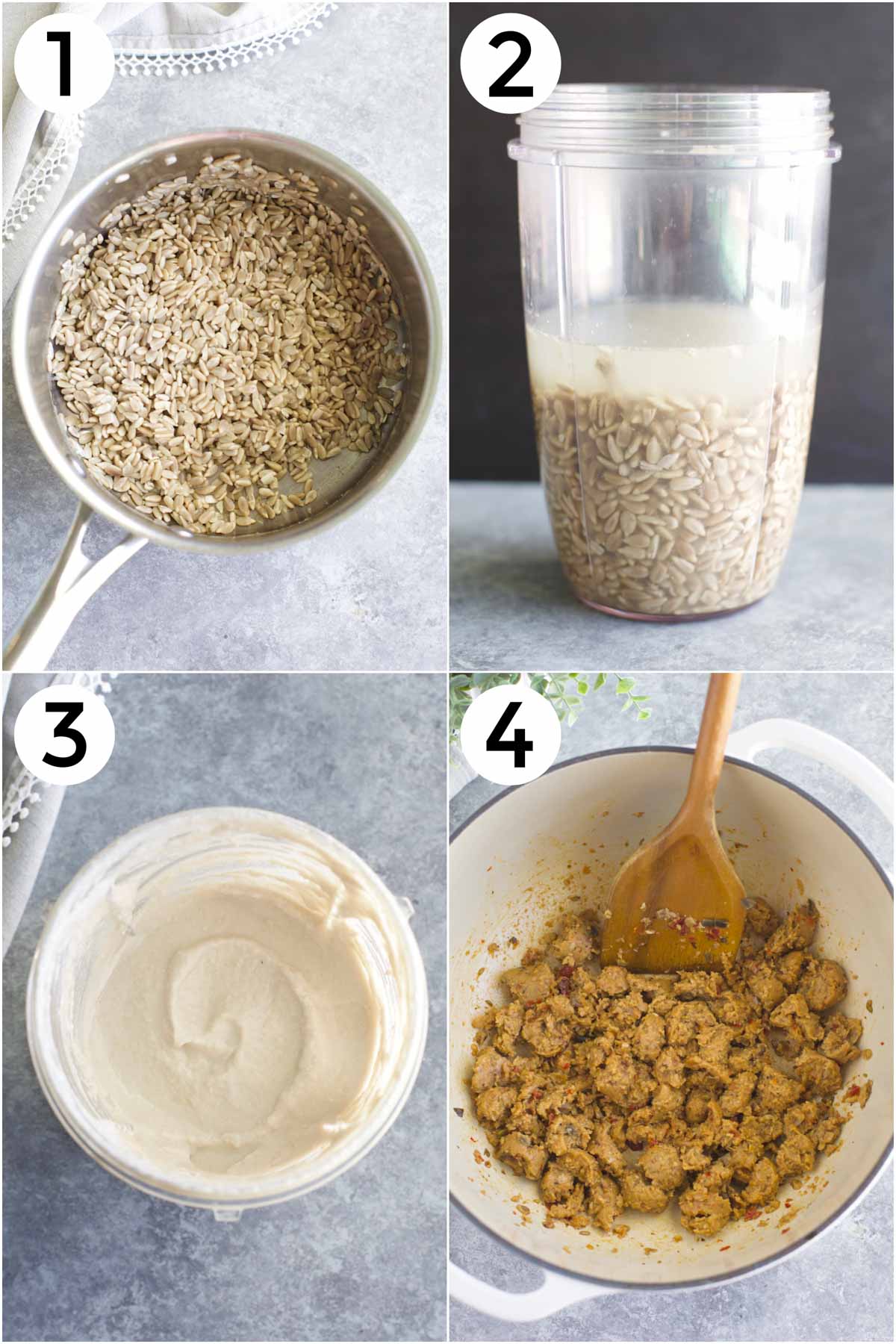 In a large 6-quart dutch oven, add the sausages and use a spatula to break them up into crumbles. Saute for a few minutes until it's lightly browned (Photo 4). Transfer it to a bowl for later. In the same pot, saute the onions until translucent, and then add the garlic and dried seasonings (Photo 5).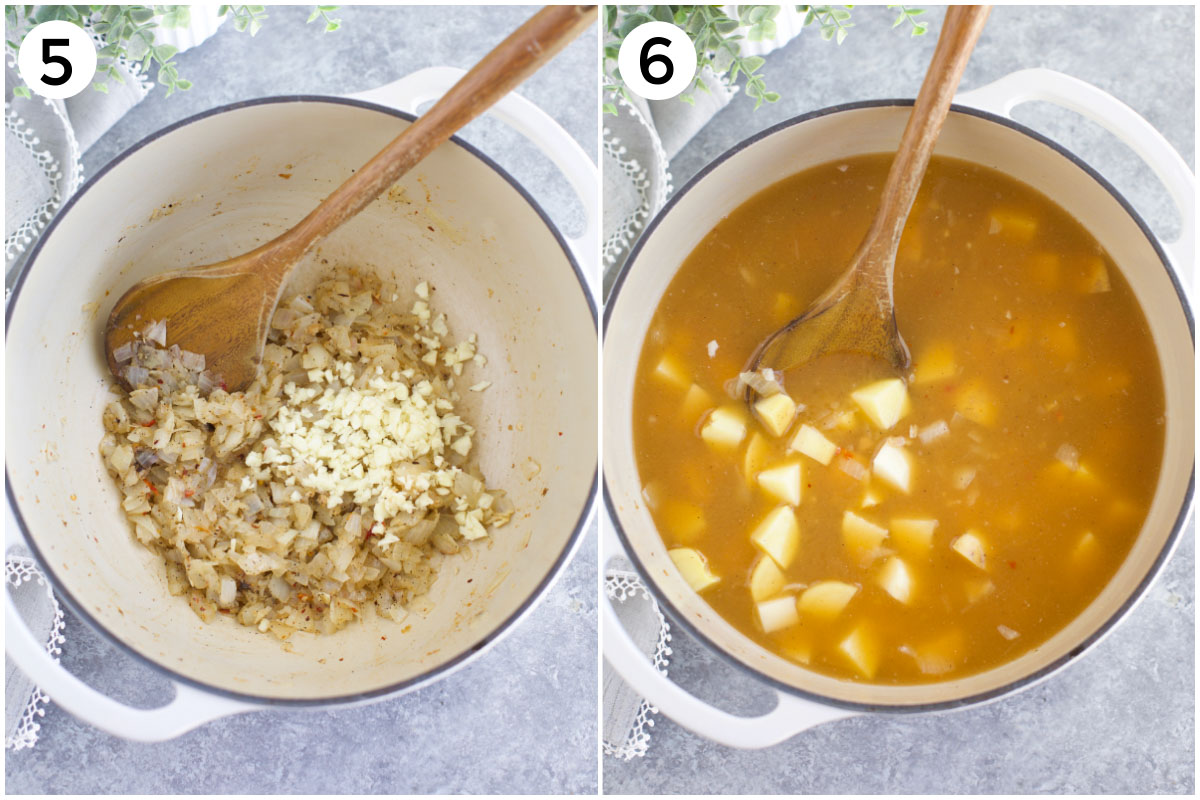 Next, put the chopped potatoes, broth, and water to the pot and cook until the potatoes are tender (Photo 6). Stir in the sunflower cream, kale, cooked sausage, and lemon juice (Photo 7). Cook for a few minutes to wilt the kale. (Optional) Saute the bacon in a separate pan until crispy to use as a garnish (Photo 8).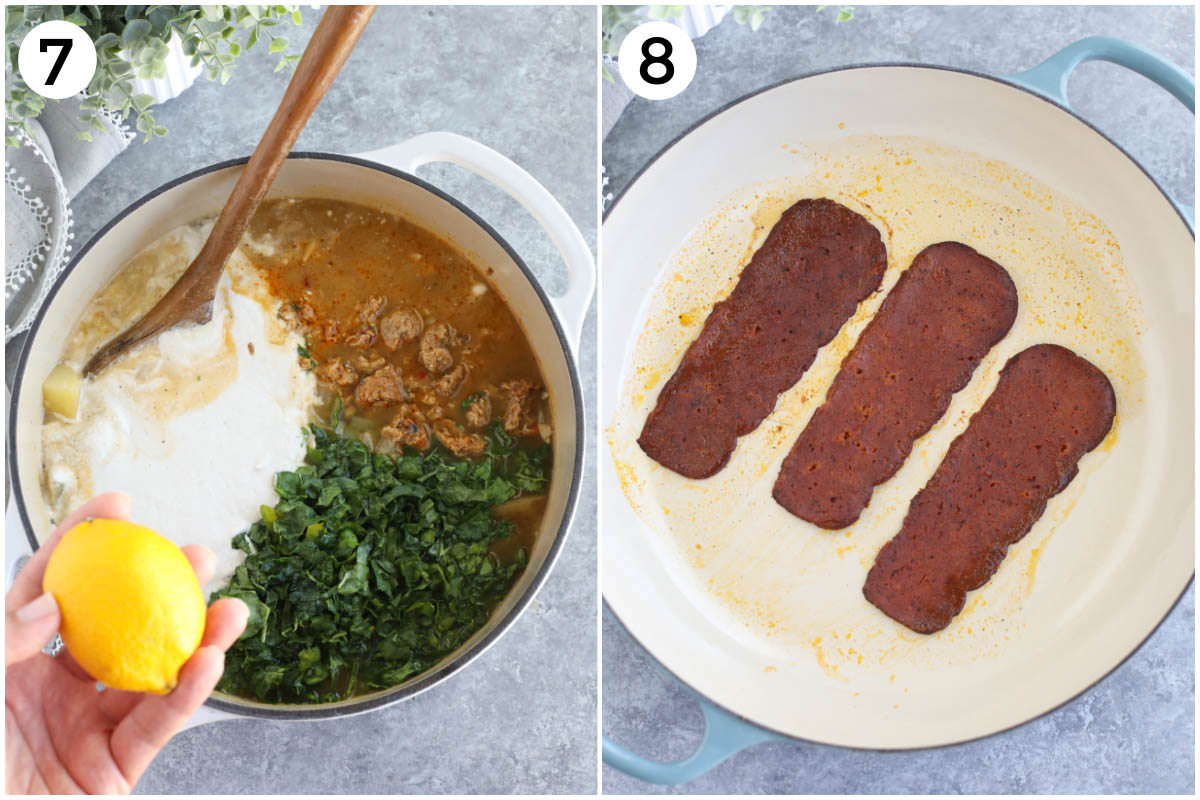 Recipe Variations
Make it WFPB - Omit the vegan meats and substitute (2) 14 oz cans of green jackfruit, or white beans. The rest of the ingredients are WFPB as-is.
Make it Gluten-Free - The vegan meats that I used are not gluten-free. To make this recipe gluten-free, you need to use gluten-free substitutes or omit them completely and use something else.
Plant-Based Protein - Great northern beans are so creamy and make a great addition to this dish! It's an easy way to bulk up the soup if you want to make this meal stretch a little bit further.
More Veggies - If you want to add some extra veggies to this zuppa toscana, artichoke hearts, jackfruit, zucchini, and red bell peppers are all good options!
Serving Suggestions
I like to serve a bowl of zuppa toscana with a big salad and a couple of slices of crusty bread for soaking up the creamy sauce. I usually make one of the roasted veggie recipes below to go with it too.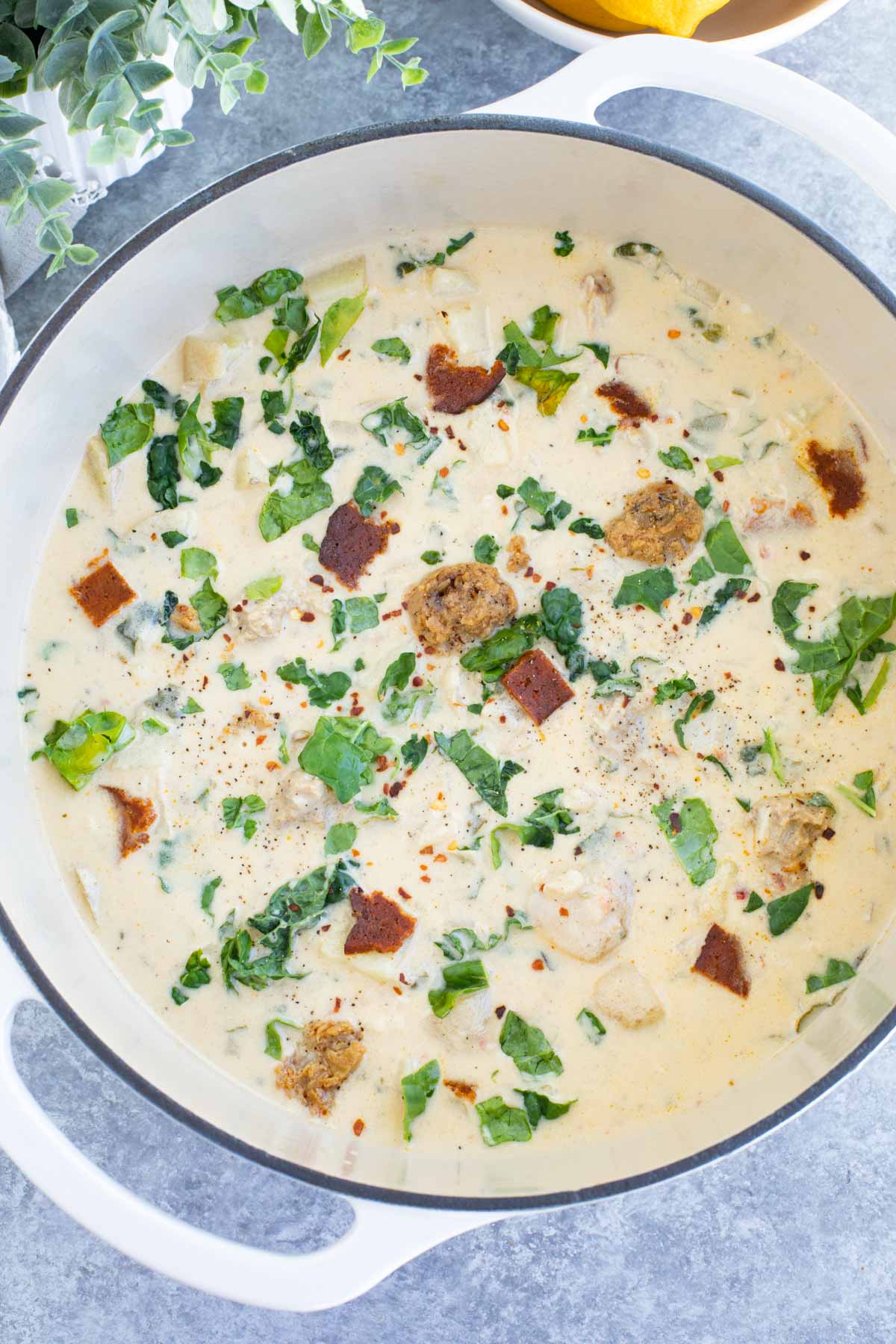 Storage Instructions
Store leftovers in an airtight container in the fridge for 3 days or you can freeze it for 2-3 months. When you're ready to defrost it, put the container in the fridge to thaw for 24 hours.
The broth might separate a little bit after a few days in the fridge or after being defrosted. Just stir it a few times until it's all combined again. Then you can reheat it in a bowl in the microwave or in a saucepan over medium heat on the stovetop until it's warmed through.
Frequently Asked Questions
What does zuppa toscana mean in Italian?
In Italian, "zuppa Toscana" translates to Tuscan soup.
Does Olive Garden zuppa toscana have meat?
Yes, it has sausage in it. This vegan version has meatless sausage and bacon to replicate the texture and flavor. If you don't want to use faux meat, you can replace it with jackfruit or beans.
My sunflower cream is grainy. What should I do?
Keep blending until it's smooth and creamy! Don't pour the sunflower cream into the pot if it's gritty or grainy because that will change the texture overall. It might take longer to blend if you use a food processor. Also, don't skip boiling the seeds because this helps to soften them and make them easier to blend.
Expert Tips
Keep blending the sunflower seeds until the cream is smooth and there are no chunks left. If the seeds are not completely blended, it will give the broth a grainy texture.
Brown the vegan sausage by itself for a few minutes in the beginning and then take it out of the pan. Add it back in at the end so it doesn't get overcooked and chewy by cooking it for too long with the rest of the ingredients.
If you choose to omit the vegan sausage, you can add a pinch of smoked paprika and ground fennel to imitate the flavor.
If you don't like the texture of kale because it's too tough, remove the stem, and try massaging it with your hands for one minute to make it more tender.
You can peel the potatoes if you want to, but I usually leave them on because it's easier, you get more fiber, and the skin helps the potato to hold its shape better.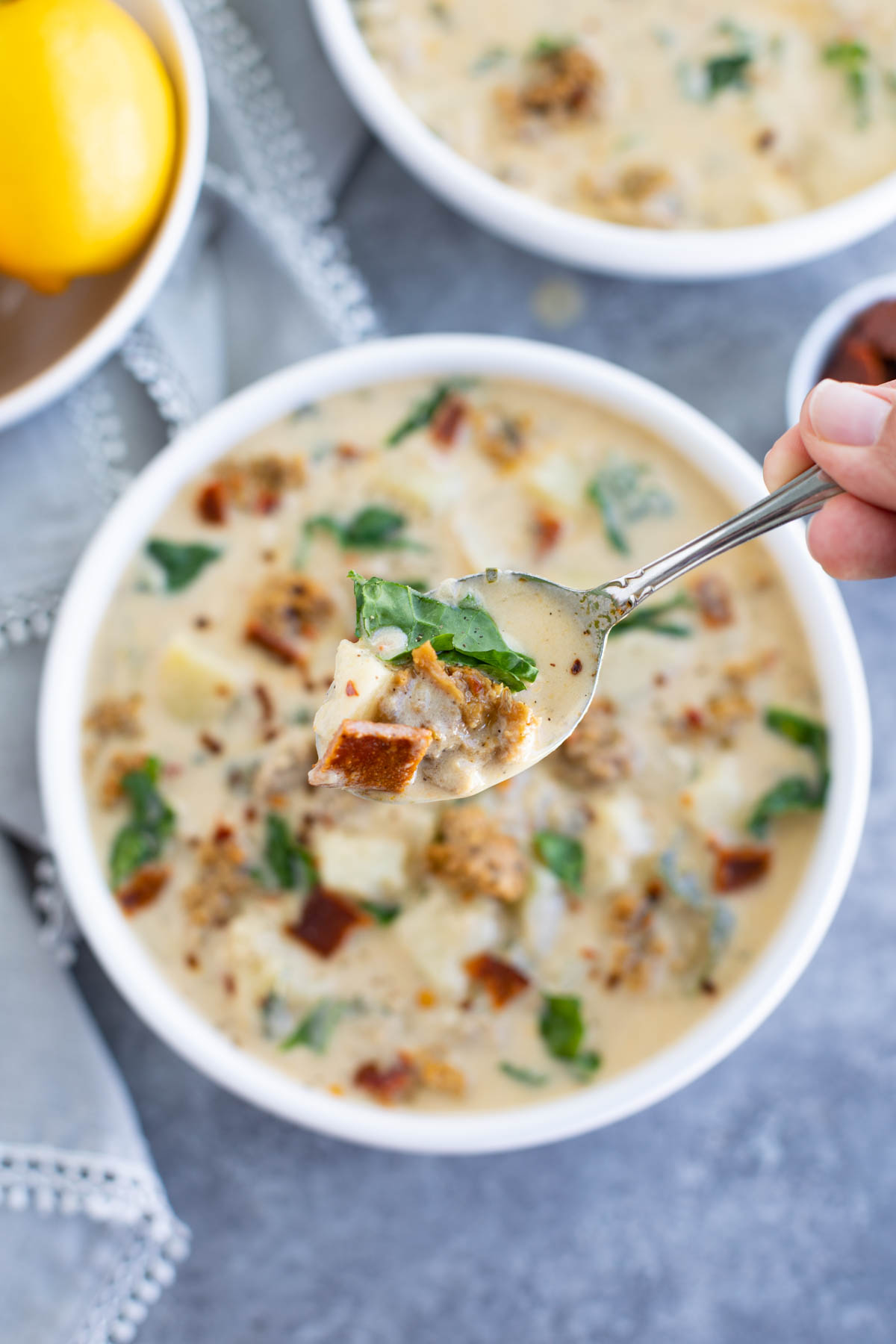 Want More Vegan Soup Recipes?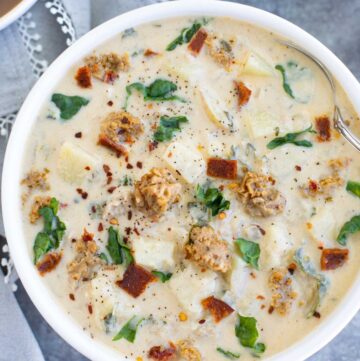 Vegan Zuppa Toscana
This vegan zuppa toscana is a delicious, dairy-free version of an Olive Garden classic! It's SO creamy and it's loaded with meatless Italian sausage, buttery potatoes, kale, and vegan bacon.
Print
Pin
Rate
Equipment
Medium Saucepan

Blender or Food Processor

Medium Bowl

6-Quart Dutch Oven or Large Soup Pot
Ingredients
Sunflower Cream
1

cup

raw sunflower seeds

3

cups

water

divided
Vegan Zuppa Toscana
1

lb

vegan Italian sausage

(I used Field Roast Italian sausages)

1

medium

yellow onion

diced

6

medium

garlic cloves

minced

¼

tsp

chili pepper flakes

(add more to taste)

1

tsp

salt

½

tsp

black pepper

1.5

lbs

yukon gold potatoes

chopped

4

cups

low-sodium vegetable broth

2

cups

water

3

cups

lacinato kale

stems removed, massaged, and thinly sliced

2

tbsp

lemon juice

½

cup

vegan bacon

crumbled (I used Sweet Earth vegan bacon)
Instructions
Sunflower Cream
Put the raw sunflower seeds and 2 cups of water in a medium saucepan and bring it to a boil. Reduce the heat to medium-high and let it cook for 10 minutes. Drain any excess water from the pan.

Transfer the seeds to a small blender cup or food processor. Add 1 cup of cold water and blend on high until the mixture is smooth and creamy. If the texture is grainy, keep blending until it is smooth or it will make the soup have a gritty texture.
Vegan Zuppa Toscana
In a large Dutch oven or soup pot over medium heat, saute the vegan sausage links. Use a spatula to break it up into medium-sized crumbles. Let the crumbles brown for about 5 minutes, stirring occasionally. Transfer it to a separate bowl.

Add the diced onion to the pot and cook for 10 minutes. Add the minced garlic, chili flakes, salt, and pepper. Cook for 1 minute.

Add potatoes, 4 cups vegetable broth, and 2 cups of water to the pot. Bring it to a simmer, cover it, and reduce the heat to medium. Cook for 20 minutes or until the potatoes are tender.

Stir in the sunflower cream, kale, lemon juice, and cooked sausage. Let it cook until the kale starts to wilt a little bit. Taste and add more seasonings to your preference. (I usually put an extra ¼ tsp chili pepper flakes for a little heat.)
Notes
Store leftover zuppa toscana soup in an airtight container in the fridge for 3 days.
Slow Cooker Instructions
Combine onion, garlic, dried seasonings, potatoes, vegetable broth, and 2 cups water in a large slow cooker. Set it to High and cook for 3 ½ hours. While it's cooking, make the sunflower cream and brown the sausage. After 3 ½ hours, stir in the sunflower cream, lemon juice, kale, and cooked sausage. Put the lid back on and cook for 30 minutes.
Nutrition
Serving:
1
cup
|
Calories:
352
kcal
|
Carbohydrates:
29
g
|
Protein:
23
g
|
Fat:
17
g
|
Saturated Fat:
2
g
|
Cholesterol:
1
mg
|
Sodium:
1312
mg
|
Potassium:
721
mg
|
Fiber:
6
g
|
Sugar:
4
g
|
Vitamin A:
805
IU
|
Vitamin C:
26
mg
|
Calcium:
51
mg
|
Iron:
14
mg
Tried this recipe?
Please rate it and leave a comment below if you have any feedback! If you post a picture on Instagram, please tag @Stacey_Homemaker and use the hashtag #StaceyHomemaker so I can see your delicious creation!