Are you craving comfort food? This incredibly creamy spinach artichoke dip lasagna is exactly what you need! This truly is the best vegan lasagna, it features layers of savory spinach artichoke dip, flavorful tomato sauce, roasted garlic mushrooms, and perfectly cooked (gluten-free) no-boil lasagna noodles. This family-friendly recipe is a winner!
*This recipe was originally posted on 10/14/18, but I updated it with better recipe instruction on 3/30/20.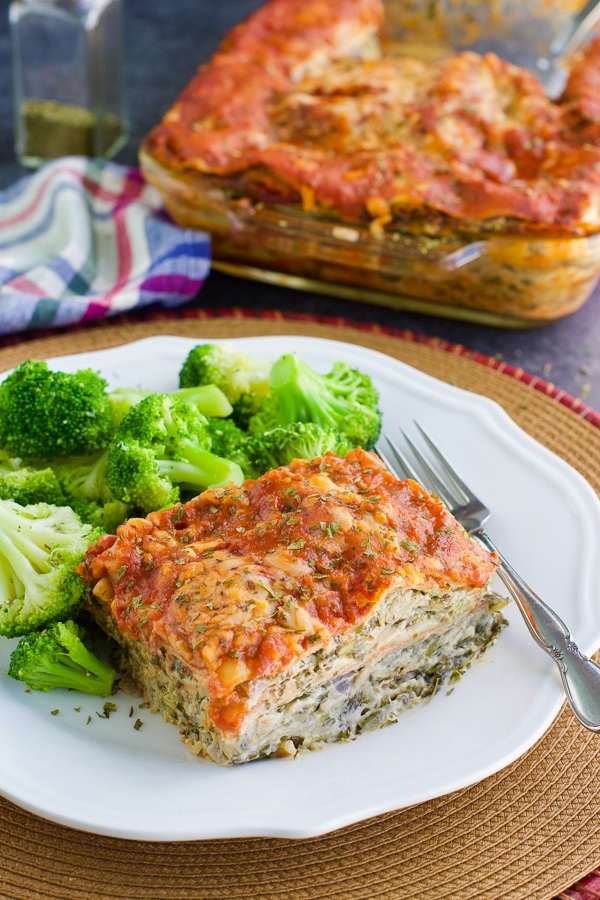 What makes this recipe for vegan lasagna unique? It's special because every layer is filled with the most delicious and creamy vegan spinach artichoke dip! Don't get me wrong, a classic lasagna is great, but this spinach dip lasagna is something really special!
My vegan spinach artichoke dip recipe is one of my most popular recipes, it gets rave reviews, like:
"Wish I could give this recipe ten stars! It was outstanding!!! Made a huge casserole dish full – took some to my neighbors in lockdown and took some to my friend in the nursing home. Everyone absolutely loved it! Thank you for this amazing recipe!" -Erin
"Such a great recipe! Thank you! It was a hit as one of our pre-dinner snacks at Christmas. The vegans and non-vegans in my family really enjoyed it. As someone who really does not have a knack for cooking, this was super simple and it tasted great! I'm transitioning into veganism, so my taste hasn't changed much yet but this was very delicious." -Ryan
The spinach dip is so tasty that I also use it as a filling for stuffed shells! I highly recommend that you give that recipe a try after you make this easy vegan lasagna recipe. I think you'll love it as much as I do!
In addition to the thick layers of spinach and artichoke dip, I also added layers of tomato sauce for even more flavor. I really love the flavor combination of the creamy white dip blended with the tomato sauce. The tomato sauce also serves as the saucy component for the uncooked lasagna noodles to absorb while it's cooking.
This family-friendly lasagna is definitely a crowd-pleaser, it's easy to make, and it makes a lot so you won't have to cook dinner again for a few days!
…