Decadent plant-based dark chocolate Easter eggs filled with a truffle-like carob peanut butter dessert hummus. Kids and adults (vegan or not!) will love this treat! Vegan, gluten-free.
***This post contains affiliate links.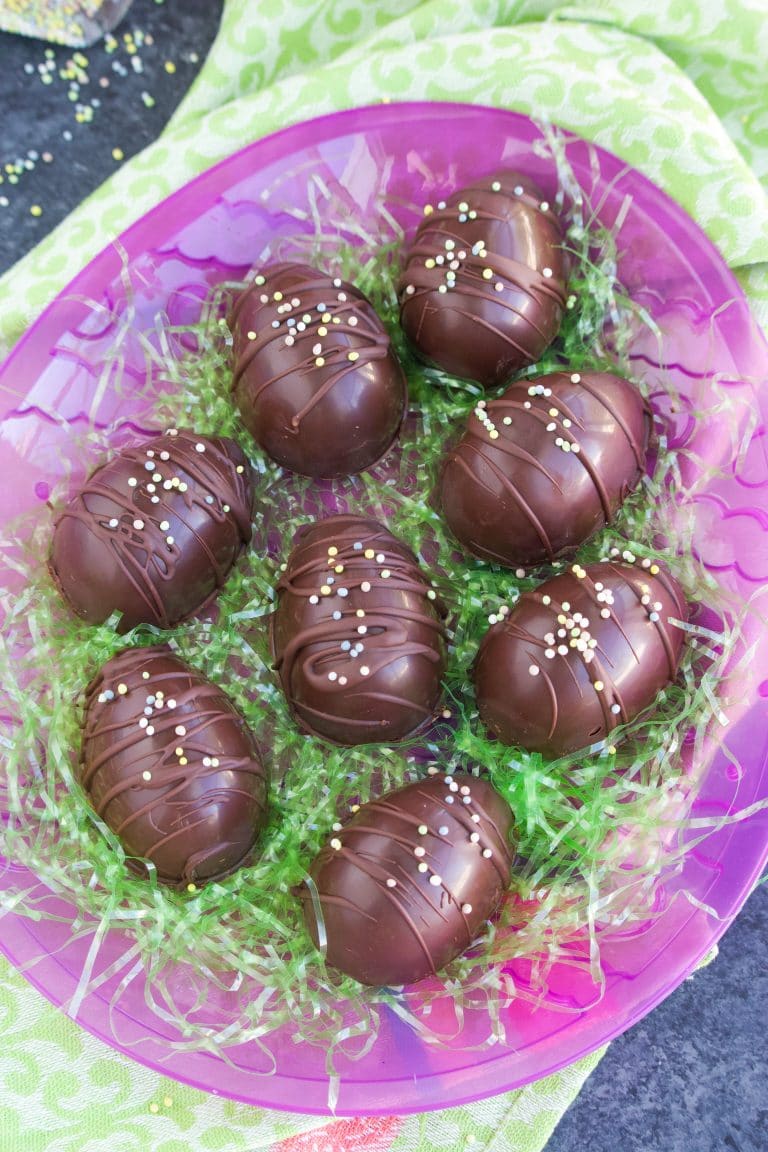 Easter is less than one month away! I use to by allllll the crappy candy– the high-fructose-corn-syrup-loaded jelly beans, the hundred ingredient candy bars, the artificially-flavored creme-filled eggs. That was back when I didn't know any better.
Now, if I don't make the treats myself (like these dark chocolate mango coconut candy bites) then you'll find me reading labels like a hawk in the candy aisle at a natural market looking for safe treats to stuff Easter baskets with. I look for goodies that are:
Organic
Low sugar (not always possible)
Contain NO artificial colors or dyes
Contain NO additives or preservatives
Vegan
I need to know exactly what every ingredient is on the label, no exceptions! Want to know which vegan candy brands that I think are the best? Check out my favorite vegan candy list.
When I was younger, I used to love-love-love candy-filled eggs. Whether it was peanut butter, truffle, nougat, or creme…I loved them all! I would look forward to them every year and eat wayyy too many. That's really the only candy I haven't found a store-bought replacement for yet.
I've gotten in the habit of veganizing recipes when I can't find what I'm looking for,
like–> macaroni and cheese, spinach artichoke dip, meatballs, or broccoli cheese soup.
Why would it be any different for candy-filled dark chocolate Easter eggs? It's not!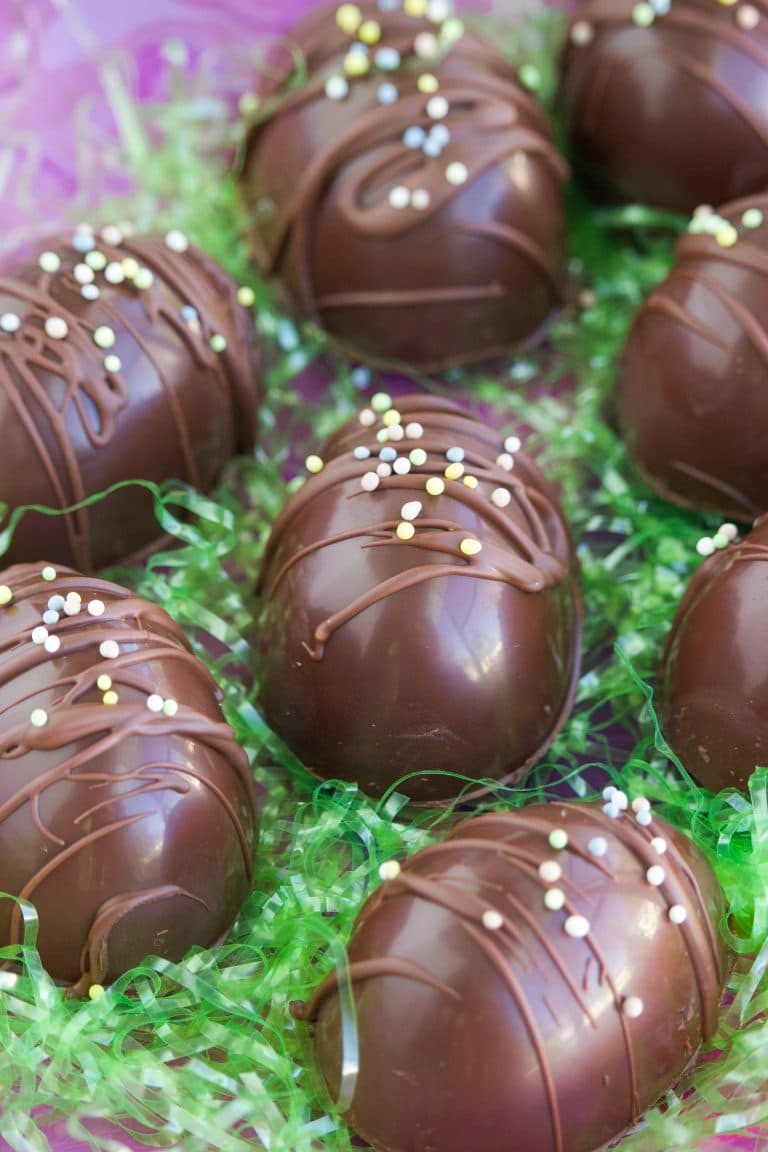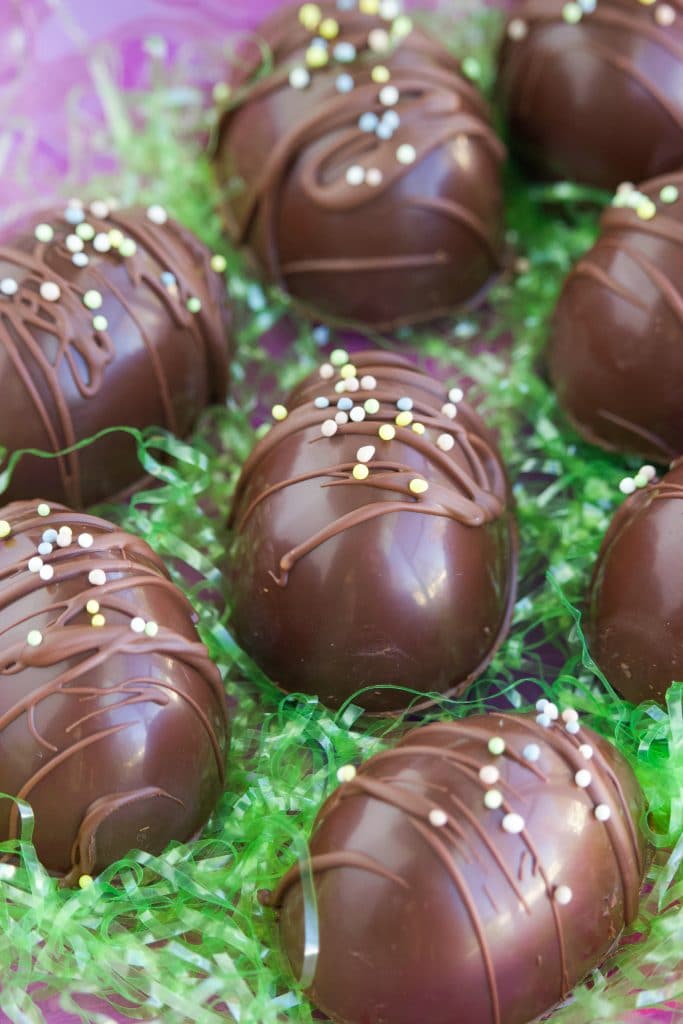 How Do You Get the Perfect Egg Shape?
I bought this food-grade silicone egg-shaped mold from Amazon with the hopes to make a decent dessert to bring to brunch on Easter. If I do say so myself, the dark chocolate Easter eggs turned out so adorable and perfectly shaped! I was honestly shocked at how easy it is to make the egg candies and how cute they turned out.
I used this silicone egg mold –>
I've seen other egg-shaped recipes where they just use their hands to mold an egg shape candy and then they dunk it in chocolate but the result is usually lumpy and dull. The egg mold makes the candy eggs perfectly smooth so they have a brilliant sheen to them without having to add any oil to the chocolate!
If you use a silicone mold, the eggs will come out perfectly every time! They look professional, artistic, and like something you would buy from a real bakery. I guarantee that your family will be impressed if you make these dark chocolate Easter eggs for Easter!


Dark Chocolate Easter Eggs FIlling
I really wanted a treat that tasted similar to the candy-filled eggs that I used to love but I didn't want them to be sugar bombs either.
I knew my favorite carob peanut butter hummus would be the perfect filling for these dark chocolate Easter eggs! It doesn't have any refined sugar, it's easy to make, and it's so creamy! If you don't want to use carob powder, you can substitute 1:1 with cocoa powder.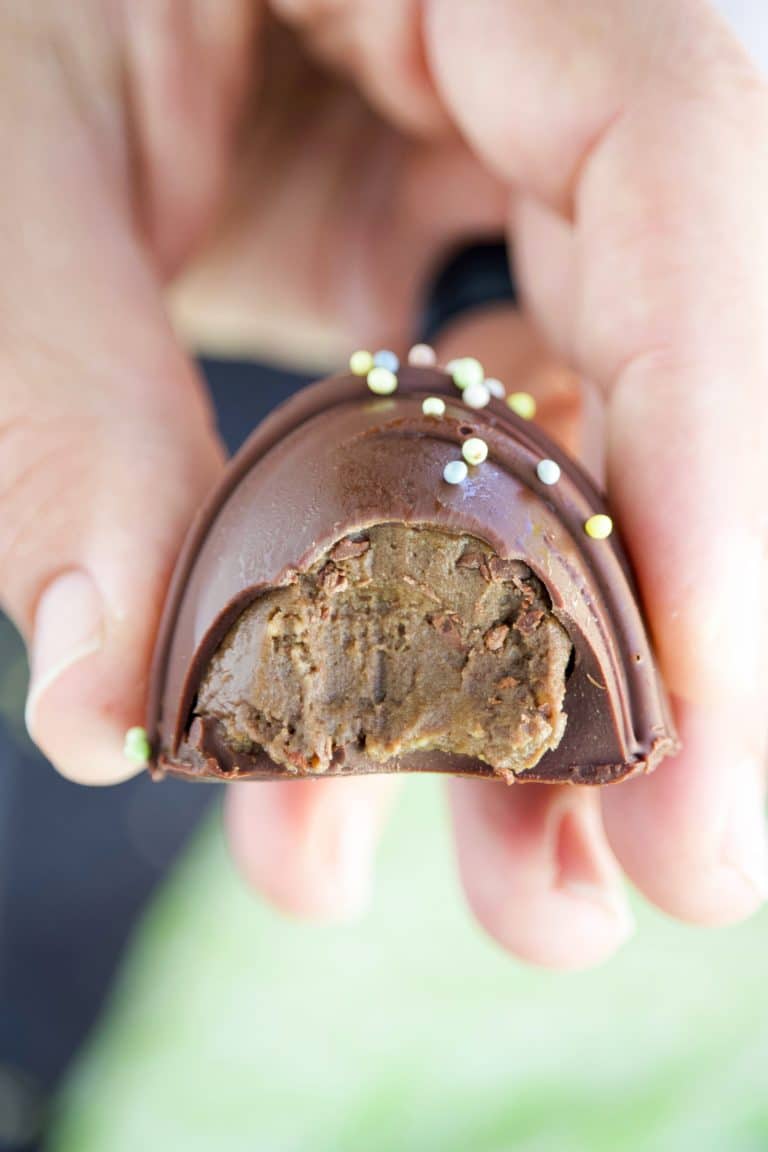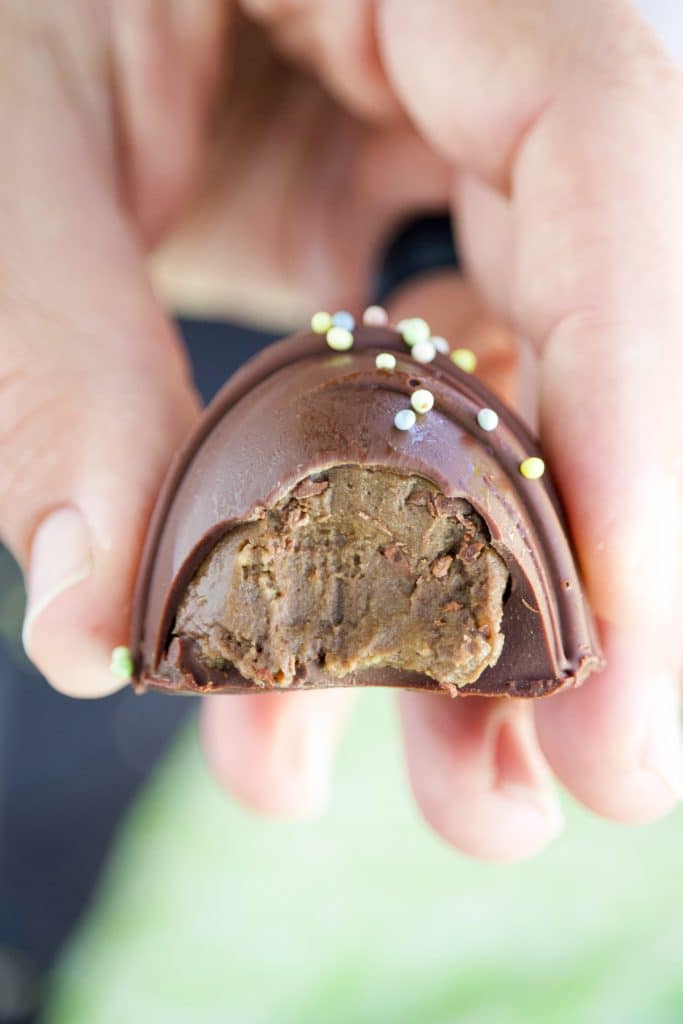 What Type of Vegan Chocolate Should You Use?
I used vegan dark chocolate chips for the candy egg shells because I wanted the dark chocolate Easter eggs to taste like real chocolate. By the time you get to the delicious carob peanut butter chickpea center, you don't even know that you're eating a healthish treat.
These are my FAVORITE vegan dark chocolate chips –>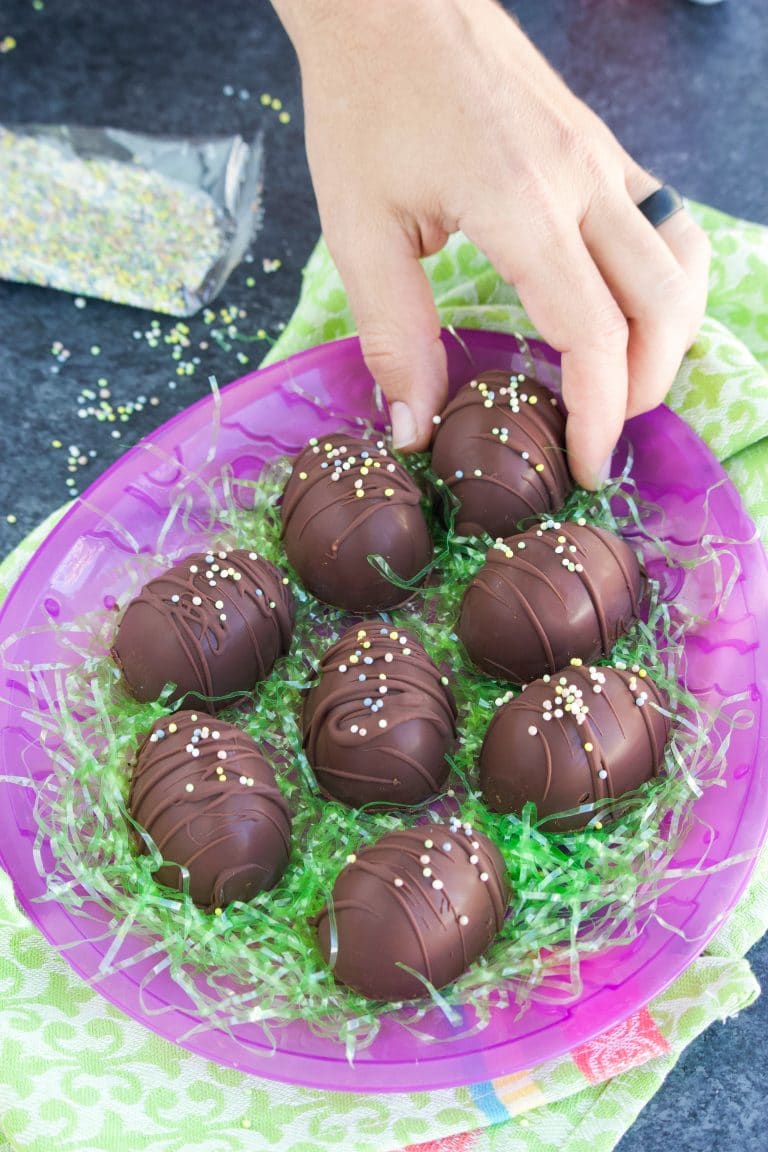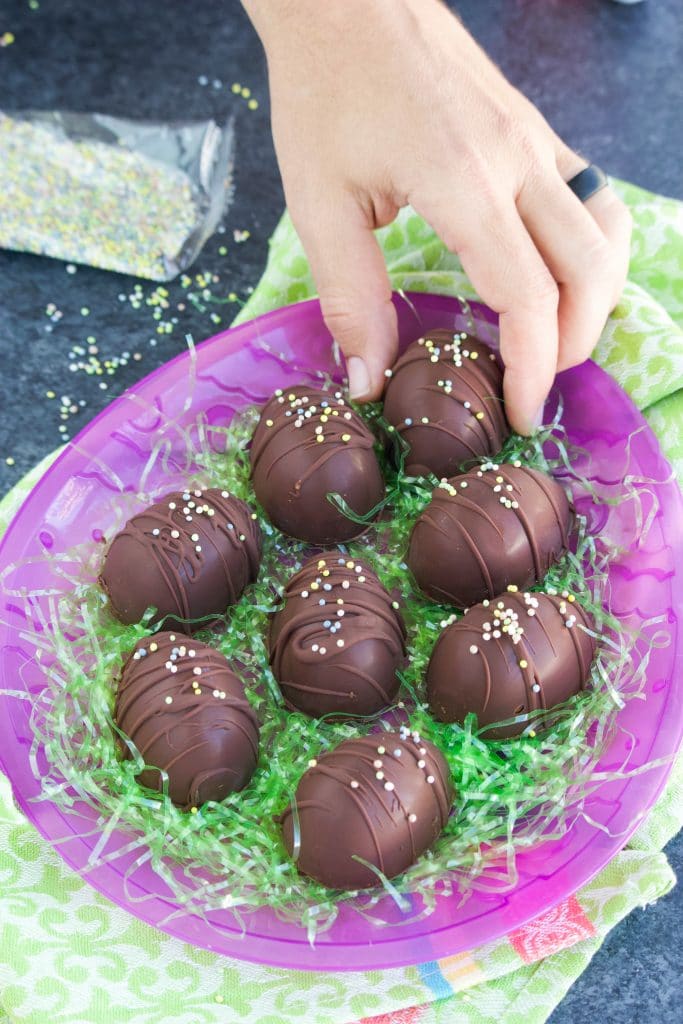 These vegan dark chocolate Easter eggs easily rival the store-bought eggs I enjoyed when I was a kid. Honestly, I think they're super delicious and kids and adults (vegan or not) alike will love them too.
Where Do You Buy Vegan Sprinkles?
You can leave the eggs plain or you can drizzle a little bit of chocolate over the top and then sprinkle these organic vegan sprinkles over each egg for extra pizazz!
I used these vegan sprinkles to decorate the dark chocolate Easter Eggs. I will say that the colors aren't super vibrant, it's more of a range of pastels. However, I prefer pastel colors for Easter anyway, so I was happy with how it turned out.
These are the sprinkles I used –>
If you want a brighter-colored vegan sprinkle that doesn't have any artificial colors or dyes, try these vegan sprinkles.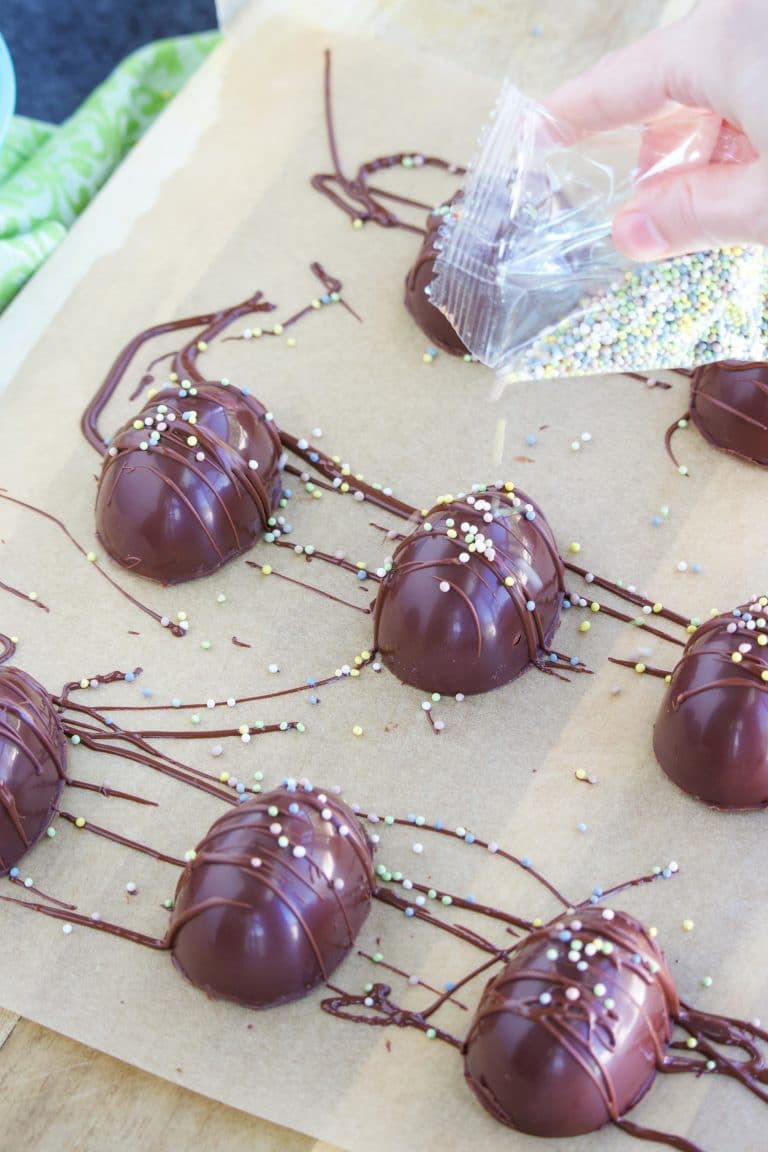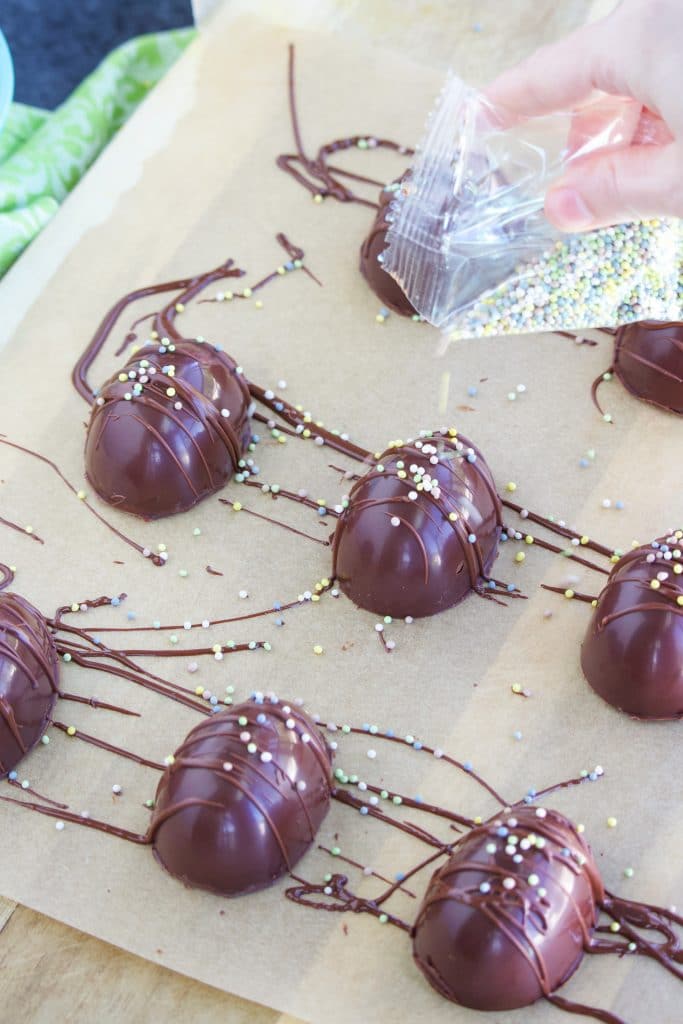 More Fun Easter Ideas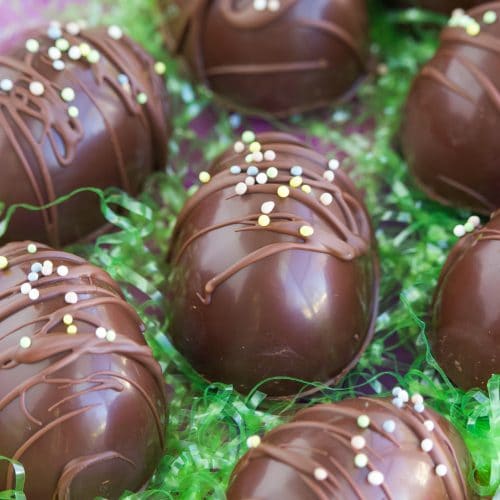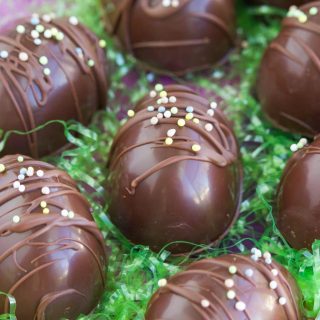 Vegan Dark Chocolate Easter Eggs
Decadent plant-based dark chocolate Easter eggs filled with a truffle-like carob peanut butter dessert hummus. Vegan, gluten-free.
Print
Pin
Rate
Instructions
This carob peanut butter hummus recipe is the filling for the eggs. Double it so you have enough filling to make 16 dark chocolate Easter eggs, you might have a little bit leftover.

Melt the dark chocolate chips in a medium bowl over a double boiler or in the microwave.

Spoon 1 1/2 tsp of melted chocolate into each egg mold and swirl it around to cover all sides of the egg mold. Hold the egg mold up to the light to see if you missed any spots.

Turn the filled egg mold upside down on a parchment-lined tray and put it in the freezer to set (about two minutes).

Take the egg mold out of the freezer and spoon 1 1/2 tbsp of carob peanut butter hummus into each egg. Be sure to leave enough room at the top of each egg to put another layer of melted chocolate on top.

Spoon enough melted chocolate over each egg to completely seal the filling in and fill the mold to the top. Use the back of a spoon to smooth the chocolate to the edges. Put the filled egg mold in the freezer for 10 minutes.

Remove the eggs from the freezer and carefully pop them out of the egg mold. Lay them on a parchment-lined tray and use a fork to drizzle melted chocolate over each egg. Quickly, add the sprinkles so they stick to the melted chocolate. (If you wait too long, the sprinkles won't stick to the cooled chocolate drizzle.)

Keep the eggs on parchment paper in an airtight container in the fridge.
Notes
I only had one egg mold, so I did 8 eggs at a time. If you want to make all 16 at once, you'll need two egg molds. 
I prefer to use semi-sweet organic vegan dark chocolate chips for the egg shells but you can use any chocolate chips that you like. 
Make sure you line the container that you store the eggs in with parchment paper, otherwise they will stick to the container. 
If you make these vegan dark chocolate Easter eggs, please share your picture on Instagram and tag @StaceyHomemaker so I can see your delicious creation!