This copycat recipe for a Starbucks mocha frappuccino is my favorite treat to make at home when I need a delicious pick me up or something better than a regular ol' cup of joe. I put a healthy spin on a classic by using creamy coconut milk, no additional sugar, and aquafaba whipped cream! Dairy-free + vegan + gluten-free.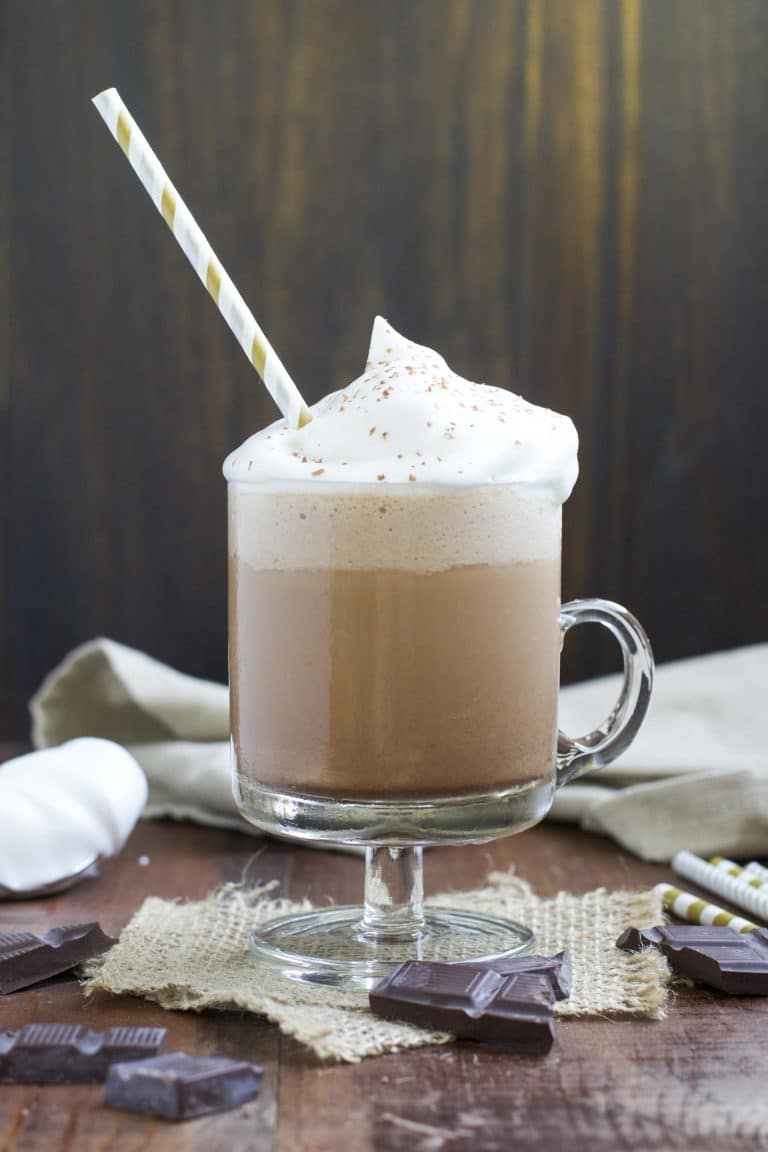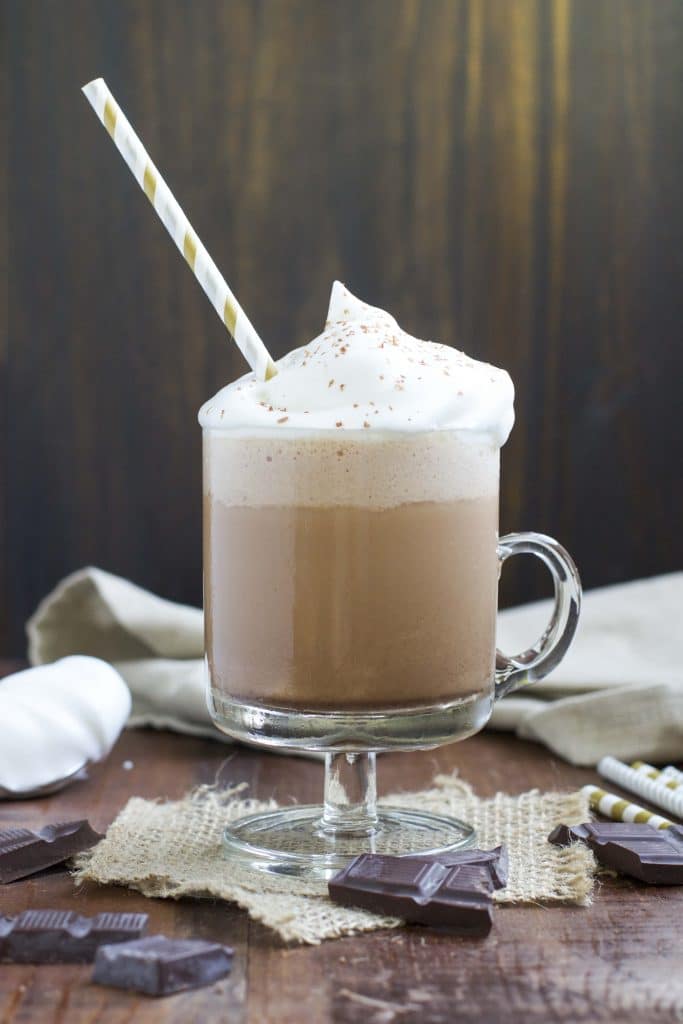 Guys, the holidays are coming. Soon. Real soon.
When it's holiday season I'm going non-stop. All day, every day. Until New years, then I can sleep.
There's just so much to do and this year our workload seems even heavier since our wedding is in February so we're trying to prepare for that too.
On regular days, I have a cup of coffee in the morning around 8am and then a second cup around 4pm so I can tackle everything on my to-do list. Most days, I'm totally fine with regular coffee. I don't eat sweets that often (we're trying to cut sugar out of our diets for the most part, but sometimes I find myself craving a little something sweet!
We've also cut extras out of our budget in an attempt to save money for our dream wedding.
Bye, bye, Starbucks.
Make A Starbucks Mocha Frappuccino At Home
So, when I started craving a Starbucks mocha frappuccino I had no choice but to make it myself at home. After scouring Pinterest for a copycat that wasn't loaded with sugar, I came across this recipe that sounded pretty promising! I made a few substitutions and tweaked it a bit but it came out exactly how I like it! I didn't want a super sweet chocolate coffee drink, I wanted a blended coffee drink with a hint of chocolate. Perfection!
We've been trying to cut out dairy so I used unsweetened coconut milk instead of regular and made whip cream from aquafaba! Boy, did it hit the spot! MmmMmm, mmMMmmm, Mmm.
I used our favorite organic chocolate hazelnut spread instead of fudge sauce, it's pretty freaking fantastic! The hazelnut spread is very dangerous, it's so creamy and chocolatey that I could easily eat it by the spoonful but I don't because I have self-restraint. Okay, I might have had one spoonful but it was soooo worth it!
I've also made avocado chocolate pudding with the hazelnut spread that turned out delicious if you're looking for a healthy dessert to try!
Since it's mostly coffee and just a little bit of hazelnut spread, I like to make it in my jumbo cup which could definitely be comparable in size (and flavor) to a grande Starbucks mocha frappuccino.
Don't you love copycat recipes? You can make it yourself and adjust all the ingredients to your liking! No added sugar, dairy-free milk and extra coffee! Bingo!
Make one of these Starbucks mocha frappuccinos at home and you'll have no problem getting through the afternoon slump. Trust me, when the holidays get here and you have gifts to shop for and wrap, a house to decorate, dinner to make, kids screaming in the background and all of your regular day to day work to do– you'll be so happy you have this recipe! You don't have to get dressed and go out to get a coffee, stay home all cozy in your pj's and make one yourself!
Dairy-Free Aquafaba Whipped Cream Topping
Unless I have some extra time (which never happens), I don't usually make the drink with a whipped cream topping. If I'm making the Starbucks mocha frappuccino for someone else then I'll make the whipped topping because it looks impressive. I might even add a sprinkle of shaved chocolate!
Since we're not eating dairy I can't use regular whip cream, so I save the juice from a can of chickpeas to make the whipped cream. If you'd like to make it with the vegan whipped cream topping, try this recipe, it's delicious!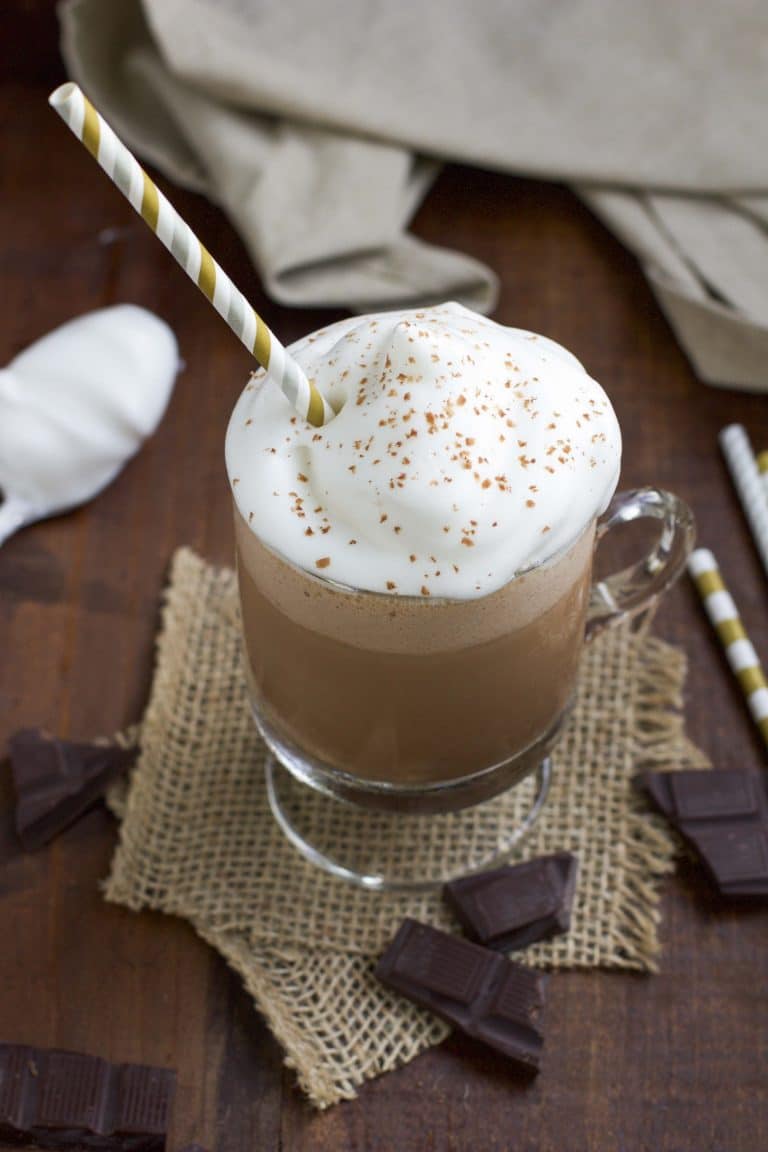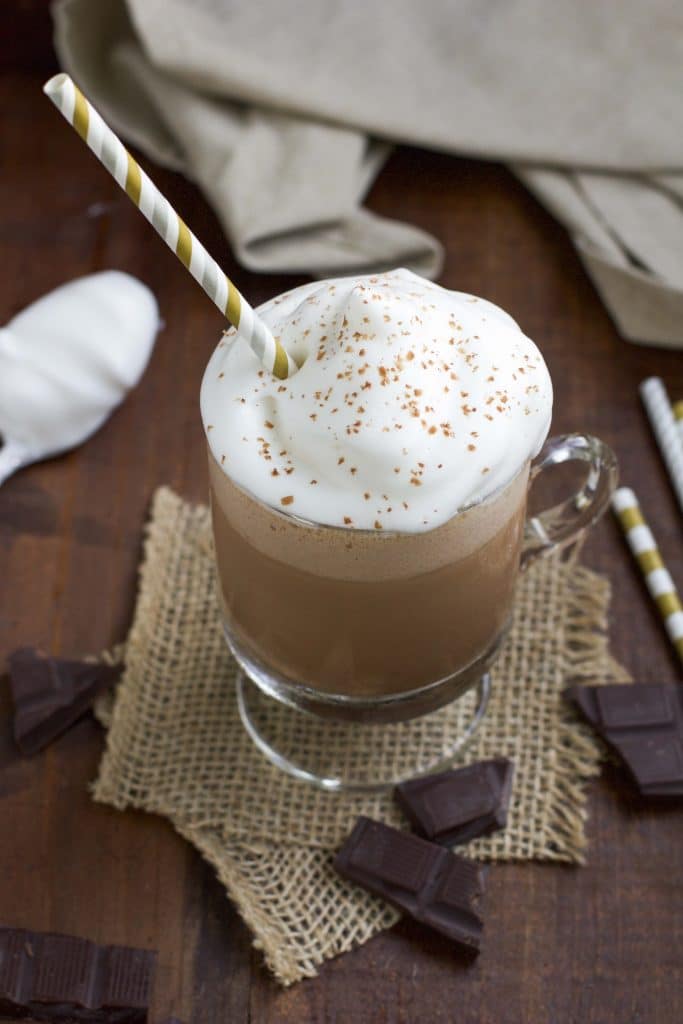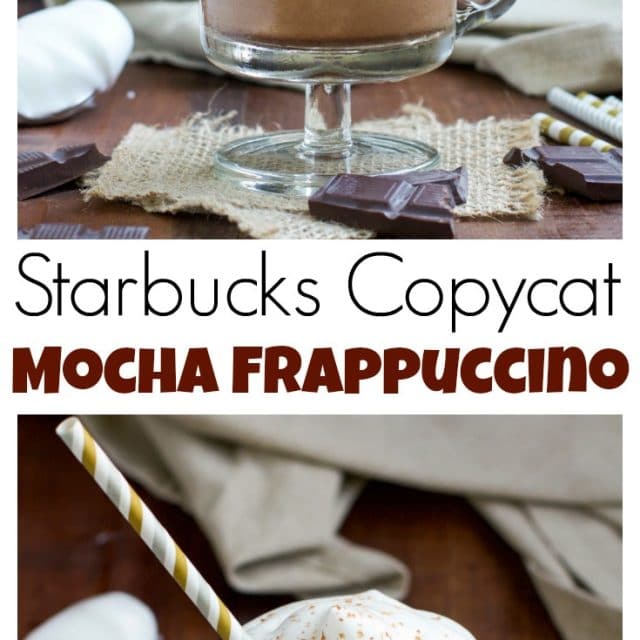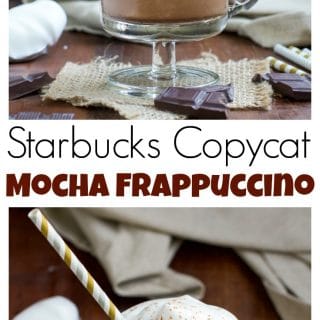 Instructions
Make the coffee, let it cool before adding it to the blender.

Add all ingredients to a

high powered blender

and blend on high for 30 seconds to 1 minute. (I like my drink to have a slushy consistency so I blend for about 30 seconds)