This is an honest review of the Avocado Vegan Mattress. I'm sharing everything that you need to know about the mattress, from the delivery process to our first-night sleeping experience + answers to all of your mattress-related questions!
*This post is brought to you by Avocado Green Mattress but all opinions are my own. Thank you for supporting the brands that I love!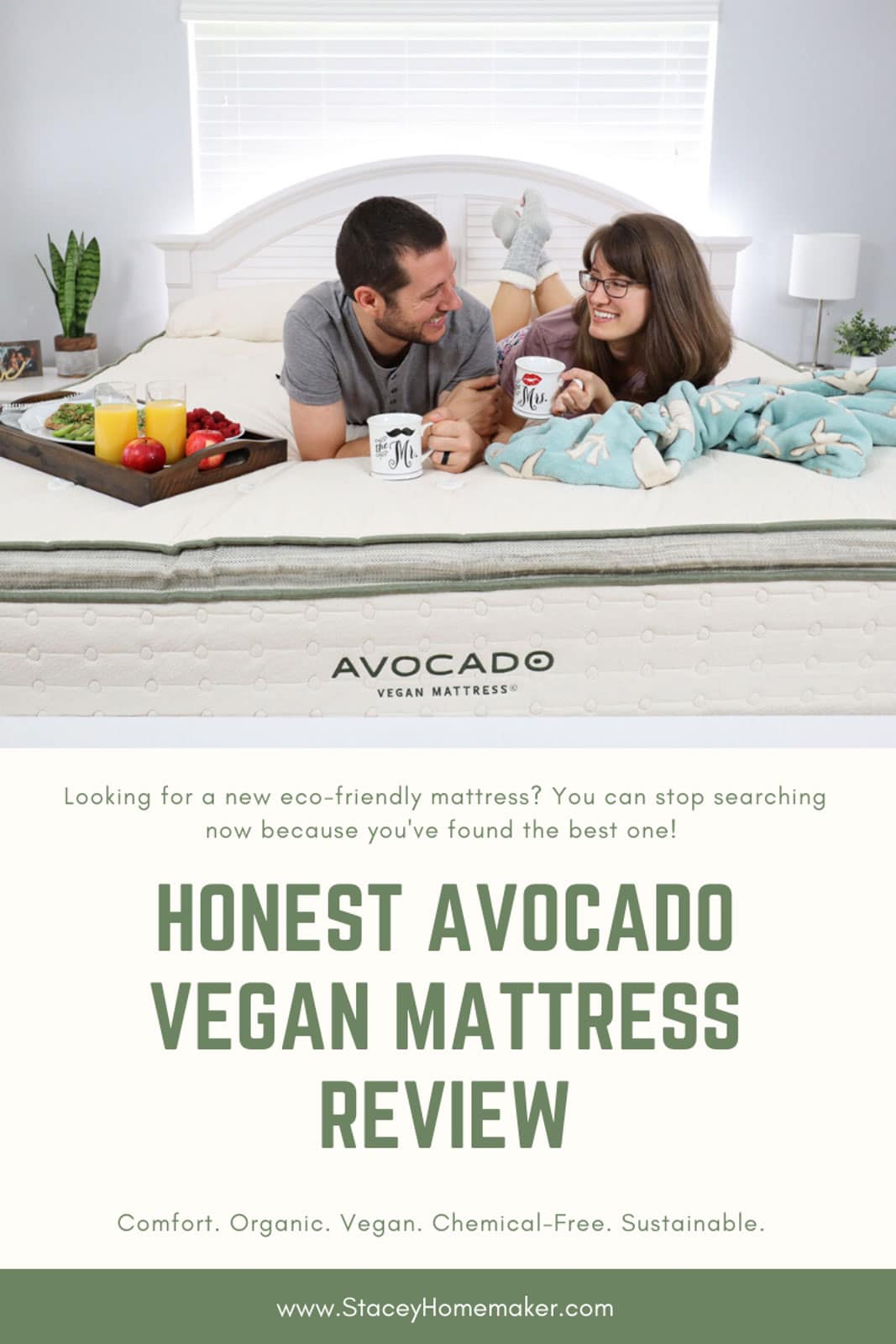 Eight years ago, I was helping my boyfriend (he's since been upgraded from boyfriend to husband!) to outfit his first house. We didn't have a big budget to spend, so we ended up buying a 20-year-old bedroom set that included a set of twin mattresses, from an elderly couple that my dad knew.
We painted Travis' bedroom blue, set it up with the secondhand bedroom furniture, we pushed two twin mattresses together, covered it with a mattress topper (because it wasn't very comfortable), and called it a day.
Fast forward to 2020, now we've been married for almost three years and we're still sleeping on the makeshift king mattress. I'm not able to sleep through the night anymore because it's so uncomfortable and I wake up with back pain.
We finally decided that it was time to invest in a new bedroom set and to set upon the extremely daunting task of searching for the perfect mattress.
Our Dilemma
Here's the problem, Travis likes a firm mattress because he sleeps on his back and I prefer a softer mattress because I prefer to sleep on my side. It was also very important to me to find a mattress that was eco-friendly or at least a mattress that contained fewer chemicals than most other mattresses.
This was my first time shopping for a mattress, so I really wasn't sure what was available. Was there a mattress that could meet all of our requirements?
Then I found it, the holy grail mattress for a health-conscious vegan couple who have different sleeping preferences! Hello, Avocado Vegan Mattress!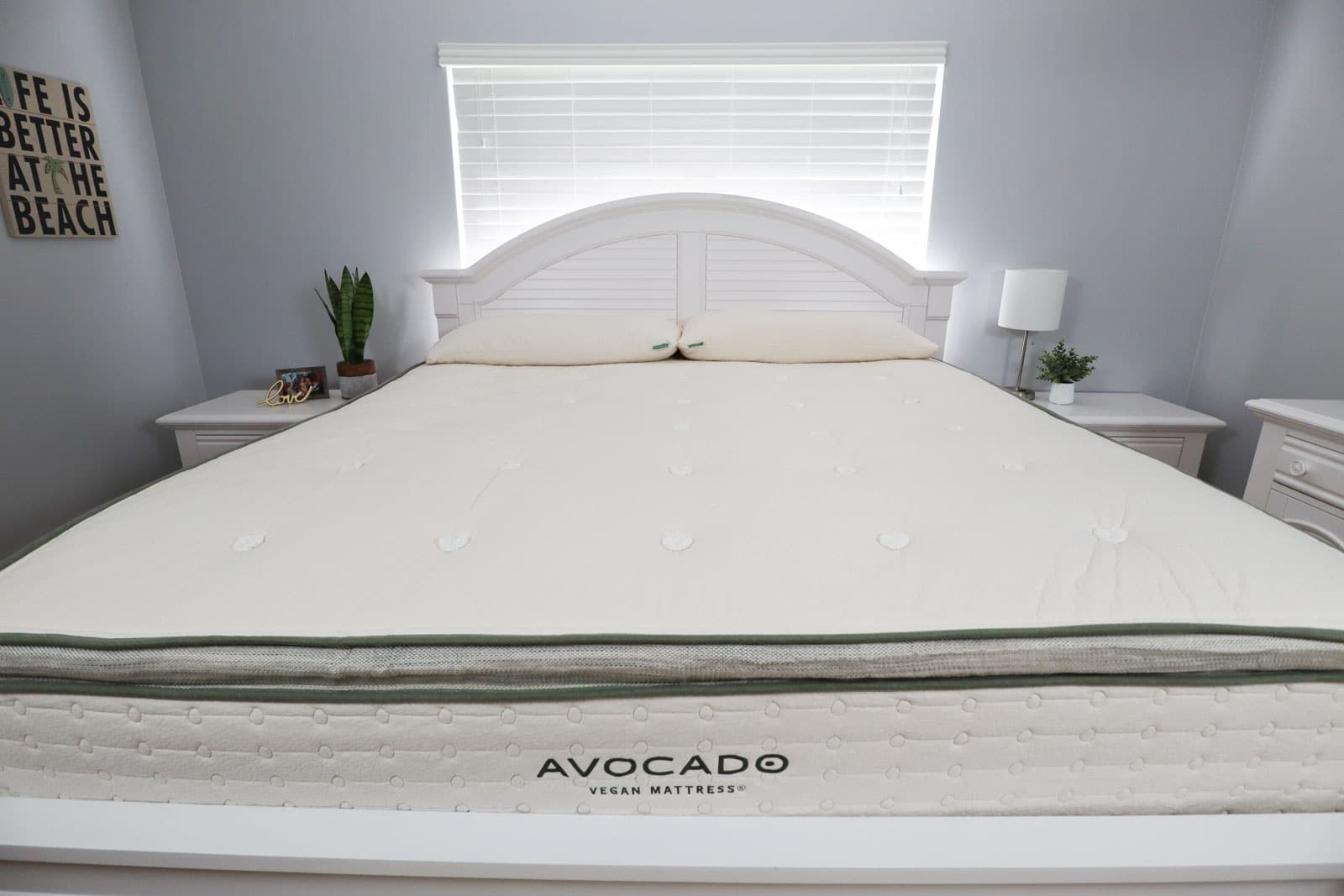 What Makes An Avocado Green Mattress So Special?
After extensive research, the Avocado Green Mattress became my #1 choice because:
The mattress and pillows are made with sustainable organic materials, like certified organic cotton.
Only 100% natural latex from tree-tapped and sustainable sources are used.
The mattress is GOTS, GOLS, and Greenguard Gold Certified.
The mattress is handcrafted in the USA (California) and it's made to order!
The mattress contains no toxic chemicals, petroleum-based polyurethane foams, or flame retardants.
They have a 100% vegan mattress option that's made without wool.
The Avocado Green Mattress mission:
"To be the most respected source for green mattresses and pillows at affordable prices — while maintaining environmentally conscious, ethical and sustainable business practices — to help safeguard your health and protect our planet."
Avocado Green Mattress was started by a husband and wife that were looking for a green and natural yet affordable mattress for their son. There were a few green options available on the market at that time, but they were very expensive. Jeff and Alex knew they could create a better product at a more affordable price point, so they created the Avocado Green Mattress.
To say I was thrilled that I found an eco-friendly vegan mattress that's made with all organic materials and it has over 10,000 5-star reviews, is an understatement. I was over the moon excited!
But...is the mattress really as comfortable as all of those 10K reviews say it is? I'm going to share my honest thoughts with you, but first, let's go over the delivery process and I'll answer some questions!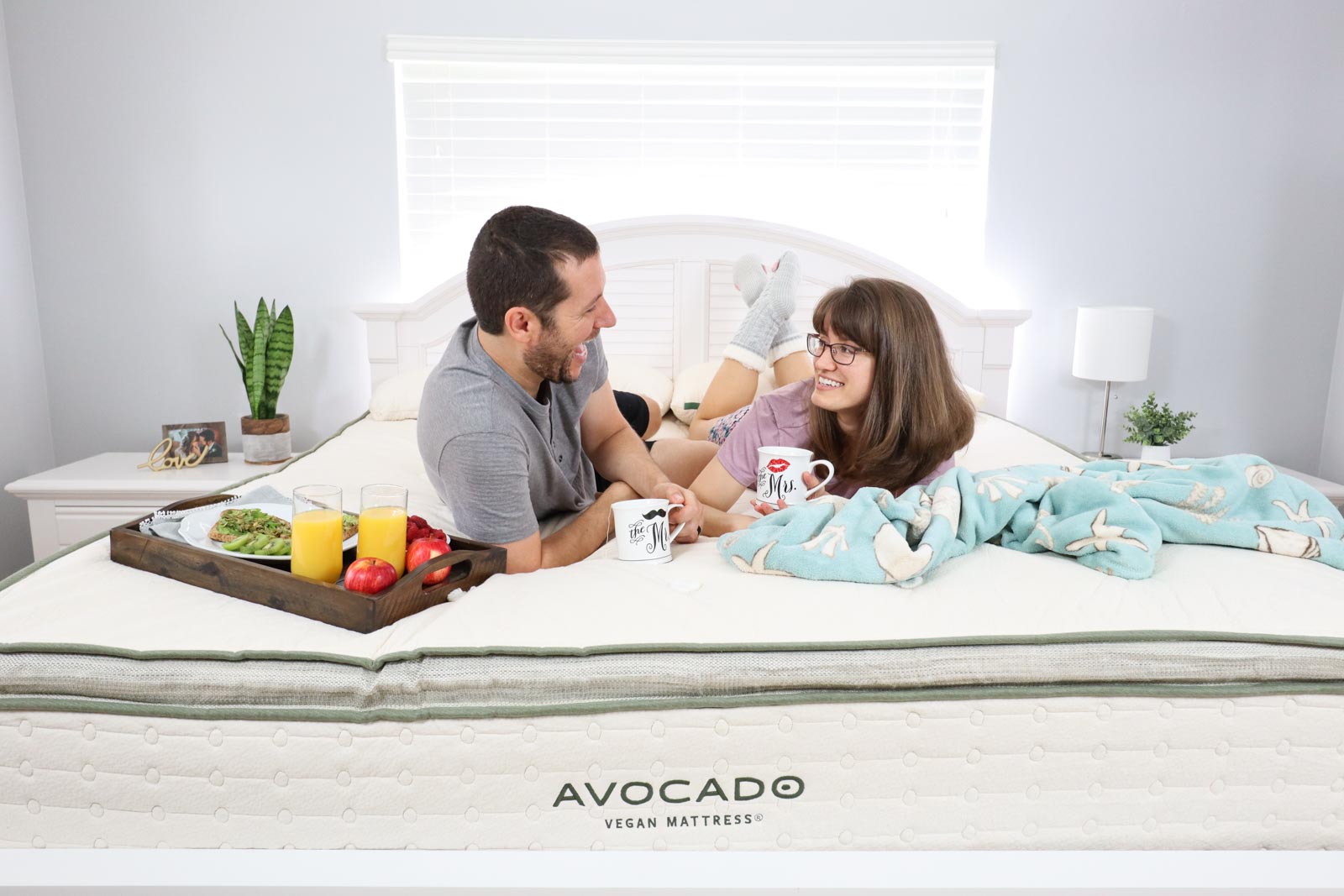 What's The Delivery Process Like?
I placed my mattress order online and I immediately received an email with the shipping details. I knew that the mattress was going to be handmade so I was expecting a long wait, but the mattress was delivered to my house in less than two weeks!
The day before the mattress was to be delivered, I received a call from Avocado Green Mattress and I was given a three-hour window between which the mattress should arrive the next day.
On delivery day, the mattress arrived rolled up in a large cardboard box. The mattress was compressed and vacuum-sealed in a plastic bag to protect it.
The delivery guys wheeled the box into our bedroom and carefully opened the bag. The mattress immediately puffed up and the delivery guys helped it along by grabbing the handles and giving it a few shakes.
They told me not to lay on the mattress for 2 hours, I signed a form, and then they left. The whole delivery took less than 10 minutes! I found the delivery process to be extremely easy, fast, and efficient.
Our First Night Sleeping Experience
On the day the mattress was delivered, we didn't touch the mattress until it was time for bed later that night. It was so tempting to flop down on it as soon as it was set up, but we resisted! I made the bed, we snuggled in, and we went to sleep.
To be honest, the first night wasn't the best for me because my body needed to get used to sleeping on a different mattress. However, by the second night, I slept straight through the whole night and that hadn't happened in over a month! This was a huge win for me!
Needless to say, I was pumped! If you have trouble sleeping through the night too, then you know how it really impacts your energy levels the next day. It felt so good to finally sleep through the night again!
I shared earlier that Travis likes a firm mattress and I prefer a plush mattress. Soooo were we both happy with the mattress? Yes! The Avocado Vegan Mattress is the perfect combination of firm and plush for us both to be happy and to sleep well.
We ordered the Avocado Vegan Mattress with the additional pillowtop. I think that really made a difference in the comfort level for me. The mattress itself is on the firmer side and it offers a lot of back support, but the pillowtop really gives it that luxurious feeling that you would expect to find in mattresses at 5-star resorts!
Avocado Green Mattress Most FAQ's
Now that I've shared my 5-star experience with the Avocado Vegan Mattress, I want to share some of the questions that I was wondering before I ordered my mattress. If I was asking these questions then you might be too!
I know it seems odd to order a mattress online without being able to test it first, but I think that these questions and answers will help you to make the right decision for you!
Does The Mattress Retain The Heat?
As a life-long, hot sleeper, I can tell you that this mattress runs cool and it does not retain the heat or make you sweat in your sleep.
Is The Mattress Firm Or Plush?
The mattress is both firm and plush, it's the perfect combination of both! The mattress features 5 support zones and it has internal ergonomic back support that makes the mattress feel firm and supportive, yet it's super comfortable. The pillowtop makes it feel extra plush!
Does The Mattress Have A Smell?
The Avocado Vegan Mattress has no smell at all! The mattress is made without any toxic chemicals and it only contains organic materials, so there is no chemical smell that you have to let air out when you first receive the mattress.
Should You Get The Pillowtop?
Yes, I believe that the pillowtop is definitely worth it, especially if you prefer a plusher mattress. It adds the perfect amount of softness to the mattress. If you still find the mattress to be too firm, you can also purchase a mattress topper to make it feel even more like a cloud.
Are The Pillows Comfortable?
I was not expecting to love the organic pillows as much as I do! The pillows feel like soft puffy clouds, and I highly recommend that you order them to go along with your new mattress!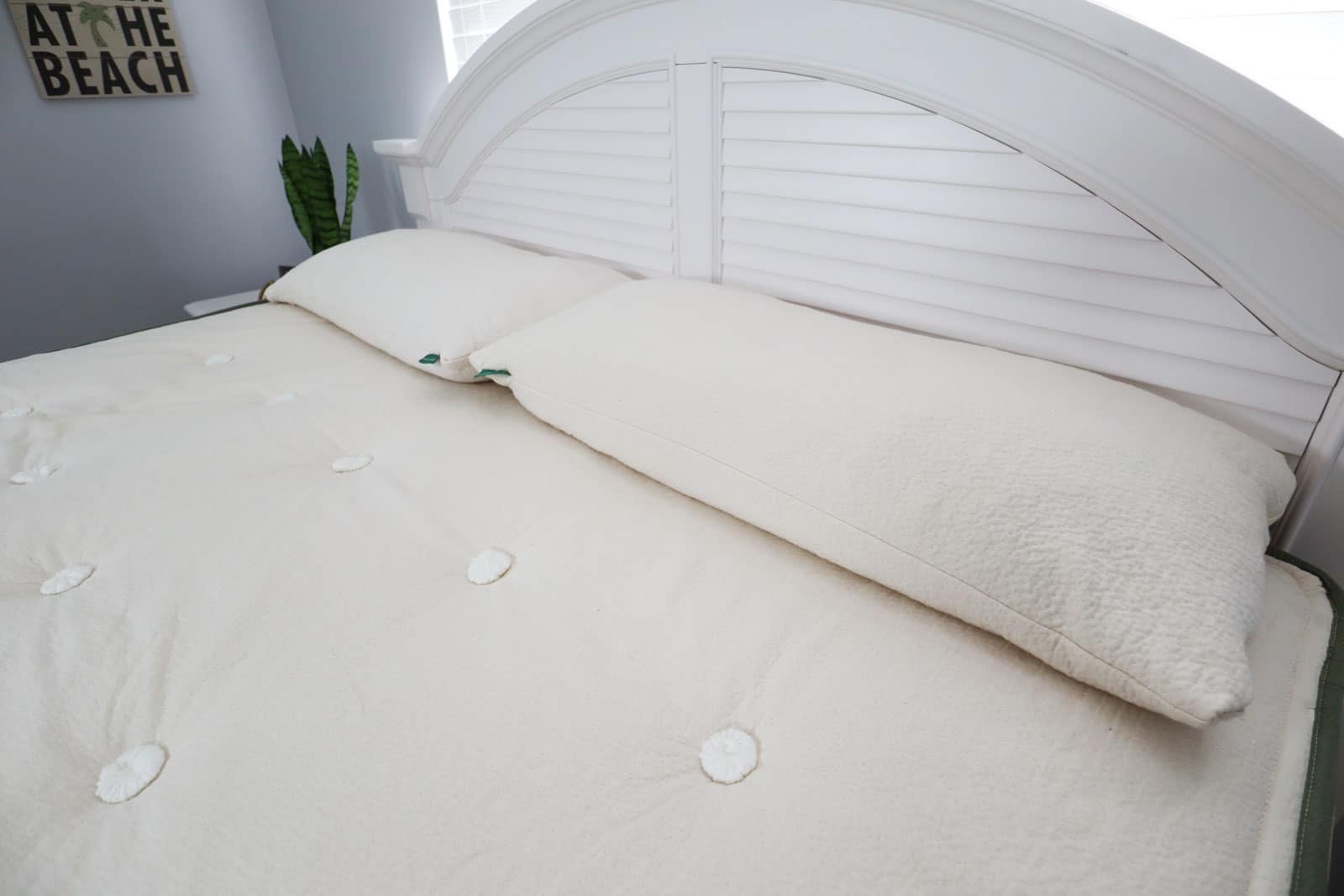 10 Reasons Why You're Going to Love the Avocado Vegan Mattress!
Just in case you need a few more reasons why you should order an Avocado Vegan Mattress, here are 10 great reasons why you're going to love it just as much as I do.
There's a Vegan Option - This is the only mattress that I could find that is eco-friendly, made with organic materials, certified across the board, and offers a 100% vegan version!
All Mattresses, Pillows, and Bedding are GOTS and GOLS Certified - GOTS stands for Global Organic Textile Standard. This label means that all of the materials used, factory, and products are all GOTS certified and they're listed in the GOTS Public Database. Only five mattress brands operate

GOTS and GOLS organic certified production facilities

.

GREENGUARD Gold Certified - GREENGUARD Gold certification means that all products have been scientifically tested for prolonged exposure in environmental chambers and are proven to meet the most rigorous emission standards for chemical exposure and pollutants, such as Volatile Organic Compounds (VOCs), formaldehyde and phthalates. Few mattresses and pillows qualify for this gold standard.
Each Mattress is Made With Organic Latex & Organic Cotton - Instead of using polyurethane foam or any synthetic ingredients that would let off toxic fumes, the Avocado Green Mattress is made with GOLS certified organic dunlop latex (that they grow themselves!) and sustainably grown organic cotton from India.
Fair Trade Practices - The GOTS certification means that Avocado Green Mattresses is in compliance with stringent social and labor criteria and adhere to free labor, anti-discrimination, zero child labor, wage protection, work limits, and other key norms of the International Labour Organization (ILO).
Made in the USA - Every Avocado mattress is handmade with only the highest-quality materials at their factory in Los Angeles. Every team member that works at the factory is valued and earns a living wage, has benefits, and a 3-week paid vacation.
25 Year Warranty - The first 10 years offer full replacement value and include return shipping costs, while years 11-25 continue with prorated protection.
Net Zero Carbon Footprint - Avocado is the world's only Climate Neutral® Certified mattress brand. To offset their footprint, they funded three large projects to help fight climate change: Deforestation Projects in the Brazilian Amazon, the Aqua Clara Safe

Drinking

Water project, and the Burn Stoves Project.
Every Mattress is Biodegradeable & Recyclable - Most mattresses are not recyclable and they end up at the dump. Every Avocado Green Mattress contains organic materials that can biodegrade and steel innerspring that can be recycled!
Honesty & Transparency - Avocado Green Mattress doesn't hide anything from its customers. You can find all of their qualified claims, verified third-party certifications, substantiated science-based test data, and third-party customer reviews on their website. (This is very important to me!)
All of this information helped me to make the decision that the Avocado Vegan Mattress was the right mattress for me. I didn't have to search the internet for any of these facts, all of their company and product information is shared openly on their website.
Final Thoughts
This was a big decision for us and I'm so happy that we chose the Avocado Vegan Mattress. I had a list of so many requirements that I wanted to find in a mattress that I never thought I would find, but the Avocado Vegan Mattress checked off every single important detail on my list.
If you're looking for a super comfortable non-toxic, eco-friendly green mattress that is made with organic materials, I encourage you to give an Avocado Green Mattress a try! They even offer a 1-year sleep trial, free shipping, and free return pickups. What do you have to lose? This is a purchase that you can feel confident about making!
More Vegan Posts You'll Love!