These stuffed tomatoes are fully loaded and packed to the brim with flavorful taco-seasoned vegetables and tofu! Vegan and gluten-free.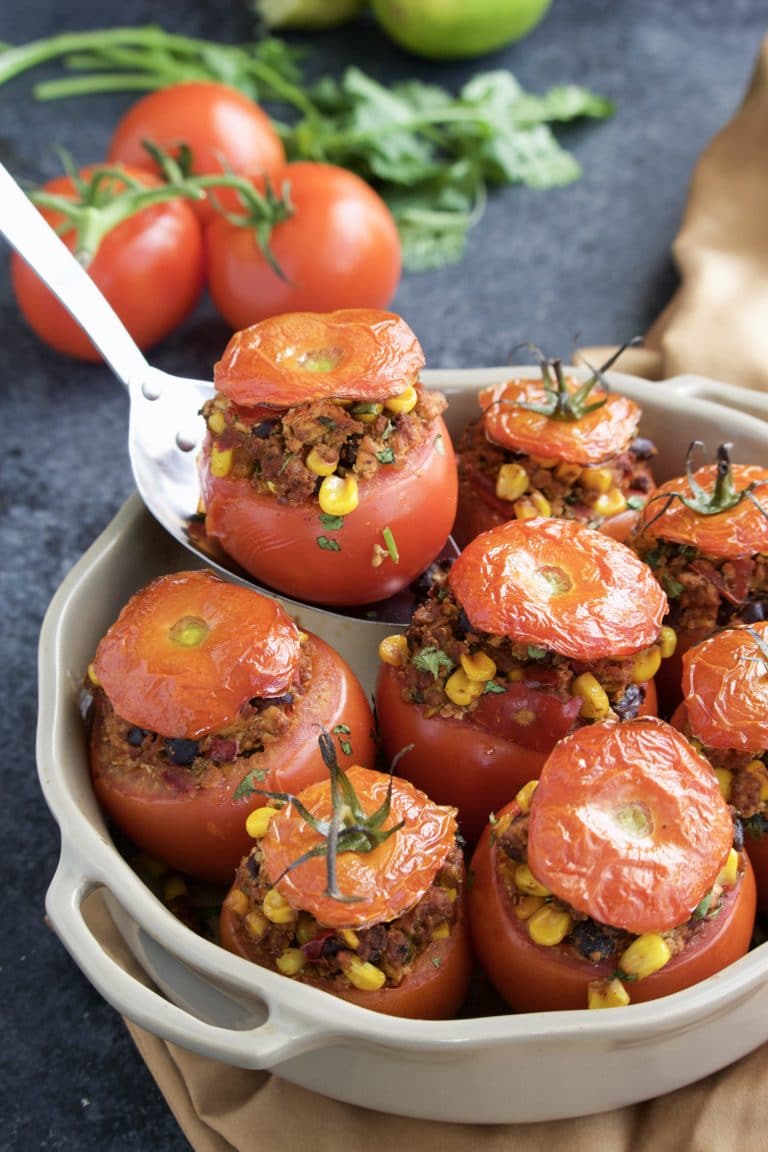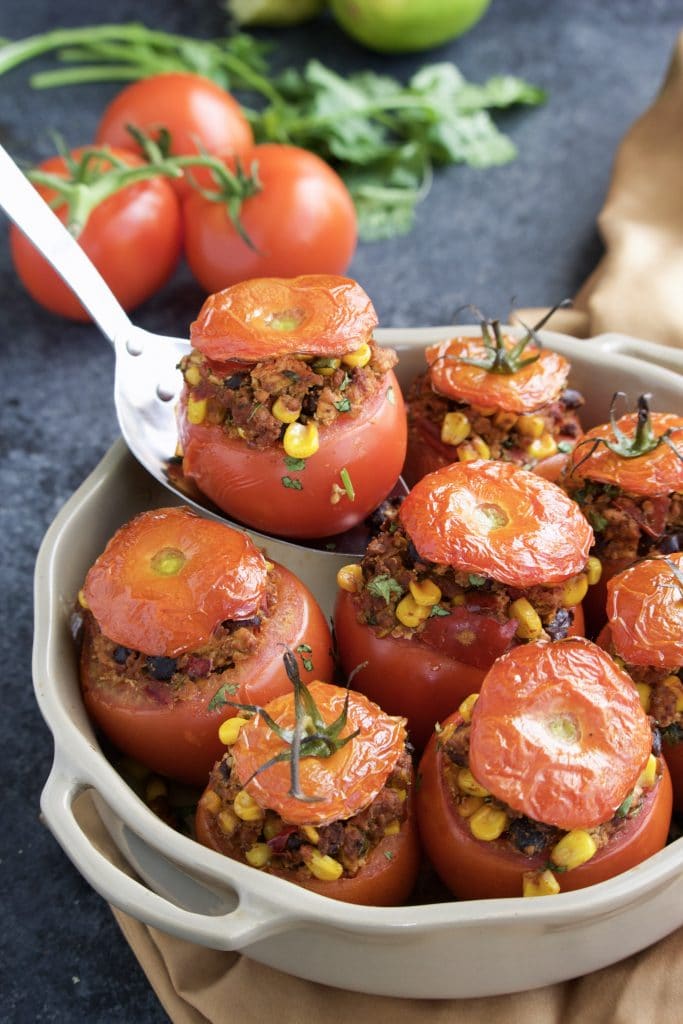 I decided to share this Mexican food inspired taco stuffed tomatoes recipe because the recipe for my pesto quinoa stuffed tomatoes is the #1 most popular recipe on my blog. It has been for the last year, it's been shared over 228K times! Holy cow!
This leads me to believe that even though salsa quinoa stuffed peppers are the bomb.com, maybe people want to switch up the vegetables that they're stuffing.
Hello, gorgeous perfectly-ripe, juicy, red, tomatoes.
Why do bell peppers been getting all the love? Tomatoes are just as delicious stuffed as they are raw. In this stuffed tomatoes recipe, the tomatoes are roasted just until they start to blister but are still strong enough to hold all the filling inside. So delicious and so pretty to serve for a special dinner.
Stuffed Tomato Recipe + a Bonus Recipe!
I call this dish –> taco stuffed tomatoes because:
The stuffed tomatoes filling is taco flavored, obvi.
The leftover filling is perfect to use for tacos the next night!
Like my mom always said, "cook once and eat twice!"
After you make the delicious filling for the stuffed tomato recipe, divide it in half and put one-half away for tacos for dinner the next night. All you need to do the next night is prep shredded lettuce, tomatoes, and avocado slices, and you have a super simple dinner on the table…FAST!
If you need some 30-Minute easy vegan dinner inspiration, grab my list of 115 easy vegan dinners!
Of course, you can skip the tacos and make double the stuffed tomatoes. It's up to you! We just like turning leftovers into a completely different meal. It keeps dinner time interesting!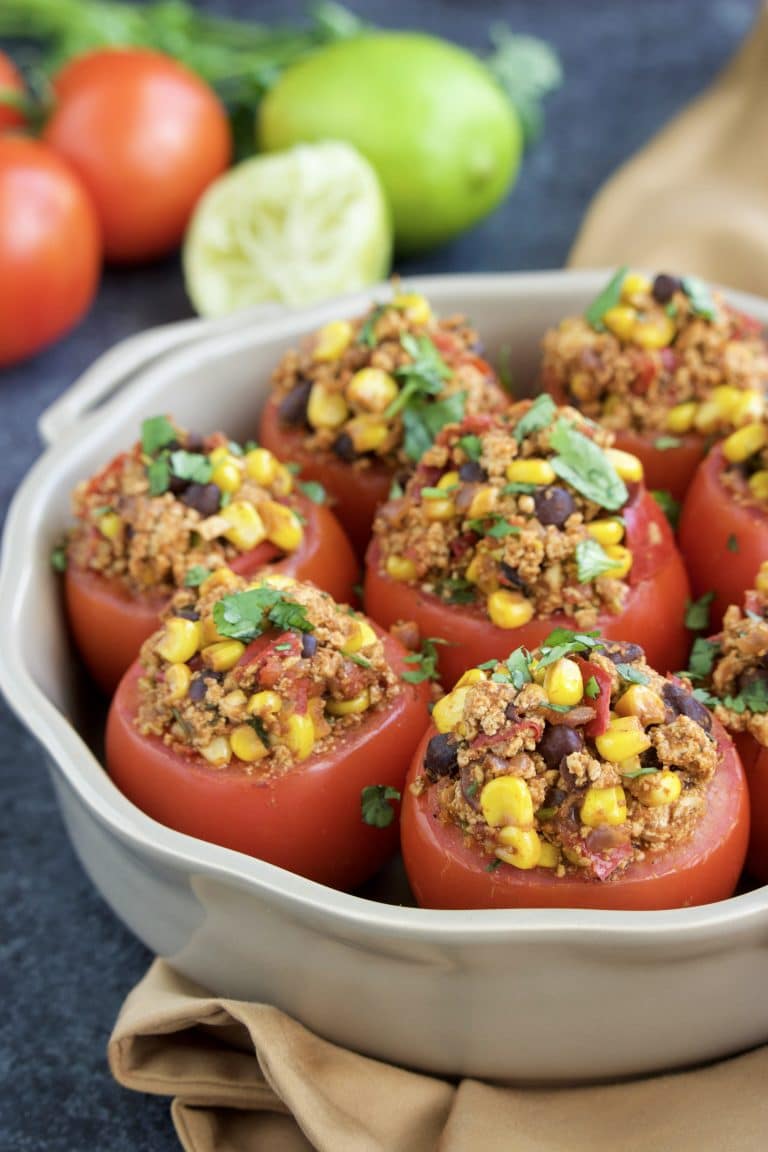 Stuffed Tomato Tofu Taco Filling
The filling that I use to stuff these tomatoes with is the same taco filling recipe that I make for Taco Tuesday every week! It's so easy, protein-packed, and loaded with fresh veggies.
The filling has red peppers, black beans, corn, onions, garlic, crumbled tofu, taco seasonings, cilantro, and fresh lime juice, it's so tasty! Customize the filling with your favorite veggies or anything healthy that your kids will eat!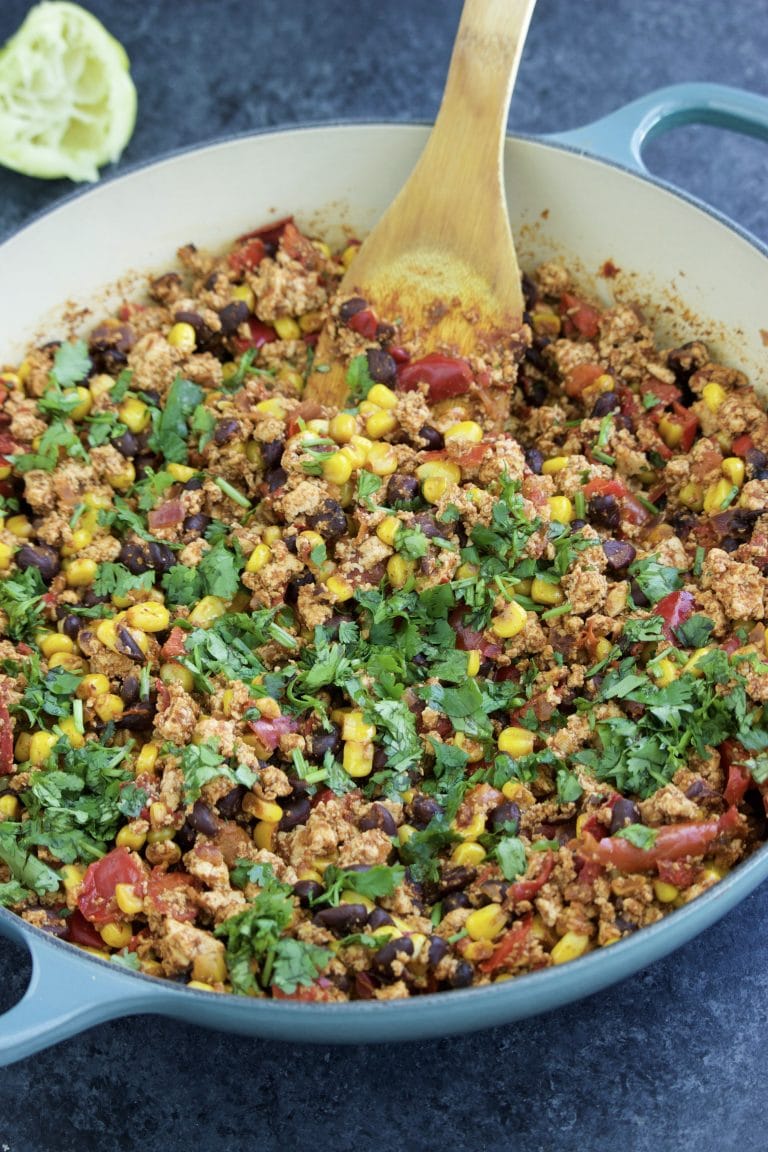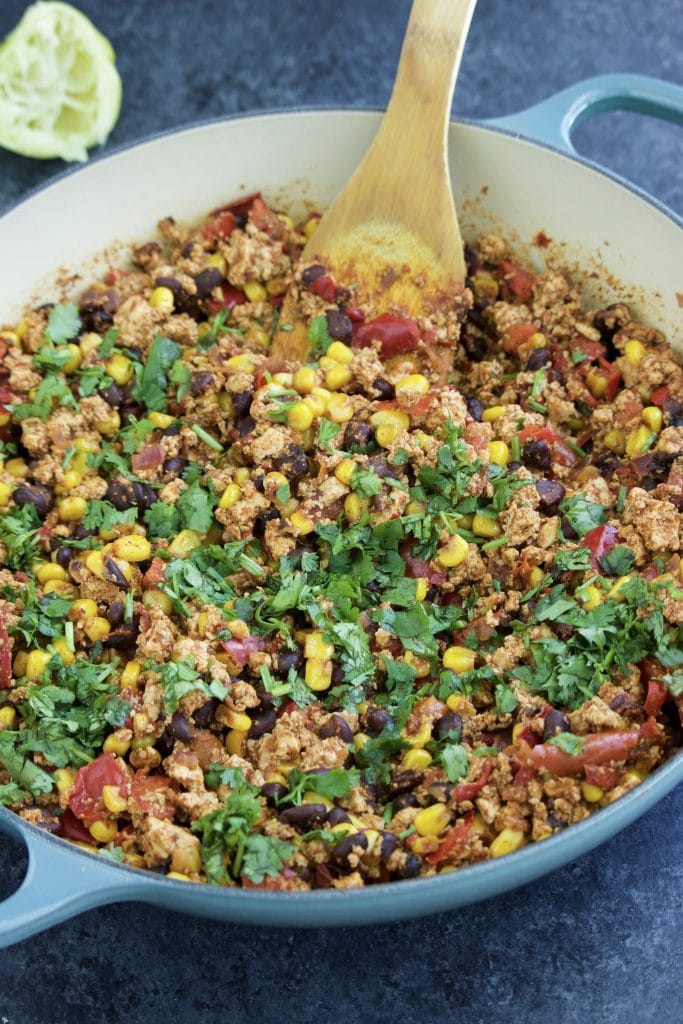 I used to wrap my block of tofu in a dish towel and then put a heavy cast iron pot on top of it to press the juice out. The pot would slide off, the juice would drip everywhere, it was a hot mess.
I recently got a tofu press to squeeze the juice out and it's amazing!
It works so much more efficiently than my previous process and I can't believe I waited this long to get one. I highly recommend that you try using a press to prepare your tofu. If you don't get all the juice out, you'll end up with soggy tofu. Bleh!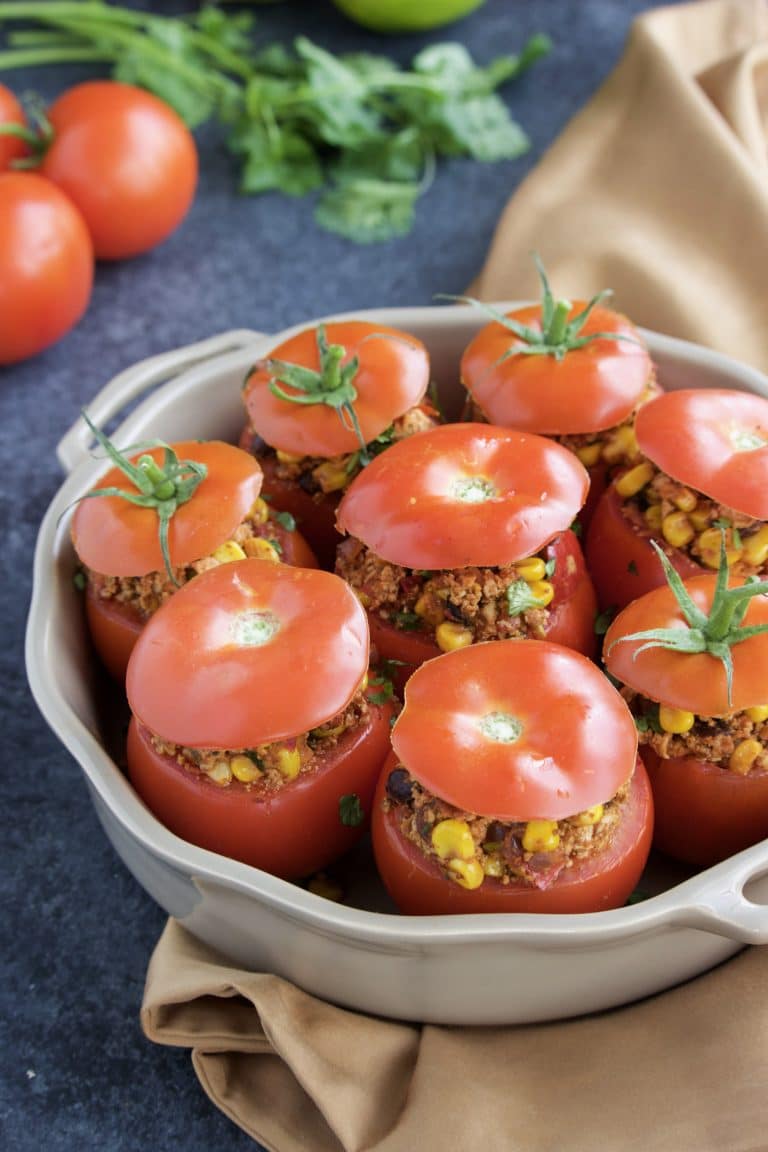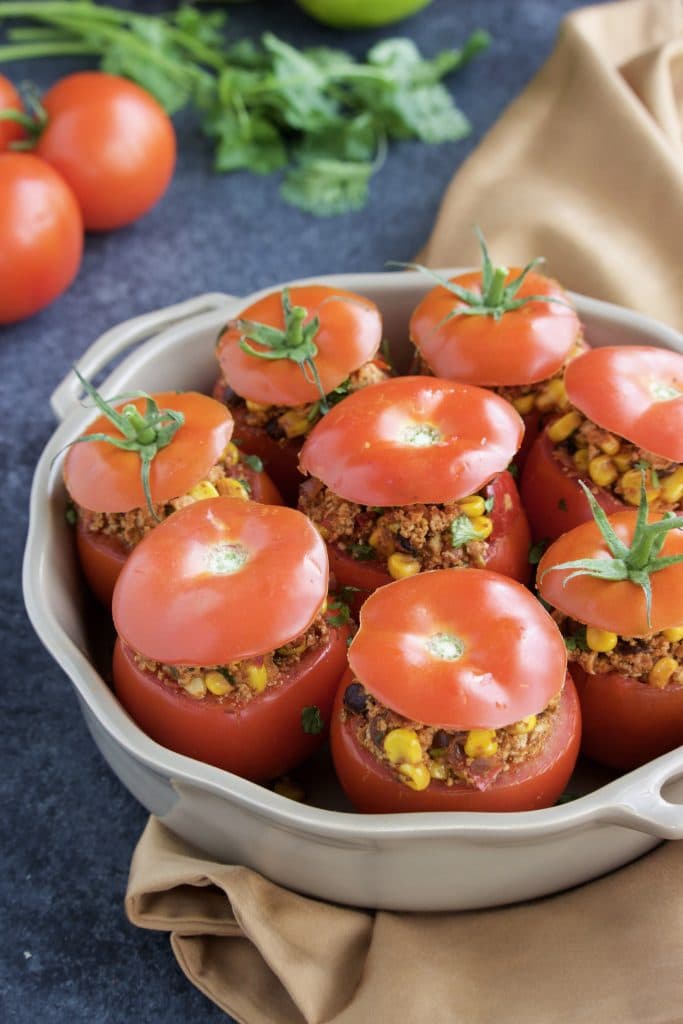 What Should You serve with the Stuffed Tomatoes?
Let me tell you about the most flavorful quinoa you'll ever eat –> Cilantro Lime Quinoa!
You'll never want to eat plain quinoa again after you try this flavored version.
It's just so flavorful with a whole bunch of fresh cilantro, lime juice, garlic cloves and a tiny bit of olive oil. The flavor is so bright and the color jumps right off the plate. I love serving a dinner plate that is overflowing with bright colors. You can just tell by looking at the dinner plate that it's all so good for your body!
If you don't have quinoa, you could also serve brown rice, broccoli salad, or broccoli-stuffed purple sweet potatoes.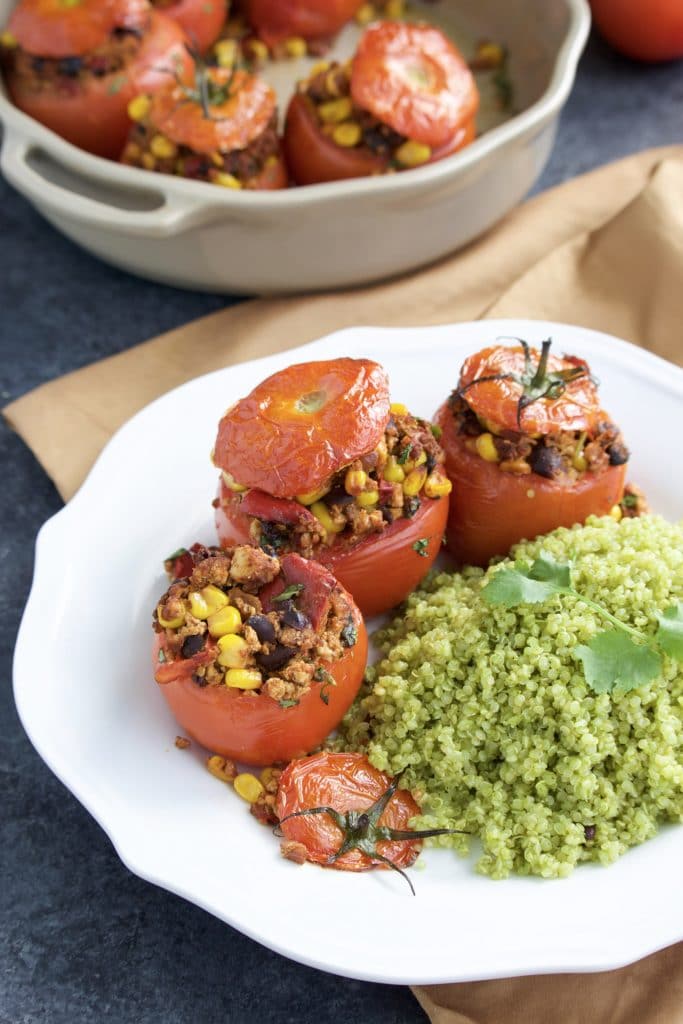 More Vegan Recipes You'll Love
Pesto Spinach Quinoa Stuffed Tomatoes
Spinach Artichoke Stuffed Shells
Lentil Stuffed Red Cabbage Rolls
Rainbow Cherry Tomato Pesto Stuffed Mushrooms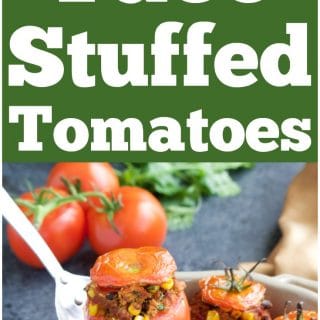 Taco Stuffed Tomato Recipe
These vegan stuffed tomatoes are fully loaded and packed to the brim with flavorful taco-seasoned vegetables and tofu! Vegan and gluten-free.
Print
Pin
Rate
Ingredients
1

Tbsp

olive oil

1

medium

red onion,

diced

1

medium

red pepper,

diced

4

garlic cloves,

minced

2

tbsp

tomato paste

2

tbsp

chili powder

2

tsp

cumin

1

tsp

smoked paprika

1

block

extra firm tofu,

pressed and crumbled

14 oz

can

black beans,

rinsed and drained well

14 oz

can

corn,

drained and rinsed

8

medium

beefsteak tomatoes

1/2

cup

fresh cilantro

Juice of 1/2 a large lime
Instructions
Preheat oven to 400 degrees.

In a

large saute pan

, saute the onions and red peppers in olive oil until translucent. Add the garlic, tomato paste, chili powder, paprika, and cumin. Let it cook for 2-3 minutes.

Push everything to one side in the pan and add the tofu. Break it up with a spatula and mix it in with the filling. Cover and let cook for 10 minutes on medium-low heat, stirring occasionally.

While the filling is cooking, cut the tops off the tomatoes and use a

grapefruit spoon

to scoop out the seeds and membranes. Sprinkle a tiny bit of salt and pepper into each tomato to season it.

Once the filling has finished cooking, add the fresh cilantro and the juice from half a large lime. Stir to combine.

Stuff the tomatoes with the filling and arrange the tomatoes in a

casserole dish

. Bake for 25-30 minutes or until the tomatoes are blistered.
Notes
Reserve the leftover filling for tacos or freeze it for future meals.
Save the tomato "guts" for cilantro lime salsa.
You can substitute seeded bell peppers for tomatoes.
Don't use roma tomatoes, they're too small and won't hold enough filling.