Everything you might find in a graveyard has made its way into this devilishly spooky pizza! Use a frozen pizza for the base but scare it up with eyeballs, spiders, tongues, vampire fangs, and worms for your kids before you go out trick or treating on Halloween! Vegetarian.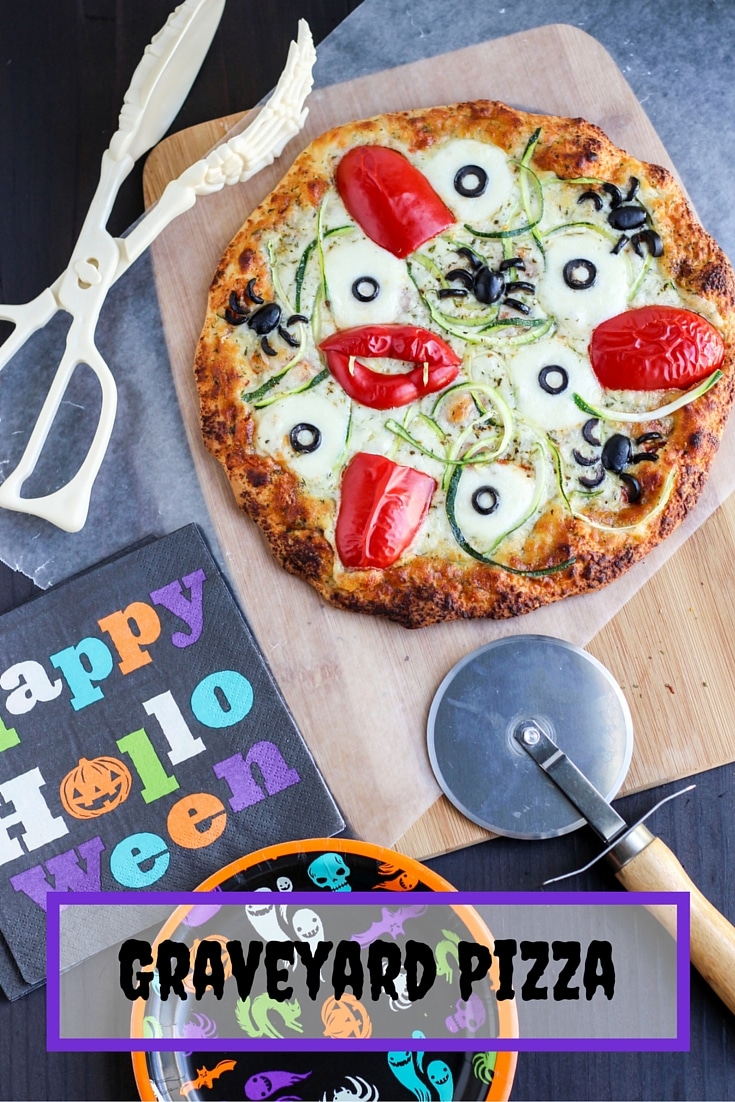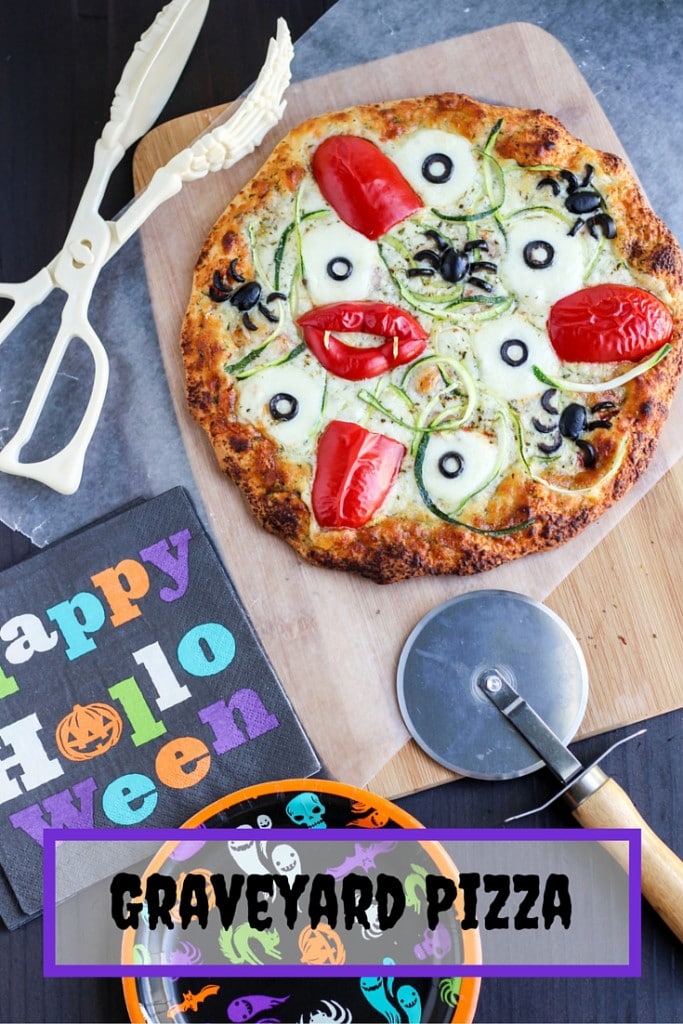 What could be better to have for dinner on Halloween than a graveyard pizza? Nothing!
It's the only night of the year that it's acceptable to eat spiders, tongues, worms, and eyeballs! I'm telling you, the kids will love this. The best part is that it's super easy to assemble, and if you use a frozen pizza for the base, all you have to do is make your spooky toppings.
Of course, you can make your own pizza dough, but I'm looking for a quick dinner to whip up before going out for the night! I don't want to worry about clean up or being in the kitchen for hours. Kids love pizza, and they won't even know they're eating a bunch of veggies. My mom used to make food like this for us when we were little, we loved it, the holidays were always magical at our house!
As kids, we only wanted to eat cheese pizza – of course, and my parents always wanted toppings. I remember after a long day at the beach, we would stop at our favorite pizza place that was right across the street. We would get one large "mermaid pizza". What's a mermaid pizza you ask? Well, it's a pizza with lots of toppings like seaweed (spinach), clams (onions), seashells (mushrooms) and mermaids.
I still to this day don't know what the mermaid was but she always said look for the mermaid! We completely fell for it and ate the pizza my parents wanted. Brian and I would yell out, "Look, I found a sea shell!" or "I found two clams!"

Halloween Graveyard Pizza Toppings
I used the same concept for the graveyard pizza. Kids will be so excited to eat tongues, worms, and eyeballs that they won't even think about what it really is. It's all about setting the story up, and making it magical for them!
[tweetthis]What could be better for #Halloween dinner than a graveyard #pizza with eyeballs & tongues?![/tweetthis]
I used slices of red pepper for the tongues and vampire lips, mozzarella balls for eyeballs, black olives for the spiders, and zucchini noodles as worms! Eww!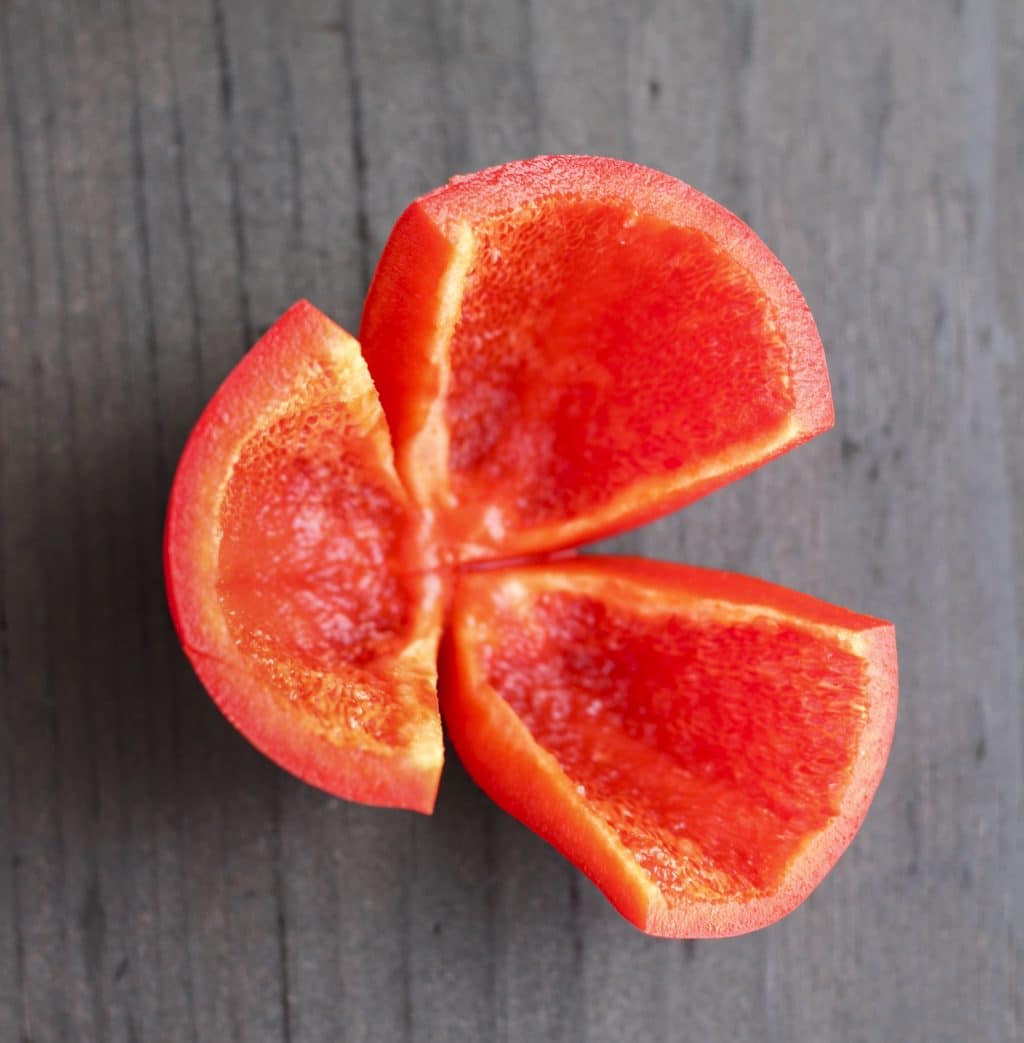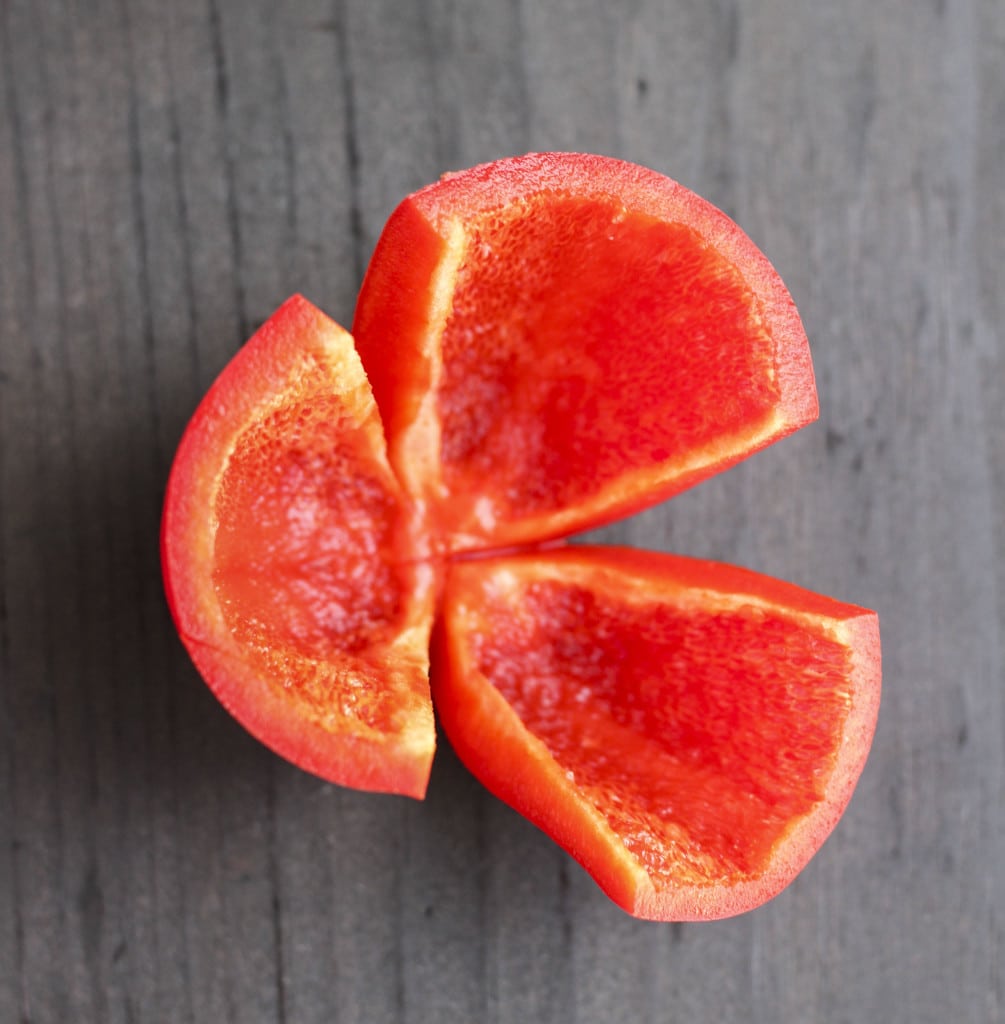 Red Pepper Tongues
You only need one small red pepper. Cut the top off, and remove the seeds. Follow the white lines and cut it all the way down to the base. The pieces will be pointy on the end, so use a sharp knife and round the tip out. If the top it too wide, slice thin layers off the sides until you get a tongue shape you're happy with.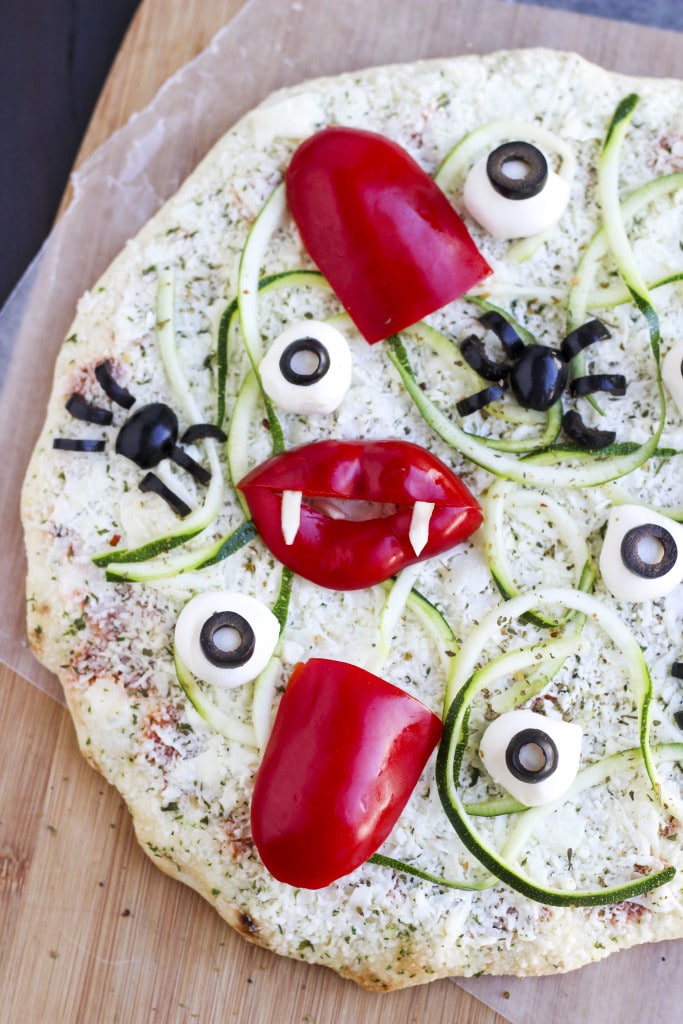 Red Pepper Vampire Lips
Don't throw the top out! Use the paring knife to cut around the stem and cut the pepper into two long pieces. When you put them together, the gap where the stem was will make it look like lips that are opened a little bit. I used two little pieces of zucchini for the fangs.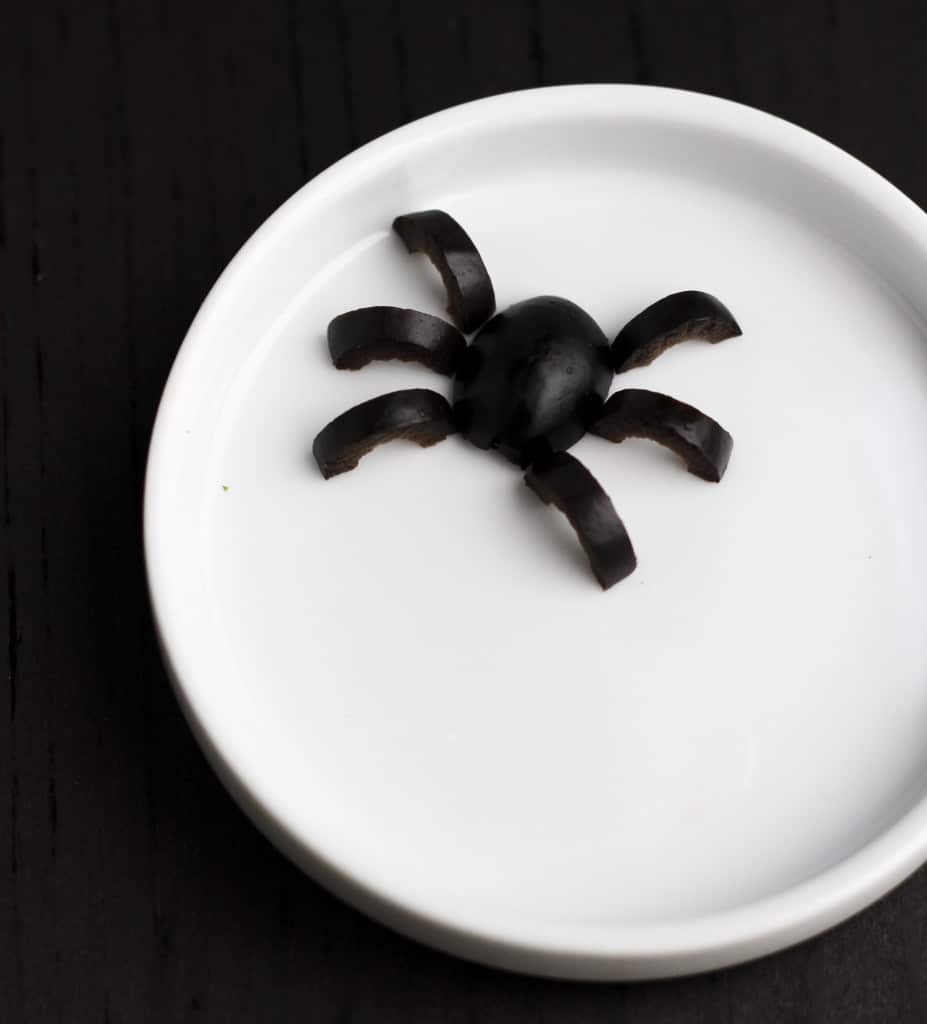 Black Olive Spiders
The black olive spiders are really easy to make, and you can do these the night before if you're trying to cut your prep time down. Each spider takes two black olives to make the body and the legs. Cut one olive in half, vertically. One-half is the body. Slice the other half into three legs. Cut the second olive in half, and slice the other three legs. You will have one-half leftover, that will be the body for the next spider. How realistic are these?!
Zucchini Spiral Spiders
I used my spiralizer to make the zucchini spirals or "worms." Leave the skin on the zucchini and start spiraling! I used a really small zucchini because I only wanted a few worms for the base of the pizza.
Mozzarella & Olive Eyeballs
I got six small mozzarella balls from the cheese and olive bar at my local grocery store, and I cut a slice of olive for each eyeball. The mozzarella balls will melt when you put the pizza in the oven, but the balls will keep their shape.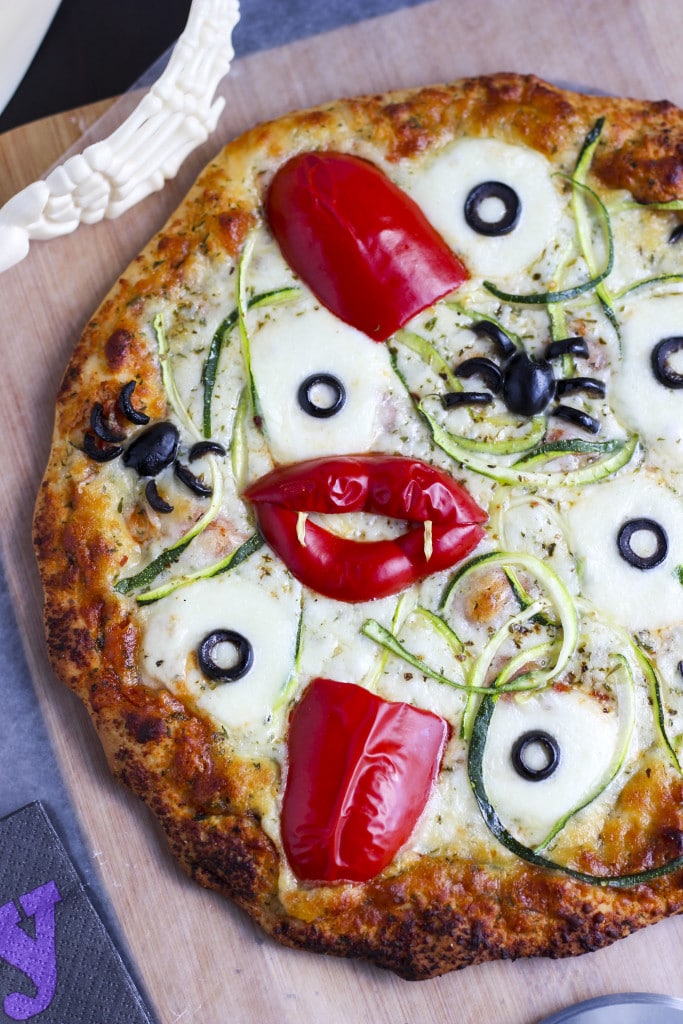 I absolutely love how the pizza came out! The pepper tongues shrivel a little bit so it makes it look like a real tongue, and the spiders are trying to dig their way out of the cheese! Eww!! How fun is this?!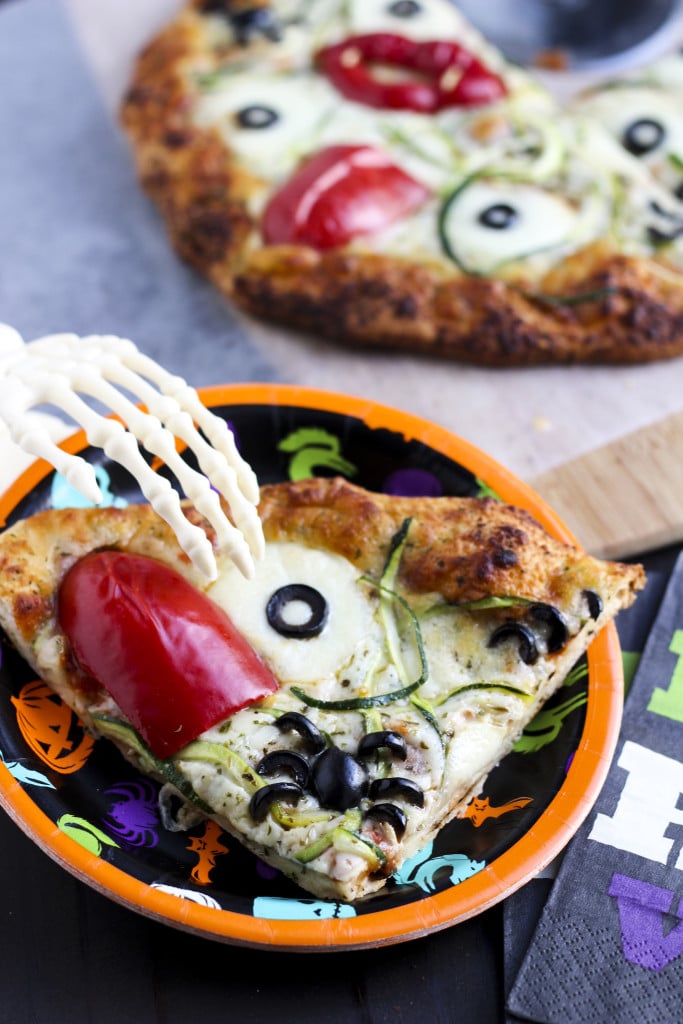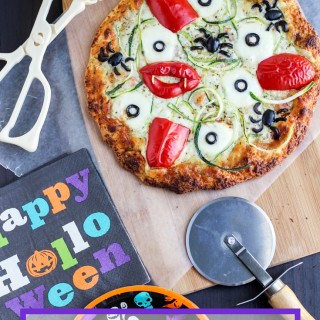 Halloween Graveyard Pizza
Everything you might find in a graveyard, has made it's way on to this devilishly spooky pizza! Make this quick and easy pizza with eyeballs, spiders, tongues, vampire fangs, and worms for your kids before you go out trick or treating on Halloween!
Print
Pin
Rate
Ingredients
1

small red pepper

1

small zucchini

spiralized

6

small mozzarella balls

8

black olives

1

frozen cheese pizza
Instructions
Preheat the oven according to the pizza package.

Prepare your tongues, lips, spiders, worms, and eyeballs. (Use the

spiralizer

to make the worms.)

Lay the zucchini worms down first, then the eyeballs, the spiders, vampire lips, and tongues.

Cook according to pizza directions.

Serve, and enjoy. Happy Halloween!