This shop has been compensated by Collective Bias, Inc. and its advertiser. All opinions are mine alone. #FallGlamping #Glamping
I'm sharing our best tips and tricks for going glamping in your backyard!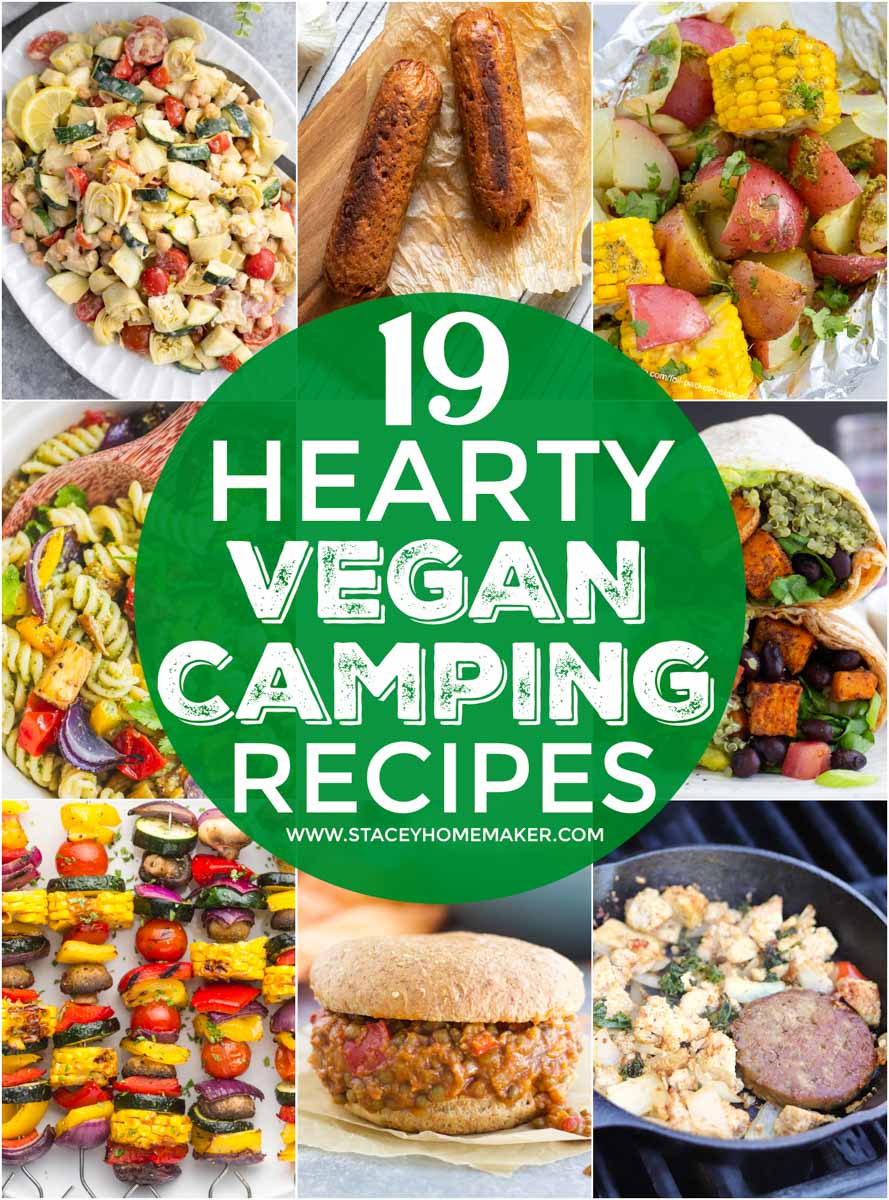 Travis has been asking me for years to go camping with him, but I always said no. Camping is just not my idea of fun. I don't want to sleep on the ground, be eaten alive by bugs, or sweat my booty off for nothing.
I've only been "camping" once. When I was little, my dad set up a tent that took up the whole porch. The porch was connected to the kitchen by a sliding door, so my mom made us breakfast, lunch, and dinner and brought the food right to the tent door. It was so much fun! We had electricity, hot food, and a bathroom right down a hallway. If I got too hot I could go right back to my bed. So that gave me an idea….
When Travis asked again last week if I would go with him, I felt bad saying no because he's been doing a lot of things I wanted to do lately.
So, I caved.
With a few conditions, of course.
Glamping Necessities
I would go camping with him, but only if we could go glamping and in our backyard. He agreed! Since we were going glamping, I had to get our essentials together. Yes, all of these things were 100% essential to this experience being enjoyable.
I know this sounds like a lot of unnecessary stuff but it's really not! I wanted it to feel like a home away from home with a fun party atmosphere. Travis' favorite party food is pizza, so we picked up a Freschetta Brick Oven® cheese pizza to grill from Walmart, and you can't go glamping without s'mores! Just wait till you see the kind we made! I also snuck in a delicious grilled romaine heart salad to serve with the pizza that we both loved.
Tip – Use wicker storage boxes, like the two I have on either side of the bed, to transport things to your campsite. After you empty the box, turn it over and use it as a small nightstand! Useful and practical!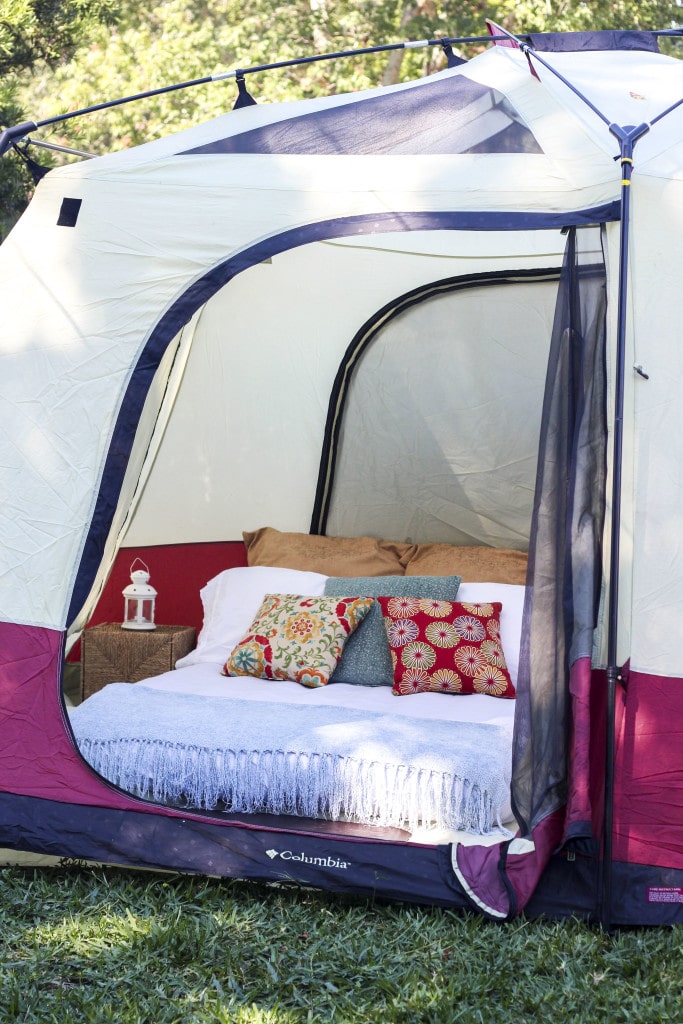 Travis was in charge of setting up the tent and getting the air mattress blown up. While he was getting the tent set up, I worked on the food table and getting my pillows and sheets ready to make the bed with.
I brought sheets, blankets, and pillows from our home to make it feel extra cozy like we brought the inside out. I put small lanterns with flameless candles on the bedside crates, so we could see without using flashlights. Flashlights are for campers- not glampers!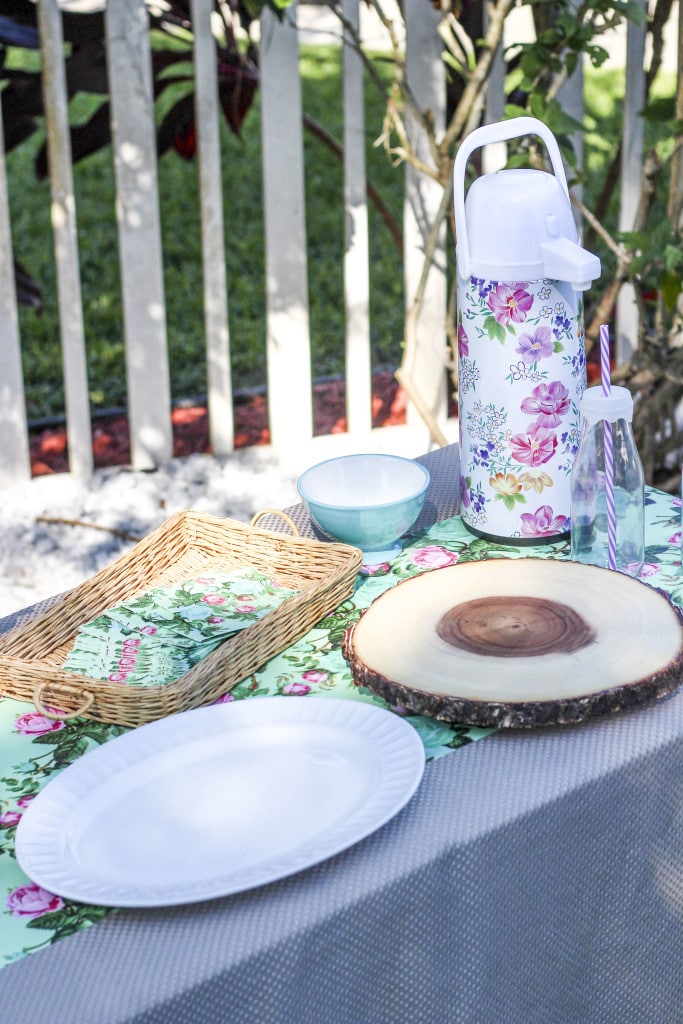 I brought my insulated pump pitcher with fresh lemonade, and milk bottle mason jars to drink from. The glass milk bottles worked out perfectly because they have little lids that protected our drinks from the bugs. I tried to stick with natural decor for the table setting but I love flowers and had to incorporate them somehow. Travis didn't seem to mind!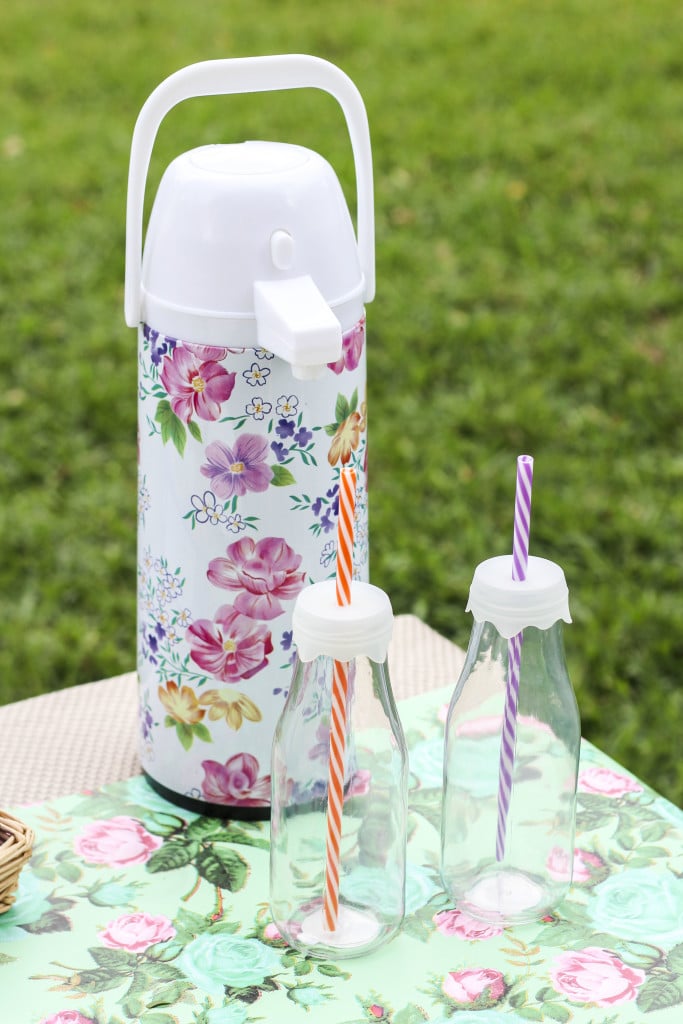 I also hung a few paper lanterns with plastic tea lights in them, on shepherd hooks around our glampsite. At night, the paper lanterns gave off a soft glow, it was really pretty! We had the fire going during the day but we put it out before we went to bed, so the lantern light was just enough light for us to be able to see our way to the tent.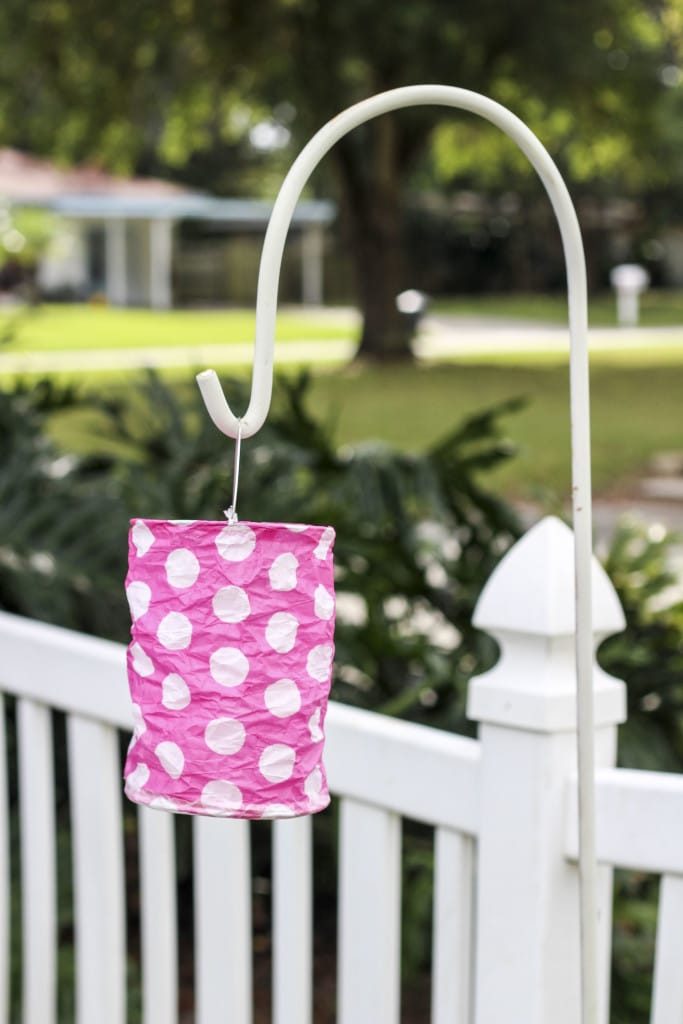 Glamping & S'mores
Since we were doing something outside of our normal routine, we decided to live on the wild side and have dessert before dinner! S'mores for lunch! Yes! The day before, I picked up a box of Honey Maid graham crackers from Walmart, along with a few other necessities to make our s'mores.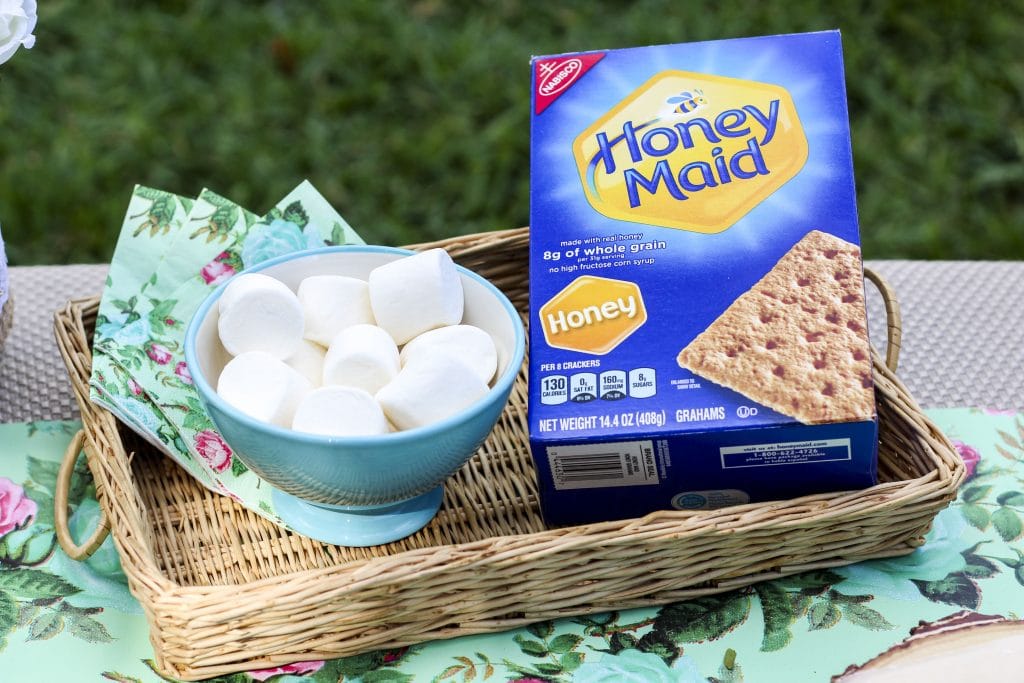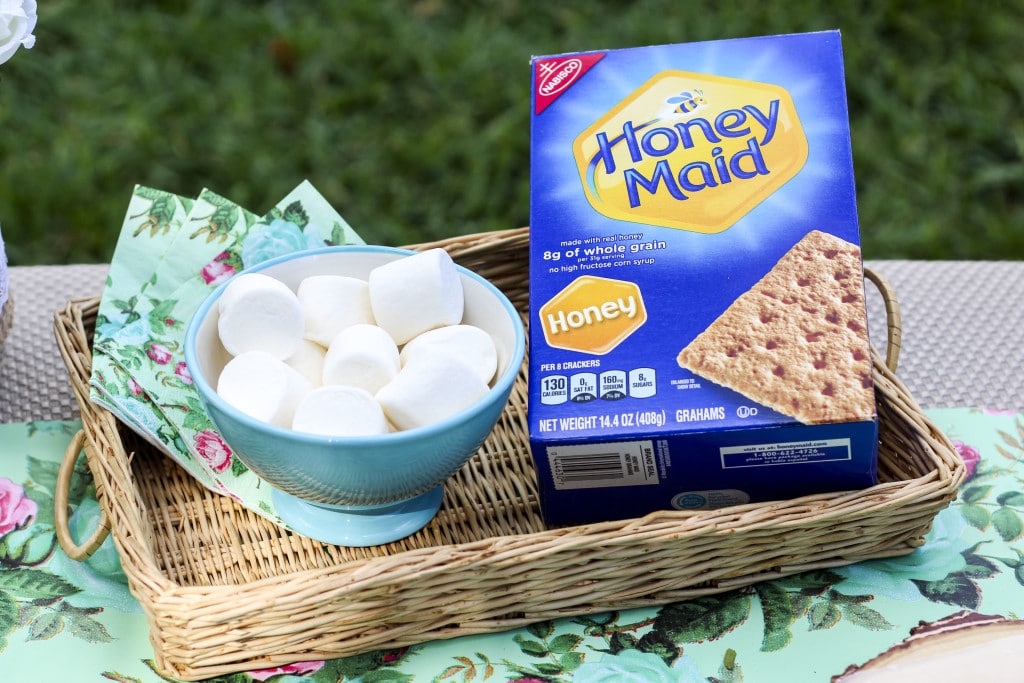 Dark chocolate candy bar
White chocolate candy car
Chocolate peanut butter candy bar
Marshmallows
Sea salt
We have this giant tree stump in our backyard that I used as a prep table for all the food. I found this awesome s'more rack that cooks three s'mores at once! Talk about convenient. It's really easy to use too. Just assemble the s'mores, close the lid and lock it in place, and you're ready to s'more it up!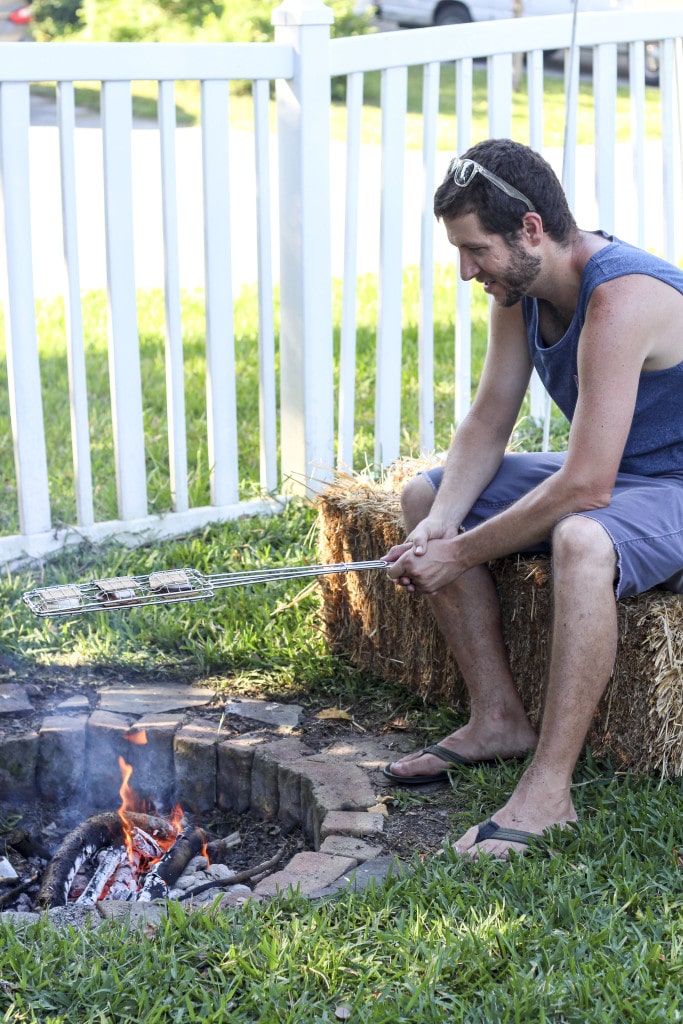 Travis inhaled the first round of s'mores and somehow got melted chocolate all over his face and shirt, so he had to go change clothes so I could take some decent pictures of him. Lesson learned, don't eat hot s'mores over your shirt– bite into it over the grass! They're super messy but so worth it!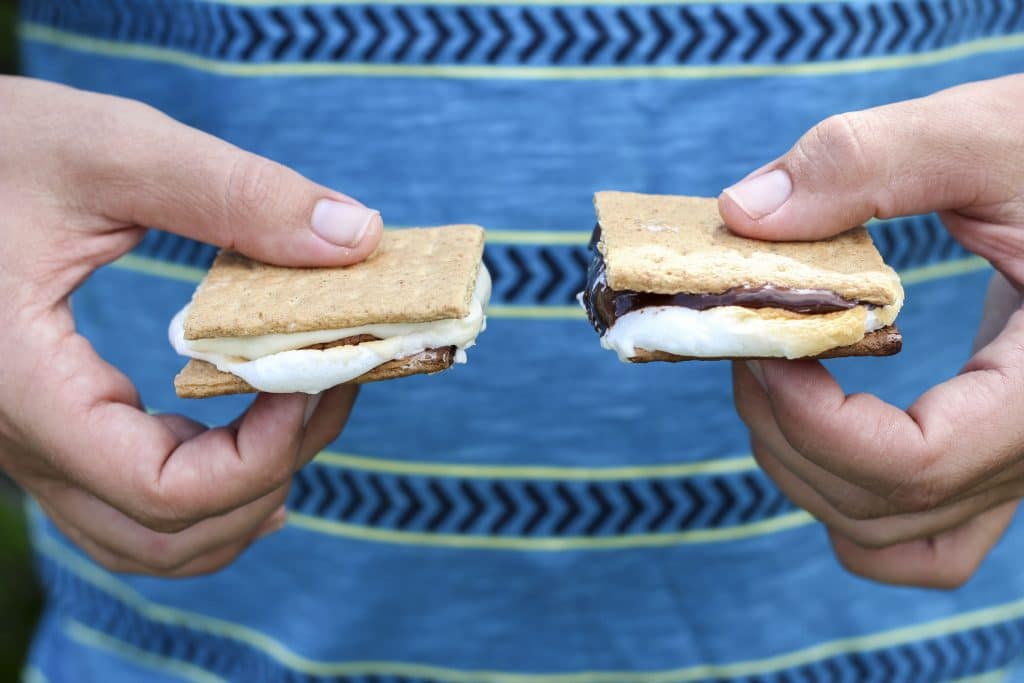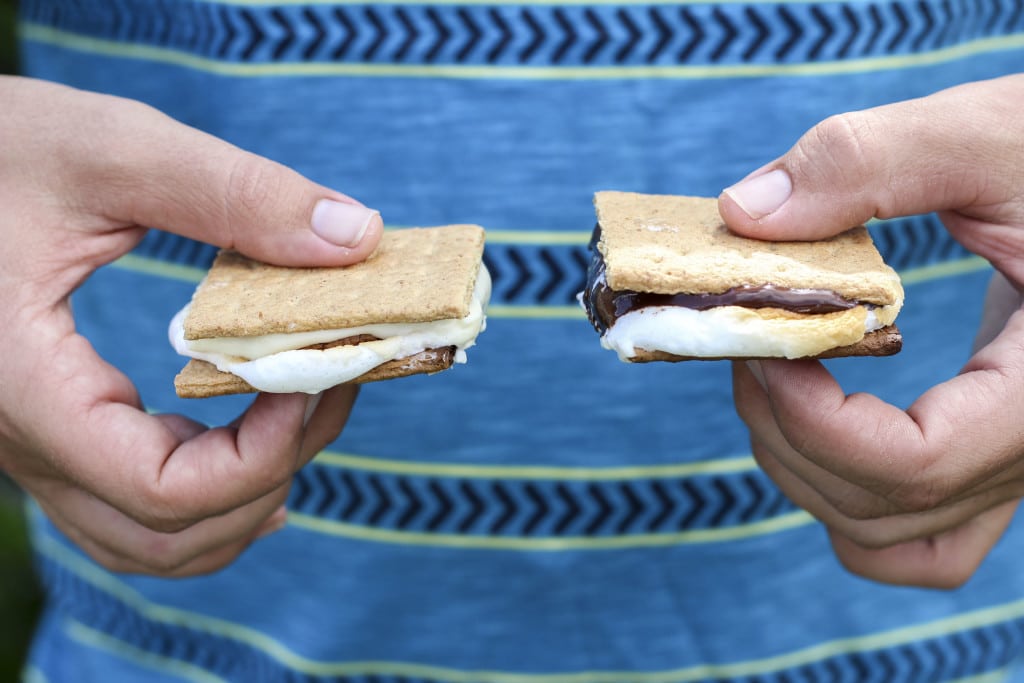 We did white chocolate s'mores, dark chocolate with sea salt s'mores, and chocolate peanut butter s'mores. Travis liked the dark chocolate and white chocolate s'more best, while my favorite was the chocolate peanut butter. It was really fun to try different variations of the regular milk chocolate s'more.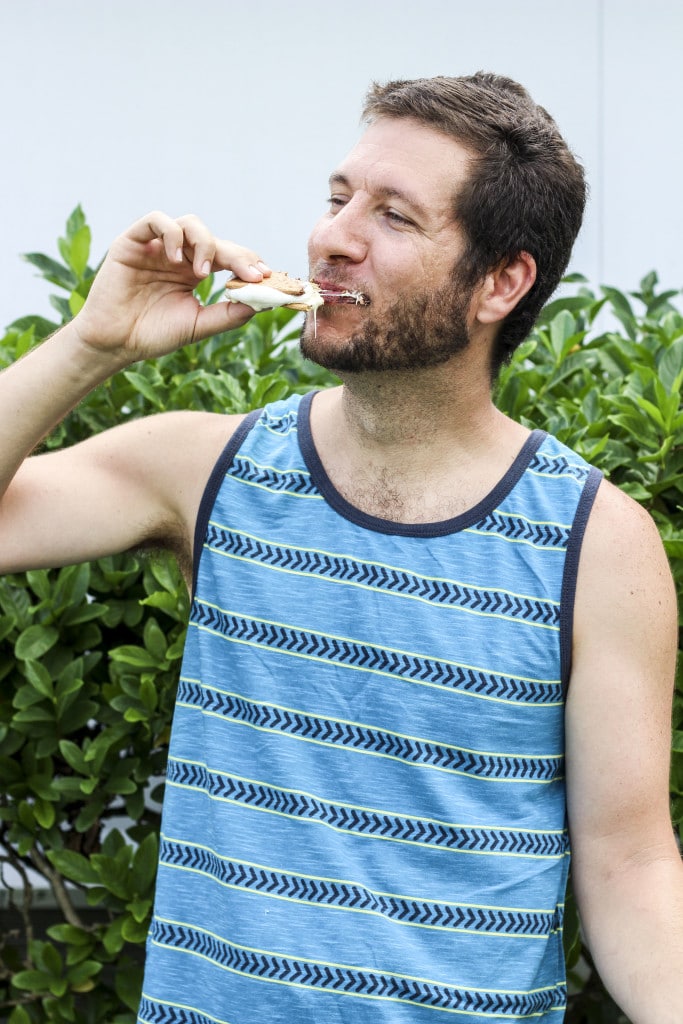 Clearly, Travis really enjoyed the s'mores. Ha!
He even created his own s'more, and dubbed it the double stack s'more! It had a layer of dark chocolate and a layer of white chocolate, all toasty and smushed together for the perfect bite.
After we came down from our sugar high, we figured we should start making dinner before it got dark. Now that daylight savings just happened, it gets dark here by 5:30pm-6pm.
We made a grilled romaine heart salad with a pomegranate vinaigrette dressing that I made the night before. I just put the dressing in a mason jar and popped it into the cooler.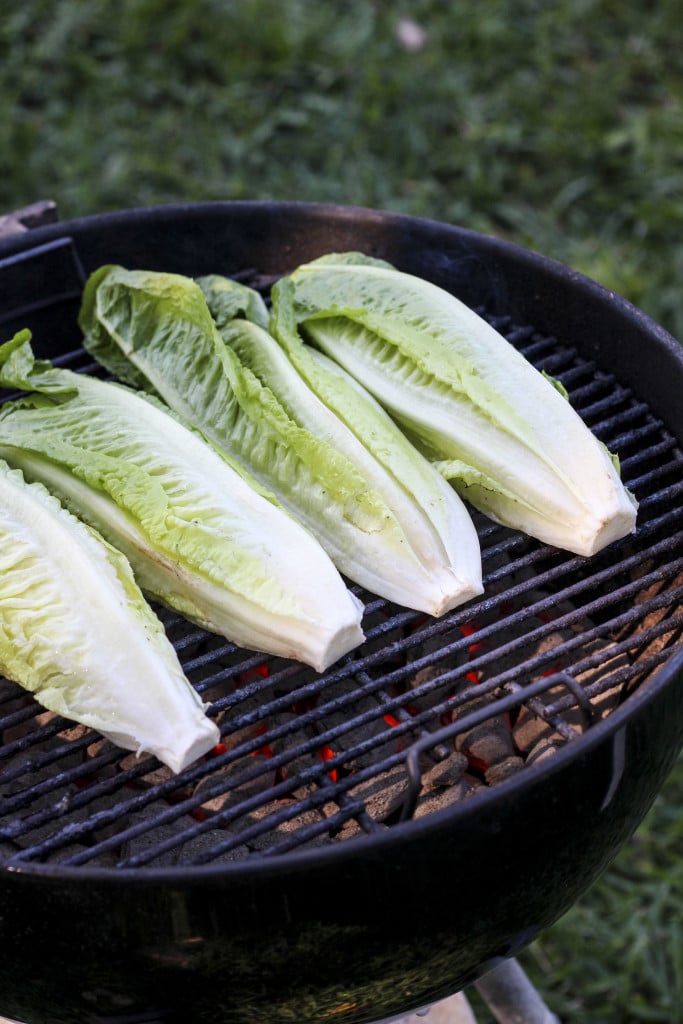 We wanted a simple side dish that would go with the pizza, this was perfect! All you do is slice the romaine hearts in half, brush them with olive oil and sprinkle with sea salt and pepper. Place cut side down and grill for 2-3 minutes on low or until you see light grill marks and the leaves are starting to wilt on the edges. You don't want to burn it or let it become a wilted mess. So, make sure to watch it and pull it off as soon as you see light grill marks.
Tip – Use smaller romaine hearts for this salad, it's easier to serve and eat that way. To wash the hearts, soak them before you cut them in a large bowl of cool water. Drain and then wrap in a towel to dry before grilling.
As soon as you take them off the grill, add parmesan cheese, tomatoes, and the juice of half a lemon. The parmesan cheese melts into the cracks and crevices of all the leaves, it's seriously delicious.
Right before you serve, drizzle the pomegranate vinaigrette over the top of the platter. You can cut these up, or like Travis, just pick up the whole thing and dive right in.
Grilling the romaine lettuce hearts give them so much more flavor than when you just eat it raw. It's sweet and crunchy at the same time, and the tangy dressing it the perfect combo! I used my Nutri bullet to make the dressing, and it was ready in just a few minutes. I made it the night before and then kept it in the cooler until we were ready to eat the salad.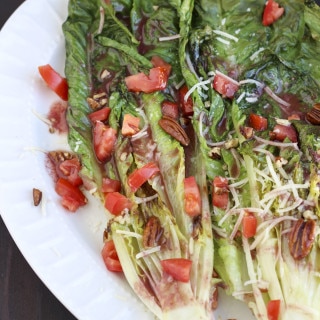 Pomegranate Vinaigrette
Sweet and tangy pomegranate vinaigrette is the perfect dressing for a crispy grilled romaine heart salad.
Print
Pin
Rate
Ingredients
Salad -
2

romaine hearts,

halved

1/2

lemon,

juiced

1/4

cup

parmesan cheese

1

tomato,

diced

1/4

cup

toasted pecans
Instructions
Blend all vinaigrette ingredients in a blender on high until smooth. Make it the night before and store in the fridge until you're ready to serve the salad.

Half the romaine and grill until it gets grill marks. Once you plate the romaine, top it with tomatoes, parmesan, pecans, and lemon juice.
After we grilled the romaine hearts, we put the Freschetta Brick Oven® cheese pizza on the grill.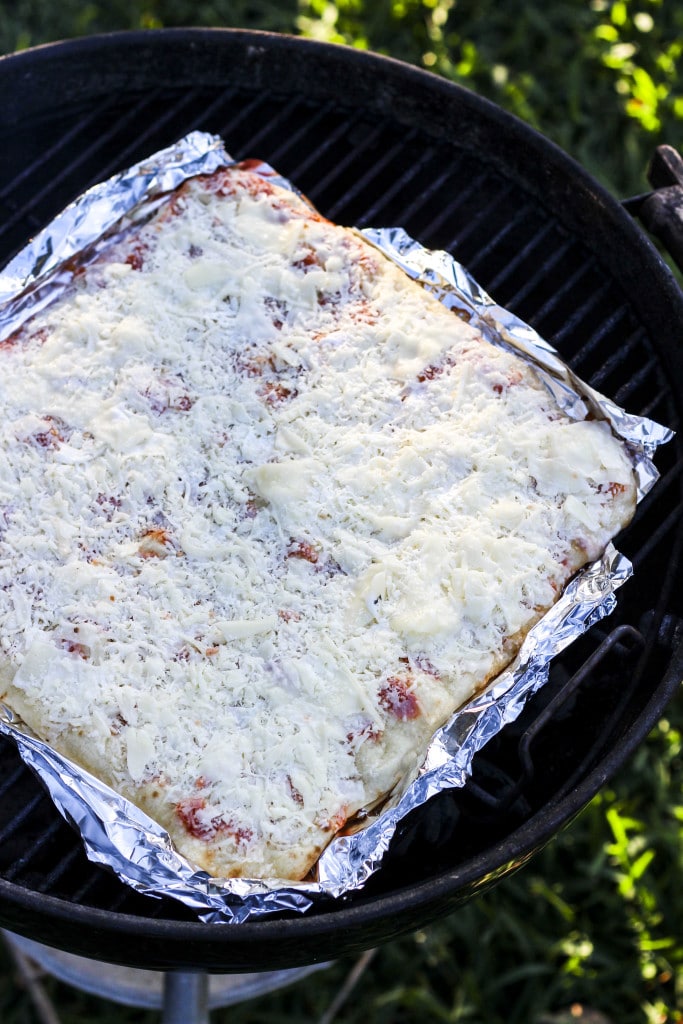 The pizza was really delicious, not like other frozen pizzas that taste like the cardboard box it came in. The crust tasted like freshly baked bread, and the sauce had a rich tomato flavor, with lots of cheese! The pizza got crispy from the grill and came out even better than I imagined. I'm definitely going to pick up a few Freschetta® Naturally Rising pizzas to keep in the freezer for Travis.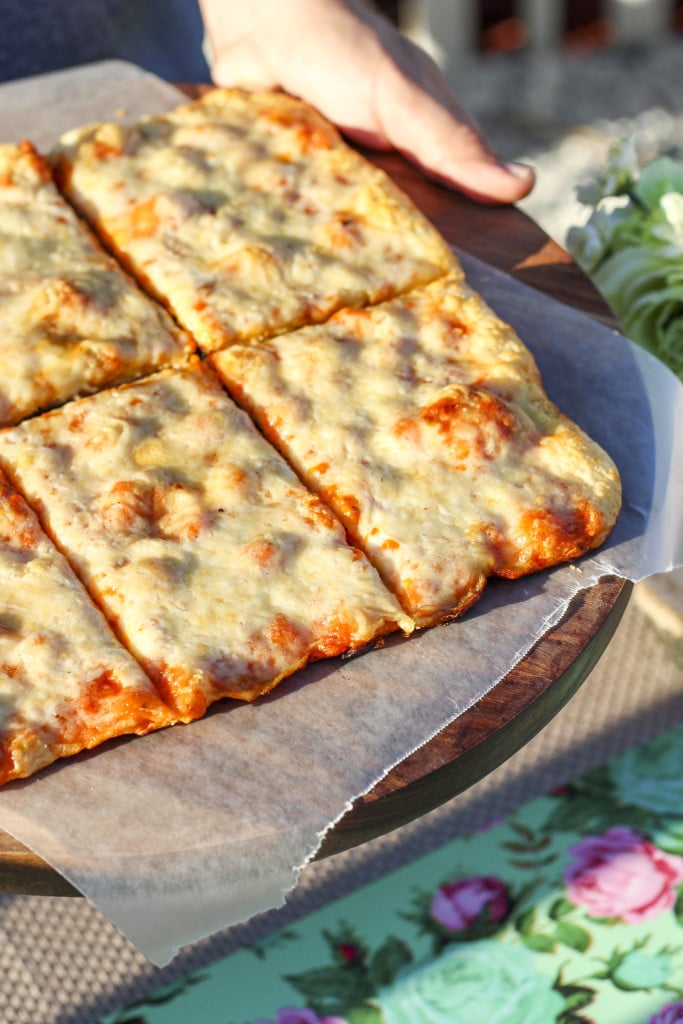 After we had dinner and cleaned up, we sat around the fire for a little bit and just relaxed. What a fun day! I wasn't dreading going to sleep either since we had a comfy bed waiting for us.
I always associate camping with a story my mom told me. After my parents got married, they went camping for the first time together, and my mom swears that my dad put her sleeping bag over a big gnarled root. Of course, my dad denies this. She said she woke up stiff and sore, and would never go camping again. I would much rather go glamping, wouldn't you?
Glamping in the Backyard – Breakfast Hacks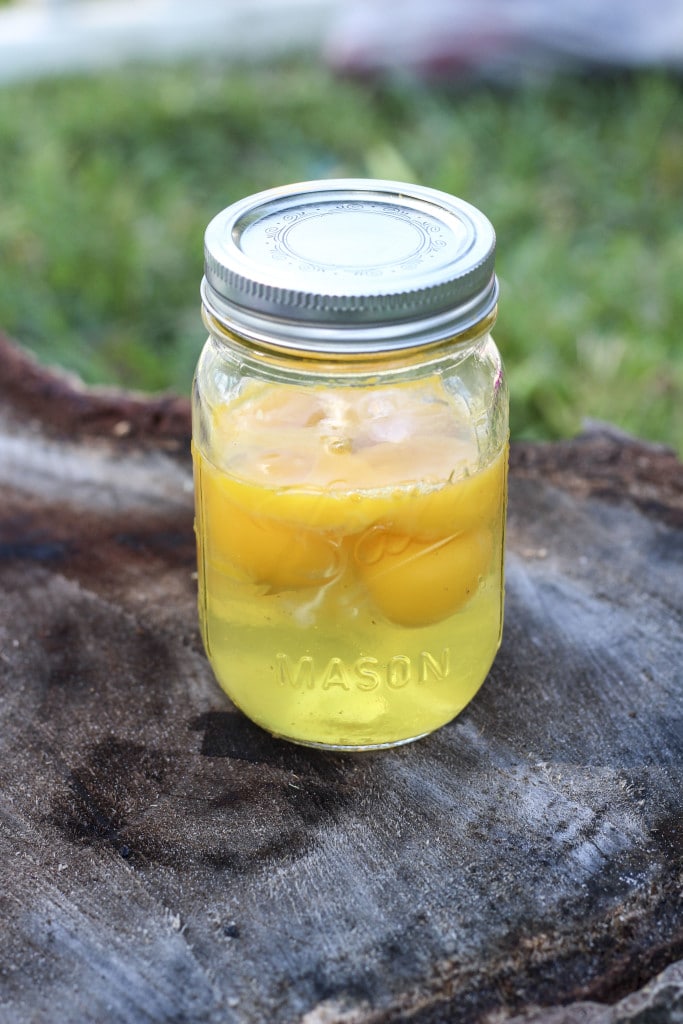 Tip – Don't bring a carton of eggs with you, that could easily open or break during transport. Instead, crack the eggs at home into a mason jar. Then cap it and put the mason jar into the cooler, and you're good to go!
We got up early the next morning, Travis fired up the grill, and we made avocado Havarti egg sandwiches for breakfast.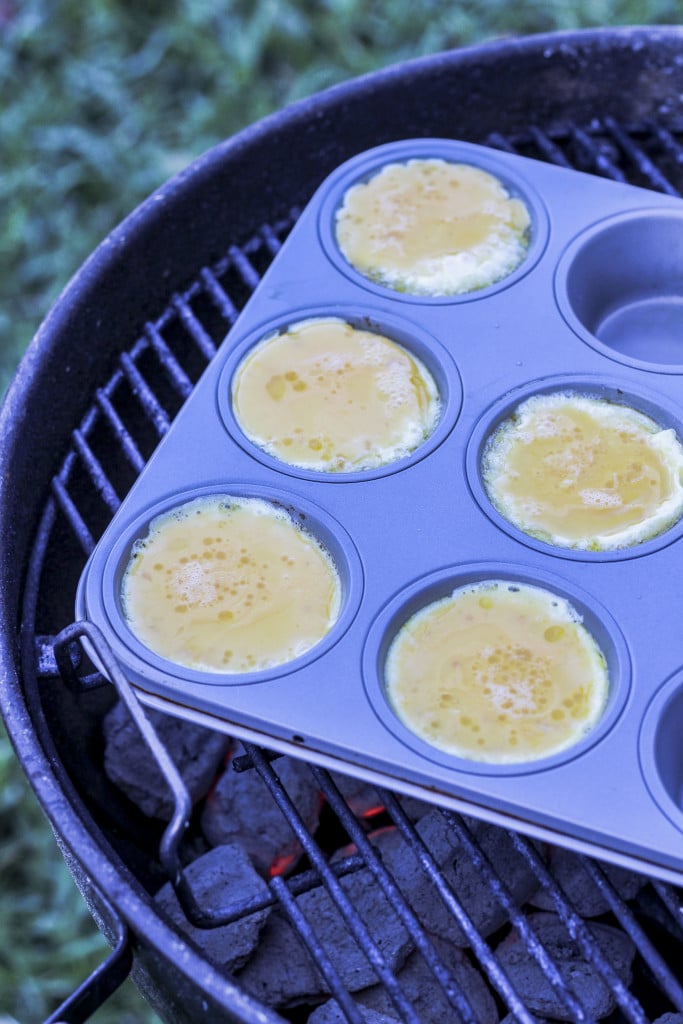 I whisked the eggs in the mason jar using a fork. If you like to leave the yolk whole, you can use a 1/4 cup measuring cup to scoop out one egg at a time and drop it into the greased muffin tin cavity. One egg is enough for each muffin cup.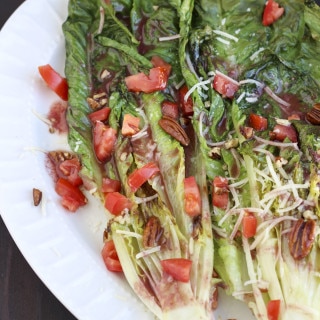 Avocado Havarti Egg Sandwiches
Easily grill eggs in a muffin tin to use for quick breakfast sandwiches that are loaded with avocado, Havarti cheese, and hot sauce for a kick.
Print
Pin
Rate
Ingredients
4

eggs

4

sandwich rounds

1

avocado,

sliced

4

slices

havarti cheese

Muffin tin

Cooking spray

Optional - hot sauce
Instructions
Heat the grill for 5 minutes.

Spray each muffin tin cavity with cooking spray or brush it with coconut oil, then pour the eggs into the muffin tin cavities.

Fill each half way because the eggs puff up while they're cooking and then sink back down when you take them off the grill, and you don't want them to overflow.

Sprinkle salt and pepper over each egg cup.

Grill over a low flame for 2-3 minutes or until they are firm in the center when you jiggle the pan.

Cool for 2 minutes, and use a spoon to pop them out.

Build your sandwich using a sandwich round, 2 slices of avocado the egg patty, a slice of Havarti folded in half and a drizzle of hot sauce.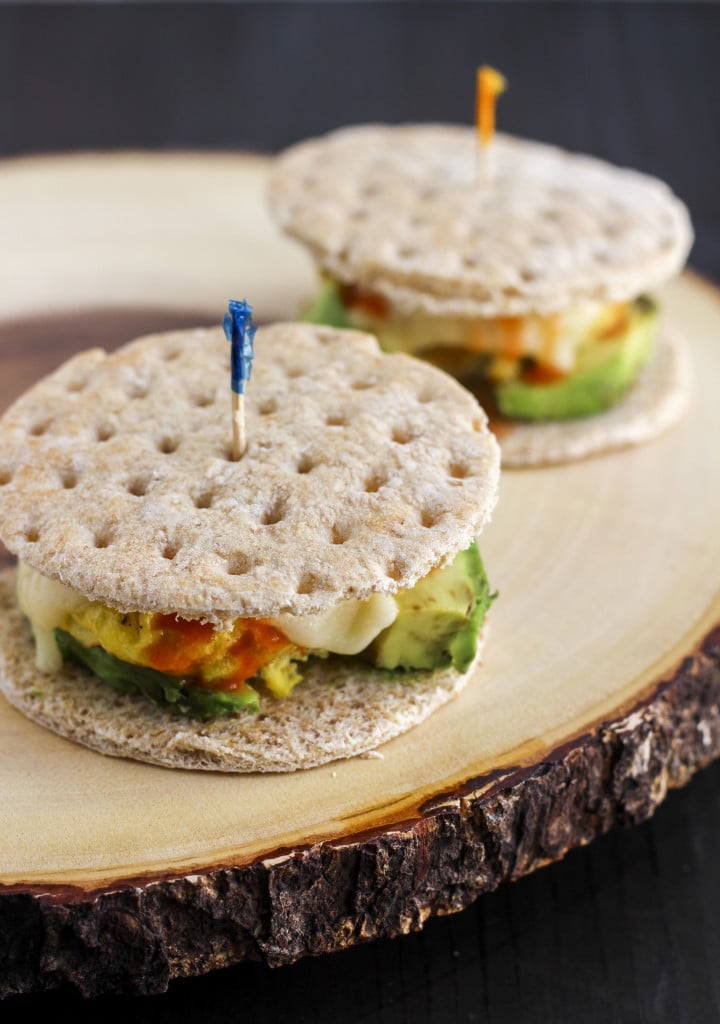 Doesn't that look like the perfect bite? Yum! I love this combination of flavors, and I swear grilling the eggs gives them extra flavor! You could also use biscuits or hamburger buns if you can't find breakfast rounds. Anything goes while you're glamping!
We had a great time going glamping together, but I think it made Travis realize I wouldn't fare so well going camping for real. I think I'll stick to glamping in the backyard, it's more my speed!
Have you ever been glamping before? Or are you planning on going soon? Let me know in the comments!