Cauliflower cashew cream alfredo sauce that looks and tastes just like alfredo, except it doesn't have any butter, heavy cream or cheese in it! You would never know that this healthy version is loaded with cauliflower and buttery cashews! Vegan, gluten-free & dairy-free.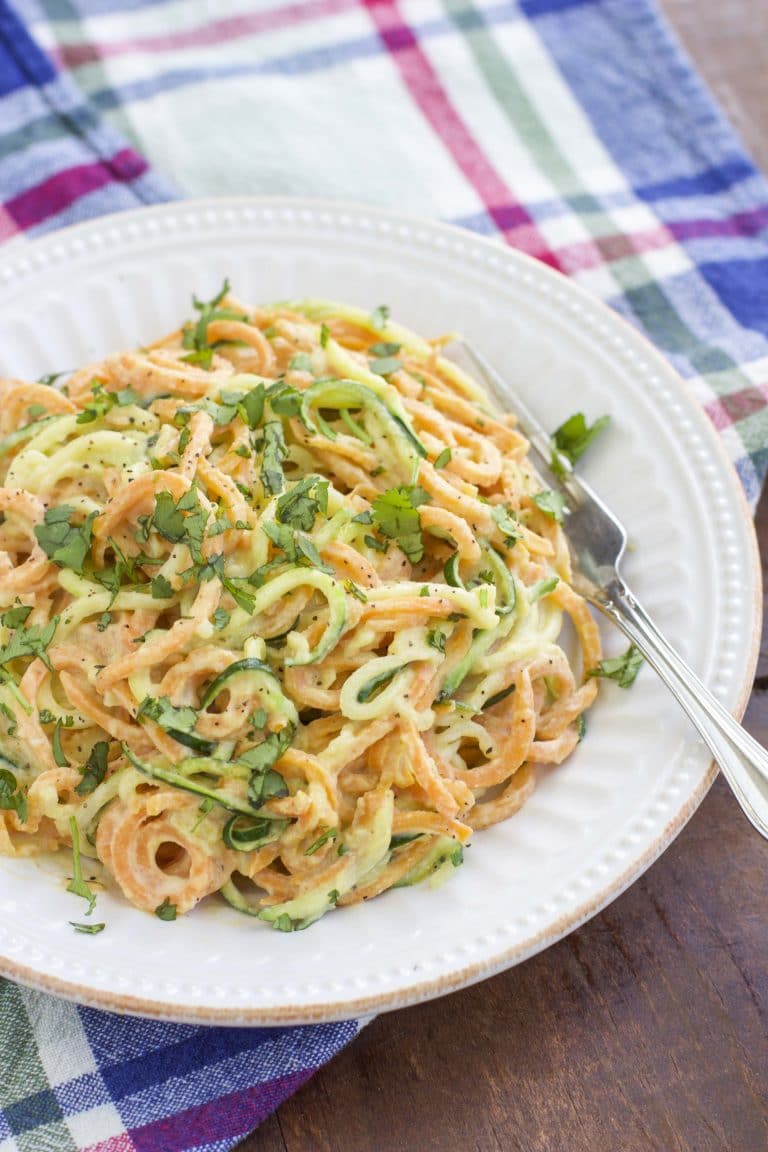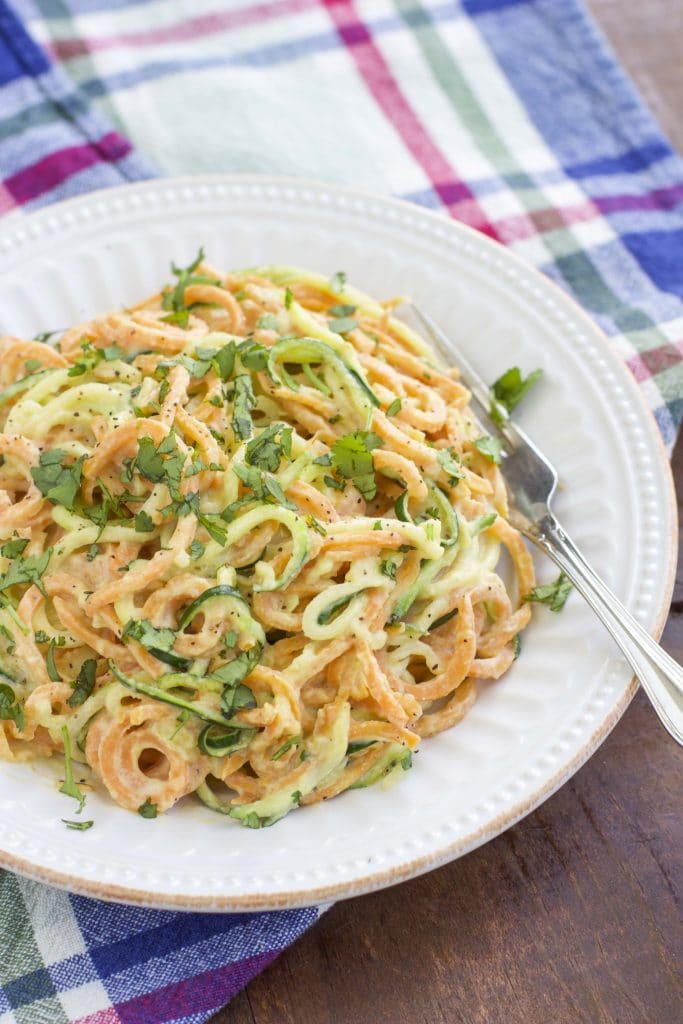 When we came home from the 4th of July party we went to last weekend, Travis and I watched a documentary on Netflix called, "Vegucated." It follows three New Yorkers on their journey of transitioning to a fully vegan lifestyle. It was very eye-opening and some parts were pretty hard to watch, like the tour through an old slaughterhouse.
What's The Big Deal About Eating Meat?
Something I learned that surprised me is that factory farming of animals causes something like 3x more emissions into the atmosphere than a car does! So, not only is eating red meat bad for your health, it's also bad for the environment.
Because the world population is growing so quickly, the demand for meat is getting higher every day. That's where the use of antibiotics and hormones come into play. The industry wants to grow the biggest animals the quickest way possible and they don't care about what happens to the animal in the process. They definitely don't care about the people who consume the animals who consumed the hormones and antibiotics.
I used to think that if we ate meat, buying only organic and free-range meat made it okay– but it's not. Just because it's labeled organic doesn't mean that the animals are treated humanely. I don't want to have any part in torturing animals just so we can eat them when we can get our protein from many other sources. There is no humane way to kill a sentient being that wants to live!
So after we watched all this, I asked Travis how he felt about going vegetarian. Travis is a big meat eater, but over the last few years, I've been working more and more vegetarian meals into our menu. He especially loves my roasted sweet potato enchiladas, lentil stuffed red cabbage rolls, and lentil quinoa meatballs. He said he would try his best and that's all I can ask for.
Travis especially loved this healthy cauliflower alfredo sauce, he thought it tasted like the real thing!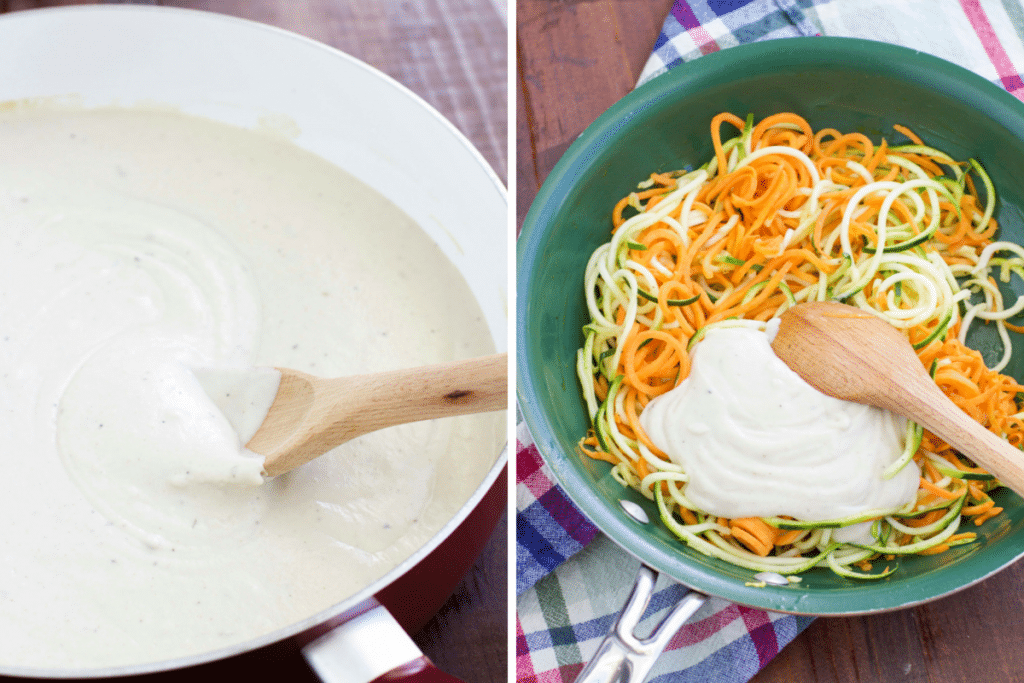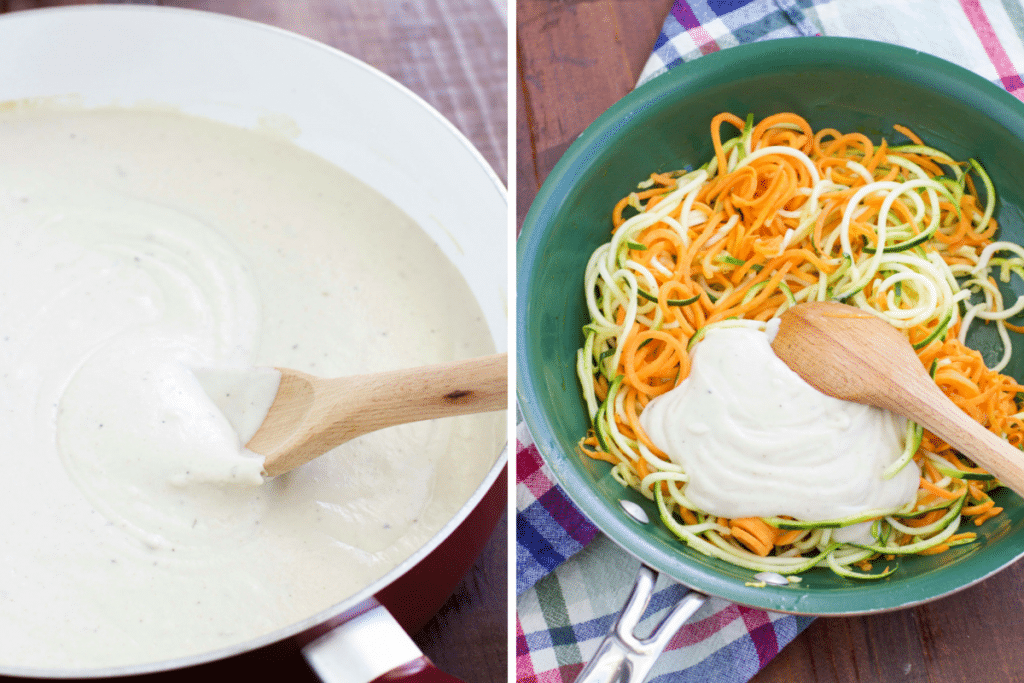 What Can You Make With Cauliflower?
Cauliflower is one of those magical vegetables that you can turn into just about anything! Cauliflower "chicken" tacos, spicy Thai cauliflower soup, cauliflower rice, cauliflower crust pizza, the list goes on and on! One of our favorite vegan cauliflower recipes are these buffalo cauliflower tacos, they're seriously delicious!
What makes this alfredo sauce so darn addicting is the cashews, they give it such a creamy, buttery, smooth texture. It's fantastic!
Want more easy vegan recipes? Join our vegan Facebook community below!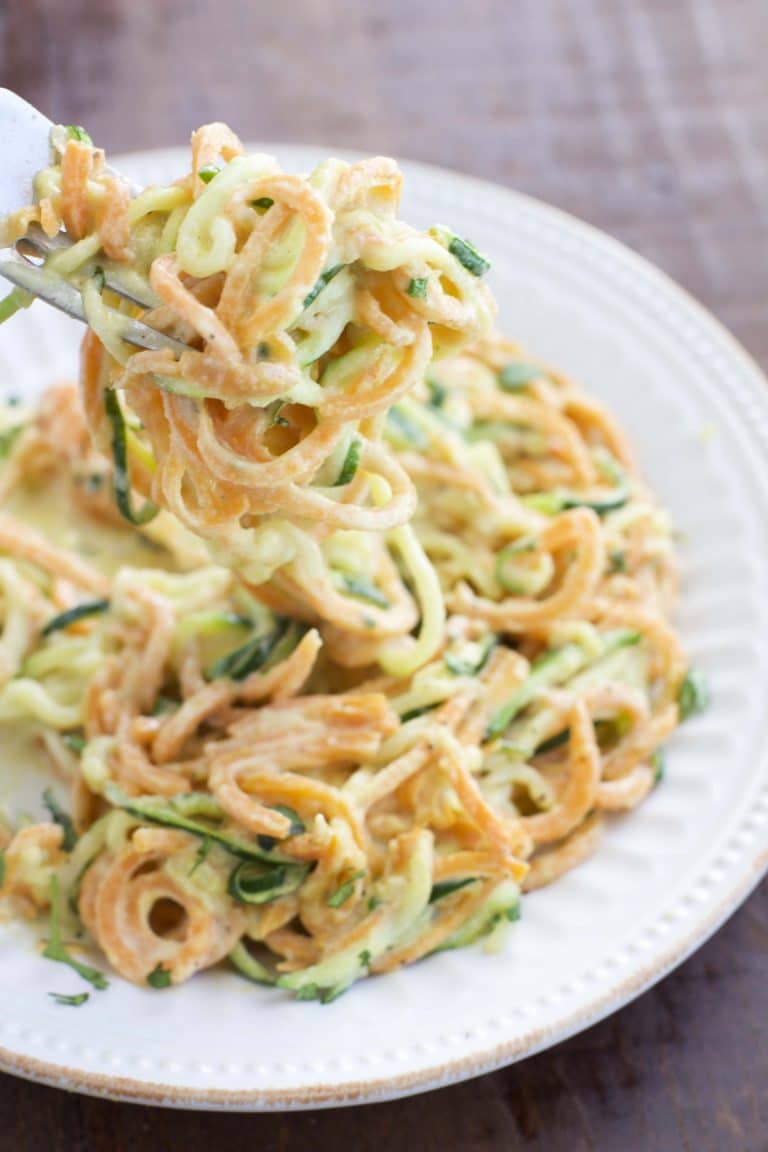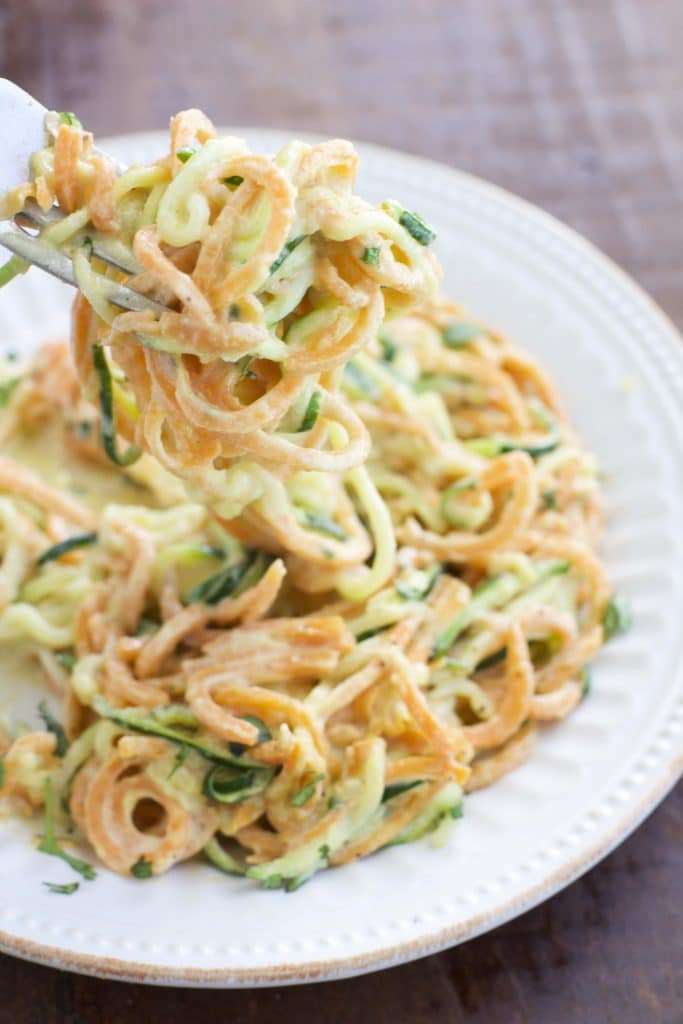 Which Spiralizer Should You Use?
After realizing that I needed to upgrade my handheld spiralizer and reading tons of reviews on Amazon, I decided on the OXO spiralizer.
I chose the OXO spiralizer because I liked that it had one huge suction cup on the bottom of the appliance and it has a separate container to store the extra blades in when you're not using them. I kept imagining myself trying to hold the spiralizer on the counter while it moved as I was spiralizing, and it eventually falling off, and the blades that other spiralizers store on the bottom, falling out and cutting my toes off. Yikes!
I definitely made the right choice. Once you move the lever and the suction cup grabs on, it's not moving unless an earthquake rips the counter apart. I'm very happy with it so far and would highly recommend it to you if you're in the market for a new spiralizer.
What Should You Do With The Leftover Veggie Bits?
When you spiralize a vegetable, you end up with a bunch of noodles and a skinny circular piece from the center of the vegetable.
I hate wasting food so of course, I'm not going to waste the leftover bits from spiralizing the noodles. Sometime I'll chop it up and add it to our favorite garden veggie barley soup. Or you can reserve a little bit of the cauliflower alfredo sauce that you made and add the chopped vegetables and spinach to it and serve it over quinoa or brown rice. It's delish!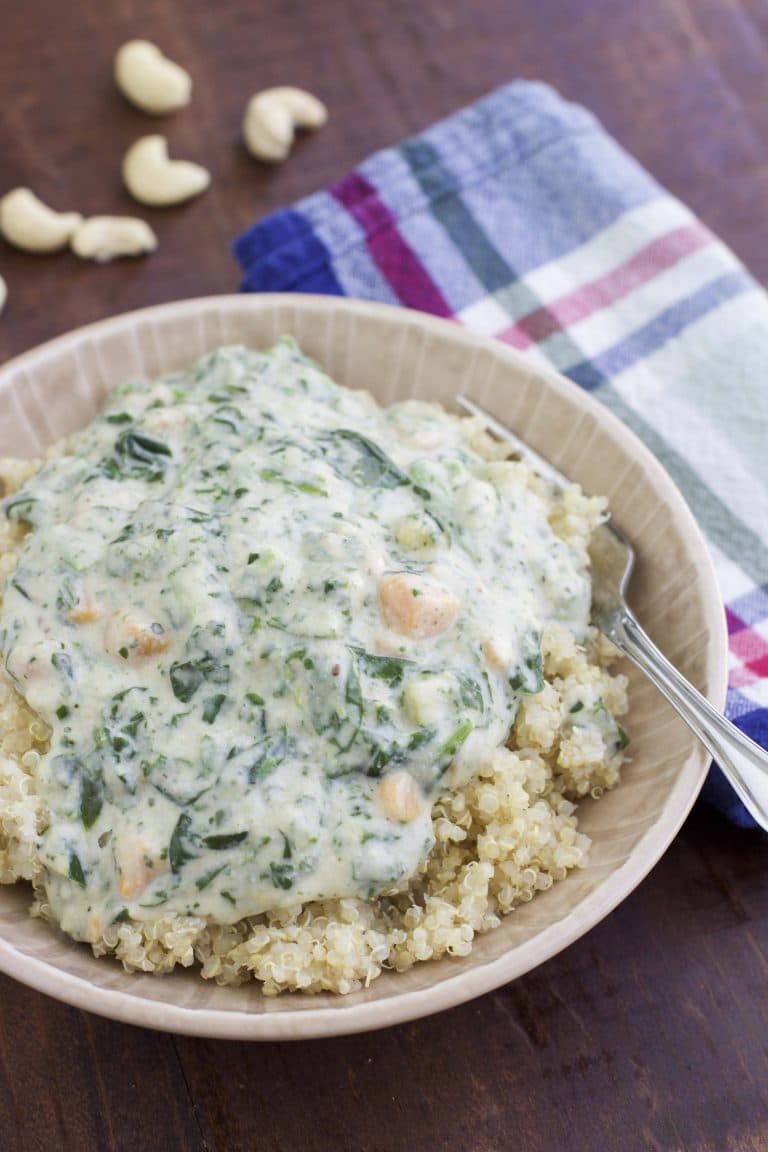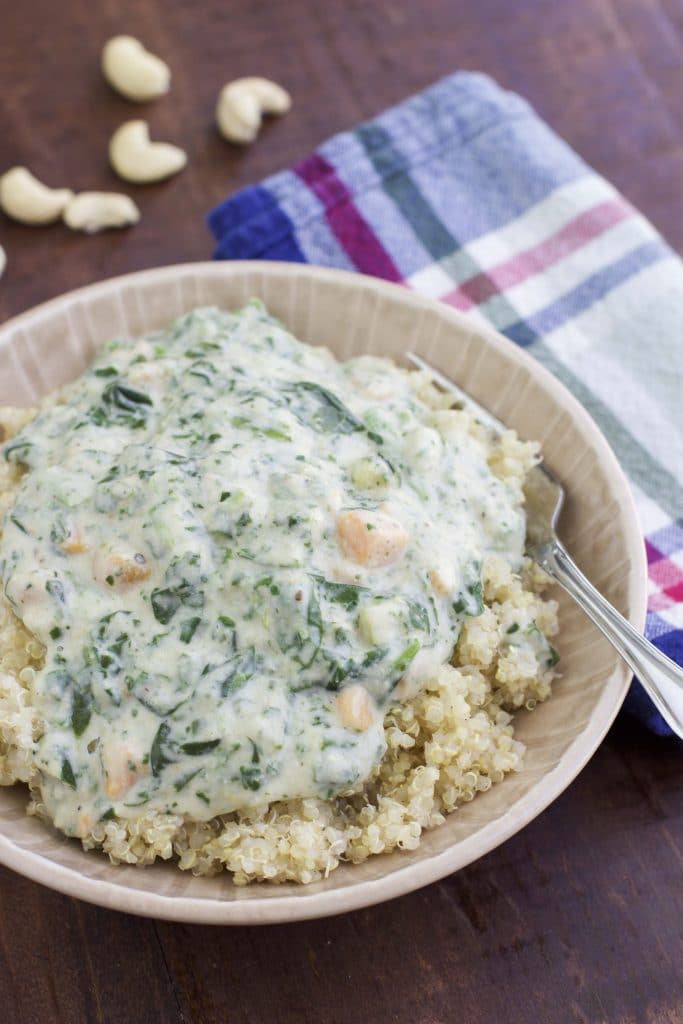 If you liked this cauliflower alfredo sauce, please remember to rate the recipe and let me know what you thought of it in the comments below, I love hearing from you! You can also FOLLOW ME on FACEBOOK, TWITTER, INSTAGRAM and PINTEREST to see more delicious vegan recipes + our monthly trips to Disney World!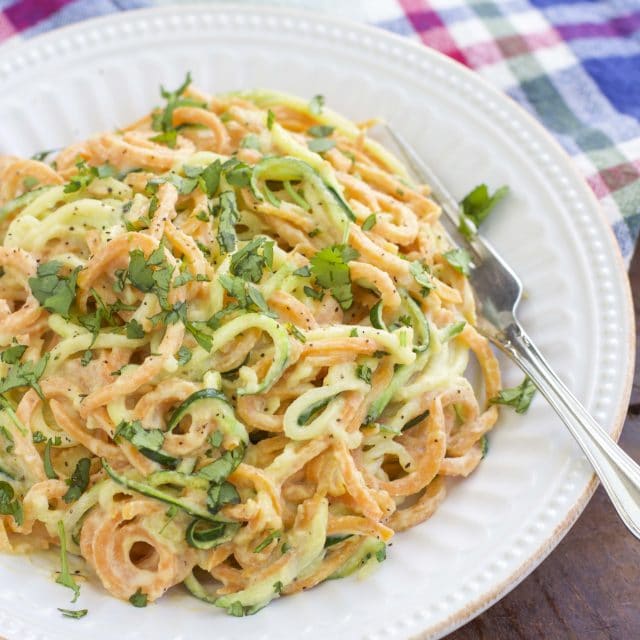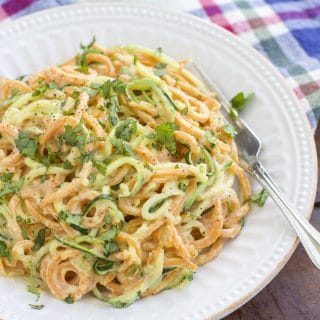 Roasted Cauliflower Cashew Cream Alfredo Sauce
Cauliflower cashew cream alfredo sauce that looks and tastes just like alfredo, except it doesn't have any butter, heavy cream, or cheese in it! You would never know that it's loaded with cauliflower and buttery cashews! Vegan, gluten-free & dairy-free.
Print
Pin
Rate
Instructions
Preheat the oven to 400 degrees.

Lay the chopped onion and cauliflower florets on a parchment lined tray. Drizzle 2 Tbsp olive oil, garlic powder, Italian seasonings, sea salt, and pepper over the vegetables. Toss until the vegetables are evenly coated. Roast for 20 minutes.

Add the cooked cauliflower, onions, cashews, coconut milk, nutritional yeast, vegetable broth, and lemon juice to the blender. Blend on high until the sauce is completely smooth and creamy. Season with salt and pepper to taste.

While the vegetables are roasting, spiralize the sweet potatoes and zucchinis. In a large saute pan, cook the spiralized noodles in 1 tbsp of olive oil over medium heat until they've softened slightly, about 5-6 minutes. Season with salt and pepper. Remove the noodles from the pan, set aside.

Pour the blended cauliflower sauce into the warm pan. Add the cooked spiralized noodles to the pan and toss them with the alfredo sauce. Garnish with fresh parsley.
Nutrition
Serving:
4
g
|
Calories:
120
kcal
|
Carbohydrates:
15
g
|
Protein:
6
g
|
Fat:
5
g
|
Saturated Fat:
1
g
|
Sodium:
206
mg
|
Potassium:
708
mg
|
Fiber:
4
g
|
Sugar:
5
g
|
Vitamin A:
280
IU
|
Vitamin C:
80
mg
|
Calcium:
55
mg
|
Iron:
1.8
mg