Satisfy your craving for fried rice with this flavorful and veggie-packed low-carb version! This delicious mushroom fried rice recipe is made with a combination of frozen vegetables and fresh ingredients and it's ready in 30 minutes!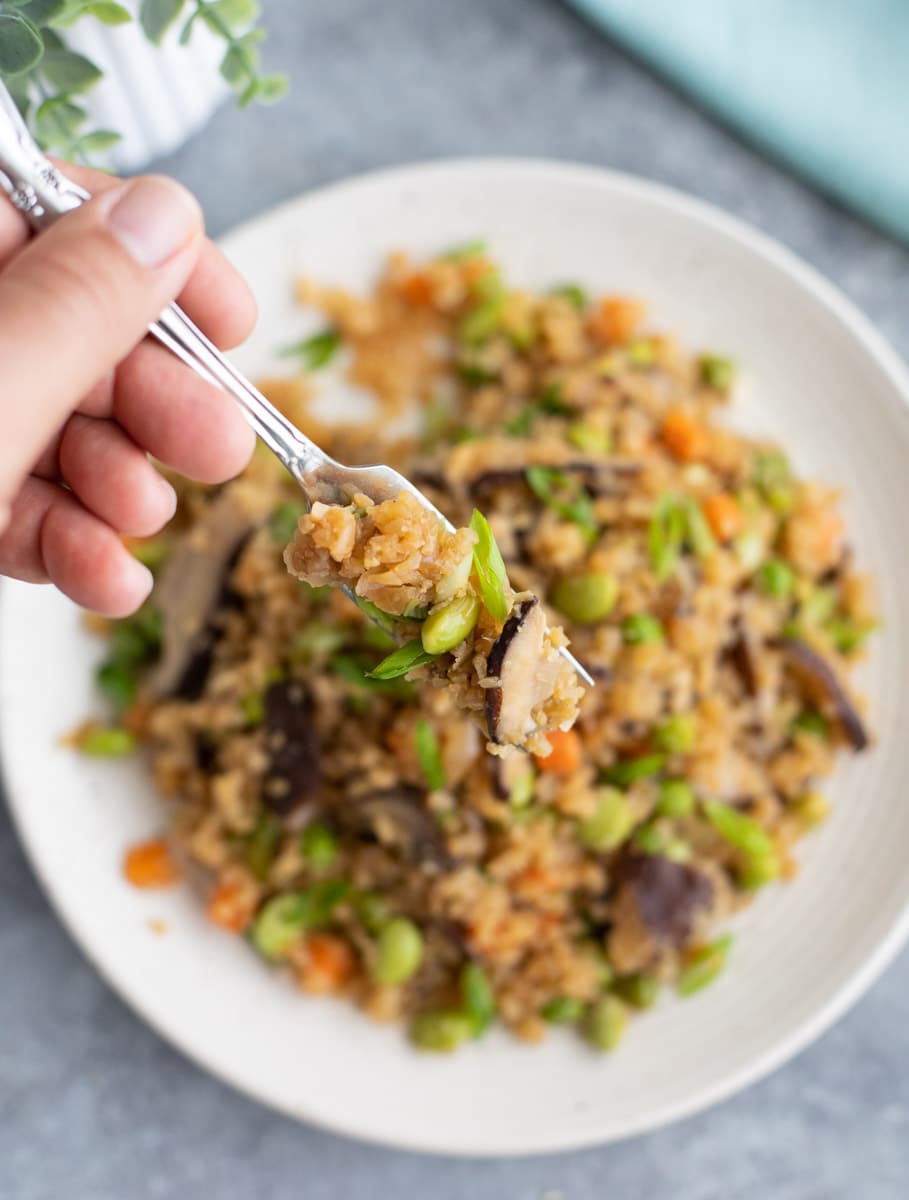 Fried rice has always been one of my favorite dishes to get when we order takeout. My one complaint was that it never contained enough vegetables for my liking! This low-carb and veganized version of fried rice is made with cauliflower rice and it's loaded with vegetables! The star of this recipe is the shiitake mushrooms, they add so much umami flavor to the dish that makes it incredibly tasty.
Cauliflower rice is the perfect replacement because it has that tender, chunky texture and mild flavor that picks up the flavors that it's seasoned with perfectly. I used a mix of fresh and frozen vegetables because I like short cuts, saving time, and getting dinner on the table fast! You too? I think you're going to love this! This recipe is also great for prepping easy meals that can be eaten hot or cold during the week.
Related Post: 27 Delicious Vegan Keto Recipes for Breakfast, Lunch, and Dinner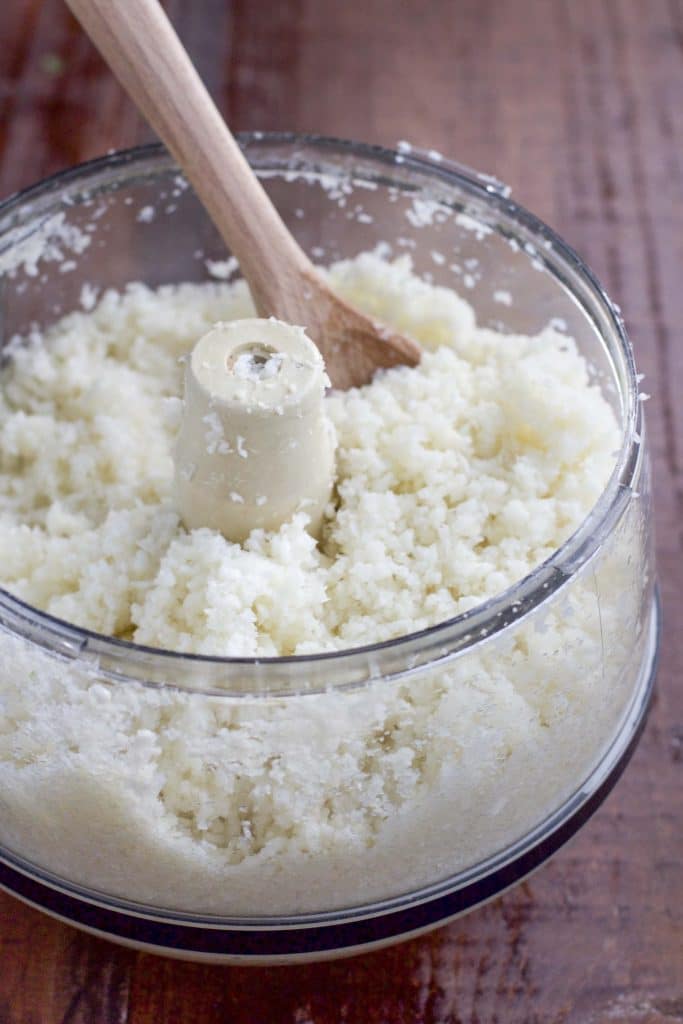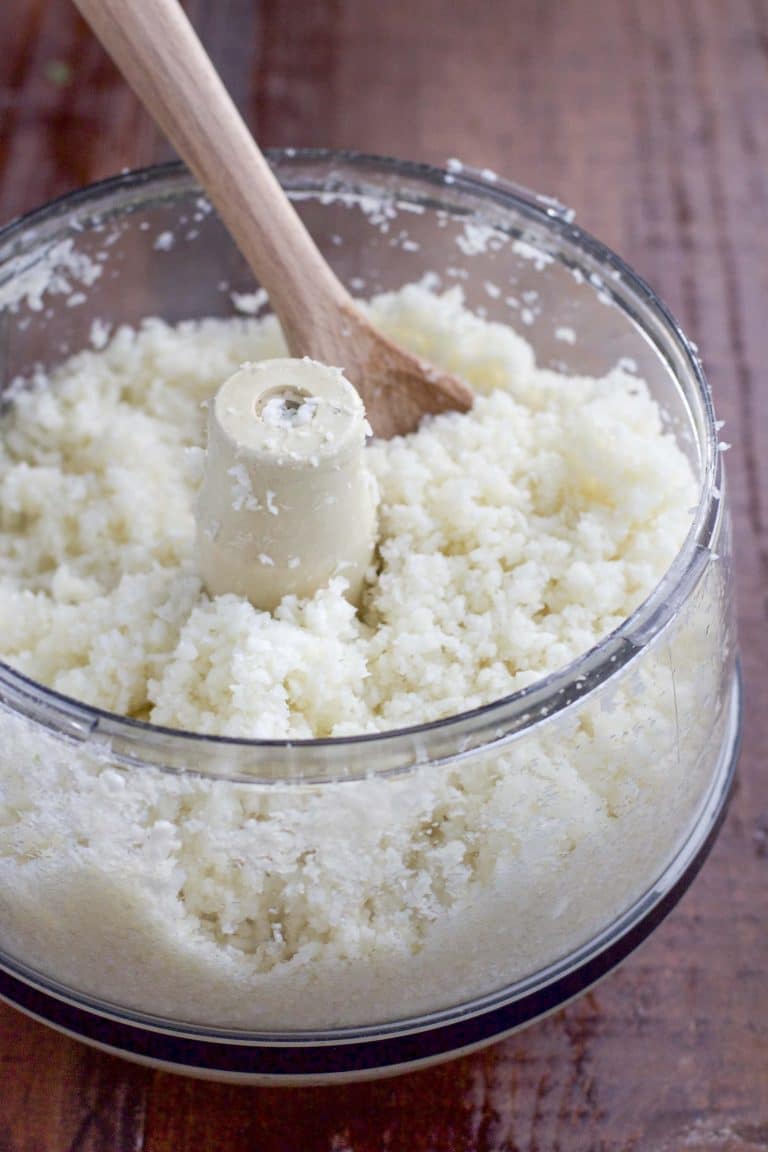 Cauliflower rice is very easy to make fresh, but it's even quicker to dump a bag of frozen cauliflower rice into the pan and call it a day. Frozen cauliflower rice is a staple freezer item in my house, I like to stock up on it when it goes on sale at Costco. However, if you'd like to make it fresh, this is one way to do it.
Cut the cauliflower into small 1-2 inch florets. Don't discard the stem or leaves, you can chop them up and add it to yellow thai cauliflower curry.
Add the florets to a large food processor cup and pulse until the cauliflower breaks down into small pieces. You may need to work in batches (depending on how big your cauliflower is) or stop periodically and use a spatula to scrape down the side of the bowl.
That's it! Isn't that so simple? Now you can eat the cauliflower rice raw or transfer it to a pan to cook it. If you don't have a food processor, you can also make cauliflower rice by grating the florets into small pieces or you can use a knife to mince it into small bits. Using a food processor is definitely the quickest and easiest method.
How to Make Mushroom Fried Rice 
(Please see the recipe card for exact ingredient amounts)
In a wok or large pan, saute the diced onion until it's soft and translucent. Add the grated ginger and minced garlic and let it cook until fragrant (Photo 1). Next, add the frozen shiitake mushrooms, frozen mixed vegetables, and cauliflower to the pan (Photo 2).
Stir to combine the vegetables and then increase the heat and let the vegetables cook for 15 minutes or until all the liquid has evaporated and the vegetables are tender (Photo 3).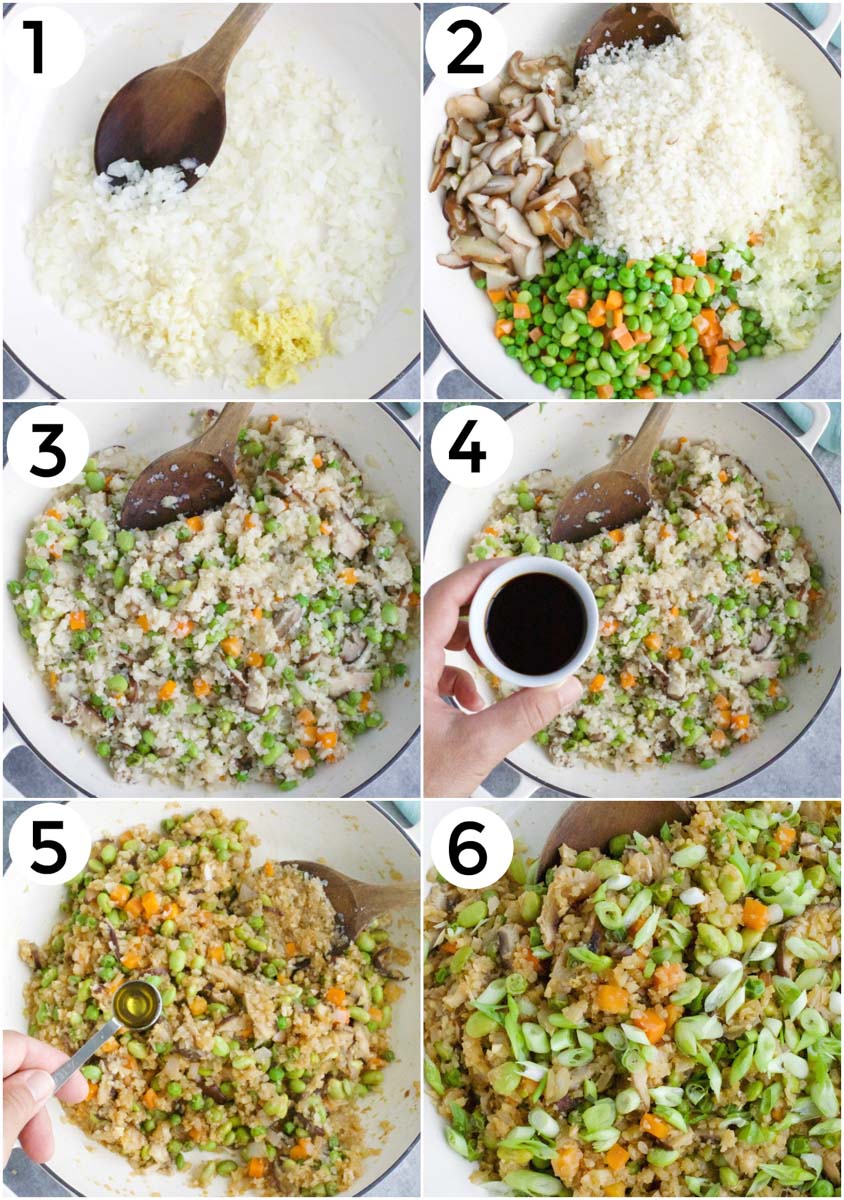 Season the mushroom fried rice with low-sodium tamari and a small amount of sesame oil (a little goes a long way) and stir to incorporate the flavors (Photos 4 & 5). Garnish with green onions before serving (Photo 6).
Mushroom Options
I used shiitake mushrooms because they're so flavorful, and frozen organic shiitake mushrooms are even more affordable than fresh shiitake mushrooms. However, you could use fresh or frozen cremini mushrooms, portobello mushrooms, white button mushrooms, or a mix of wild mushrooms.
If you don't like using frozen mushrooms because you think that they taste chewy and soggy, try this trick. Empty the bag of frozen mushrooms into a colander and put it over a plate in the refrigerator to defrost overnight. This way, the excess water drains from the defrosted mushrooms onto the plate.
This step isn't necessary to make this recipe. If you don't have time or remember to drain the mushrooms, you can put them frozen directly into the pan. You'll just need to let the mushrooms cook until all the liquid has dissolved. Cooking the frozen vegetables on high heat also helps to suck out the water and make the shiitake mushrooms less chewy and more tender.
Recipe Variations
This recipe is delicious just like this but it's very simple to switch it up! Try any of the following variations:
Half & Half: To make this meal even more substantial, use half of the amount of cauliflower rice and substitute the rest with cooked and cooled brown rice. If you use rice, it's best to use leftover cold rice that was cooked the day before to get the best texture.
Vegan Egg Fried Rice: Press and drain one block of firm tofu and crumble it. After you cook all the vegetables, push them to one side of the pan and add the crumbled tofu to the other side of the pan. Sprinkle ½ tsp of turmeric (add more to taste) over the tofu crumbles and mix it with the tofu to get the classic yellow egg color. Stir everything together and follow the rest of the recipe instructions. You may need to add 1 additional tbsp of tamari or add a little bit of black salt to get that eggy flavor.
Use Different Vegetables: This is a good meal to make when you need to use up a bunch of leftover veggies. Chop and throw in all the vegetable odds and ends from your crisper drawer. Bell peppers, bok choy, cabbage, green beans, corn, zucchini, and broccoli would all be delicious additions. Pineapple chunks would be tasty too!
Add Heat: Add a little bit of sambal oelek or your favorite hot sauce to the cauliflower rice to make spicy mushroom fried rice.
How Long Does it Last in the Refrigerator? 
Store the shiitake mushroom fried rice in an airtight container in the fridge for 3-5 days. You can eat it hot or cold, it's delicious both ways!
Can I Freeze It?
Store the vegan fried rice in a freezer-safe container in the freezer for up to 10-12 months. When you're ready to eat it, take the container out of the freezer and put it into the fridge to defrost for 24 hours. Then you can warm it up in the microwave or in a pot on the stovetop.
Substitutions & FAQ
Cauliflower Rice Substitutions: You can use any kind of rice or quinoa.
Frozen Vegetable Options: I used a mixed bag of frozen edamame, peas, and carrots, but you could also use frozen green beans, broccoli, corn, or bell peppers.
Sesame Oil Substitutions: You can omit the toasted sesame oil if you're oil-free or don't have it on hand, but it adds a delicious nutty flavor that is hard to replicate. There isn't an exact substitute for sesame oil, but you could combine the low-sodium tamari with 1 tbsp of tahini or you could garnish the dish with hulled sesame seeds to get that sesame flavor + extra texture.
Tamari Substitution: If you don't have soy sauce, you can use no soy soy sauce (I really like this one!) or coconut aminos instead.
Do I have to use frozen vegetables? I used frozen vegetables because they're quick and convenient, but you can use fresh or frozen vegetables for this recipe.
Success Tips

 
Use frozen vegetables instead of fresh to reduce your prep time for making dinner.
This recipe is great for meal prepping easy lunches to enjoy during the week. I often double the recipe so I can make enough for my husband and me because we both love it so much.
It's important to cook the frozen vegetables on medium-high heat because you need to cook off all the excess water that the frozen veggies release as they defrost. You don't want wet and sticky rice, it should be dry and tender.
The toasted sesame oil is a finishing oil, not cooking oil, so make sure that you wait until the end to add it to the shiitake mushroom fried rice.
Store leftover mushroom fried rice in an airtight container in the fridge for 3-4 days or you can freeze it for a future meal.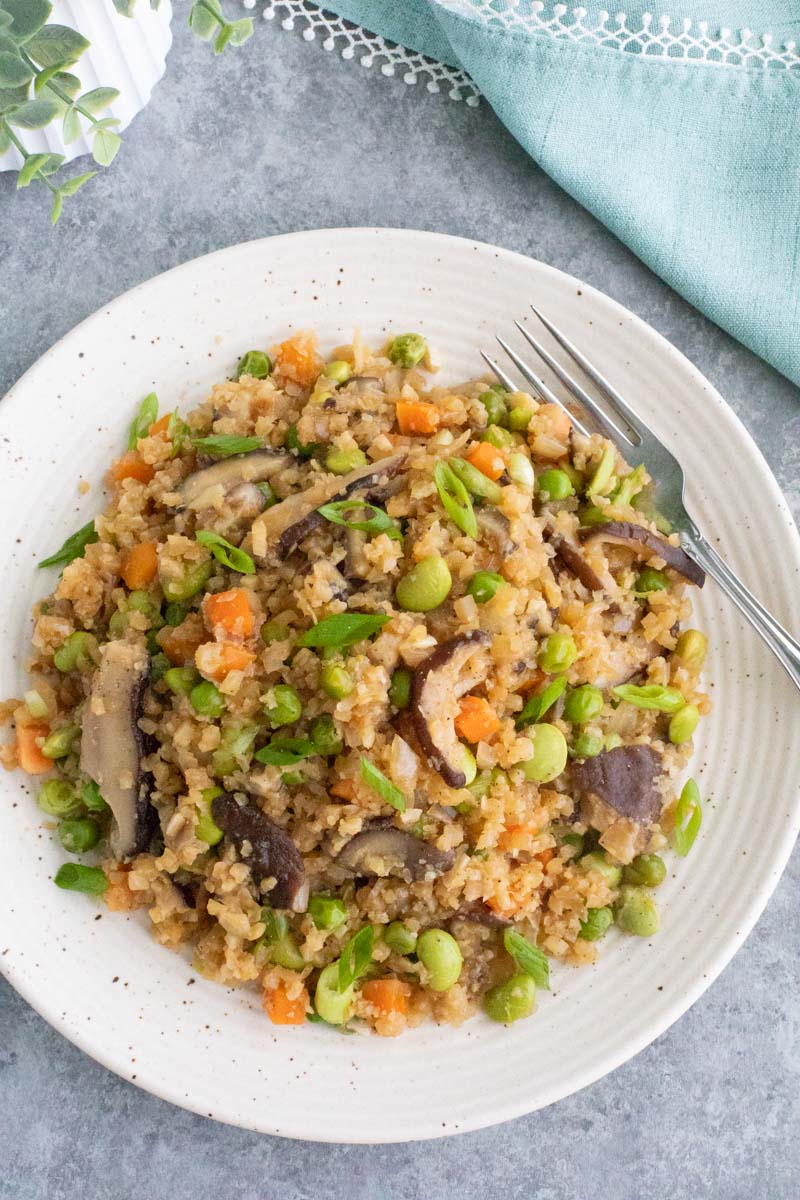 Want More Vegan Cauliflower Recipes?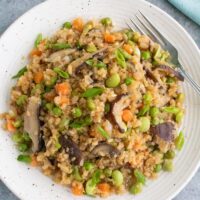 Low-Carb Shiitake Mushroom Fried Rice
Satisfy your craving for fried rice with this flavorful and veggie-packed low-carb version! This delicious mushroom fried rice recipe is made with a combination of frozen vegetables and fresh ingredients and it's ready in 30 minutes! 
Print
Pin
Rate
Ingredients
3-4

tbsp

water

1

medium

onion

diced

2-inch

knob

fresh ginger

grated

3

garlic cloves

minced

10

oz

frozen vegetables

(I used a mix of edamame, carrots, and peas)

4

cups

frozen cauliflower rice

3

tbsp

low-sodium tamari

½

tsp

toasted sesame oil

½

cup

green onions

(thinly sliced)
Instructions
In a large pan over medium heat, saute the diced onions in 3-4 tbsp of water until the onions are soft and translucent. Add the grated ginger and minced garlic. Stir to combine and let it cook for 2-3 minutes or until fragrant.

Add the frozen mixed vegetables, frozen mushrooms, and frozen cauliflower rice to the pan. Stir to combine and increase the heat to medium-high. Let it cook for about 15 minutes or until all the vegetables are hot and tender and all of the water has dissolved.

Pour 3 tbsp low-sodium tamari and ½ tsp toasted sesame oil over the vegetables and stir it in. Garnish with ½ cup of sliced green onions.
Notes
Store the leftovers in an airtight container in the fridge for 3-4 days or you can freeze it for a future meal. 
Nutrition
Serving:
1
cup
|
Calories:
90
kcal
|
Carbohydrates:
12
g
|
Protein:
7
g
|
Fat:
3
g
|
Saturated Fat:
1
g
|
Sodium:
408
mg
|
Potassium:
549
mg
|
Fiber:
5
g
|
Sugar:
4
g
|
Vitamin A:
31
IU
|
Vitamin C:
43
mg
|
Calcium:
49
mg
|
Iron:
2
mg
Tried this recipe?
Please rate it and leave a comment below if you have any feedback! If you post a picture on Instagram, please tag @Stacey_Homemaker and use the hashtag #StaceyHomemaker so I can see your delicious creation!
*This recipe was originally shared on 8/2/16, but I updated it with new pictures and better recipe instructions on 7/8/20.