Vegetarian cabbage soup is super satisfying, high in fiber, low in calories, inexpensive to make, and loaded with vegetables! Vegan, gluten-free.
*This post isn't sponsored but I did receive a free produce box from Calorganic farms that I used to create this vegetarian cabbage soup recipe.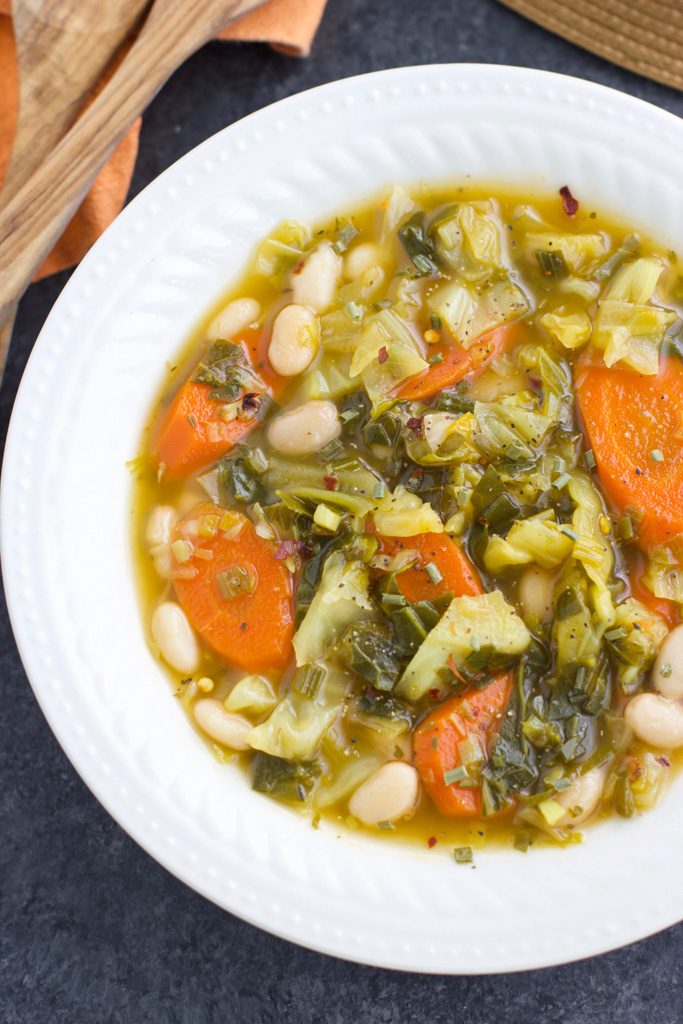 Want more easy vegan recipes? Join our vegan Facebook community below!
If you ask me, cabbage is one of the most overlooked vegetables. It's inexpensive, super healthy, you can prepare it so many different ways, and it tastes different (crispy, crunchy, sweet) but equally delicious in each recipe.
We love roasted cabbage steaks, creamy ginger coleslaw, lentil stuffed cabbage rolls, and especially cabbage soup! When I received my Calorganic produce box this month and saw the beautiful head of green cabbage, collard greens, and carrots, I knew exactly what I wanted to make for dinner!
I've tried a lot of cabbage soup recipes but this is my favorite! This healthy cabbage soup is simple to make, it's made of easy to find plant-based ingredients, and it's loaded with flavor!
You're going to love the sweet flavor of the cabbage, the satisfying creamy beans, tender carrots, the mild flavor of the leeks, and the beautiful pop of bright green collards. I really hope you try it and love it as much as I do.
…