This gluten-free quinoa flatbread pizza recipe is going to be your new favorite quick and easy vegan dinner! You don't need to knead the dough or wait for it to rise, this homemade pizza is ready to eat in just 40 minutes! Crispy on the edges, soft in the center, and topped with meaty mushrooms, artichoke hearts, baby arugula, and the creamiest vegan garlic aioli!
*This recipe was originally posted on 1/20/18, but I updated it with better recipe instructions on 1/4/20.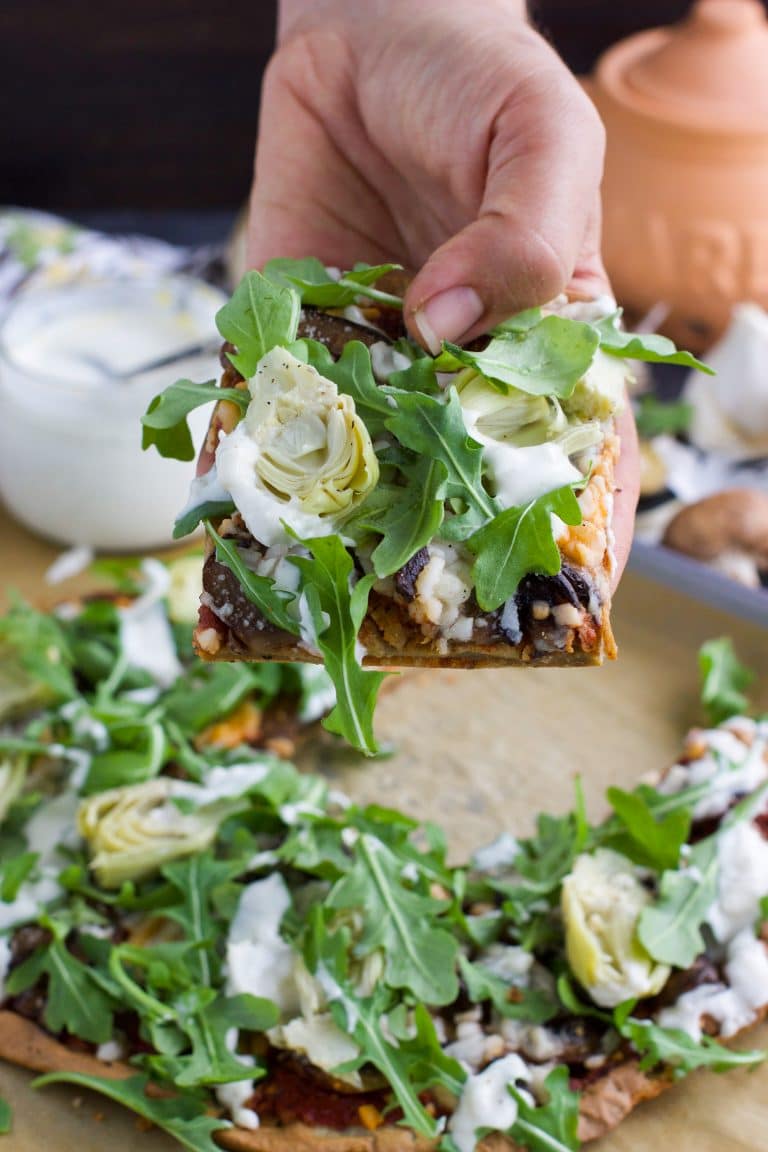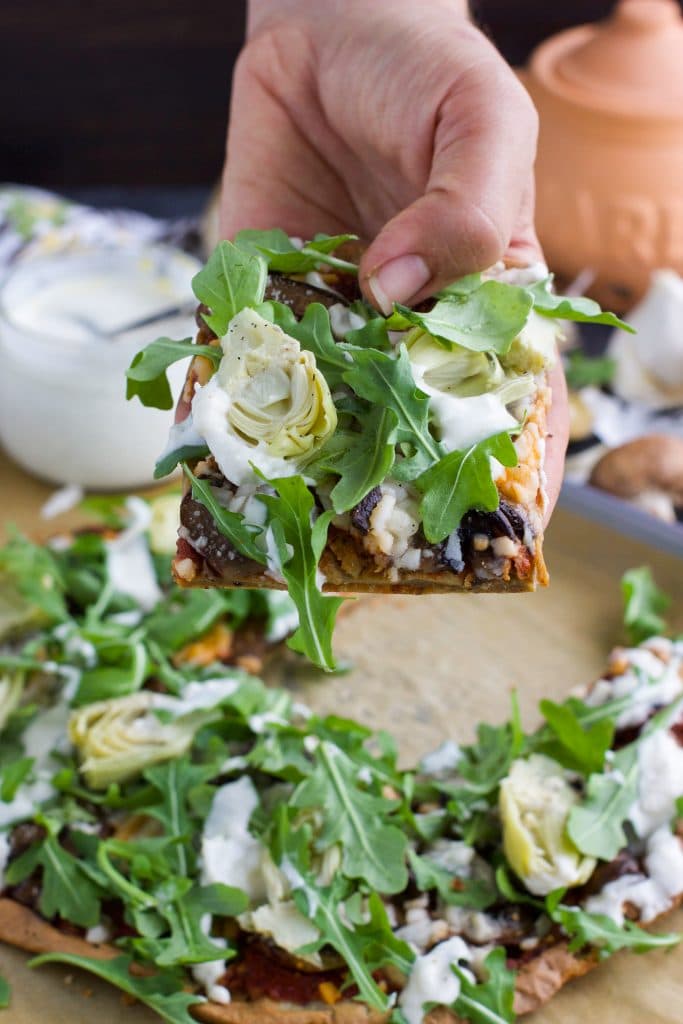 I love pizza, It's one of my favorite foods of all time! Doesn't everyone love pizza? For me, it's right up there with creamy vegan mac and cheese, the best vegan scalloped potatoes, and hearty vegan meatloaf…YUM!
If you're like me and you also like to make pizza from scratch at home, then I think you're going to love this recipe just as much as I do! This easy flatbread pizza recipe so quick and simple to make and it only requires 5 ingredients to make the dough!
My issue with making homemade pizza dough is that you have to make the dough, wait for it to rise, and then you have to knead it. I really don't like kneading the dough, even if it means I get pizza after doing it. Kneading dough is time-consuming, it makes a mess on the counter, and it hurts my hands.
Related Post: No-Knead Whole Wheat Chia Bread (this bread makes the best avocado toast!)
Having to wait for the dough to rise means that you have to plan ahead if you want pizza for dinner. I don't always remember to plan ahead and prep the dough earlier in the day so I can eat the pizza at a decent dinner time.
That's how this delicious quinoa flatbread pizza recipe came to fruition! You can blend this quick no-knead pizza dough in just a few minutes and then you can bake it right away! You don't have to wait for the dough to rise, knead the dough, or even cook the quinoa! It's so quick and convenient!
To be fair, this isn't a traditional pizza dough, it's more of a thin flatbread pizza. However, because it's made with quinoa, the dough is naturally gluten-free and it gets perfectly crisp while it bakes. It's quite tasty!
You don't even need one of those special perforated pizza trays, all you need is a regular old sheet pan. Just blend, bake, and eat! Homemade pizza crust doesn't get any easier than this!
Related Post: Vegan Zucchini Pizza Bites
…