Disclosure: This shop has been compensated by Collective Bias, Inc. and its advertiser. All opinions are mine alone. #HallmarkForMom #CollectiveBias
Learn how to make large paper flowers in 10 easy steps + create a Mother's Day sign decoration + tips for picking the perfect card for your Mama.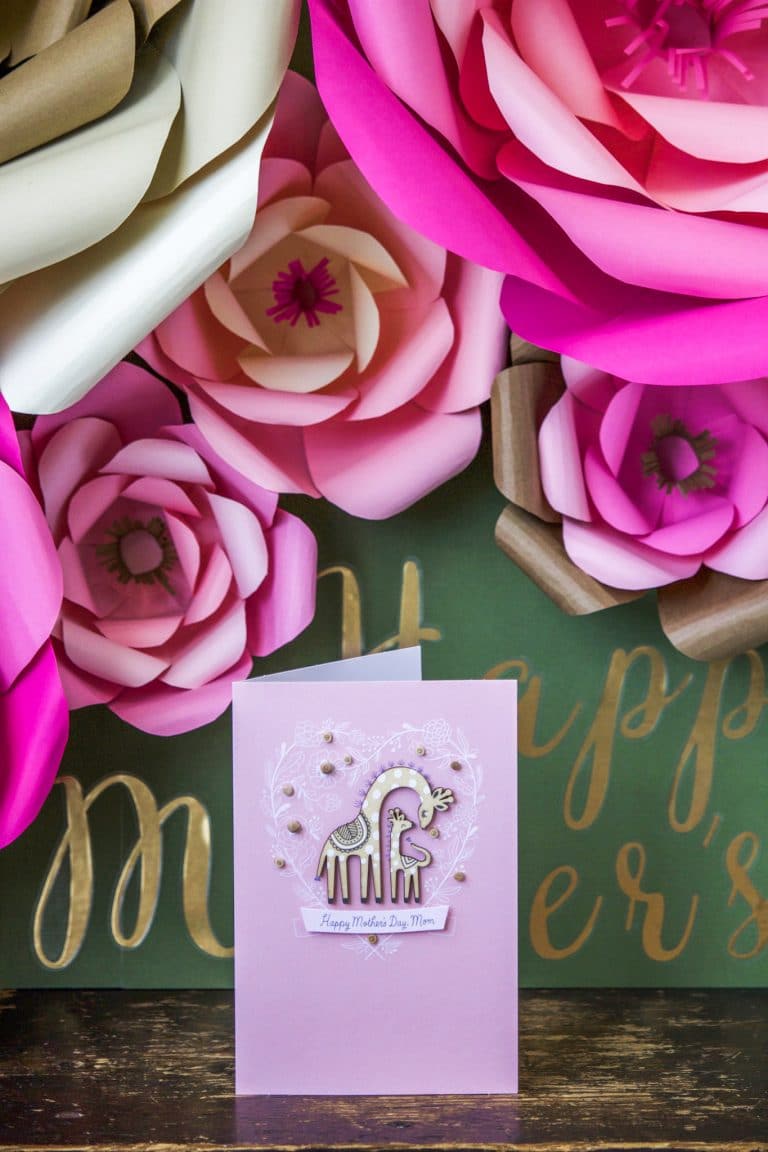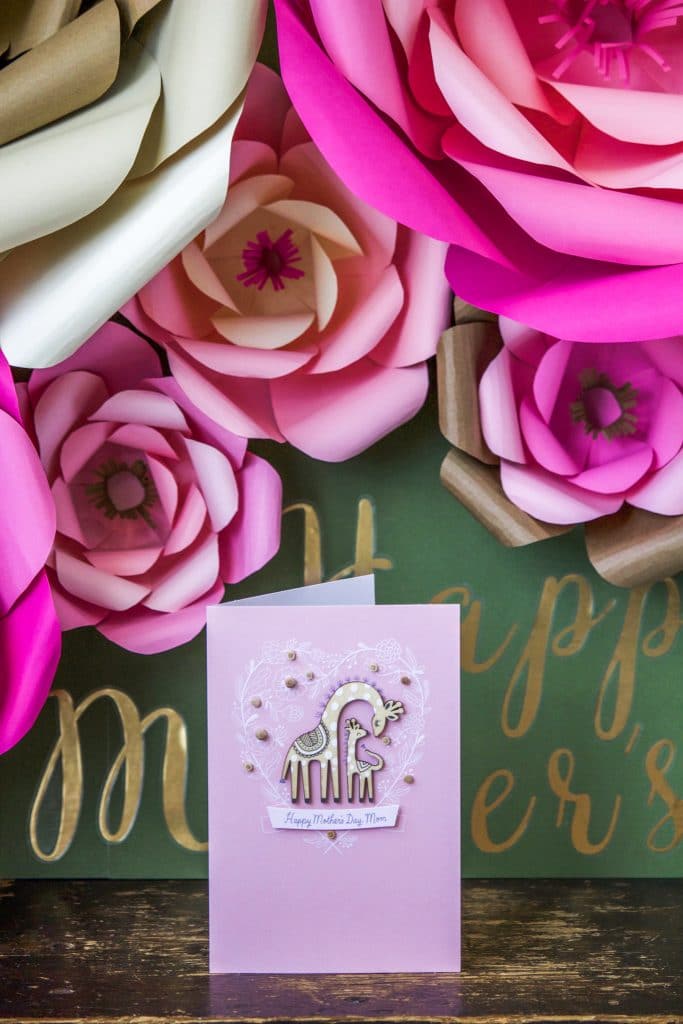 Mother's Day is always a big deal in our house!
My mama takes care of us all year long, she always puts us first and herself last. She deserves a special day that's all about her. That's why it's so important to me to put a lot of thought and effort into creating a memorable day for her to enjoy every year.
We usually stay home and have brunch together on Mother's Day but I make it extra special by designing and creating a theme for the brunch. We've had a lace and burlap brunch, a tea party, a fairy garden party, a butterflies & birdcages party, plus other themes. This year it's all about the huge paper flowers!
Paper Flower Mother's Day Sign
My original idea was to use silk flowers and arrange them on a big sign to use as the backdrop for the table that I'm going to decorate at my mom's house. However, I was scrolling through Facebook one day and saw a post about brides-to-be talking about how to make large paper flowers and using them for their bridal showers and weddings.
I thought to myself, "I could make those!"
The giant paper flowers are so much prettier than the silk flowers that I was going to use. Plus, I knew that my mom would love it even more because she knew I made it with my own hands.
I was a little bit concerned that it might be difficult to learn how to make large paper flowers but it was relatively simple. It's not hard or confusing, the repetitive steps that are just time-consuming. However, I think that the end result is beautiful and completely worth the time and effort!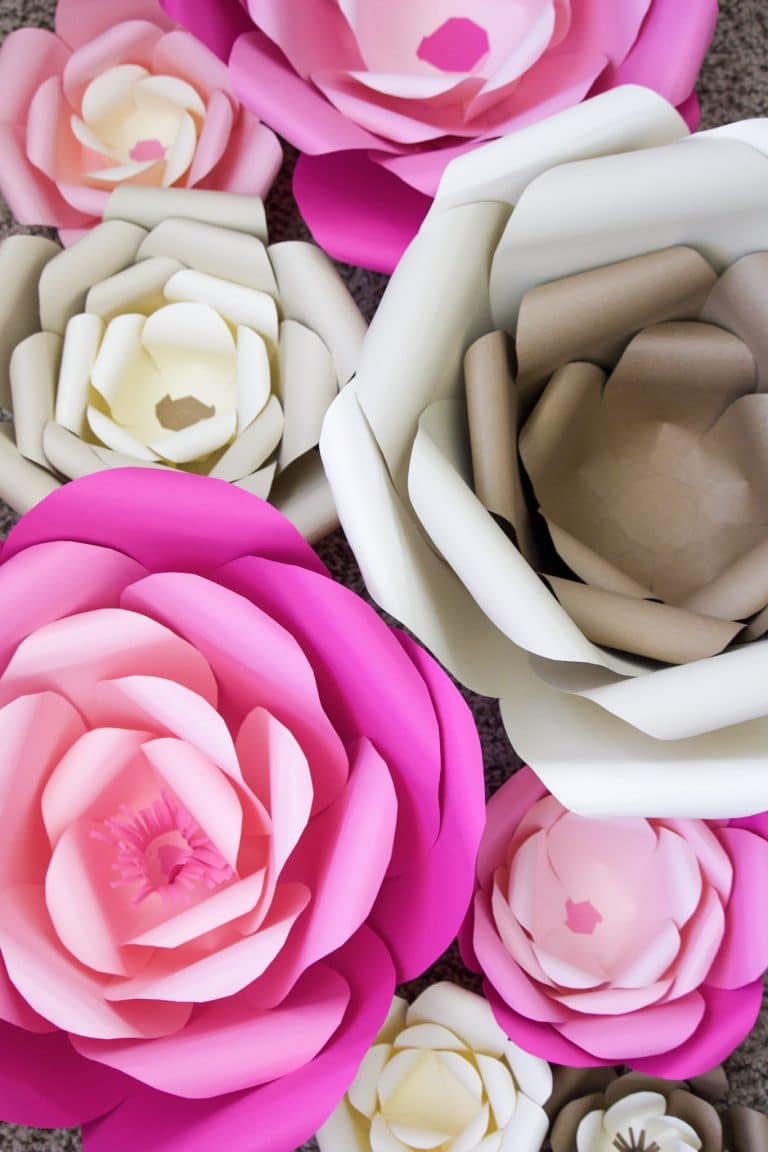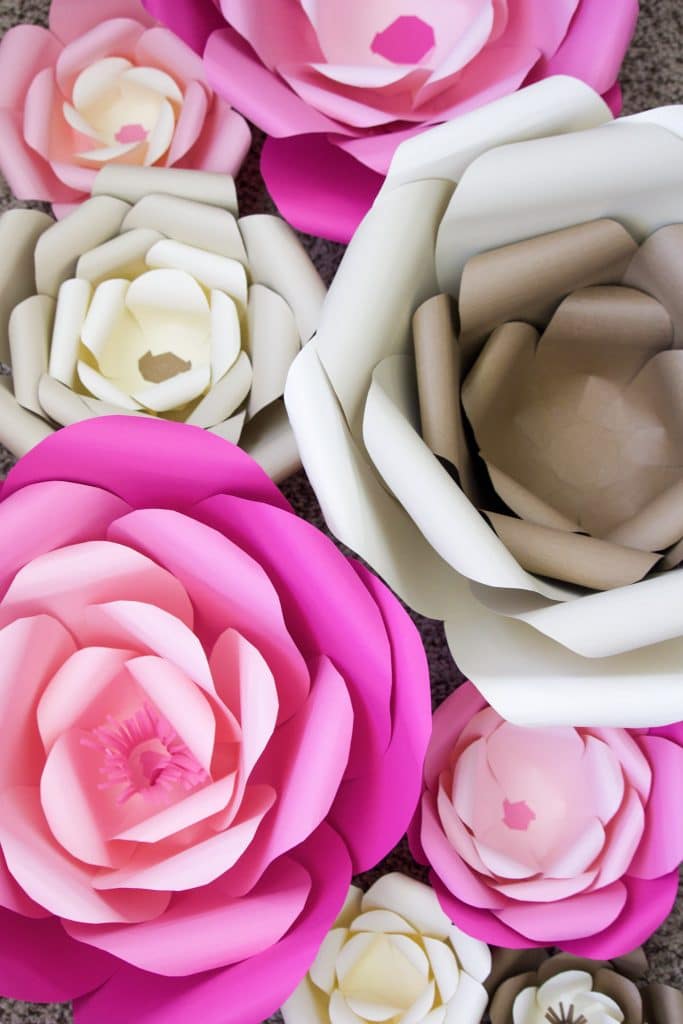 Note – Don't worry– you don't have to make the Mother's Day sign with paper flowers if you don't have time, or if you're not into crafting. You could definitely use silk flowers, tissue paper flowers or already made paper flowers.
The color theme for this year's Mother's Day brunch is shades of pink, earth tones, and touches of gold. I didn't want the flowers to all look the same so I made each one a little bit different. My favorite one is the biggest ombre pink flower, I love how the shades of pink blend together so beautifully! I really like how the contrasting smaller brown flowers turned out too.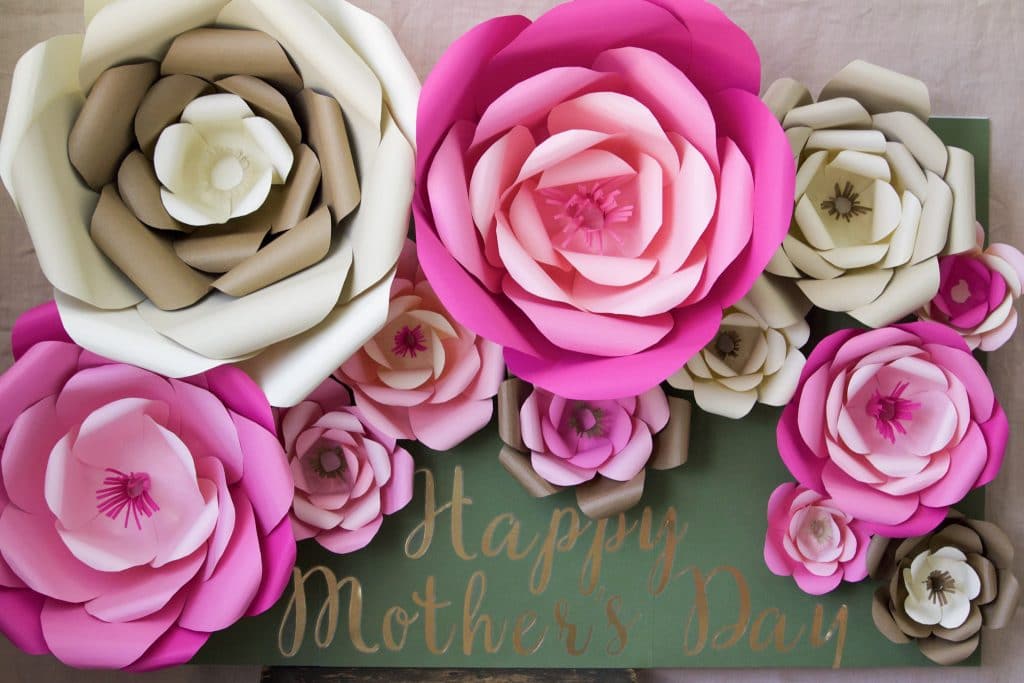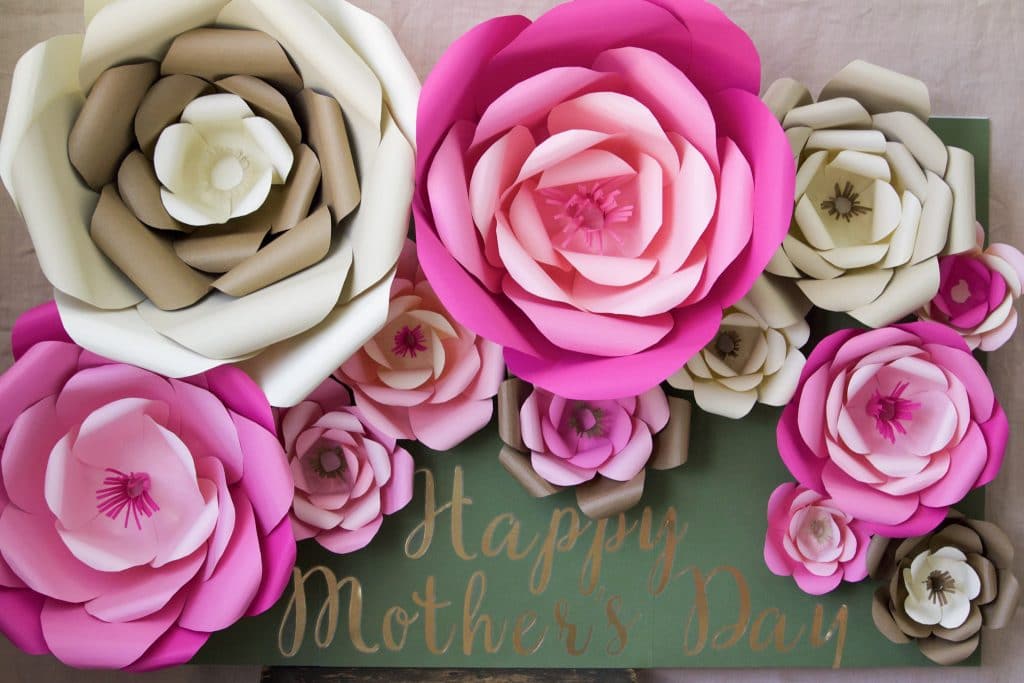 Tips for Picking Out a Mother's Day Card
I always mail my mom a special card a few days before the holiday, it starts the countdown for her to the big day and it pumps up her excitement!
I was especially thrilled to find this new collection of premium, hand-crafted Hallmark Signature cards for Mother's Day at Walmart, they're gorgeous! The quality of the cards really is stunning. I love when the envelope has a matching print on the inside, it's such a nice touch. I had a really hard time deciding between the cards in the Signature line, each one is so unique and different. I loved them all!
I like to pick cards that are:
Beautiful
Meaningful
Realistic, not corny
High quality
Unique
I picked out two cards to give to my mom, one to mail a few days before + one to give her on Mother's Day with her gifts. The 3D flower card matches my paper flower sign perfectly, it's like it was made for my mom and this year's party theme!
I also chose a Hallmark card with a wooden cutout of a mama and a baby giraffe on the front. It's so adorable and meaningful for us because my mom and I love giraffes! We always send each other pictures of mama and baby giraffes that we find because they're so sweet and loving. We also loved watching the live videos of April the giraffe giving birth last month. I just know she's going to love this giraffe card!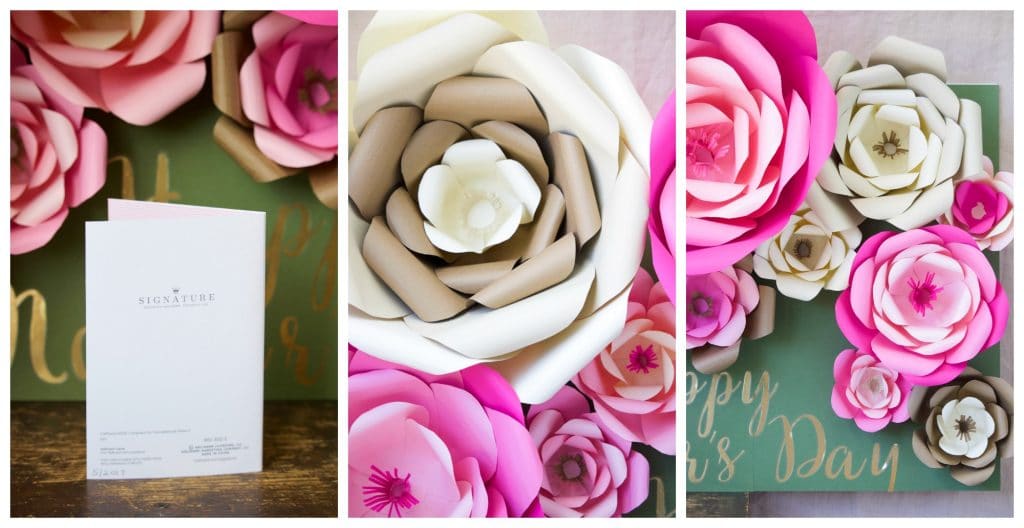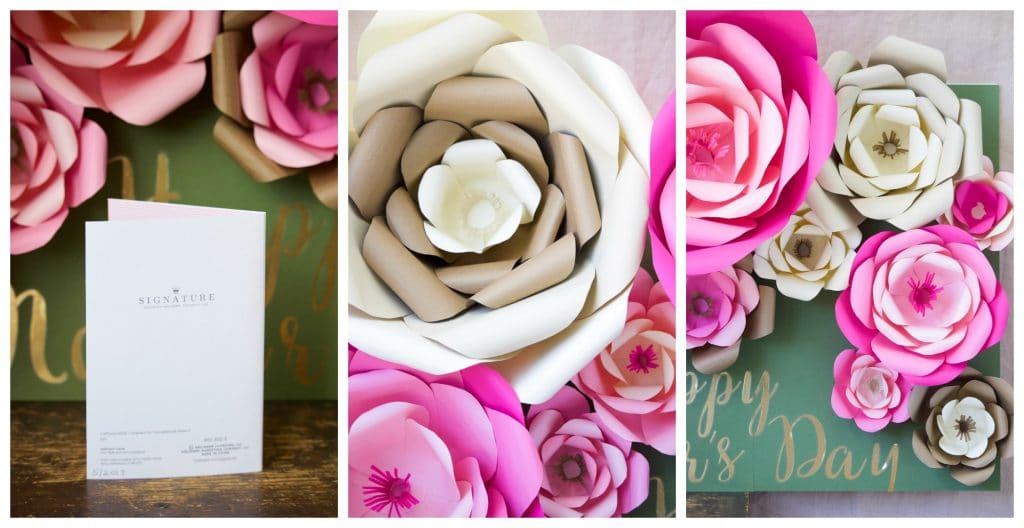 My mom keeps every single card that I've given her and she dates the back of the card so she can remember when I gave them to her. Now, I do it too!
Years from now, when my mom looks at the flower card that I'm going to give her this year, it will remind her of her special Mother's Day brunch with the giant paper flowers that I made for her. Happy memories are exactly what I'm trying to create.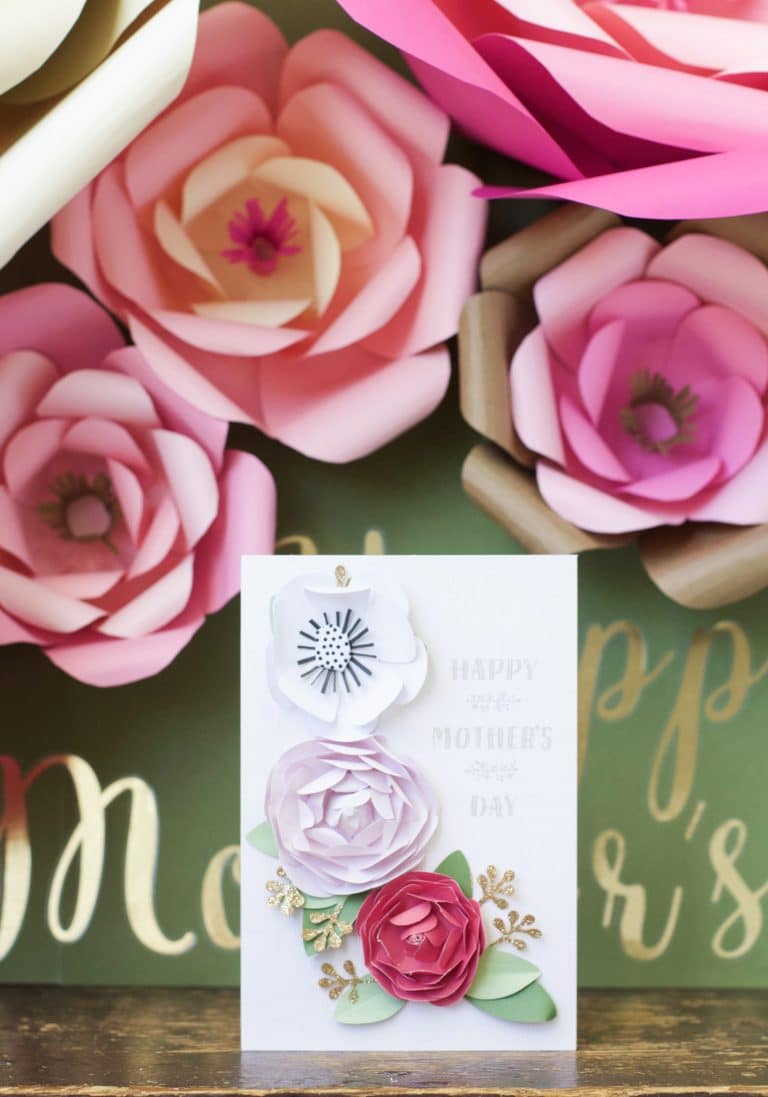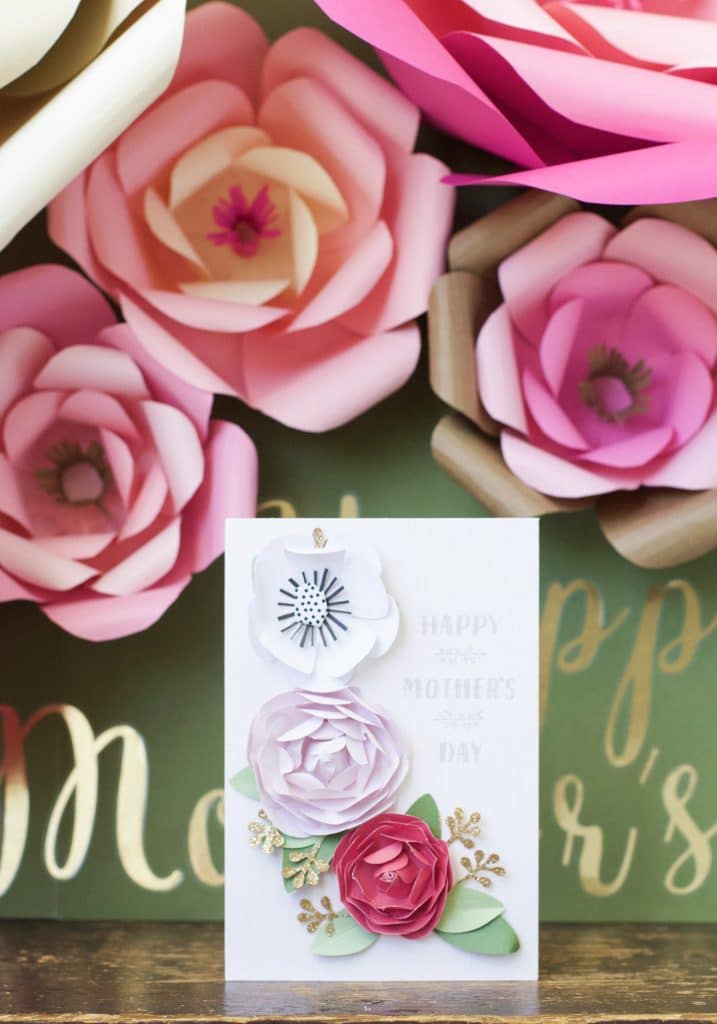 How to Make Large Paper Flowers
Learning how to make large paper flowers is actually surprisingly simple. Depending on how many flowers you want to make and how big or small each flower is will affect how long this project will take you.
Supplies –
(1) 20inch x 30-inch x 3/16 inch white foam poster board (size depends on how large you need it)
1 glue stick
5 pieces of 12 x 12 inch textured/patterned scrapbook paper
(1) pack of (50 page) 65 lb cardstock (colors depend on your theme)
Scissors
Glue gun
Sticker letters
Instructions –
Step 1 – Lay the foam poster board down on a large flat surface or on the ground. You're going to need a lot of space to cut, build and arrange the flowers.
Step 2 – You can skip this next step if you want to paint the board or if you want to leave it white.
Use the glue stick (don't use the glue gun for this step because you'll see the lines) to cover the whole back of the scrapbook paper sheets, make sure to go all the way to the edge of the paper. Place the scrapbook paper (color side up) on the foam board. Start at one edge and work your way to the other side. You might need to cut the paper to fit, try your best to line up the seams so you won't see them when you step back. Set the board aside to dry.
Step 3 – Cut the petals out of the cardstock.
This step is a bit involved depending on how big you want your flowers to be. I'm going to break down the petal measurements for small, medium, large and x-large flowers.
I've found that the easiest way to cut all the petals out is to cut one petal out and then use it as a stencil to trace and cut the rest of the petals out.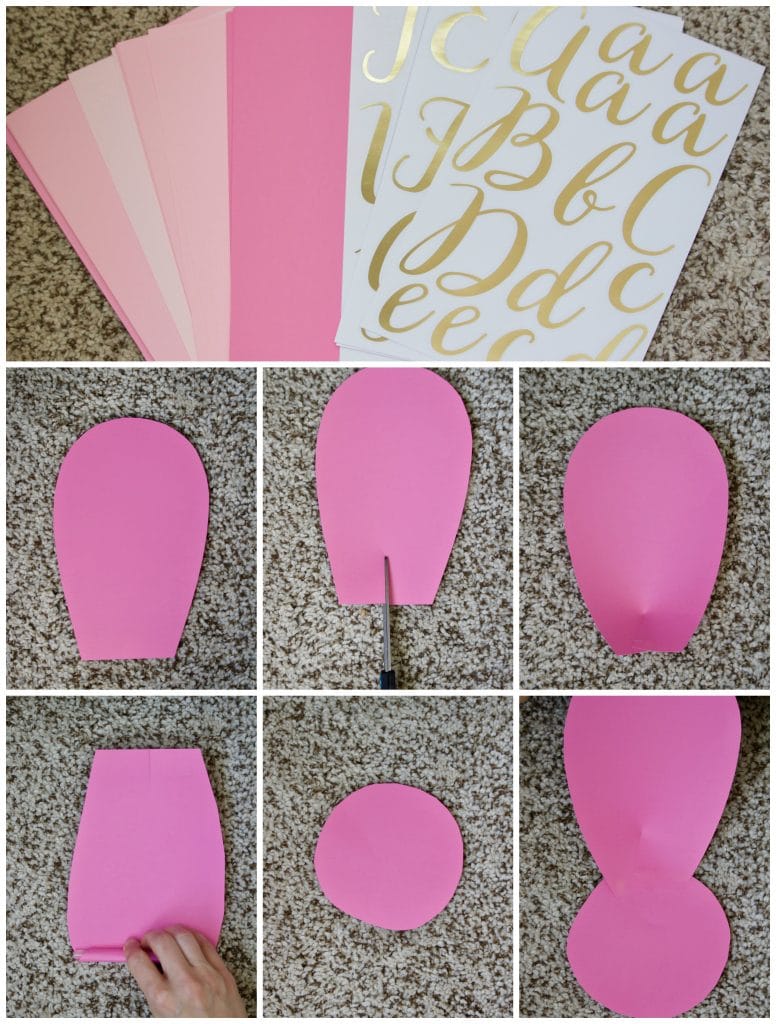 Small Flowers –
Cut a 2-inch circle out for the base.
Cut (6) 2 1/2 inch petals out for the first layer.
Cut (12) 2-inch petals out for the next 2 layers.
This small flower has 3 layers total.
Make a 1/2 inch base cut.
Medium Flowers –
Cut a 4-inch circle out for the base.
Cut (10) 4 1/2 inch petals out for the 1st and 2nd layer.
Cut (5) 3 1/2 inch petals out for the 3rd layer.
Cut (5) 3-inch petals out for the 4th (center) layer.
This medium flower has 4 layers total.
Make a 1-inch base cut.
Large Flowers –
Cut a 5-inch circle out for the base.
Cut (12) 11-inch (full page) petals out for the 1st and 2nd layers.
Cut out (6) 9-inch petals for the 3rd layer.
Cut out (6) 6-inch petals for the 4th (center) layer.
This large flower has 4 layers total.
Make a 1 1/2-inch base cut.
Extra Large Flowers –
Cut a 6-inch circle out for the base.
Cut (12) 11-inch (full page) petals out for the 1st and 2nd layers.
Cut out (6) 9-inch petals for the 3rd layer.
Cut out (6) 6-inch petals for the 4th layer.
Cut out (6) 4-inch petals for the 5th (center) layer.
This extra large flower has 5 layers total.
Make a 1 1/2 inch base cut.
Step 4 – Use a pencil or glue stick to roll and curl the edge of each petal.
Step 5 – This next step applies to all of the flowers, it doesn't matter what size they are.
Once you have cut the petals out, stack them according to size and make a small cut at the bottom (base cut) of the petals. Take each petal and fold one side of the cut over the other and glue it, this creates a bend in the flower.
Step 6 – Turn the petal over and using the glue gun, put a line of glue at the very bottom. Attach the petal to the paper circle. Continue to glue the petals to the circle until you have complete the circle.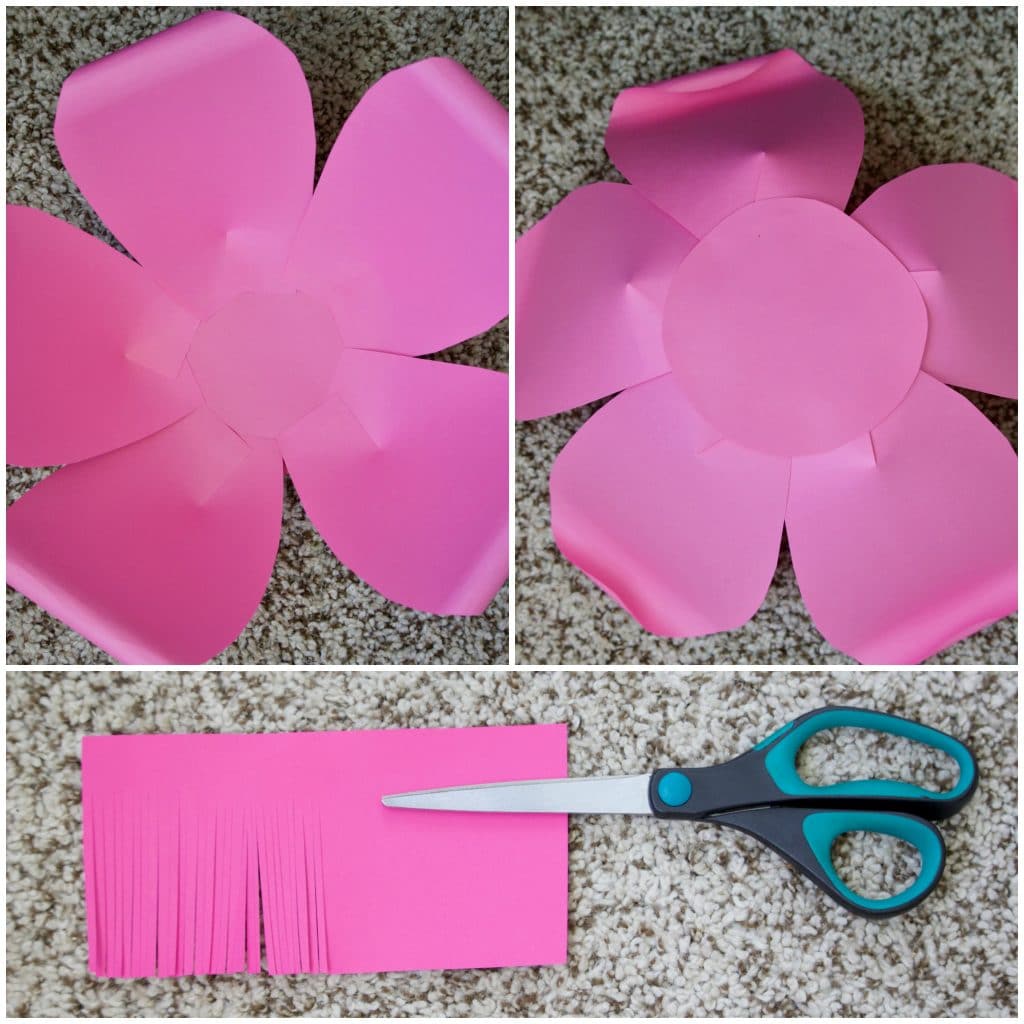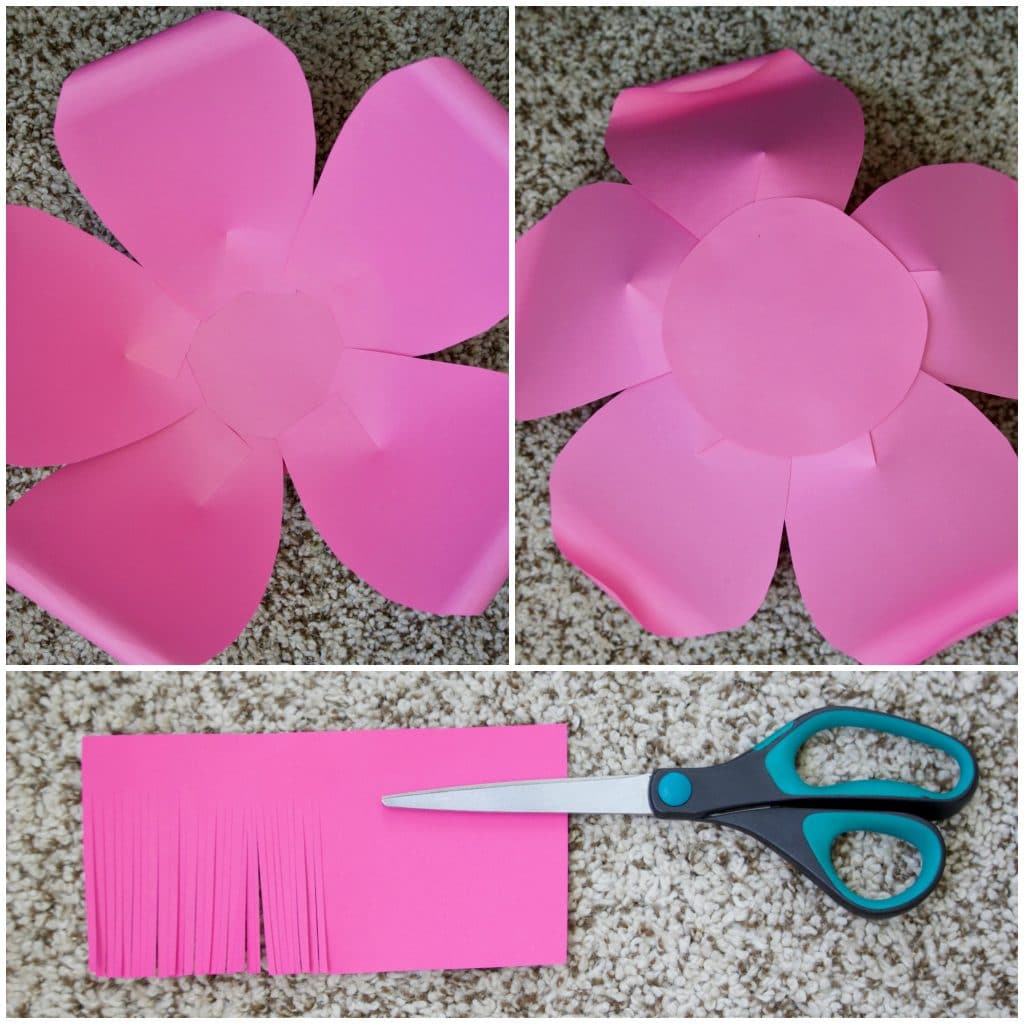 Step 7 – Continue gluing the petals to the circle, layer by layer, until you reach the center.
Step 8 – Using the leftover scrap paper, cut out even strips of paper for the center buds. Cut line after line in the strips until you reach the end of the paper. Glue both sides together and then glue it to the center of the flower.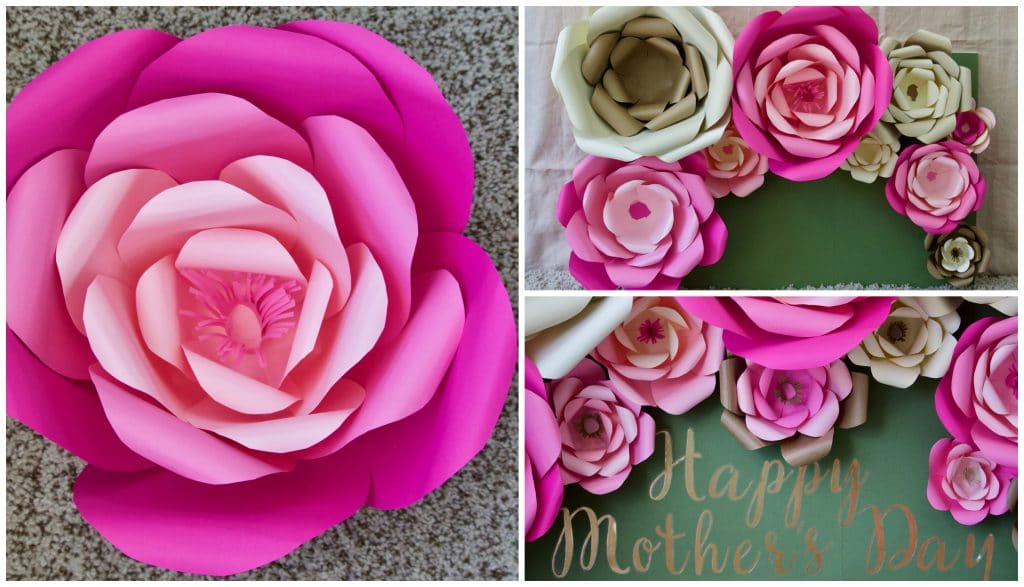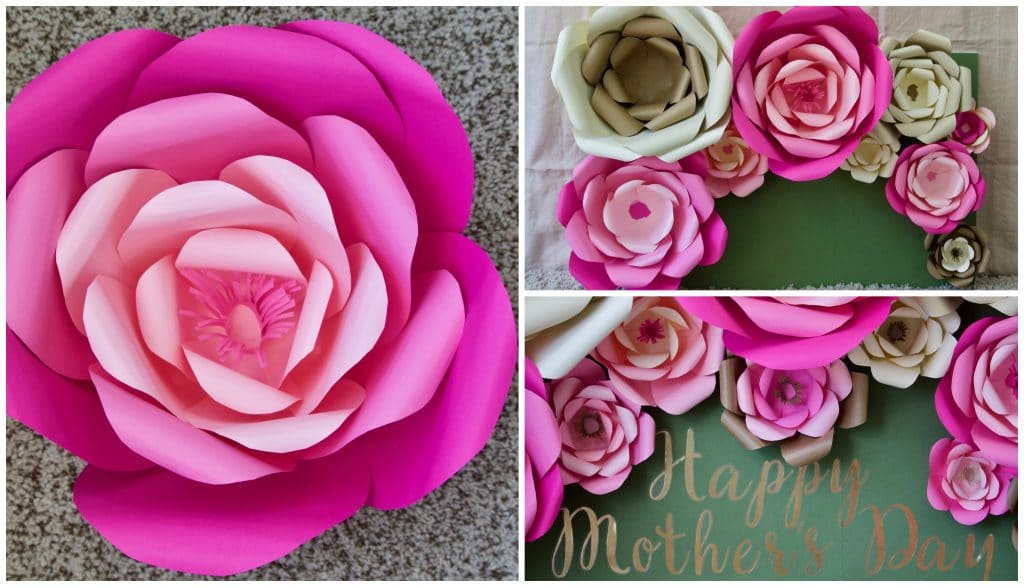 Step 9 – After you assemble each flower, arrange them on the board however you like and then glue them down.
Step 10 – Use the sticker letters to write your message on the sign.
You can customize this sign in many different ways. You can make it bigger or smaller and use any color cardstock for the flowers that you want. You could also use a fabric background instead of the paper if you want a difference in texture.
I used different shades of pink for each layer of petals to create an ombre inspired pink flower. You could also start on one side of the sign with solid color flowers and lighten the color of the cardstock for each flower moving across the sign for a different ombre design.
These flowers can be used many other things besides the Mother's Day sign! You can use them for table decoration, you could hang them on a wall, glue them together to make a banner, or you could top a gift with them instead of a bow.
I can't wait to surprise my mom on Mother's Day morning at brunch with my paper flower sign, beautiful Hallmark card, and gifts. It's going to be a special day, I just know it!