Here are 21 tried and true low-carb vegan recipes that are delicious, healthy, and filling!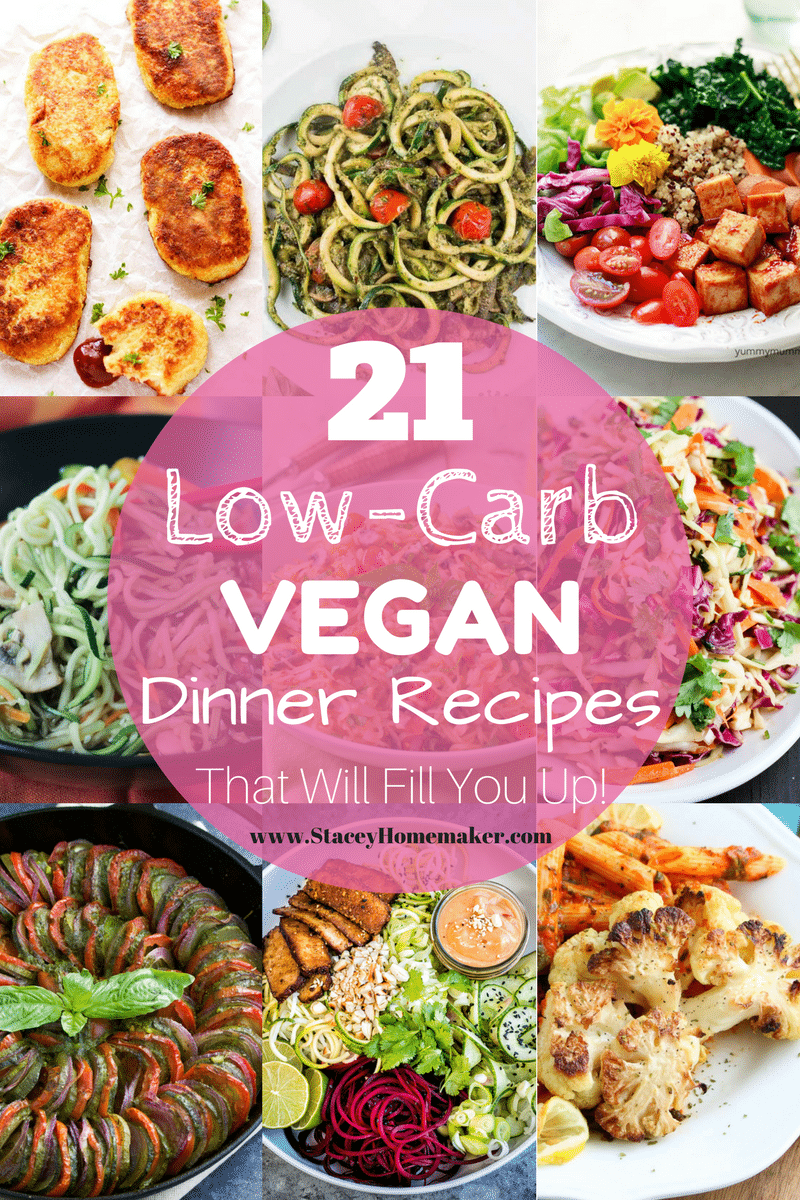 Did you make New Year resolutions for 2018?
Travis and I did! We plan to…
Get up earlier
Go on a walk together around the neighborhood every morning
Watch less TV
Spend more quality time together doing unplugged activities
Grow our businesses
Get outside more
We're doing pretty good so far but there's definitely room for improvement– especially getting up earlier. It's so hard on these chilly mornings to get out of our warm toasty bed!
I know that losing weight and eating healthier meals is an important resolution for many people, so I thought that putting together a list of low-carb vegan recipes would be really helpful. It's so convenient to have a list of tried and true vegan recipes when you need dinner inspiration.
If you're thinking of trying a low-carb vegan keto diet check out this list of vegan keto recipes for breakfast, lunch, and dinner!
Speaking of lists, here's my personal list of 115 Easy 30-Minute Vegan Dinner Recipes! For even more recipes, click on the picture below to join our friendly vegan Facebook community where we share tons of delicious easy vegan recipes every single day!
Want more easy vegan recipes? Join our vegan Facebook community below!


Ok, let's talk about carbs.
This is how I remember it:
Veggies that grow above the ground are generally low-carb and veggies that grow below ground are usually higher in starch and carbs.
I'm not a nutritionist so I can't tell you exactly what you should eat to lose weight, but I will tell you what works for my family. Generally, I build our plates to be 1/2 vegetables, 1/4 plant-based protein (beans, tempeh, tofu, lentils, nuts, seeds, etc.), and 1/4 carbohydrates.
However, I don't get extreme about it. If Travis wants to eat a whole plate of sauteed baby bok choy (his favorite!) that's totally fine with me!
I work in so many low-carb, cruciferous vegetables into our diet that it really doesn't concern me at all if we want to have our favorite potato-based broccoli cheese soup as the main course for dinner or if we eat too much creamy mac and cheese when we're craving comfort food.
On a daily basis, we try to eat as many of the following items as possible…
…