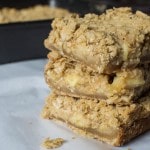 Print
Apple Crumble Blondies
These warm apple blondies are made up of 3 layers; a chewy blondie base, a warm apple center, and crumble topping! They'll make an amazing dessert to bring to all of your Thanksgiving parties this year!
Blondie Layer

1

stick butter

1

cup

light brown sugar

1

egg

1/2

teaspoon

vanilla

1

teaspoon

salt

1

cup

flour

Apple Layer

2

large apples

peeled and cut in 1/4" slices

1/3

cup

light brown sugar

1

teaspoon

cinnamon

1/2

teaspoon

nutmeg

1

teaspoon

salt

1

tablespoon

cornstarch

Crumble Layer

1/2

stick butter

cut into 1/4" cubes

1/2

cup

light brown sugar

1

cup

rolled oats

2/3

cup

flour

1

teaspoon

salt

*You can always add caramel

nuts, or other fun things to the crumble too! Or as a fun sauce!
Preheat oven to 350 degrees

Grease 9x9" pan and set aside

Melt the butter on low/medium heat and blend with the sugar in your stand mixer, or using a large bowl. Pour into the bottom of your greased pan and bake in the oven for 15 minutes.

While the blondie is baking, using the same bowl your batter was just in, add the apple slices, and the rest of the dry ingredients in the bowl, folding in everything (and even scrap down the blondie batter). Once the blondie base is baked, immediately spread the apples on top of the blondie.

For the crumble topping, in a medium sized bowl, sift in the dry ingredients. Add the butter cubes and begin to mix everything together until it's the right crumble consistency, (or using a food processor to do the same step). Put the crumble topping on top of the apples and pat it down so it flattens as much as possible. Bake the crumble for another 15 minutes and let cool for another 20 minutes before serving.