If you're nervous about getting your wisdom teeth removed then you need to read this positive wisdom teeth removal success story to ease your fears! Plus, I share everything that helped me get through my wisdom teeth removal recovery + all the recipes for the soft foods that I ate!
**This is my personal experience of having my wisdom teeth removed. I'm not a dental professional and I'm not giving medical advice, this is just what I did and how it worked out for me. Always follow your doctor's advice and instructions for any procedure. 
***This post contains affiliate links, here's my privacy policy if want to read more about affiliate links.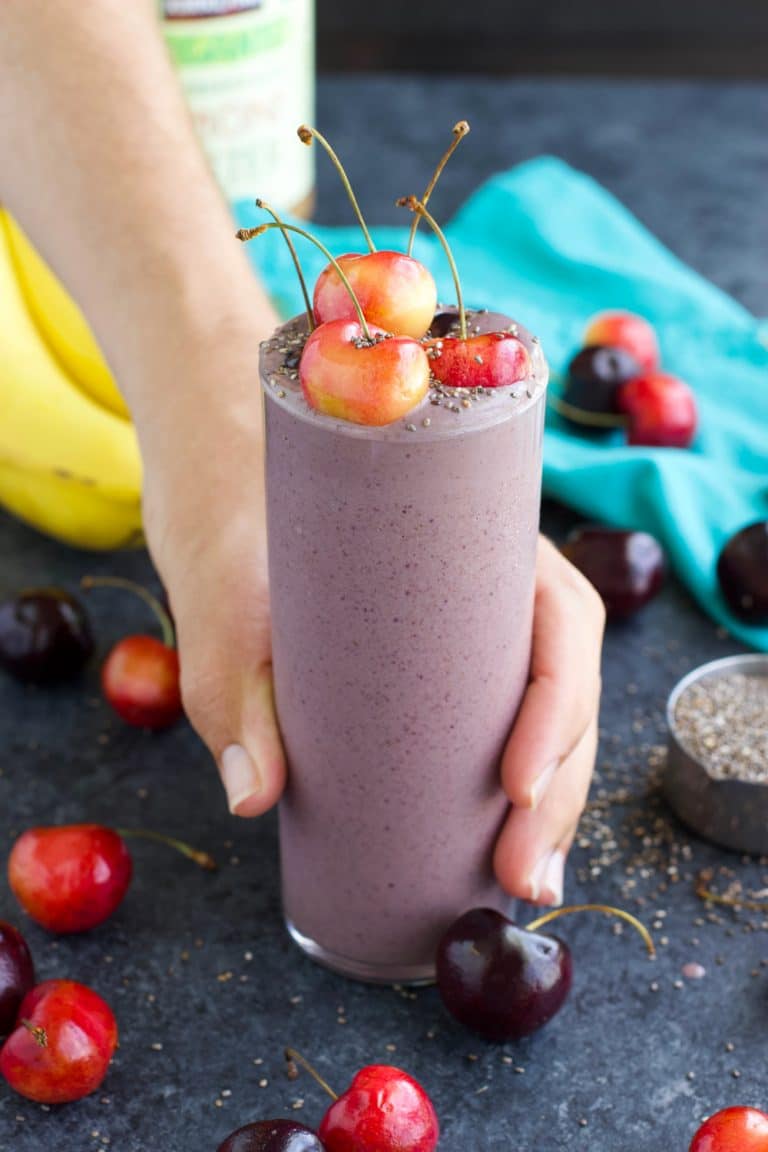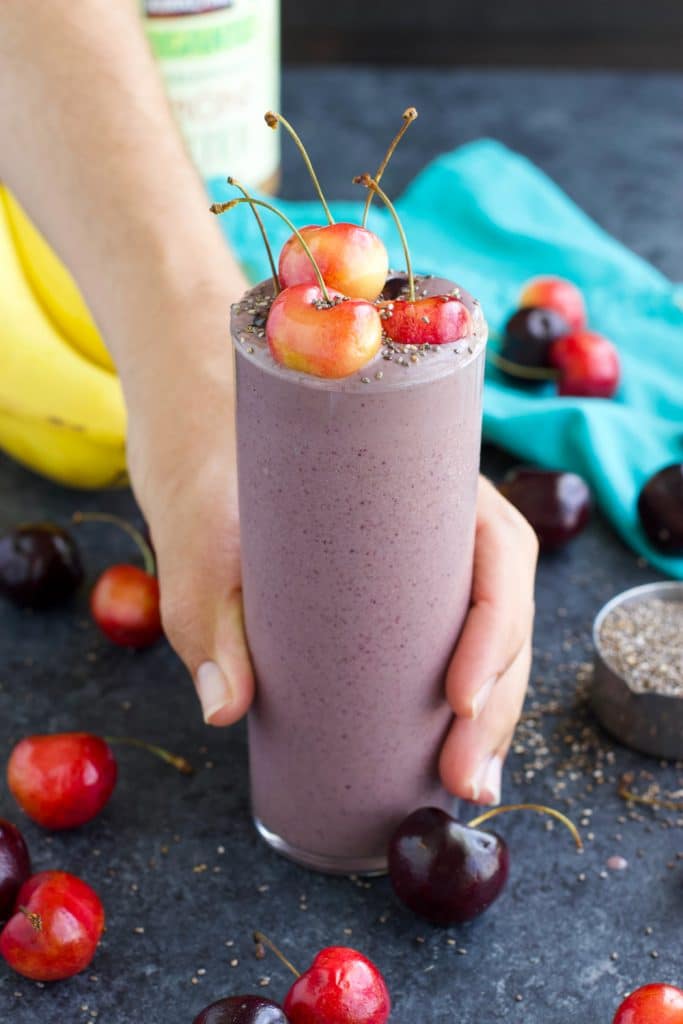 I just had my wisdom teeth removed two weeks ago, it was a long time coming. Even though my dentist told me years ago that I needed to have it done because my wisdom teeth were crowding my other teeth, I put it off for years and years because I was so afraid of the surgery.
I had really bad anxiety about this procedure for years, it all seemed so terrifying! Even though all my friends and family have done it and told me it's not really that big of a deal, I just didn't believe them! I mean, how could someone cutting into your gums and ripping teeth out not be a big deal?! Are you crazy? I'm not doing that!
I was worried about:
Not waking up from the sedation.
The doctor cutting into my gums and jaw really freaked me the eff out.
No joke, I read a story of a lady who's jaw was broken during wisdom teeth removal surgery. So, naturally, I had to worry about that happening to me too!
I also worried that what if the doctor slipped and cut my mouth with the scalpel?! Totally possible, right?
Waking up during surgery.
Saying embarrassing things after surgery.
The wisdom teeth removal recovery being extremely painful.
Sound familiar? I bet some of these thoughts have run through your head too, am I right? 
I finally forced myself to go through with the surgery because I didn't want to waste any more time worrying and stressing about it…and you know what? Everyone was right, it wasn't that bad! It wasn't fun but it wasn't nearly as horrible as I had imagined it to be.
This is the God's honest truth, all the stress and anxiety about getting my wisdom teeth out was far worse than the actual surgery. I was shocked!
Wisdom Teeth Removal Procedure
If you're feeling the same way that I did about getting my wisdom teeth removed, read my positive success story and try to put your fears aside. I truly understand how you're feeling, and I know how hard it is to do but you just have to shut the thoughts down because they really can take over your life. Honestly, if I can get through this experience that I felt was a giant mountain that I could never cross, then so can you. Trust me, you can do it!
I had all four of my wisdom teeth removed at once under (twilight) IV sedation; 1 tooth was a surgical extraction (it was half out of my gum) and the other 3 were labeled as "bony impaction," meaning that they hadn't erupted from my jaw at all.
Thank God, my dental surgeon gave me a prescription for two valiums; one to take the night before surgery to help me sleep and one to take right before the surgery. I had never taken valium before so I was nervous about that too. I was pretty much a hot mess the whole week before my surgery.
However, taking the valium made the whole process so much easier! When I woke up the morning of surgery, I got ready (wear something loose and comfy, I wore my pajamas) and waited until exactly one hour before my surgery to take the pill so it would be strong in my system. I didn't want it wearing off right before I got to the chair.
10 minutes after taking the taking the valium, I felt very relaxed and kinda like I was in slow motion. I also felt like I needed to be worried about something but I just couldn't get myself to worry about it, it's like that part of my brain was just shut off. I remember getting to the office, signing in, going to the bathroom, and laying down in the chair. The nurse told me I would feel a big pinch when she put the IV in and I do remember saying "OWWW that hurts!"
Then I woke up and it was over!
What Does IV Sedation Feel Like? 
Honestly, it didn't really feel like anything. It was like I blinked and it was over.
I don't remember feeling dizzy or disoriented, "going to sleep," or being "put under" and it felt like no time passed at all. I just woke up and I asked if it was over and I started crying when the nurse said, "yes, it's all done!" I was so relieved.
Will You Say or Do Anything Embarrassing? 
The nurse told my husband that I was a little emotional when he came back to get me. He said that I said to him, "gimme my (wedding) ring back!" But I don't remember that at all. HA! I don't remember the drive home either. I remember feeling awake but everything felt kind of dream-like.
My next memory is sitting at the kitchen counter telling Travis what I wanted in my smoothie so I could take my pain medicine. I remember thinking that my lower lip was my tongue and saying that I couldn't put my tongue back in my mouth, it was just hanging out! Helppp! Travis handed me the smoothie and I used a spoon to eat it but I kept putting the spoon where my bottom lip was instead of in my mouth, I made a huge mess! That was as embarrassing as it got. 
I take that back, my ice pack head wrap was pretty embarrassing but it felt sooo good on my swollen face. It was so worth it to have my hands free and not have to hold the ice packs on my face for twenty minutes! The ice pack wrap has sturdy velcro straps and it came with 4 ice packs but I also had 2 bags of frozen corn and peas that I switched out with the ice packs.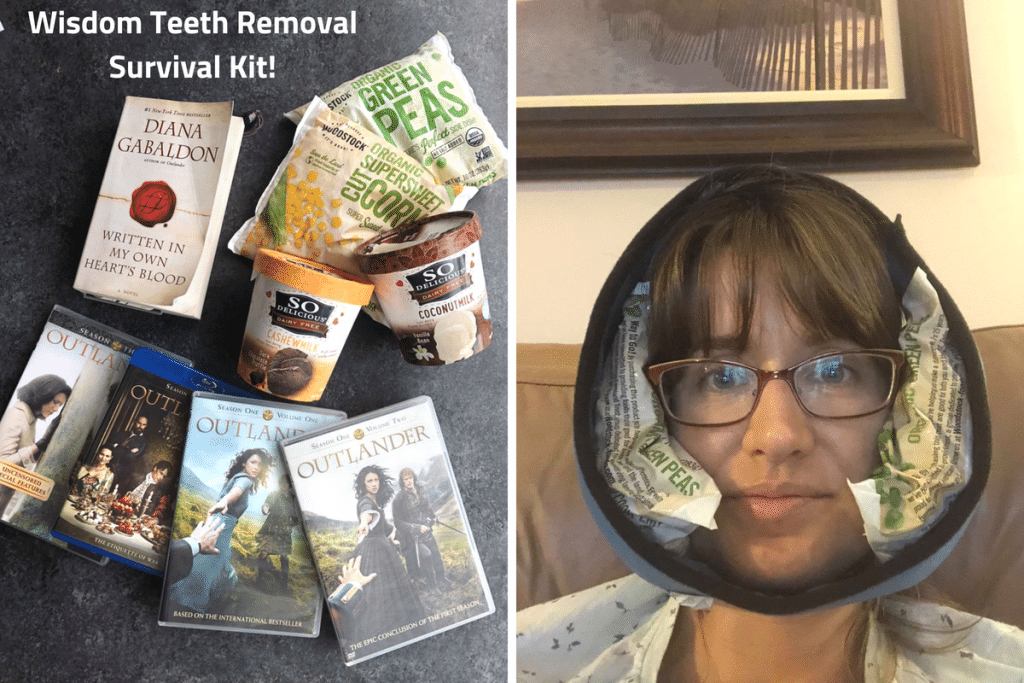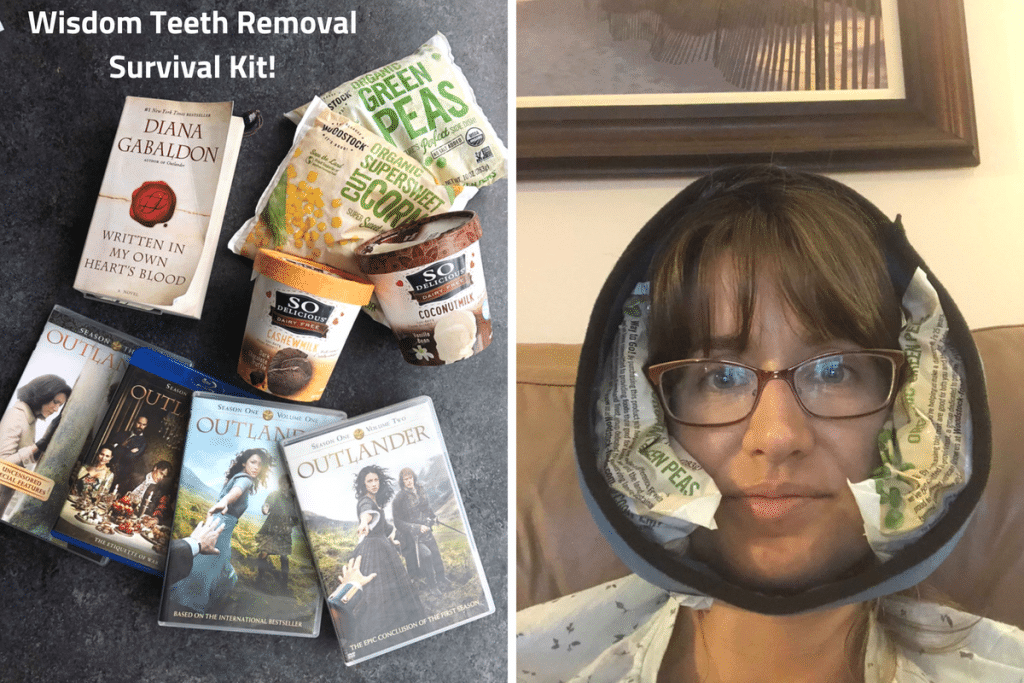 That's pretty much it, nothing exciting happened and it was over really fast. Not like I thought it was going to be at all. Don't let your imagination go wild like I let mine.
Wisdom Teeth Removal Recovery Tips
If I had to do it again, this is exactly what I would do to make the experience as easy as possible:
Find a highly rated oral surgeon that has good reviews online or from someone you know.
Don't read/watch wisdom teeth horror stories/youtube videos before your procedure.
Don't worry and put it off for years because the longer you wait the more the teeth roots will grow into your jaw/gums which will cause more pain and recovery time to heal.
If they prescribe you valium, take it (if you're nervous about the procedure) because it truly helps you stop stressing.
Order a

reusable ice pack wrap

and have frozen ice packs (or frozen peas and corn bags) ready to go to help reduce swelling.
Have movies, books, or tv shows recorded and ready to watch while you recover on the couch.
Use a

baby spoon

 or very small spoon to eat because your mouth will probably be really swollen like mine was and it's hard to open it wide enough to get food in. You don't want to try to jam a big spoon in there!
Gently rinse with warm salt water after each meal. Don't use cold water, my incisions were very sensitive to cold water!
Drink a lot of water!
Stay on schedule with your pain medication.
Prepare all your soft foods ahead of time so you can focus on relaxing and healing.
How long Does it Take to Recover From a Wisdom Tooth Extraction? 
After having 4 wisdom teeth removed at once, I felt like it took me a full week to get back to my normal energy levels and not have to take Advil every 4 hours for pain.
This is what my wisdom teeth removal recovery timeline looked like day by day:
Day 1 – I put my head wrap ice packs on as soon as I got home to try to control the swelling. I had a smoothie and chocolate pudding but wasn't too hungry. I took a lot of naps!
Day 2 – Swelling started to increase, so I took it easy on the couch. Liquids and pureed foods only.
Day 3 & 4 – Swelling was the worst on these days so I tried not to move around too much. I was able to eat overcooked orzo noodles with tomato sauce without too much pain by day 4.
Day 5 – Still swollen but it was starting to go down and I felt up to going on our morning walk around the neighborhood, it was definitely the best I'd felt all week!
Day 6 – Swelling was almost gone and I felt good enough to go back to work.
Day 7 – I felt good enough to celebrate my surgery being over by taking a day to trip to Disney World to see the new Toy Story Land! The stitches on my top wisdom teeth incisions came out. Still eating soft foods but at least it wasn't pureed!
Day 8 – Stitches on my bottom wisdom teeth incisions came out. Still taking Advil but much less than previous days.
Day 9 – Still a little sore but slowly working more solid foods back into my diet.
Day 10 – My mouth wasn't really painful anymore, just sore if I opened it too wide or talked too much. It was also the last time I took Advil for the soreness.
I pretty much lived on the couch for the first 4 days after surgery and I just relaxed, slept, read, and watched a lot of (my favorite show!) Outlander. I felt well enough to get up and walk around, shower, and do easy things like warm up my soup by the second day but I didn't feel 100%. I was super swollen and it was painful the first 3-4 days. After that, the pain turned into more of a sore and tight sensation that went away little by little each day.
Wisdom Teeth Removal Recovery Time Off Work 
I didn't feel up to going back to work until day 6. I was still sore but besides that, I felt back to normal. Just don't rush your recovery, it will be different for everyone! If you can try to schedule your appointment close to the weekend then you can use your two days off as part of your recovery and only take a few days off from work.
Can You Get Dry Socket If You Have Stitches?
I was really worried about getting dry socket. I was also under the impression that you can't get dry socket if your incisions are stitched shut. That's not true. The stitches are put in to help protect the clot so you won't get dry socket. But if you're not careful you can still get dry socket even with the stitches.
I took every precaution not to get it:
No straws.
No spitting.
No blowing my nose.
Trying not to swallow really hard and create suction in my mouth.
Not rinsing too roughly.
Luckily, I didn't get dry socket but I'm still being very careful not to be too rough and it's day #15. I'm still being cautious because now I have open holes in the back of my mouth.
How long does it take for the hole to close after a wisdom tooth extraction?
I was also under the incorrect impression that the stitches were put in place to help the pieces of your gums to fuse back together. Wrong! The stitches are put there to protect the blood clot that you need to heal the wound. If you lose the blood clot you might develop dry socket.
After your stitches fall out, you'll be left with open holes (I had no idea this would happen!) where your wisdom teeth were. It's a little scary to look at and they are very hard to clean and keep food out of them. At my follow up appointment, my doctor gave me a plastic syringe to fill with warm water to help get food out of the holes.
My doctor told me that it will take 2-3 more weeks for the holes to close up and new gum tissue to fill in. It could be different for everyone but I'll update this post once my mouth fully heals.
What Can You Eat After Having Wisdom Teeth Pulled?
I was really worried about what I was going to be able to eat while I was recovering so I wanted to prepare as much wisdom teeth recovery food as possible ahead of time. I love food and I get really hangry when I don't eat every few hours.
I'm so happy that I made the pureed soup, avocado chocolate pudding, and mashed potatoes in advance because I definitely didn't feel like cooking anything the first 4 days after the surgery.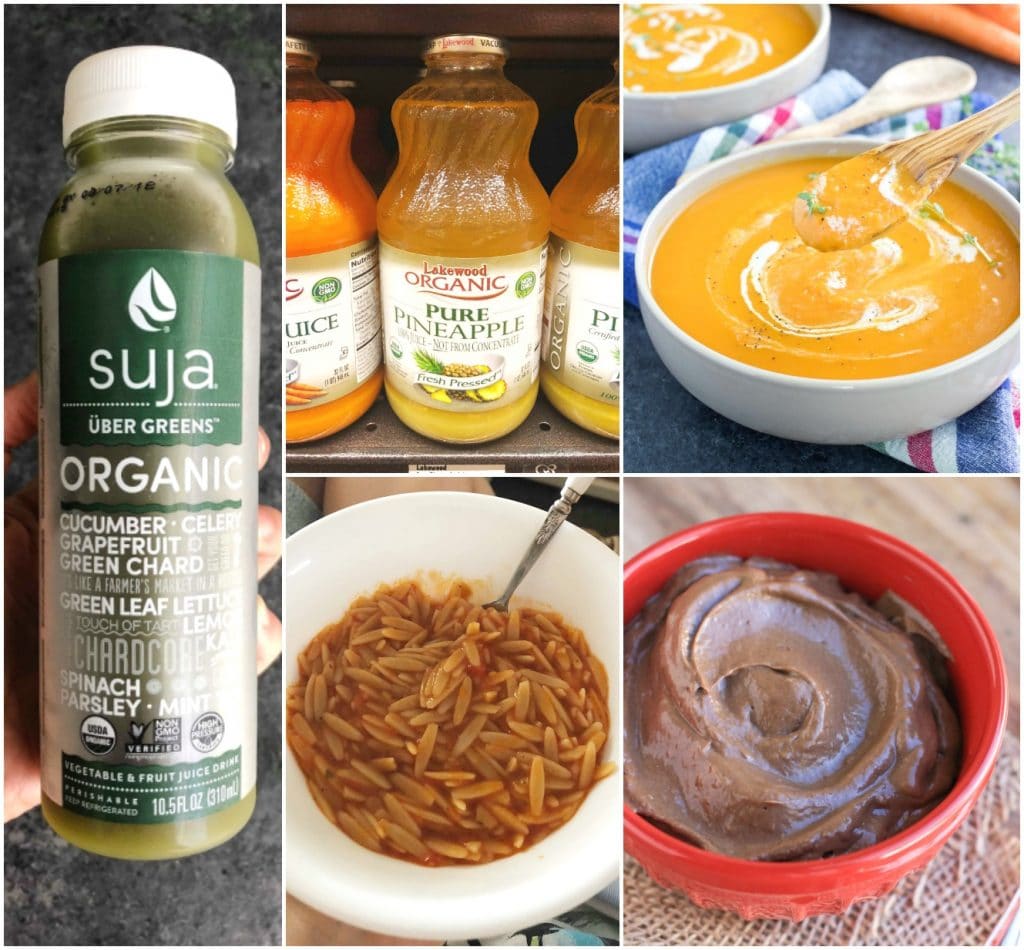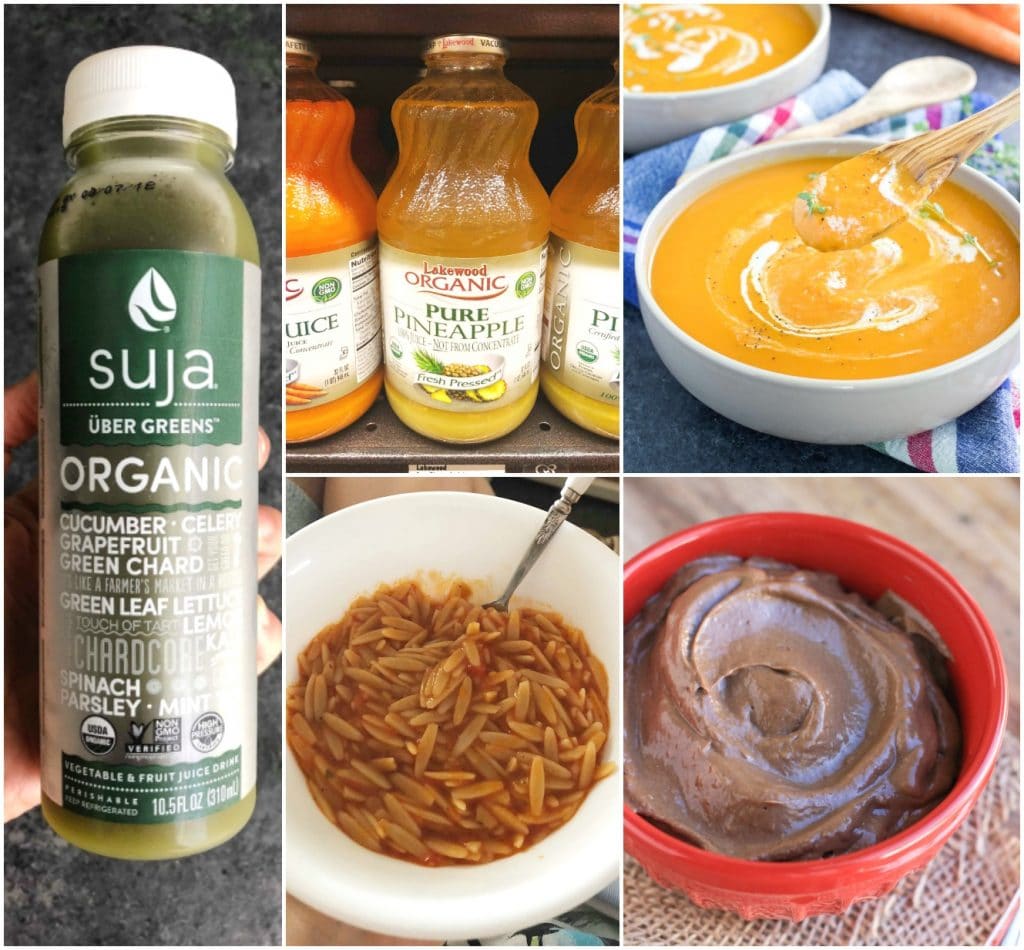 This is all the vegan food that I ate during my wisdom teeth removal recovery: 
Pureed carrot sweet potato soup

(I added 1 cup cooked red lentils to the soup for extra fiber and protein and I only used half the ginger because I was worried it would be too strong if I had open cuts in my mouth.)
Unsweetened organic applesauce (store-bought)
Mashed potatoes (Don't add garlic because you can't brush your teeth that well yet)
Suja organic green juice (Easy way to get greens in without chewing any veggies! This

organic green superfood

would also be a good option)
Cherry Protein Smoothies (My all-time FAVORITE smoothie that I make every single morning, it's delicious– get the recipe below! I use the organic frozen cherries from Costco, you can see them in my

vegan Costco shopping list

)
Orzo noodles with tomato sauce (By day 4 of my wisdom teeth removal recovery I was able to eat overcooked orzo noodles with tomato sauce. I swallowed a lot of it whole but I was so sick of pureed food by this point that it tasted AMAZING!)
Organic pure pineapple juice with no added sugar (I drank a small cup each morning to help fight inflammation)
So Delicious cashew milk truffle chocolate and coconut milk vanilla ice cream.
By day 8, all of my stitches had come out and I felt good enough to eat solid but soft food, so I made this easy vegan stuffed pepper soup. It was super yummy, very soft, and didn't require a lot of chewing.
Vegan Cherry Protein Smoothie Recipe
I made my favorite cherry protein smoothie every morning while I was recovering (and still do) because I wanted to make sure I was getting enough protein, fruit, and healthy fats in my diet + it's delicious!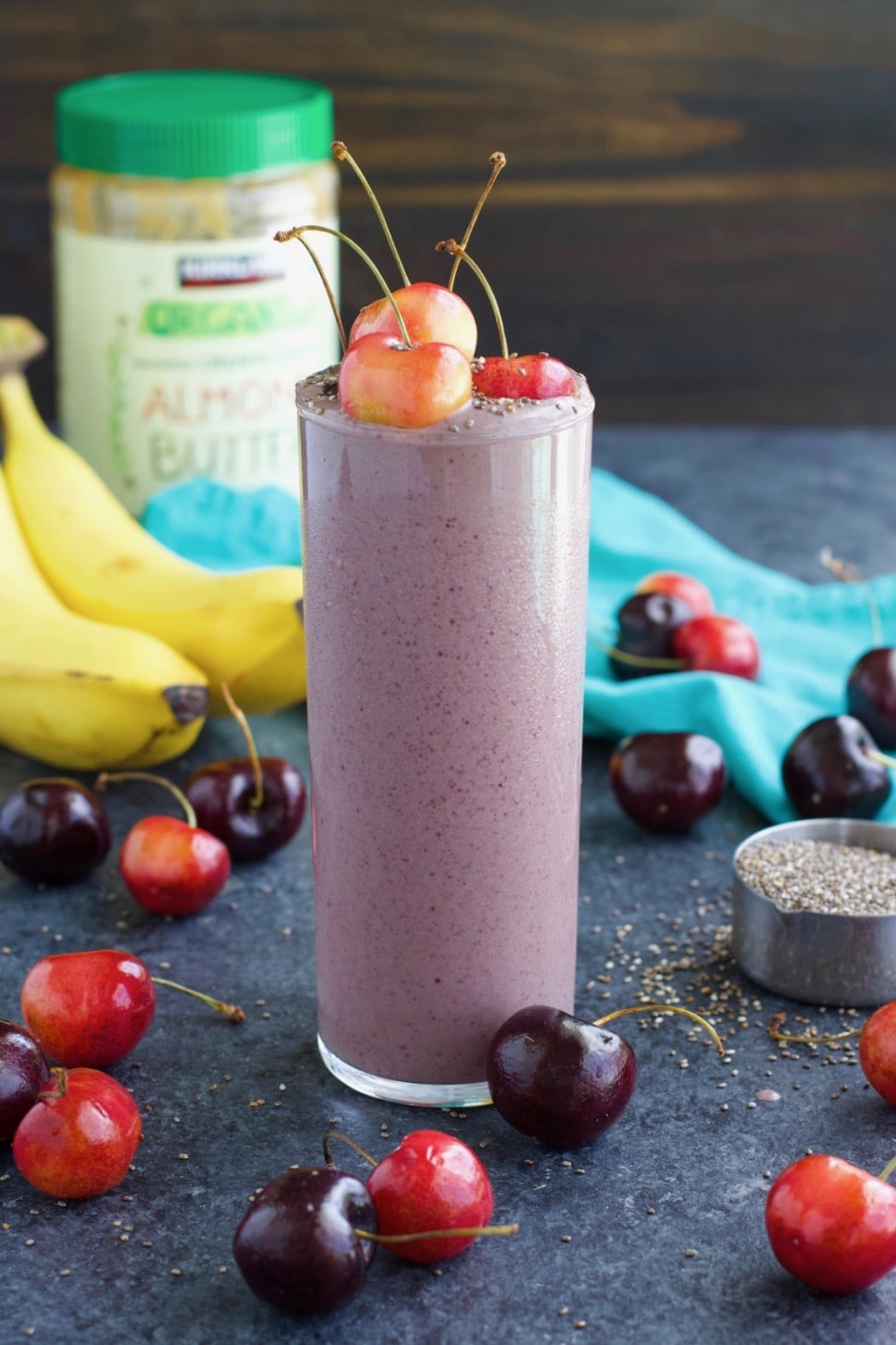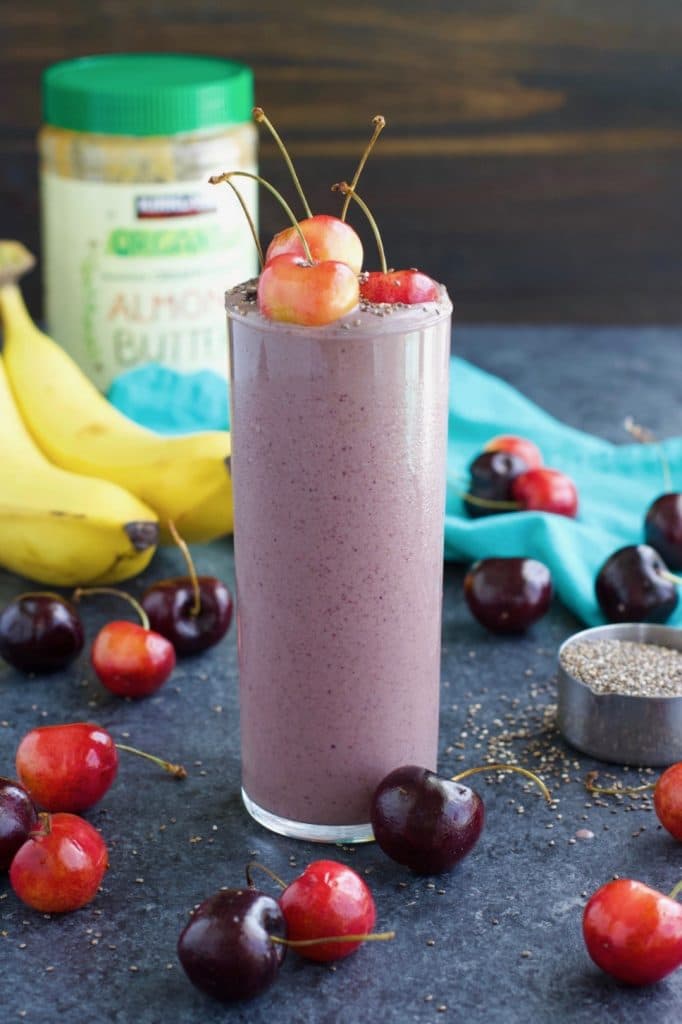 I usually make the cherry protein smoothie with chia seeds, hemp seeds, and flax powder but I omitted all three of those ingredients for the first week after surgery just to be safe. Even though the smoothie is blended really well, I didn't want to risk something getting stuck in the incisions.
This cherry protein smoothie has the best flavor, you mostly taste the cherries with a hint of vanilla. The banana and coconut milk makes it super creamy, and the almond butter makes it so rich!
Note – Do not add the hemp seeds, chia seeds, or ground flax to the smoothie for at least 1 week after your oral surgery or until you're sure there is no possibility of the clots dislodging. You don't want to risk the seeds getting stuck in your incisions and trying to rinse them out. Get your doctor's approval before going back to your regular diet. The smoothie is just as delicious and nutritious without the seeds!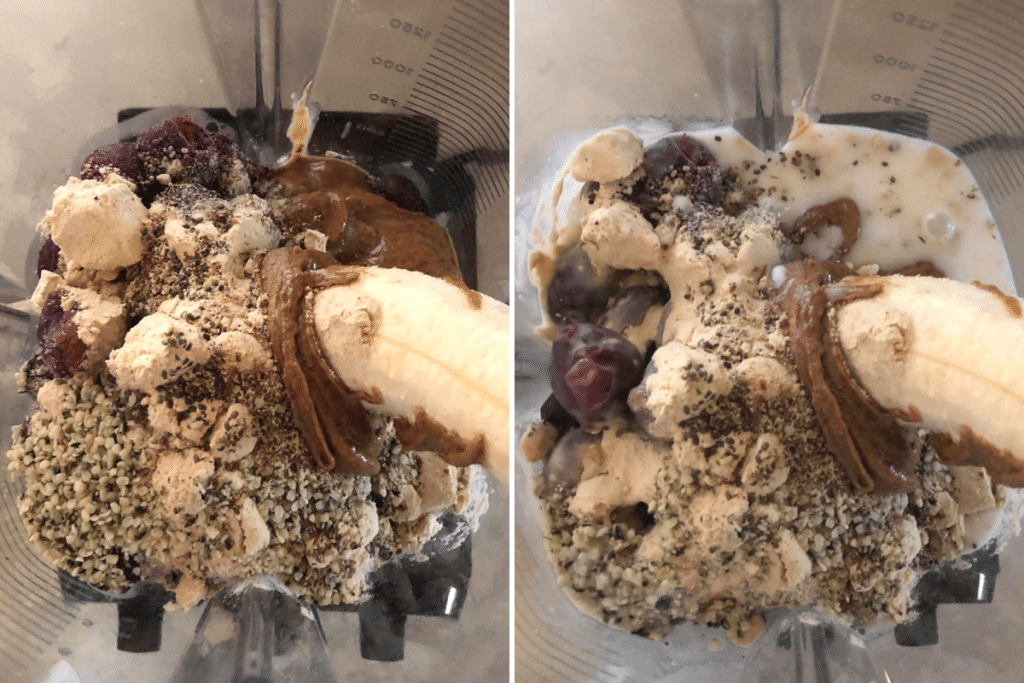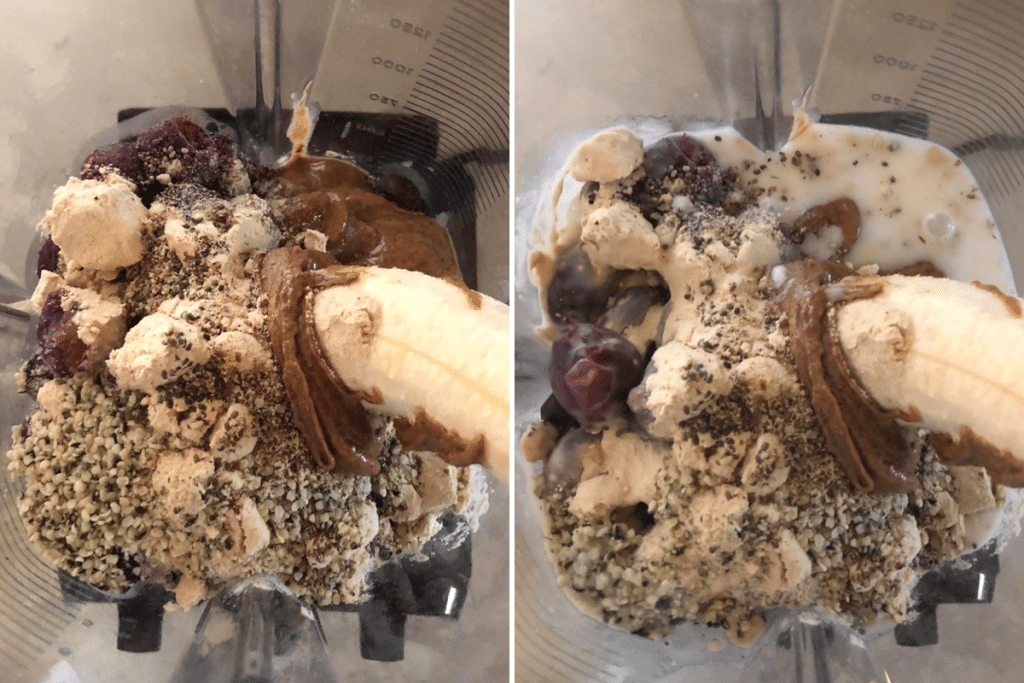 This is the plant-based protein powder that I use and LOVE! It has 22grams of complete, sugar-free plant protein made from USA-grown peas and 13 raw organic sprouts. It's vegan, organic, gluten-free, soy-free, dairy-free, and it doesn't taste chalky and gross like other protein powders that I've tasted.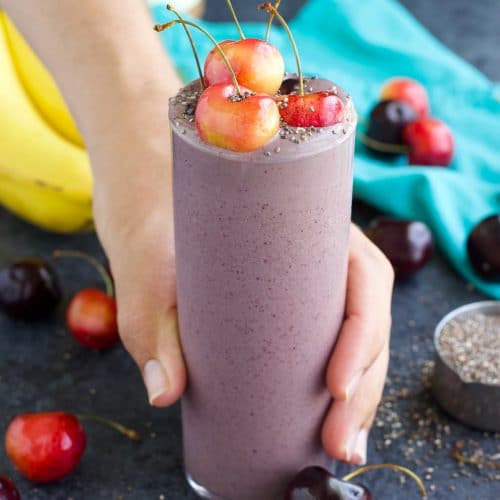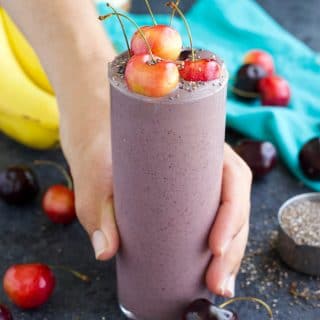 Vegan Cherry Protein Smoothie
This cherry protein smoothie is rich, creamy, and nutrient-packed! Perfect as a quick breakfast or a small meal replacement if you need something soft to eat that's filling and delicious! Vegan.
Print
Pin
Rate
Instructions
Add all ingredients to a high powered blender and blend on high until smooth and creamy.
Notes
You can use room temperature bananas, I just like my smoothie really cold and frosty. Plus, it feels good on a sore mouth.
If you don't have any bananas, you can sub 1 cup of frozen mango for a similar flavor and texture consistency.
If you're making this smoothie right after you have oral surgery, DO NOT add the chia seeds, hemp seeds, or ground flax seeds to the smoothie. I waited to add them back to my smoothie ingredients until one week after just to be safe.
You can sub strawberries, peaches, or raspberries for the cherries.
You can cub chocolate protein powder for the vanilla protein powder.  
Nutrition
Serving:
2
g
|
Calories:
356
kcal
|
Carbohydrates:
43
g
|
Protein:
19
g
|
Fat:
18
g
|
Saturated Fat:
3
g
|
Polyunsaturated Fat:
4
g
|
Monounsaturated Fat:
1
g
|
Sodium:
42
mg
|
Potassium:
521
mg
|
Fiber:
9
g
|
Sugar:
16
g
|
Vitamin A:
400
IU
|
Vitamin C:
14
mg
|
Calcium:
276
mg
|
Iron:
4.2
mg
Tried this recipe?
Please rate it and leave a comment below if you have any feedback! If you post a picture on Instagram, please tag @Stacey_Homemaker and use the hashtag #StaceyHomemaker so I can see your delicious creation!
If you tried this cherry protein smoothie, please remember to rate the recipe and let me know what you thought of it in the comments below, I love hearing from you! You can also FOLLOW ME on FACEBOOK, TWITTER, INSTAGRAM and PINTEREST to see more delicious vegan recipes + our monthly trips to Disney World!
Can You Eat Pasta After Having Your Wisdom Teeth Out? 
Pasta is definitely one of my favorite comfort foods and I thought I would be eating a lot of it while I was recovering. I tried to eat one bowtie noodle (from a dish I made for Travis ahead of time) on day 3 but I could barely get it in my mouth let alone chew it. By day 4, I was able to open my mouth just enough and chew a little bit without too much pain to eat (mostly swallow) overcooked orzo noodles with tomato sauce.
I know everyone is different, but for me, eating noodles was out of the question until at least day 4. Just don't push it because you don't want the stitches to come out too early which might disrupt the blood clot that is trying to form and heal.
Is It Really Necessary to Have Wisdom Teeth Removed?
This was the question I kept asking myself over and over again for years!
Did I really need to get my wisdom teeth removed when they weren't causing any pain? Yes, my teeth were shifting a little bit but I could live with that if it meant I could skip having surgery. Is this risk really necessary?! 
Now that the surgery is over and I'm pretty much back to normal, I'm glad I did it. 
Now that the four wisdom teeth are gone, it feels like I have enough space in there for my other teeth. I didn't realize that I was feeling pressure before, I thought that was normal. It's also nice not to have to worry about food getting stuck in the pocket where one of my wisdom teeth was half grown out of the gum. Based on those two things, I think my dentist was right about my wisdom teeth needing to come out.
Overall, I'm happy that I went through with the surgery but I'm glad it's behind me now. It's scary and stressful leading up to it but the actual surgery wasn't bad at all. The wisdom teeth removal recovery wasn't as painful as I thought it was going to be. The worst part was the puffy cheeks (because I couldn't go anywhere) and not being able to eat solid food for a while.
I hope this wisdom teeth removal recovery survival guide helps to ease your fears about getting your wisdom teeth removed! If you have any other questions about my wisdom teeth surgery or recovery, send me an email and I'll do my best to answer!
What are your best wisdom teeth removal recovery tips? Please share them in the comments!