Don't waste valuable park time searching for vegan food at Epcot! We did all the research and taste testing to find the best vegan options at Epcot for you! Make sure you save this list so you can reference it while you're at the park!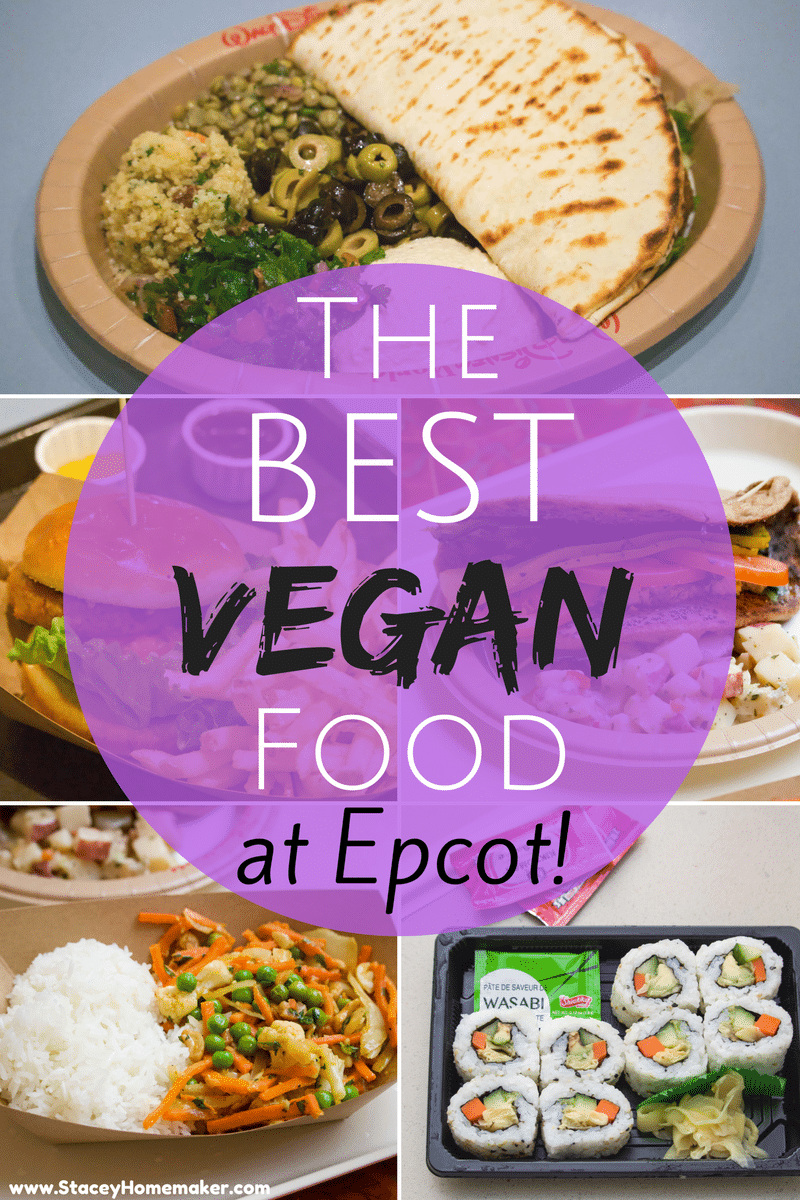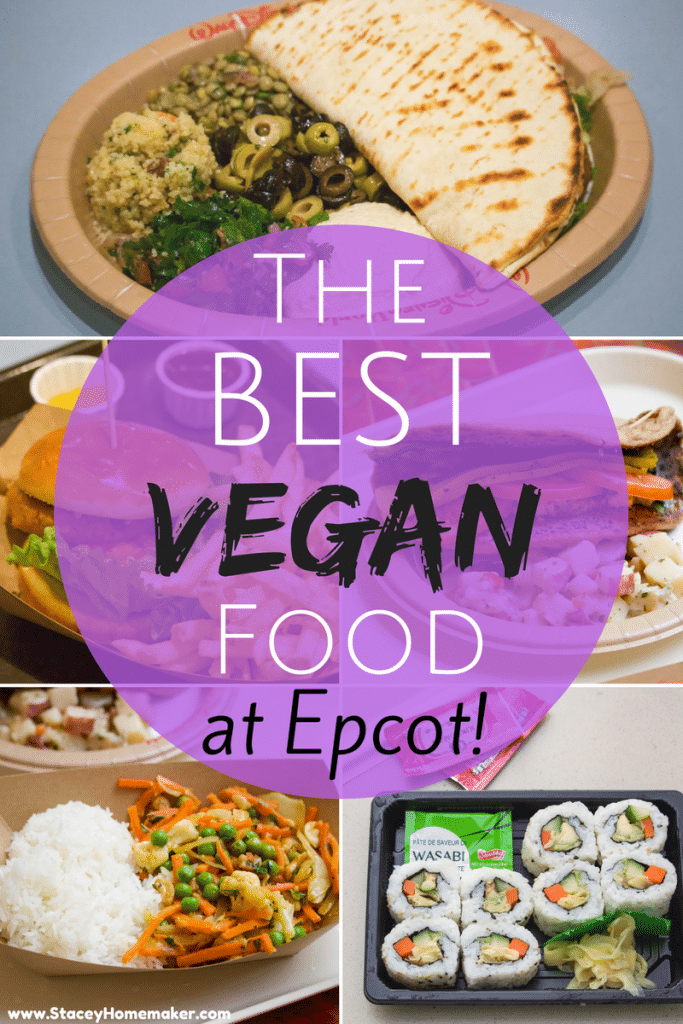 Travis and I just got back from a last minute trip to Disney World!
We found a fantastic deal to stay at the Coronado Springs Resort and we just couldn't pass it up. We absolutely loved the resort; the pool was amazing, our room was gorgeous, and the hotel grounds were stunning! We can't wait to go back!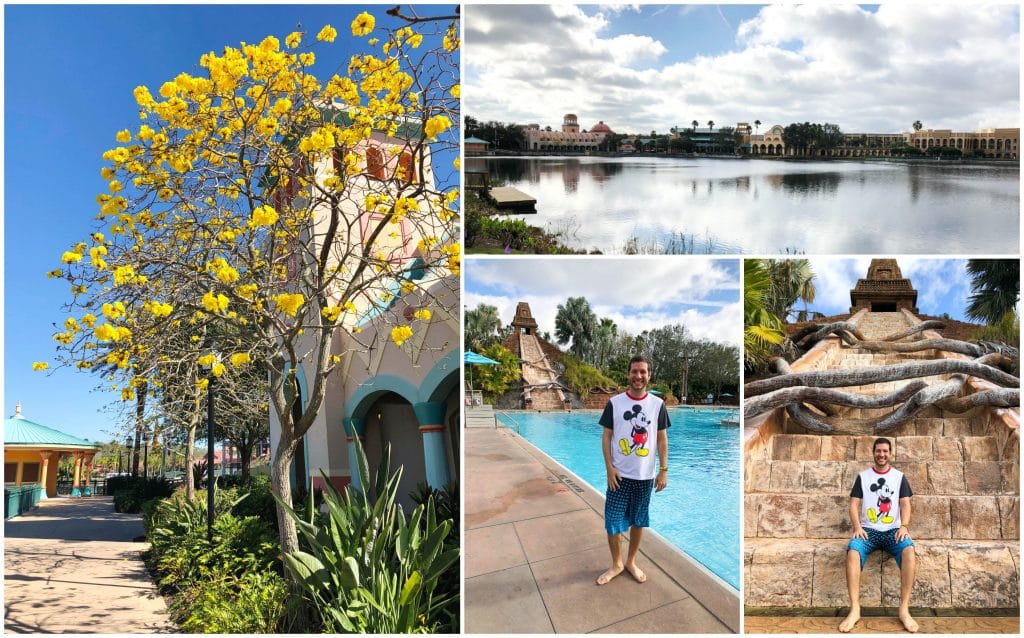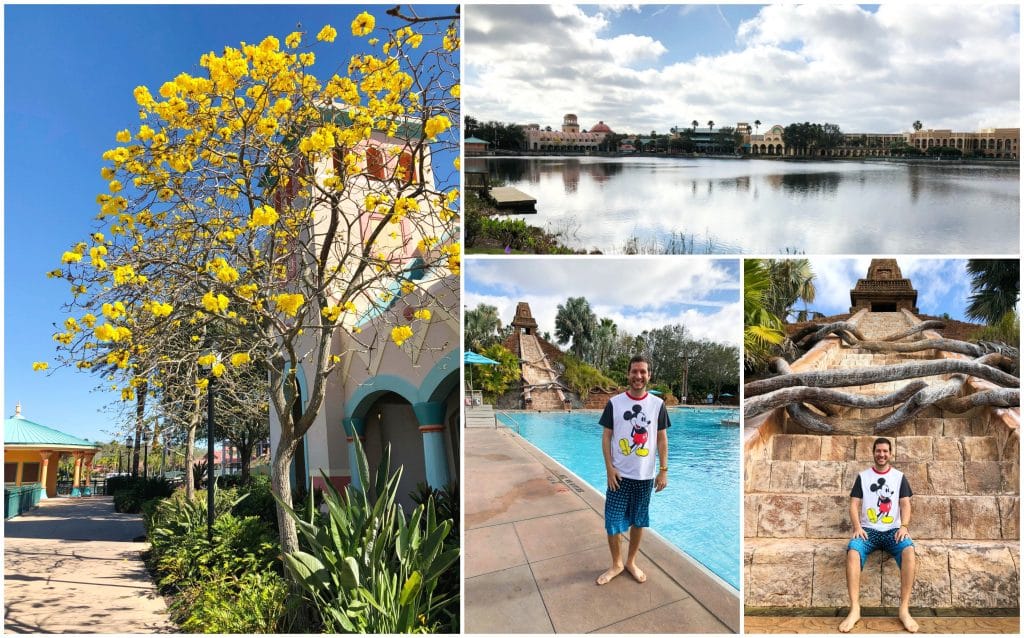 We planned a full day at Epcot to go to the Festival of the Arts so we could try all the tastes at each of the booths. Unfortunately, once we arrived at Epcot and got our hands on a festival book, we realized that there was only one vegan option (a rice panda) for us to try.
Obviously, a measly rice panda isn't enough for us to eat for the whole day, so, instead, we decided to check out all the Quick Service options at the park to find the best vegan food at Epcot. We were happily surprised to find tons of delicious vegan QS options!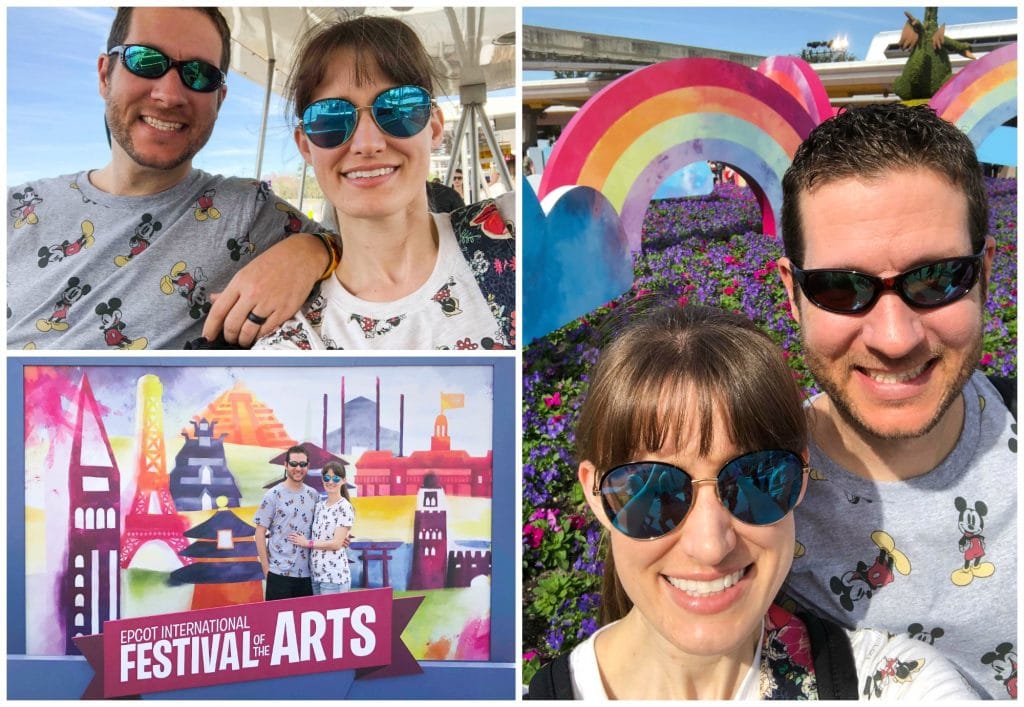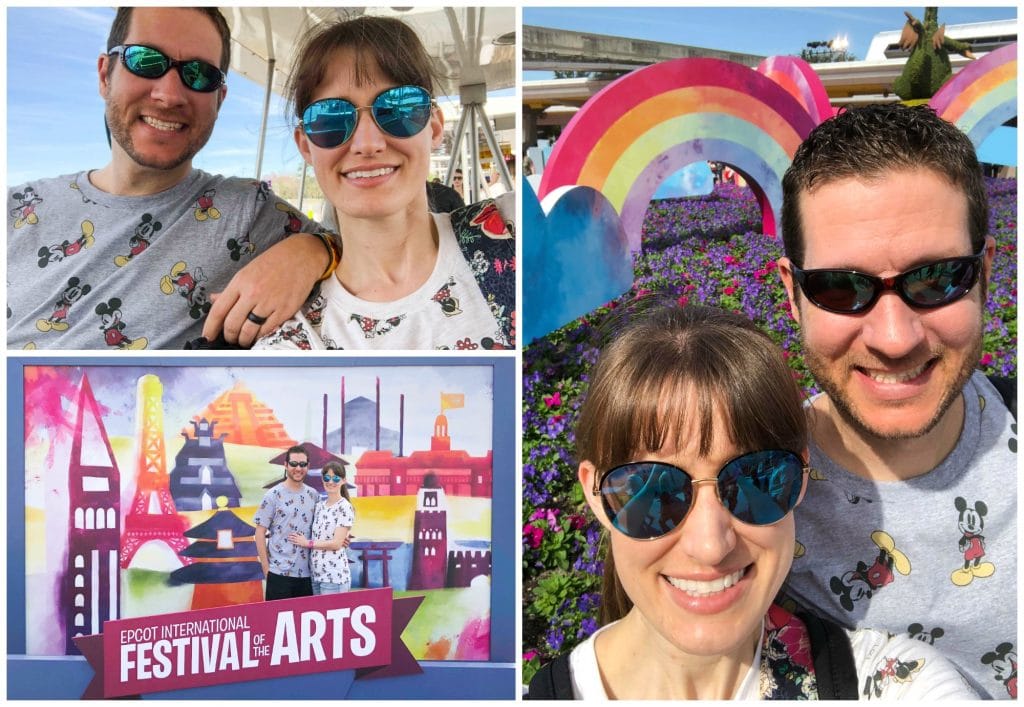 Don't you love our matching Minnie and Mickey couples t-shirts? They're so comfortable and lightweight--perfect on a hot FL day.
Click here to purchase the Men's shirt.
Click here to purchase the Women's shirt.


Where is the Best Vegan Food at Epcot?
In our opinion, we think the meals on this list are the best options for vegan food at Epcot, you can't go wrong with any of them! Keep reading till the end to see our #1 pick!
6 - Sunshine Seasons: Vegan Vegetable Wrap or Hummus Vegetable Platter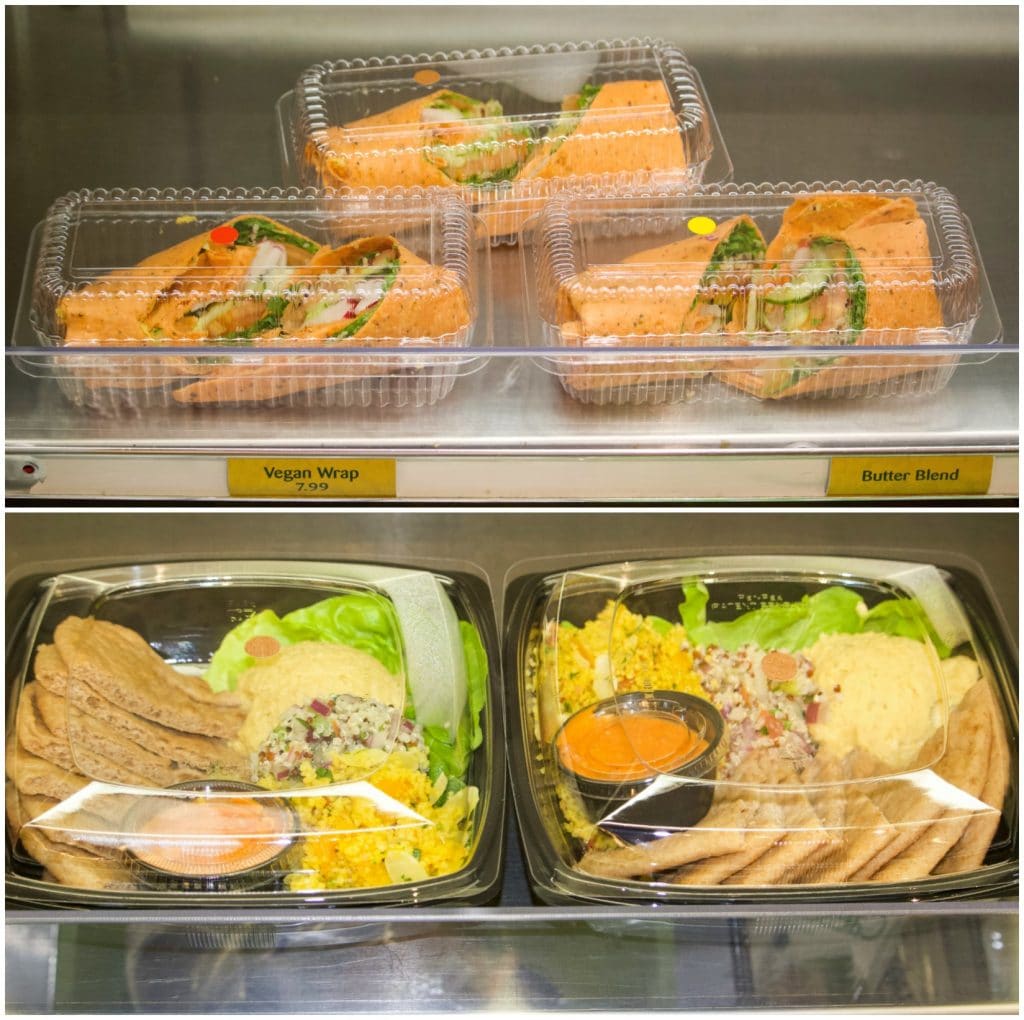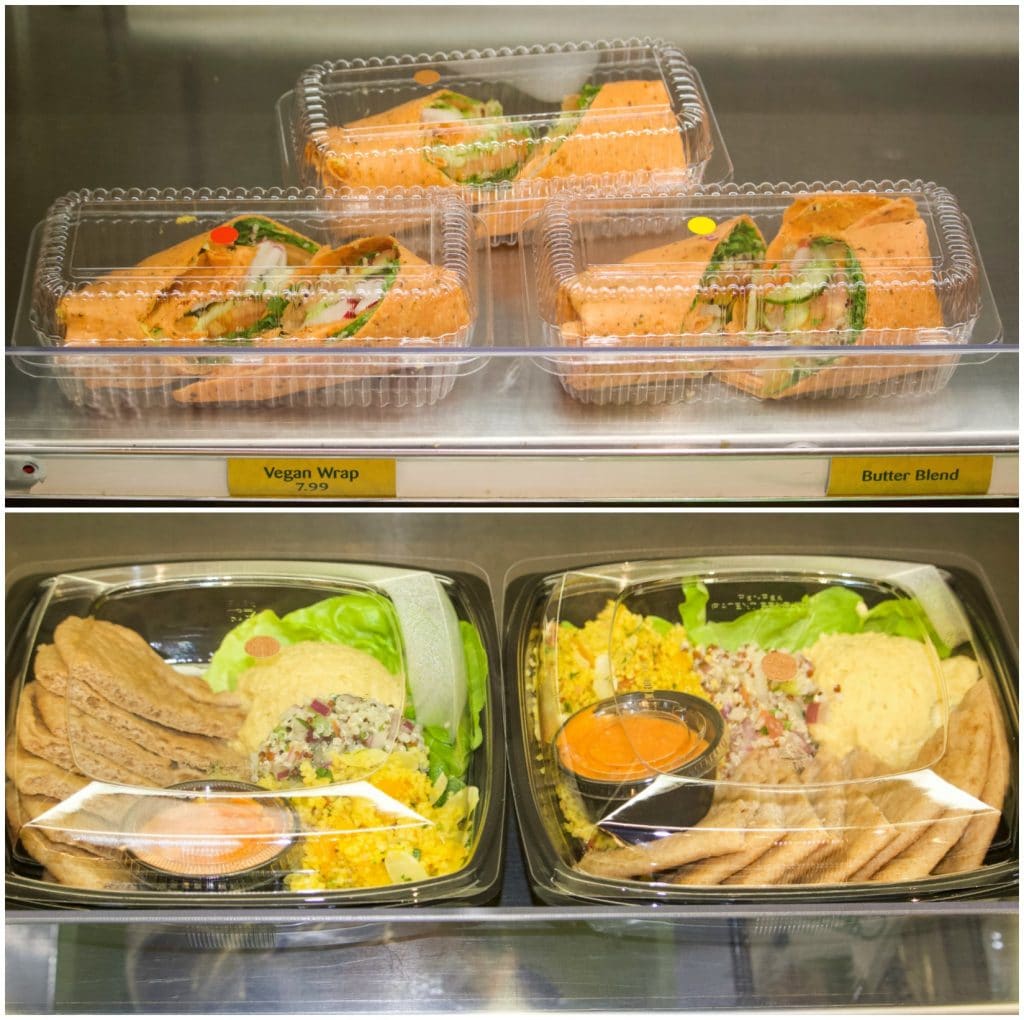 You can find the vegan vegetable wrap and hummus vegetable platter in the grab n' go section at Sunshine Seasons in The Land Pavillion. Both are delicious, filling, and under $10.
5 - Katsura Grill: Vegetable Sushi Roll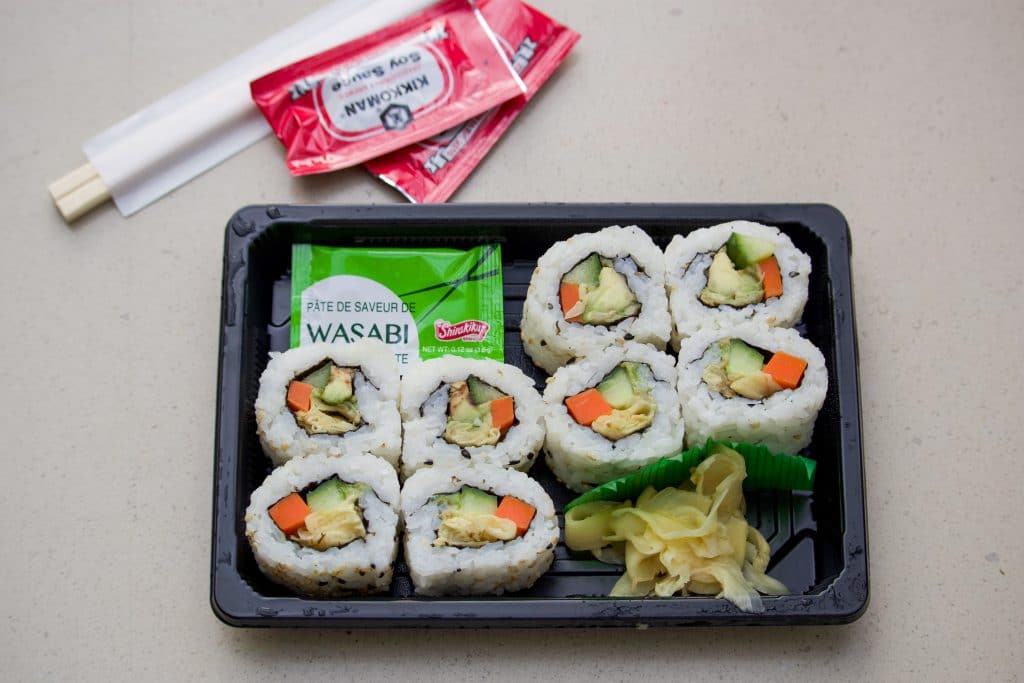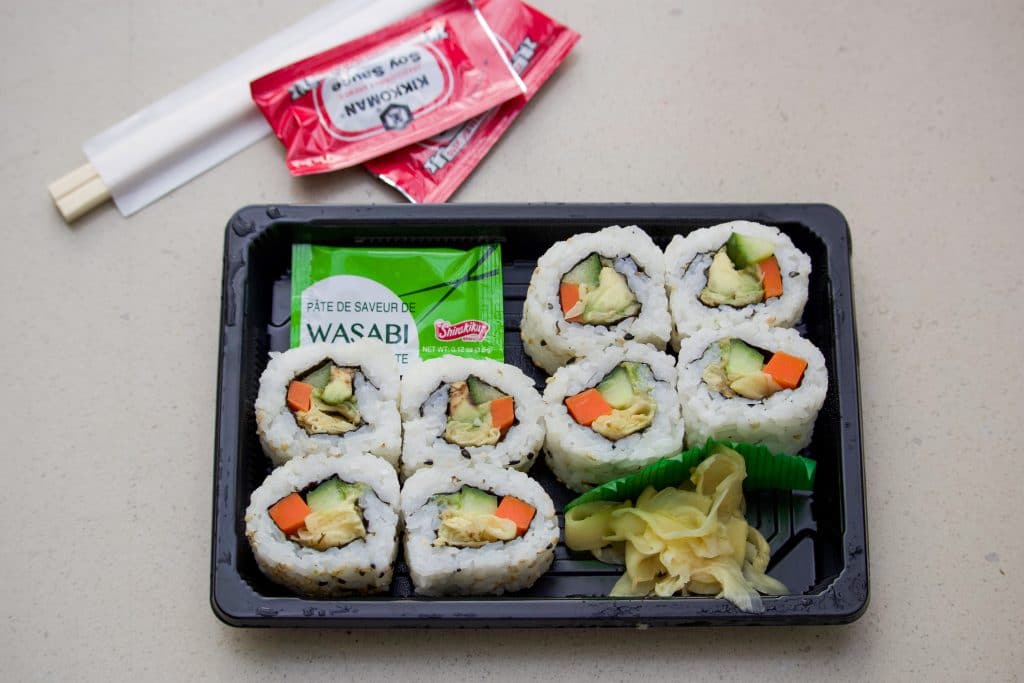 We shared the vegan vegetable sushi roll as an afternoon snack while we walked around the world showcase. The Katsura Grill is hidden at the top of the winding pathway in Japan. You can eat your sushi in the air-conditioned restaurant or outside in the gorgeous courtyard.
We chose the lantern-filled courtyard, you can't beat the ambiance!
The vegetable sushi is prepackaged in a small container with fresh shaved ginger and little packets of wasabi and soy sauce. The vegetable roll consists of cucumber, carrots, and avocado wrapped in seaweed, rice, and sesame seeds.
I enjoyed the sushi but I don't think it would be enough for a full meal. We'd definitely get it again as a snack!
4 - Sunshine Seasons: Vegan Korma with Gardein Meatless Chik'n and Cashews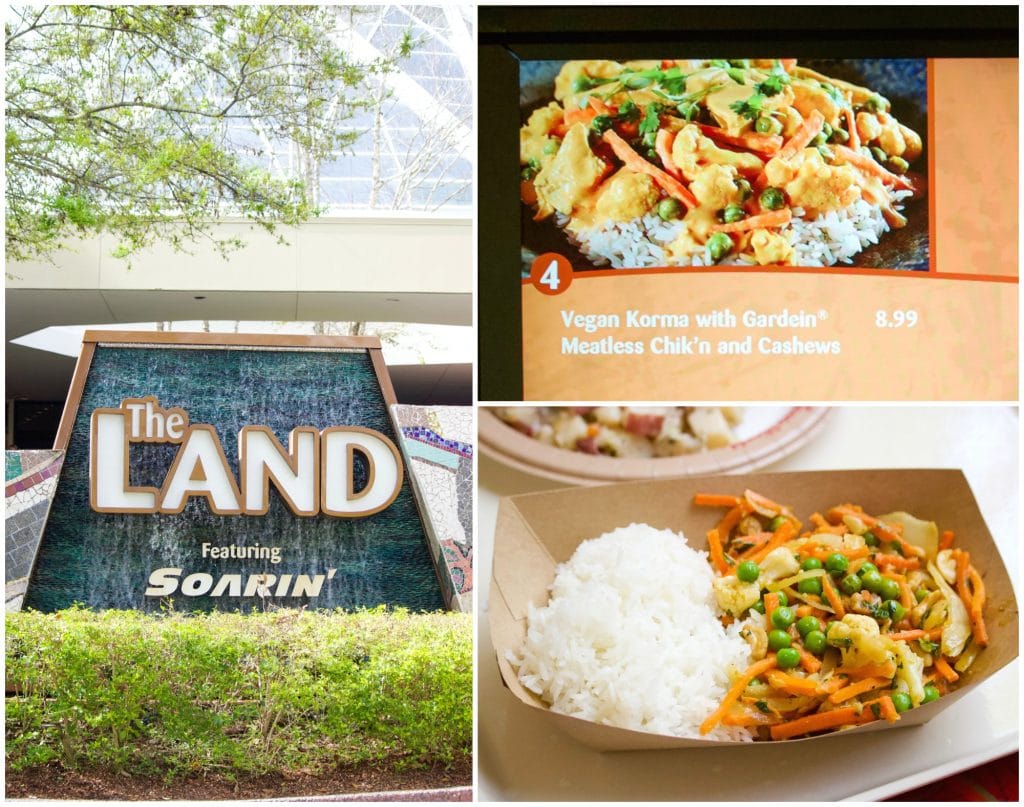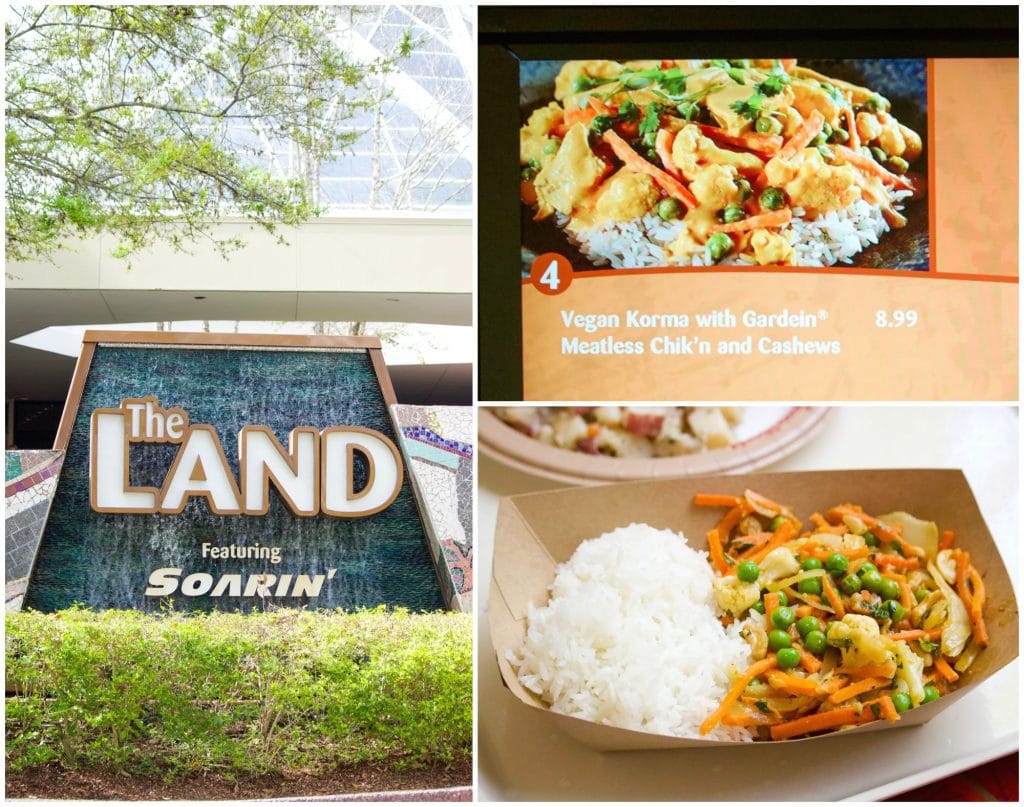 I was excited to try the vegan korma because we recently tried Gardein products for the first time and really enjoyed it.
We rarely eat processed meat substitutes because I like to prepare our food from scratch with healthy whole foods (Ex: vegan broccoli cheese soup, buffalo cauliflower tacos, pesto quinoa stuffed tomatoes) but I'm totally fine with any vegan option while we're away from home.
The vegan korma consists of two large scoops of white rice and two large spoonfuls of the vegetable korma mixture. The portion size is great for the price and I enjoyed all of the vegetables in the korma. There was a fair amount of meatless chik'n in the mix but it was a little skimpy on the cashews.
I did think that the flavor was lacking a little bit to be called a curry but at least it wasn't overly salty or processed tasting. I would definitely get it again.
3 - Sunshine Seasons: Vegan Flatbread with Grilled Vegetables, Black Bean Spread, Tofu, and Chia Seeds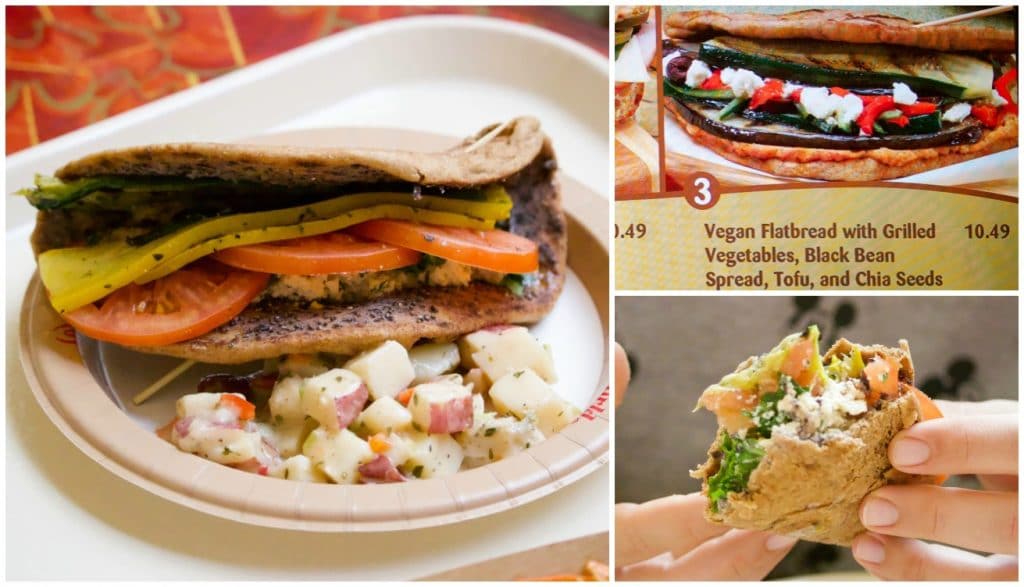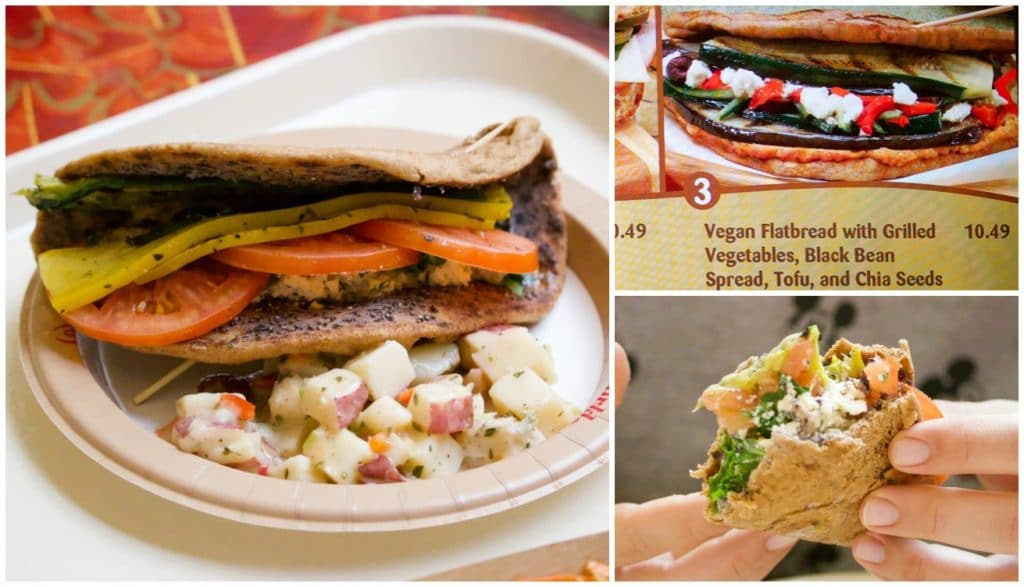 There was only one vegan flatbread wrap left on the counter, and to be honest, it looked a bit dried out.
Surprisingly, the flatbread was delicious and filling and not dried out at all! I think it was just the way that the black bean sauce was thinly spread on the wrap. I enjoyed the flavor of the black bean spread, all the roasted veggies, and the way the tofu was chopped made it look like feta.
The vegan potato salad was excellent too!
Travis said next time he would ask for it to be warmed up a little bit but we would definitely order this flatbread again.
2 - Liberty Inn: Grilled Vegetable Burger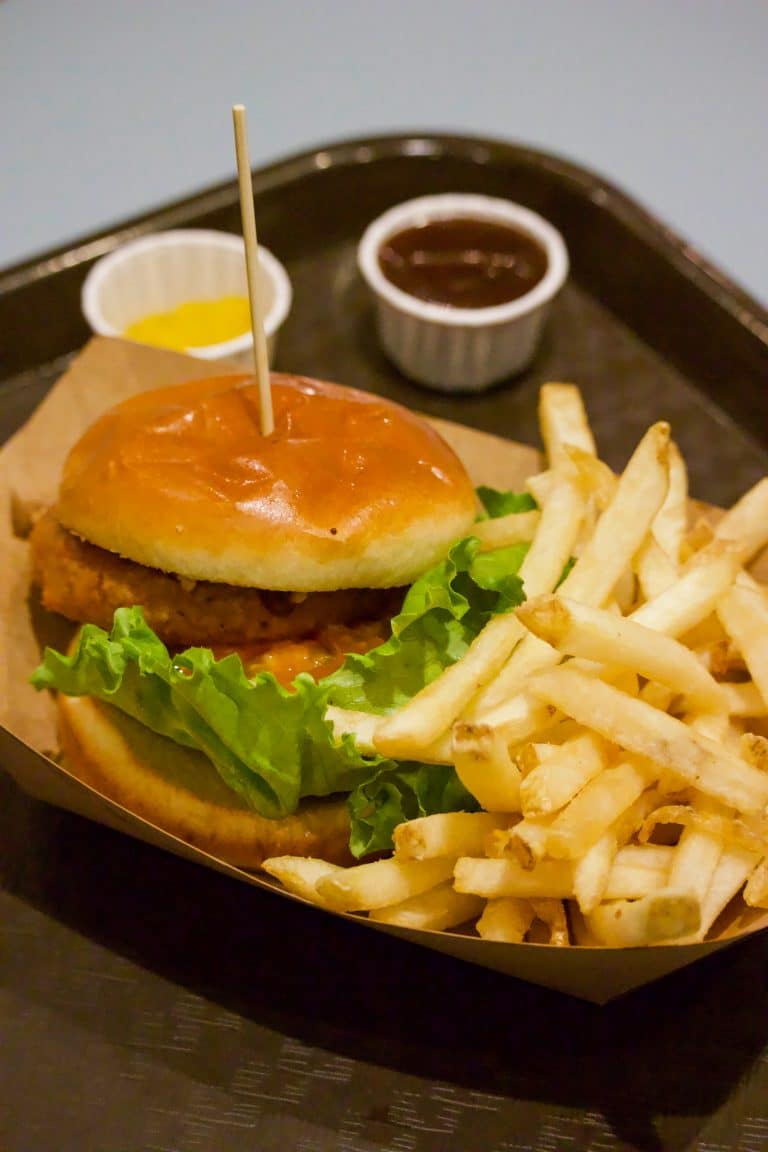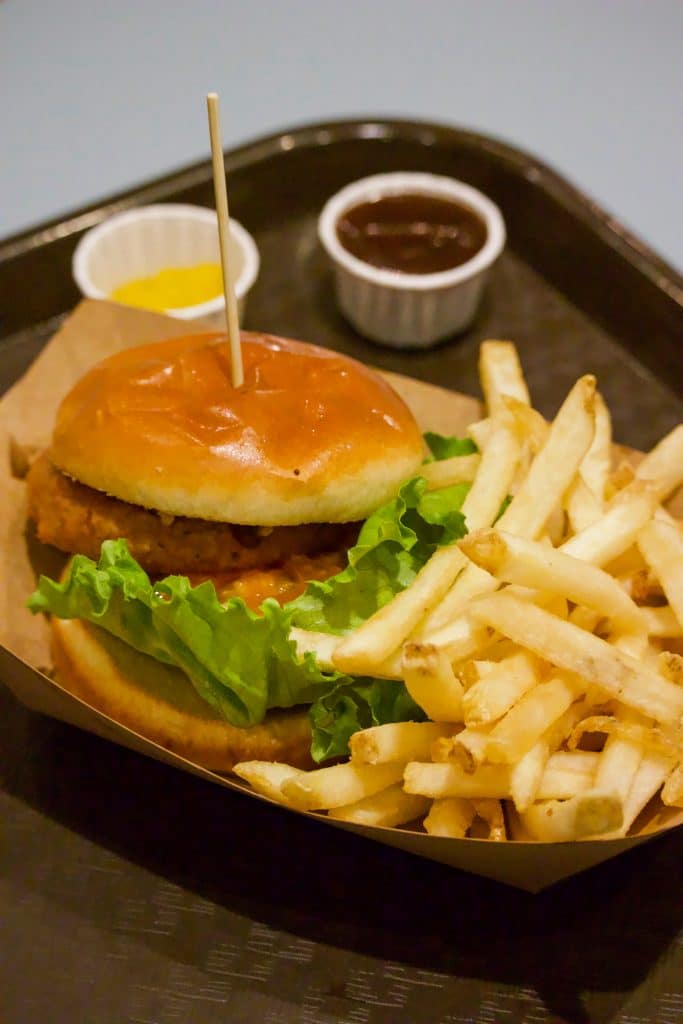 Travis loves the Beyond Burger and orders it every time we find it on a restaurant menu. For some reason, on the liberty Inn menu, the burger is listed as a vegetable burger but it's really the Beyond Burger.
The Beyond Burger is served with crispy onions, BBQ sauce, and a side of french fries or broccoli. I'm not 100% sure if the BBQ sauce is vegan, so make sure you ask if you want it.
Also, when I make the Beyond Burgers at home, I like to sear them a little bit so they get lightly browned on both sides. Next time, we're going to request that they cook the patty a little bit longer so it has some color.
This quick service meal ranks high on our list of the best vegan food at Epcot because it's consistently delicious at every restaurant we order it at.


1 - Tangerine Cafe: Vegetable Platter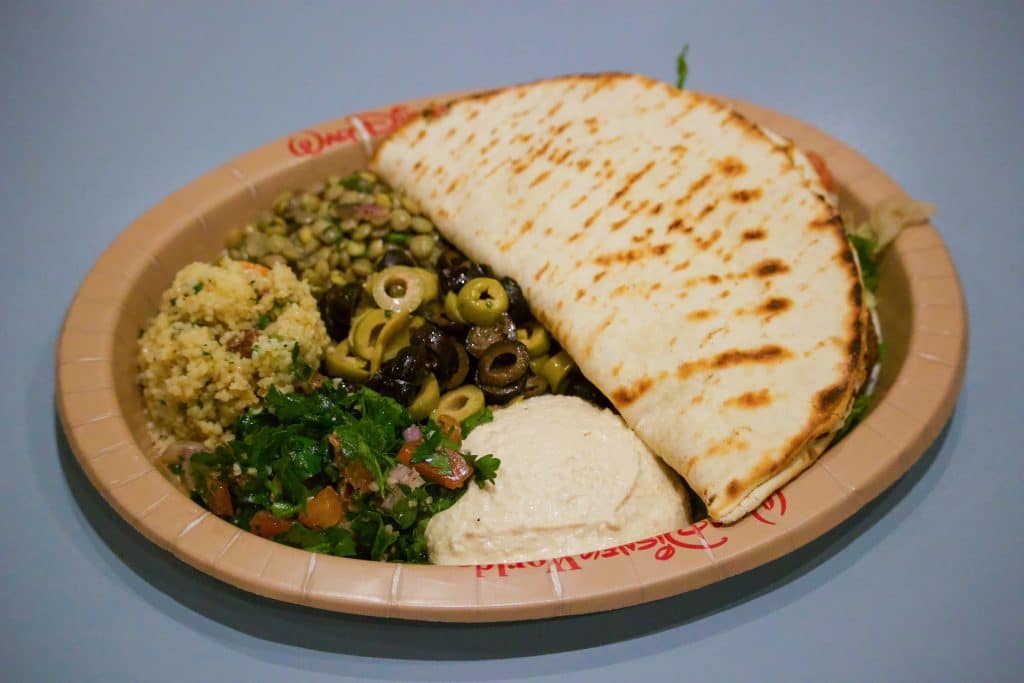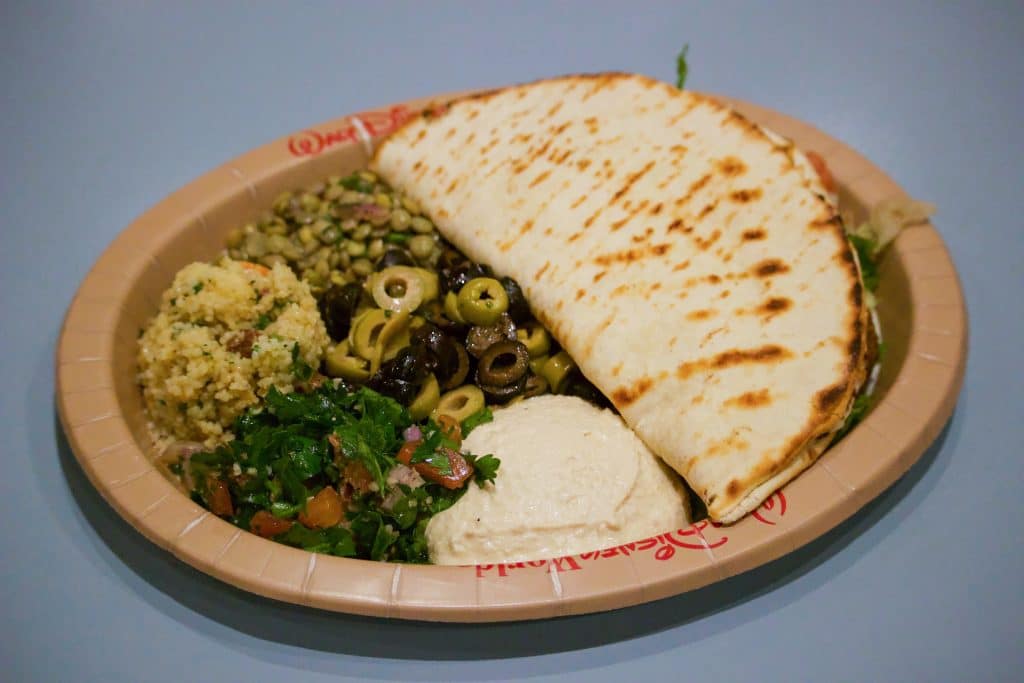 The vegetable platter at the Tangerine Cafe has been my go-to vegan spot for a while now. Sometimes the falafel can be dry (if you go at an off-hour) but most of the time it's pretty delicious! I find that the falafel is freshest around the dinner rush, usually around 6pm-7pm.
You can't see the falafel in the picture but it's hiding under the pita.
The vegetable platter is #1 on my list of the best vegan food at Epcot because of the variety, the portion size, and the flavors!
The vegetable platter is served with:
Tangierine Couscous Salad
Hummus
Tabouleh
Pita Bread (Double check the ingredients when you order because sometimes they use pita that has dairy)
Three Falafel (The falafel are made in a shared fryer)
Lentil Salad
Marinated Olives
Salad
The platter is huge and super filling! I like to put the falafel, salad, tabouleh, and hummus in the pita bread and eat it like a wrap. It's sooo good!
Related Disney Posts
Ultimate Guide to Eating Vegan on a Disney Cruise
159 Disney Cruise Tips that I Wish I Would've Known Before Our Cruise
The 5 BEST Vegan Quick Service Spots in Disney World!
Epcot Party for the Senses Special Event Review
5 Activities You Don't Want to Miss at Mickey's Very Merry Christmas Party!
Where Else Can You Find Delicious Vegan Food in Disney World?
There are so many places in Disney World to find delicious vegan food!
Check this list to see all of our favorite vegan quick service meals in Walt Disney World!
Tusker House (buffet) at the Animal Kingdom (Full review coming soon!)
Vegan Thin Mint Cookies (plus tons of other goodies!) at Erin Mckenna's Bakery in Disney Springs
Trail's End (multi-course casual dinner) at Fort Wilderness - Ask for Chef TJ!
Vegan Beignets at the Port Orleans Food Court
Vegan Red Velvet Cupcake - Sprinkles Bakery in Disney Springs

Read this post

to find out where the best (and cheapest) vegan pizza is!
I hope this list of the best vegan options at Epcot helps you while you're at the park! If you want to see more vegan food that I love at Disney world, follow me on Instagram at @VeganDisneyCouple!