This is a complete review of the vegan food options at Tusker House in the Animal Kingdom.
*This post contains affiliate links.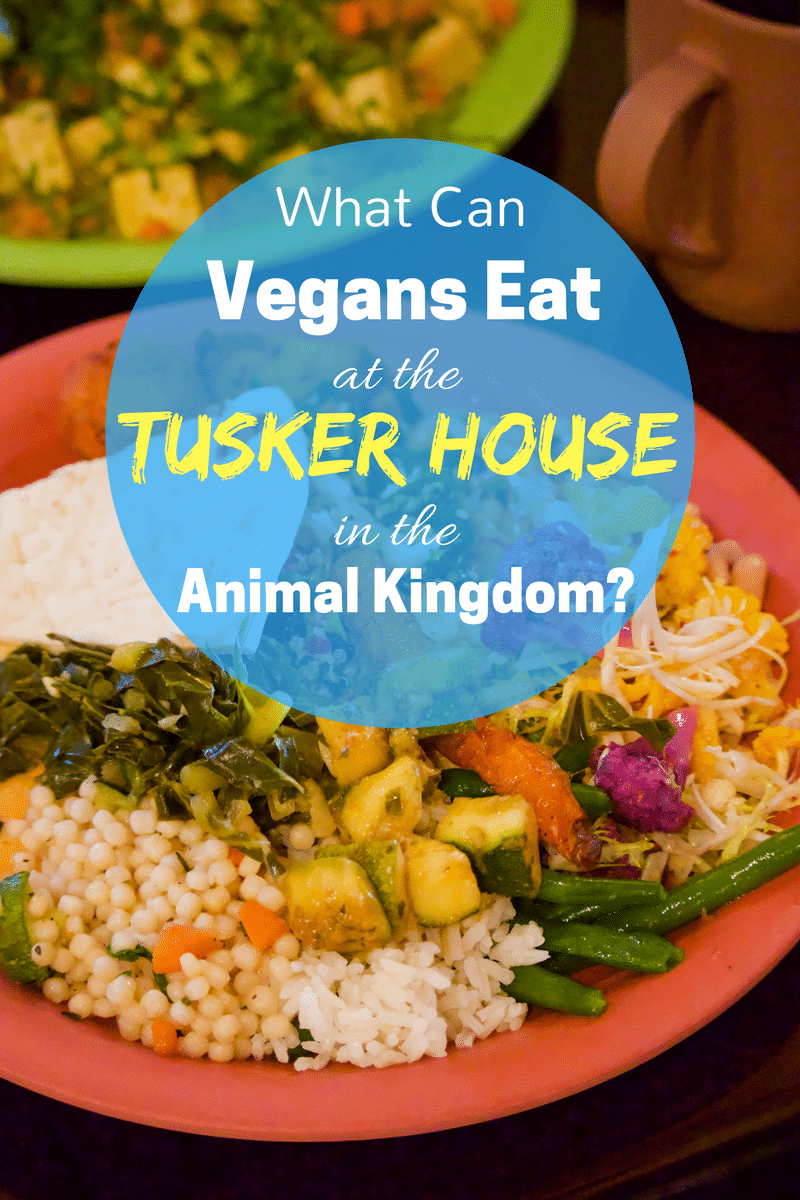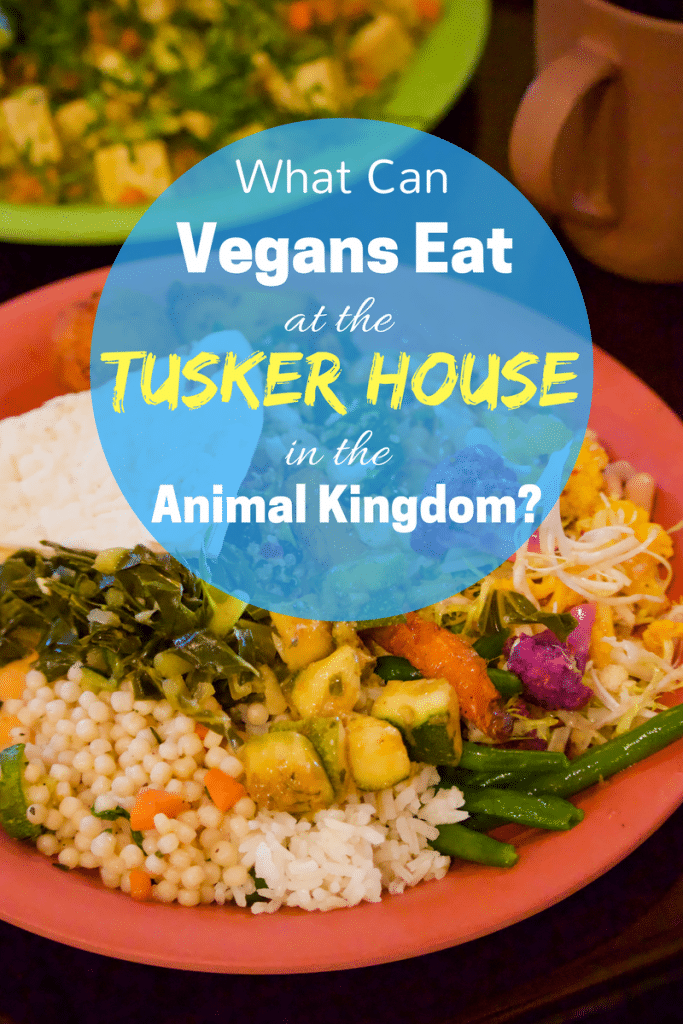 Last weekend, we drove up to the Animal Kingdom for the day so we could thoroughly experience Pandora and have lunch at Tusker House!
It was such a fun day! In the past, we've quickly walked through Pandora to grab lunch at Satu'li Canteen (it's one of my favorite vegan quick service spots in all of Disney World!) but we've never really taken the time to explore and enjoy the beauty of Pandora. Every nook and cranny is jam-packed with fun things to look at an experience! Make sure you visit Pandora at night too, it looks completely different!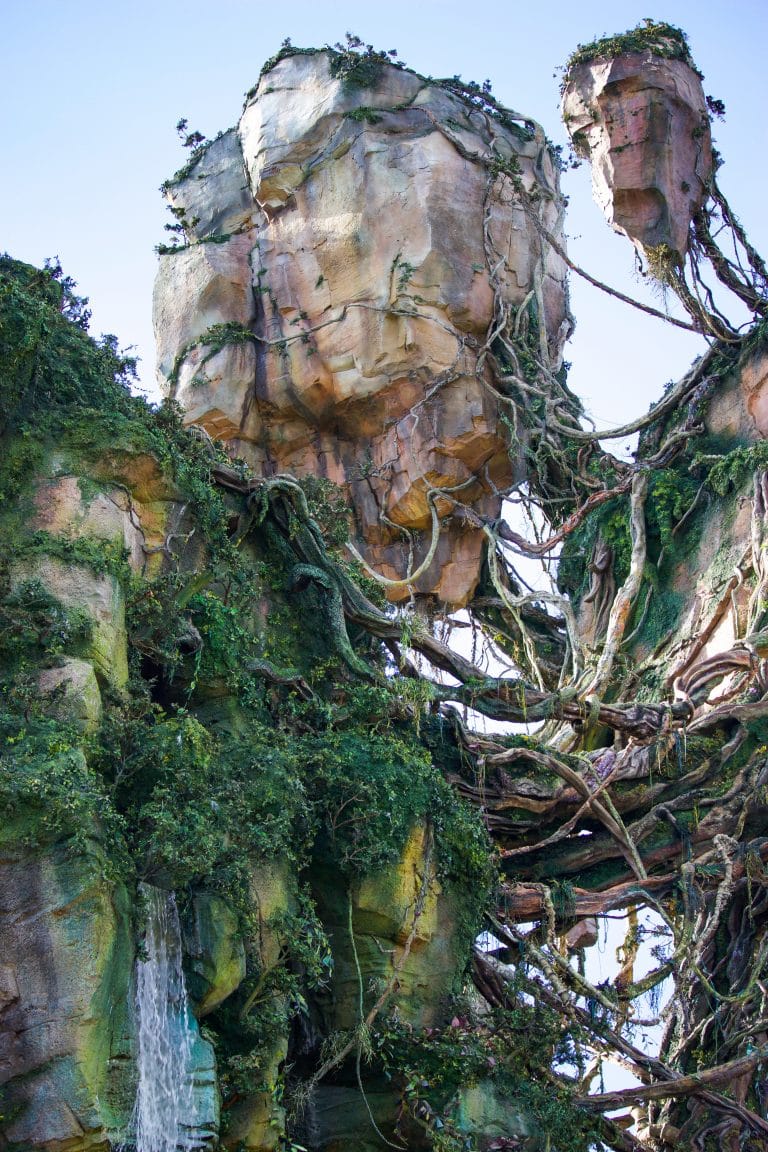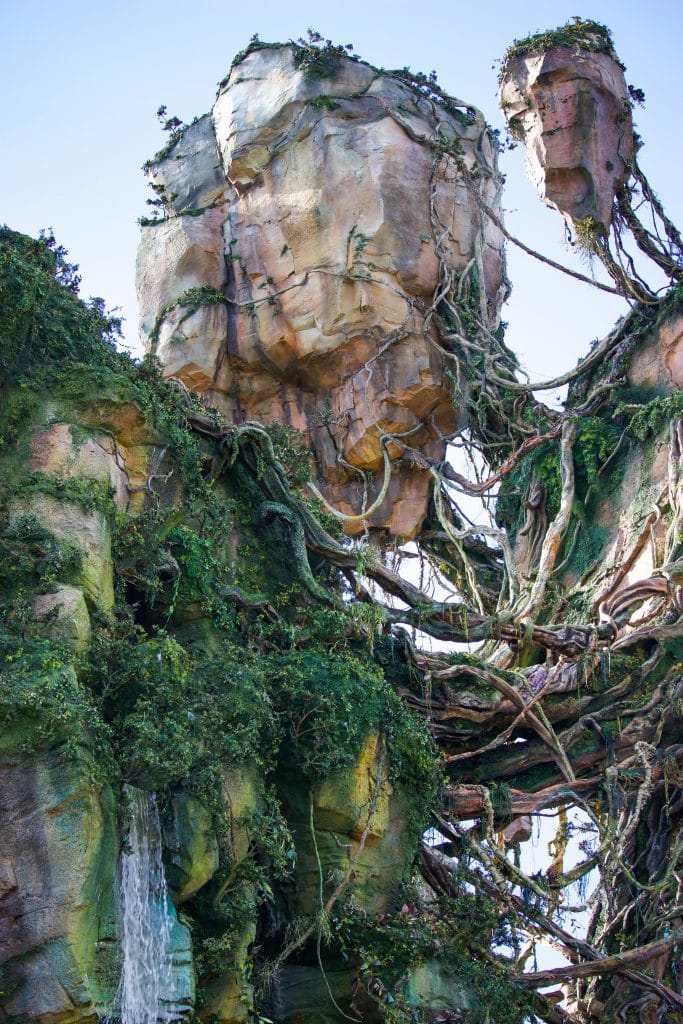 We didn't eat at the Satu'li Canteen that day because we had 2 PM lunch reservations at Tusker House. I've always loved Tusker House but I haven't been in a few years. Now that Travis and I are vegan we wanted to see what options they had for us.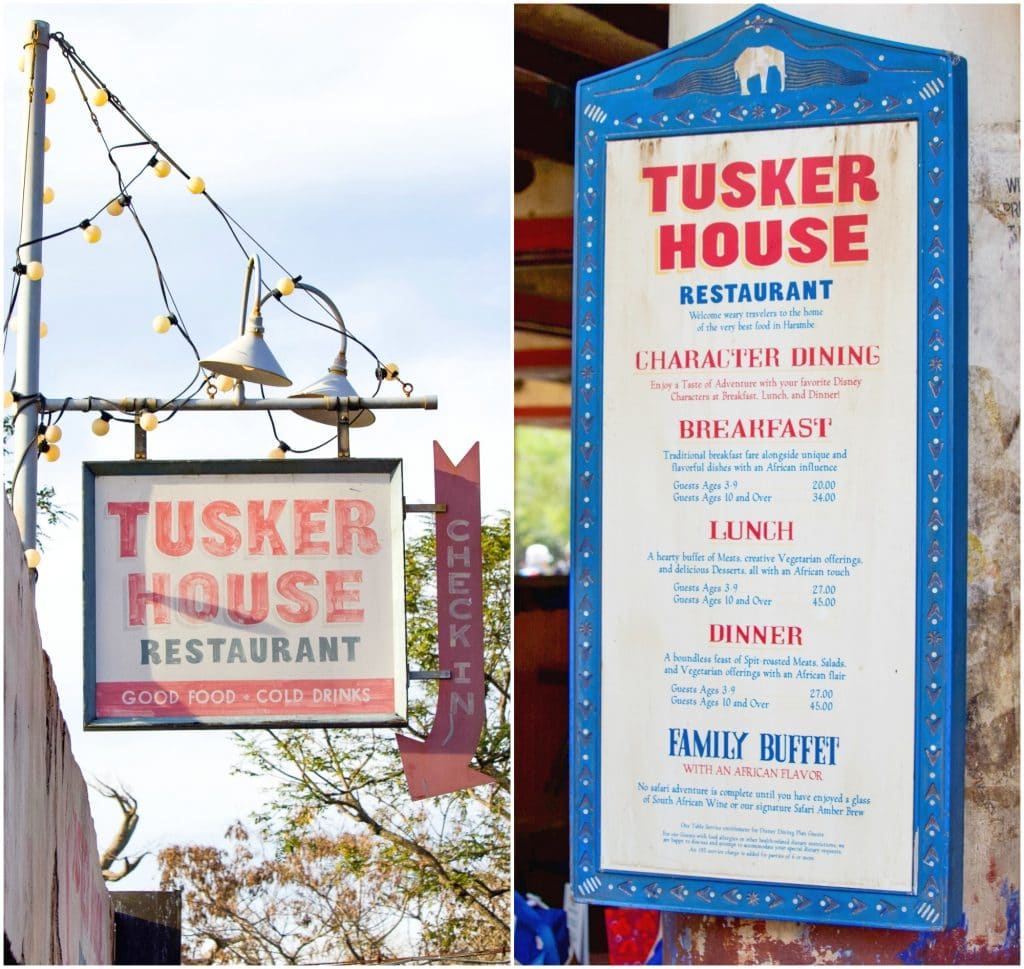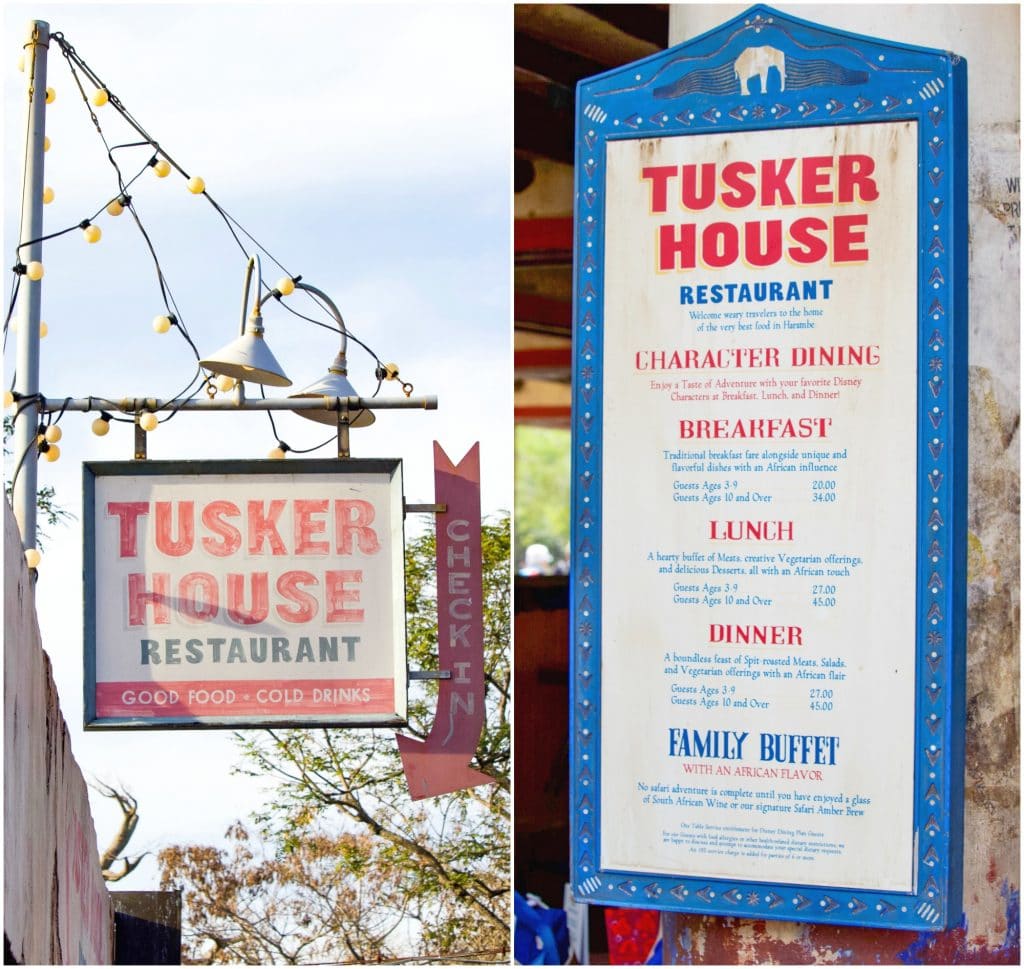 What's the Tusker House Restaurant Like?
The Tusker House in Animal Kingdom is definitely a casual, laid-back restaurant. Don't worry about dressing up, most of the guests have been hanging out at the park all day too. The whole restaurant is decorated to look like a rustic African market and the food is also African-inspired fare.
There were tons of kids, probably because it's an interactive character meal. Don't let that stop you from making a reservation if you don't have any kids or don't want to interact with the characters.
We don't have any kids and we didn't want to take pictures with Mickey, Goofy, Donald, or Daisy, so we just waved hello but didn't make any move to get up for pictures when they stopped at our table. They got the hint and moved on pretty quick.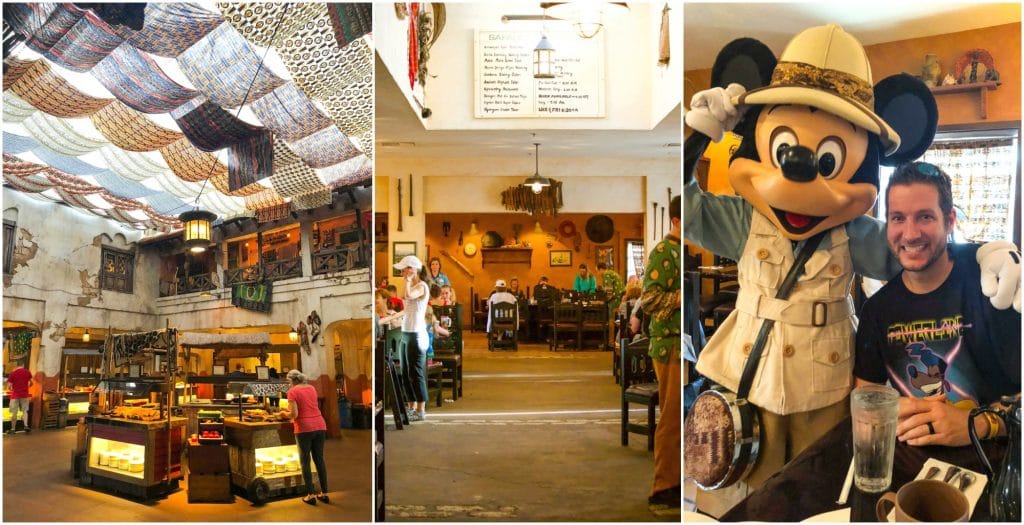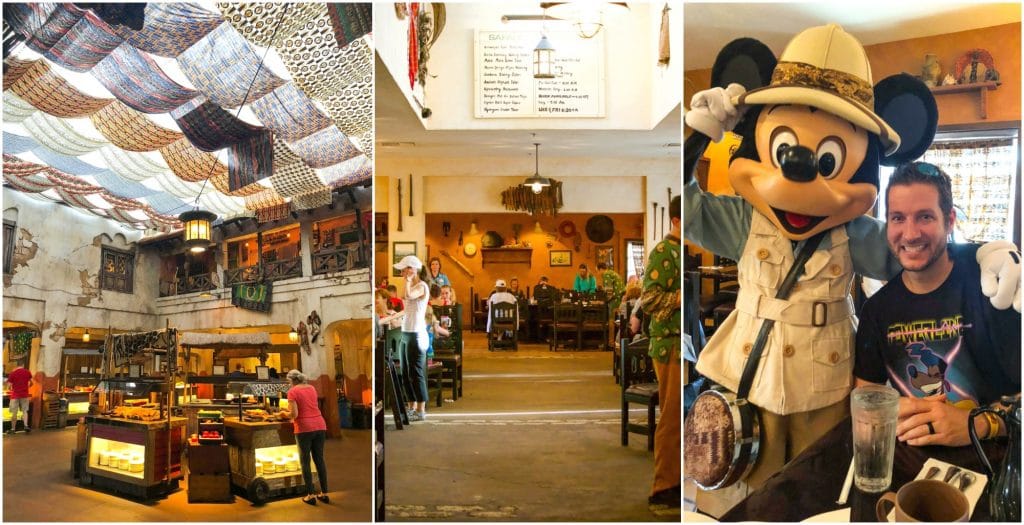 Vegan Options at Tusker House
When I made the reservation online, I checked the allergy box because they didn't have a vegan box to check. When we checked in, we were automatically given an allergy menu that clearly listed all the food on the buffet. I thought that was a nice touch.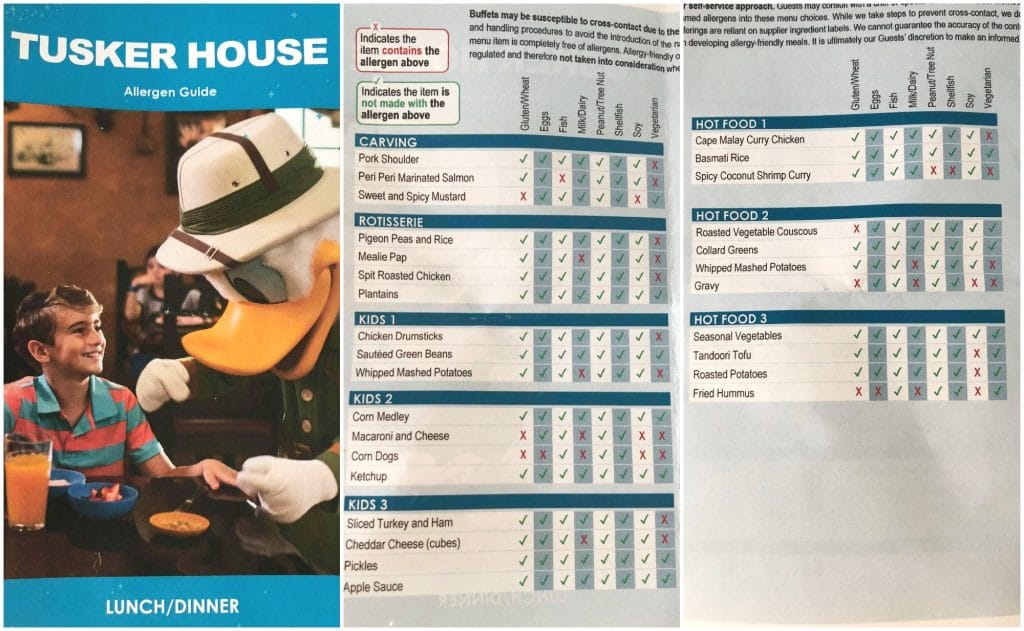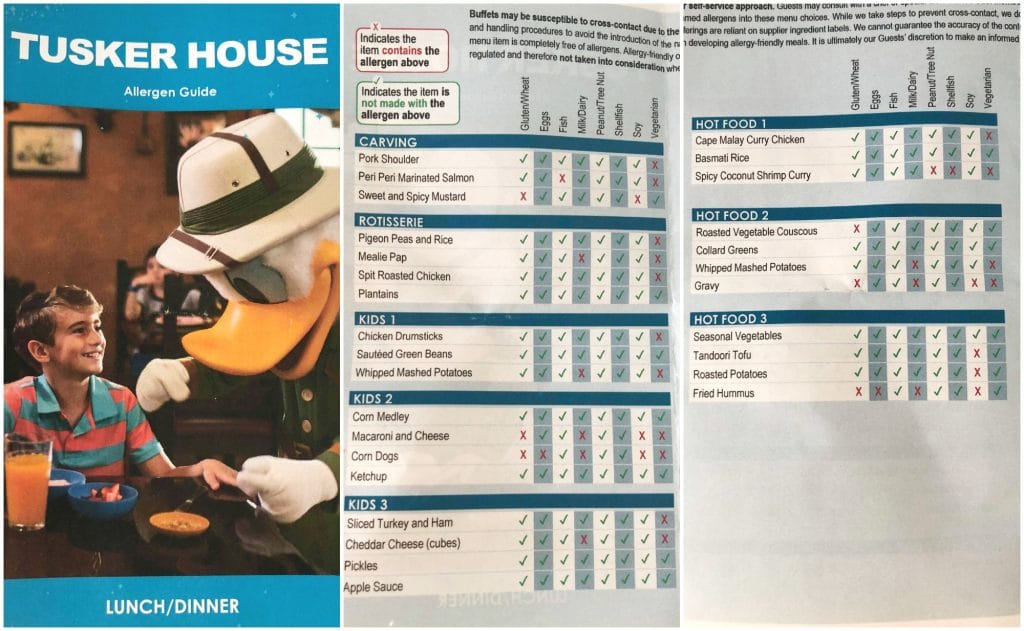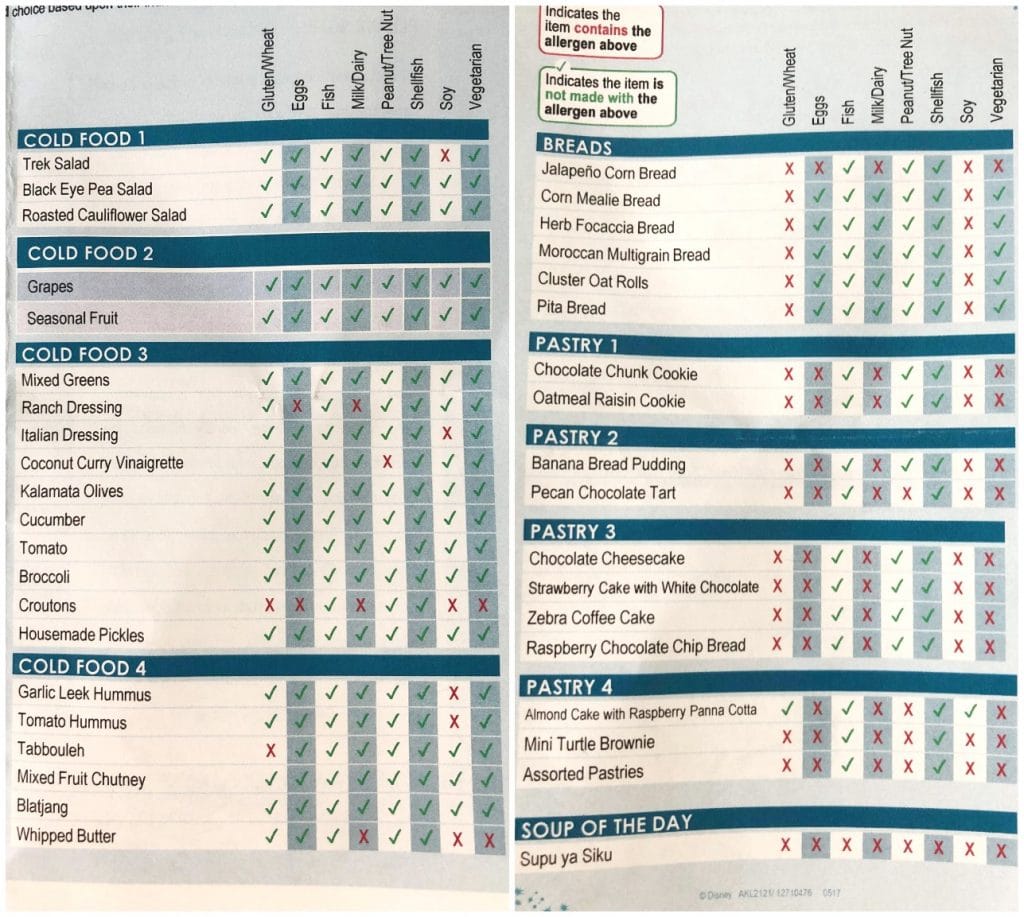 Chef Dennis came over to our table and offered to give us a tour of the buffet so he could point out the vegan dishes. Surprisingly, there were a ton of vegan options on the buffet, almost half of the buffet was naturally vegan! Watch the video below to see all the vegan food on the buffet at Tusker House in Animal Kingdom.
Chef Dennis also offered to make us our own plate of tofu to share. We accepted and he brought a huge, delicious platter to our table! We were thrilled because it ended up being my favorite item on the buffet!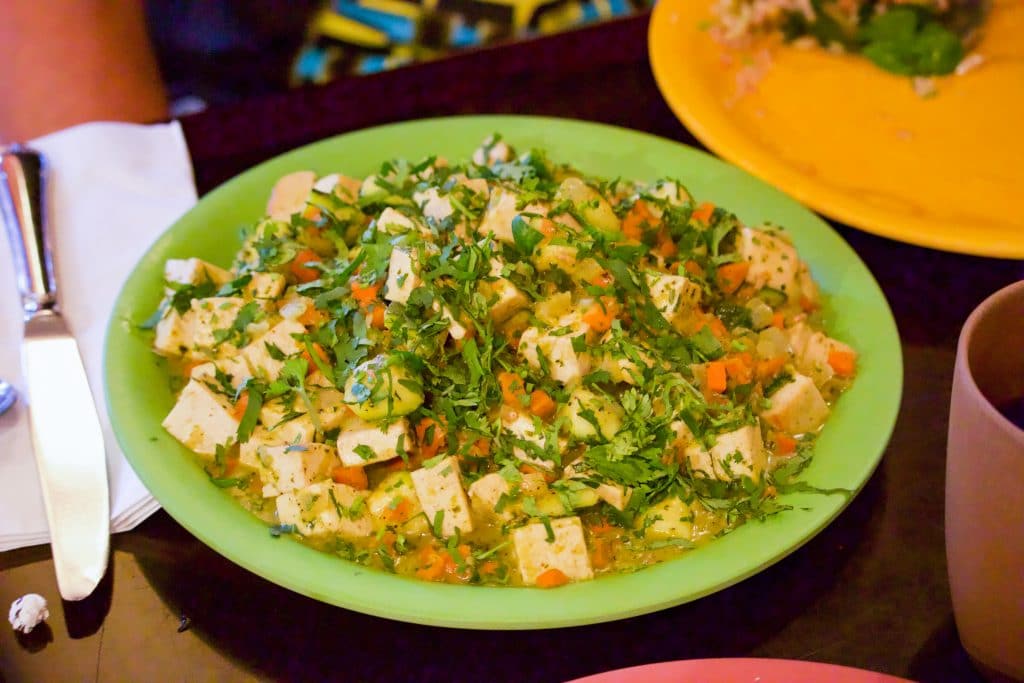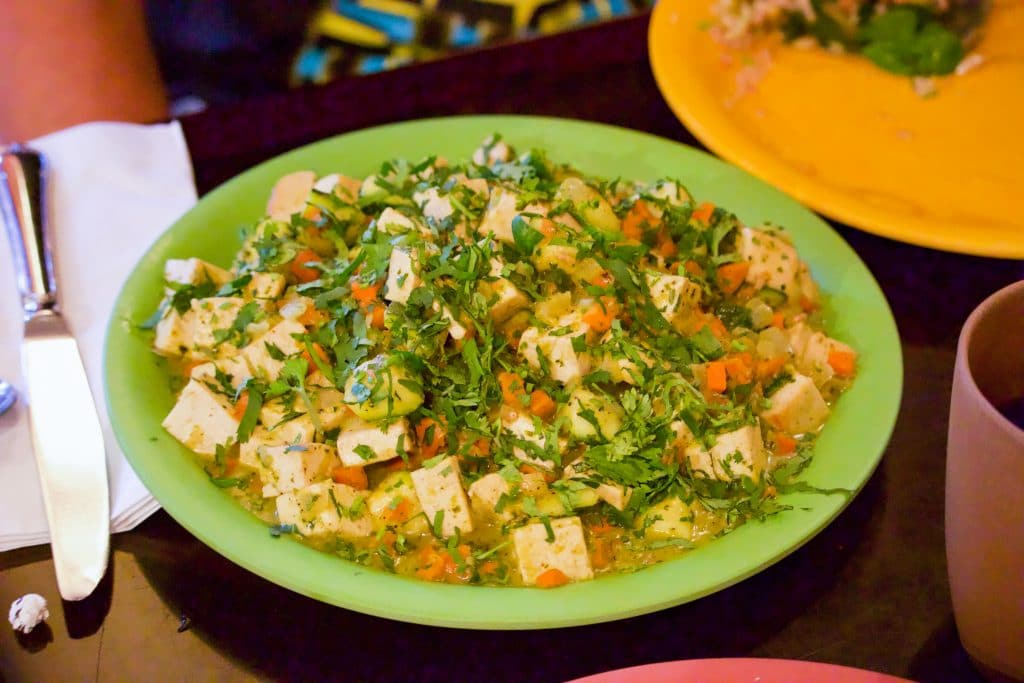 How's the Food at Tusker House?
After we toured the buffet with Chef Dennis, we grabbed our plates got a little bit of everything vegan on the buffet so we could report our findings.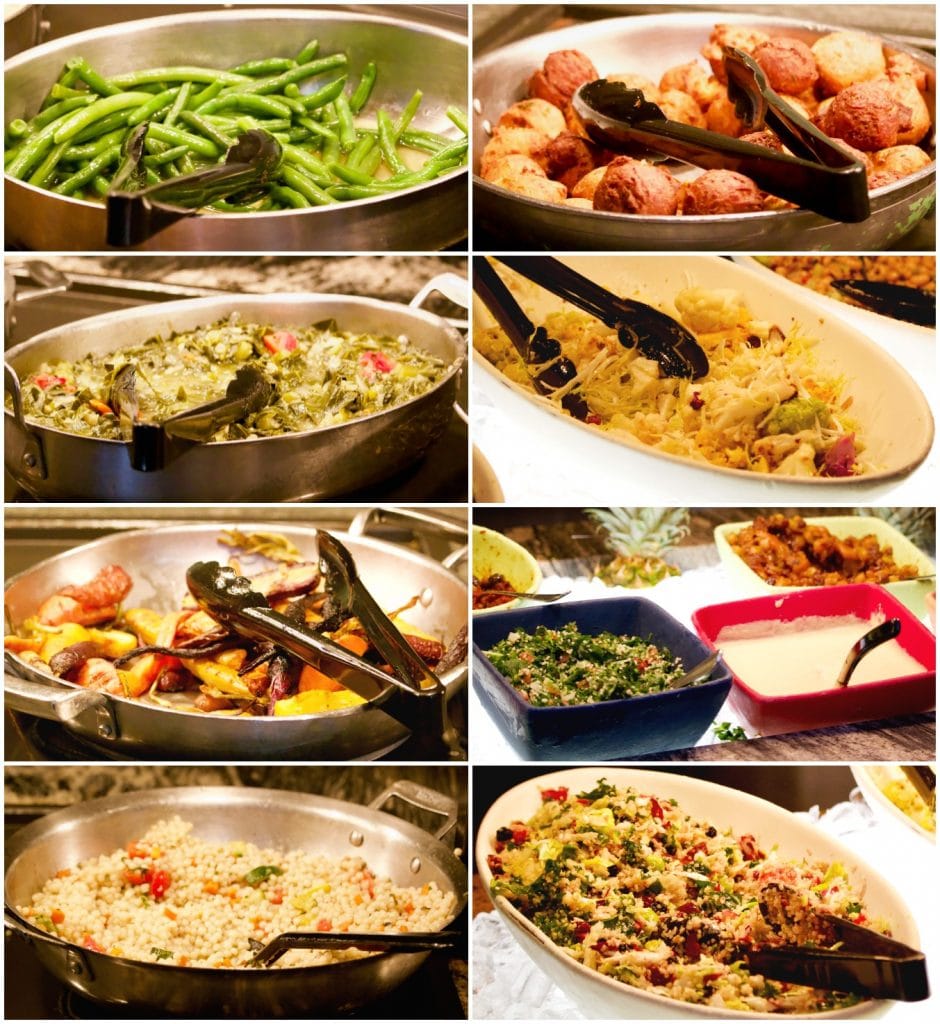 Overall, everything was very tasty. Each dish had a lot of flavor without being too salty. The following items were our favorites:
Tandoori Tofu with Basmati Rice
Roasted Vegetable Couscous
Roasted Potatoes
Fried Hummus
Trek Salad
Black Eyed Pea Salad
Roasted Cauliflower Salad
Sauteed Green Beans
Tabbouleh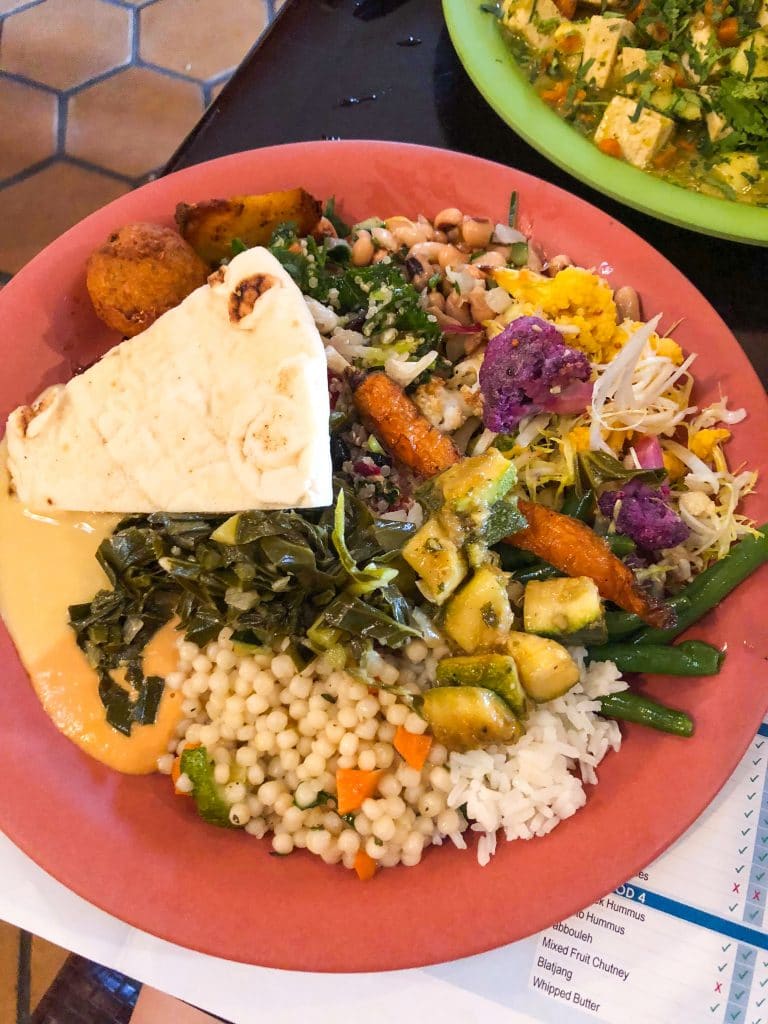 We didn't care for the collard greens, the hummus, or the corn medley– they were just meh
Unfortunately, there are no vegan desserts on the buffet. However, if you ask your server, they can bring you a bowl of Toffuti chocolate ice cream and chocolate chip cookies! Travis loved the ice cream so we were happy with that.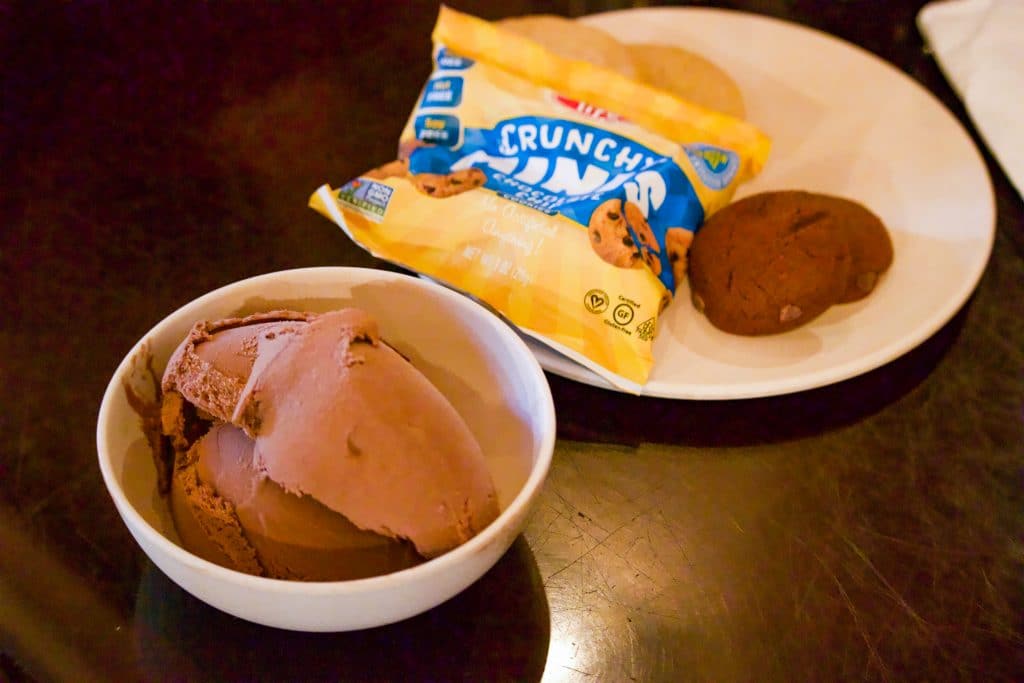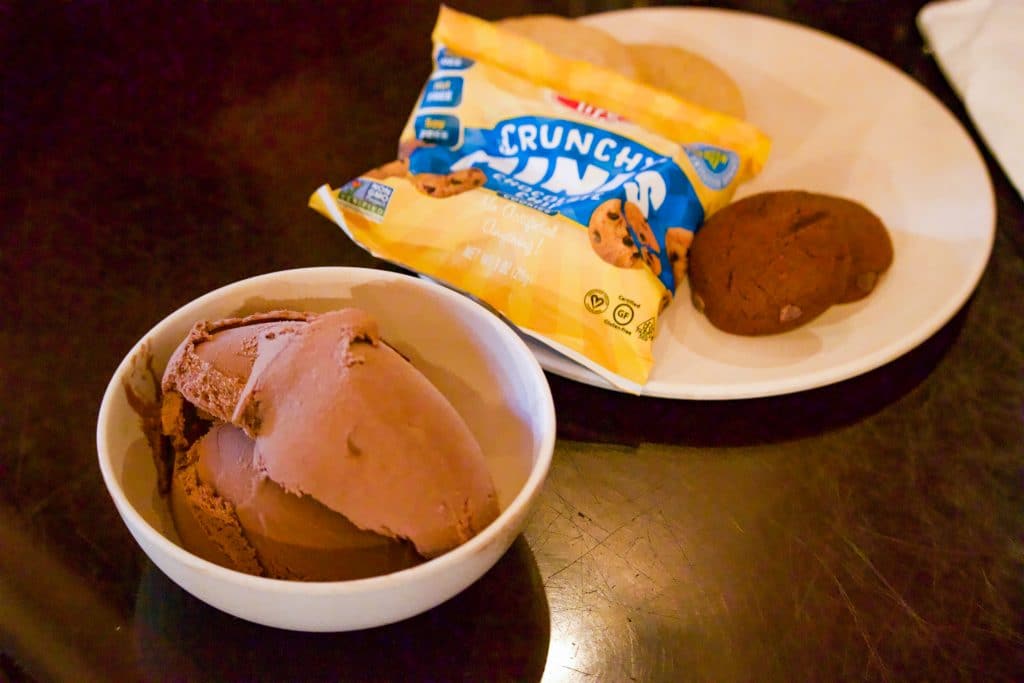 Would We Go Back To Tusker House Again?
Well….let me break it down to help explain our decision.
Pros –
Tusker House has a ton of vegan options on the buffet that you don't have to special order (more than any other Disney buffets that I've been to).
The food is adult and kid-friendly, there's something for everyone to eat.
The food is delicious and you definitely won't leave hungry.
Upon request, a chef will walk you through the buffet and show you what's safe to eat based on your allergy or food preference.
If you are worried about cross contamination, certain dishes can be made to order and brought directly to your table.
The restaurant has a fun atmosphere and if you have kids, they'll love the character interaction!
If you're an annual passholder, you get 10% off your bill. Make sure you tip on the original amount!
Cons –
Tusker House is located inside of Animal Kingdom so you have to buy a ticket (or an annual pass) to get into the park so you can go to the restaurant.
The buffet is expensive. Lunch and dinner is the same price, breakfast is cheaper. For lunch and dinner, adults are $45, and kids are $27.
I didn't like that some of the dishes were labeled vegetarian when they were actually vegan. The allergy menu needs to be corrected, it's confusing to the guests.
We had a reservation for 2 PM but didn't get seated until 2:30 PM. The restaurant was busy but I was really surprised that we had to wait so long just for a two person party.
There are no vegan options for dessert on the buffet.
There is no plain vegan coffee creamer available, they only had vanilla soy milk.
Overall, we really enjoyed eating lunch at the Tusker House in the Animal Kingdom. There are so many delicious vegan options– much more than at any other buffets in Disney and we'd love to go back to Tusker House! It's definitely the best vegan buffet on Disney property!
MORE DISNEY POSTS TO HELP YOU PLAN YOUR NEXT VACATION!
How to Ride Avatar Flight of Passage Before the Park Opens!
The Best Vegan Quick Service Meals in Disney World
159 Disney Cruise Tips You Need to Know Before Your First Cruise!
Epcot Party for the Senses Review