I received two tickets from Disney in exchange for sharing my honest thoughts and experiences of Toy Story Land.
The new Toy Story Land at Hollywood Studios is jam-packed with colorful details and tons of elements from the Toy Story movies! If you don't know to look for it you might walk right by it! Make sure you read this list before you visit Toy Story Land so you don't miss anything!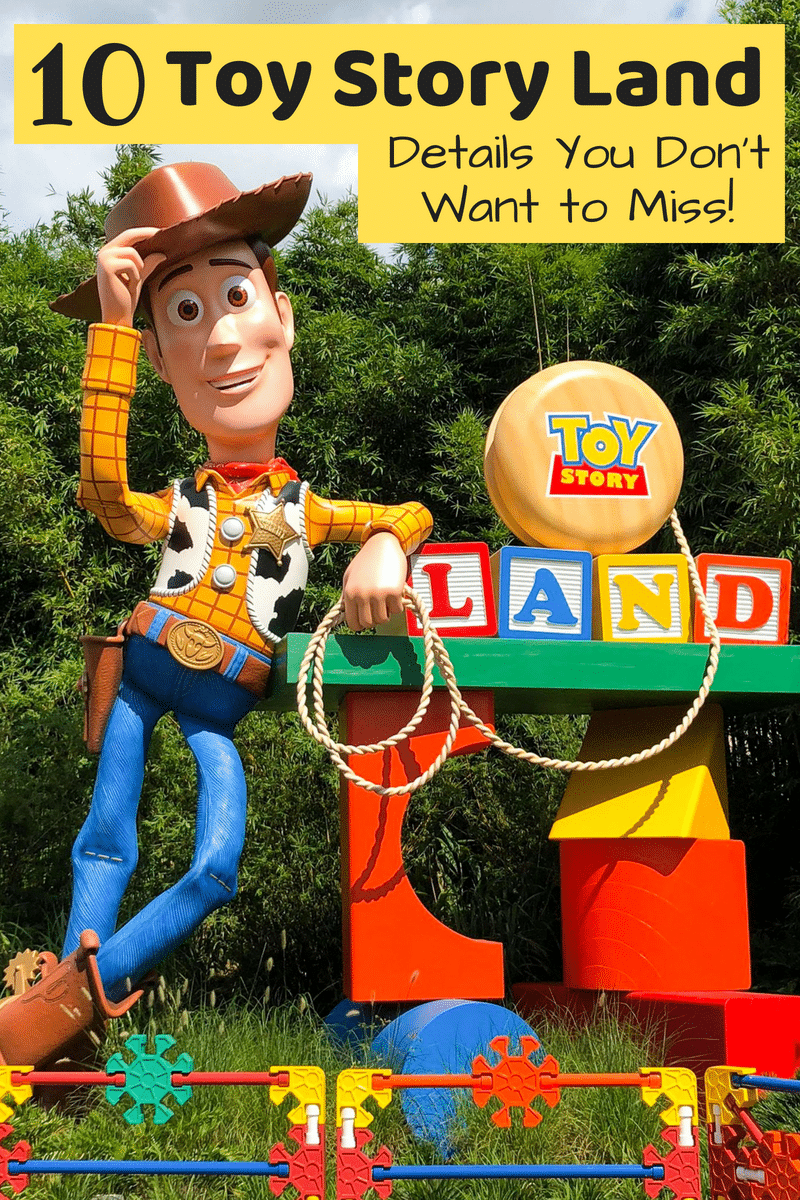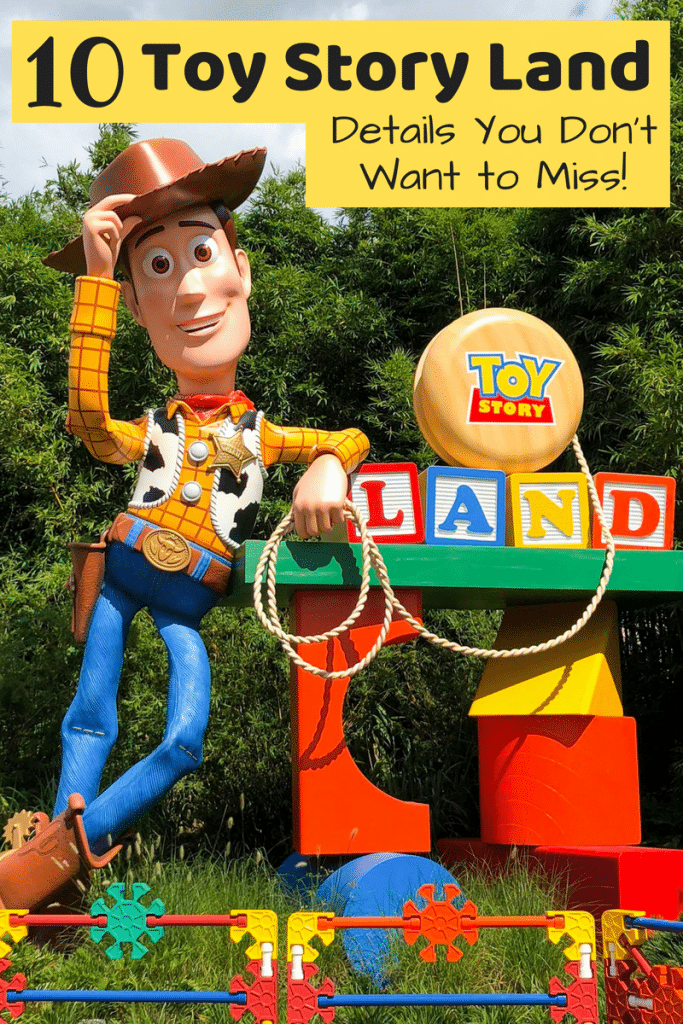 When you first walk into Toy Story Land it feels like you've shrunk down to toy size and you're part of the movie, it's so cool! Every inch of Toy Story Land is loaded with details from the three Toy Story movies. You really have to keep your eyes peeled to appreciate everything that's around you because when it's busy and full of people it's hard to see all the details.
I really love how colorful Toy Story Land is and how everything is made of toys– even the poles, railings, and structures. Almost everything is "built" out of tinker toys, it's so unique!
Watch our video below to see for yourself!
Is Toy Story Land Open?
Yes, Toy Story Land officially opened to the public on June 30, 2018! We visited on July 18, 2018, and it was super busy and very hot. If you plan on visiting this summer/fall, I would recommend making fast passes for the rides, go early in the morning (right when the park opens), and bring a necklace fan–it's the only reason I didn't sweat to death!
Is Toy Story Pixar or Disney?
The Toy Story movies were produced by Pixar Animation Studios for Walt Disney Pictures.
What Rides Are At Toy Story Land?
There are three rides in Toy Story Land:
Slinky Dog Dash
Alien Swirling Saucers
Toy Story Mania (Formerly known as Midway Mania)
As you can see from our video, we LOVED Slinky Dog Dash! It was much bigger and faster than I had expected it to be, I thought it was going to be like Barnstormer but it's much more fun! Slinky Dog Dash is described as a family roller coaster and I think that's a perfect description. It's not an intense adrenaline-pumping roller coaster but it has exciting dips, good speed, it goes pretty high up in a few places, and it's a lot of fun for all ages!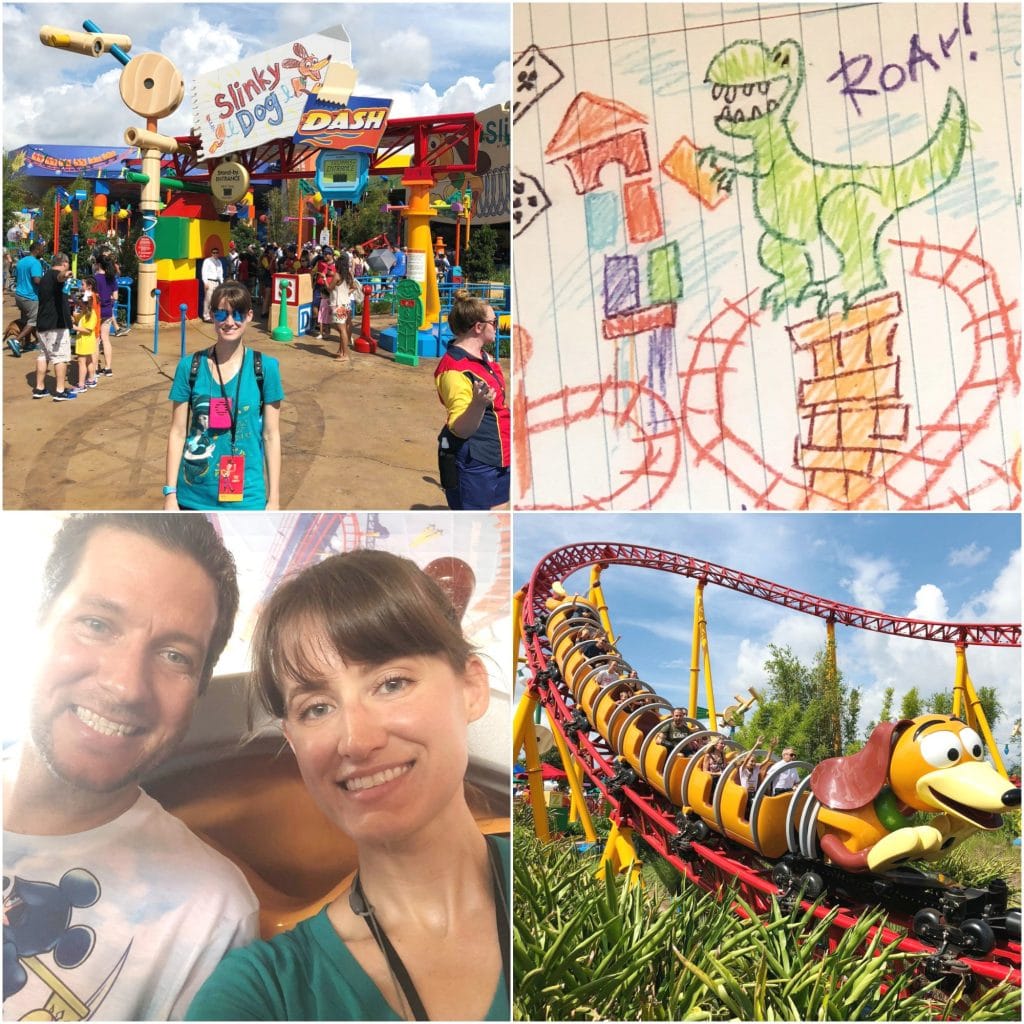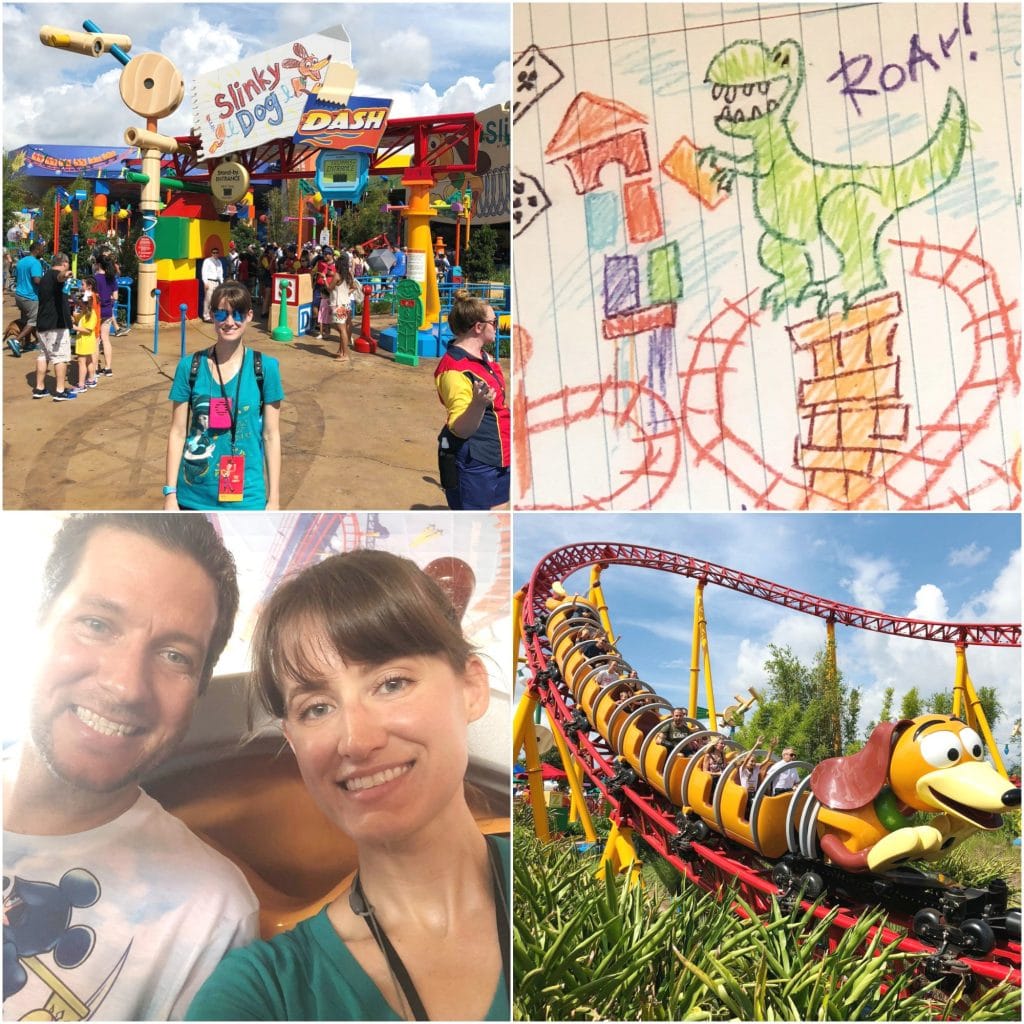 We decided to skip the Alien Swirling Saucers because I don't do so well on spinning rides and I was already really hot so I didn't think it would be a good idea. It looks fun but maybe not for people who get motion sickness easily.
The Toy Story Mania (formerly known as Midway Mania) entrance is now located in Toy Story Land. It's always a blast, we love competing against each other and seeing who can get the better score. Travis finally beat me this time, he was pretty happy about that.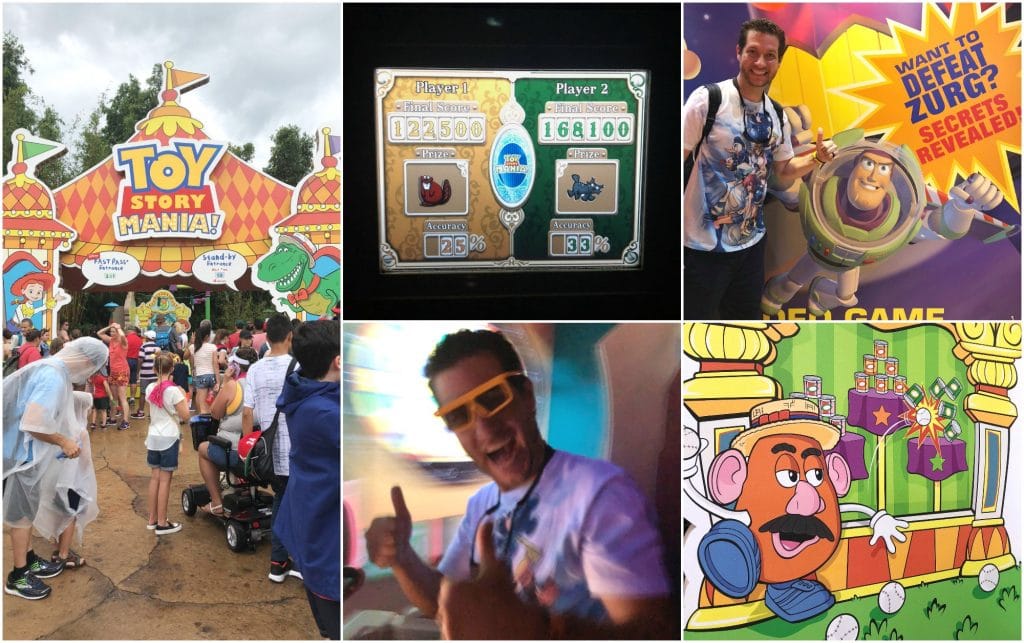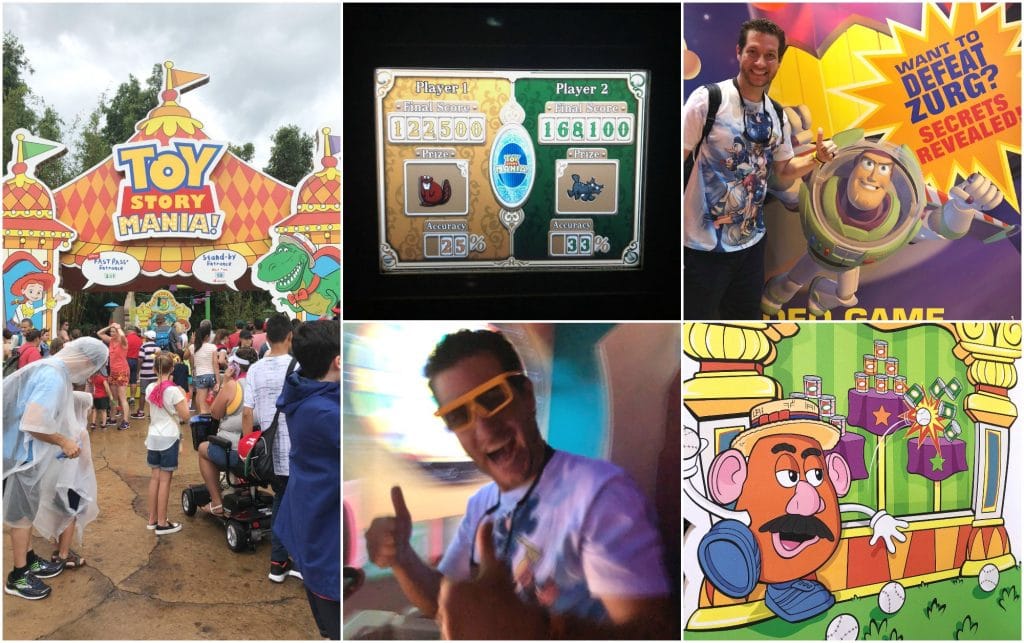 Is There A Toy Story Land Restaurant?
Toy Sory Land doesn't have a sit-down restaurant but it does have a quick service window that you can order food from. The menu has items that you might find in a lunch box– turkey sandwiches, grilled cheese, Babybel cheese wheel, macaroni salad, and dessert tarts (looks like a pop tart). They also have beer available (for guests 21+) on the menu!
Travis and I are both vegan, so we were really happy to find that they have two vegan options on the menu at Woody's Lunch Box: a grilled cheese sandwich with a side of potato barrels or a veganized version of the totchos (taster tot nachos).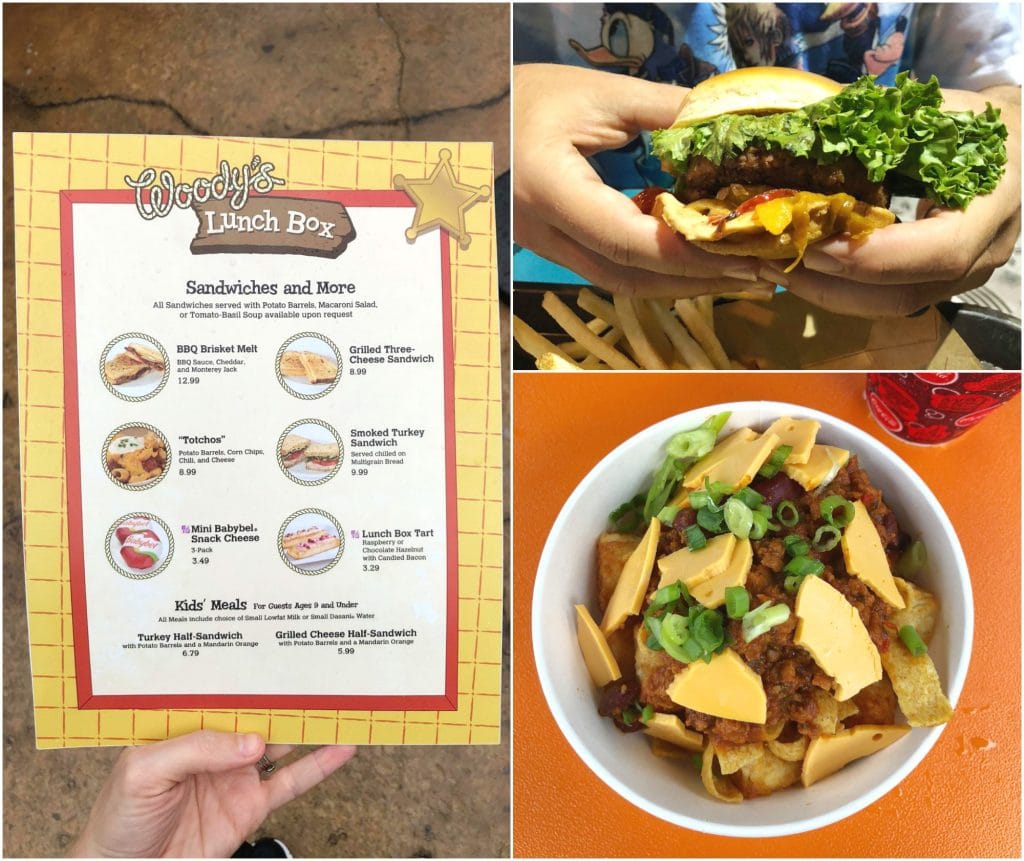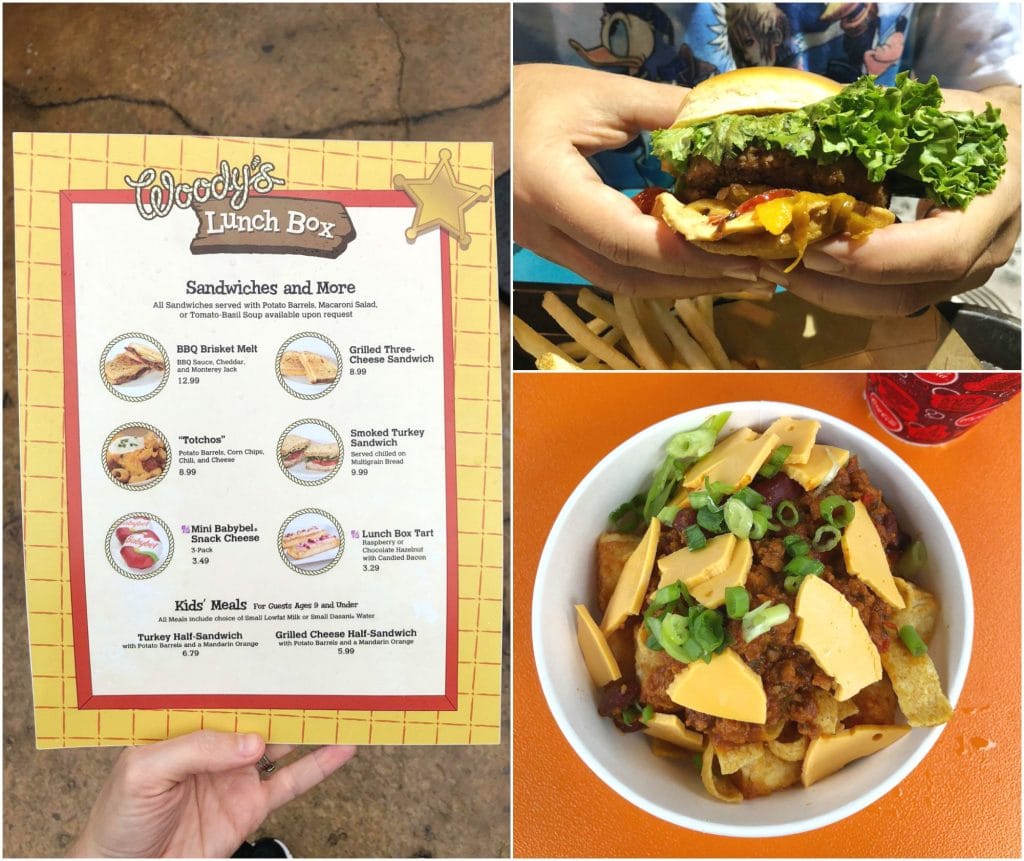 Travis wanted a burger for lunch so he got a delicious beyond burger at ABC Commissary and I chose the vegan totchos at Woody's Lunch Box. The vegan totchos consisted of potato barrels (tater tots) vegan chili, corn chips, vegan cheese, and green onions. I really liked that the potato barrels were hot and crispy and the chili had good flavor, but I didn't like that the corn chips were mushy and the vegan cheese was not melted.
I wouldn't go back to Toy Story Land just to get the vegan totchos but it was nice to have a vegan option on the menu if you want to eat in Toy Story Land. I appreciate the effort!
10 Toy Story Land Details You Don't Want to Miss!
There are so many details all around you that you really have to know what you're looking for so you don't miss anything! The following list has all the special details that I thought were really awesome and not to be missed!
1 – Keep your eyes peeled for the green toy soldiers walking through Toy Story Land. They were hanging out the whole day when we were there and they play music, pose for pictures, tell jokes, and do silly things. It's very entertaining!
2 – When you walk into Toy Story Land, Slinky Dog Dash will be on your right. Look above the tracks and you'll see Jessie and Rex perched up there! They aren't just decorations, they talk too! It's not continuous, so wait a few minutes until you hear what they say. Rex is my favorite Toy Story character so I was really excited to see him up there!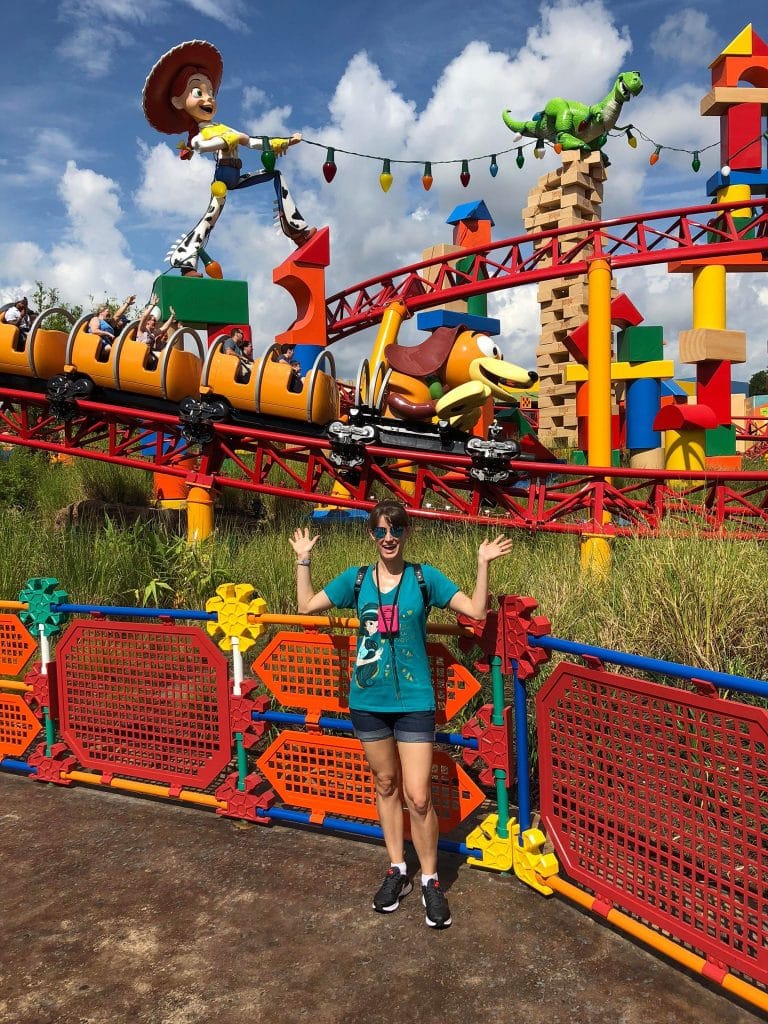 3 – If you visit Toy Story Land at night make sure you watch Slinky Dog Dash go by a few times, the track lights up and changes color as the slinky dog goes over it! It's pretty magical!
4 – Woody's Lunch Box is an actual lunch box and one side is held up by Andy's thermos! It's so cool! The menu board and surrounding areas are decorated with items from his lunch box like animal crackers and Babybel (sponsor) cheese.
5 – Toy Story Mania has a new entrance and queue. There is a fun Bo Peep game to play in the outside queue and the inside queue is new too! Remeber playing with a View Master when you were little? My favorite part of the inside queue is the round card of tiny Peter Pan slides, it's life-size and so cool! If you have time, look at each of the pictures!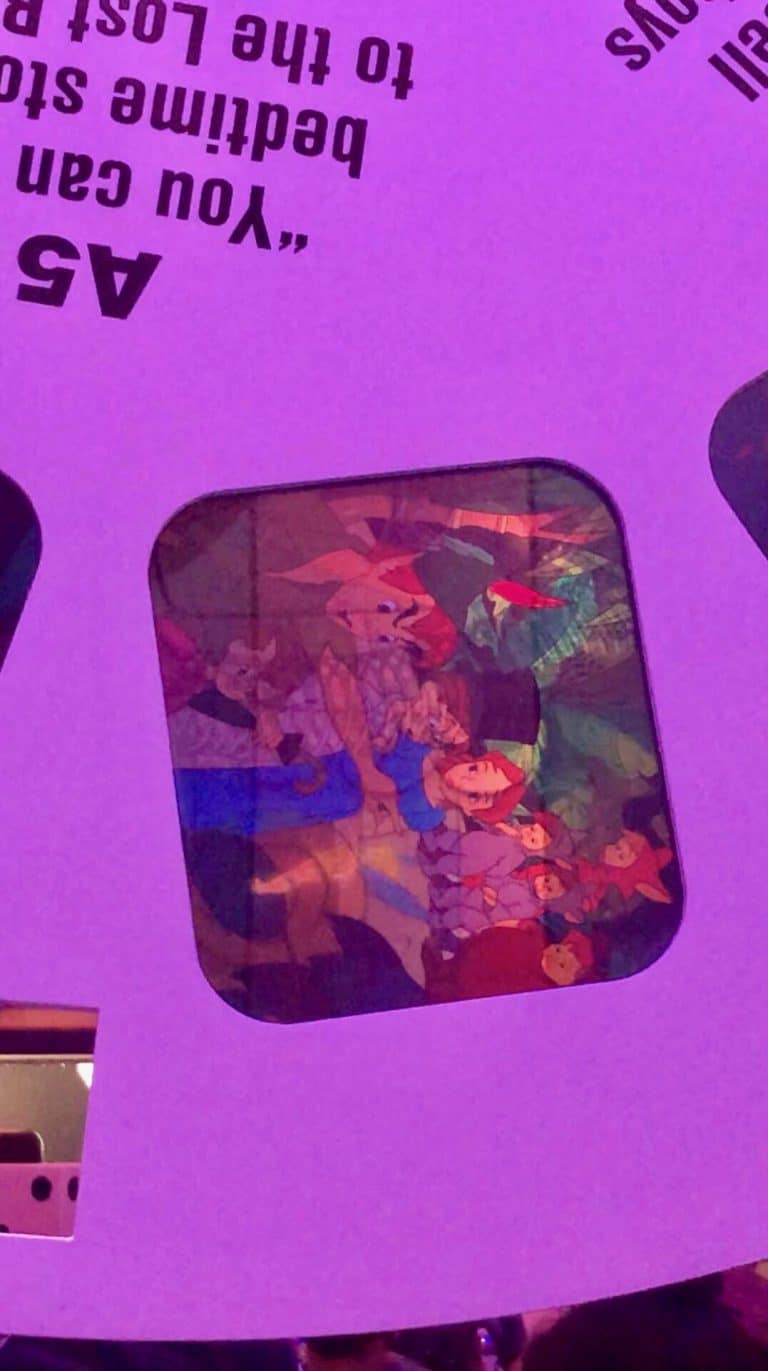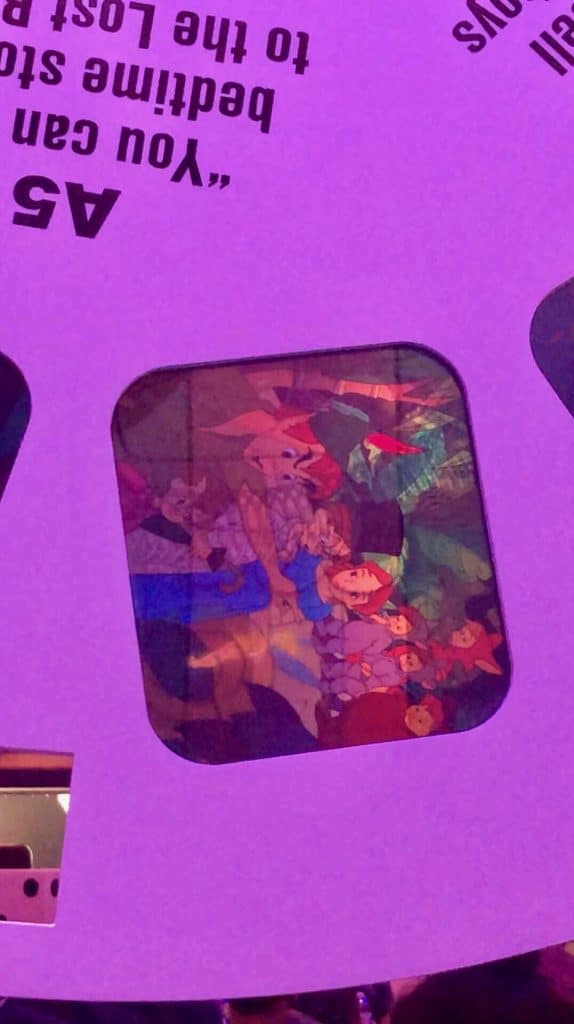 6 – At the entrance of the park by the "Welcome to Toy Story land" sign, look down and you'll see Andy's giant footprint on the ground!
7 – Alien Swirling Saucers is themed like Pizza Planet from the movie! Even the guards outside of the Alien ride are the same as the guards outside of Pizza Planet, and there is a claw coming out of the ceiling in the ride!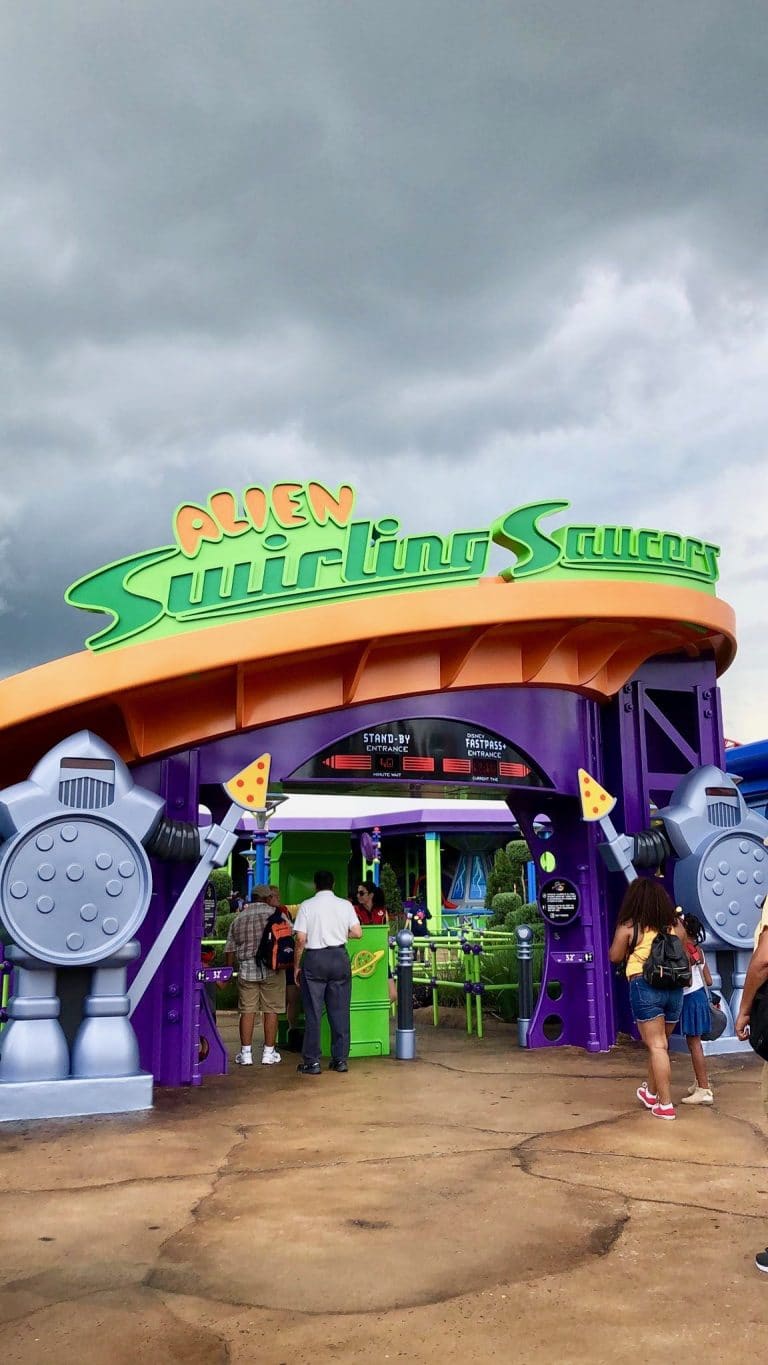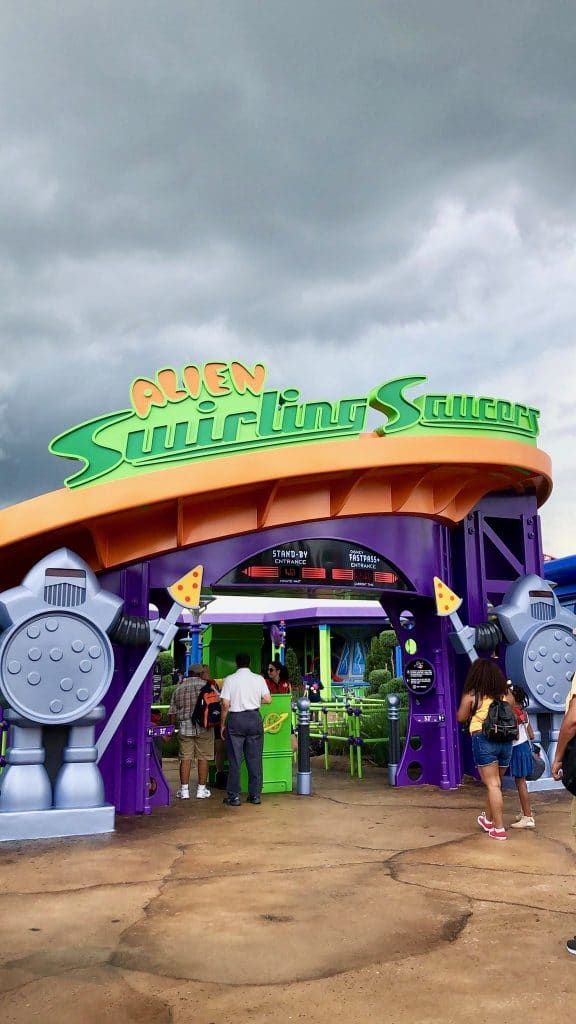 8 – There is a life-size colorful popsicle stick wall outside the exit of Toy Story Mania, don't miss it! It's a very popular place to take a picture in front of, it even has it's own Instagram page! It was pouring when we found it so we didn't get to take a picture in front of it but I definitely will the next time I visit Toy Story Land!
9 – There are multiple character photo opportunities! When we were visiting, we saw Jessie, Woody, Buzz, and the green toy soldiers out to take pictures with!
10 – There are multiple hidden Mickeys throughout Toy Story Land. I don't want to ruin the fun of you finding them on your own so I'll just tell you where to find one that I thought was hard to find. In the queue for Slinky Dog Dash, you'll see Andy's drawing of his ideas for Slinky Dog Dash. On the top right corner, there is a hidden Mickey in the clouds!
Is Toy Story Land Worth a Visit?
If you've read this far how could you still be on the fence about visiting the new Toy Story Land? I'm just kidding. Maybe you're not a huge Toy Story fan, I'm not either, but I still thoroughly enjoyed it!
In my humble lifelong Disney fan opinion, it's 100% worth it to visit Toy Story Land at least once so you can experience it! There is so much to explore, new rides to enjoy, new food to taste, and lots of fun memories to make! Remember to look for all these fun details when you visit Toy Story Land!
I'd love to hear your comments about Toy Story Land! You can also FOLLOW ME on FACEBOOK, TWITTER, INSTAGRAM and PINTEREST to see delicious vegan recipes + our monthly trips to Disney World!
More Disney World Posts to Help You Plan Your Next Trip!
Guide to Eating Vegan on a Disney Cruise
Epcot Party for the Senses Review
5 Activities You Don't Want to Miss at MVMCP!
159 Disney Cruise Tips I Wish I Would've Known Before My First Cruise