Skip the store-bought candy and make your own vegan chocolate mango coconut candy bites! They're tropical bites of heaven that are dipped in chocolate and topped with a sprinkle of flaked sea salt. Vegan.
Thank you to Mariani for sponsoring today's recipe post! My opinions are always 100% honest, thank you for supporting the brands that I love.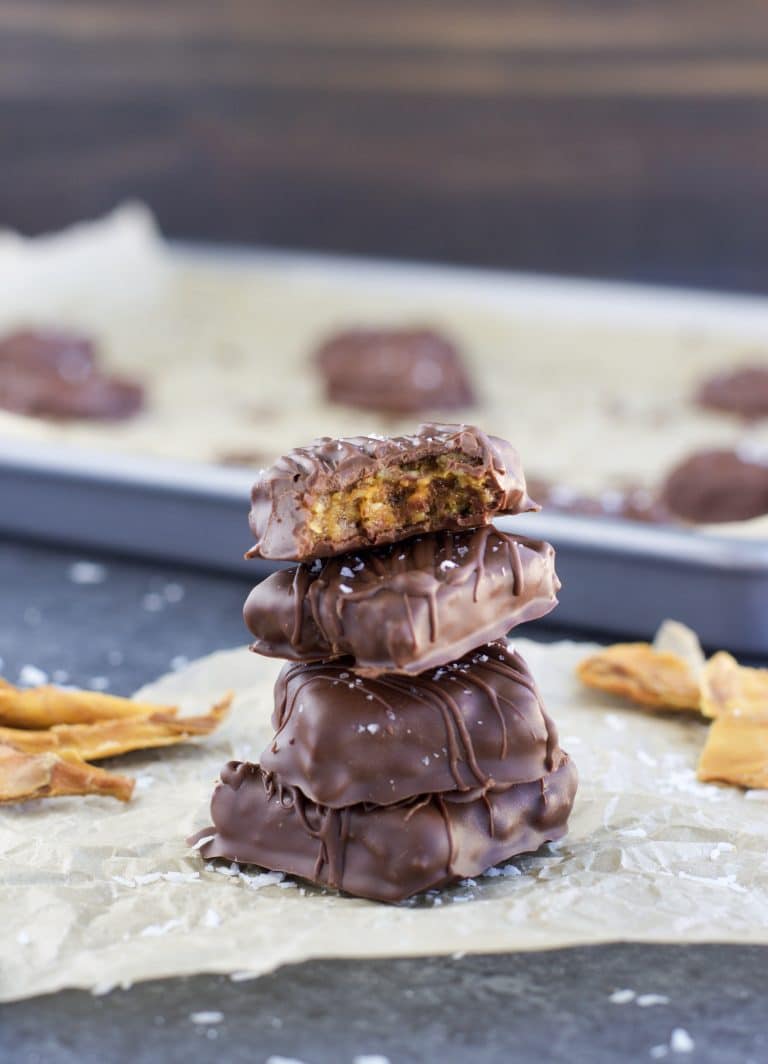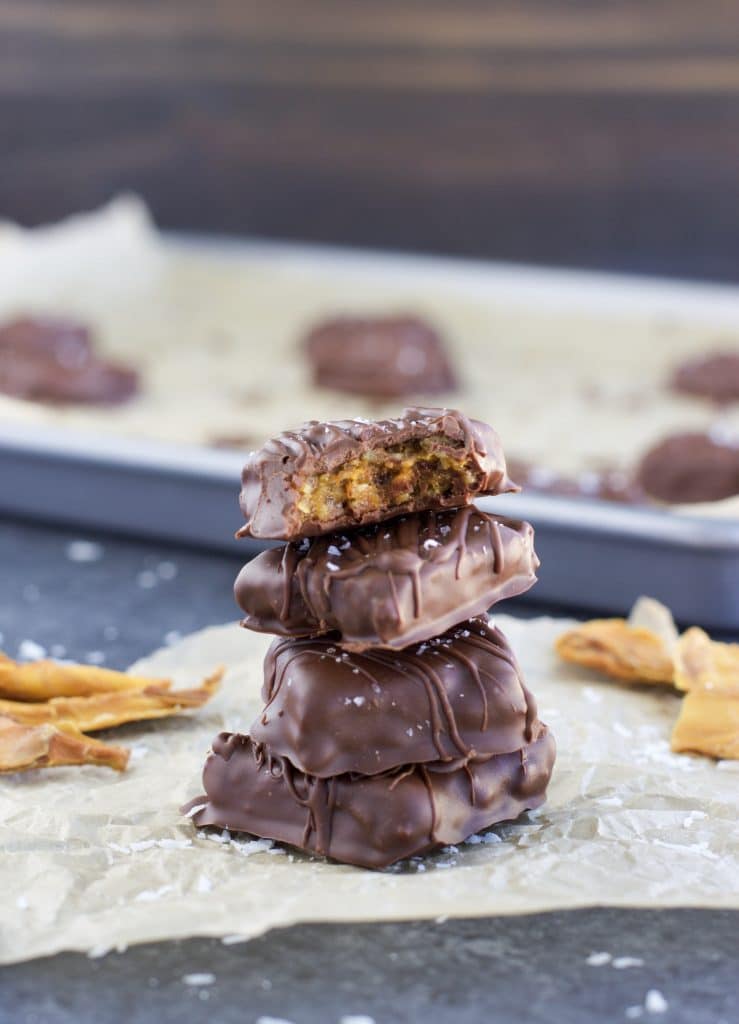 Tomorrow is Halloween!
Since Travis and I have fully transitioned to a vegan diet, I was a little worried about the candy Travis would ask to have on Halloween.
I know that some of the mainstream candy out there is technically vegan but it's definitely not good for you.
This vegan chocolate candy recipe came to be out of desperation!
Okay, maybe that's a little dramatic but I really did need to find a sweet treat for my husband to enjoy on Halloween that I would feel good about him eating.
I didn't want anything super fancy or too complicated, but I did have four requirements:
It has to be made of healthy organic ingredients
It has to look like a real piece of candy
It has to be easy to make
It has to be covered in chocolate and taste delicious!
I'm not a baker.
I can bake a mean loaf of bread but when it comes to desserts it's just not my thing. I prefer cooking because I like being able to add a little more of this or a pinch of that without having to follow a recipe word for word.
This recipe for vegan chocolate candy is so easy to make and the end result seriously looks like something you'd buy at an expensive candy shop! These candies are perfect for all holidays, parties, get-togethers, or if you just need a chocolate fix.
How to Make Vegan Chocolate Candy
This vegan chocolate candy recipe is so easy to make!
All you have to do is:
Process the filling
Press the filling into a pan
Freeze it
Dip it in chocolate
So easy and so rewarding. I think I enjoy desserts that are loaded with healthy premium ingredients even more because there's no guilt! You know exactly what's in it, so go ahead and indulge!
These vegan chocolate mango coconut candy bites aren't just for Halloween, they would be delicious any time of the year!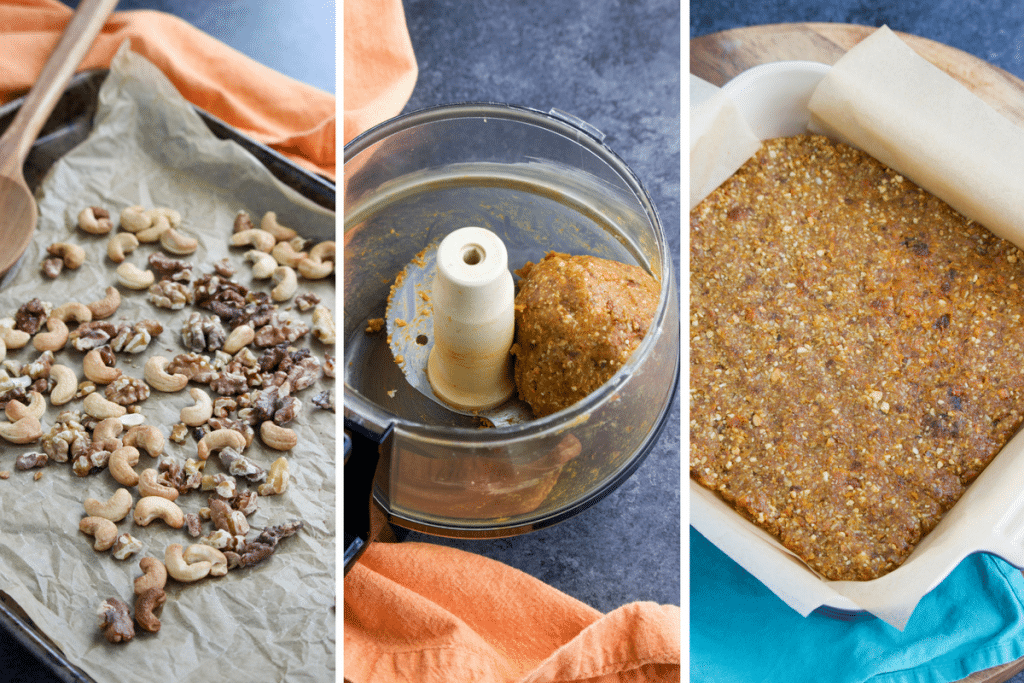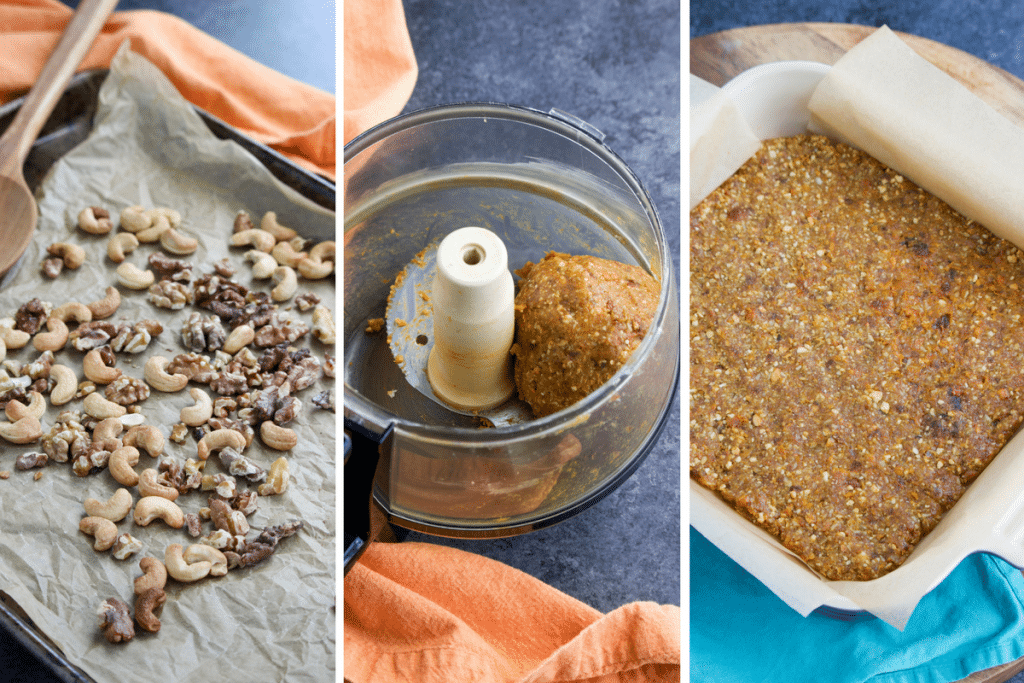 What's in the Vegan Chocolate Candy Bites?
There's so much delicious-ness in these little bites! They're loaded with delicious healthy, organic goodies!
Mariani

Organic sun-ripened mango
Organic roasted walnuts

Mariani

Organic pitted dates
Organic roasted cashews
Organic coconut flakes
Organic dark chocolate
Sea salt
That's it! Only seven ingredients to make the most delicious ooey-gooey, chewy, chocolate-y, decadent homemade candy. You definitely aren't going to find store-bought candy with only seven ingredients that you actually know what they are.
You can totally make this, promise.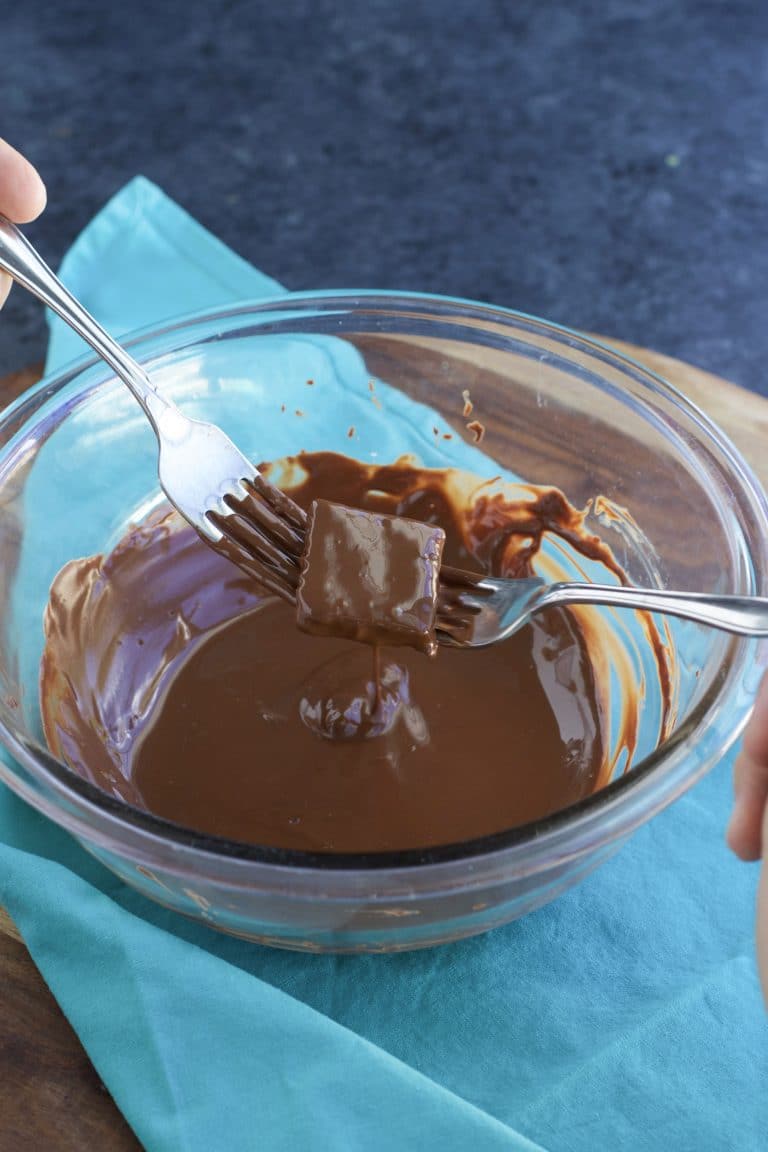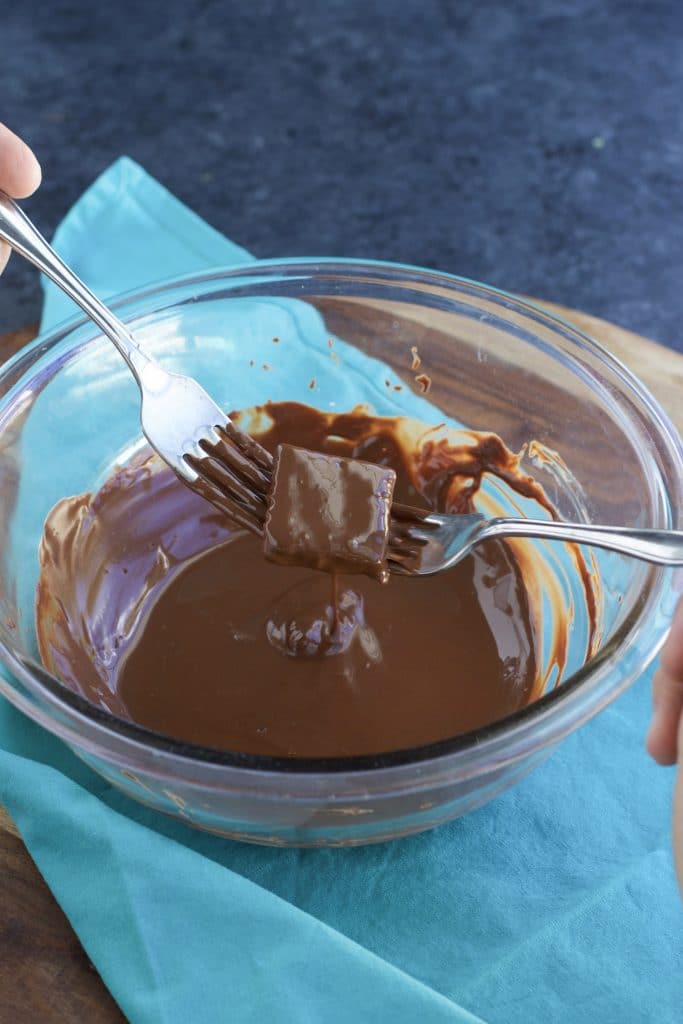 Vegan Chocolate Mango Coconut Candy Bites
The vegan chocolate candy bites are chewy in the middle, dipped in rich dark chocolate, topped with a dark chocolate drizzle, and a sprinkle of flaked sea salt to compliment the chocolate.
The filling has a slightly nutty flavor from the roasted cashews and walnuts, and a natural sweetness from the Mariani dried mango and dates. The coconut flakes add to the tropical flavor and pretty much send your taste buds on a Caribbean island vacation.
Can you tell I'm obsessed?
If you have two hours (freezer time) and a food processor, you can make these vegan chocolate mango coconut candy bites! You'll be so happy you did, they're 100x better than anything you could buy at the store.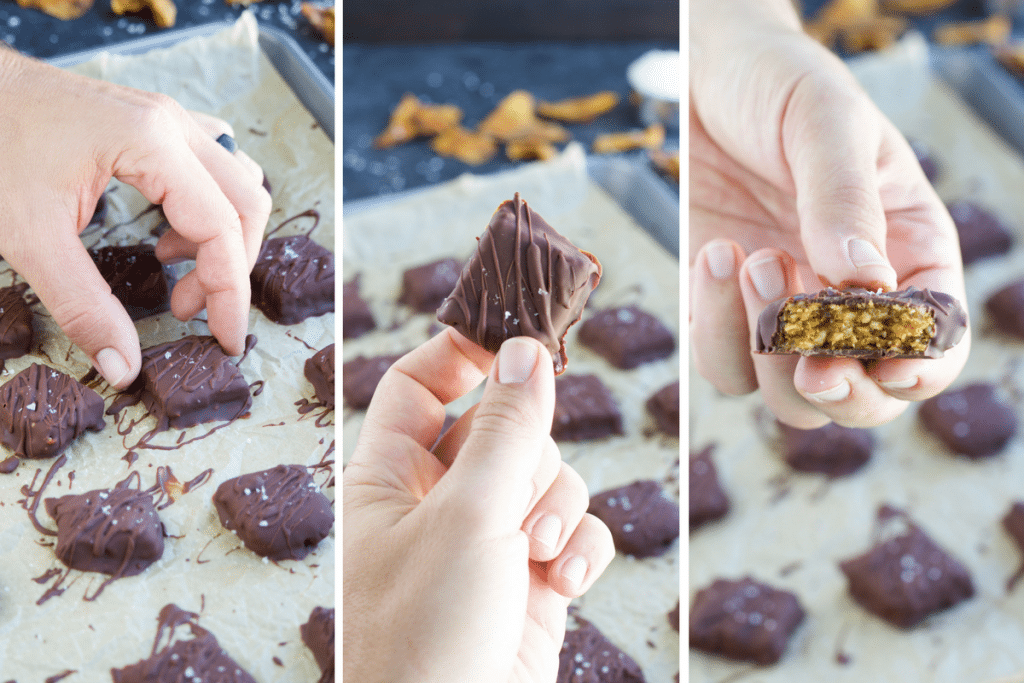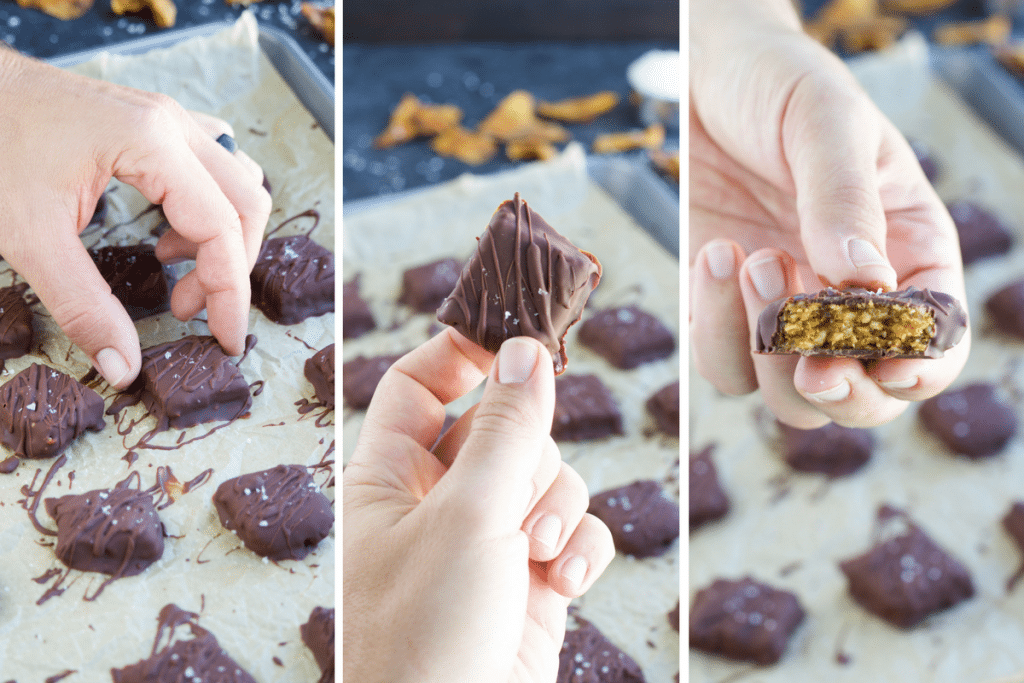 What Type of Mango Should You Use?
I always keep my pantry stocked with Mariani premium dried fruits. Why? Because they're the best; quality-wise and taste-wise!
I use their dates in the energy balls that I make and now their dried mango is the main ingredient of one of our favorite treats!
Before I purchase a product, I always check the ingredients. What I especially love (besides the amazing flavor and texture) about Mariani organic dried mango is that there is only one ingredient in the dried mango –> organic dried mango.
Exactly how it should be!
I love that it's a product that I can trust and I don't have to look up ingredients that I can't pronounce or don't know what they are. You can feel good about giving this to your family!
Originally, I had got the dried mango to add to our favorite loaded nut & seed granola bars. After we tasted the dried mango and became obsessed with its sweet, chewy, goodness, I knew exactly what I was going to make for our Halloween treat!
I can't keep my husband out of the bag of dried mango and he already devoured the vegan chocolate mango coconut candy bites. Hopefully, I'll have enough dried mango left to make another batch for Halloween tomorrow!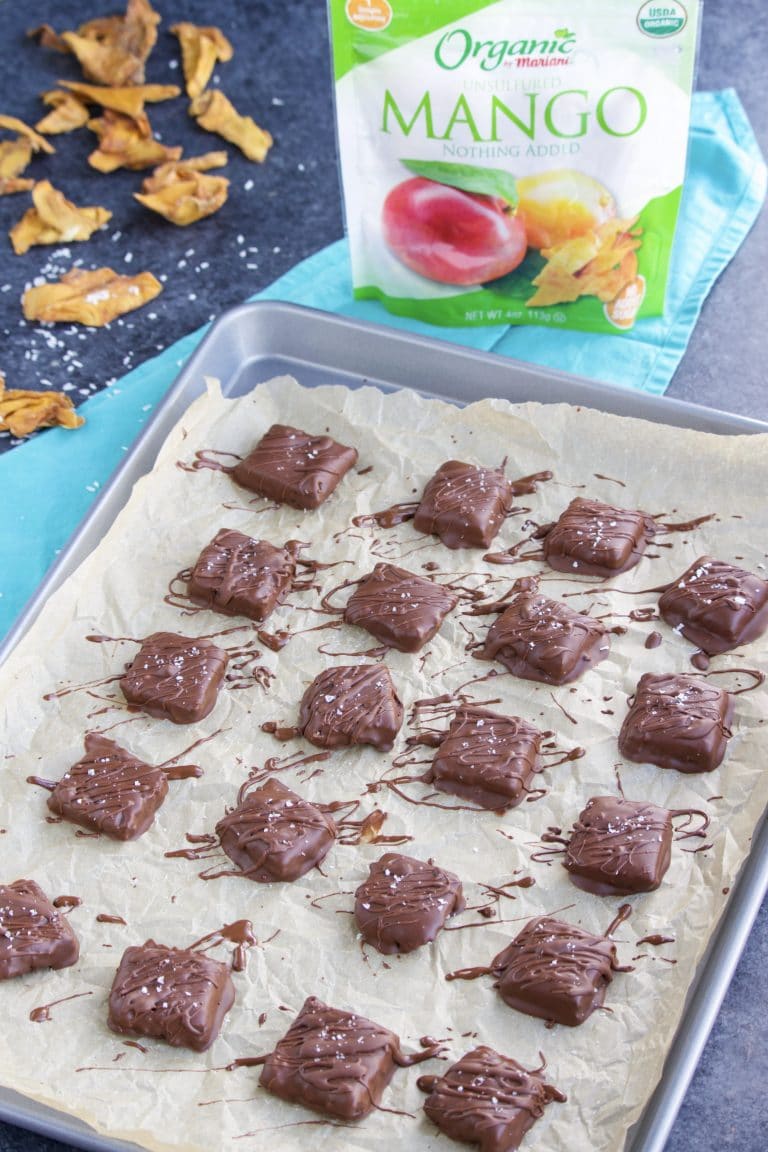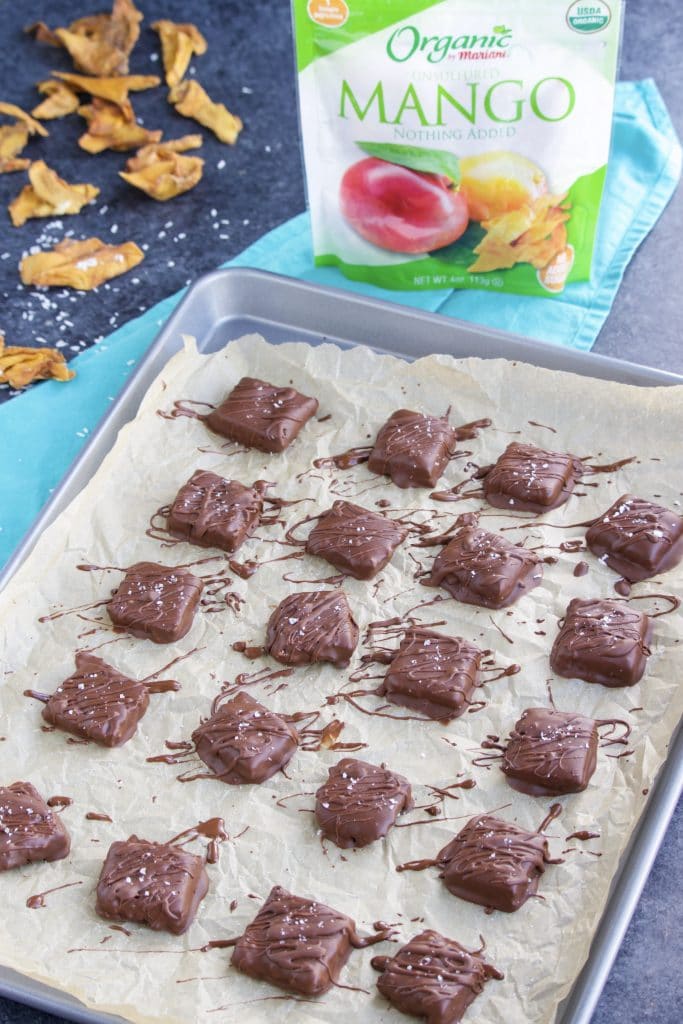 More Mango Recipes You'll Love
Spinach Quinoa Salad with Mango Dressing
Watermelon Mango Kiwi Fruit Salsa
Kiwi Mango Cherry Chia Seed Pudding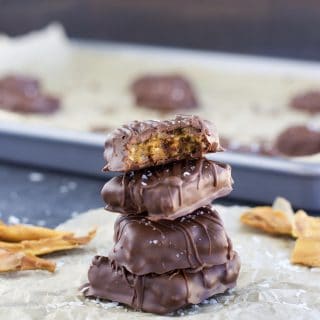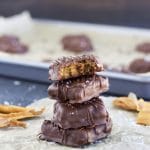 Print Recipe
Vegan Chocolate Mango Coconut Candy Bites
Skip the store-bought candy and make your own vegan chocolate mango coconut candy bites! They're tropical bites of heaven that are dipped in chocolate and topped with a sprinkle of flaked sea salt. Vegan.
Ingredients
1

cup

Mariani dried mango,

soaked and drained well

3/4

cup

pitted dates

(7-8 dates)

1/2

cup

raw cashews

1/2

cup

raw walnuts

1/3

cup

dried coconut flakes

1/2

tsp

sea salt

1 1/4

cup

dark chocolate chips,

melted (1 cup for dipping and 1/4 cup for the drizzle topping)

Optional - 1/4 tsp flaked sea salt for garnish

Parchment paper
Instructions
Preheat the oven to 350 degrees. Put the cashews and walnuts on a parchment-lined baking tray and roast for 8-10 minutes or until lightly golden.

Put the dried mango in a bowl and cover with lukewarm water. Let it soak for 5 minutes. Drain the water and put the mango between two paper towels and press the liquid out.

While the mango is soaking, put the nuts into a food processor and blend them into a fine meal. Pour them into a bowl and set aside.

Once the mango has been soaked and dried, add it to the processor along with the dates. Blend until you have a paste-like consistency. All the big chunks should be gone.

Add the nuts back into the processor along with the dried coconut and sea salt. Pulse a few times to combine, it should form into one big sticky ball.

Line a 9x9 baking dish with parchment paper and press the filling (1/4 inch high) into the dish. Cover and freeze for one hour.

While the filling is setting in the freezer, melt the chocolate chips in a double boiler or in the microwave.

Remove the filling from the dish and use a knife to evenly cut 1-inch strips, then cut the strips into squares.

Use two forks to dip each square in the chocolate and then lay it flat on a parchment lined tray. Once you finish dipping all the squares, freeze for 10 additional minutes. Then use a fork to drizzle the remaining chocolate over the top. Put back into the freezer for 5 minutes.

Optional - Sprinkle a pinch of flaked sea salt over each piece of candy.
Notes
Store the candy in an airtight container in the fridge for 4-5 days.
If you use pre-roasted nuts, make sure to adjust the amount of salt that you add to the filling.
Don't skip soaking the dried mango step, if you don't soak it it will be very difficult to break up in the food processor.
You don't have to use cashews and walnuts if you don't like them. Almonds, pecans, brazil nuts, or peanuts would also be delicious.
1 Tbsp of hemp or chia seeds would be great additions for extra protein.
If you're vegan, make sure you use dark chocolate, not milk chocolate.
If you're watching your sodium, you could skip the flaked sea salt on top and sprinkle dried coconut instead.