These vegan stuffed peppers with rice are loaded with the most delicious salsa, jackfruit, and rice filling! This will be your new favorite easy Meatless Monday dinner! Vegan, gluten-free.
*This recipe was originally posted on 6/23/15 but I updated it with new pictures and better recipe instructions on 5/28/19.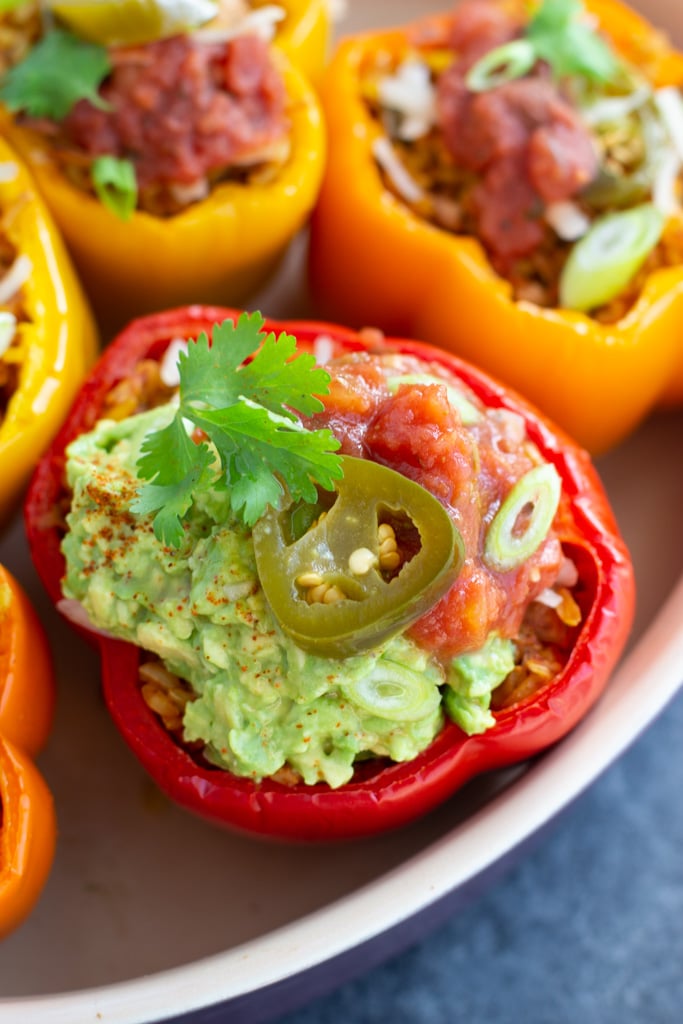 Want more easy vegan recipes? Join our vegan Facebook community below!
My local grocery store often has beautiful organic bell peppers that are just 1-2 days past their prime on sale. When I'm lucky enough to come across the clearance peppers, I stock up! I usually buy two 4-packs and then dice and freeze two of the peppers in one of these reusable silicone bags. Then I like to make stuffed peppers with the remaining six bell peppers.
Before we were vegan, one of my go-to easy dinner recipes was to cook chicken breasts in a slow cooker with a jar of salsa (or tomato sauce). Using store-bought salsa is such an easy and quick shortcut that adds so much flavor to the stuffed pepper filling!
Then I would mix the shredded chicken with rice and use it as filling for Mexican stuffed peppers. Now that we're vegan, I still make this recipe but I use jackfruit instead of chicken and it's just as delicious if not better!
…