Every bite of these cheesy vegan scalloped potatoes is ultra-rich, super creamy, and loaded with spinach! Complete your holiday meal and impress your family with this decadent vegan side dish! Gluten-free and oil-free.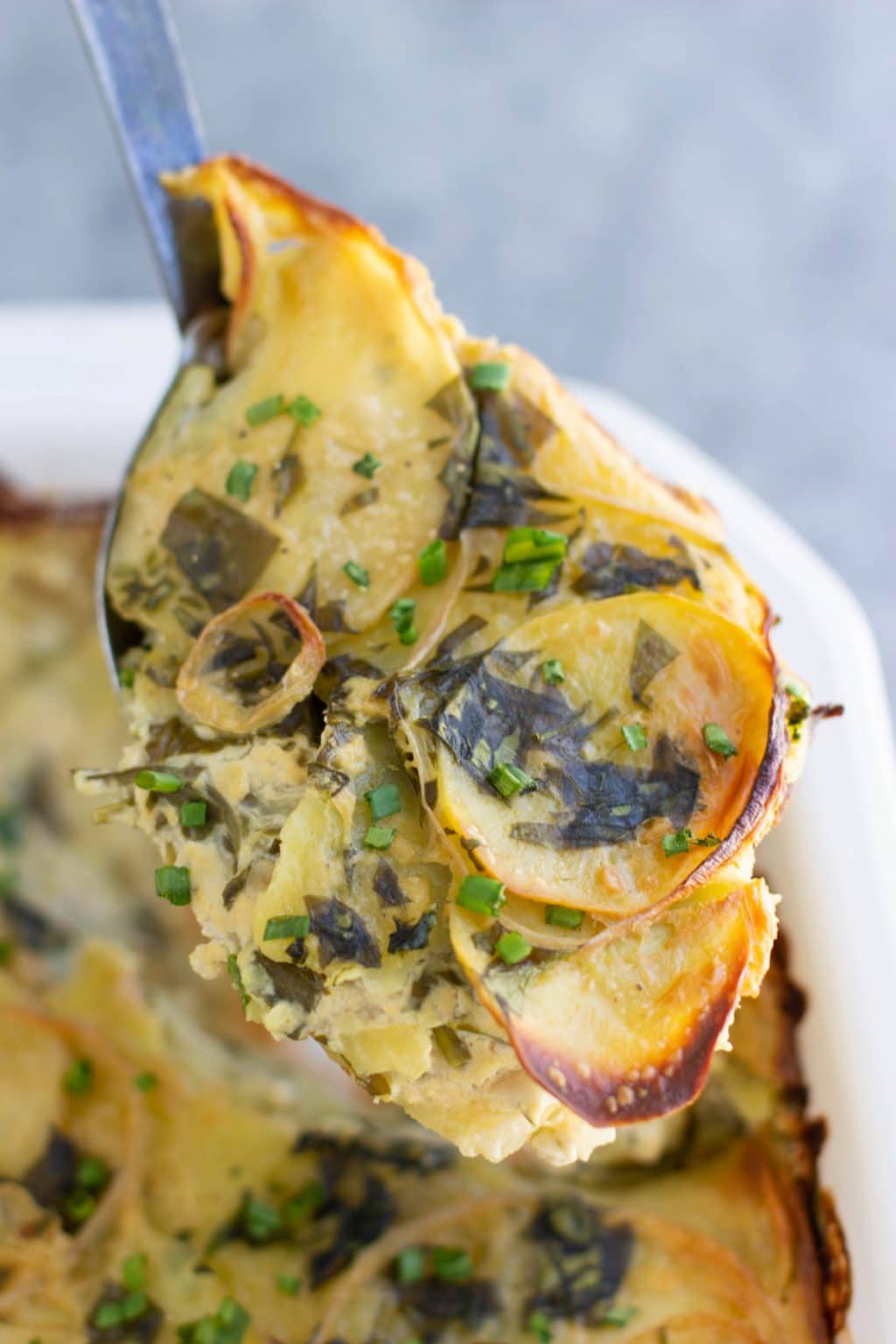 Want more easy vegan recipes? First, read this Step-by-Step Guide to Veganism and then join our vegan Facebook community below!

I'm SO excited to share this easy vegan scalloped potatoes florentine recipe with you! This casserole is pure healthy vegan comfort food, and I think that you're going to fall in love with these decadent potatoes just like I have. Honestly, I can't stop eating these cheesy potatoes. I've been eating leftovers for breakfast all week, it's that good!
These potatoes are SO rich and SO creamy, and the addition of spinach is such a yummy twist on a traditional classic. Any chance that I get to hide some extra veggies in a meal is a win for me! Do you feel the same?
Also, I tested this recipe a few different ways: with cashews, without cashews, with cauliflower, with frozen spinach, etc. to come up with the best combination for you, and I definitely found it! (If you have a nut allergy, I shared the instructions on how to make these vegan scalloped potatoes without cashews below.)
Every bite is loaded with perfectly cooked potatoes, onions, garlic, spinach, and the creamiest cashew-based white sauce! Seriously, it' so decadent and delicious. This vegan potato casserole is truly the perfect side dish to serve with lentil loaf, vegan cabbage rolls, or lemon garlic cauliflower steaks for dinner.
I highly recommend that you add this creamy scalloped potatoes florentine recipe to your Thanksgiving feast and Christmas dinner menu, they're 100% holiday-worthy! Vegans and non-vegans alike love these creamy potato and spinach casserole!
…