This is a complete guide to all of your lentil questions + 49 delicious vegan lentil recipes that cover every type of lentil and ways to cook them!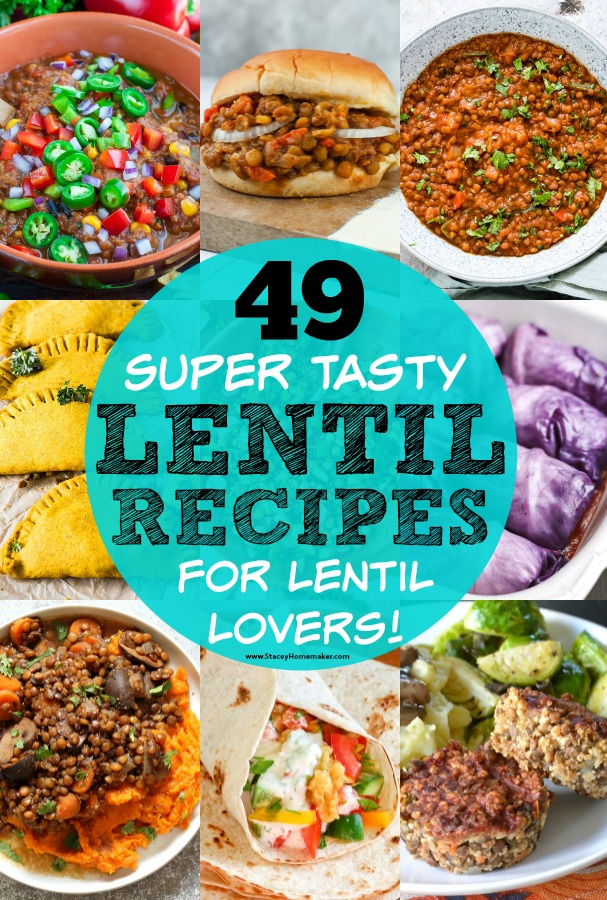 Want more easy vegan recipes? Join our vegan Facebook community below!
I absolutely love lentils! I guess you do too because you're here looking for more vegan lentil recipes to try! Lentils are one of my favorite ingredients to cook with because 1) they taste delicious, 2) they're very inexpensive, and 3) you can use lentils for so many different types of recipes! Lentils can be used for soup, salads, veggie burgers, veggie meatballs, chili, stews, dahl, curry recipes, sloppy joes, lasagna, meatloaf, taco filling, and so much more!!!
What Type of Vegan Lentil Recipes Will You Find in This Roundup?
Red lentil recipes
Black lentil recipes
Canned lentil recipes
Indian lentil recipes
Lentil soup recipe
Lentil side dish recipes
Instant pot lentil recipes
Brown lentil soup
Vegan lentil stew
Lentil recipes that are not soup
Gluten-free lentil recipes
You might be wondering how you can make all of these different recipes using lentils? What can I do with lentils? What type of lentil should you use? Which lentil variety tastes the best? How many lentil varieties are there?! There are so many options!
I've broken the recipes down into categories based on which type of lentil is used. Plus, there is a canned lentil recipes section and an instant pot lentil recipes section at the end of the post if those are the type of recipes you're looking for. Before we get into the recipes, let's go over some of the most asked lentils questions.
…