This is a realistic Trader Joe's vegan shopping list of (healthy & organic) products that I actually buy and use on a daily basis, it's not just a list of everything that's vegan at Trader Joe's. Every item has been label-checked, taste-tested, and picky husband-approved!
*I originally posted this Trader Joes vegan grocery list on 3/29/18 but I updated it with new products on 6/5/19.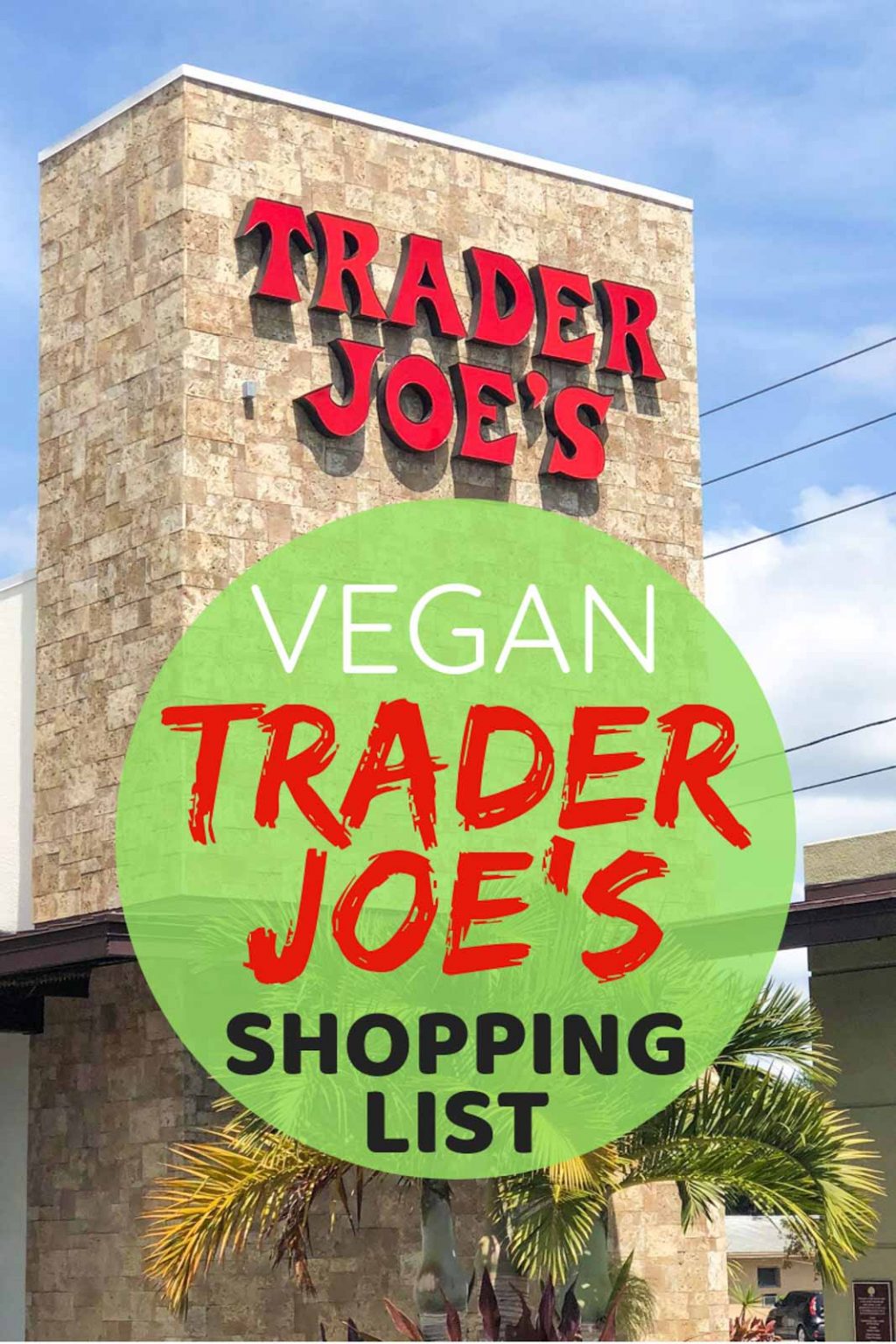 I love grocery shopping in general but I really love shopping at Trader Joe's. It's such a fun store! The produce is always fresh, their return policy is great, and I love getting a coffee sample to sip on while I shop. It's the little things, am I right?
I do most of my grocery shopping at three stores: a local organic market, Costco, and Trader Joes. Here is my vegan Costco shopping list and vegan Whole Foods shopping list if you shop at either of these stores and need some shopping inspiration!
Unfortunately, I only make it to Trader Joe's once every few months because it's a little bit of a drive from my house. The local organic market and Costco are right down the street from where I live so I get most of my fresh produce and bulk items from those stores but I always look forward to going to Trader Joe's!
There are a few staple products that I love that I can only get at Trader Joe's, so I always make sure to stock up on them when I get the chance.
Want to see my latest vegan Trader Joe's grocery haul? Watch this video!
Trader Joe's has lots of healthy, organic, vegan products but they also have a lot of processed vegan junk food too. I'm very picky when it comes to the products that I buy. I want to know exactly what's in the food that I'm eating, where it came from, and it has to be organic and vegan.
That's why I called this a realistic Trader Joe's vegan shopping list because it's not just a list of all the vegan products at Trader Joe's, it's a real list of the products that I actually buy for my family.
I know for some people, especially new vegans, going grocery shopping can be very overwhelming if you don't know what you're looking for. I hope that sharing my personal Trader Joe's vegan shopping list will save you time and help to guide you through the aisles at the store while you're grocery shopping.
If you need help meal planning, you may find this 1-month vegan meal plan to be helpful!
I've read all the labels and done all the research for you– all of the following products are approved by one very picky vegan and her not-so-picky-vegan-husband.
Is Trader Joe's Vegan?
No, Trader Joe's is not a 100% vegan grocery store but they have so many vegan options! They're very vegan-friendly and you can easily do all of your grocery shopping there. They even offer Trader Joes vegan recipes on their website.
Are Joe Joe's Vegan?
TJ's joe joe's are accidentally vegan– just like Oreos. It's the one junk food item that I will occasionally buy as a treat, especially the candy cane flavored joe joe's sold at Christmas time. They're delicious!
Does Trader Joes Have Tofu?
Yes, Trader Joe's has multiple tofu options. My favorite is the 2-pack of organic sprouted tofu. It's inexpensive, high quality, and delicious.
Is Ezekial Bread Vegan?
Yes, Food For Life Ezekial bread is vegan and Trader Joe's has it for the best price that I've found at any grocery store! I always buy 3-4 loaves from Trader Joe's and freeze it. It reheats in the toaster oven perfectly and makes the best avocado toast.
…