The ultimate list of 115 easy vegan recipes that are ready in 30 minutes or less will help you cook simple, healthy vegan dinners every night! There's something for everyone on this list!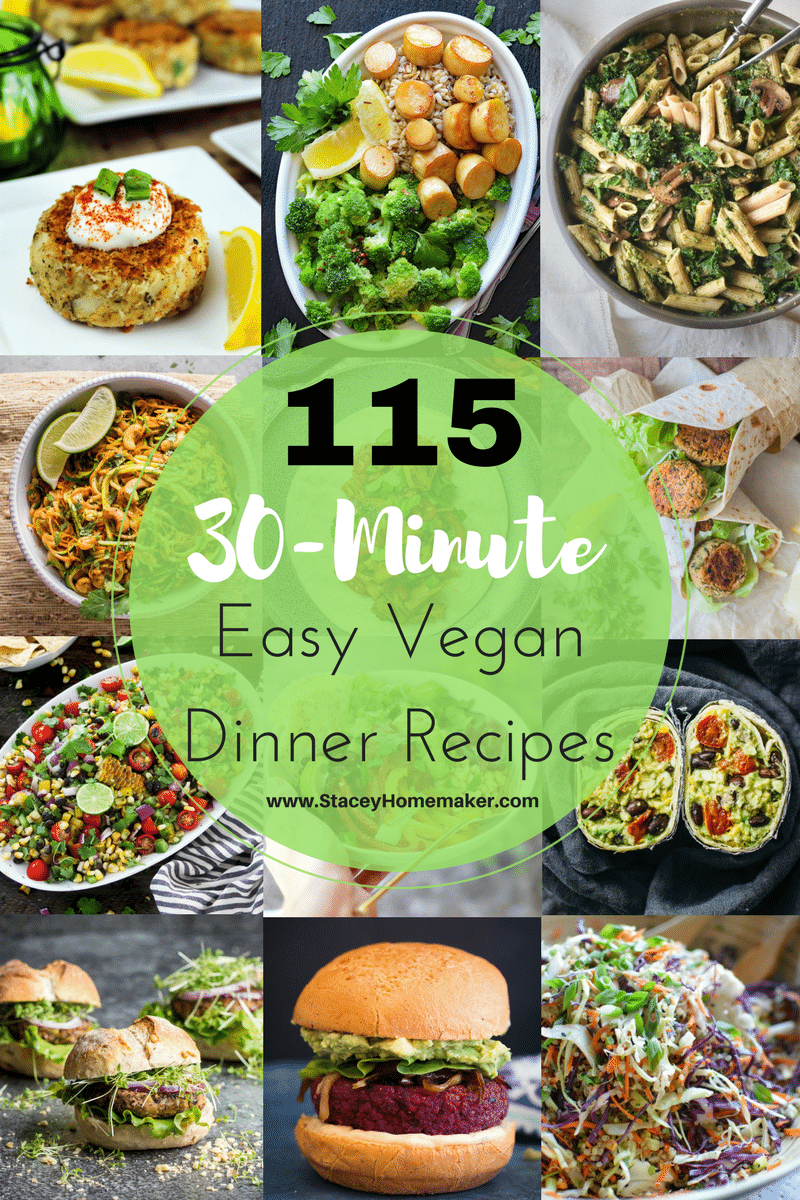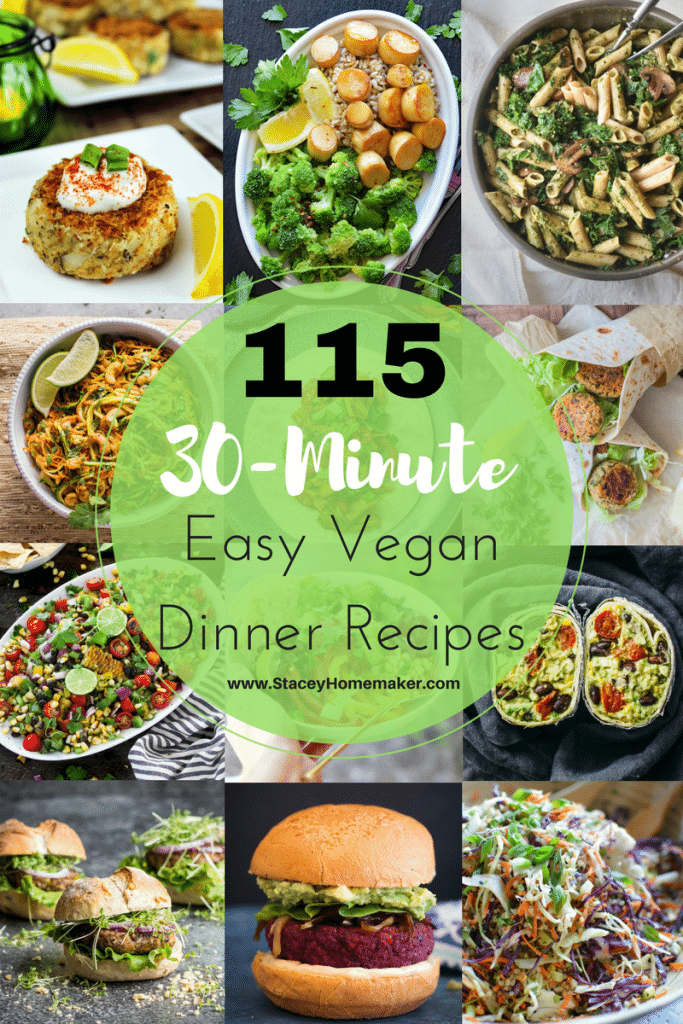 What Should I Make For Dinner Vegan?
I ask myself this question every single night! You too? Yay, at least we're not alone!
I just don't have a lot of time to spend in the kitchen so I tend to go for the quickest healthy vegan meals that I can think of or find recipes for on Pinterest. We do a lot of instant pot beans and rice, baked tempeh (slice and coat with BBQ sauce then bake it at 400 degrees for 10 minutes –BOMB!), chickpea salad sandwiches, gluten-free pasta with baked tofu, and I always do a big tray of roasted veggies as a side. Super simple, filling, and super delicious. Many of my favorite 30-minute vegan recipes are on this list!
What Are The Best Vegan Foods?
Well, the answer to this question is controversial and depends on the person and the type of food they like. There are many different types of vegans. Some enjoy meat substitutes and prepared foods that you can buy at the store. Others prefer to make everything from scratch and focus on whole foods only.
We lie somewhere in the middle of the spectrum. Would I love to make every single meal that we consume from scratch? Sure.
Is that realistic for us (and probably most families)? No.
I try to cook as much as possible but we do occasionally enjoy a meat substitute (this vegan sausage peppers and rice skillet is one of our favorite dinners!), faux cheese + mushroom meat sandwiches (or this vegan TTLA sandwich) for lunch, and bagels slathered with Kite Hill chive cream cheese for breakfast. That being said, I cook a lot of meals from scratch too. I just do the best that I can and try not to stress myself out by trying to do everything. It's all about balance. Try to find what works for you and stick with it.
So, in my opinion, the best vegan foods list consists of loads of vegetables and fruit, lots of beans, tempeh, and tofu, and the occasional store bought. prepared/processed food. (I'm currently working on a list of my favorite vegan store-bought products. I've tried a lot of products over the years and some are pretty gross while others blow me away! I can't wait to share the list with you!)
Vegan Recipes: Breakfast
I know this is a roundup of my favorite 30 minute vegan recipes to make for dinner BUT breakfast and lunch are important too!
Travis isn't a huge fan of breakfast but I am so here's a few of my favorite vegan recipes for breakfast. Enjoy!
What Can A Vegan Eat For Lunch?
Lunch is one of my favorite meals of the day! I bet it's no surprise that I love easy vegan lunches too. A vegan lunch doesn't have to be complicated, it could be as simple as the leftovers from dinner last night. Check out the following list for some of our tried and true easy vegan lunch ideas.
…