Protein-packed acai chia seed pudding layered with coconut yogurt, mango chunks, and topped with fresh kiwi! Perfect for a quick breakfast or healthy snack. Vegan.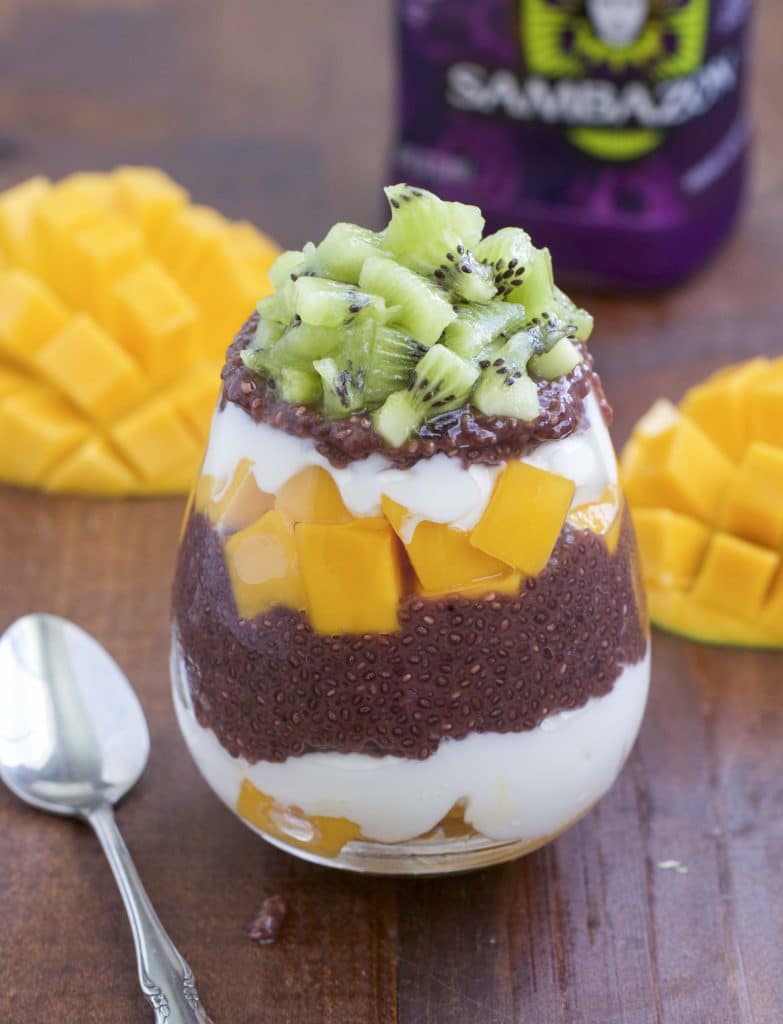 I just recently discovered chia seed pudding a few months back.
Now it's one of my favorite easy breakfasts or quick snacks. I like to load it up with lots of fruit or you can mix in some oats, nuts, or seeds.
I love that it's so simple to prepare. You mix up the chia seed pudding the night before, put it in the fridge and you're ready to eat in the morning. So easy! The preparation is similar to my other favorite quick breakfast –> chocolate peanut butter protein oatmeal that I make in the crockpot the night before.
The first few times I made chia seed pudding, I mixed the chia seeds with coconut milk and fresh mango puree for cherry mango chia seed pudding parfaits. I still love that version but I picked up a bottle of fresh acai (ah-sigh-ee) juice at Costco last week and fell in love!
We mainly drink water because I try to watch our sugar intake and juice is usually very high in sugar. Acai juice does have sugar in it but the health benefits of fresh acai juice
far outweigh the sugar factor. Acai is loaded with antioxidants and heart-healthy omega-3 fatty acids that you find in fish.
…