This shop has been compensated by Collective Bias, Inc. and its advertiser. All opinions are mine alone. #MakeItMerrier #CollectiveBias
Follow my easy tutorial to make a Starbucks K-cup Christmas Tree for a hostess gift or for someone that loves coffee!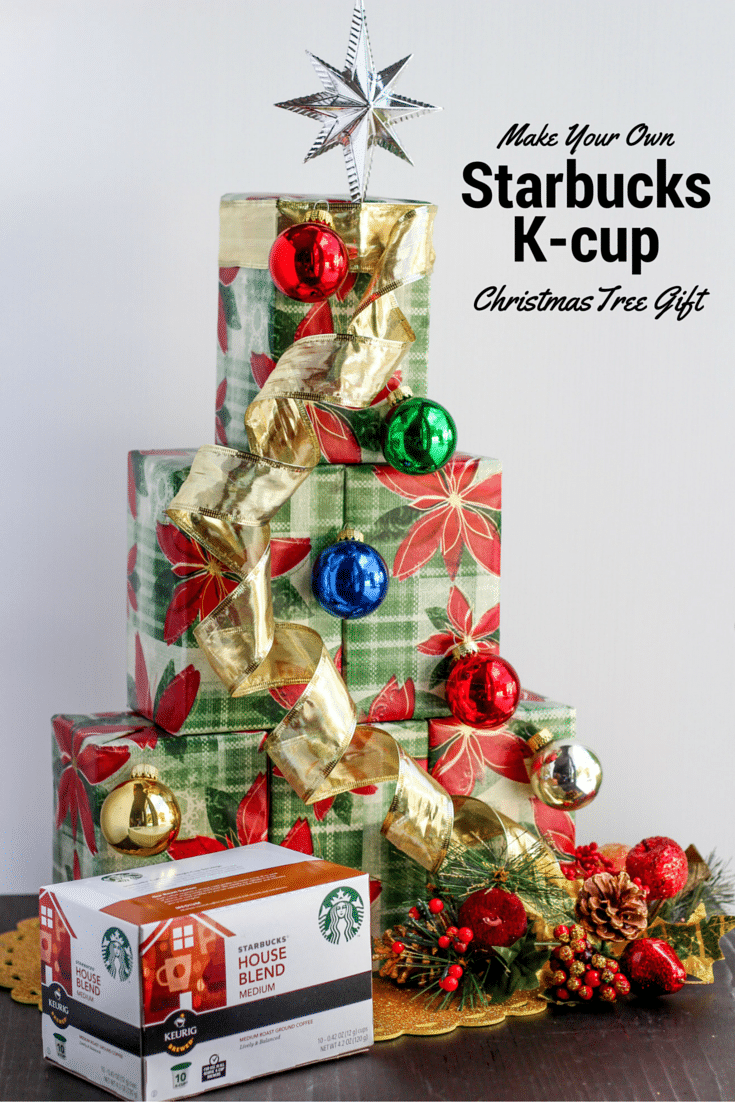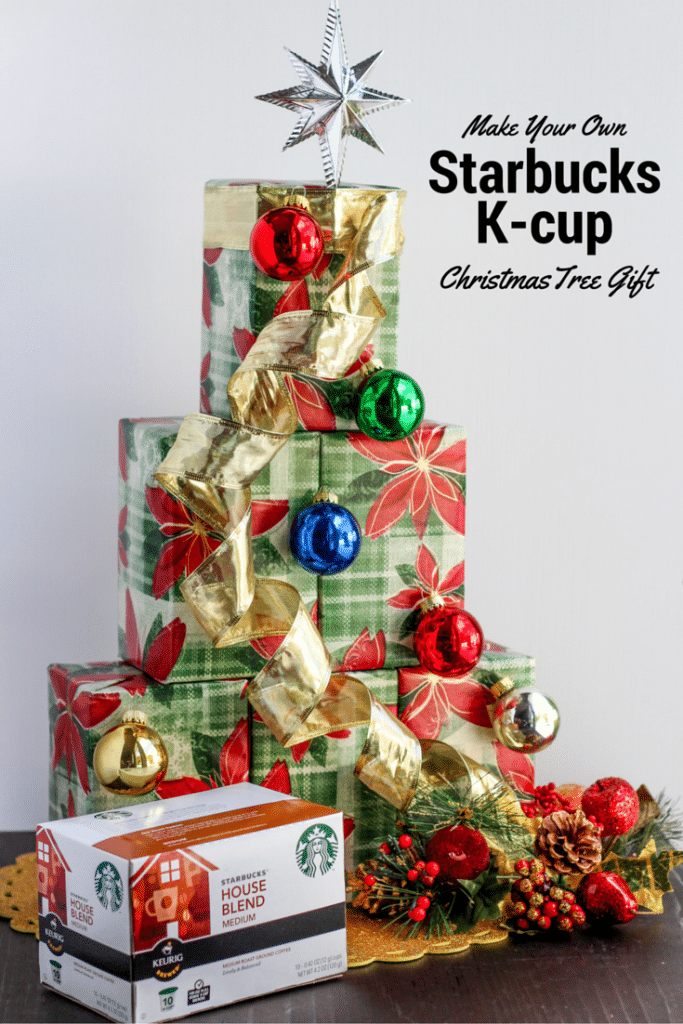 Christmas is only 18 days away! How did this happen? I have so much to do and not enough time to do it all. I started my Christmas shopping in August, and it felt like I had so much time to get everything else done. WRONG-O! Somehow my favorite day of the year has crept up on me, even though it feels like I'm waiting for it all year-long. Do you feel like that too? Are you ready?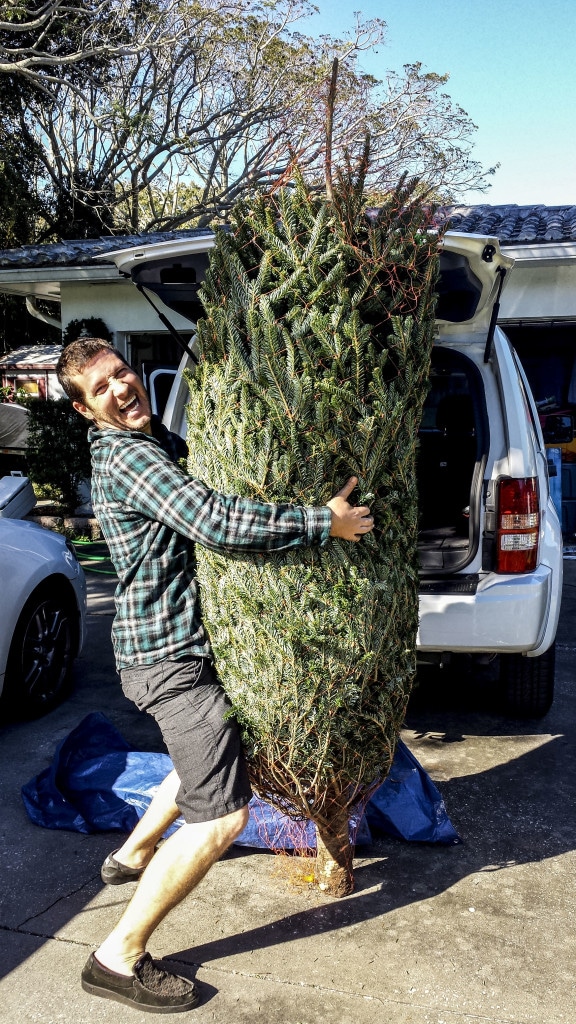 My fiancé and I like to start the holiday season off by getting our tree the day after Thanksgiving. If that isn't a look of pure joy, I don't know what is! I take this same picture of him hugging the new tree every year, right before he drags it into our house. Then we watch National Lampoon's Christmas Vacation while we decorate the tree.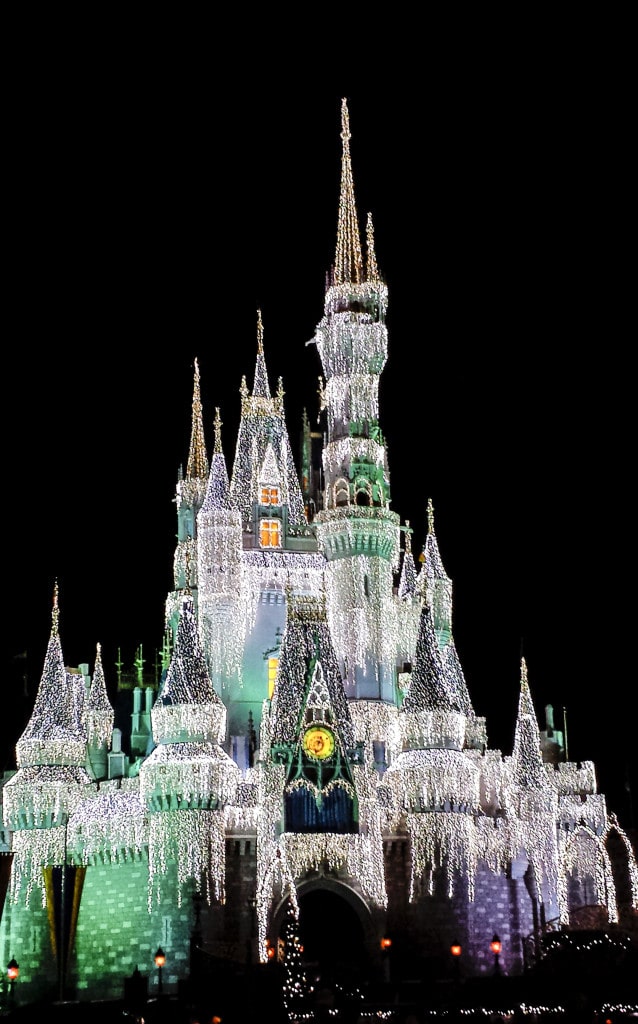 We love visiting Walt Disney World during December, they have the best decorations for Christmas! We love going to Mickey's Very Merry Christmas Party at Magic Kingdom, and going to Hollywood Studios to see the Osbourne Family lights. I'm so sad that this is the last year for the Osbourne lights, but we'll go see them one last time. If you haven't seen them yet, make sure you go this year, before they're gone forever!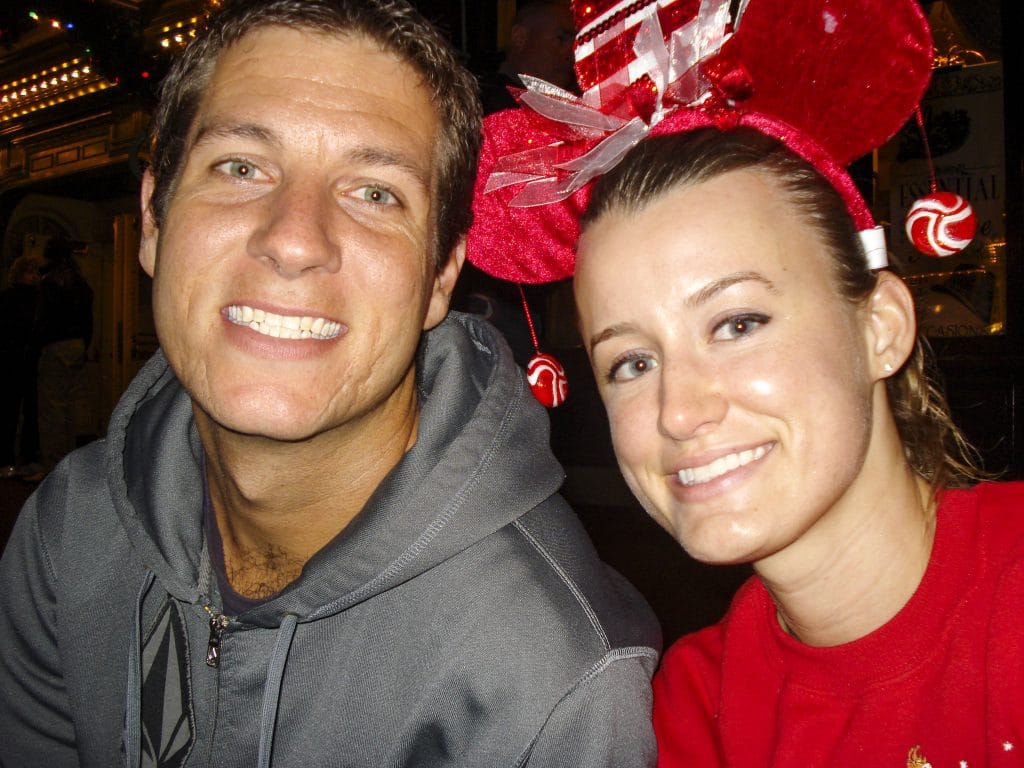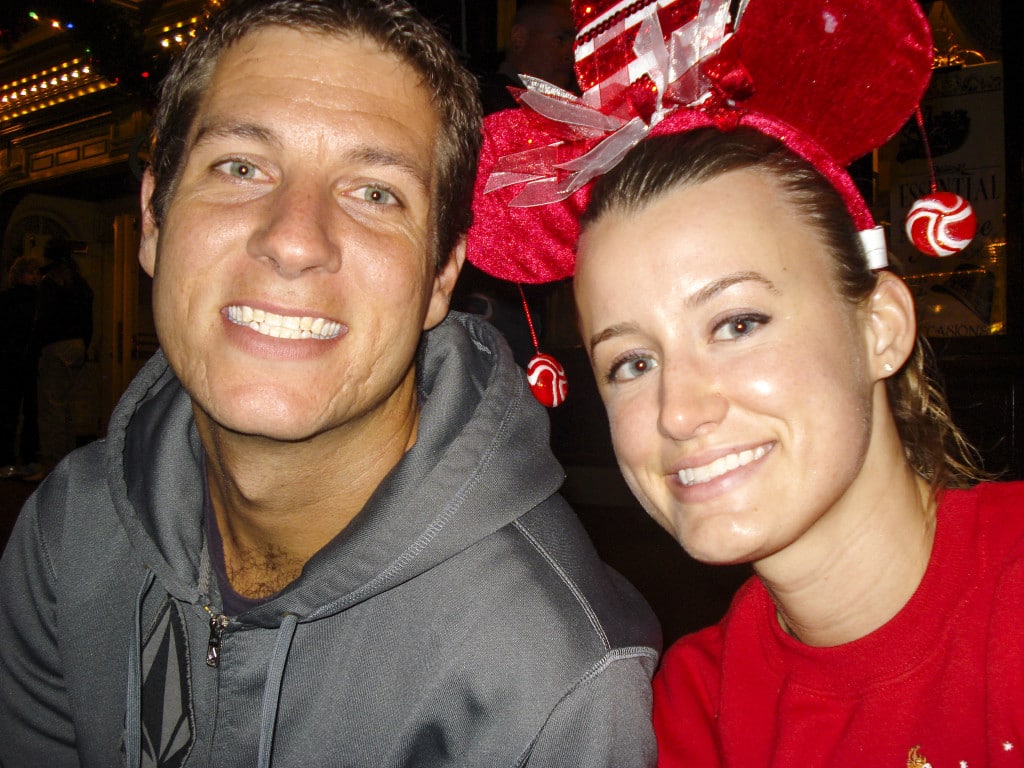 I started wrapping gifts this week and my living room looks like a tornado went through it. I think I have a wrapping paper problem. I love wrapping paper. Not just any wrapping paper, only beautiful, sparkly, foil wrapping paper. I stock up the day after Christmas and then I have a huge assortment to choose from for next year. I like to have choices, what's wrong with that?
Each wrapped gift should be a work of art, and no two pieces of art are the same! I grew up watching my mom make each gift into a masterpiece that should be displayed in a museum somewhere. Now, I do the same thing–not as well as her, but I try!
I'm pretty sure I get my love for Christmas from my mom. Growing up, she always made it a really big deal in our house. I mean huge.
She always says, "If you don't celebrate the holidays then every day is the same, so make it special!"
From a fully decked out house, to "elves" who would check in on us and leave us treats by our little tree, our holidays were always filled with magic. The holiday traditions we had then, we still have now. We go to Christmas eve service, pick up chinese food for dinner, have peppermint ice cream for dessert, drive around the neighborhood looking at Christmas lights, and then my mom reads "Twas the Night Before Christmas" to us before bed.
Even though I'm 27 years old and engaged, I still go to my parents home to spend the night on Christmas eve and sleep in my childhood bed. It's part of our tradition! On Christmas morning, we open gifts, relax and spend time together for the rest of the day.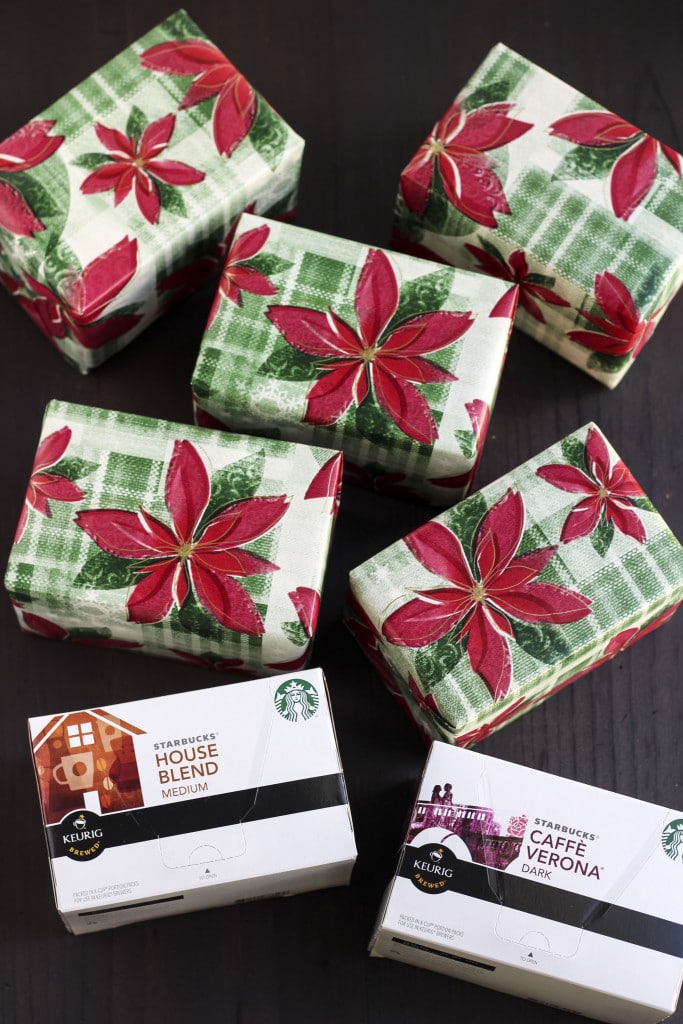 I like to give k-cups as gifts because who doesn't love coffee? The year I got my mom a Keurig coffee machine, I got her a bunch of different Starbucks k-cup boxes so she would have lots of flavors to choose from. She loves having options, let's not even talk about her daily yogurt. Sorry mom!
I've wrapped up the k-cup boxes in one big box before, but I've also turned them into a Christmas tree display/gift too. I know what your thinking, "how did she turn k-cups into a Christmas tree?" I'll show you! It's so simple, yet really impressive when you give it as a gift.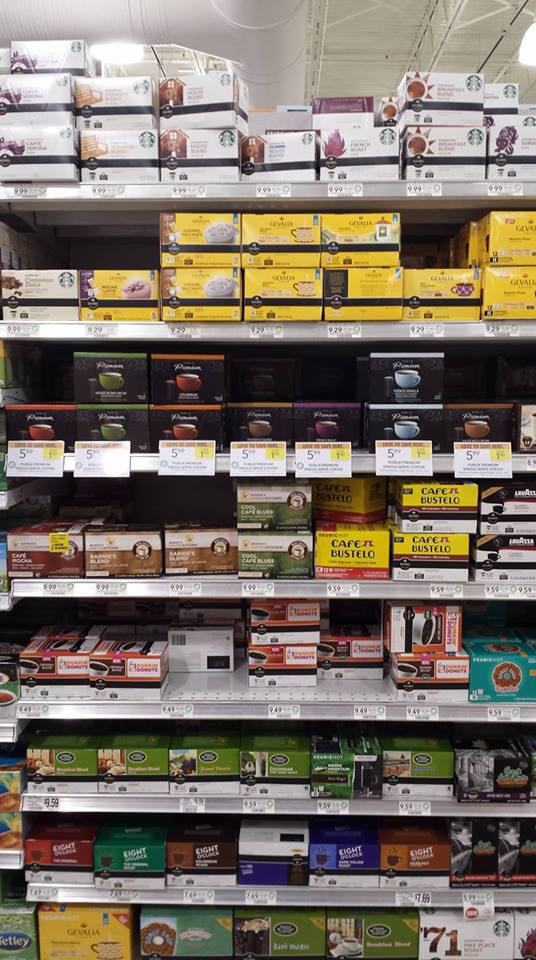 Last year, I made this k-cup Christmas tree as a hostess gift and she liked it so much that she made it the centerpiece of her buffet table. I knew she loved Starbucks, so I used all Starbucks k-cup boxes that I got at Publix to build the k-cup Christmas tree. I wanted to make another tree this year with Starbucks k-cups, so I was so happy to find this e-gift card deal! Click here to get a $5 Starbucks Card e-gift when you purchase 3 or more qualifying Starbucks products.
Supplies –
6 Starbucks k-cup boxes
Wrapping paper
Tape
1 1/2 inch wide roll of wire ribbon
1 star ornament
7-8 small round ball ornaments
Glue gun
Instructions –
Step 1 – Wrap all 6 k-cup boxes with wrapping paper. I used paper that had a green background, because the green color made it feel like a Christmas tree to me. You can use any wrapping paper you want though.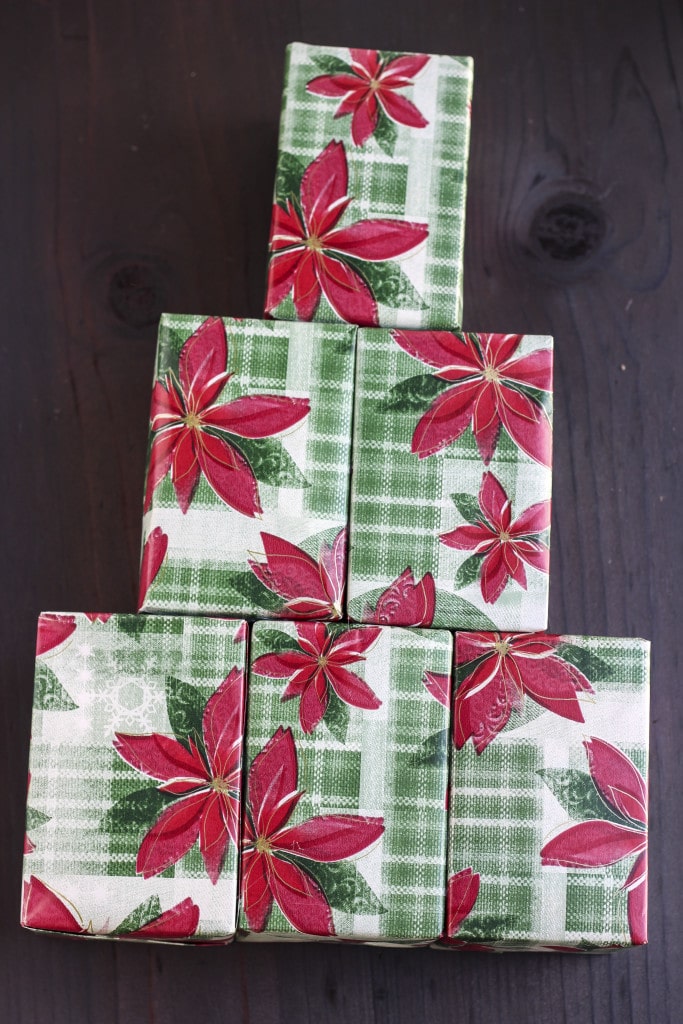 Step 2 – Once wrapped, assemble the boxes in the order you like. Three on the bottom, two in the middle, and one on top.
Step 3 – Using a glue gun, glue all the boxes together. Let dry for 5 minutes. Before you start decorating, stand it up and make sure it holds together. If it looks unsteady in some spots, give it a few more dots of glue to secure it.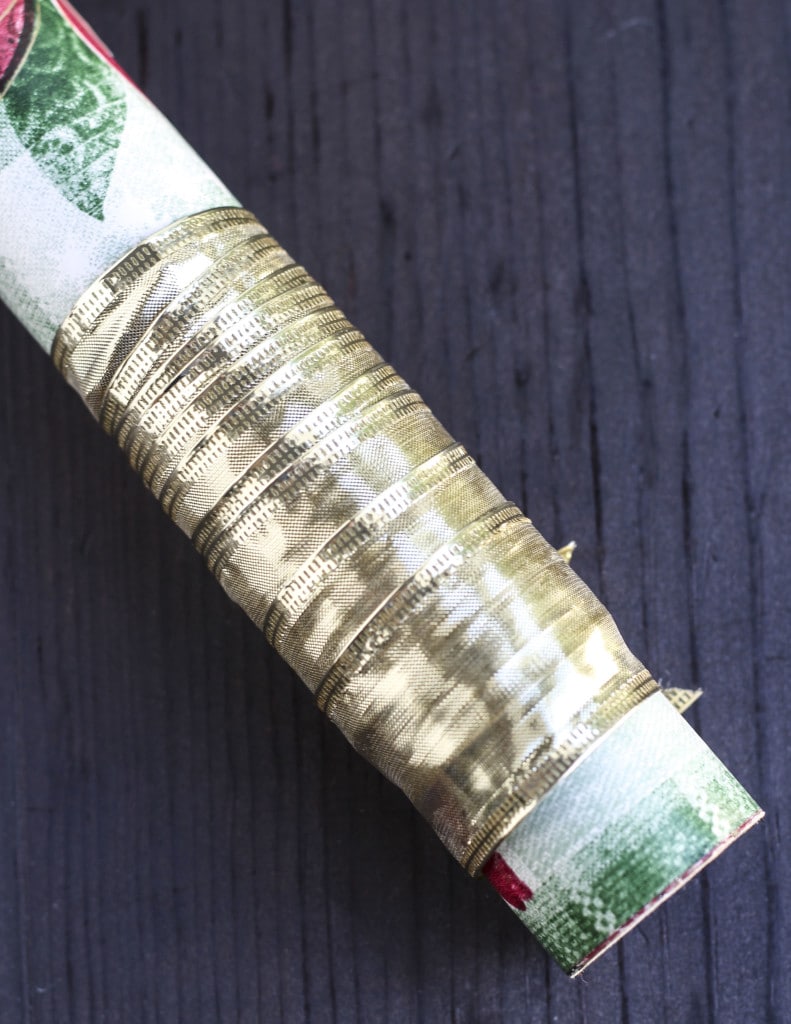 Step 4 – You have to use wire ribbon for this step, or it won't hold its shape. Cut 2 feet of ribbon and wrap the it tightly around the base of your wrapping paper roll and hold it for 30 seconds. When you let go, it will be a tight curl and perfect for stringing on your tree.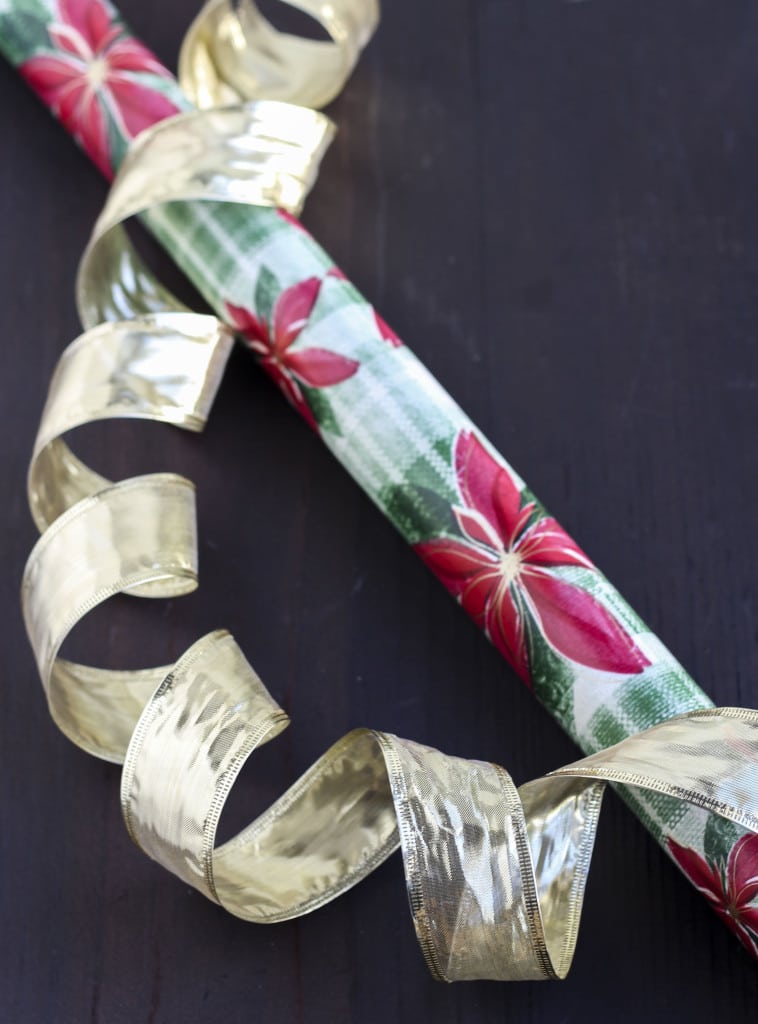 Step 5 – Glue your star ornament to the top box of your tree. Wrap a small piece of ribbon around it to cover the base, and glue it in the back to secure.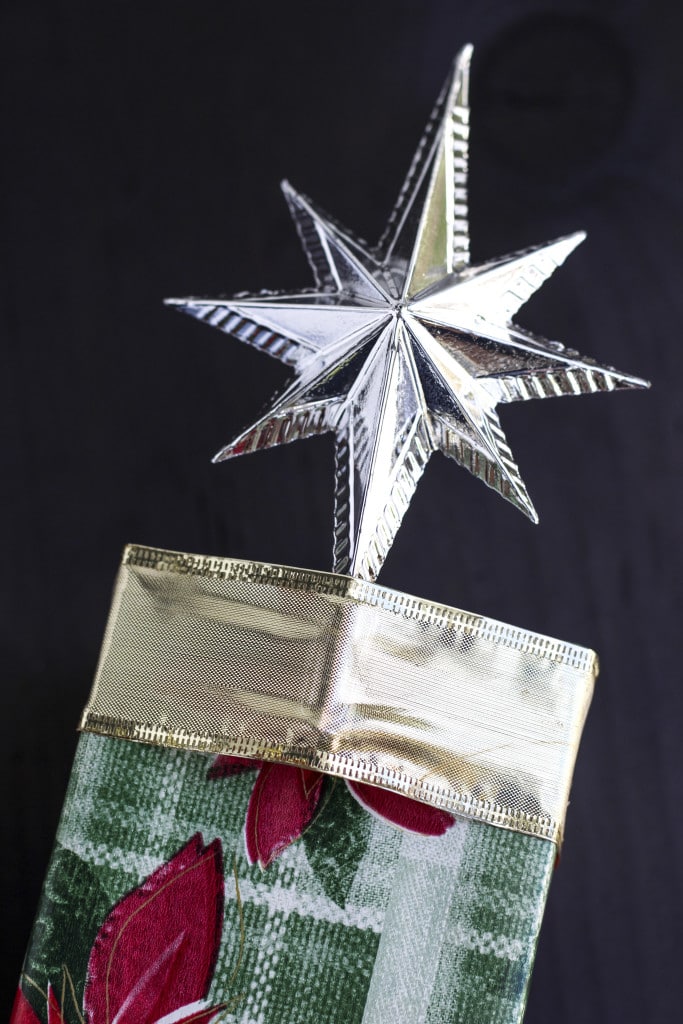 Step 6 – With the tree laying flat on the table, drape and attach the ribbon curl on your tree. I started at the top right, and glued it to the middle left and ended it on the bottom right. Only use a small dot of glue to attach the ribbon, big blobs are not pretty and you don't want to see the glue through the ribbon.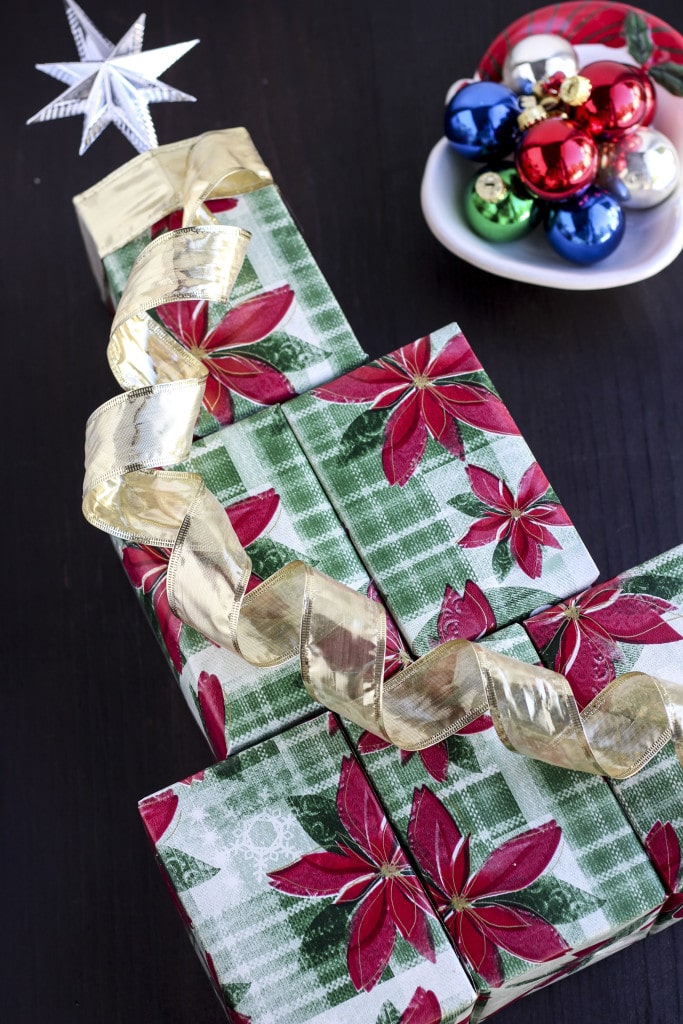 Step 7 – Using the glue gun, glue the small ornaments anywhere you like on the tree. Let it dry for 5 minutes, then stand it up to make sure everything is set. Feel free to add any extra embellishments that strikes your fancy!
Note – If you can't find small ornaments, you could use cutout gift tags instead. Use a variety of different tags, like a snowman, santa, candy cane, etc to make them resemble the ornaments you might find on your tree.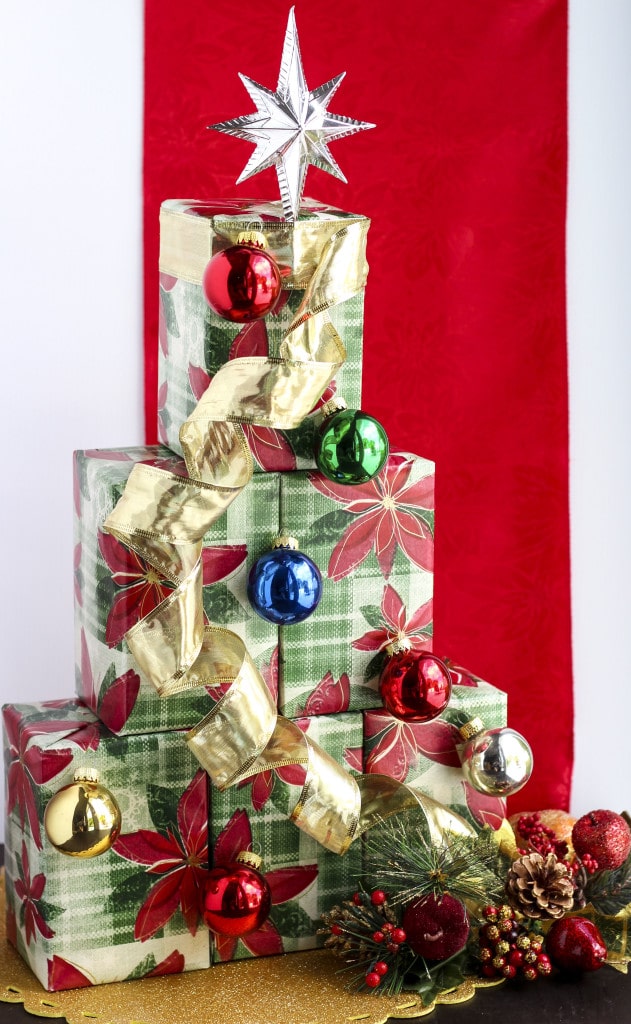 Isn't this k-cup Christmas tree such a fun gift? So much better than just wrapping them in a big box, even though I would be super happy to get all this Starbucks coffee in any way possible. It's a little more work, but definitely worth it!
My mom and I like to get a peppermint mocha coffee before we go Christmas shopping. Do you have any Starbucks holiday traditions? Let me know in the comments!