This post may contain affiliate links.
Please read my disclosure.
Super simple vegan zucchini quesadillas are our new favorite lunch! Thinly sliced zucchini strips, vegan cheddar cheese, and a sprinkle of cayenne pepper give this quesadilla a kick! Vegan.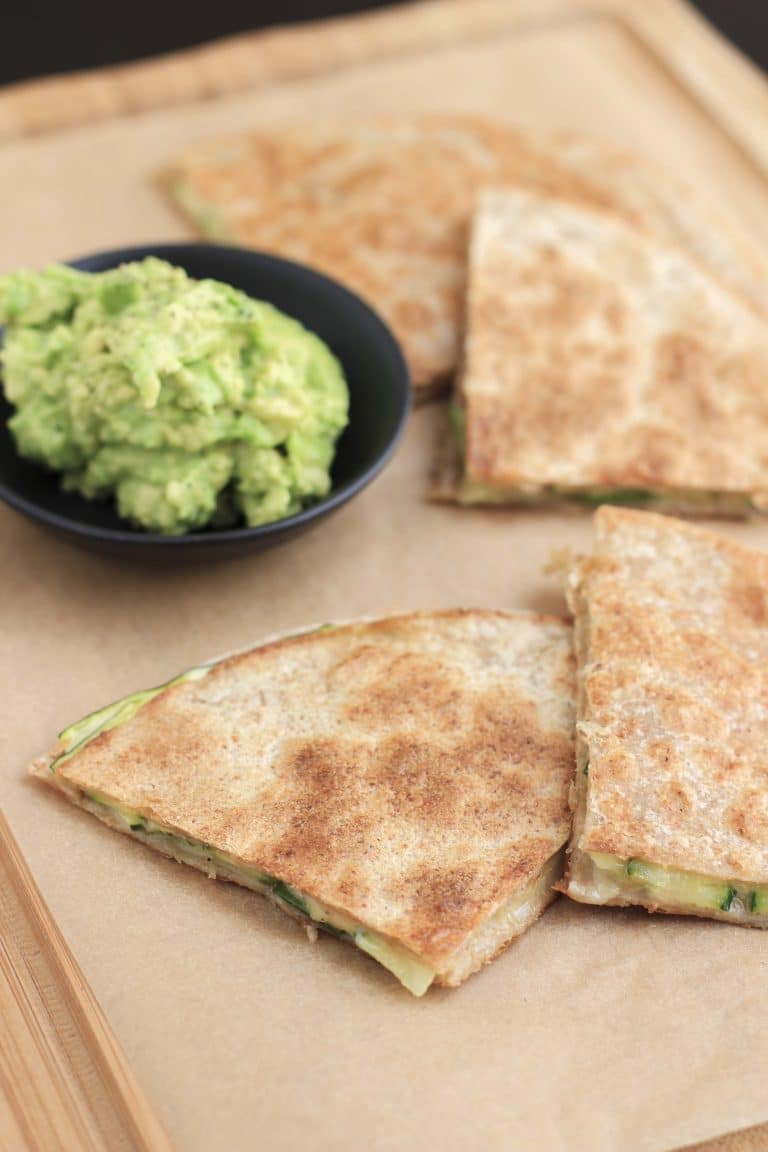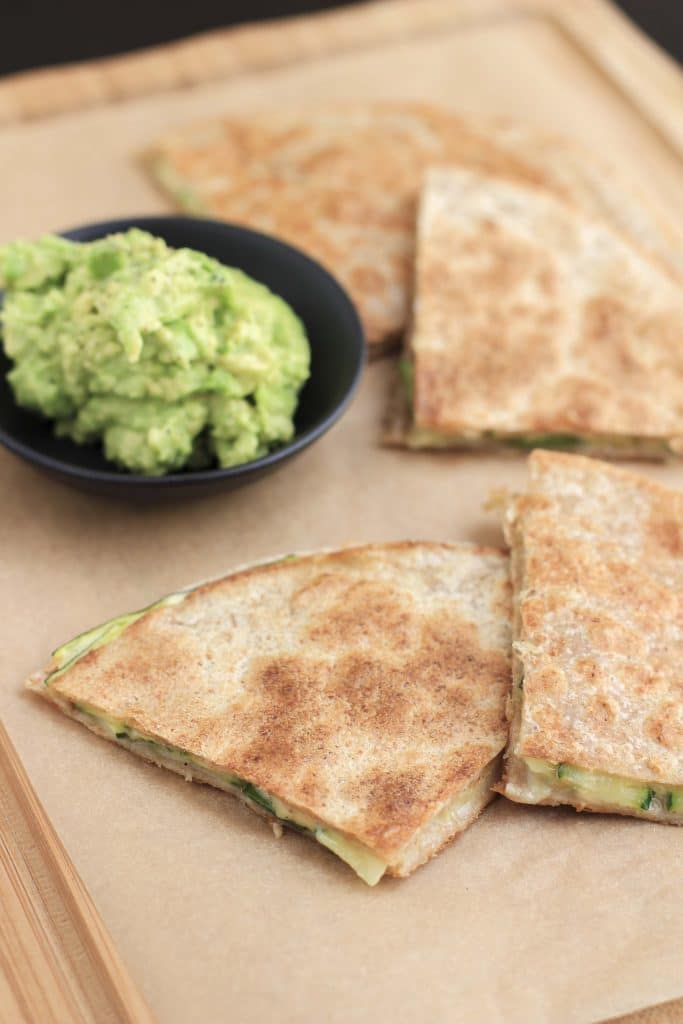 Zucchini are one of my all-time favorite veggies!
I love spring and summer, mainly because zucchini is in season, and it's super cheap! When they are marked $.99 lb, I stock up big time. Zucchini is so versatile, you can use them in so many different recipes.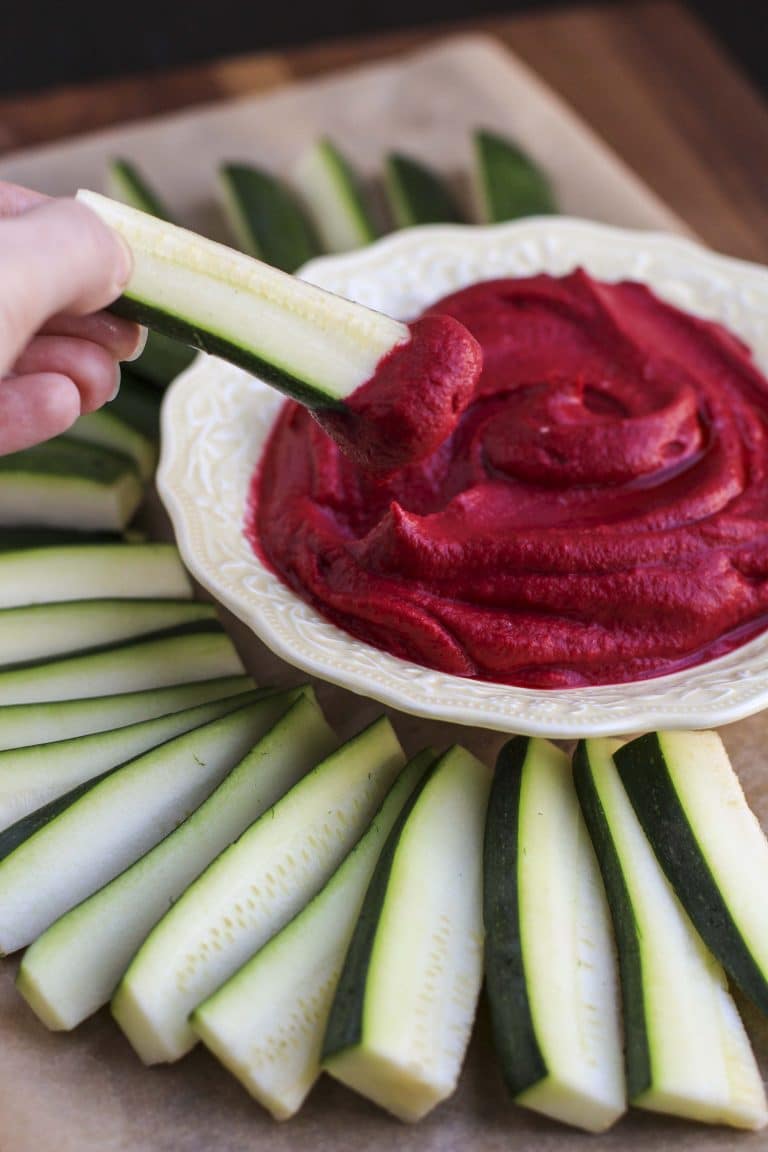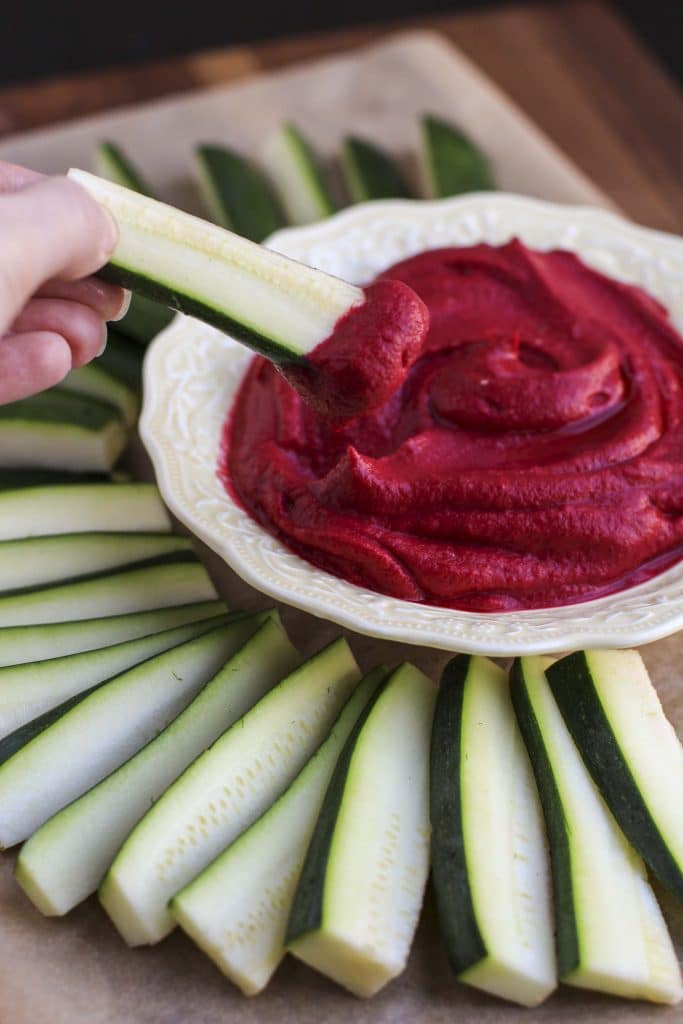 I've been making spicy thai zoodles, zucchini avocado grilled cheese sandwiches, beet hummus with zucchini sticks, and zucchini pizza bites like crazy.
The beet hummus recipe is from my friend, WifeMamaFoodie, you can get her recipe here. Once you try it, I promise you won't go back to plain ol' hummus ever again. The only change I made, was to use the whole beet instead of half.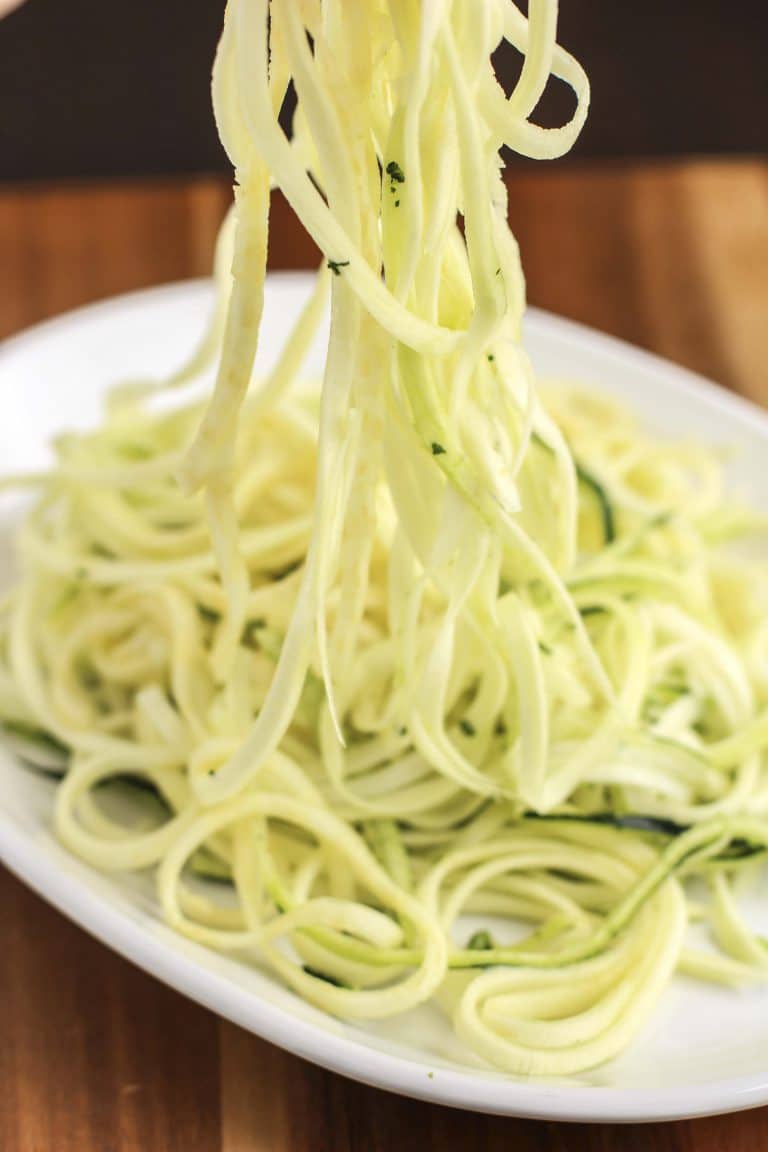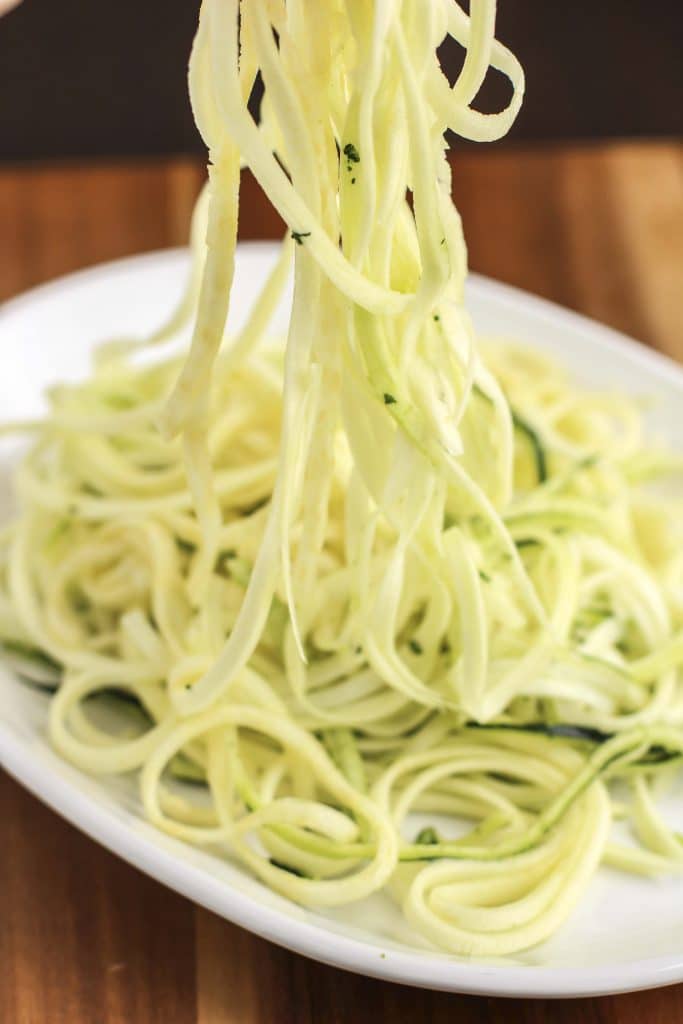 Spicy Zucchini Quesadillas 
Back to the good stuff…cheesy spicy zucchini quesadillas. Swoon.
I've made these zucchini quesadillas three times this week. No joke. They are seriously delicious and so easy to make.
I use my hand mandolin to slice the zucchini because I really like how thin they come out. I can't slice them that thin by hand, and they cook really quickly this way.
One note about the mandolin, please be careful when you use it, and use the guard! The first time I used it, I didn't use the guard and I lost a big chunk of skin from my finger. Ugh, so not fun.
I layer the zucchini on the tortilla first, sprinkle the vegan cheese next and finish with a sprinkle of cayenne pepper. That's it! So easy, right?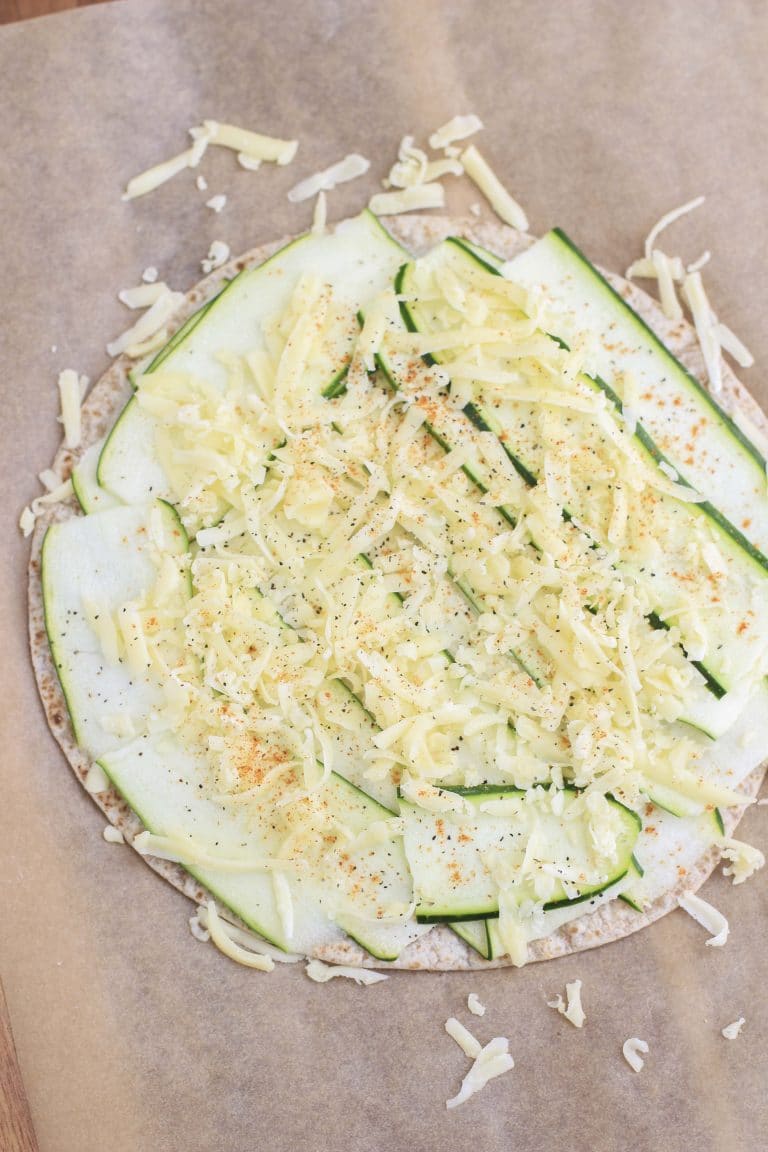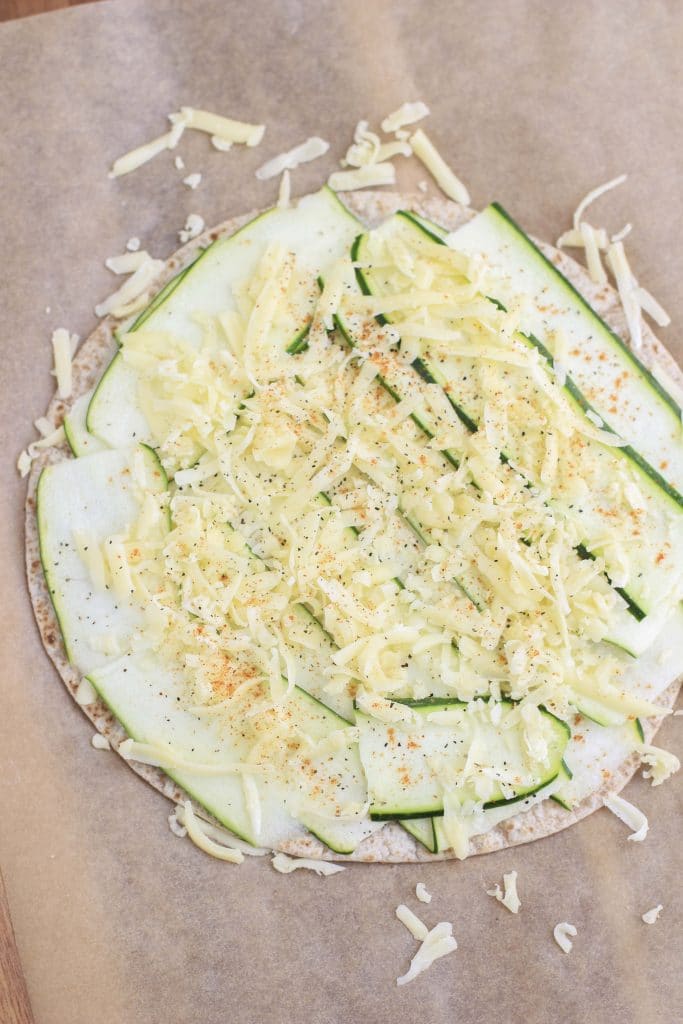 f you don't like spicy foods, you can skip the cayenne pepper. I like to sprinkle a little bit on because zucchini is very mild, so the cayenne pepper gives it a big flavor boost.
I like to serve the zucchini quesadilla hot and crispy, with mashed avocado on the side. Dip a slice of the spicy zucchini quesadilla into the cool and creamy avocado, and you're basically in foodie heaven.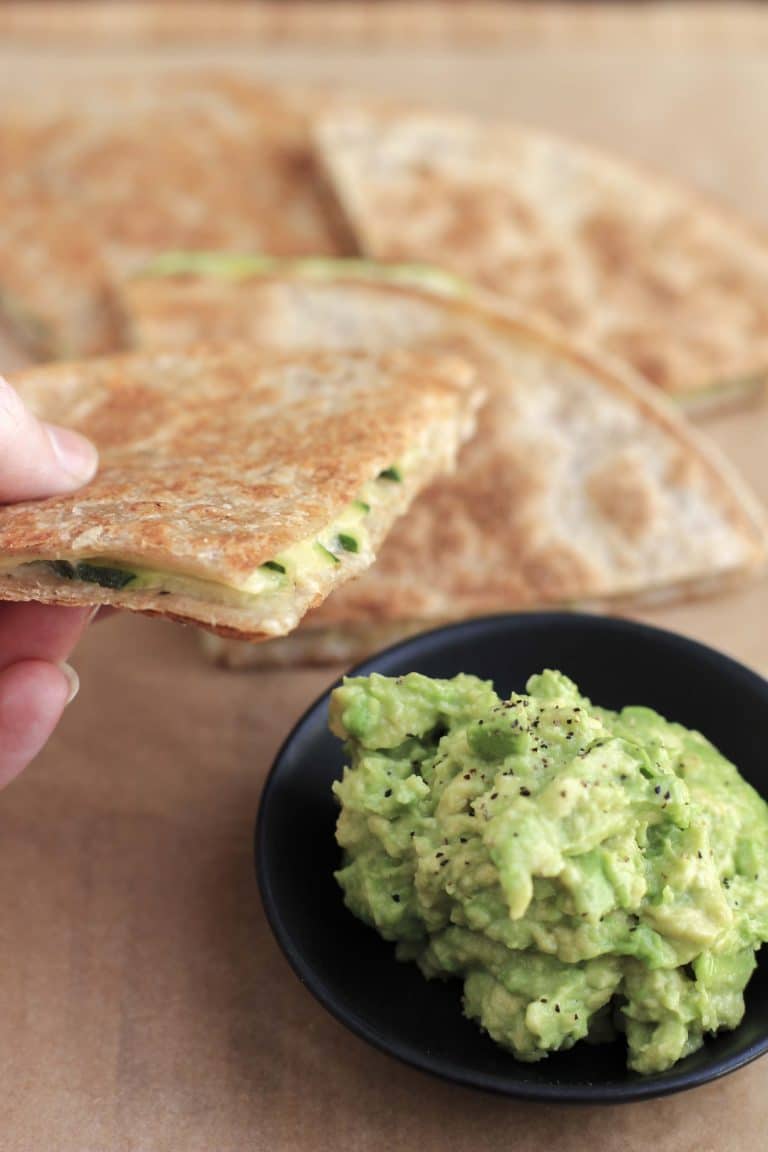 Other Zucchini Recipes You Might Enjoy
Spicy Zucchini Quesadillas
Super simple zucchini quesadillas are our new favorite lunch! Thinly sliced zucchini strips, mild cheddar cheese, and a sprinkle of cayenne pepper gives these vegan quesadillas a kick!
Print
Pin
Rate
Ingredients
1

small zucchini,

thinly sliced

1/4

cup

vegan cheddar cheese

Pinch

of garlic powder

Pinch

of cayenne pepper

Pinch

of paprika

Sea salt and pepper

1

avocado

mashed
Instructions
Use a mandolin to thinly slice the zucchini into long strips.

Heat a pan over medium heat and lay one tortilla down. Sprinkle half the cheese on the bottom tortilla. add the zucchini strips, evenly sprinkle the seasonings over the zucchini and top with the remaining cheese. Put the second tortilla on top.

Cook the quesadilla for 4-5 mins per side, or until lightly browned and crispy.

Mash the avocado and serve it with the warm quesadilla for dipping.
What's your favorite way to eat zucchini? Let me know in the comments! 


NEVER MISS A STACEY HOMEMAKER CREATION!
FACEBOOK / INSTAGRAM / PINTEREST / TWITTER