This quinoa salad recipe has it all! Crisp carrots, peppery baby arugula, tender artichoke hearts, crunchy toasted walnuts, and tart dried cherries tossed in a tangy oil-free dressing. It's easy to make and it pleases allll the tastebuds! Vegan, gluten-free, soy-free.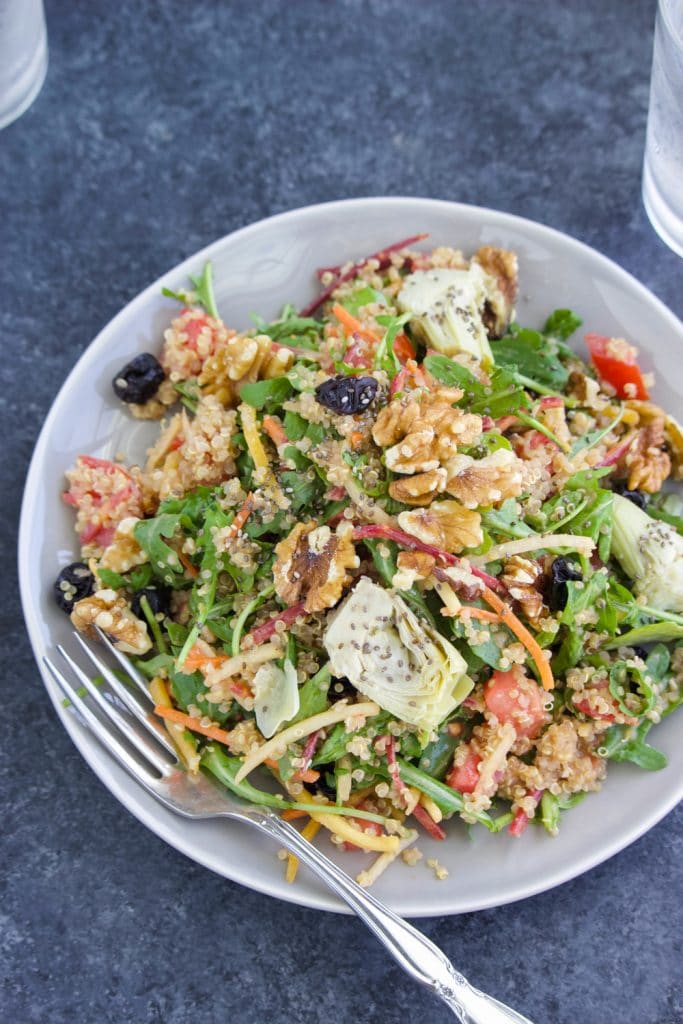 Last year, on this day, at this exact moment, I was onboard the Disney Fantasy ship with my husband, Travis, eating lunch at Cabana's and waiting for to set sail on our eastern Caribbean honeymoon cruise! I sure wish I was doing the same thing right now! I am very excited though because we're planning another Disney cruise later this year and I can't wait to share it all with you! (If you're thinking about going on a Disney cruise make sure you read this post of 159 Disney cruise tips you need to know before your cruise!)
Luckily, I have all the ingredients ready to make this delicious everything-but-the-kitchen-sink quinoa salad recipe in the fridge so I can make a quick lunch and get back to watching our honeymoon cruise youtube videos and planning our next Disney cruise!
This easy-to-make arugula quinoa salad is ready in only 15 minutes (perfect for a quick lunch!) and it's loaded with healthy ingredients like nuts, seeds, and veggies! Don't worry, this salad is not a greens-only salad. As much as I love greens, arugula is not enough to fill me up. I need something more substantial, hello quinoa! Quinoa is the perfect ingredient to make this salad super filling!
Want some more easy vegan recipes? Join our vegan Facebook community below!


How Do You Make Quinoa Taste Good?
I've heard so many people say that they don't like the taste of quinoa!
What? How is this possible?
Quinoa is a very neutral tasting seed (it's not a grain!) that is soft and fluffy once it's cooked. The only thing that I can think of that would make it taste bad is if you don't rinse it before cooking it. I had a quinoa dish at a restaurant once that was so bitter I couldn't even eat two bites of it. I believe it was because the quinoa wasn't rinsed first.
So make sure you rinse your quinoa before cooking it (or buy pre-rinsed quinoa like this brand that I get at Costco + my Costco vegan shopping list!) and it should taste absolutely delicious!
Read this article for more in-depth information about preparing and cooking quinoa!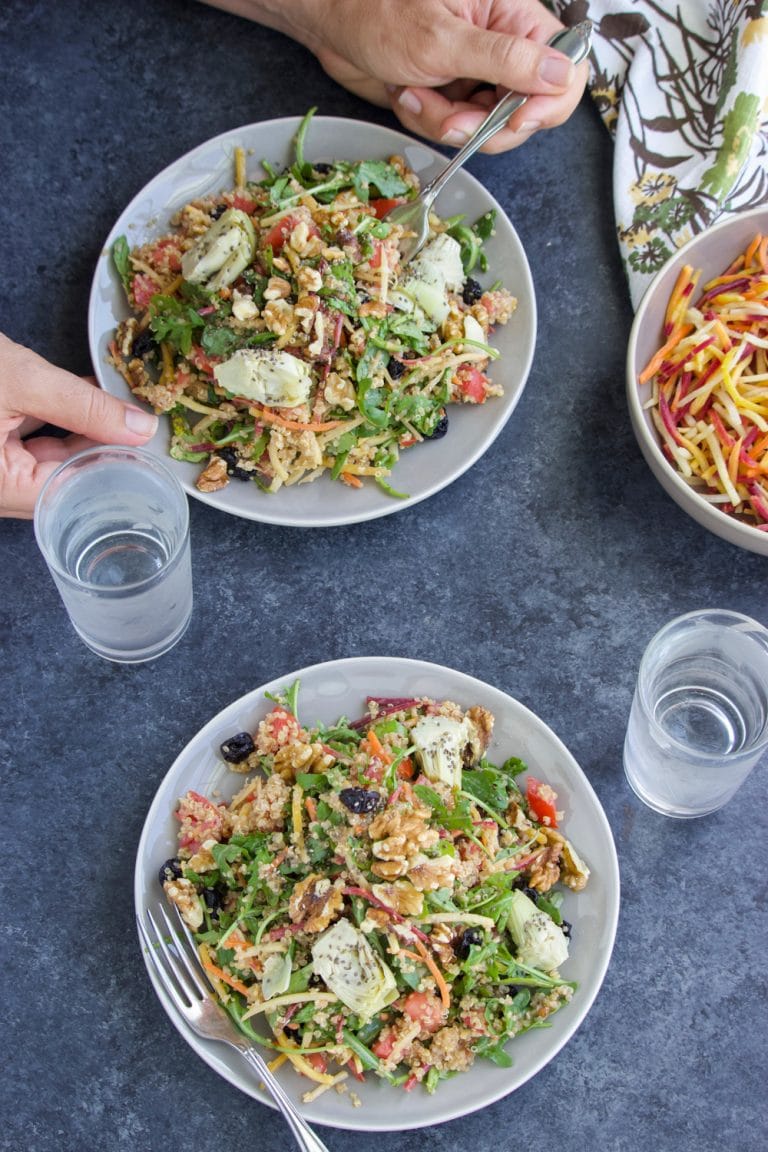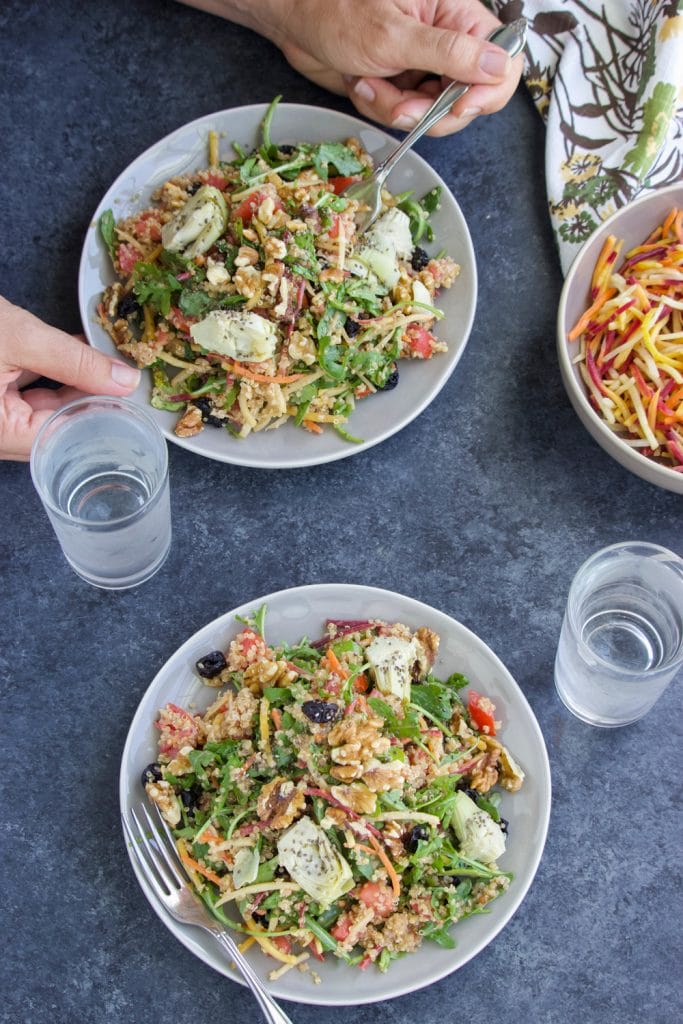 Top Tips For Making The Best Quinoa Salad!
Cook the quinoa in vegetable broth instead of water for extra flavorful quinoa!
Let the quinoa cool completely (or even better let it chill in the fridge overnight) before adding all the salad ingredients to it! If you don't let it cool then the arugula will wilt and everything will clump together. It will still taste good but the presentation won't be as pretty.
Use store-bought shredded carrots for even quicker prep time. (I prefer

Calorganic

rainbow shredded carrots for a crisp pop of color!)
Use artichoke hearts in water, not oil, for a healthier option.
Toast the walnuts in a pan over medium heat (you'll know they're done when you can smell them!) before adding them to the quinoa salad.
Sprinkle any type of additional nuts or seeds (hemp seeds, sunflower seeds, pecans) over the top of the salad for an extra boost of protein and nutrition!
Why This Quinoa Salad Recipe Works
It's easy to throw together at the last minute.
You can add any leftover veggies, greens, beans, seeds, or nuts that you have to the quinoa salad. It's a great way to use up all those odds and ends!
The dressing is easy to make and it's ready in one minute!
This quinoa salad recipe is delicious cold.
This is the perfect recipe to make a big batch of and then pack for lunch throughout the week.
What Other Dressings Can You Use For Quinoa Salad?
In this quinoa salad recipe, I use a sweet and tangy dressing made of balsamic vinegar + nut butter + maple syrup and it's absolutely delicious!
Buttt if for some reason you're not feeling these dressing ingredients there are lots of dressings to choose from that go great with quinoa! The following are some of my favorites: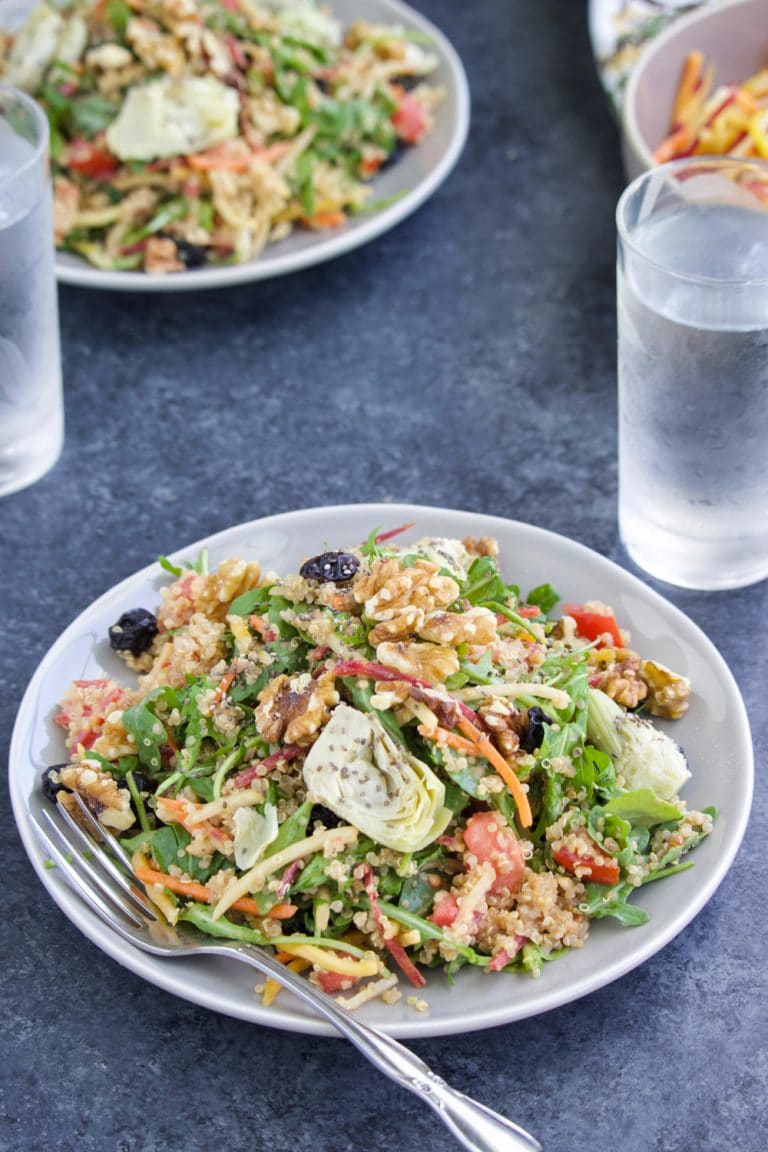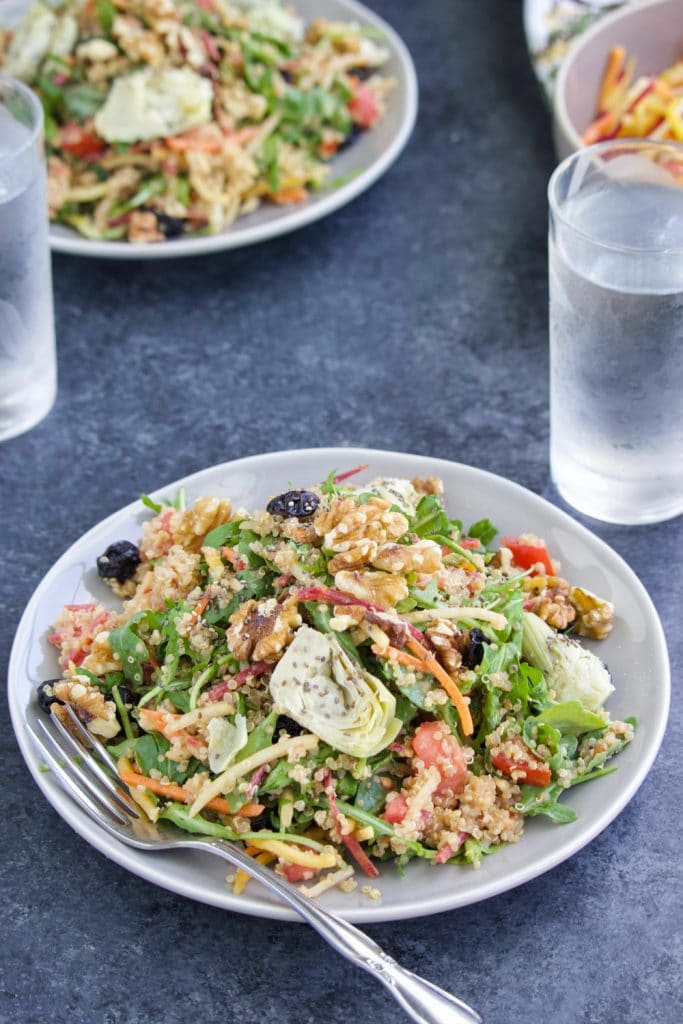 More Vegan Quinoa Recipes You'll Love!
5-Ingredient Quinoa Pizza Crust
Chipotle Walnut Quinoa Taco Meat
Easy Quinoa "Fried Rice" Veggie Lettuce Wraps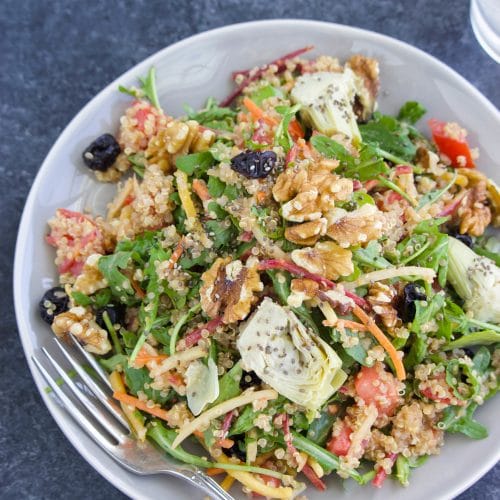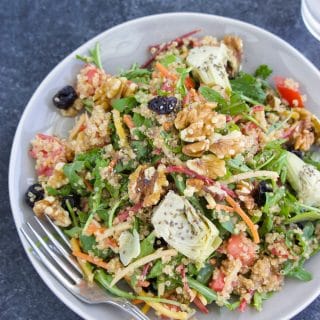 15-Minute Arugula Quinoa Salad Recipe
This quinoa salad recipe has it all! Crisp carrots, peppery baby arugula, tender artichoke hearts, crunchy toasted walnuts, and tart dried cherries tossed in a tangy peanut butter dressing. It's easy to make and it pleases allll the tastebuds! Vegan, gluten-free, soy-free.
Print
Pin
Rate
Instructions
Whisk all the dressing ingredients together until smooth and creamy.

Add all the salad ingredients to a large mixing bowl, pour the dressing over the top and toss to combine. Garnish with chia seeds and serve.
Notes
Make sure you use cooked quinoa that has cooled completely. If you use hot or warm quinoa it will make the arugula wilt. 
Spinach, kale, thinly sliced cabbage, or beet greens would be a delicious substitute for arugula. 
Use store-bought shredded carrots to save prep time. 
Tried this recipe?
Please rate it and leave a comment below if you have any feedback! If you post a picture on Instagram, please tag @Stacey_Homemaker and use the hashtag #StaceyHomemaker so I can see your delicious creation!