Our fairy tale Disney engagement story at the Grand Floridian Resort in Walt Disney World.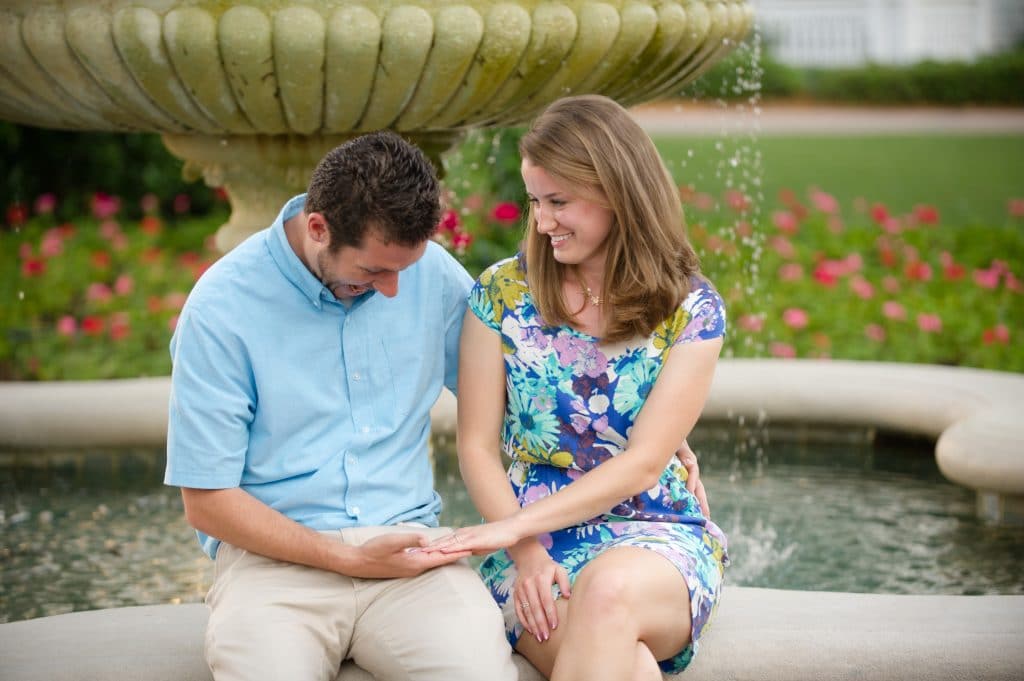 To celebrate booking our wedding venue for next year, I wanted to share our engagement story with you!  
I should've known something was up.
Travis and I were planning our yearly anniversary trip to Disney in April 2014 to go to the Flower & Garden festival. I always make all the plans, and Travis just goes along with it. This time, he wanted to make the plans.
Hmmm, strange.
At this point, we'd been together for 7 years, which was quite a long time compared to most of our friends that were in relationships. I still wasn't expecting it.
Unbeknownst to me, Travis had been planning for months how he was going to propose to me in Disney World. It's our favorite place to visit, and we have so many magical memories there.
Travis had already asked my dad's permission, which he gave a little too easily if you ask me. Travis later told me they went to dinner, Travis asked and my dad said something along the lines of, "Sure, sounds great!"
Oh, dad.  
I'm just kidding. My parents both love Travis, so I'm not surprised my dad agreed to handing me over so easily.
The only requirement was that my dad couldn't tell my mom. If she knew, she would blab to me, or I would have been able to tell she was keeping a secret from me.
Second red flag– Travis asked me if I needed any money to buy a nice dress for a fancy dinner we were going to while in Disney. At that point, our finances were still separate, we weren't living together, and we each paid our own bills and bought what we wanted. So, for him to ask me if I needed money for a dress was nice, but a little odd.
I said, "no thank you, I'm good." He didn't bring it up again, so maybe he thought I was suspicious. Which I was. 
My mom went with me to pick out a new dress, and she asked about a million times if I thought something was going to happen on this trip. I said no over and over, but I don't think she believed me. I don't even know if I believed me.
Fast forward to the day of our vacation.
Travis packs up the car, and we're on our way to Disney World. While we were driving, the charger for my phone fell and got stuck underneath his seat. I wanted him to focus on the road, so I'm reaching down under the seat trying to find it. He's frantically yelling at me to stop, and I had no idea why. I got upset because he was getting so upset at me, I was just trying to help!
Little did I know, a small blue box that was holding my engagement ring was hidden under his seat, inches away from where my hand was feeling for the charger.
We arrived at Disney, checked in and got settled in the room. We headed over to Epcot for a few hours to relax and do some pin trading.
The next day, we got up early and went back to Epcot for the day. We came back to the room around 4pm, showered and dressed up for the special surprise dinner Travis had planned.
Arriving at the Grand Floridian Resort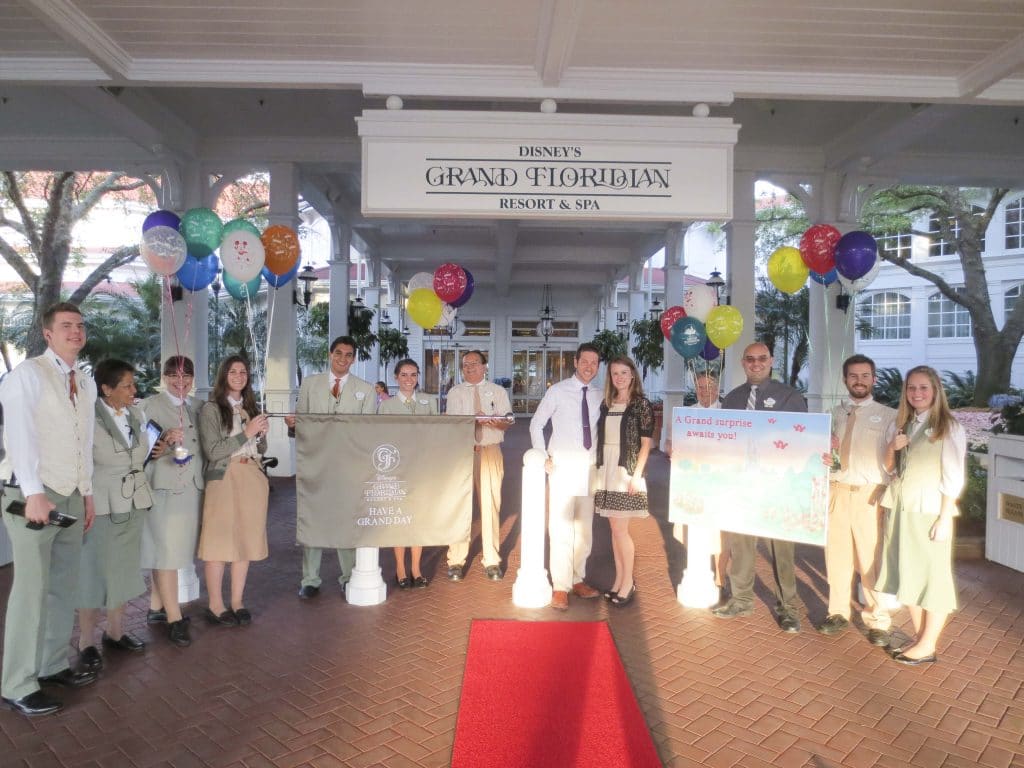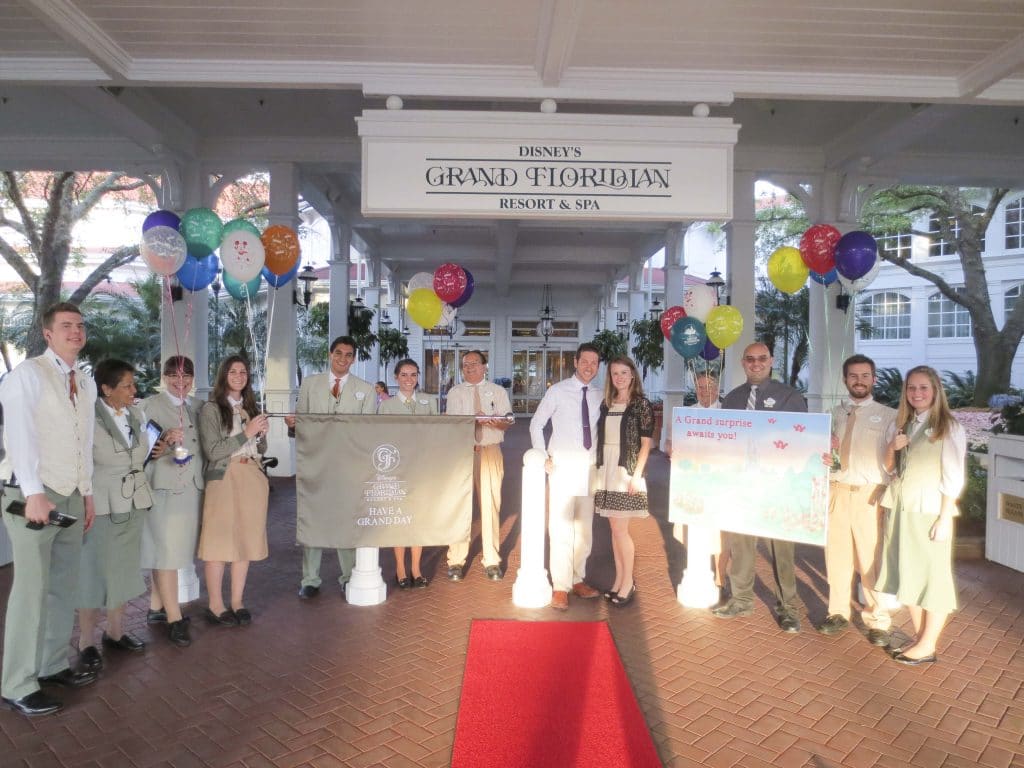 When we arrived at the Grand Floridian Resort, a red carpet was laid out and a big group of people were standing there waiting for us.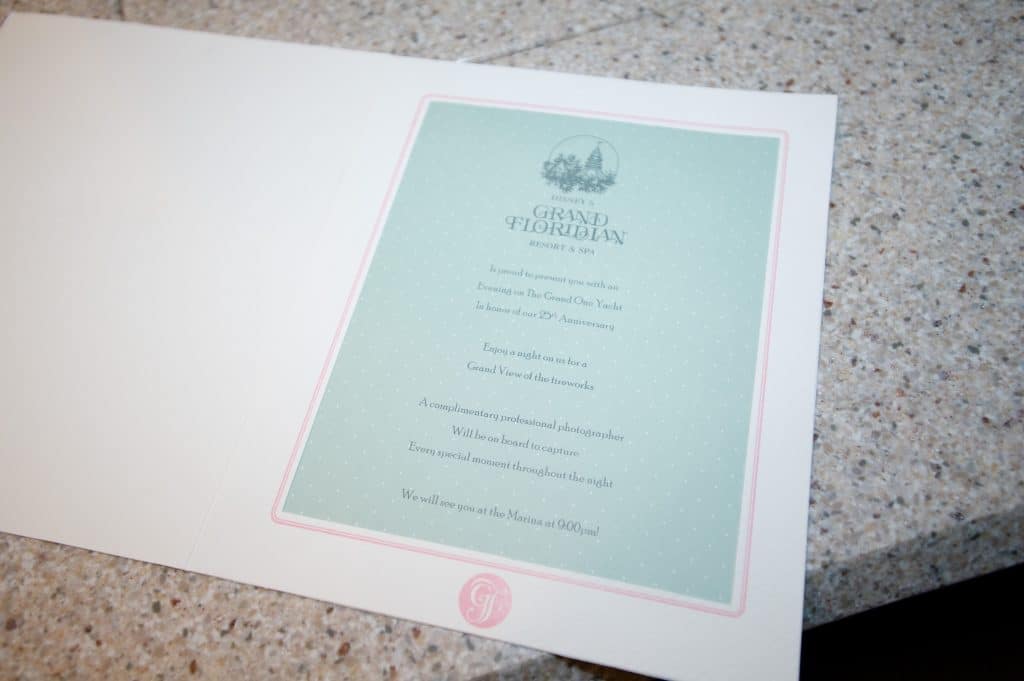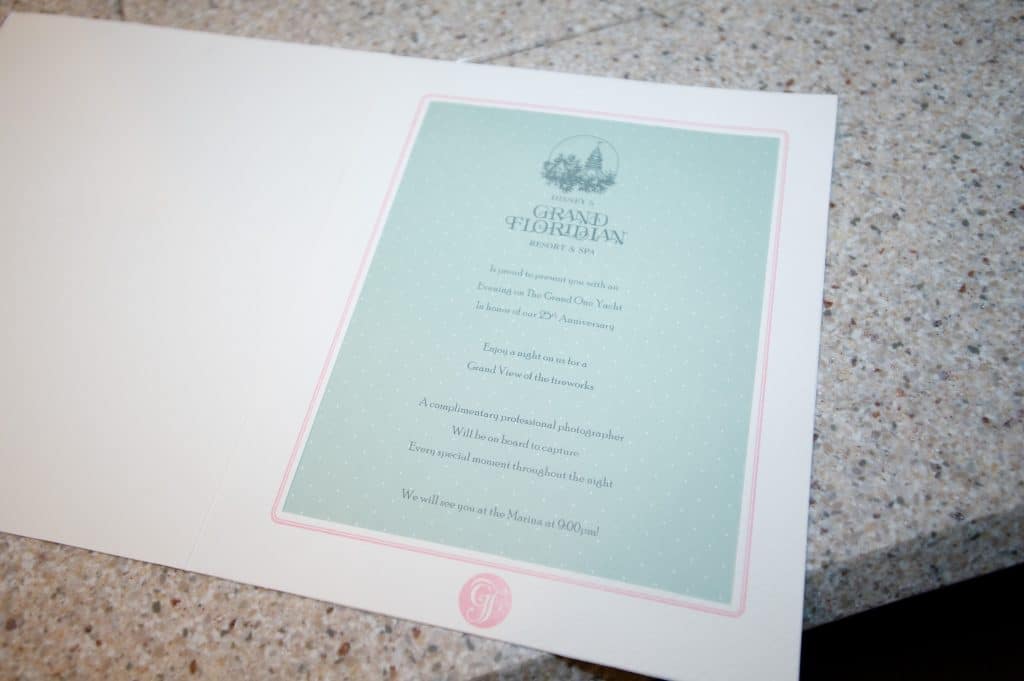 I wondered what was about to happen? We tentatively walked up, not sure if this was for us or not, and they handed us a folder. It stated that we were the winners of the Grand Floridian Resorts 25th-anniversary contest and we won a firework cruise after our dinner!
What?! No way, we never win anything! I looked at Travis and asked him to swear on our relationship that he had no part of this! He said he didn't know anything.
He was partly telling the truth. Months before, Travis had been in contact with the concierge at the Grand Floridian, and he told Travis that he would have everything ready for us when we got to the hotel so Travis could act surprised as well.
Dinner at Citricos in the Grand Floridian Resort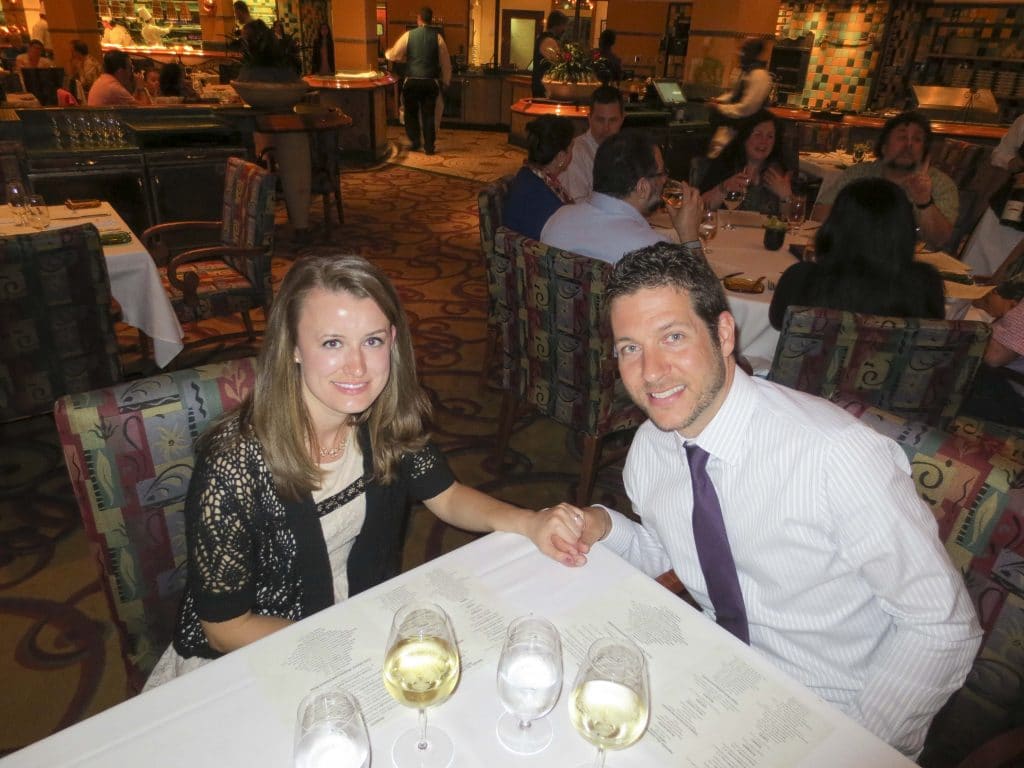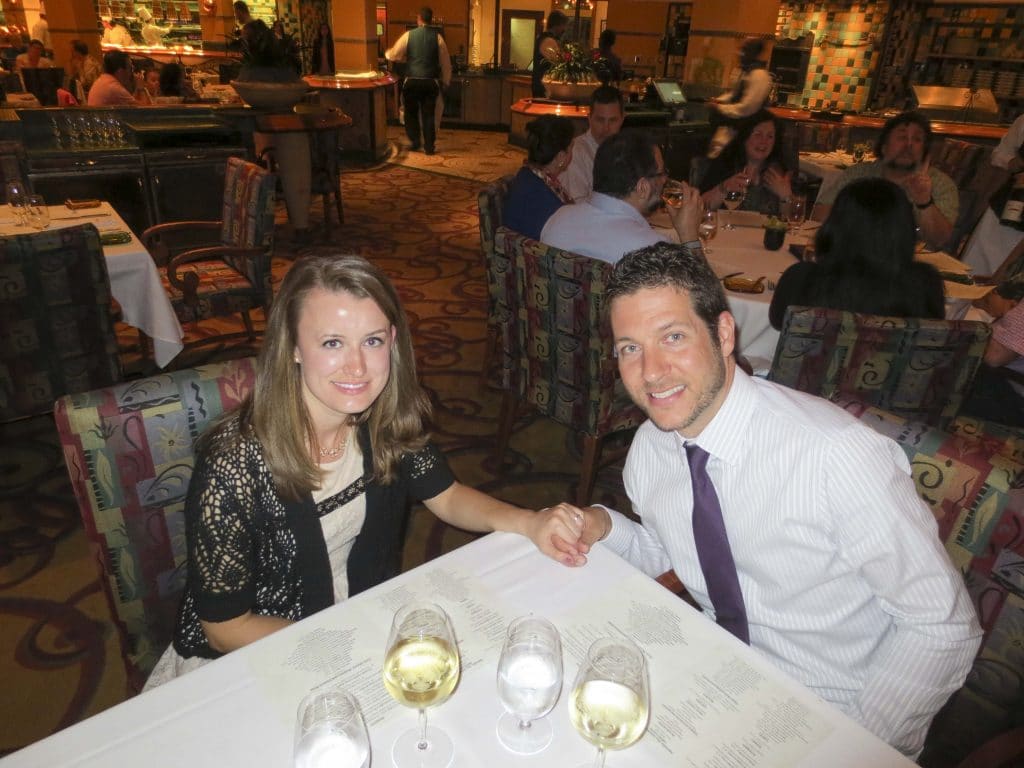 They walked us up to Citricos, and we were seated for dinner. I could tell Travis was so nervous, but I didn't know why.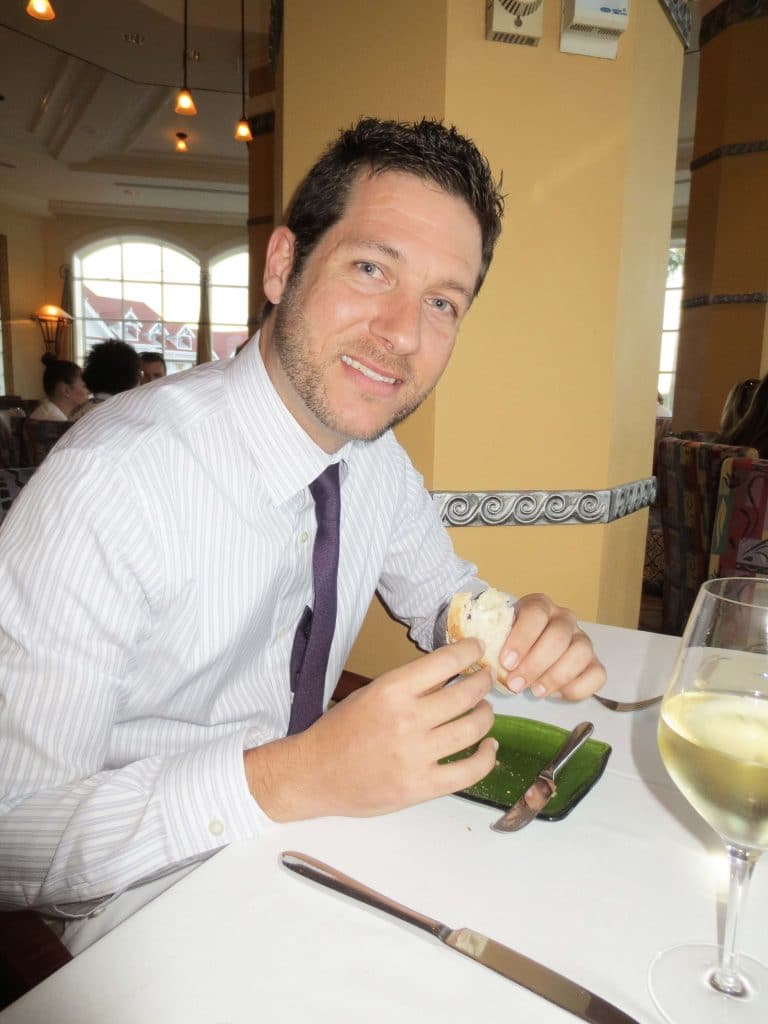 We ordered wine, which they brought, along with bread and butter. Travis couldn't get the butter to spread because his hands were shaking so much. So, he just folded the slice of bread over a huge pad of butter and went to town.
It was so funny, we still laugh about it when we talk about that day. I'm so glad I took a picture of it.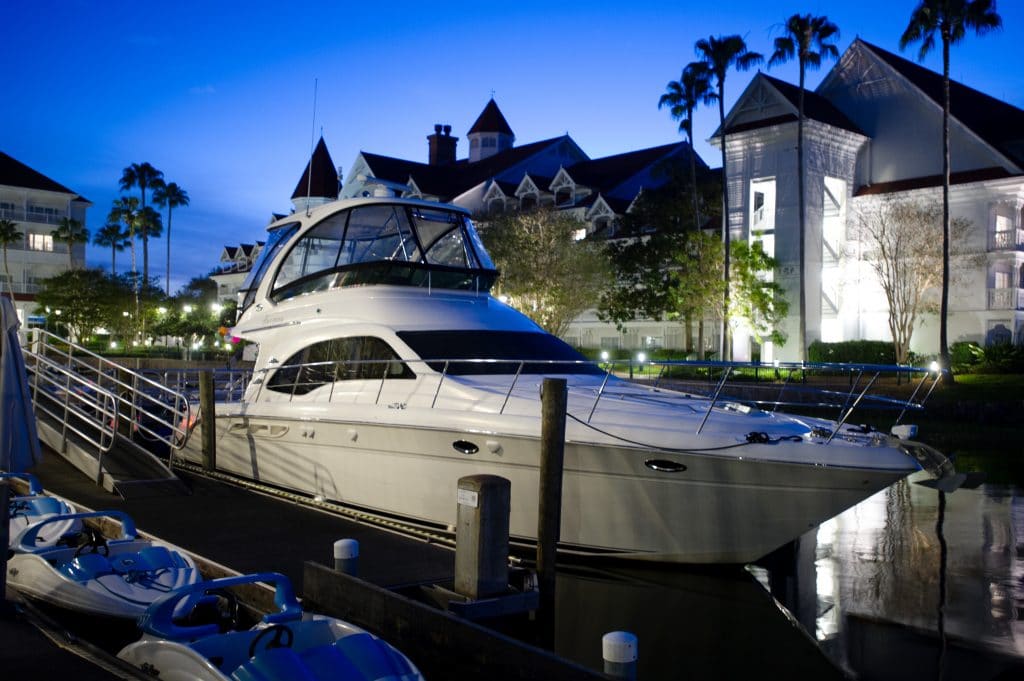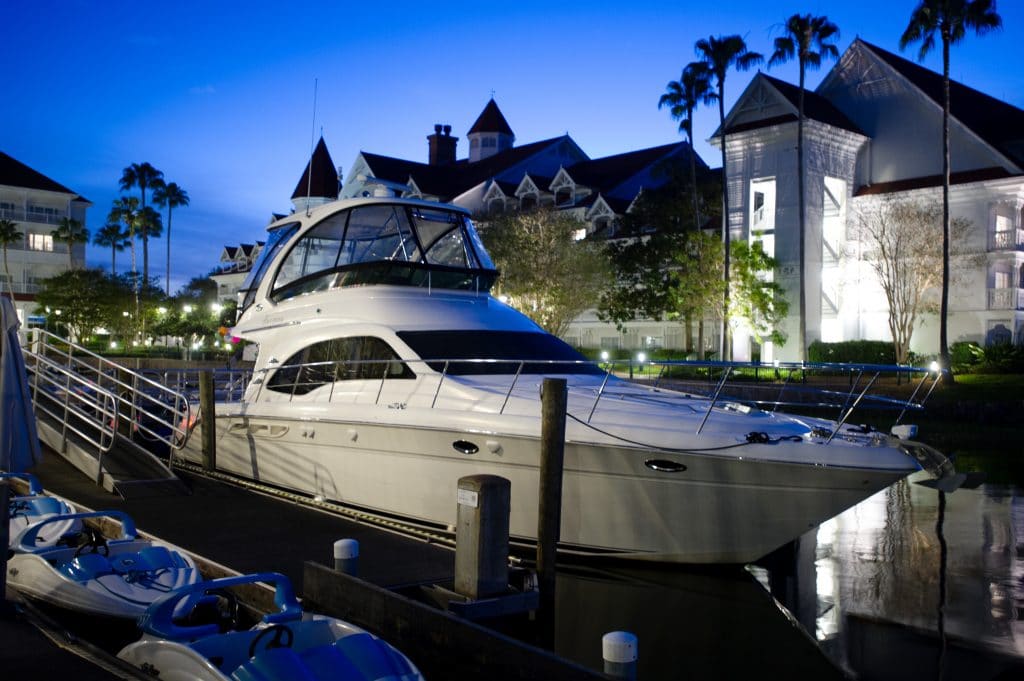 I had chicken and Travis had fish, I can't for the life of me remember what we were talking about, but dinner went by in a flash. We ordered dessert, paid, and then we left the restaurant. As soon as we walked out, a girl was waiting there to walk us down to the Grand One yacht that I thought we had  "won" a firework cruise on.
In reality, Travis had rented out the Grand One yacht for us and hired a photographer to be there to capture the moment for us.
Our Disney Engagement Story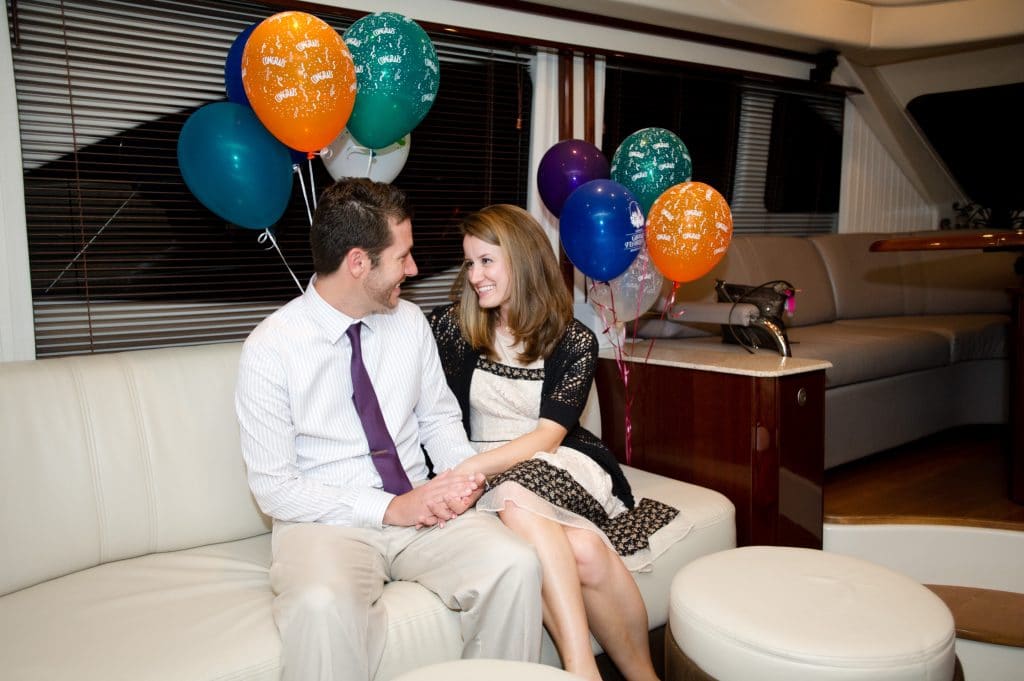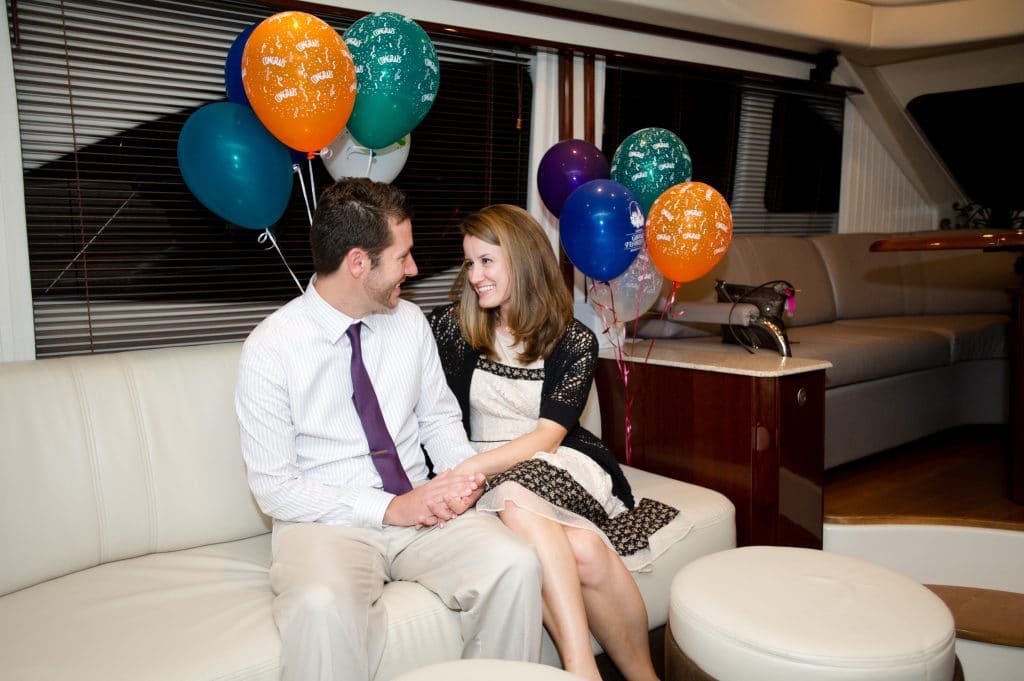 It was a perfect evening, a little chilly and breezy. We boarded the yacht, went to the top deck to greet the captain, and then went back downstairs to get settled. The captain told us we had 30-45 minutes before the fireworks started at the Magic Kingdom, so we had time to take a few laps around the Seven Seas Lagoon.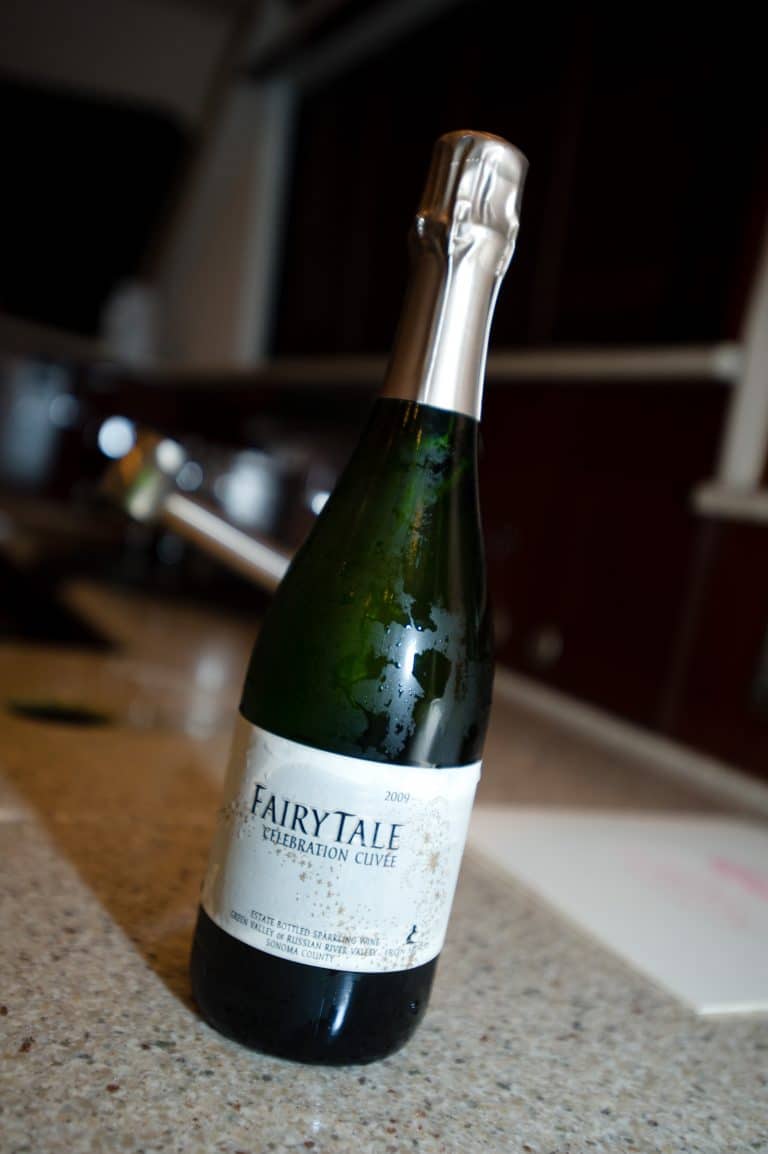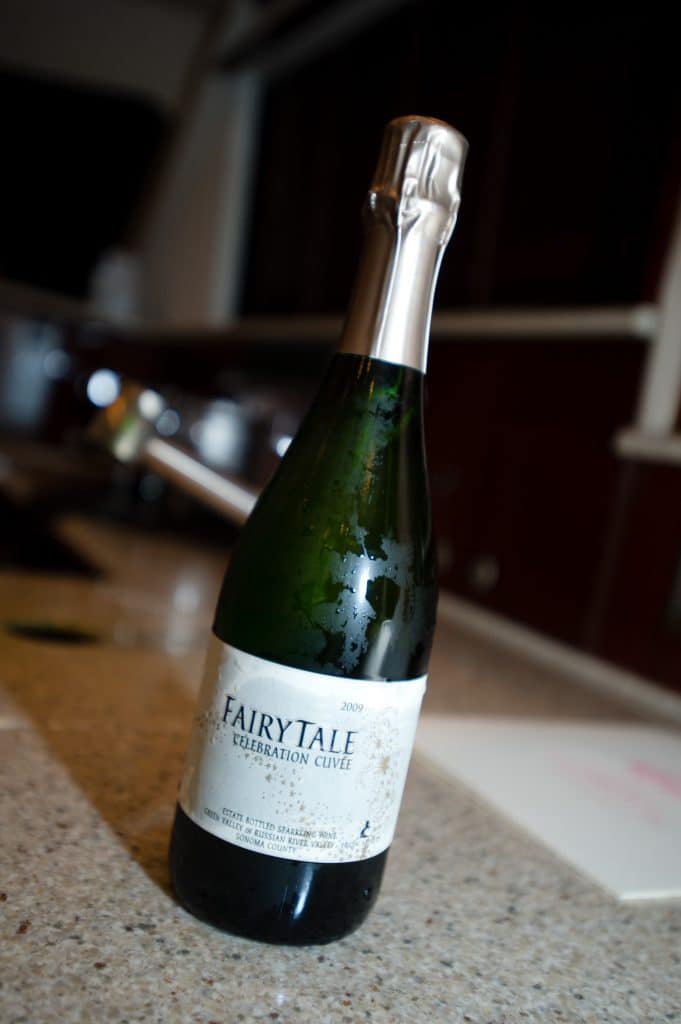 We were sitting in the bottom deck, and Mike the photographer, was taking pictures of us. It felt a little odd at first. I didn't know if we should be posing and looking at him, or just pretend like he wasn't there. Why was he there anyway?
Hmmm, red flag #3!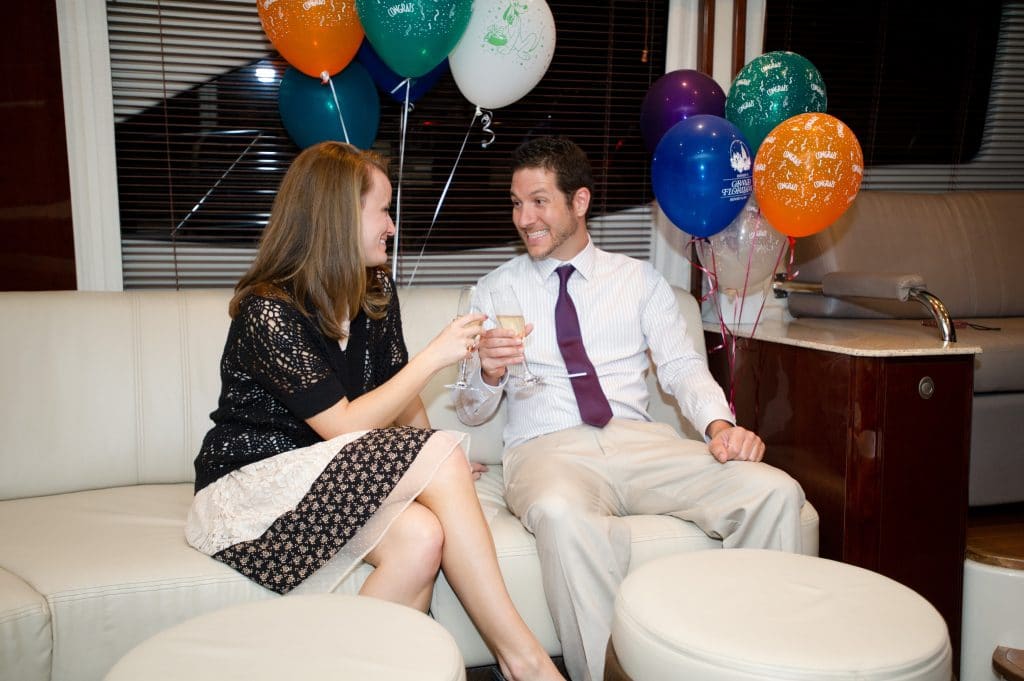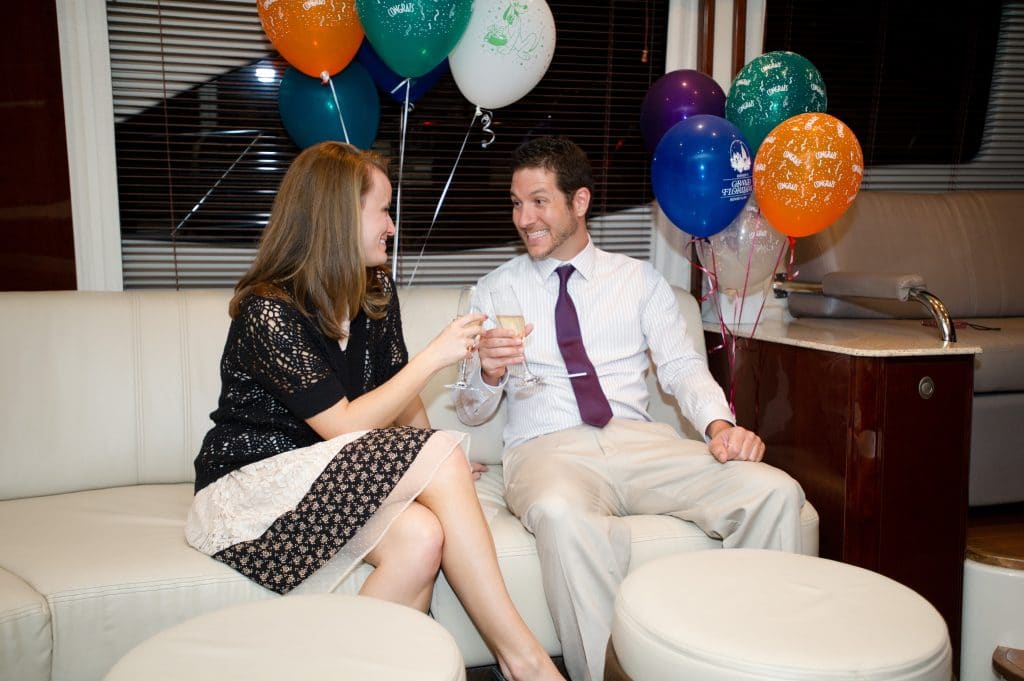 Travis magically pulled out a chilled bottle of champagne that was appropriately named, "Fairy Tale."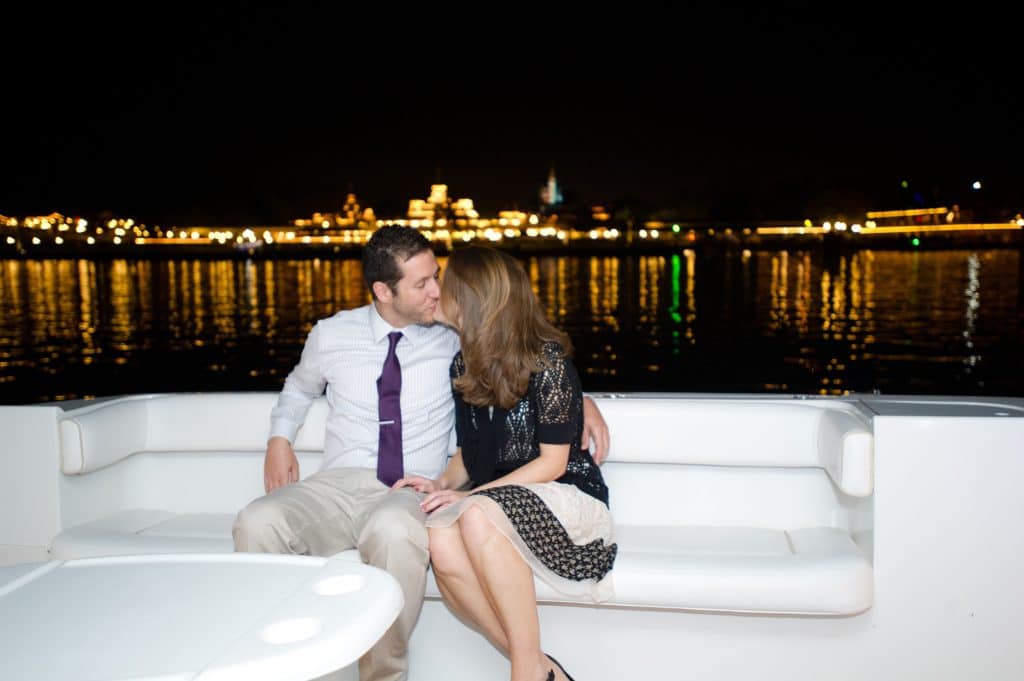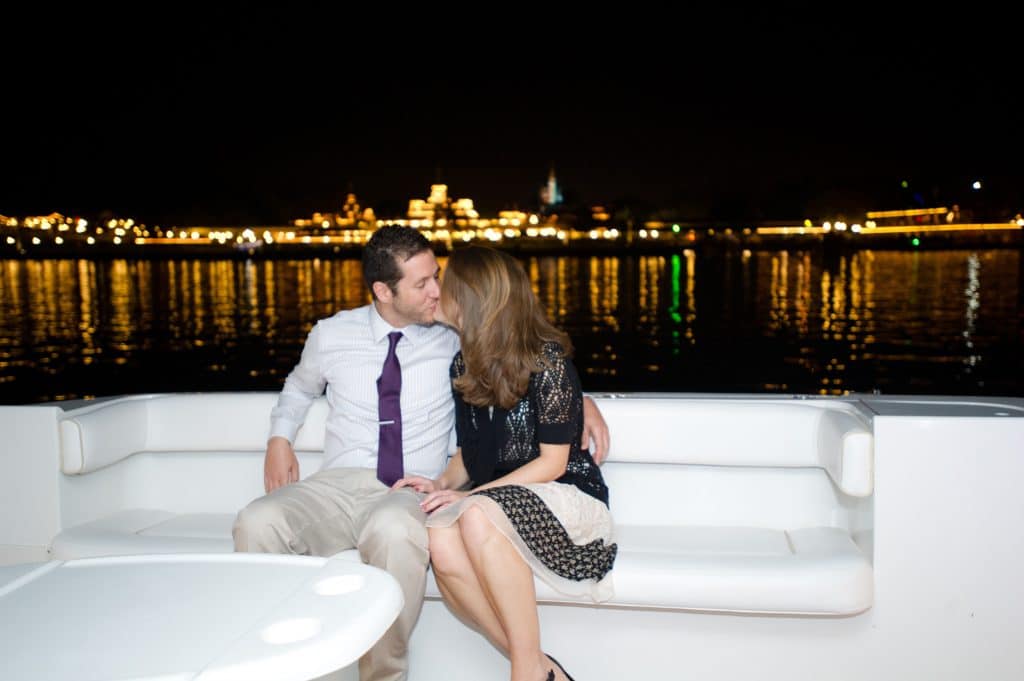 We went out to the open back deck because the captain said the fireworks were starting soon. We love the firework show and have seen them countless times at the Magic Kingdom.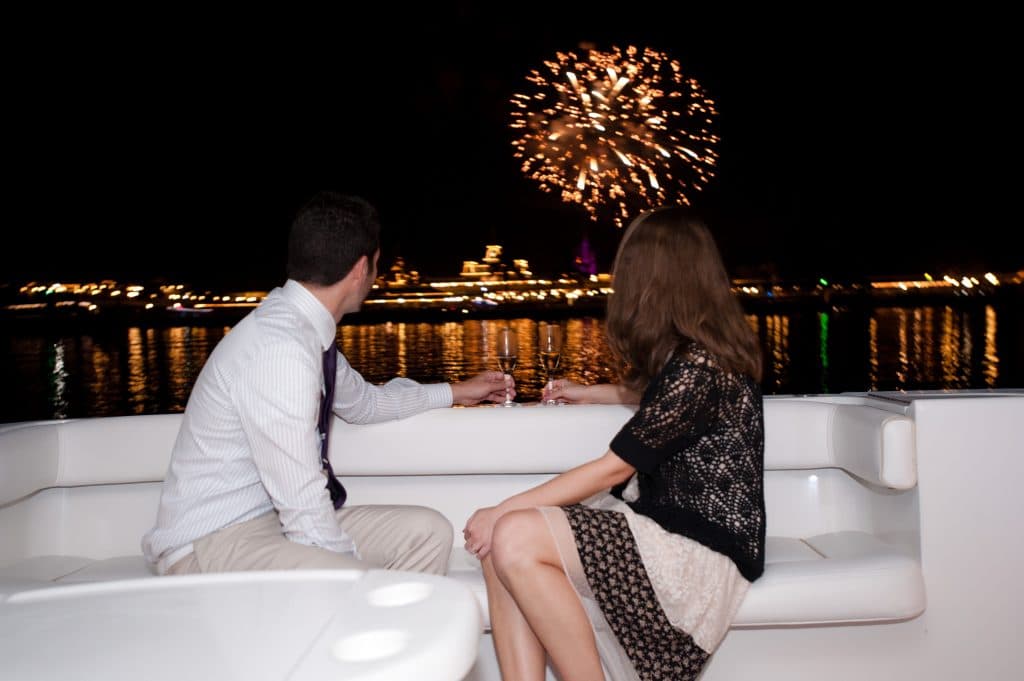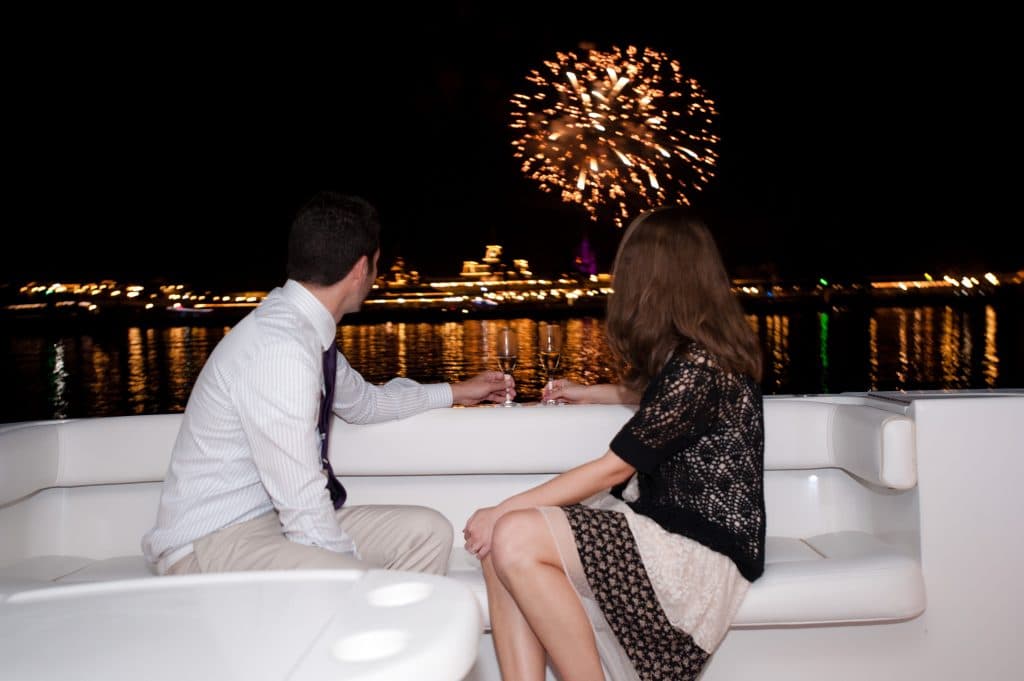 We sat and watched for a minute or two– then Travis stood up and pulled me up with him.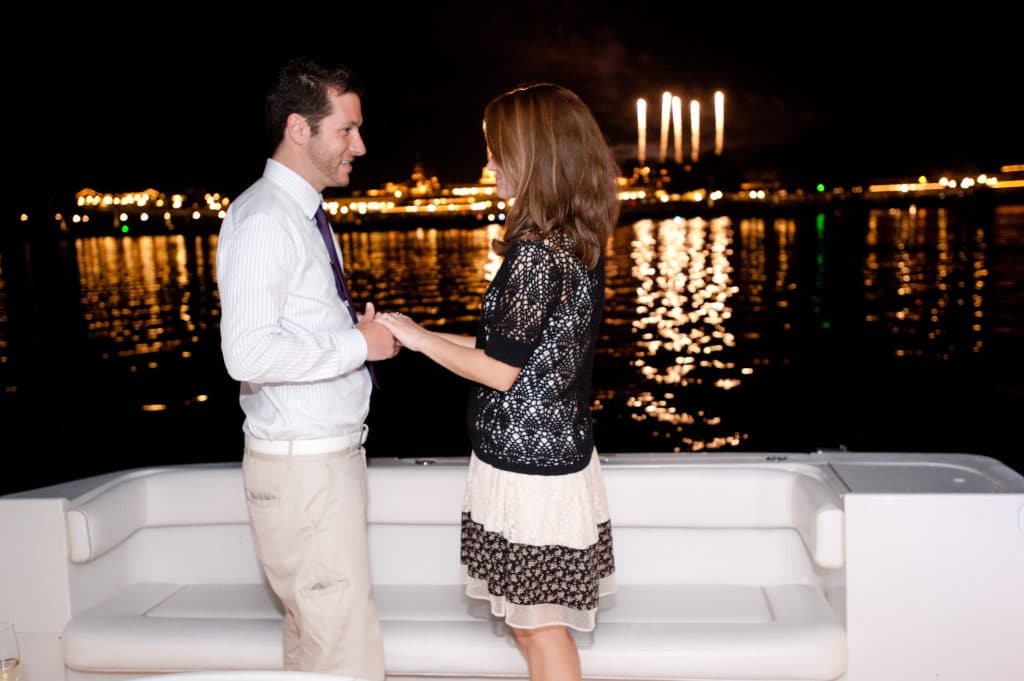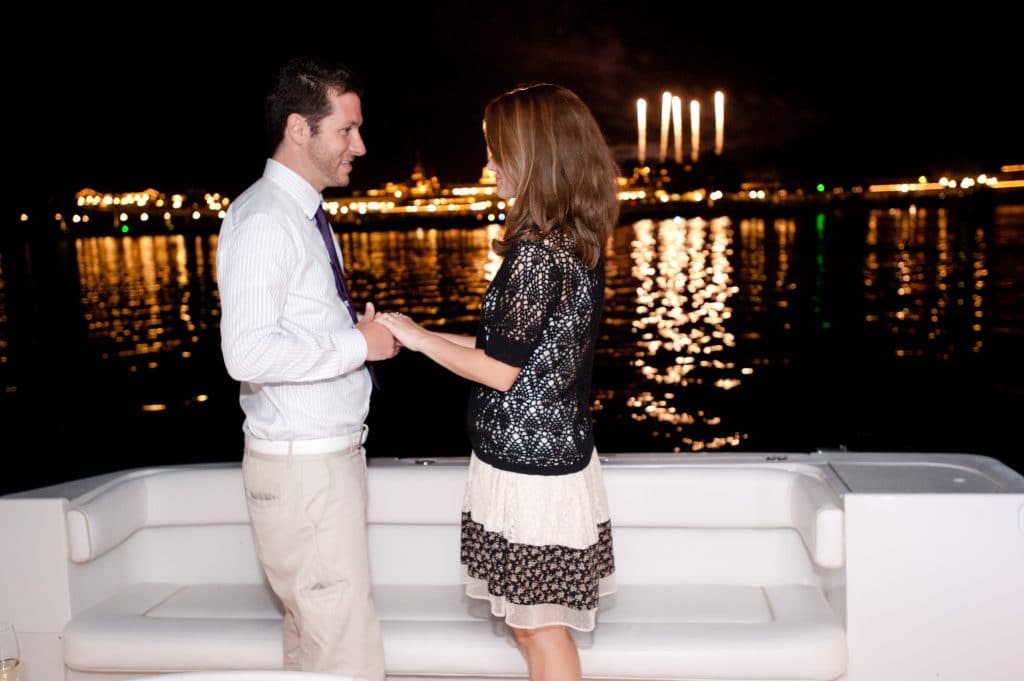 I knew at that point that something was about to happen. Something big. 
Travis had it perfectly timed out to pop the question right when the heart-shaped fireworks went off. He got down on one knee and pulled out the most beautiful ring I could ever imagine.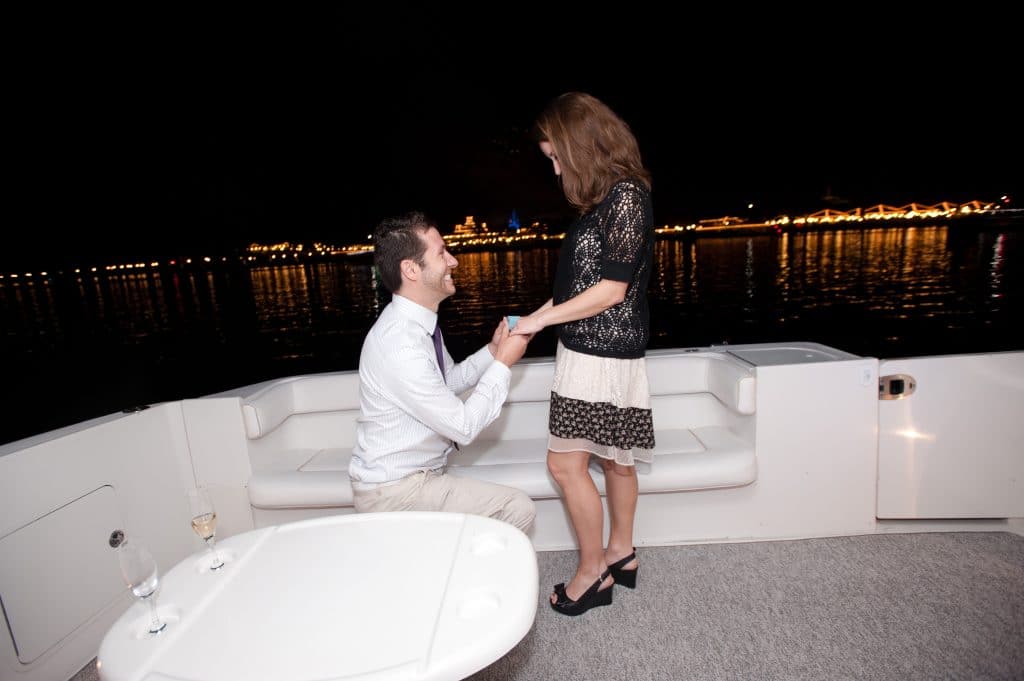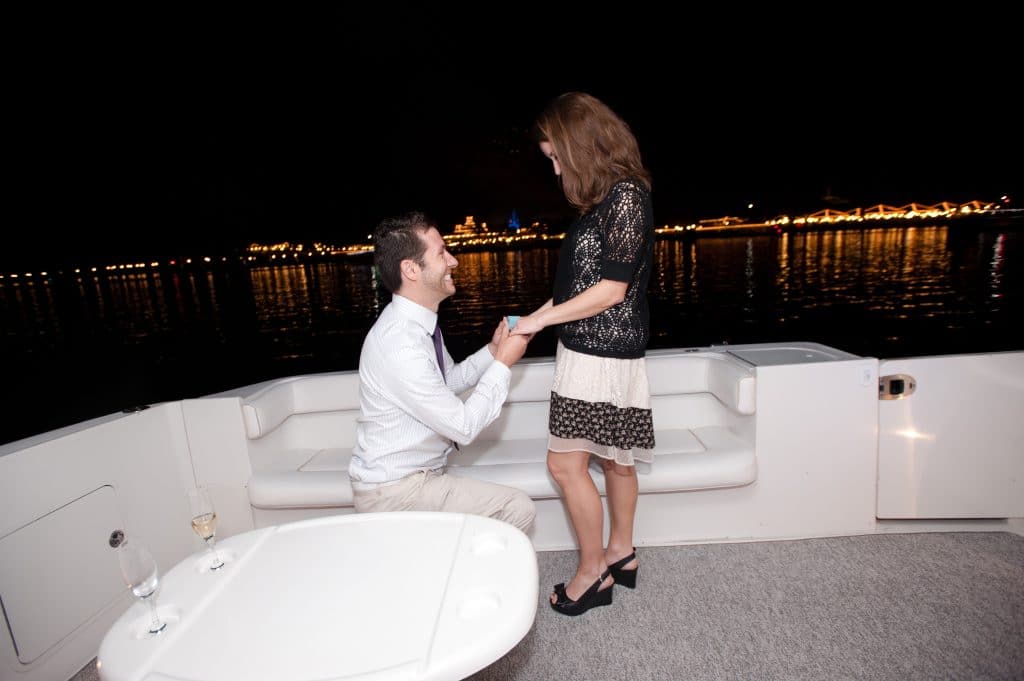 It was the most romantic, beautiful proposal I could've ever hoped for. I said yes, and we hugged and kissed with the fireworks going off behind us. They even had the firework song, "when you wish upon a star," piped into the boat so we could hear it.
[tweetthis]Getting proposed to in front of Cinderella Castle during the fireworks was a dream come true! [/tweetthis]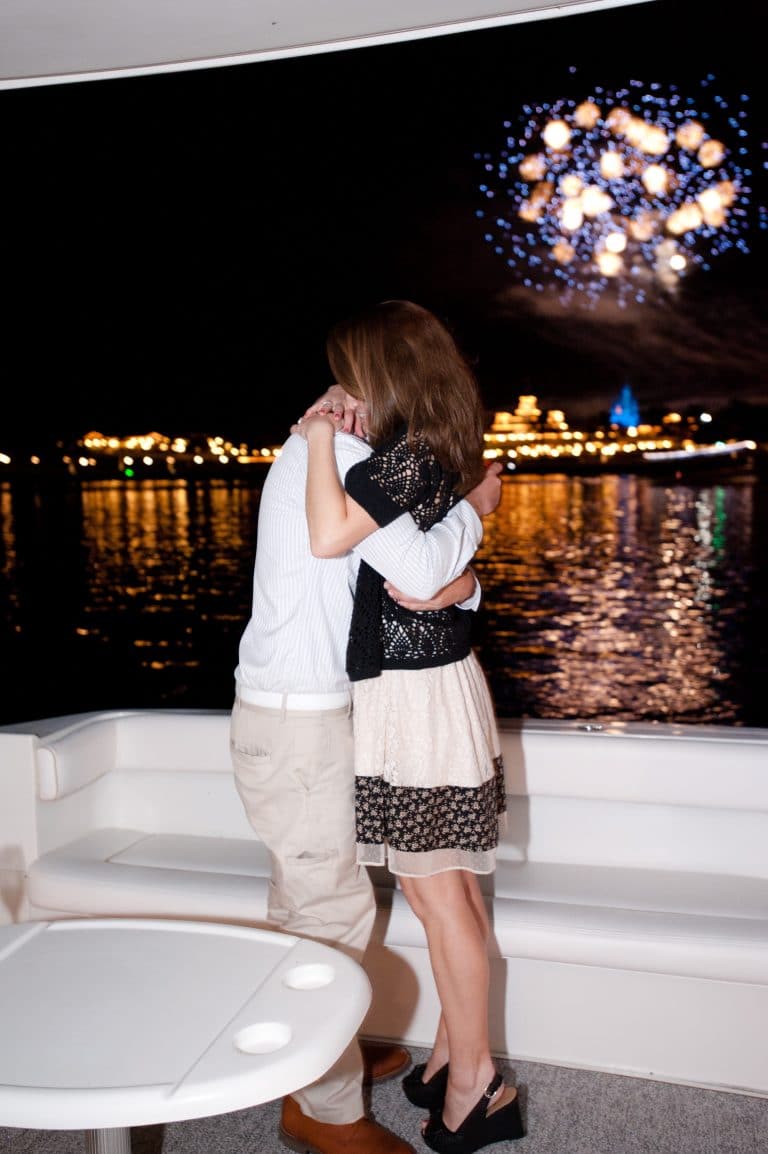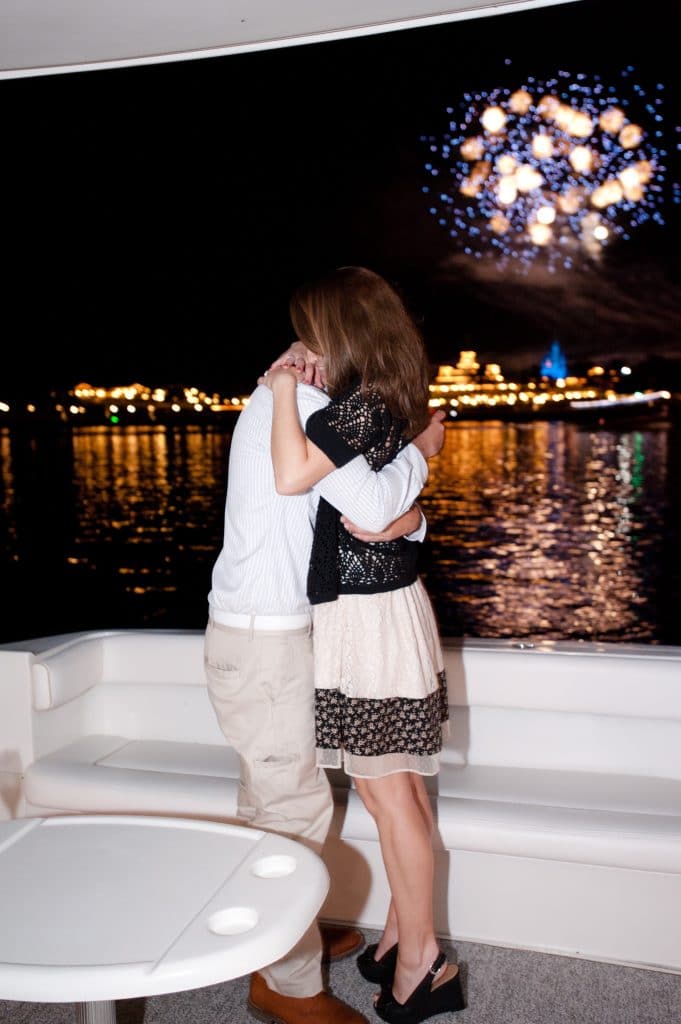 Travis still gives me a hard time about not crying when he proposed, but I was just too happy and excited to cry!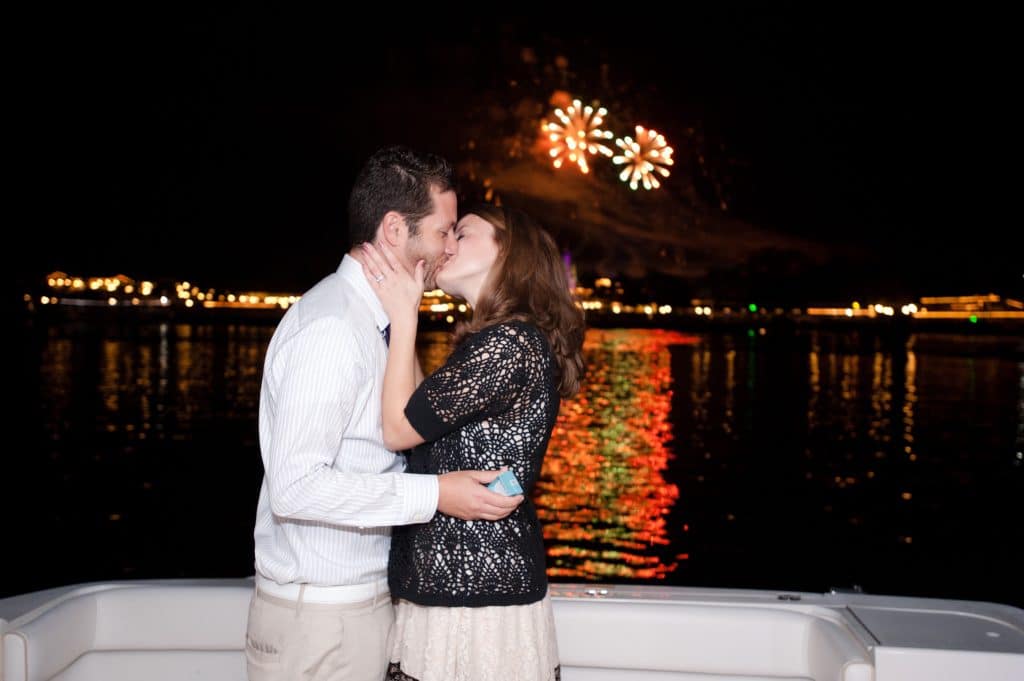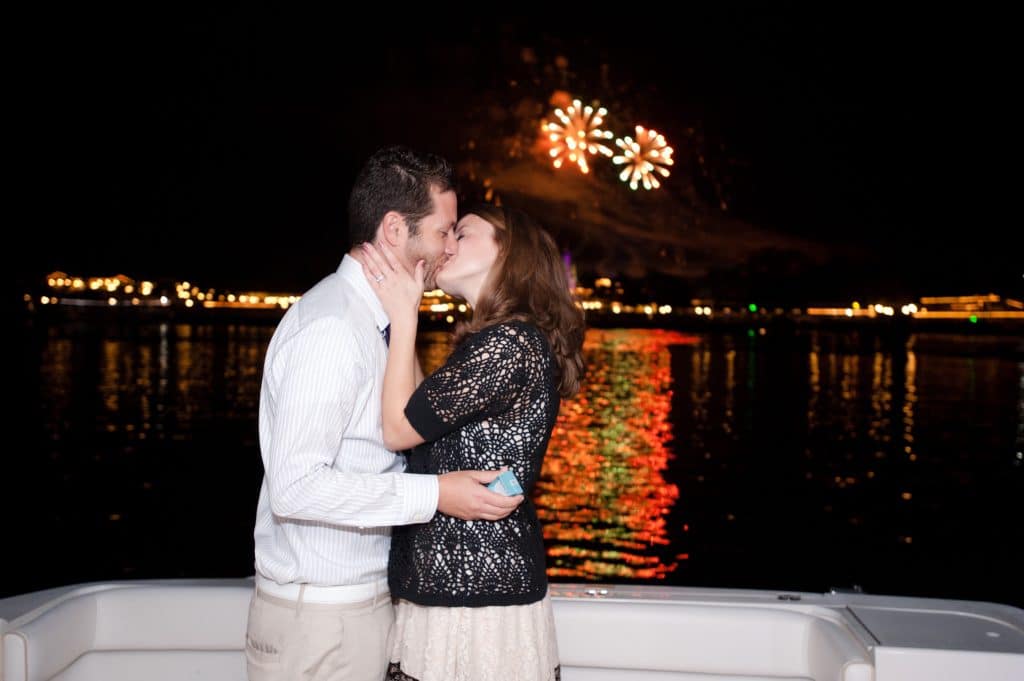 It was like the firework show was just for us! Can you see Cinderella's castle in the distance?
We took a bunch of pictures and headed back to the dock.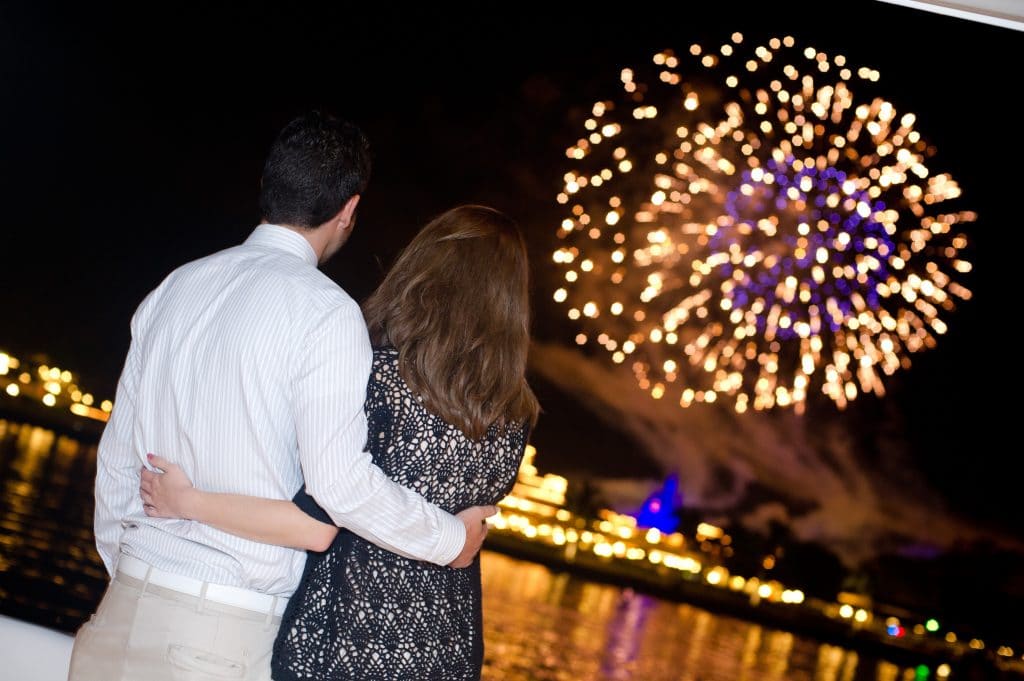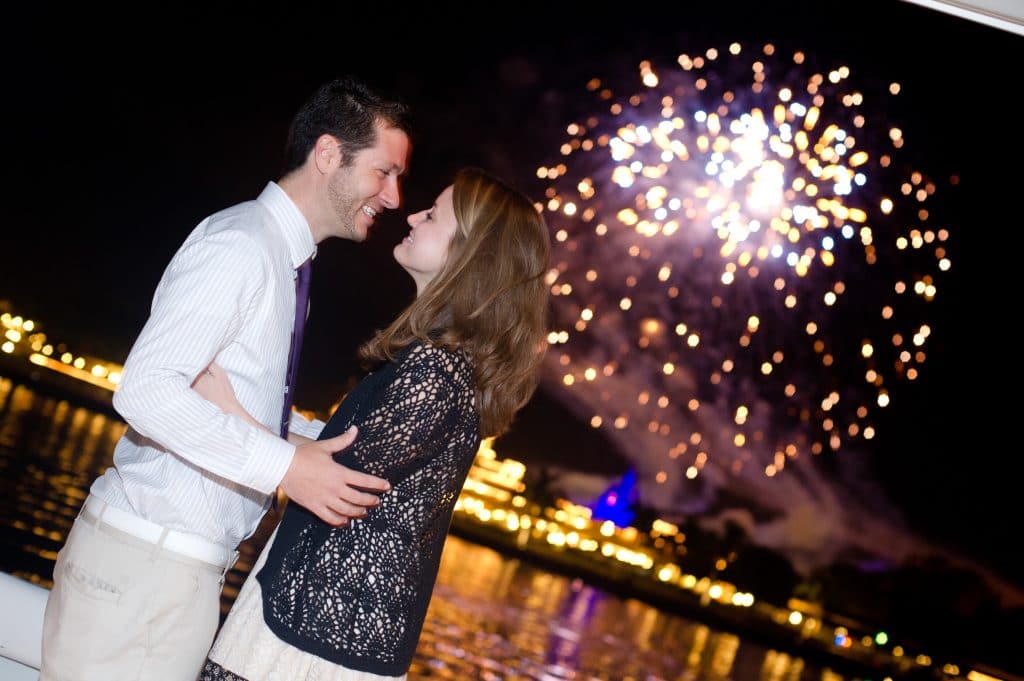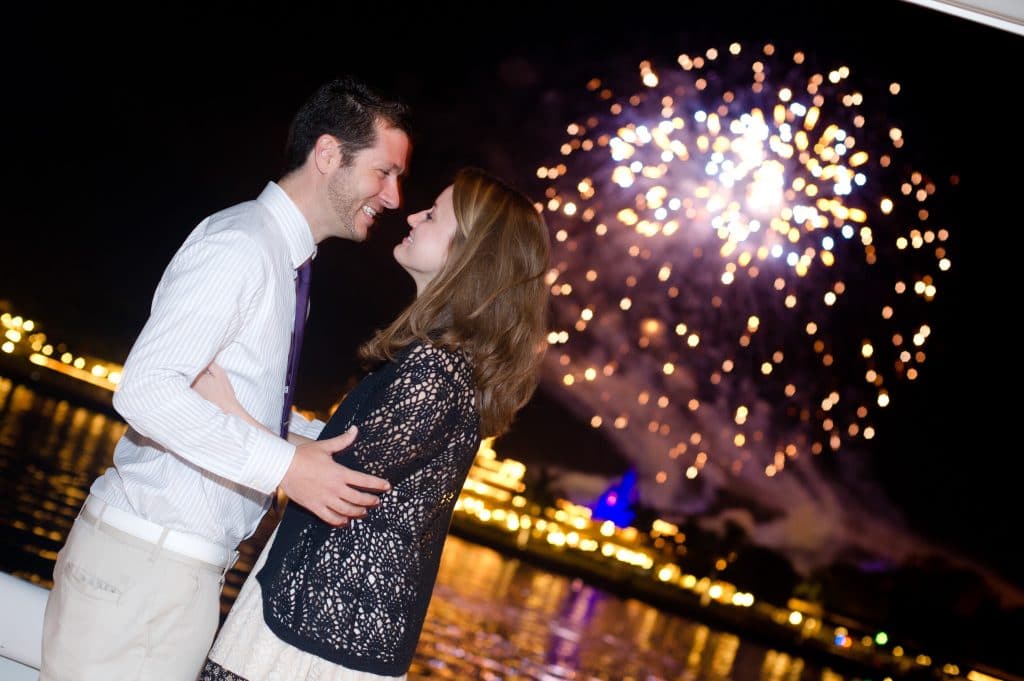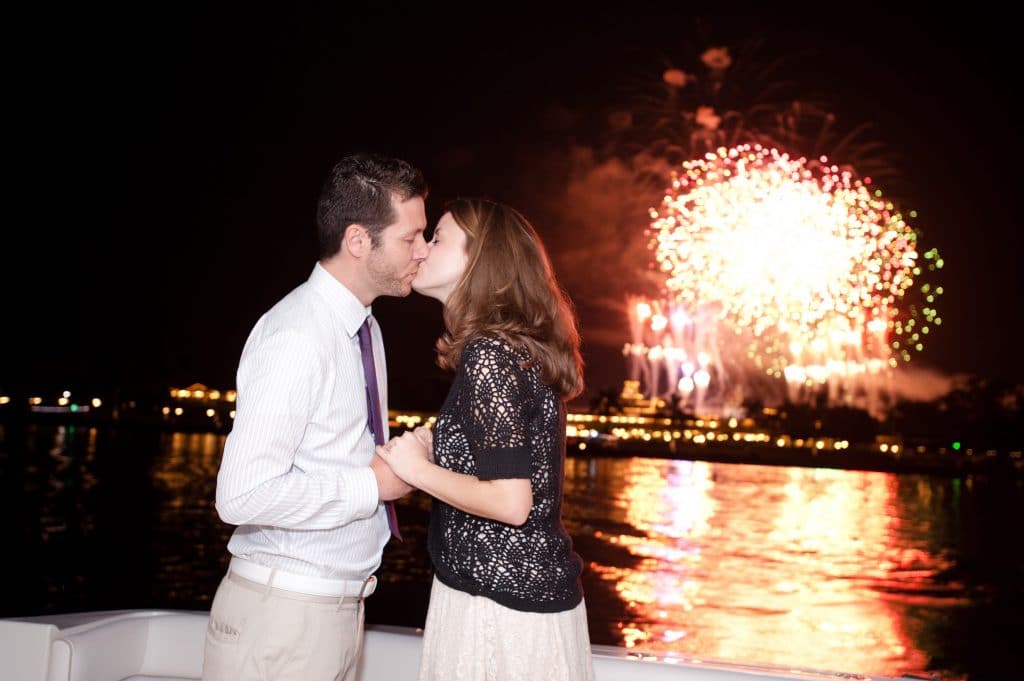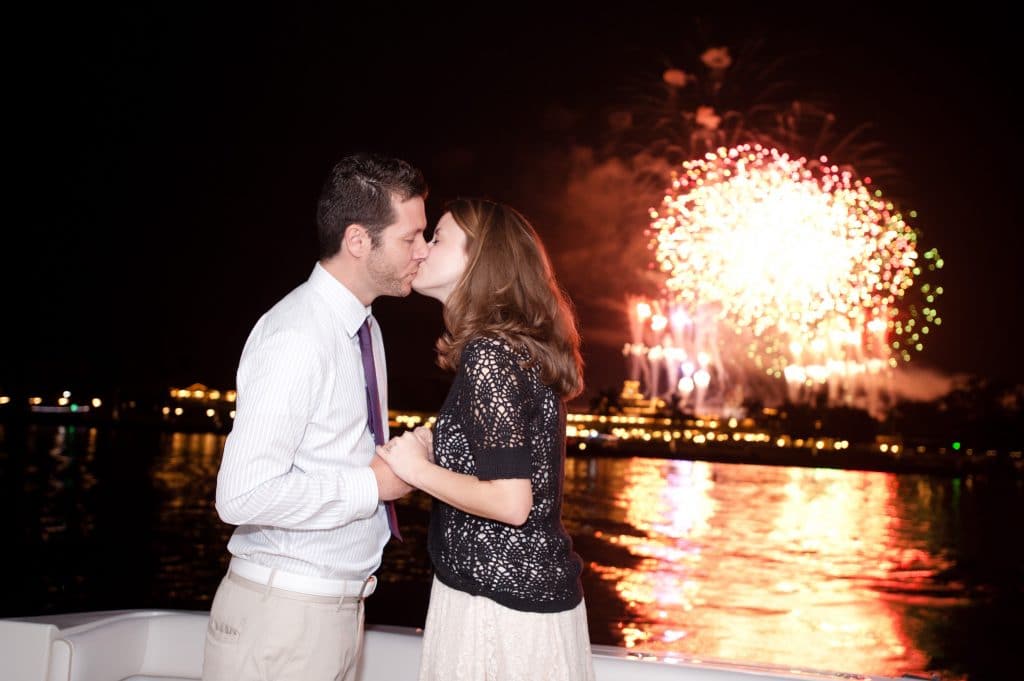 We docked, and were walking off the boat when I heard my mom's voice. I knew she was there before I even saw her. I looked back at Travis, he was smiling and told me to go.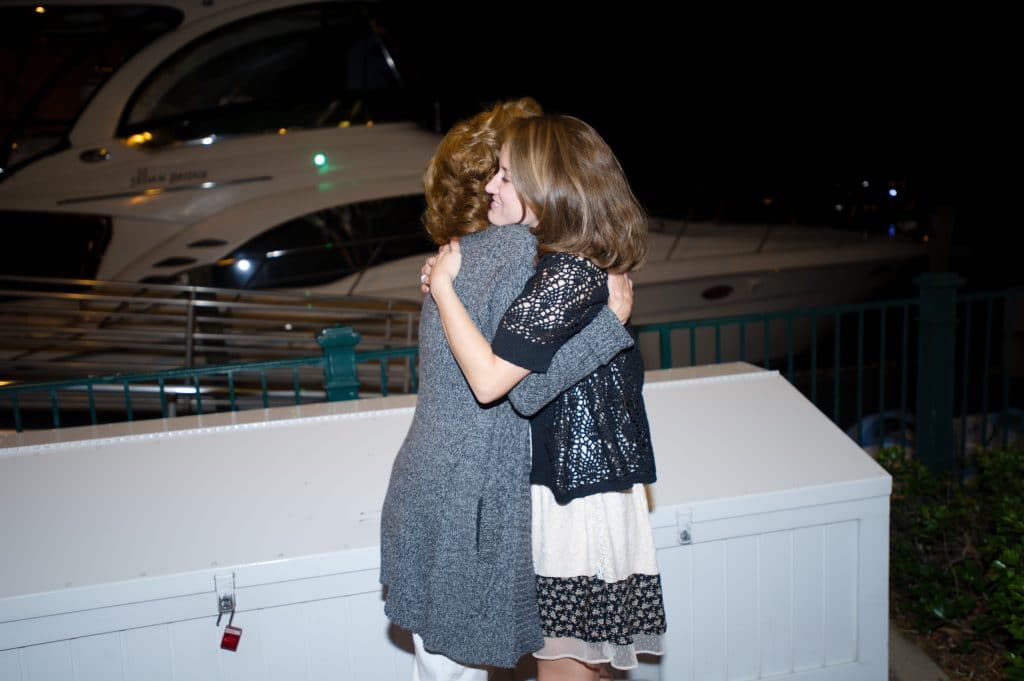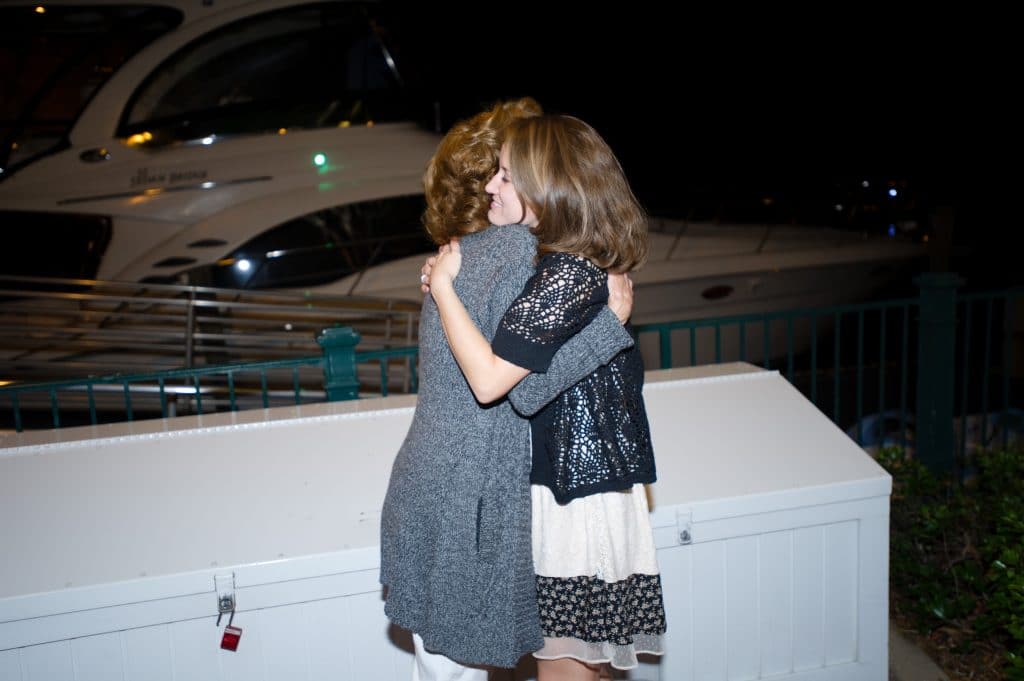 I ran off the boat dock and saw my parents walking around the corner. I think my mom's heart dropped through her butt because she had no idea why I was there. We ran to each other, hugged forever, and I showed her my ring. I started crying because it was real now. I had always told Travis I wanted my parents to be at our engagement, and he made it happen.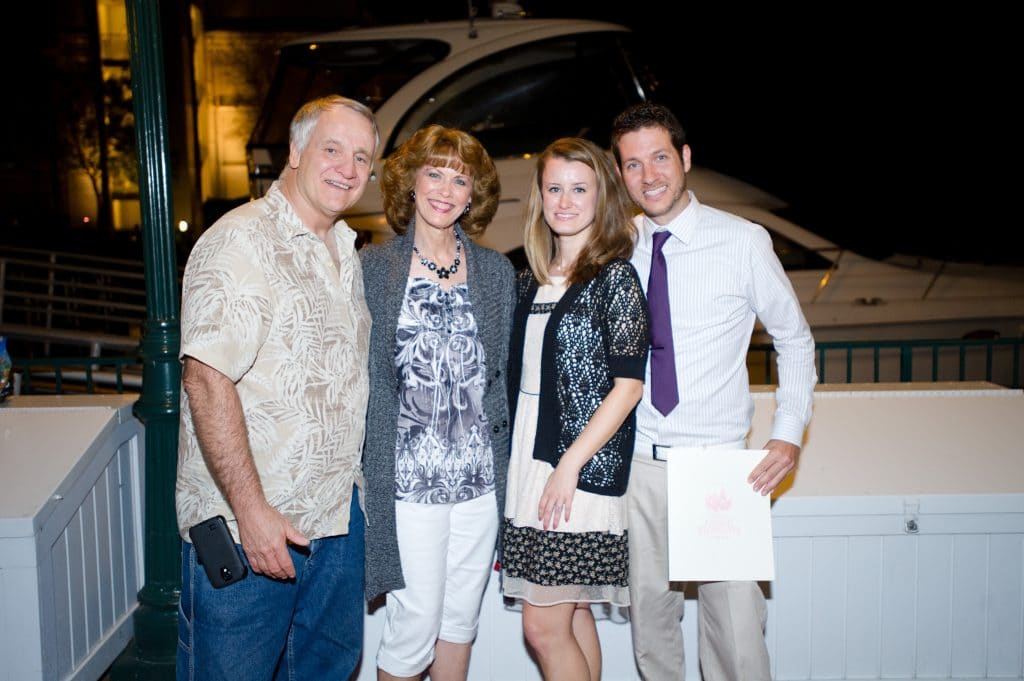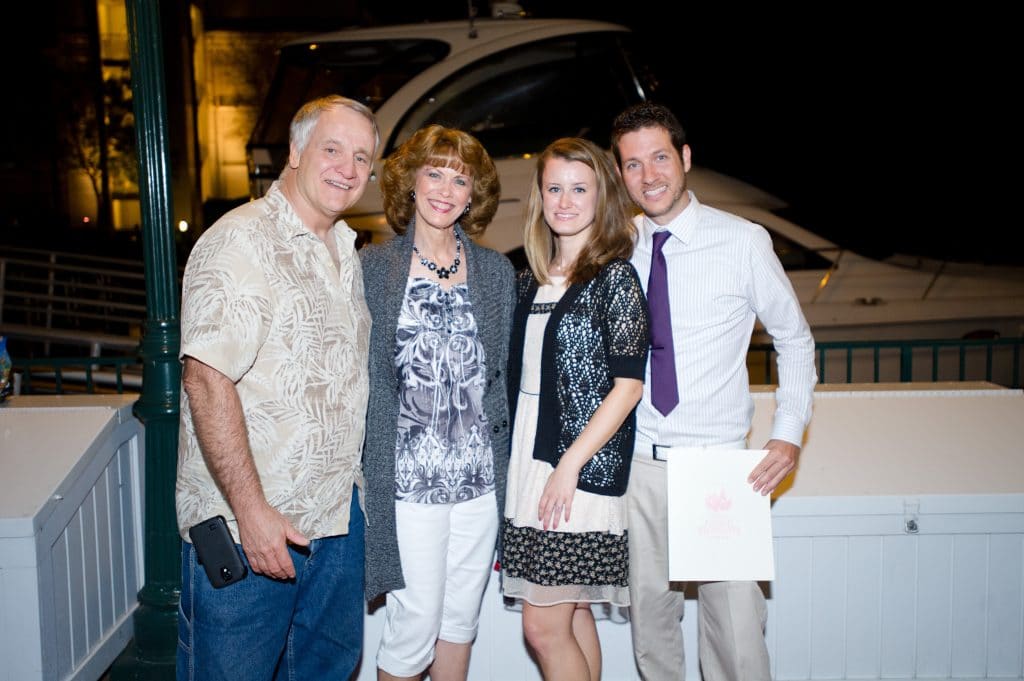 My dad had tricked my mom by telling her they were just going to dinner at Disney, which they do often, so she wasn't suspicious. After dinner, he told her they were just going to go for a walk around the resort before they headed home.
My mom had no idea she was about to be part of our Disney engagement story.
Disney is special to my parents too because they honeymooned at the Polynesian 35 years ago. If only they had known all those years ago, that their daughter would be getting engaged in the same place they had their honeymoon!
Engagement Photoshoot at the Grand Floridian Resort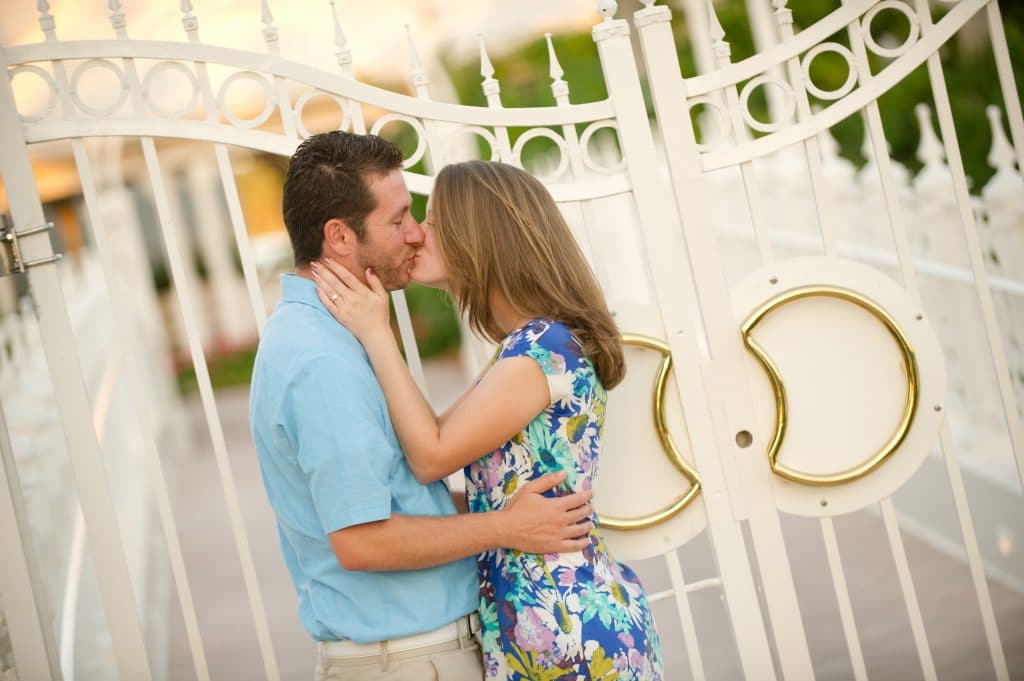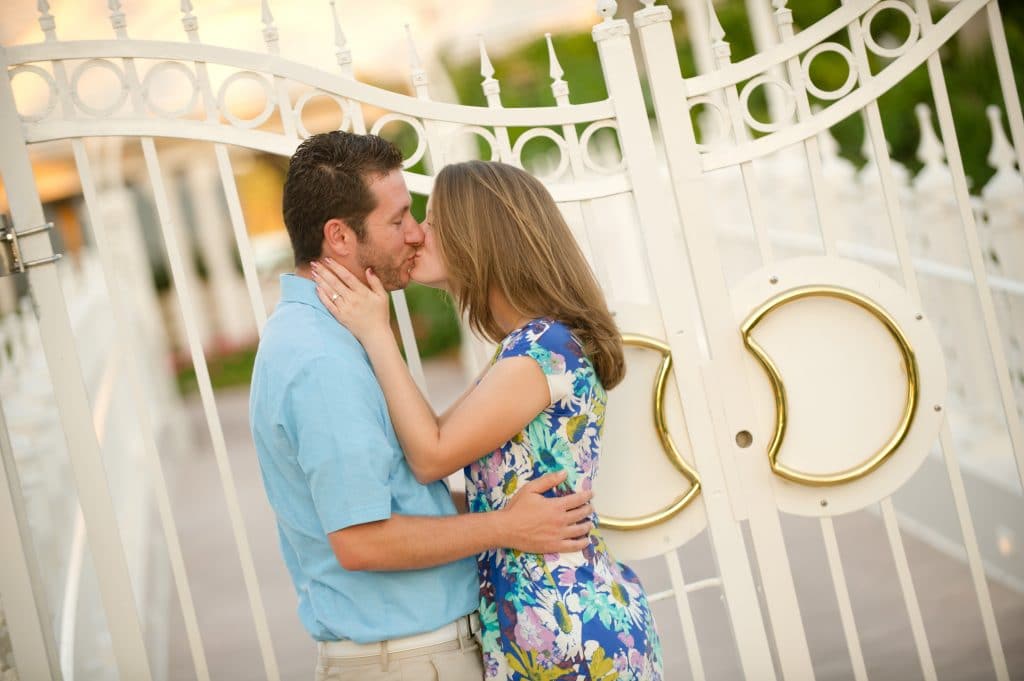 Travis created the best memory of our engagement that I could've ever hoped to have. The concierge at the Grand Floridian was amazing, Mike Briggs, the photographer was fabulous, and to top it all off we came back the next day for an engagement photography session with Mike.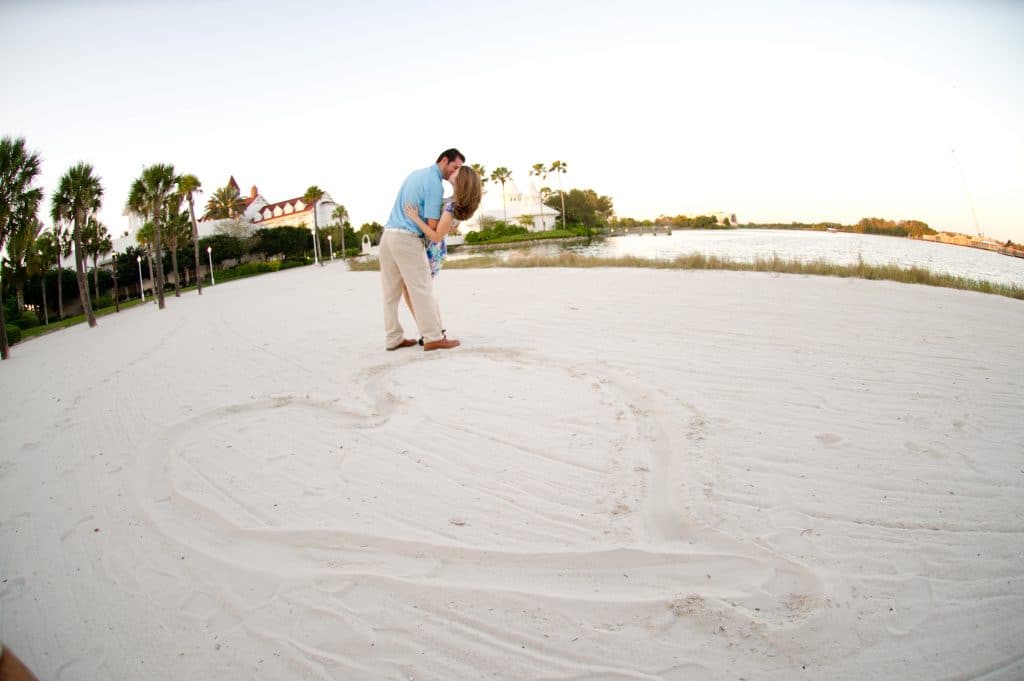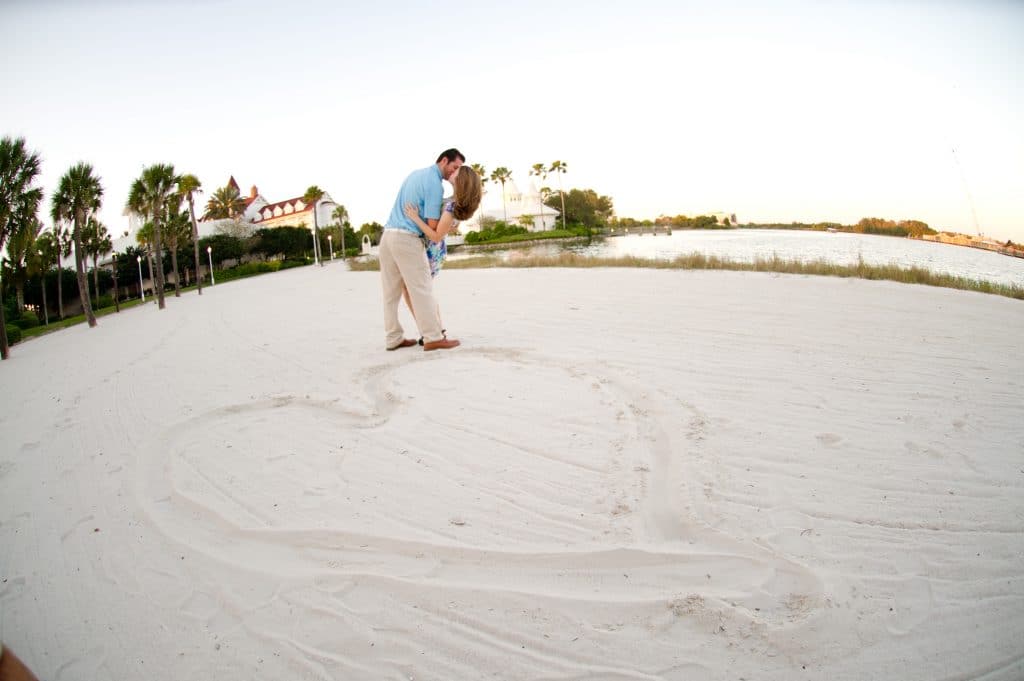 We walked all around the Grand Floridian Resort, around the beach, and over to the Polynesian resort.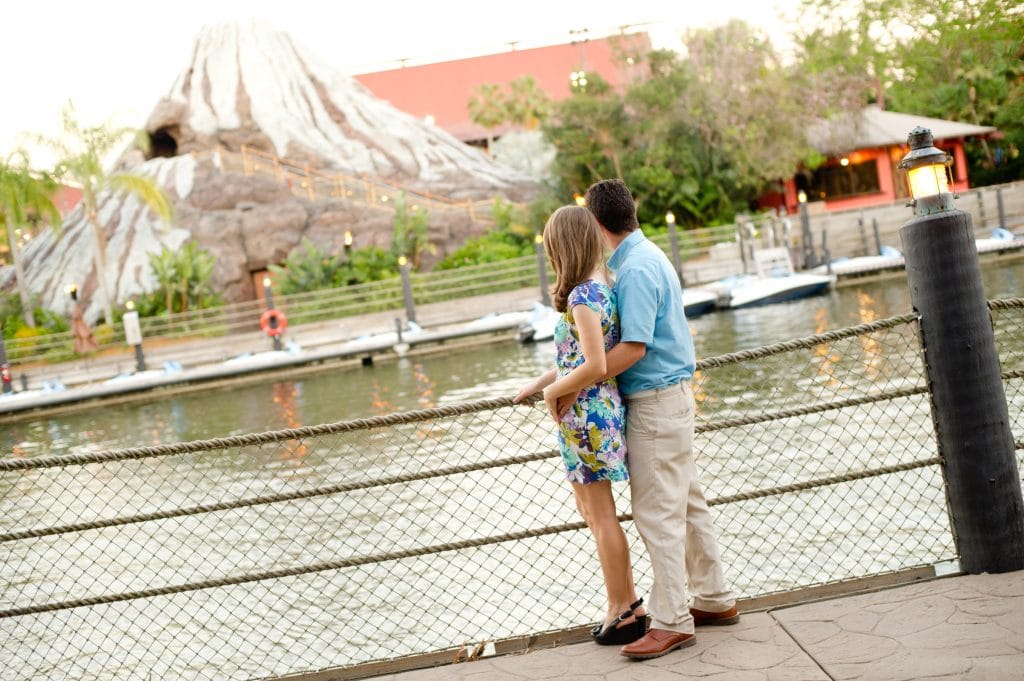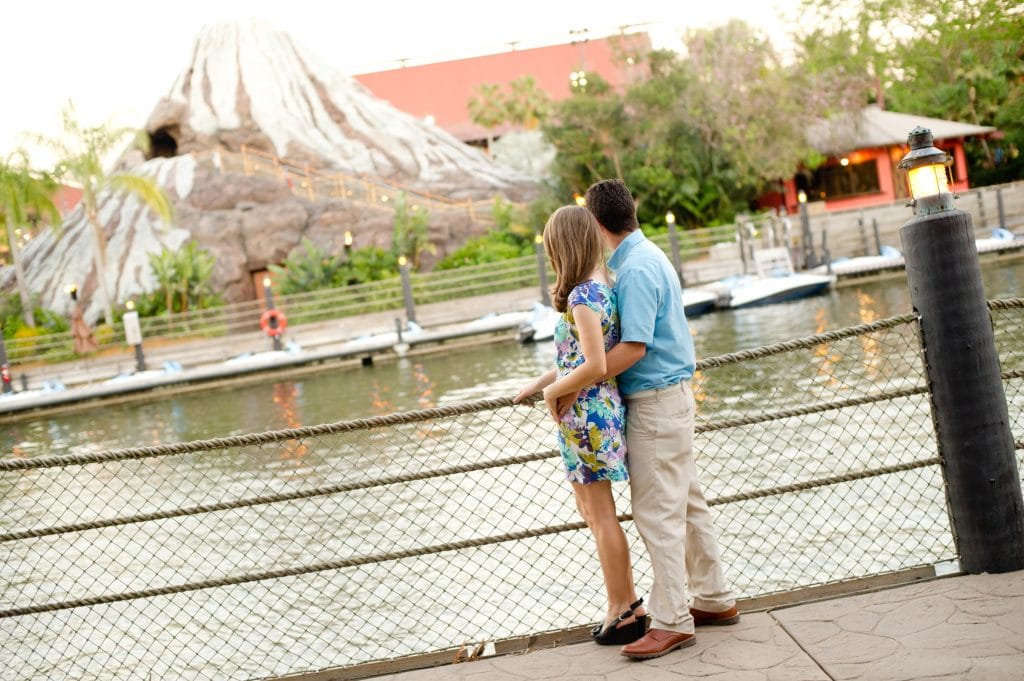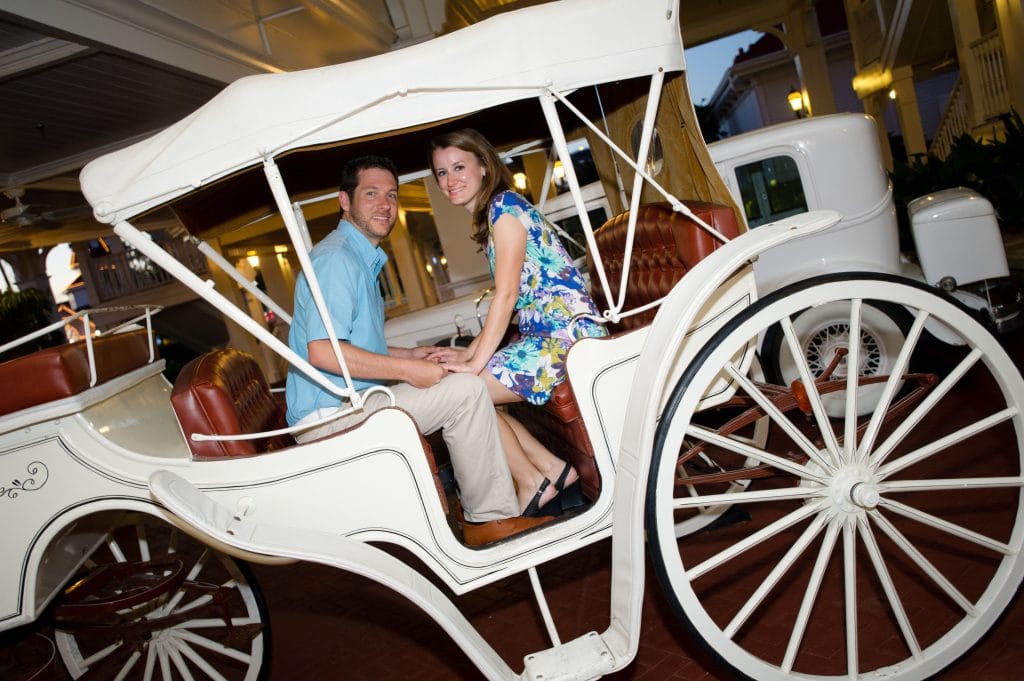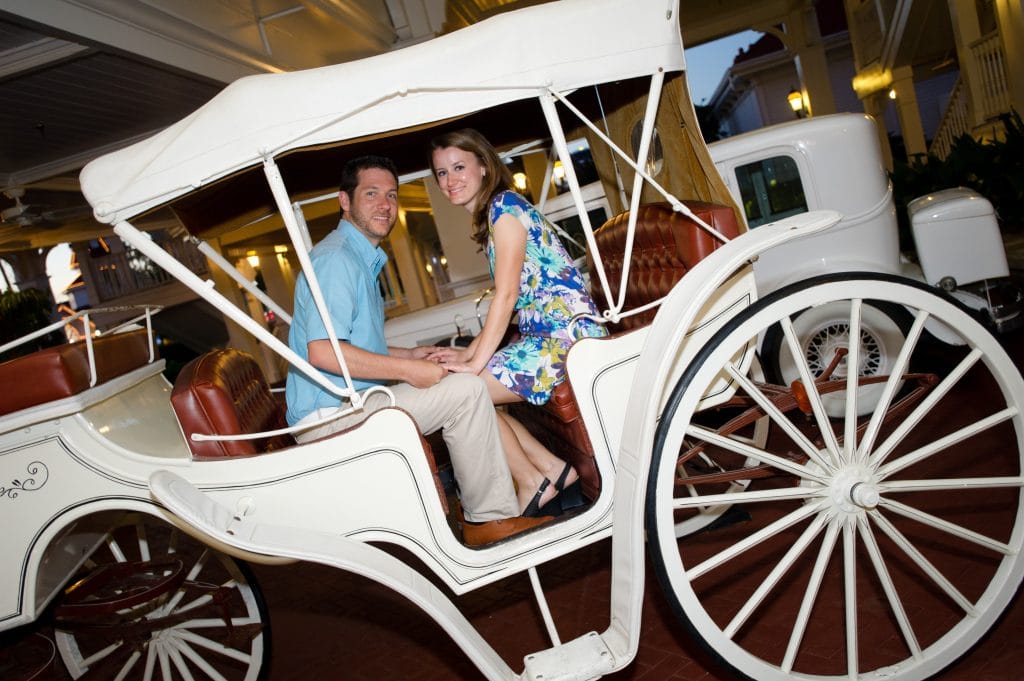 I hope you enjoyed our Disney engagement story, we loved sharing it with you! ❤️
If you're thinking about getting engaged at Walt Disney World, I highly recommend it. It was a magical experience that we'll both remember forever.
NEVER MISS A STACEY HOMEMAKER CREATION! 
FACEBOOK / INSTAGRAM / PINTEREST / TWITTER
You may also like…
2016 Epcot Flower & Garden Festival Food Review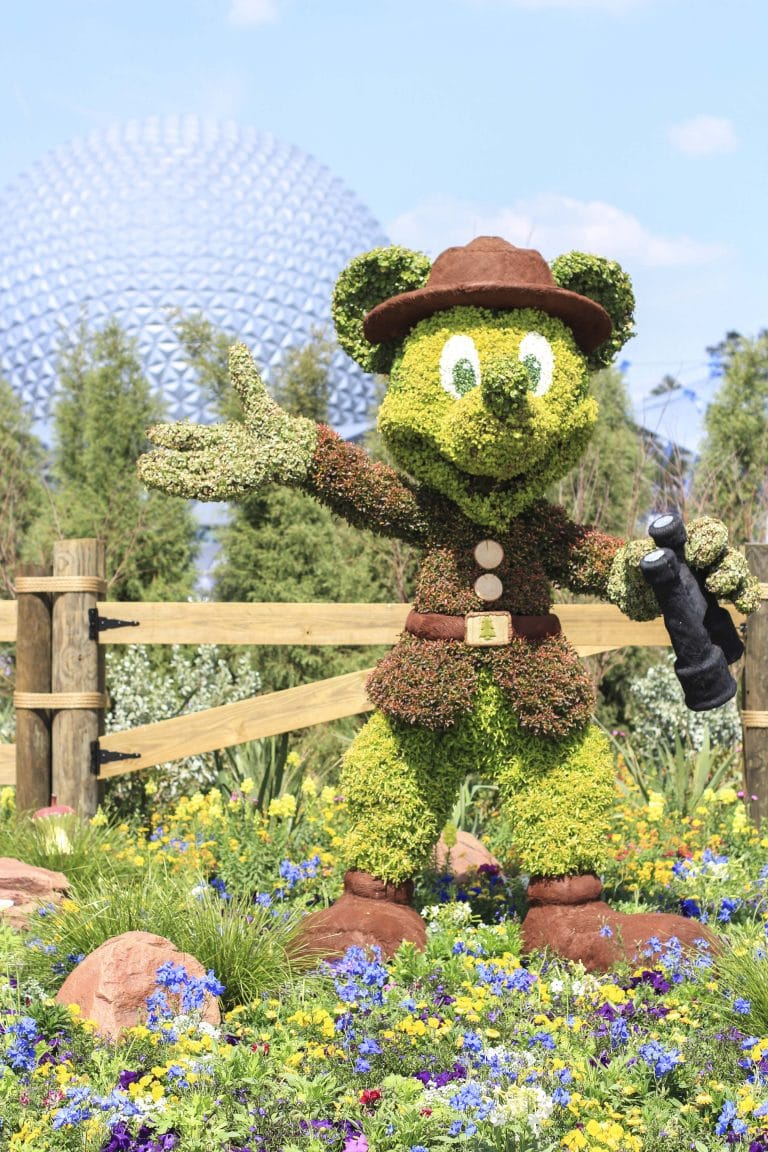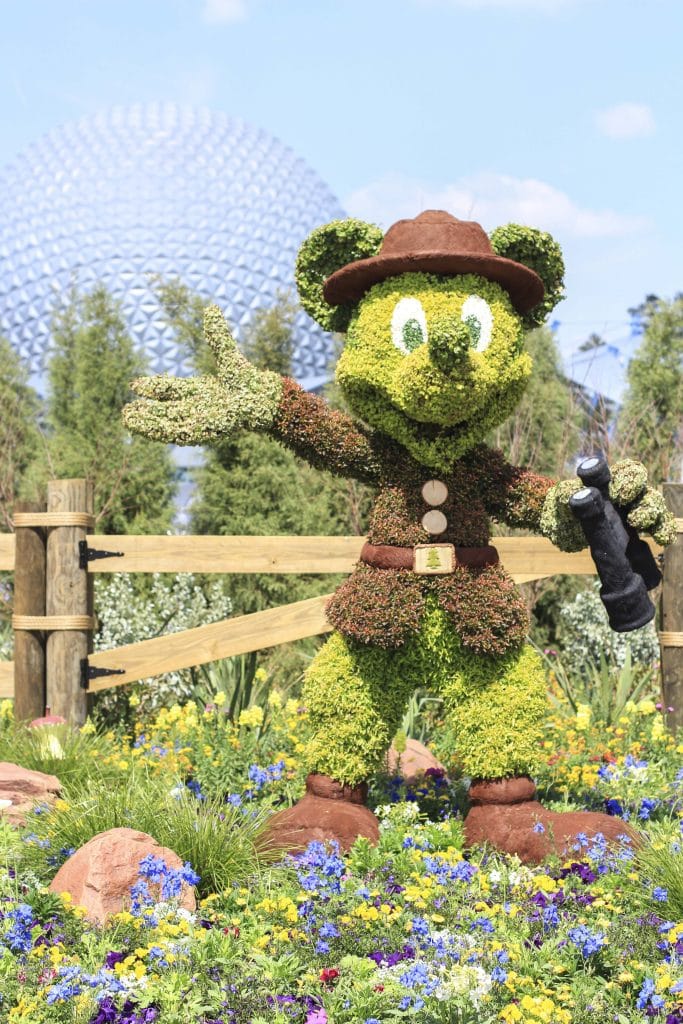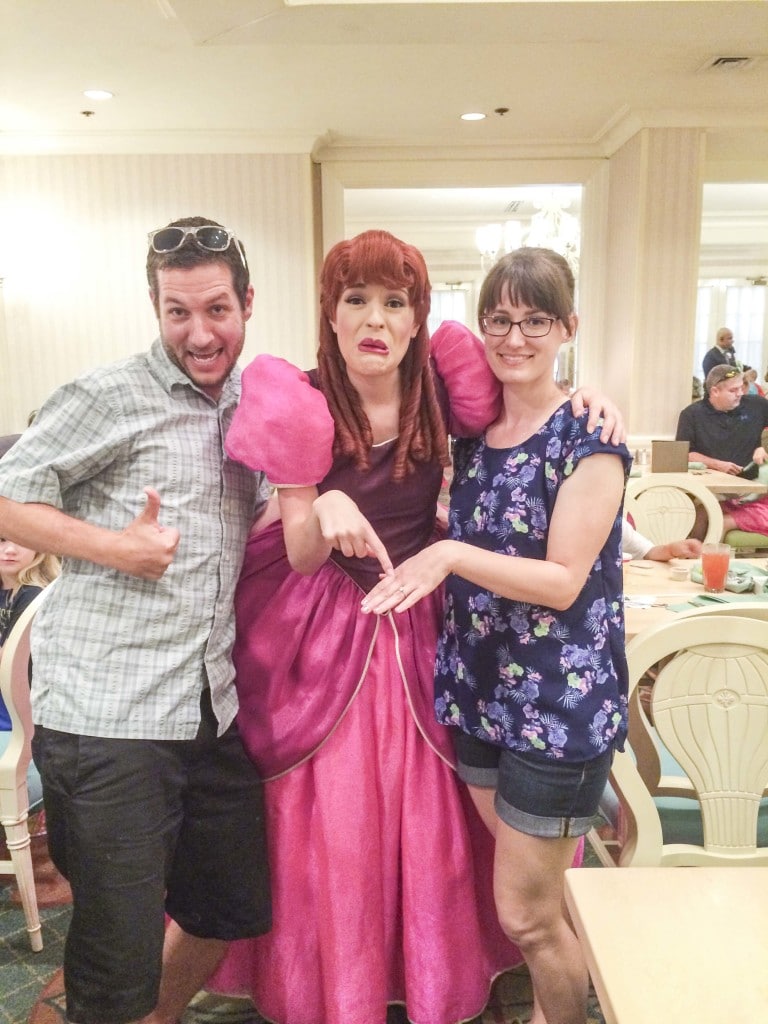 Epcot 2015 Food & Wine Festival