This shop has been compensated by Collective Bias, Inc. and its advertiser. All opinions are mine alone. #HolidayPairings #CollectiveBias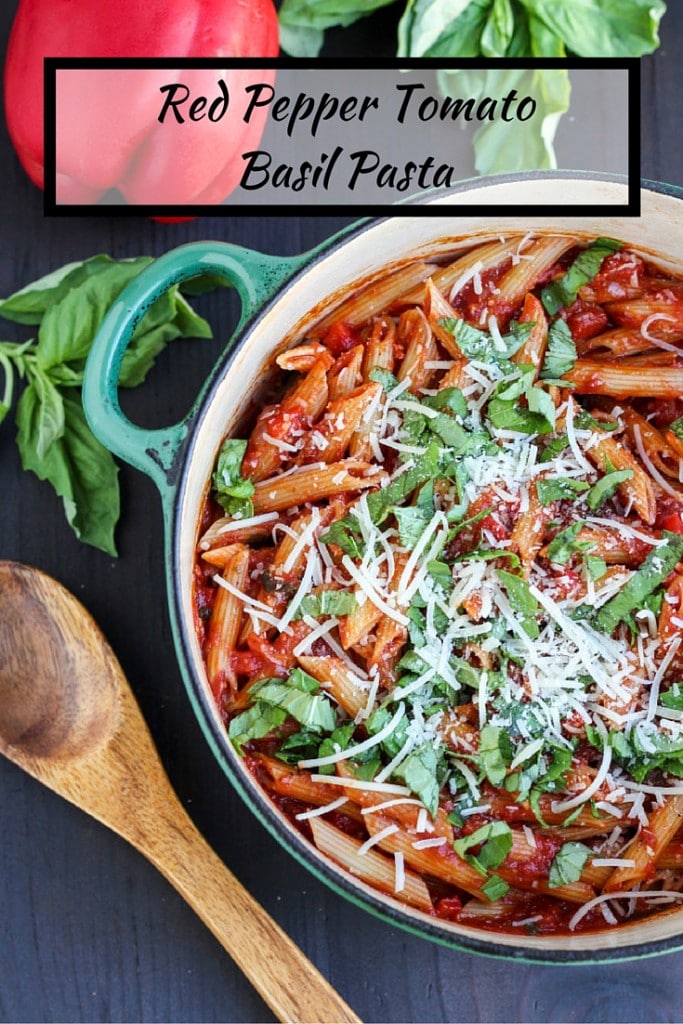 I love making one-pot dinners, it's so convenient. As much as I love cooking, sometimes I just don't feel like using every dish and utensil I own. Who wants to wash dishes for an hour after everyone eats?
Not this girl!
Meals that are simple, delicious and only require one pot are right up my alley!
Pasta is one of my favorite foods, I could eat it every single day! Except, I'm one of those people who stand by the pot of water, impatiently waiting for it to boil. Or, I'll try to distract myself with something and then I end up checking on it every 10 seconds to see if the bubbles have formed yet.
I love all noodles equally, but this new Pronto pasta by Barilla really takes the cake. You put the noodles in the pot, add the cold water, set it to high, and in 10 minutes you have perfectly cooked pasta! No waiting for the water boil, and no extra water to drain…it's like magic!
Since I was trying these new easy noodles, I wanted to make a sauce that was equally as simple to make but tasted like it spent hours simmering away on the stove. My favorite sauce to make is classic tomato basil, with tons of basil! Basil is like catnip to me, I could roll around in it for hours.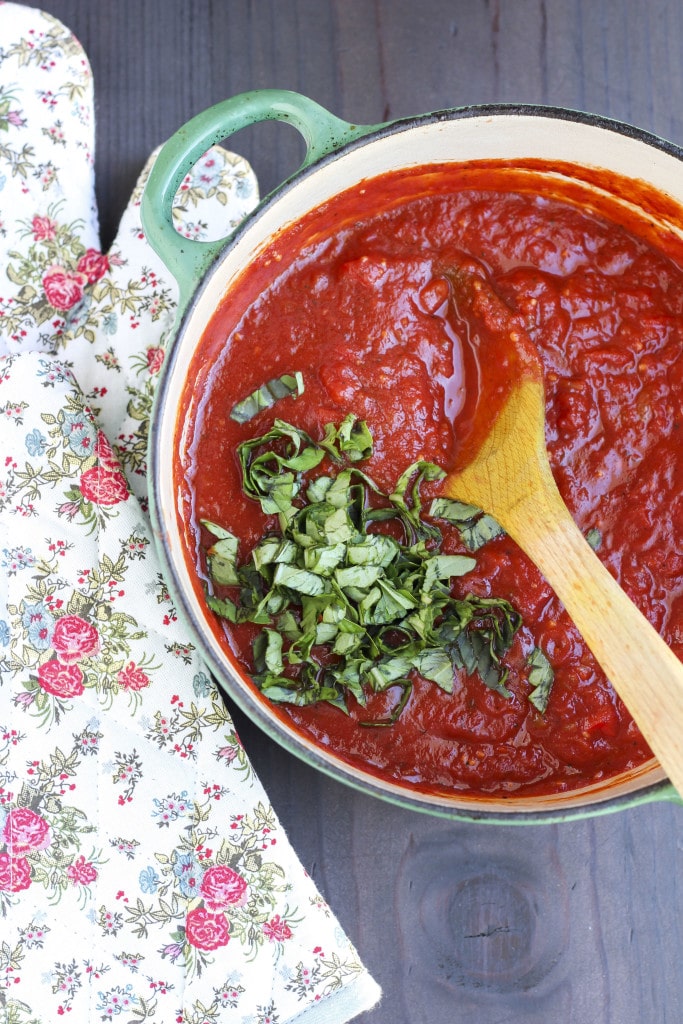 See that green pot in the picture? It's a dutch oven AKA my favorite cooking pot of all time. Seriously, it's the best kitchen tool, I use it for everything and the best part? I got it at an estate sale for $10! Woot, woot. If you don't have one, put it on your Christmas list ASAP.
Back to the red pepper tomato basil sauce! It's packed, and I mean loaded with fresh basil. I put a 1/2 cup of thinly sliced basil while the sauce is simmering, and then when the pasta is ready to be served, I top it with another 1/2 cup of basil, and a little extra on my bowl.
Have you ever made your own tomato basil sauce before? It's easy-peasy, I promise. Once you taste this sauce, you won't go back to sauce from a jar. Most jarred sauces have too much sugar in them and are way to sweet for me. I like a tomato-y, tangy, packed with fresh herbs, sauce.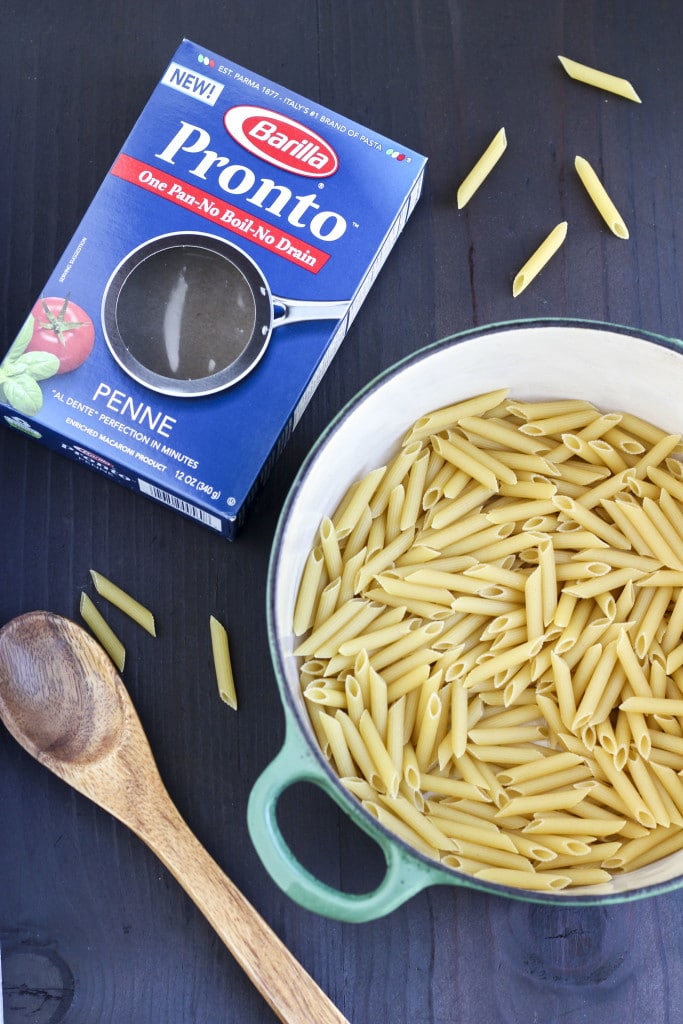 The secret to this sauce is the red peppers. Red peppers are naturally sweet, so by adding them to the sauce, it replaces the sugar most people would add to their sauce. I also added a few tablespoons of the Cabernet Sauvignon we had with dinner, to give it an extra layer of flavor.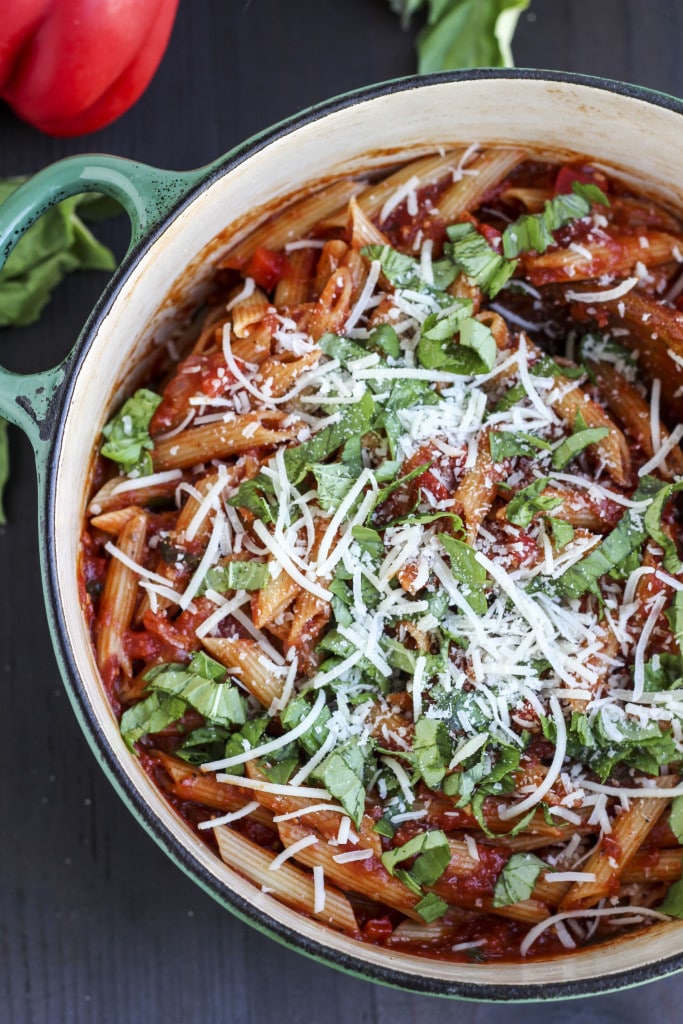 I made the tomato basil sauce in the dutch oven first, and then I made the noodles. After you make the sauce, you don't even have to rinse the pot. Pour the sauce into a bowl and set it aside. The little bit of sauce that's left over will just be absorbed right into the noodles. You're giving the noodles even more flavor! Add the noodles, and the water, and let it cook on high for 10 minutes, or until most of the water is gone. Add your sauce back in, top with more basil and lots of parmesan cheese, and you're ready to serve!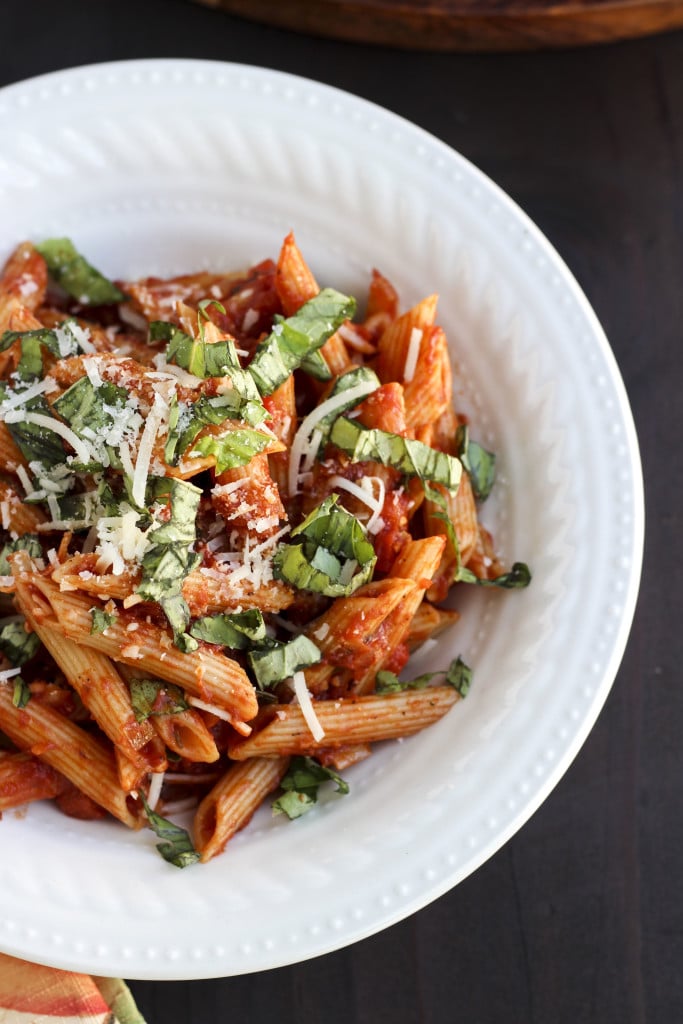 What goes perfectly with a delicious pasta dinner? A glass of wine, of course! I recently picked up a bottle of Tom Gore Vineyards Cabernet Sauvignon wine at Walmart. Am I the only one, or does anyone else pick out a bottle of wine because you like its label and story?
Tom Gore Vineyards is known as the farmer's wine. It's a true farm-to-glass story from Tom Gore, the farmer who tells the story about the vital role that farming plays in the style and quality of wine. I love the story and the wine, it's delicious, and it was fabulous with our dinner. I was surprised that Walmart had such a large selection of wine to choose from, I will definitely buy this one again.
After dinner, a few of our friends stopped by. Good thing I had some wine and treats to serve them! They can be a little feisty if they don't get any snacks. Just kidding, guys. I like to keep a box or two of the Pepperidge Farm Chocolate Cookie Collection on hand, just in case people stop by.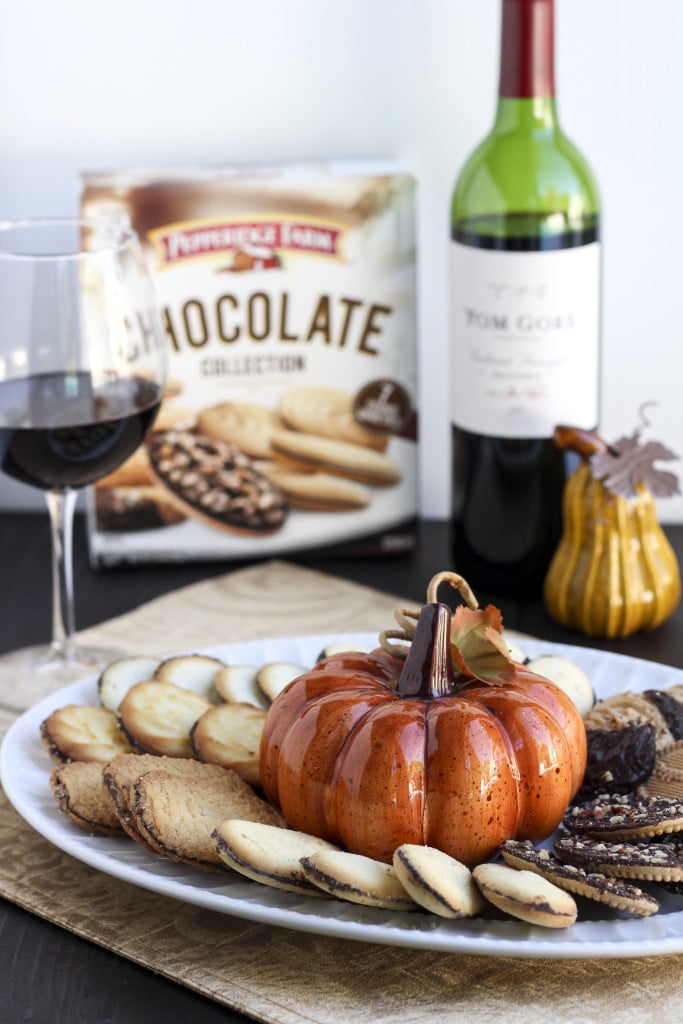 One Pot Red Pepper Tomato Basil Pasta
Easy, one-pot tangy tomato sauce that's packed with sweet red peppers, loads of fresh basil, and parmesan cheese. Dinner is ready in one hour!
Print
Pin
Rate
Ingredients
1

Tbsp

olive oil

4

shallots,

diced

1

large

red pepper,

seeded and diced into small pieces

2

garlic cloves,

minced

2

tsp

Italian seasonings

2

Tbsp

red wine

28 oz

can

crushed tomatoes

1

cup

basil,

thinly sliced

1/4

cup

parmesan cheese for topping
Instructions
Sauté the diced shallots and red pepper in olive oil over medium heat until softened.

Add the garlic, Italian seasonings, salt, and pepper. Let it cook for 2 minutes, or until the garlic is fragrant. Add the red wine, stir to combine and let it reduce.

Add the whole can of crushed tomatoes, 1/2 cup of basil, reduce heat to medium-low, and let simmer for 30 minutes. Stir occasionally.

Remove the pot from the heat and pour it into a dish, then set it aside. Put the pot back on the heat, turn it up to high, and add the noodles. Add 3 cups of cold water, salt the water, and let it cook for 10 minutes, stirring occasionally. (You don't need to rinse the tomato sauce out, it will help to flavor the noodles even more.)

When the water is almost gone, add the sauce back into the pot. Add fresh basil and parmesan cheese and stir to combine.
Do you do a lot of entertaining during the holidays? Let me know in the comments!
Never miss a Stacey Homemaker creation!
FACEBOOK / INSTAGRAM / PINTEREST / TWITTER