This shop has been compensated by Collective Bias, Inc. and its advertiser. All opinions are mine alone. #SendHallmark #CollectiveBias
My favorite no-knead bread recipe transformed into festive Christmas gingerbread with molasses and fresh ginger! Vegan.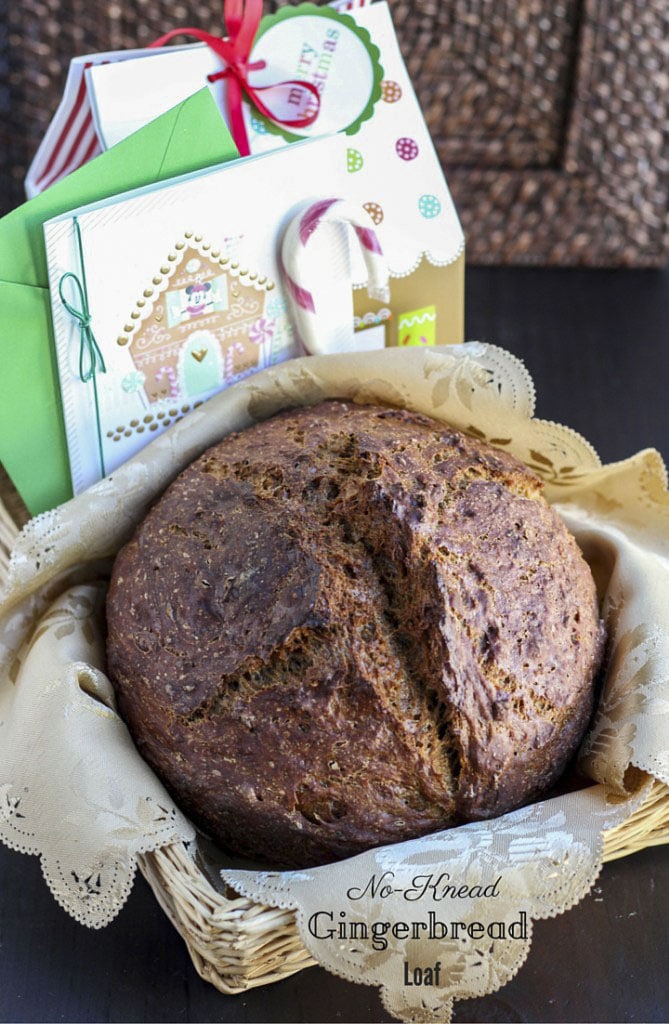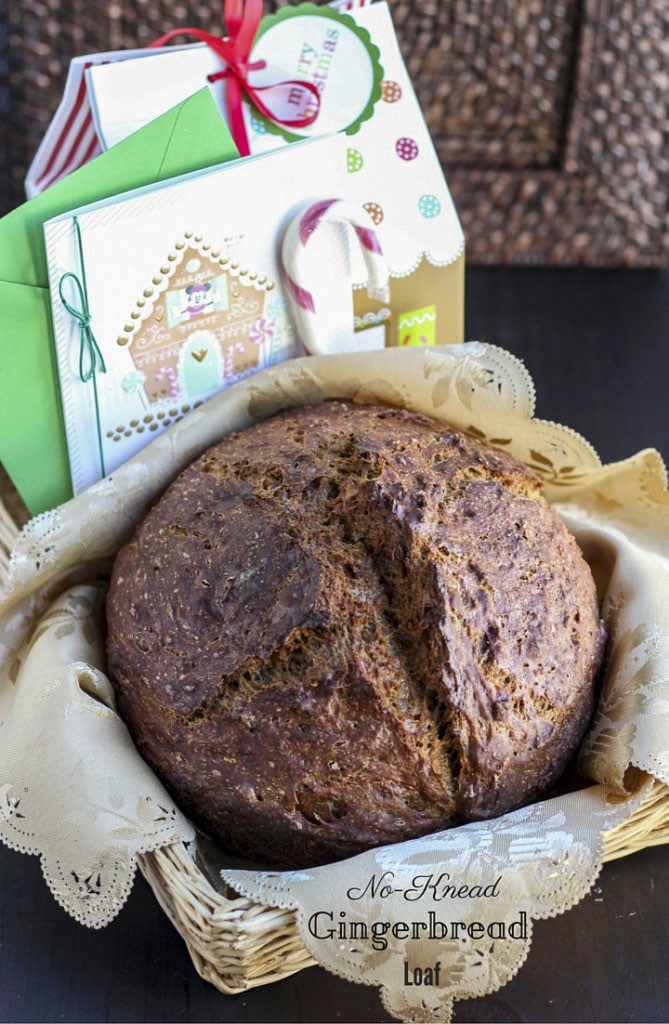 Christmas is my favorite time of the year, and I go all out to make it special. Especially for my mom. She's just as obsessed with Christmas as I am, so I know she really appreciates any extra treats I surprise her with.
When I was little, my mom would leave small treats by our little Christmas tree in our room that were from our "elf." When I got older, I started leaving small treats and cards outside her bedroom door that were from our "elf."
Now that I don't live at my parents home anymore, I still like to show up at her front door and surprise my mom with small gifts and treats that are homemade. I know she loves them too! So, I started brainstorming about what I wanted to make for my mom this year.
No-Knead Gingerbread
Last year, I was looking for a loaf of bread that didn't have a million ingredients in it, but I couldn't find one that I could afford on a regular basis. Out of desperation, I searched on Pinterest for an easy bread recipe I could make. I tried a few different recipes, but I found out I hated kneading dough because it's so repetitive and it hurt my wrist.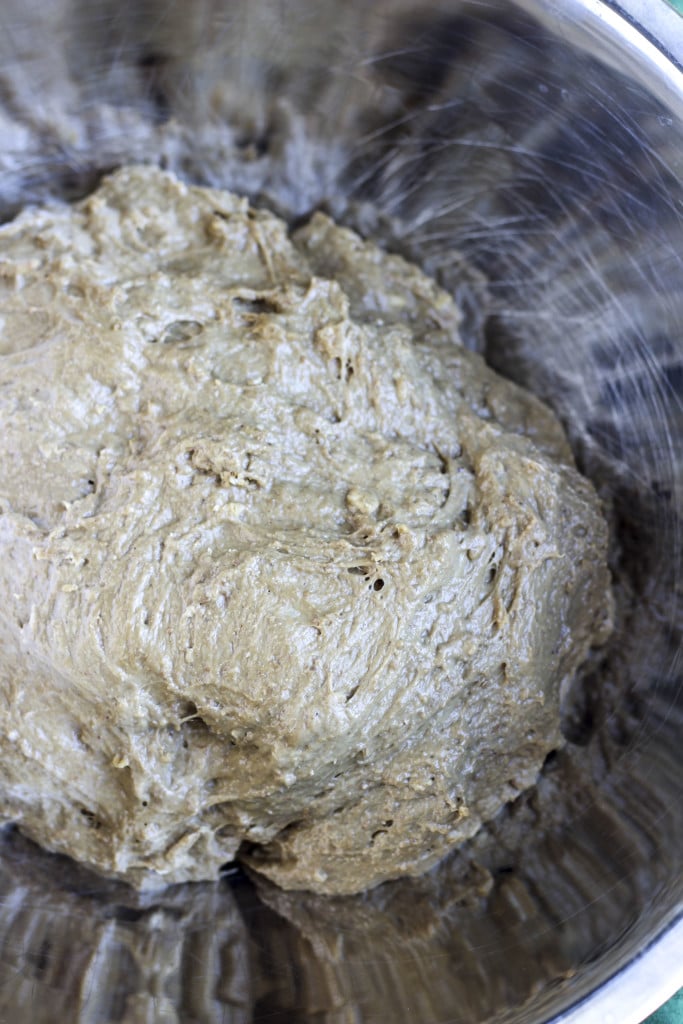 I did more research and came across an article about Jim Lahey's tried and true no-knead bread baking method. Could this be true? Delicious bread that I didn't have to knead and only required 4 ingredients? I tried his original recipe and it was amazing, better than any bread I had made before. His method couldn't be simpler, and it's the base to all my bread recipes that I make almost every week now. I've adjusted it and tweaked the recipe quite a bit, but it still comes out perfect every time.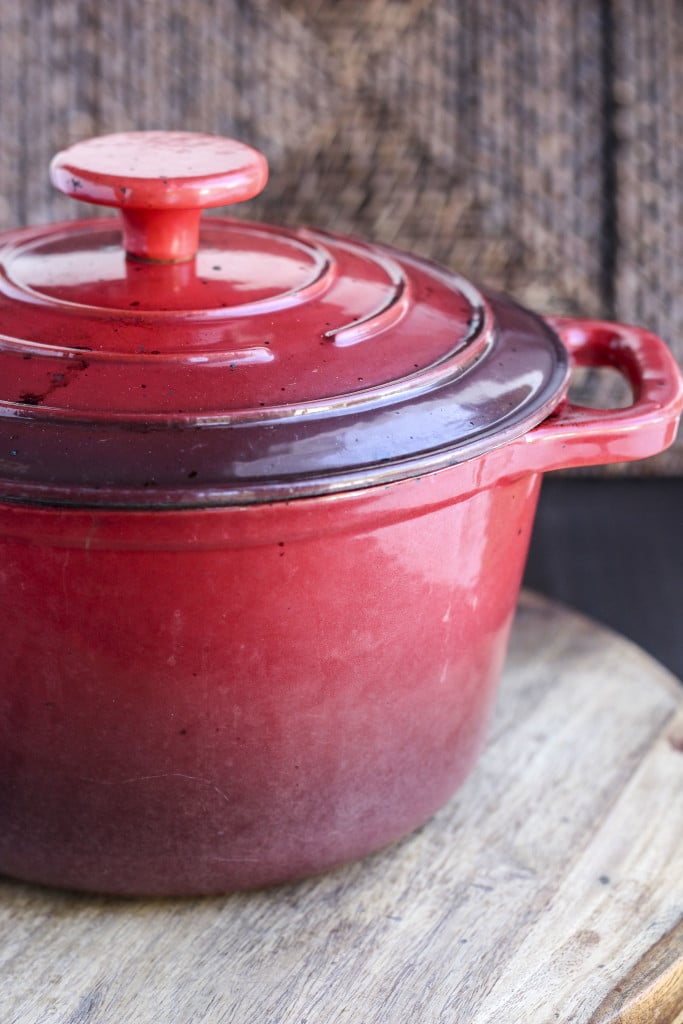 The only requirement is that you must use a 3-4 quart dutch oven with the lid. If you don't, the crust just won't turn out right. The crust won't be crispy and it won't have the same flavor. It doesn't matter if it's a fancy pot or a $4 garage sale find–like mine. The smaller the pot, the rounder, and higher your loaf will be. If you use a 5 quart, the bread will spread out too much. It will still be delicious but the slices will be long and skinny. I like a rounder loaf because I use the bread for sandwiches too, not just toast.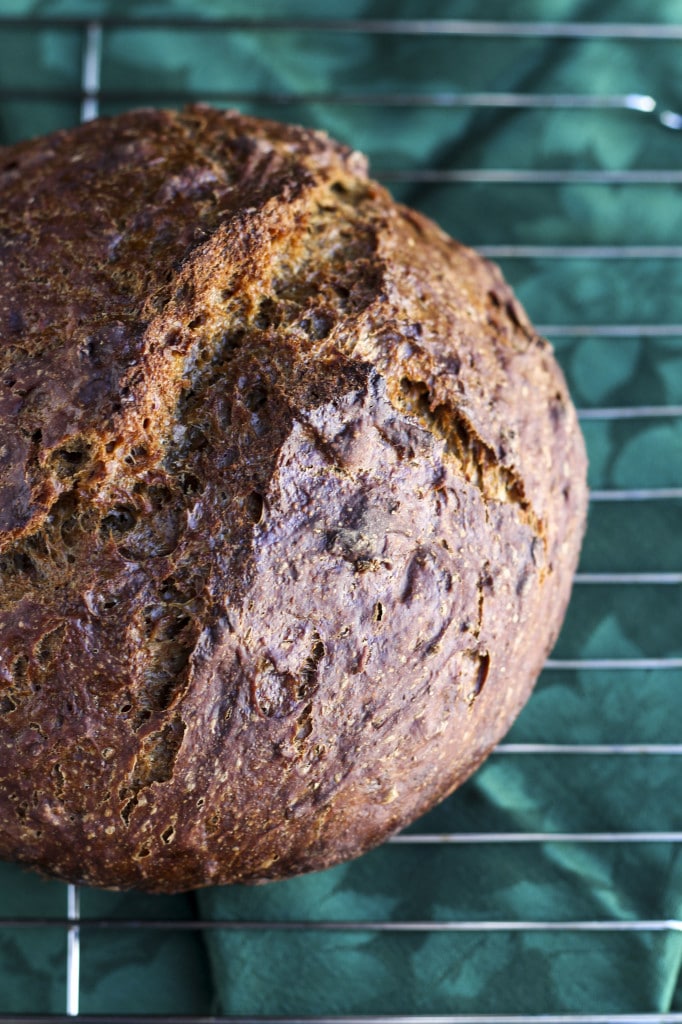 I didn't want my mom eating bread that was full of preservatives and artificial ingredients, so I started making it for her too. She loves my bread!
I try to have a hot loaf for her every time she visits. Her favorite loaf flavor is my whole wheat chia bread. For Christmas, I wanted to have a holiday-inspired loaf for her, so I made a festive no-knead gingerbread loaf. It turned out perfect! It has freshly grated ginger, a hint of molasses and touches of cinnamon and nutmeg.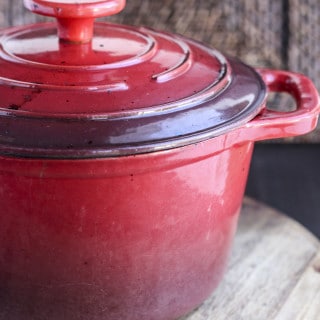 No-Knead Gingerbread Bread
Perfectly spiced gingerbread loaf that's so easy to make, and requires NO kneading!
Print
Pin
Rate
Instructions
Add all dry ingredients and grated ginger to a large mixing bowl. Mix to combine.

In a separate small bowl, combine lukewarm water and molasses. Whisk until completely combined.

Create a well in the center of the dry ingredients, and add the water/molasses mixture. Stir until you don't see any white flour patches. If you need to add more water, add 1 Tbsp at a time. (No more than 2 Tbsp.)

Cover with plastic wrap and store in a warm, dry place. I put mine in the oven with the door shut.

Let the dough rise for 12 hours, when it's covered in air bubbles it's ready. Using your hands, fold the dough over onto itself a few times. Cover again, set aside.

Preheat the oven to 450 degrees. Put your dutch oven with the lid on, into the oven to heat up for 30 minutes.

Carefully, remove the dutch oven from the oven. Remove the lid, and spray the inside with olive oil.

Using a spatula, scrape the dough into the hot pot. No matter what it looks like going in, it will be perfect once it bakes so don't worry! Replace the lid and put into the oven.

Bake for 40 minutes, covered. Remove the lid and cook for 5-10 minutes longer. You want a dark brown crust but if the tips start getting black, it's done.

Take out of the oven and let cook for 5 minutes.

Put bread loaf on a cooling rack, and let cool for 1 hour.
This artisanal no-knead gingerbread loaf couldn't be easier to make, it practically makes itself. It's 100x better than anything you'll find at the grocery store, and the crust is to die for. I've made it so many times that I don't even need the recipe anymore.
After Christmas, you can still use the same base recipe for your bread, just skip the molasses, ginger, cinnamon, and nutmeg. Try adding different seeds or vegan cheeses, the possibilities are endless!
NEVER MISS A STACEY HOMEMAKER CREATION!
FACEBOOK / INSTAGRAM / PINTEREST / TWITTER