If you're planning on attending Mickey's Very Merry Christmas Party this holiday season, make sure you don't miss these 5 festive activities at the party!
*I received tickets to Mickey's Very Merry Christmas Party in exchange for my honest opinion of the event. As always, my unbiased opinions are 100% my own and you can trust what I say to be true.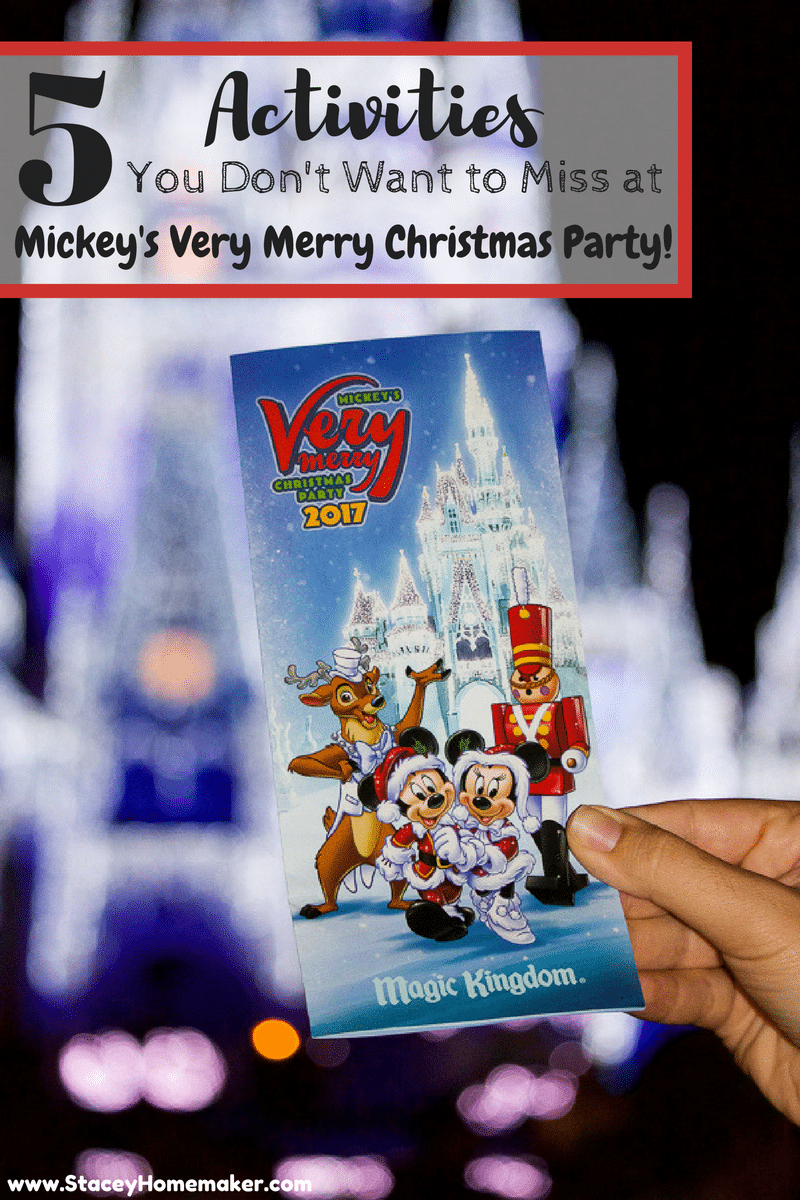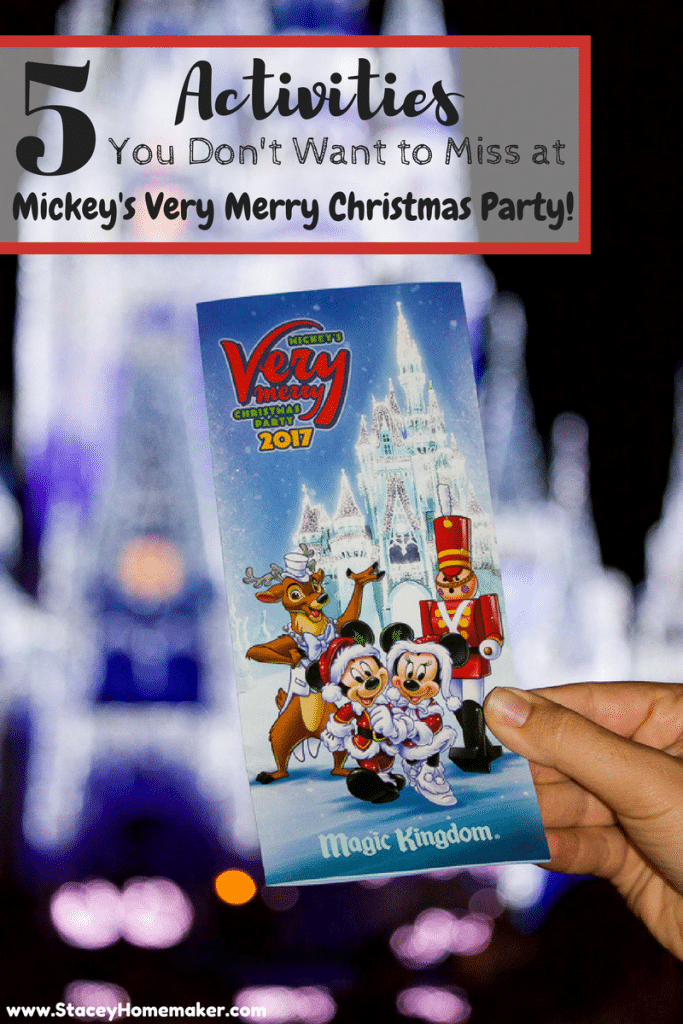 We're huge fans of celebrating Christmas at Disney World! Disney does it right, they go all out for the holidays! Every hotel on Disney property is decorated meticulously and all four of the parks are packed with Christmas cheer. Every single detail is on point!
If you're a Christmas obsessed Disney lover like I am, then the ultimate event that will make your holiday season spectacularly festive is Mickey's Very Merry Christmas Party at the Magic Kingdom!
From the giant Christmas tree and life-sized nutcrackers at the entrance to Main Street to experiencing snow in Florida and watching the Christmas parade while drinking complimentary hot cocoa, there is no end to the holiday magic at this incredible event!
Related Post: 5 Free Christmas Activities to do at Disney World!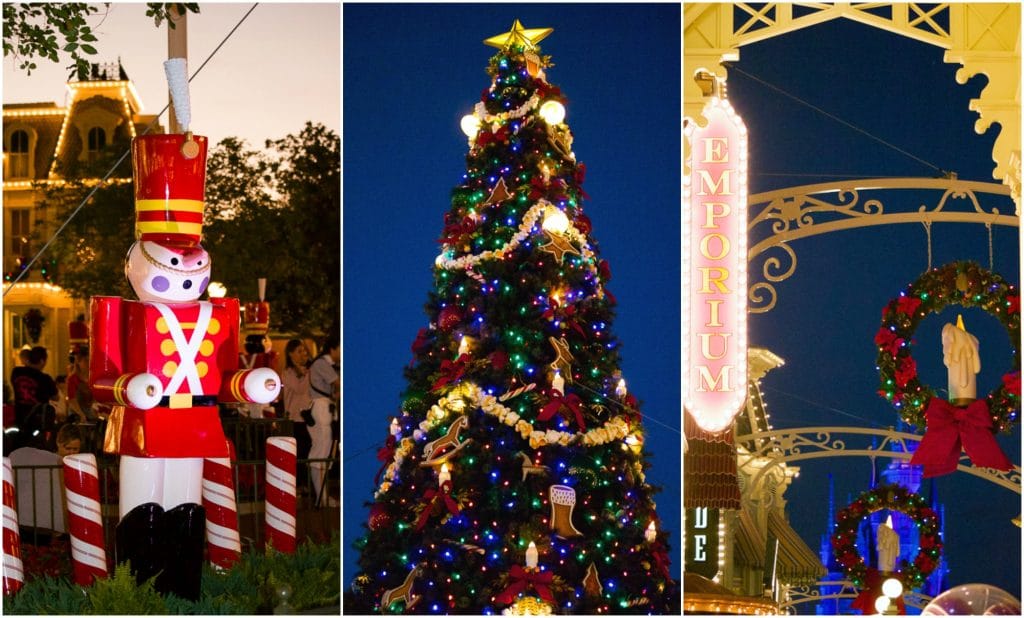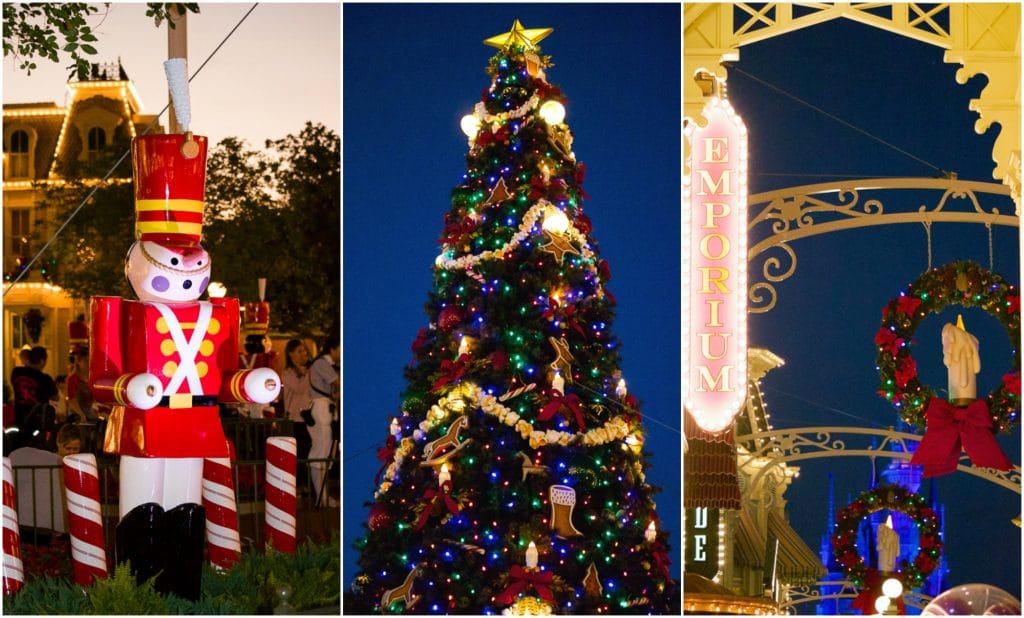 Mickey's Very Merry Christmas Party FAQ's
Let's go over some of the questions that you might have about MVMCP.
Do You Need a Separate Ticket for Mickey's Very Merry Christmas Party?
Yes, you will need to buy a separate ticket from a regular day ticket to the Parks to go to Mickey's Very Merry Christmas Party. If you book your tickets at least one day in advance (not available on 12/20 or 12/22), you will save $10 per ticket!
Are There Fast Passes During Mickey's Very Merry Christmas Party?
Yes, you can book fast passes from 4 PM – 7 PM on they day that you're attending Mickey's Christmas party. There are no fast passes offered after 7 PM, once the party starts.
What Rides are Open During Mickey's Christmas Party?
Most rides at the Magic Kingdom will be open during Mickey's Very Merry Christmas Party with the exception of a few attractions.
Jungle Cruise
Carousel of Progress
Country Bear Jamboree
PhilharMagic
Mickey's Very Merry Christmas Party Dates 2019
Mickey's Very Merry Christmas Party begins on November 8, 2019 and runs until December 22, 2019. As of today, October, 11, 2019, these are the party dates that are still available.
November 8, 11, 12, 14, 15, 17, 19, 21, 22, 24
December 1, 3, 5, 6, 8, 10, 12, 13, 15, 17, 19, 20, 22
You can purchase Mickey's Very Merry Christmas Party 2019 tickets, here.
Entertainment at Mickey's Very Merry Christmas Party
There are so many activities and exciting holiday events happening at Mickey's Very Merry Christmas Party!
The following list shows the special holiday offerings during the party:
A Totally Tomorrowland Christmas
Club Tinsel
Minnie's Wonderful Christmastime Dessert Party (There's an additional fee)
Tony's Most Merriest Town Square Party (There's an additional fee)
Rides
Holiday Treats and Specialty Eats
Special Character Meet and Greets
Special Holiday-Themed Projection Show on the Castle
Don't miss the following 5 festive activities! These events are my favorite part of the party!
5 – See the Holiday Stage Shows
There are two main stage shows on the Caste Forecourt Stage:
A Frozen Holiday Wish (8:15 PM)
Mickey's Most Merriest Celebration (7:40 PM, 9:25 PM, 10:30 PM, & 11:55 PM)
Don't miss A Frozen Holiday Wish, there is only one showing of this show at 8:15 PM! During this stage show, is when Else transforms Cinderella castle and turns the magical Christmas lights on! It's absolutely stunning!
I've watched Mickey's Most Merriest Celebration during all the times available, and if you can do it, I recommend to wait until the last showing at 11:55 PM. The last show is by far, the least crowded and you get a front row seat without the wait!
4 – Watch the Once Upon a Christmastime Parade!
If you think the regular daily parade at the Magic Kingdom is magical, wait until you see Mickey's Once Upon a Christmastime Parade...it'll knock your socks off! Elves, characters in festive outfits, toy soldiers, reindeers, Santa on his sleigh! Does it get any better?
The parade runs twice during MVMCP. I recommend that you wait for the second parade at 11:15 PM because it's a lot less crowded than the 8:30 PM parade. If you only have time to see the first parade, make sure you line up at least one hour in advance to get a good seat.
My favorite spot to watch the parade is on Main Street USA, so you can watch it while the bubble snow is falling on you and you can see the castle in the background. It's truly magical.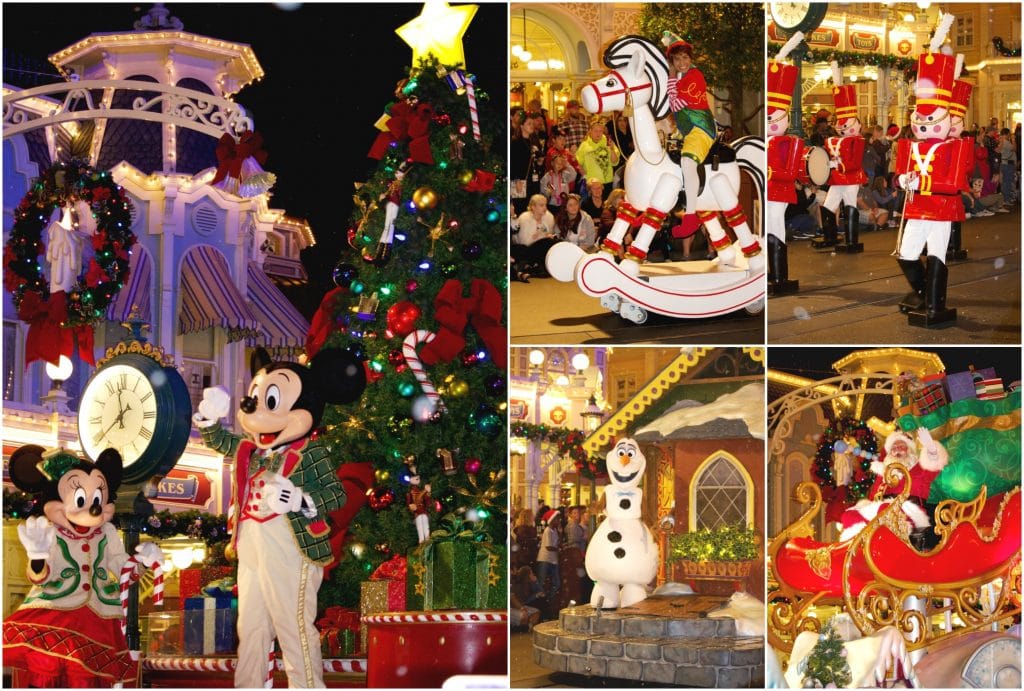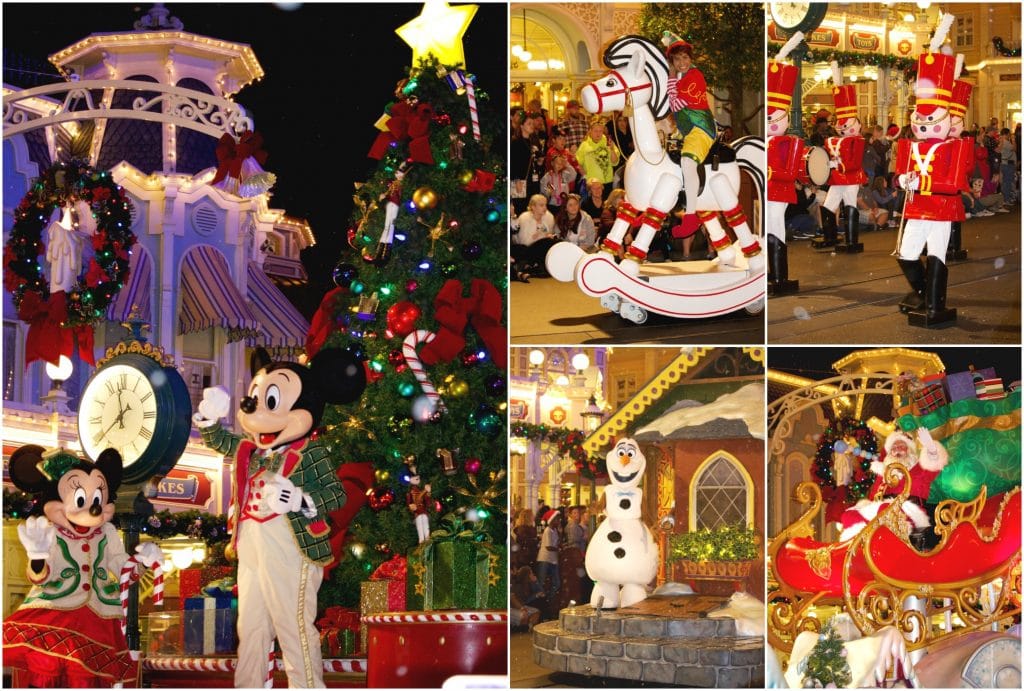 3 – Go to all of the Holiday Treat Stations
When my husband and I went to Mickey's Very Merry Christmas Party a few years ago, they only had hot cocoa and sugar cookies available. We thought it was such a nice touch!
Now, there are seven Holiday Treat locations (as of 2018) that you can go to to get a variety of holiday treats! These treat locations are located all around the Magic Kingdom.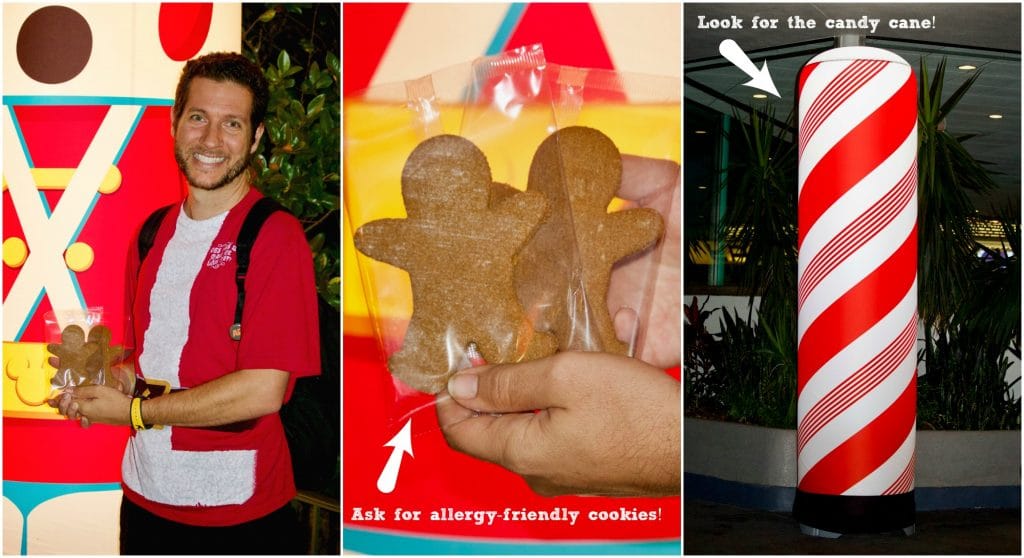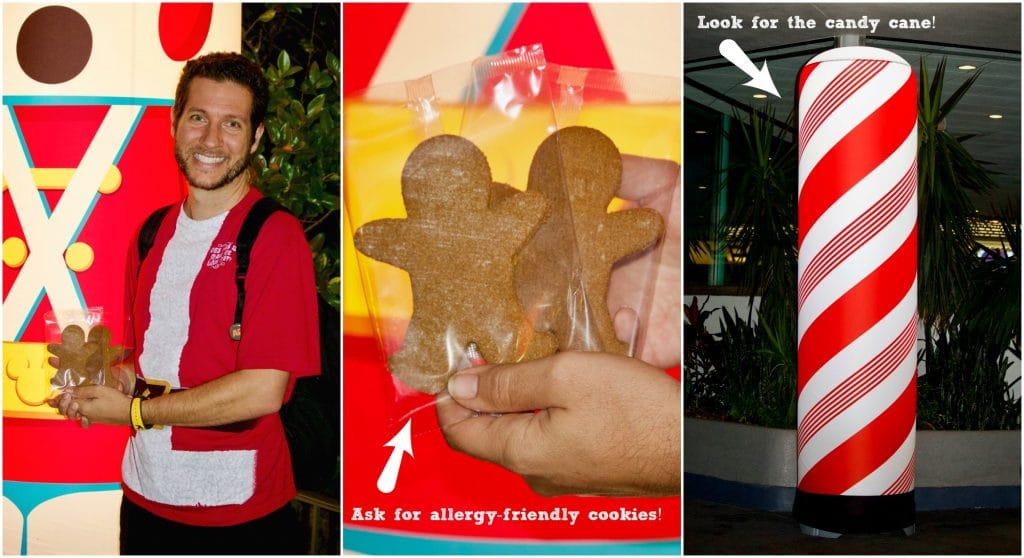 2018 Treat Locations:
Tortuga Tavern – Snowman Soft Pretzel & Sno-Cone
Liberty Square Ticket Office – Ginger Molasses Cookie & Eggnog
Pete's Silly Sideshow – Peppermint Crunch Cookie & Chocolate Milk
Pinocchio Village Haus – A variety of holiday favorites (they had assorted cookies and hot chocolate when we were there)
The Friar's Nook – Silky Smooth Dove Chocolates & Sparkling Cider
Cosmic Ray's Starlight Cafe – Snickerdoodles Cookie & Hot Chocolate
Auntie Gravity's Galactic Goodies – Santa Claus Cookie & Snow-Cone
You can find each of these locations marked by a huge blow-up candy cane marker. We found a bonus treat spot to the left of the Town Square Theater on Main Street. So, walk down the pathway if you want an extra Santa or gingerbread cookie!
Allergy-Friendly Treats
I was so happy to find that they offered delicious allergy-friendly cookies at each of the Holiday Treat locations! I found two different varieties; a dairy-free gingerbread cookie and Enjoy Life Crispy Chocolate Chip cookies. We loved both options!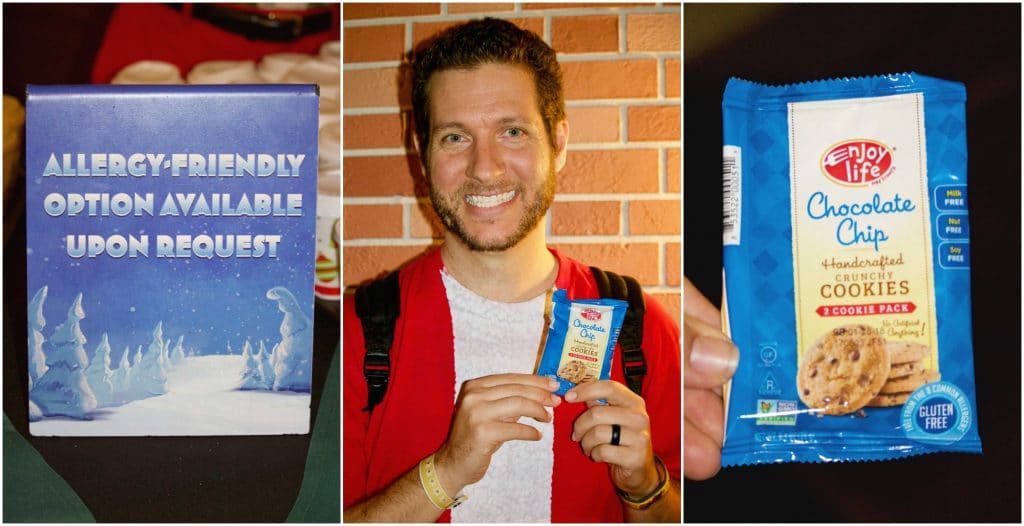 Unfortunately, the hot chocolate and eggnog had dairy in it so we couldn't have that but we were very happy to have the allergy-friendly cookies and warm apple cider.
2 – Watch the Holiday Fireworks
The Holiday Wishes Fireworks are absolutely spectacular, you can't miss it! The projection show on the castle + the Christmas music + the panoramic firework finale made for a truly magical Christmas firework show! It really was the highlight of Mickey's Very Merry Christmas Party for us.
We've found the following spots to be the best places to watch the fireworks from:
Centered with Cinderella Castle in front of the gardens.
Standing on Main Street USA.
On the top deck of the train station.
In Fantasyland, next to the carousel (but you won't be able to see the projections on the castle).
We don't recommend standing too close to the Castle stage because it's very crowded up there. We also don't like to stand to the right of the castle because your view of the fireworks will be partially obstructed by trees.
UPDATE: In 2019, there will be a brand new festive firework show offered at the party, it's called Minnie's Wonderful Christmastime Fireworks Show! I can't wait to see it and I will update this post once I do.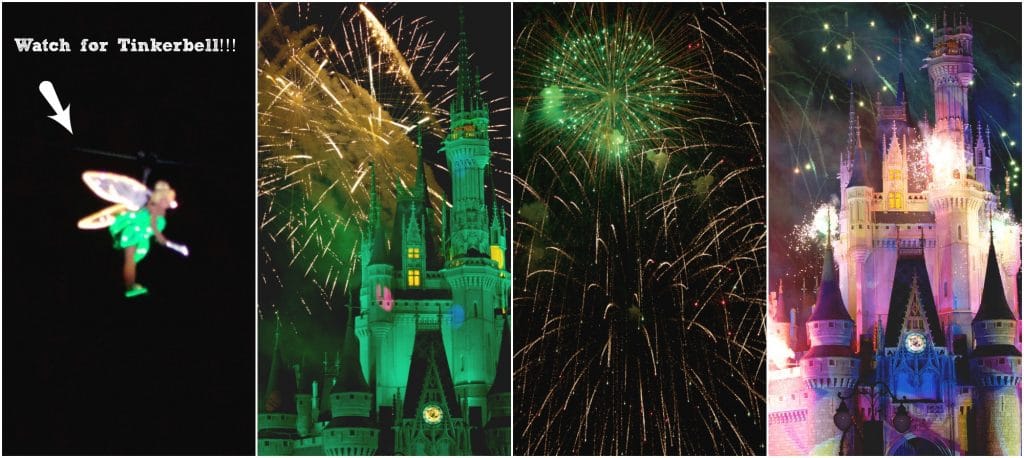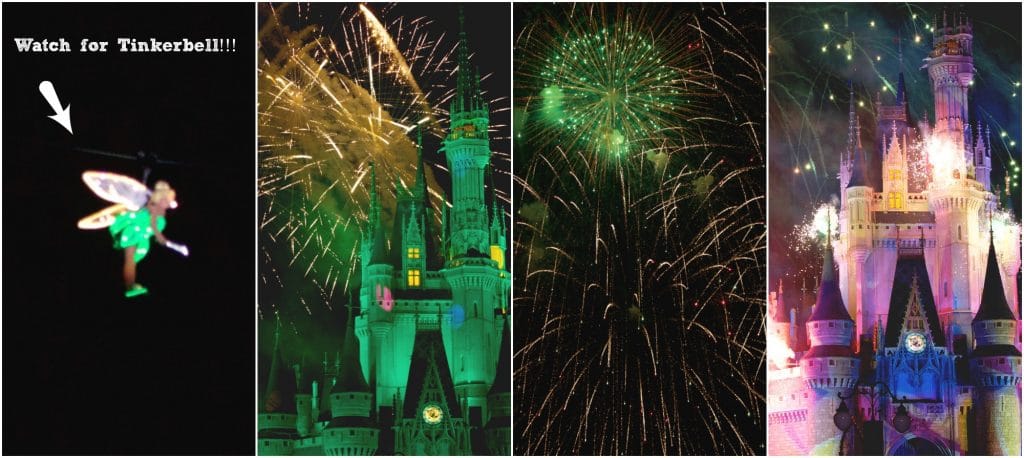 1 – Play in the Snow on Main Street
The bubble snow on Main Street is so darn magical! Especially, if you're a Floridian who never gets to see snow (like me!), walking down Main Street with bubble snow falling all around you and Christmas music playing feels like a Christmas miracle!
I recommend that you get a cup of complimentary hot cocoa and a cookie, and walk down Main Street while listening to the Christmas music while the snow is falling on you. It's my favorite thing to do at the party!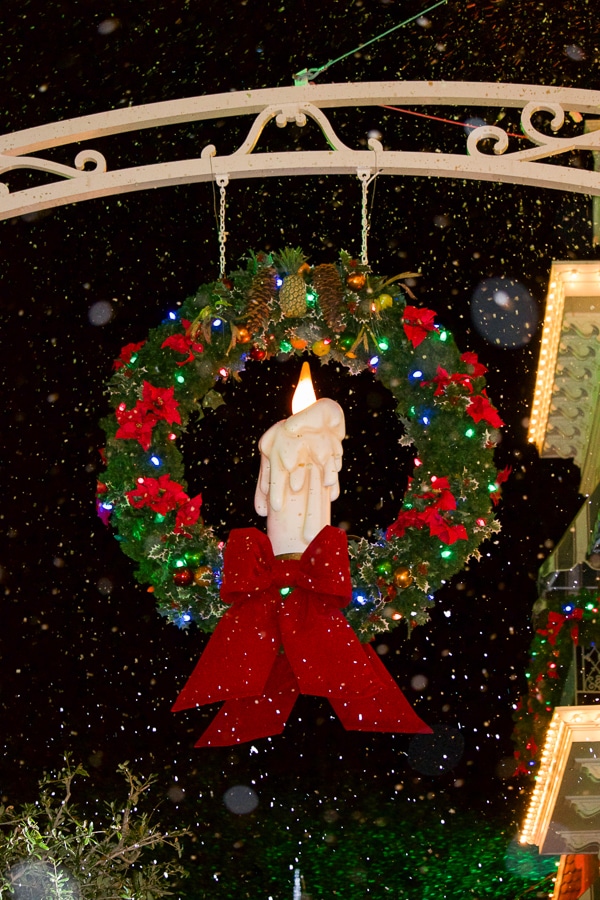 Mickey's Very Merry Christmas Party Tips
A few tips about Mickey's Very Merry Christmas Party that will help you have the best time:
MVMCP technically starts at 7 PM but you can get into the Magic Kingdom at 4 PM with your party ticket.
I recommend scheduling fast passes for rides from 4 PM – 7 PM so you can go on rides before the event starts without having to wait in line and waste precious party time!
Wear comfortable shoes. You'll be walking a lot, so make sure to pack comfortable sneakers.
Pack a jacket! It might feel comfortable when the sun is out, but when it gets dark, it gets pretty chilly!
Wear your Christmas gear! Holiday shirts, festive earrings, Mickey ears, blinking Christmas light necklaces are just some of the festive gear that we saw people wearing at the party!
Don't miss the castle lighting, there is only one showing!
There is special MVMCP merchandise available just for the party guests to purchase. It is brought out when the party starts at 7 PM at the Emporium gift shop on Main Street and at Big Top Souvenirs.
Make sure you eat before the event starts, you don't want to lose any party time sitting in a restaurant. We like to go to Casey's Corner for vegan hot dogs or to Blaze at Disney Springs to get pizza for dinner before the party started. It's affordable, allergy-friendly, and delicious!
There are special holiday-themed photo-ops located around the park.
Remember to grab your free MVMCP Sorcerers of the Magic Kingdom party card from the firehouse!
The second parade and the last showing of the Mickey's Most Merriest Celebration are the least crowded.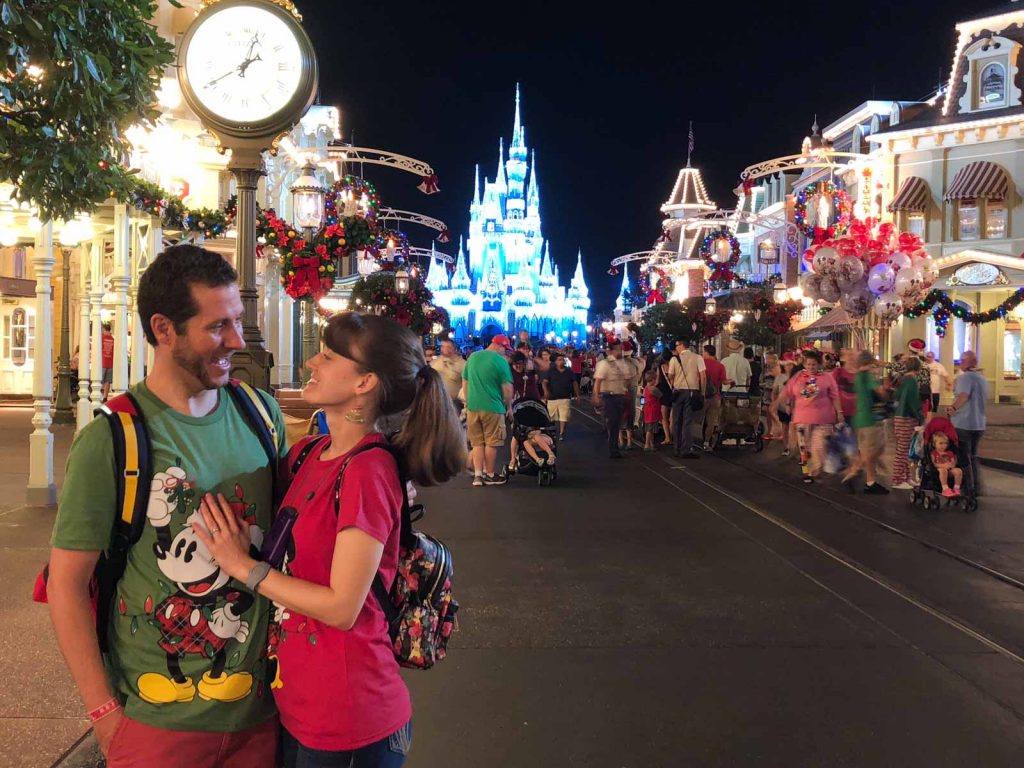 Is Mickey's Merry Christmas Party Worth It?
I go to Mickey's Very Merry Christmas Party every year, so yeah, I definitely think it's worth it! The party is so magical and it's packed with memorable experiences that you just can't get anywhere else!
If you're not a fan of Christmas or if you're just going to go on the rides, then I would say it wouldn't be worth it for you. The event is usually very busy, so the ride lines aren't short.
More Disney Posts to Help You Plan Your Next Disney Trip!