Are you attending Mickey's Not So Scary Halloween Party this fall? This guide has everything you need to know about the event. I've been going to this party for years, and I want to share my best tips, a schedule to fit everything in, and everything that's new at the party this year with you!
*Thank you to Disney for providing tickets for us to attend this event. All opinions are 100% my own.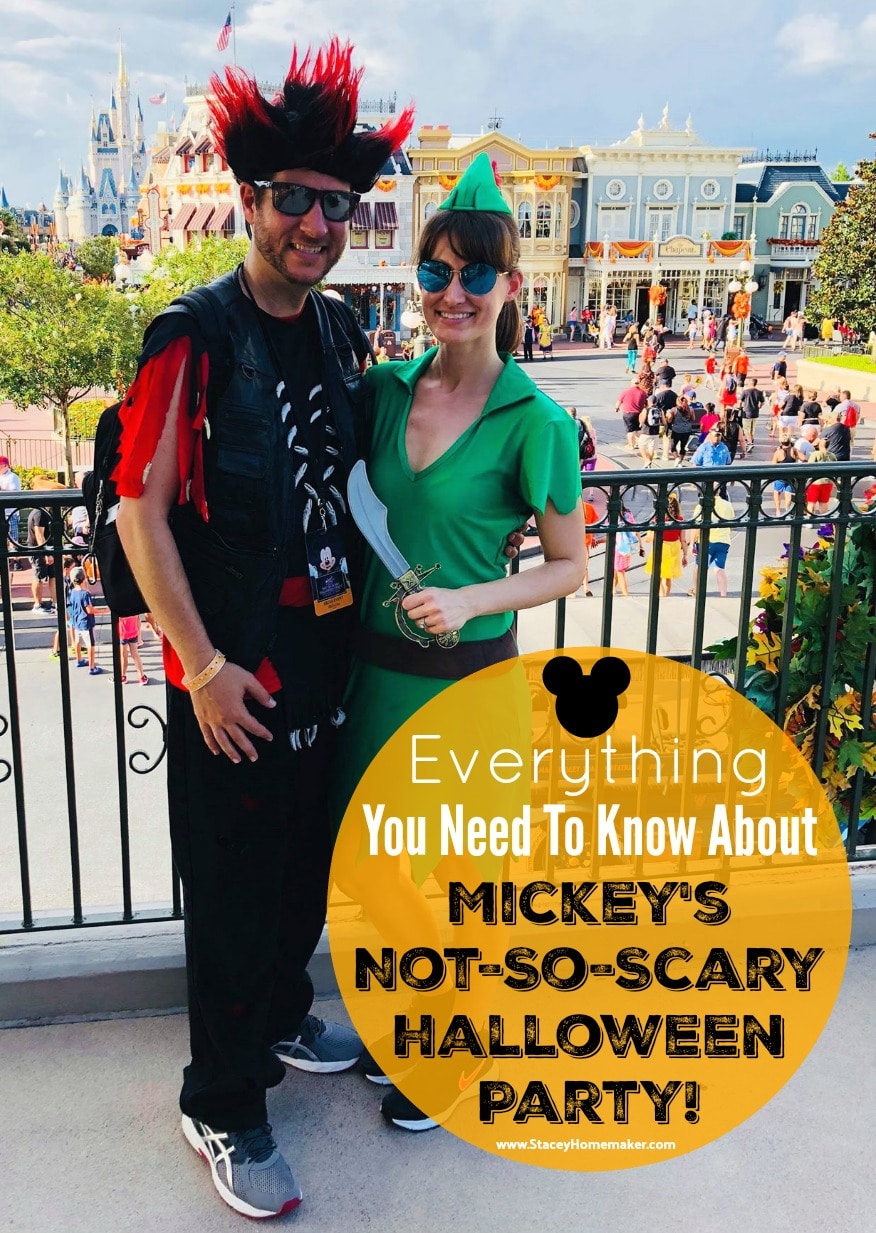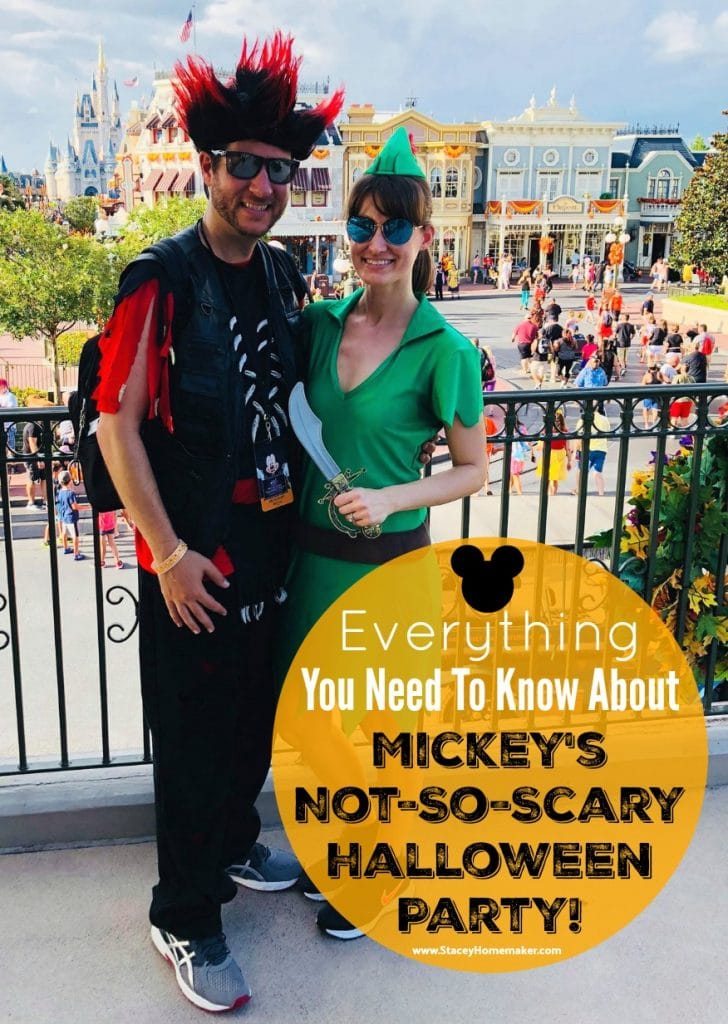 Last night Travis and I went to the very first Mickey's Not So Scary Halloween Party of the season! We were so excited to experience the event this year because of multiple new Halloween-themed elements that we hadn't experienced before! You can watch our Halloween Party vlog, here.
What's New at MNSSHP This Year?
There is a brand new fireworks show called Mickey's Not So Spooky Spectacular this year! The show features Jack Skellington and his dog, Zero, telling stories, new projections, and a new soundtrack!
New fireworks dessert party
Cruella's Halloween Hideaway Dinner Package
New floats in the Boo to You Parade
New Mickey's Not So Scary Halloween Party 2019 merchandise.
The Spectral Bride from the Haunted Mansion, along with Buzz Lightyear, alien explorers, Edna Mode, and The Incredibles join the parade lineup this year!
There's a new treat stop at the Monsters Inc. Laugh Floor in Tomorrowland.
New Halloween-themed treats!
Storybook Circus welcomes the Storybook Circus Disney Junior Jam, a dance party featuring favorite Disney Junior Characters, including Doc McStuffins.
You can find the Mickey's Not So Scary Halloween Party 2019 map, here.
Mickey's Not-So-Scary Halloween Party 2019 FAQ'S
What is Mickey's Halloween Party?
Mickey's Not So Scary Halloween Party is described as the happiest haunting on earth! It's a spooktacular Halloween-themed event that is great for the whole family!
There is trick-or-treating (with allergy-friendly options), the Boo-to-You Parade, magical Happy Hallowishes fireworks, a Hocus Pocus Villains Spelltacular stage show, dance parties, new Halloween merchandise, rare character meet-n-greets, and other surprises to enjoy.
Do You Have to Buy Ticket for Mickey's Not So Scary Halloween?
Yes, MNSSHP is a hard ticket event. You need to purchase a separate ticket for the Halloween party. You can check Mickey's Not So Scary Halloween Party 2019 tickets availability and prices here. The cheapest MNSSHP tickets are for earlier in the season (from August to early October).
Mickey's Not So Scary Halloween Party 2019 Dates
As of October 1, 2019, these are the available dates for MNSSHP.
October 1, 8, 10, 11, 14, 15, 17, 18, 20, 21, 24, 25, 27, 29, 31
November 1
How Much is Disney's Not So Scary Halloween?
Party tickets range in price from $75 – $125, depending on the day. Halloween is the most expensive day to go to the party. Check Ticket prices here.
How Early Can You Get Into Mickey's Not So Scary Halloween?
Mickey's Halloween party officially starts at 7 PM but you can get into the Magic Kingdom at 4 PM with your event ticket. I would recommend getting there right at 4 PM so you can take pictures, eat, and go on a few rides before the real party starts! The night goes so fast!
Mickey's Not So Scary Halloween Party Hours?
The Halloween party and festivities officially start at 7 PM but you can get into the park at 4 PM. I would recommend getting there right at 4 PM so you can get the most out of your ticket.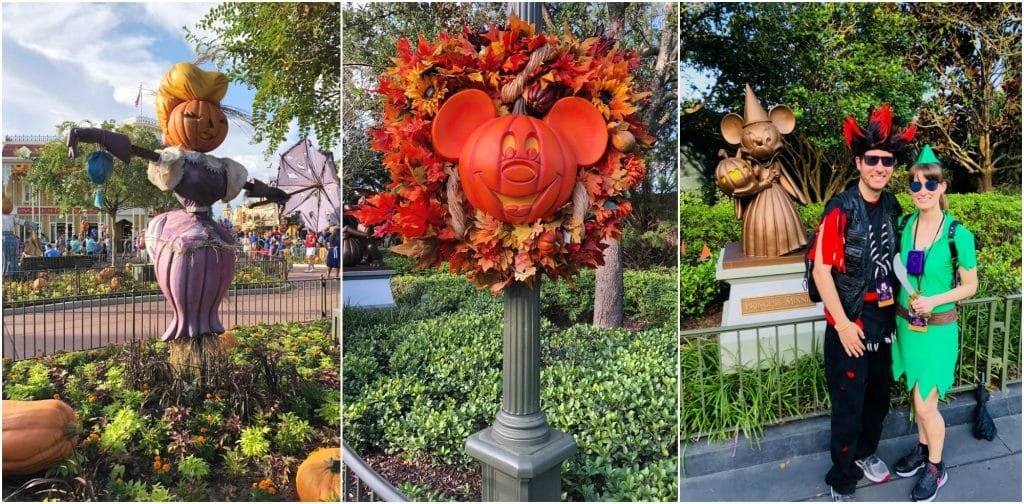 Can You Ride Rides at Mickey's Not So Scary Halloween Party?
Yes, you can ride rides at Mickey's Not So Scary Halloween Party! Not all of the attractions are open, you can see which rides will be open on the list below. Make sure that you go on the rides that have special Halloween enhancements once the party officially begins at 7 PM!
New pirates have invaded Pirates of the Caribbean, interacting with sailing guests who will join the search for Gunpowder Pete.
The Mad Tea Party will take guests on a colorful teacup ride, as special lighting and other effects put a glowing new spin on the night.
Explorers visiting Space Mountain will hurtle through deep space, as a new soundtrack and more transform the adventure.
What Rides Are Open During Mickey's Not So Scary Halloween Party?
The following rides are open during MNSSHP. Remember, fast passes are not available during the party, so if rides are important to you try to get fast passes from 4 PM – 7 PM.
Also, the three rides with special Halloween enhancements won't start until the party starts at 7 PM.
Swiss Family Treehouse
Magic Carpets of Aladdin
Pirates of the Caribbean – extra Halloween fun!
Splash Mountain
Big Thunder Mountain Railroad
Haunted Mansion
It's a Small World
Peter Pan's Flight
Prince Charming Regal Carousel
Under the Sea – Journey of the Little Mermaid
The Barnstormer
Dumbo the Flying Elephant
Mad Tea Party –

extra Halloween fun!

The Many Adventures of Winnie the Pooh
Seven Dwarfs Mine Train
Princess Fairytale Hall
Tomorrowland Speedway
Astro Orbitor
Space Mountain – extra Halloween fun!
People Mover
Buzz Lightyear's Space Rangers Spin
Town Square Theater
What Time are the Fireworks at Mickey's Not So Scary Halloween Party?
There is only one showing of the Halloween fireworks and it starts at 10:15 PM.
Can Adults Wear Costumes to Disney World?
Yes! All guests are encouraged to wear festive (appropriate) costumes for the event. Read this post to see which costumes you can wear to the party and those you can't.
My husband dressed up as Rufio (from Hook) and I dressed up as Peter Pan! I had a hard time deciding who I was going to dress up as because Travis and I wanted to match.
I didn't want a sexy costume and it had to be comfortable and lightweight because I knew it was going to be really hot. I ordered this "Pretty Pan" costume in a size Large (I'm 5'5 and 125 lbs) so it would be a little loose and I cut the ribbons out of the side that I was supposed to lace up.
I thought it was really cute, it fit great, and I was super comfortable all night (See below for the Peter Pan costume I bought!).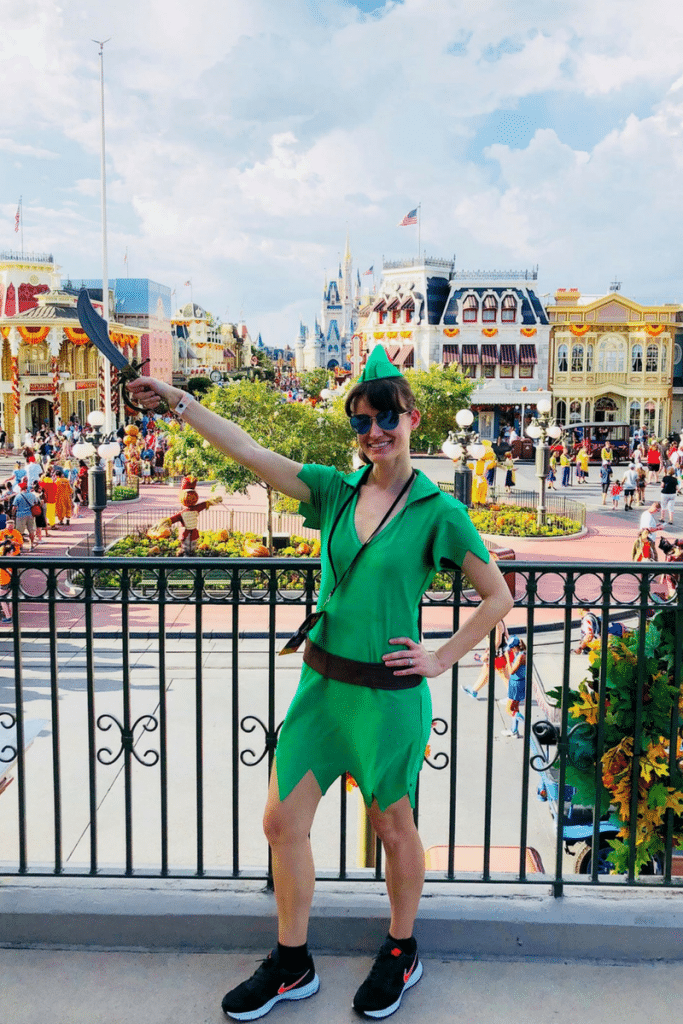 I also wore my fan necklace to help keep cool while the sun was out, it was 95 degrees when we got to the park! Yikes
Mickey's Not So Scary Halloween Party Schedule
There are so many fun activities to do at MNSSHP that it's hard to fit everything in! However, we've attended the party so many times now that I think we've come up with the best schedule for the party to fit everything in.
4 PM – 7 PM: Arrive early in costume, take pictures, go on rides, and eat dinner.
7 PM – 7:30 PM: Get in line to buy the special Halloween party merchandise.
7:30 PM – 8:30 PM: Take pictures with characters or go on the special Halloween-themed rides.
8:30 PM – 9:45 PM: Hit as many trick-or-treat stations as possible.
9:45 PM – 10:15 PM: Look for a spot to watche the fireworks and wait for it to start. Enjoy the show!
10:45 PM – 11:30 PM: Find a spot on Main Street to watch the Boo-to-You parade!
12 AM: Watch the Hocus Pocus Spelltacular stage show, then take last minute magic shot pictures on Main Street, and shop at the Emporium on your way out!
Halloween-Themed Food & Desserts
There are Halloween-inspired meals and desserts located all over the park only during the party! There is other food available it's just not Halloween-themed.
Main Street Bakery – Not-so-poison apple cupcake, Halloween cinnamon roll, and pumpkin cheesecake.
Casey's Corner – Minnie witch brownie.
Aloha Isle – Hitchhiking ghost dessert.
Golden Oak Outpost – Caramel pretzels, cinnamon donuts, and apple cider.
Peco's Bill Tall Tale Inn and Cafe – Hades nachos and worms and dirt dessert.
Sleepy Hollow – Jack Skellington push pop dessert and zero pumpkin waffle sundae.
Liberty Square Market – Madame Leota dessert.
Gaston's Tavern – Oogie Boogie meringue.
Storybook Treats – Maleficent ice cream waffle cone.
Cosmic Ray's Starlight Cafe – Muenster smash burger.
Auntie Gravity's Galactic Goodies – Candy corn soft serve and candy corn milkshakes.
My husband and I are vegan so we could only have the Maleficent ice cream cone (without the chocolate horns) and we loved it! The lime soft serve was so refreshing after such a hot day! We loved the fresh black waffle cone and pretty purple sugar sprinkles on top too.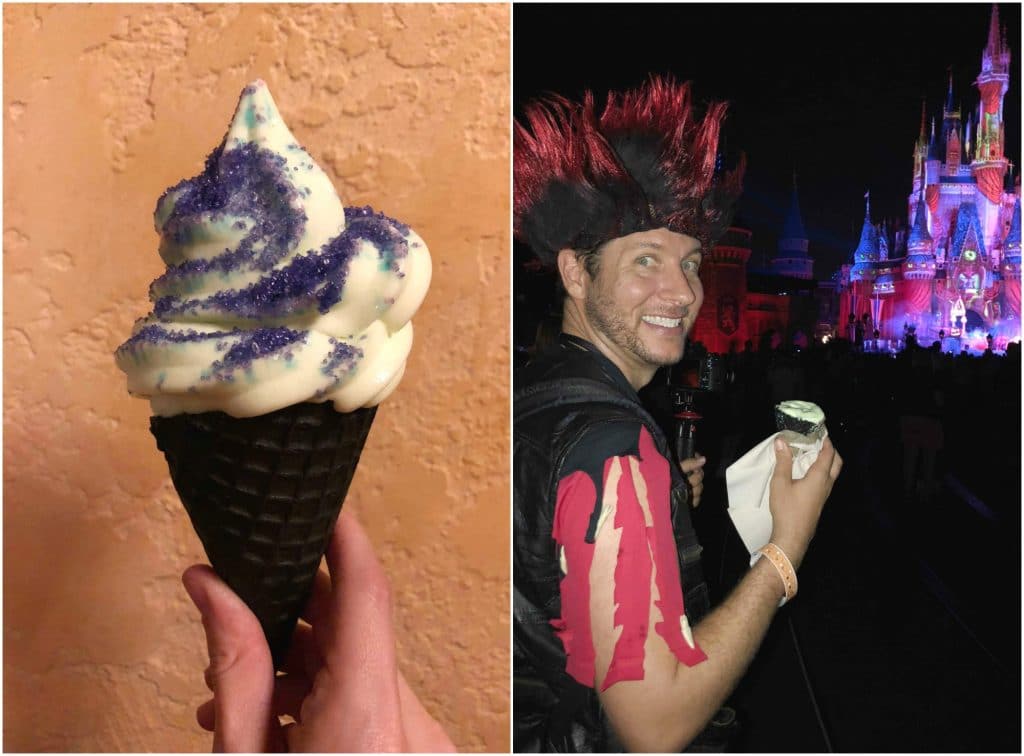 MNSSHP Trick-or-Treating
There are 14 trick-or-treat stations located around the Magic Kingdom! On your party park map, look for the orange pumpkins to guide you to the trick-or-treat stations. Or, keep your eyes peeled for the inflatable lit-up candy markers that are at the entrance of each candy station. They're huge, you can't miss them!
When the party starts, you will be given a small bag to trick-or-treat with. If you have kids that want to do a lot of trick or treating, I would recommend bringing your own bigger reusable bag.
Or you could purchase this year's MNSSHP reusable shopping bag at the Emporium for $5.99. It's really cute and it's the perfect size for trick-or-treating! The cast members that pass out the candy are not light-handed!
If you have allergies or diet restrictions (like us, we're vegan) you will be given a teal candy bag to trick-or-treat with. At each candy station, tell the cast member that you need an allergy coin instead of the candy.
When you're done trick-or-treating, take the allergy coins to one of the two allergy stations (Town Square Theater or Liberty Square Ticket Office) and trade your coins in for allergy-safe candy!
Disney's Not-so-Spooky Spectacular Fireworks
Do. Not. Miss. The. Fireworks. I repeat. Do. Not. Miss. The. Fireworks.
There is only one showing of the fireworks at 10:15pm and it's fantastic! The music, the castle projections, the fireworks, it's all amazing!
There is no bad place to stand for the fireworks but our favorite place to stand is around the gardens or farther back on Main Street for a straight on view. If you stand up close to the stage and to the right (facing the castle) your view might be partially blocked by the trees so keep that in mind.
Pro Tip – If you want to stand up close, find your firework spot 1 hour prior to the show. If you come last minute, find a spot farther back on Main Street. It's still a great view but most people think that closer is better. In reality, the fireworks are shot up really high and you can see them really well even by the exit of the park! You can hear the music all over the park too.
Boo-to-You Parade
The Boo-to-You parade is so magical, this is another activity that you don't want to miss! There are two showings of the parade during the party; at 9:15pm and 11:15pm.
I recommend looking for a viewing spot on Main Street, 30 minutes prior to the parade starting. We prefer watching from Main Street because you get a view of Cinderella Castle as the parade goes by!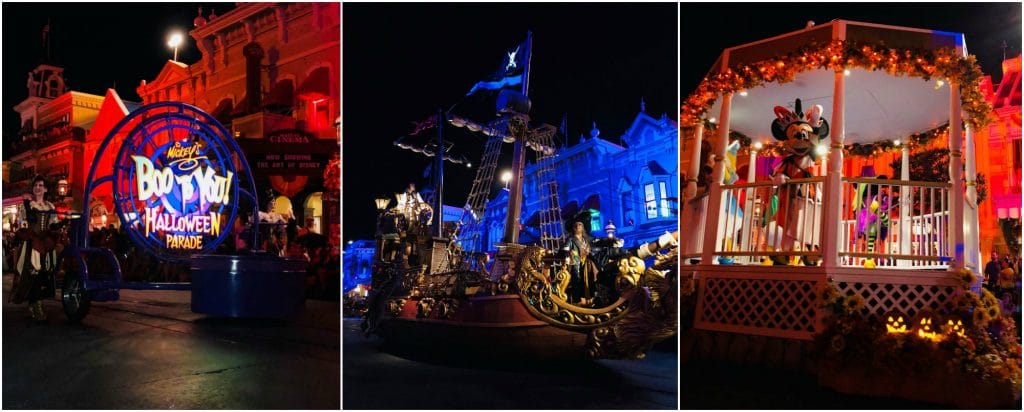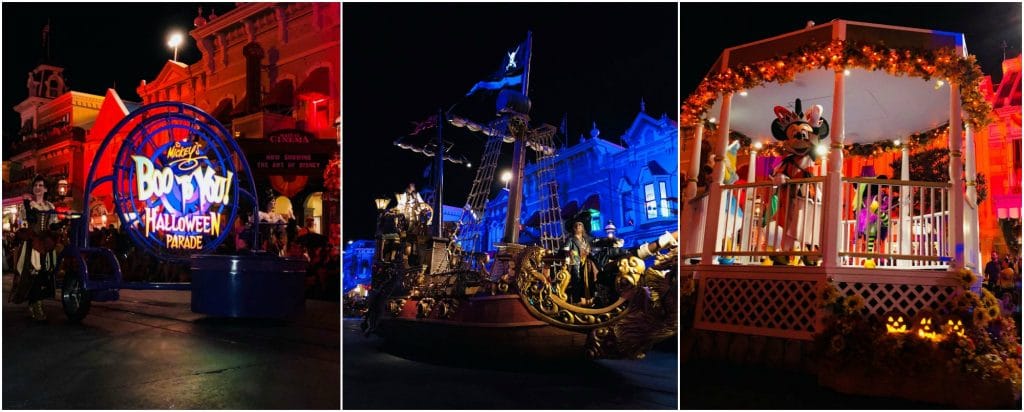 Make sure you don't miss the beginning of the parade because the parade is led by the headless horseman and it's our favorite part to watch him gallop by!
Pro Tip – Watch the second parade at 11:15 PM because the first parade at 9:15 PM is more crowded! After the fireworks at 10:15pm, a lot of people leave beacuse thet have small kids that are tired. The second parade is less crowded and you don't have to waste as much time waiting in your spot for the parade to start.
Hocus Pocus Villain Spelltacular Stage Show
We always watch the Hocus Pocus movie at least twice before Halloween, we love it! We were so excited when Disney incorporated the Sanderson Sisters into MNSSHP. The stage show is shown at 8:30pm, 10:45pm, and 12am during the party. It's a fantastic show and I highly recommend you plan on seeing it during the party.
You don't need to get there early unless you really want to be front row. You can see the stage clearly from all over the courtyard. We were pretty far back (close to the path that leads to Adventureland) and we had a great view!
Pro tip – Technically, the event is over at 12 AM but the last showing of the Hocus Pocus Villain Spelltacular starts at 12 AM and it's the least crowded! Grab a Maleficent ice cream cone from Fantasyland enjoy the last stage show!
Special Mickey's Halloween Party Extras
In addition to all of the Halloween activities that we've already gone over, there's even more!
Storybook Circus Disney Junior Jam – We don't have any kids yet so we didn't take the time to check out the Storybook Circus Disney Junior Jam. If you do, this would be a fun activity for your little one!
Monstrous Scream-O-Ween Ball – We love dancing but ran out of time to go to this dance party. We did run by while it was happening (7pm-12pm) and the dance floor was packed with kids and adults!
Special Disney Character Appearances – We saw so many characters while we were running around! Mickey and Minnie were in their Halloween best, we saw Jafar, Tarzan, Jane, the Queen of Hearts, Tweedle Dee and Tweedle Dum, Jack Skellington, Sally, Winnie the Pooh, Piglet, Tigger, and Eeyore!
Magic Shot Locations – (Magic shots are where Disney adds something magical to your photo.) There are four Halloween themed magic shots around the Magic Kingdom! One is at the entrance, two are on Main Street, and the one is by the Haunted Mansion. The one at the entrance of the Magic Kingdom is with the headless horseman, it looks so spooky!!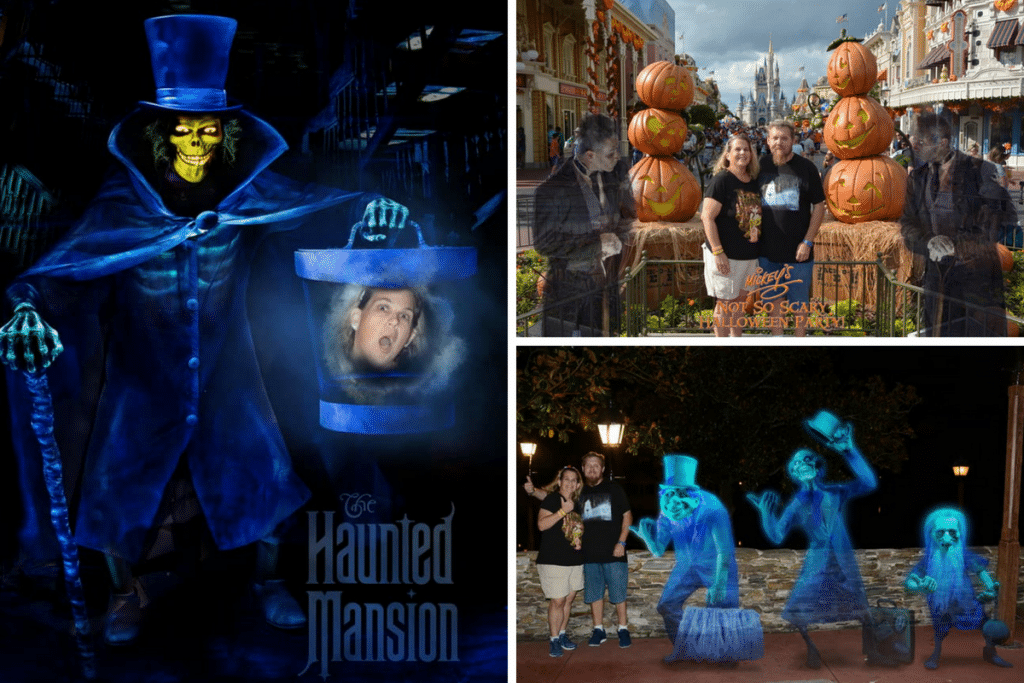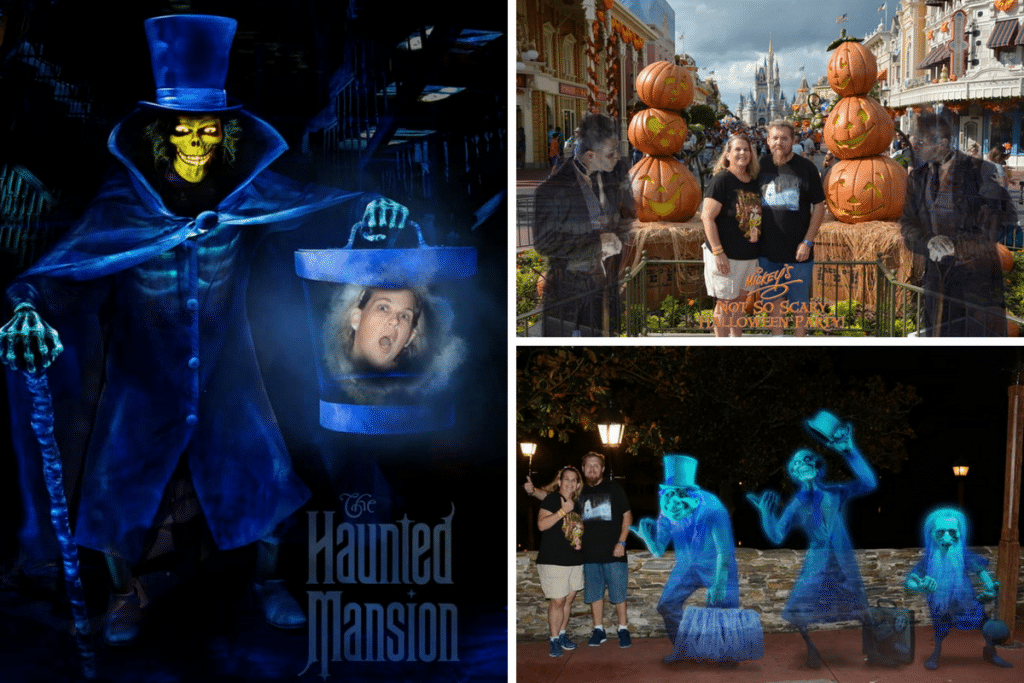 Photo Credit: Tori Edwards
Mickey's Not So Scary Halloween Party 2019 Merchandise –

Special event merchandise

is located at the Emporium (full event collection), Curtain Call Collectibles (Costume pieces), Big Top Souvenirs (Full event collection), and at Frontier Trading Post (Event trading pins). At 6:45 PM, we got in line at Big Top Souvenirs to buy our party merchandise and we were out by 7:15 PM. Get in line early if there is something specific that you really want.
Sorcerer's of the Magic Kingdom Paty Card – Get your free party card at the Firehouse Station.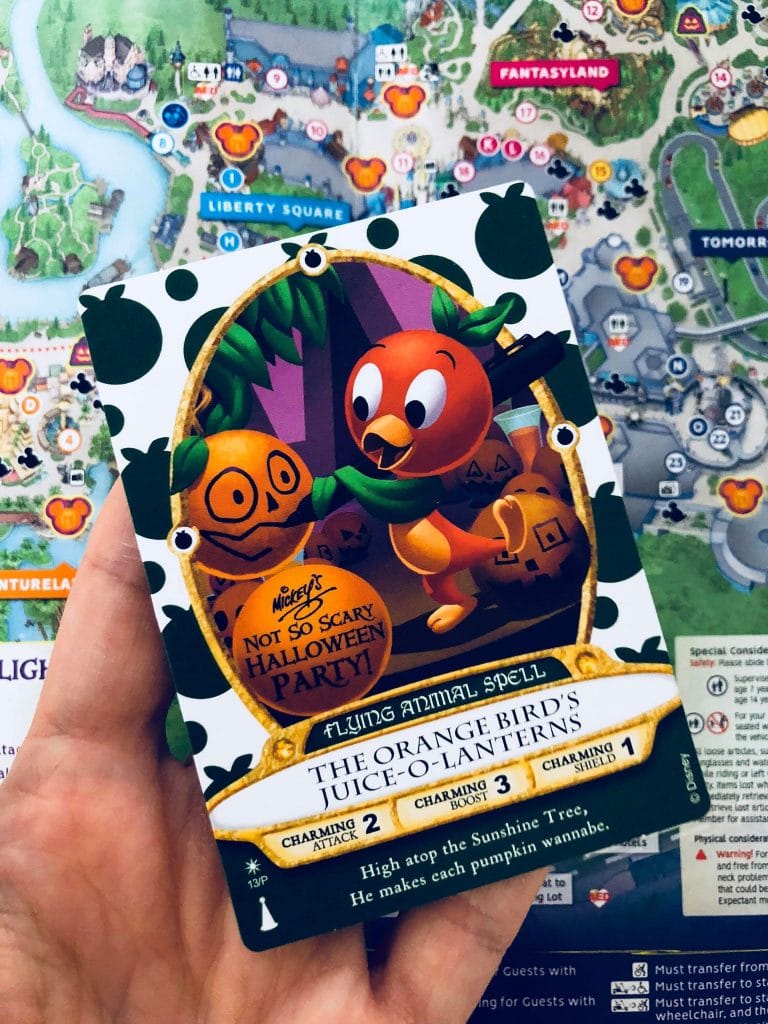 Mickey's Not So Scary Halloween Party Tips!
Buy your party ticket as soon as possible, popular dates sell out quickly. The party on Halloween is usually extremely busy!
Dress up in a costume, you'll be out of place if you don't! Don't wear a heavy, thick, furry, or warm costume. It's very hot in Florida!
Drink a lot of water to stay hydrated. Remember, you can get free cups of ice water at any of the quick service windows that have soda taps.
It's extremely hot August-October in Florida, bring a necklace fan to help keep you cool!
Bring a large reusable shopping bag to trick-or-treat with, or you can buy one at the Emporium.
Get to the Magic Kingdom at 4 PM to get the most time out of your party ticket.
Grab a park map as soon as you walk into the park, so you can start planning your night.
If you get to the Magic Kingdom by 4 PM, go on the rides first before the party starts. Save the three Halloween-themed rides for after the party starts.
Get your free MNSSHP even sorcerer's card at the Firehouse (they usually close 15 minutes prior to the end of the party).
If specific party merchandise is important to you, get in line between 6:30 PM – 6:45 PM at one of the merchandise locations so you're close to the front of the line by the time it opens.
Eat dinner before the party starts but wait to get dessert until after 7pm so you can try one of the special Halloween-inspired treats!
Go trick-or-treating early during the party and then do a second loop later on that night if you have time.
Don't waste time waiting for a spot close to Cinderella Castle for the fireworks, arrive 10 minutes before and get a spot farther back on Main Street.
After the fireworks, find a spot you like on Main Street and wait for the 11 PM parade to start.
Go to the 11:15 PM Boo-to-You parade instead of the 9:15 PM parade, the later showing is less crowded.
Watch the Hocus Pocus Villains Spelltacular stage show at 12 PM because it's the least crowded!
After Hocus Pocus, take a few magic shots on Main Street. The photographers were still there when we were walking out at 12:30 AM.
The Emporium is still open at 12 AM so you can do a little shopping on your way out of the Magic Kingdom.
Is Mickey's Halloween Party Worth It?
I've been going to the party for years, I love it! It's so much fun and it's so magical. I absolutely think that Mickey's Halloween Party is worth it! I can guarantee you that once you go to the party, you'll be in the Halloween spirit!
Follow these tips and you'll be able to fit everything in during the party! I hope this Mickey's Not So Scary Halloween Party review helps you to have the best time! If I missed any important tips or information, or if you'd like to share your experience at the party, please leave me a comment below!
More Disney Posts to Help You Plan Your Next Trip
10 Toy Story land Details You Don't Want to Miss!
5 Delicious Vegan Quick Service Restaurants in WDW!
What's the Food Really Like on a Disney Cruise?
159 Disney Cruise Tips I Wish I Would've Known Before Our First Cruise!
5 Activities You MUST Do at MVMCP!
Top 12 Best Restaurants in Disney World!