An in depth review of the food and drinks offered at the Epcot Food & Wine Festival Tequila Lunch at La Hacienda de San Angel.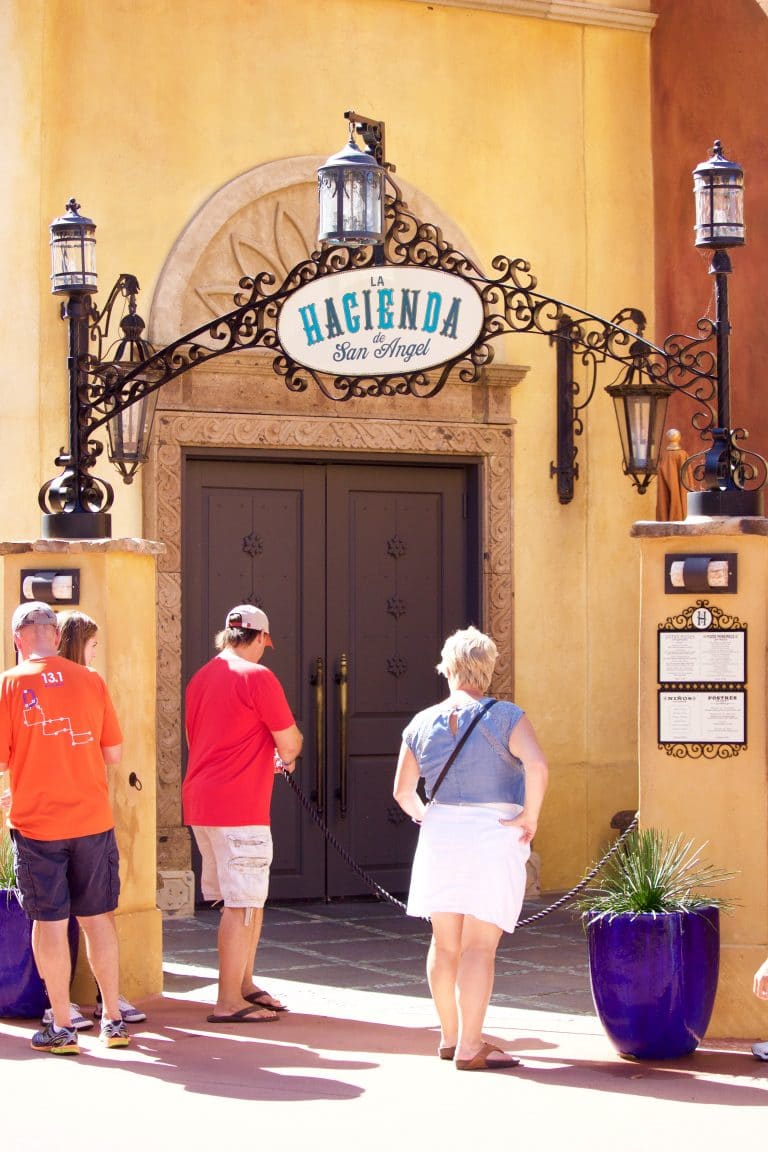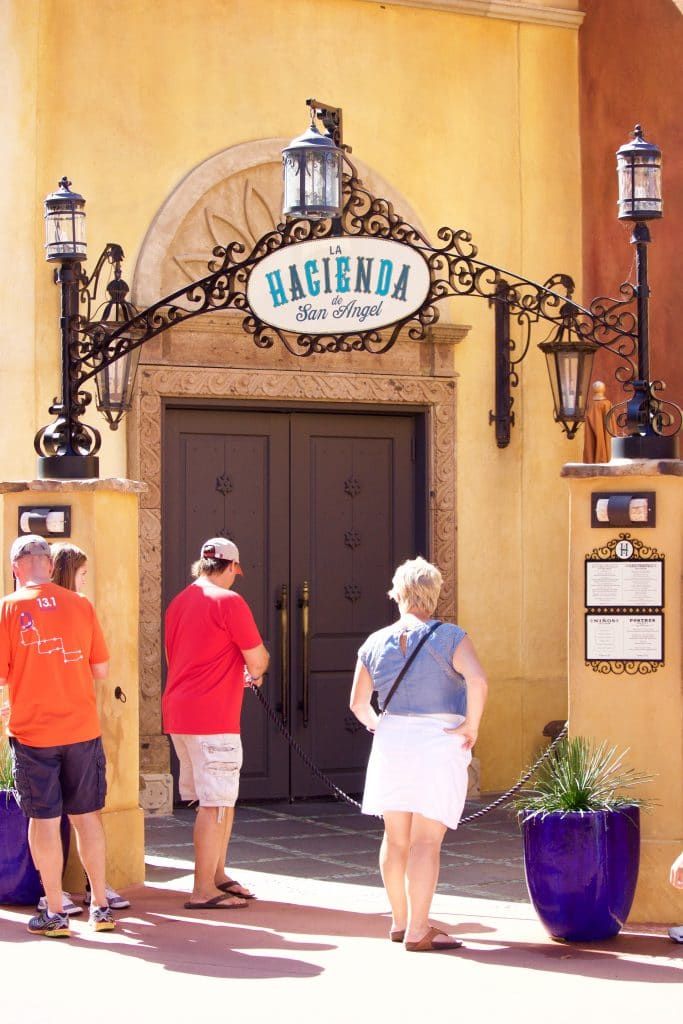 We recently got back from our foodie extravaganza vacation in Disney world. While we were there we got to checkout the Epcot Food & Wine festival, the French Family Meal Traditions, the Party for the Senses and the new and improved Disney Springs.
Tequila Lunch Event Details
Location: La Hacienda de San Angel restaurant in Mexico at Epcot
Time: 12pm-1:30pm
Dates Offered: Each Thursday, Friday, and Saturday during the Food & Wine Festival
Price: $85 per person
We arrived 15 minutes early but everyone was avoiding the heat by waiting in the shade until the doors opened at 12pm, so there wasn't a big line like I expected. Once the doors opened everyone quickly lined up to enter the restaurant. It took a few minutes to get everyone inside because they had to check us in and take us to our assigned seats.
They definitely started the event off on the right foot by greeting us with a fresh margarita right when we walked in the door! Nice touch, Disney.
We were seated at a long table with a group of other people. We were lucky, all the people at our table were very friendly and fun to enjoy the event with. One of the ladies at our table is vegan and she was so sweet to tell me about each of her courses so I could share on my blog that they offer delicious vegan substitutions for the tequila lunch. Everything she ate looked fabulous!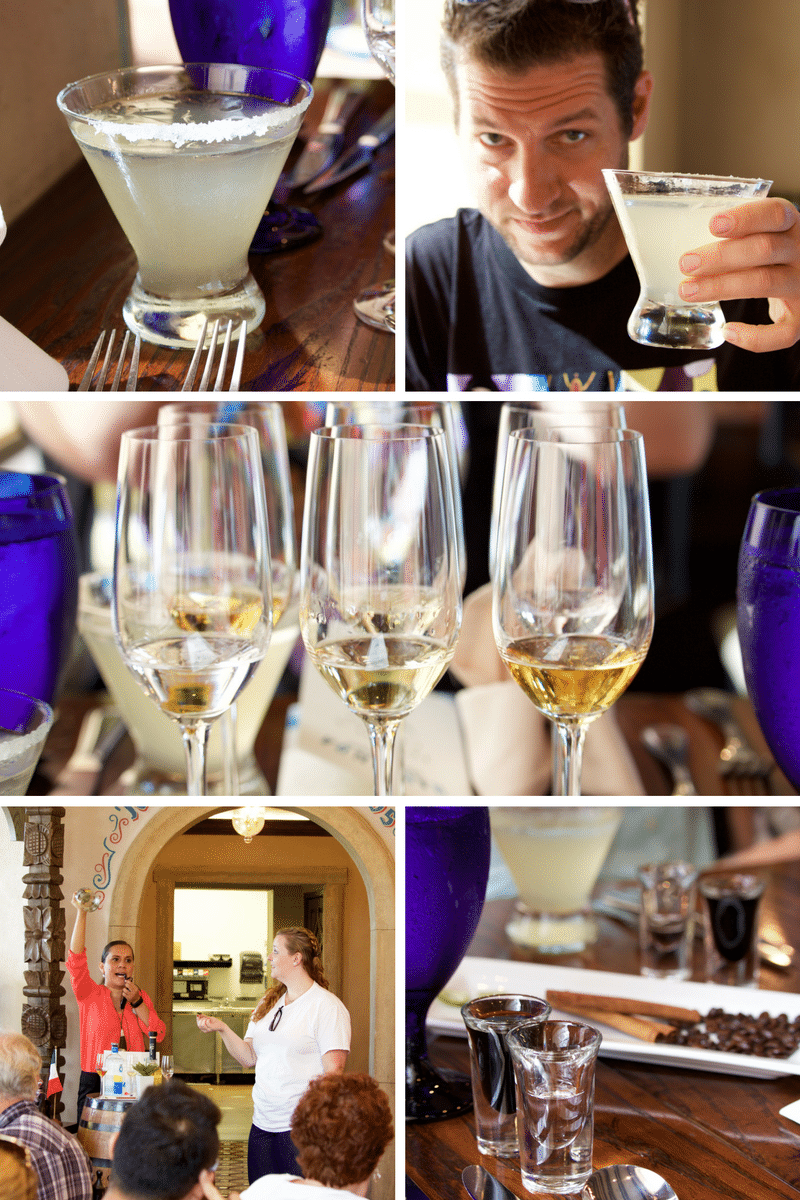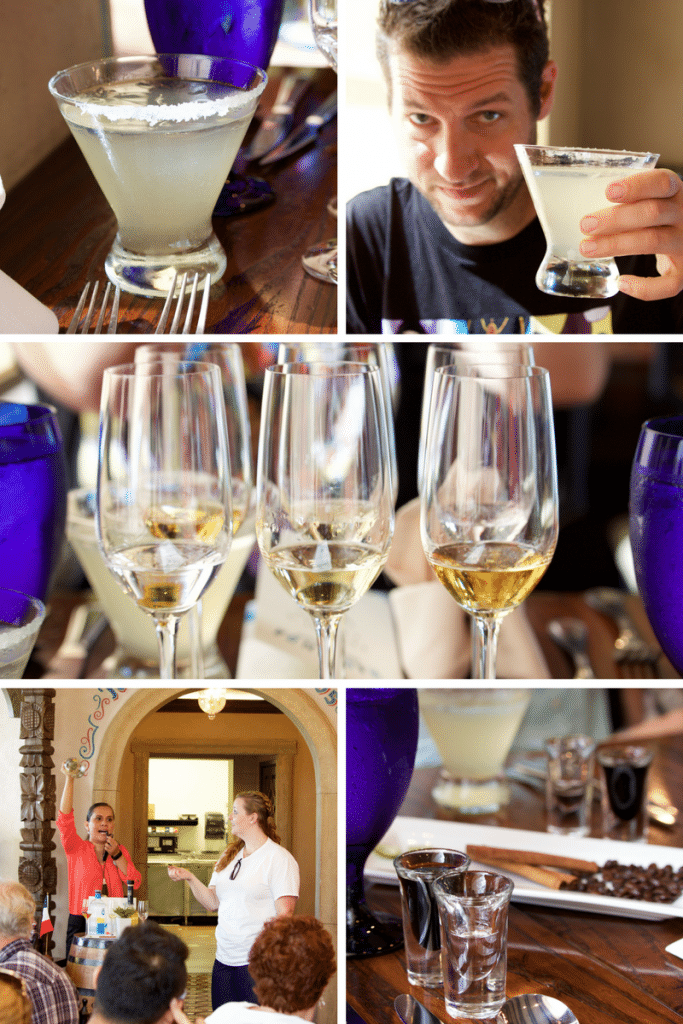 As soon as everyone was seated, the resident tequila expert, Hilda, came out and got the event started. She's very knowledgeable and was able to give us a lot of information in a fun and interesting way. She was very entertaining and even involved the audience by inviting two people to come up and eat a scorpion!
I was definitely not one of the volunteers.
She taught us all about how tequila is made, the history of tequila, and how to smell the different layers of tequila. Hilda demonstrated how if you put your nose to the lip of the glass, you'll smell agave. If you put your nose into the glass, you'll smell alcohol. If you smell the outer lip of the glass, it smells very sweet.
Each table setting had a shot of vodka, three tequila shots, and a cappuccino dessert shot. I was surprised to see the vodka shot at a tequila lunch tasting but Hilda soon explained that the vodka shot is taken first to cleanse your pallet. Each table also had a plate of coffee beans, cinnamon sticks, and lime rinds that we crushed with our fingers to release the oils and smell before we tasted the tequilas.


[tweetthis]Review of the food & drinks at the tequila lunch in #Epcot during the food & wine festival![/tweetthis]
Food & Tequila Pairings
After Hilda taught us how to swish the tequila in our mouth for a few seconds, swallow, and then breath out to really taste the essence of the tequila, it was time for the food!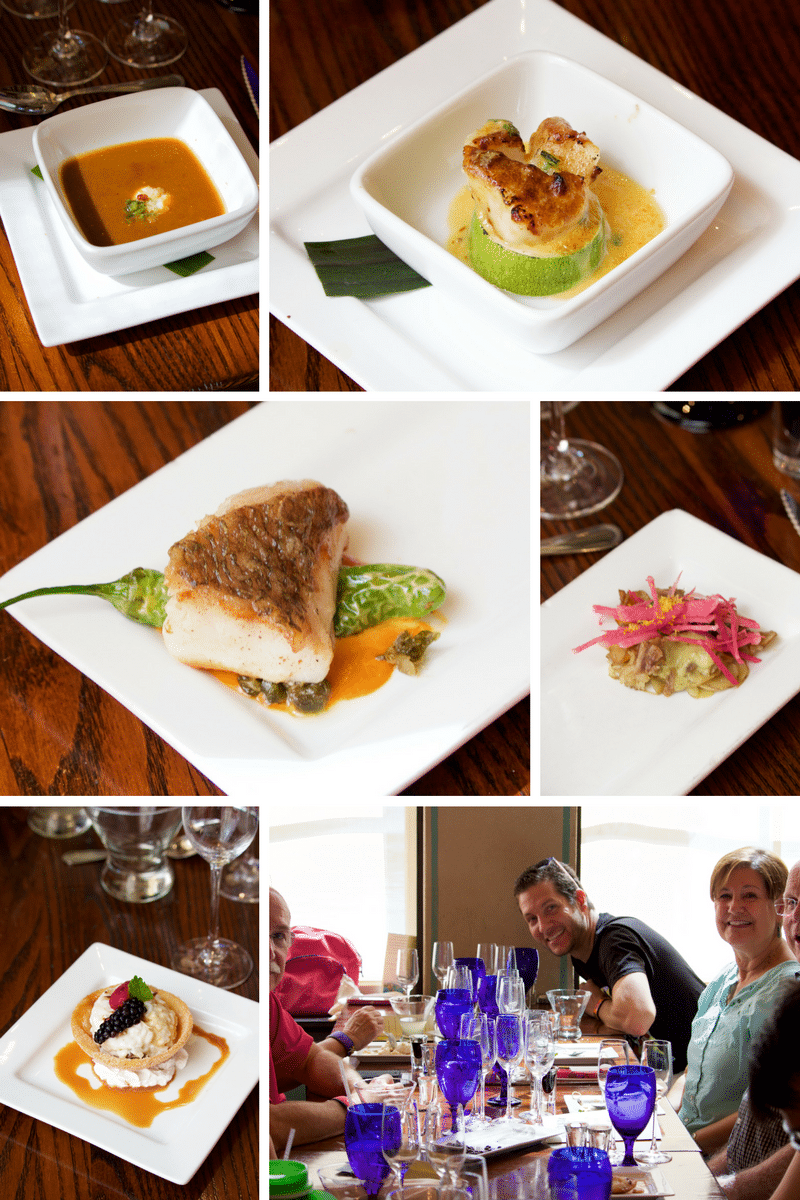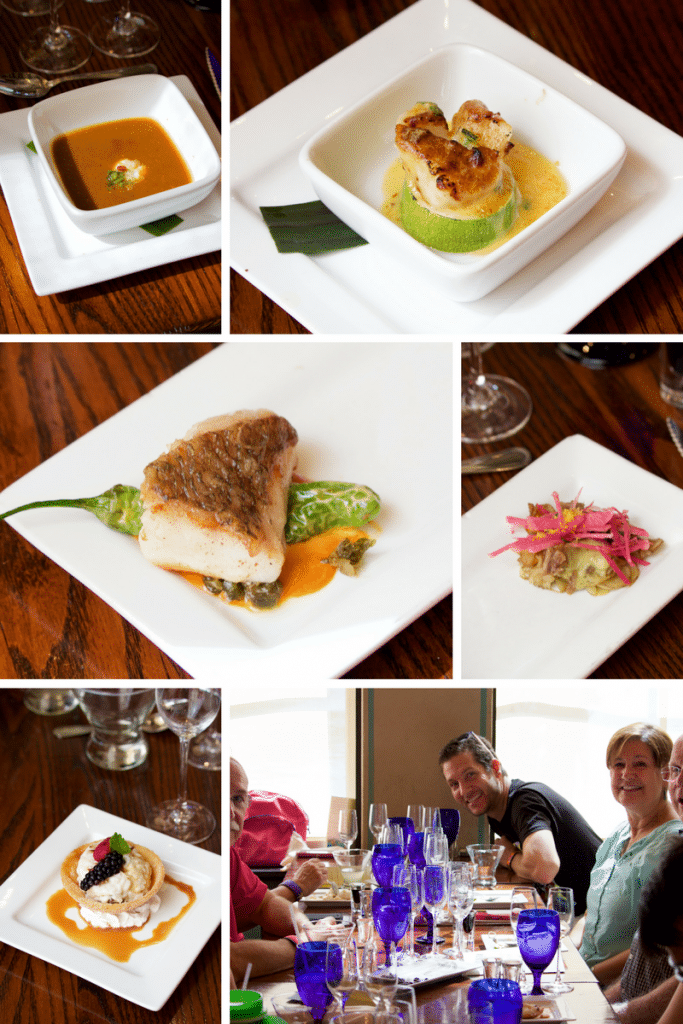 Course #1 – Roasted Poblano and Chicharron Cream Soup paired with Tequila Casa Dragones Blanco.
The soup had a good flavor but it was cold. I'm not sure if it was supposed to be cold like a gazpacho or if it just took awhile to get to our table but I was surprised that it wasn't hot.
The blanco tequila wasn't my favorite, it's aged for 60 days or less in steel or oak barrels so the smooth flavor hasn't really had time to develop yet.
Course #2 – Pan Seared Scallop with Huitlacoche Cream and Chipotle paired with Tequila Milagro Select Reposado.
I absolutely loved the scallop, it was perfectly cooked and melted in my mouth just like butta!
The reposado tequila is aged for 60 days to one year, it has a smoother flavor so it was much more enjoyable to drink. I liked this one!
Course #3 – Braised Lamb Shank with Mole Verde, fingerling shavings, and Corvina topped with Guajillo Pesto Cream Sauce paired with Tequila Casa Noble Anejo.
I was not a fan of the the lamb, it was a little dry and tough. The corvina on the other hand, was light and flaky and seasoned perfectly!
The anejo tequila was my favorite. It's aged for 1-3 years which gives it plenty of time to develop a rich, smooth flavor. You can easily sip on anejo tequila
Course #4 –Rice Pudding in a Pastry Shell with Caramel sauce paired with the coffee liqueur dessert shot.
The dessert was delicious! I didn't think I'd be a fan of rice pudding but it was very tasty and the shell was fresh and crispy. The caramel sauce was to die for, I could have easily downed a whole bowl just of the sauce!
The coffee dessert shot was a little sweet for my taste, but I did enjoy the coffee flavor so it went very well with the dessert.
Is the Event Worth the Price?
Travis and I had a great time at the tequila lunch. It was a really fun experience and an awesome way to kick off our vacation. I would say that, yes, the tequila lunch is worth the price because you're paying for the experience.
The food portions and drink pours aren't large or unlimited but being able to learn from the tequila expert, trying different varieties of tequila and food pairings and enjoying the atmosphere of the event more than make it worth the price!
We hope to be able to get tickets again next year for this event! Tickets for the tequila lunch as well as other Epcot food & wine festival events usually go on sale in late July, so keep checking the Disney website for updates!
If you're looking for a similarly priced event that offers bigger portions and larger pours, check out my review of (my favorite) the French Family Meal Traditions lunch in France!
More Disney World Posts to Help You Plan Your Next Trip!
Guide to Eating Vegan on a Disney Cruise
Epcot Party for the Senses Review
5 Activities You Don't Want to Miss at MVMCP!
159 Disney Cruise Tips I Wish I Would've Known Before My First Cruise
How to Ride Avatar Without the Wait or a Fastpass!