This shop has been compensated by Collective Bias, Inc. and its advertiser. All opinions are mine alone. #TeamPizza #CollectiveBias #cbias
Easy tips for throwing a lightened-up, girly game day party! Healthy recipes that taste indulgent, DIY game day pennant banner and learn how to make your own in-home photo booth and props!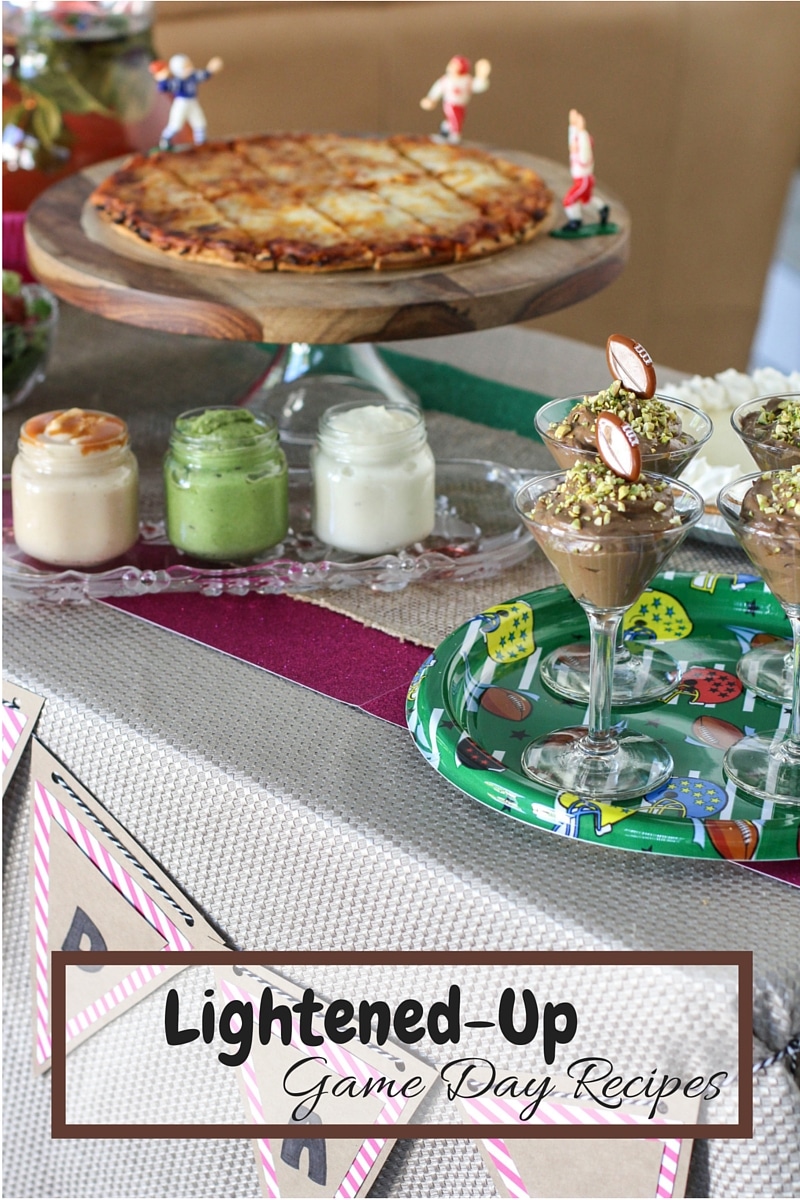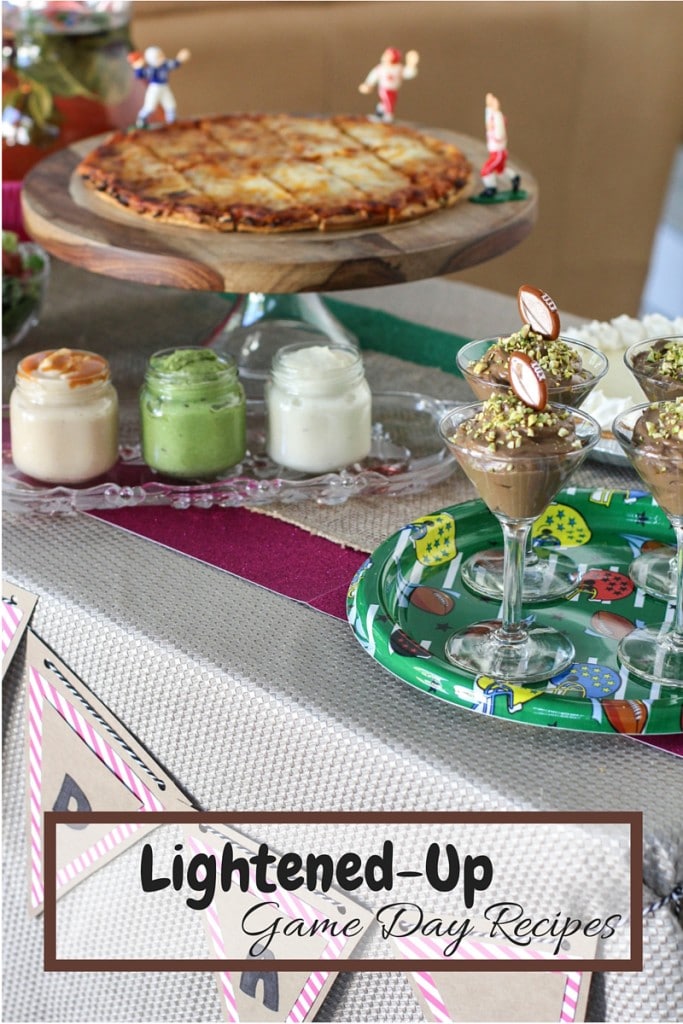 Can I tell you a secret?
I only like watching football for the game day food!
Shocking, I know. I'm guessing that a few of you feel the same way I do. Am I right?
When I was younger, I always stayed in the kitchen to help my mom "prepare" the food. By prepare, I mean taste everything multiple times when her back was turned. I swear she has eyes in the back of her head because she always knew when I was reaching for something or what I was furiously chewing. Dad and my brother would be in the living room watching the game and would occasionally wander in to "get a drink of water" aka see how long till the food was ready.
Mom always made really yummy game day snacks like mile high nachos and chili bean dip. She put her own spin on recipes and swapped bad ingredients for healthy ones. I can remember her trying to explain to me why you should drain the fat from the ground beef instead of cooking with it or tips for how to pick out the best cantaloupe for the fruit bowl.
So, when I think game day, I think FOOD! <—- Like pizza. Pizza was always a treat food when I was growing up, and still is in my home now. We rarely have it, so when we do, you know it's a party day!
A few years ago, I went to a girlfriends game day party and she had prepared a lightened up spread that was ah-may-zing! Usually, people like to munch on really heavy snacks and calorie-laden foods that are packed with not-so-healthy ingredients. Everything she made looked like the usual football snacks but were secretly pretty good for you. What a sneaky little bugger!
Believe me, I like all the heavy foods too but if I know something looks and tastes like cheese but it's made from cashews– that's what I'm going to grab first!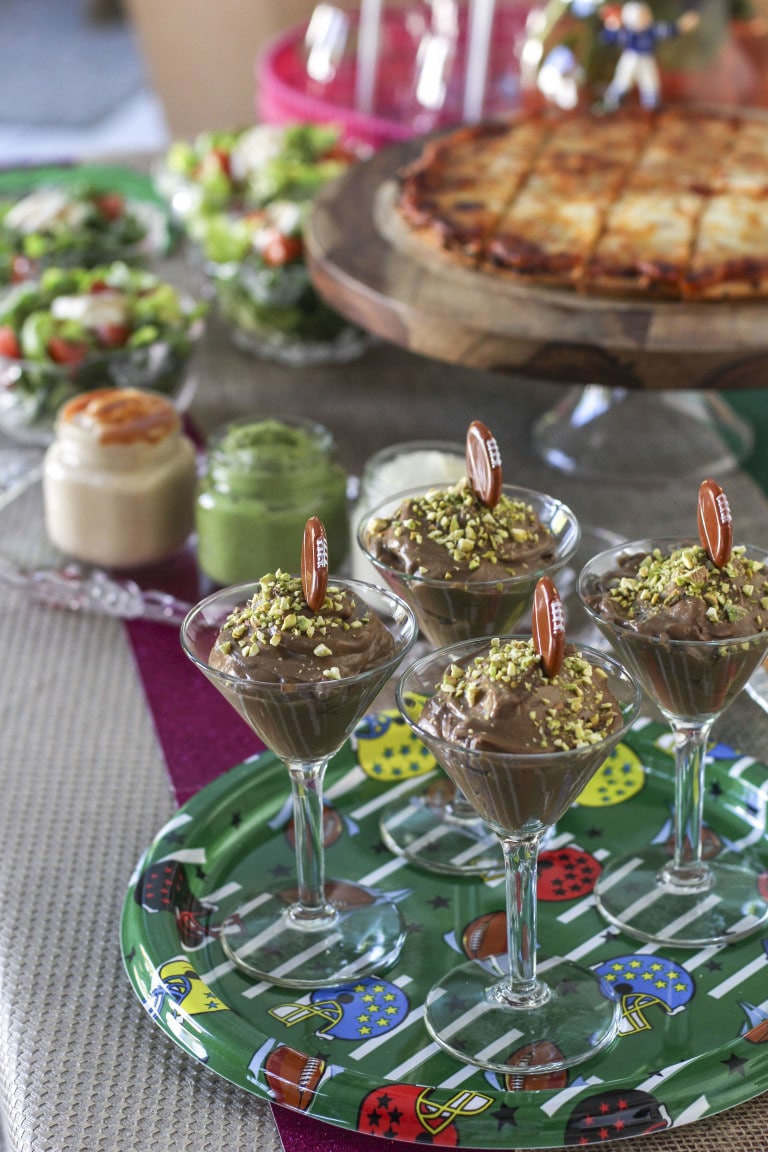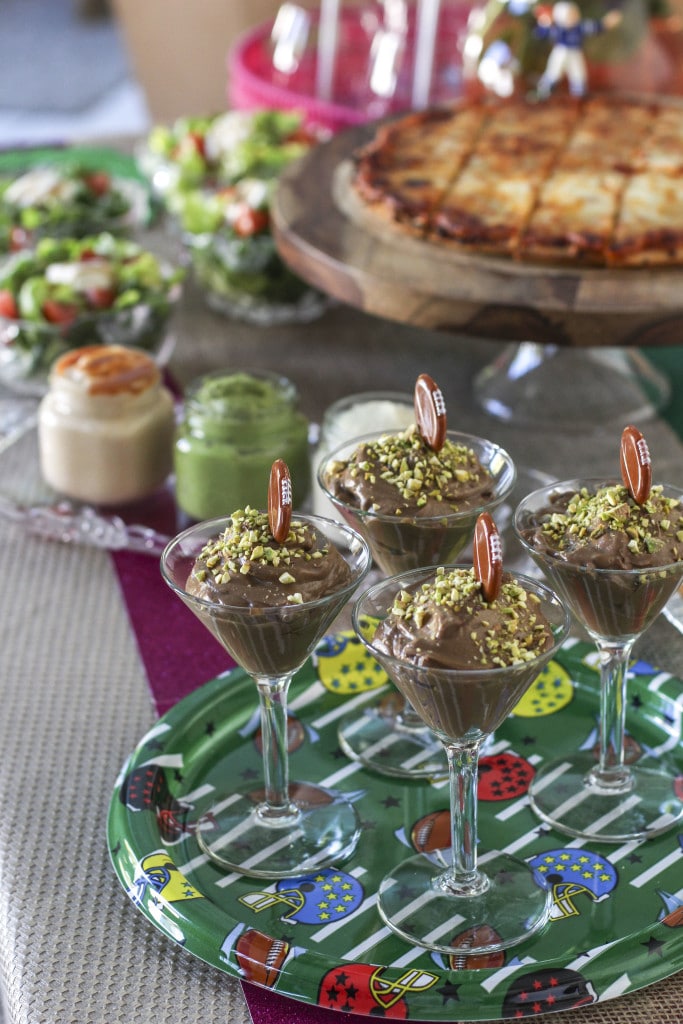 When I decided to have a girl's game day fest, I knew I had to think of a menu that would please everyone! You can't just create a menu that only you like. I mean unless you don't care what your friends like but I wouldn't recommend that. I wanted to serve dishes that were low in calories but high in flavor. Healthy recipes that taste decadent are a win-win!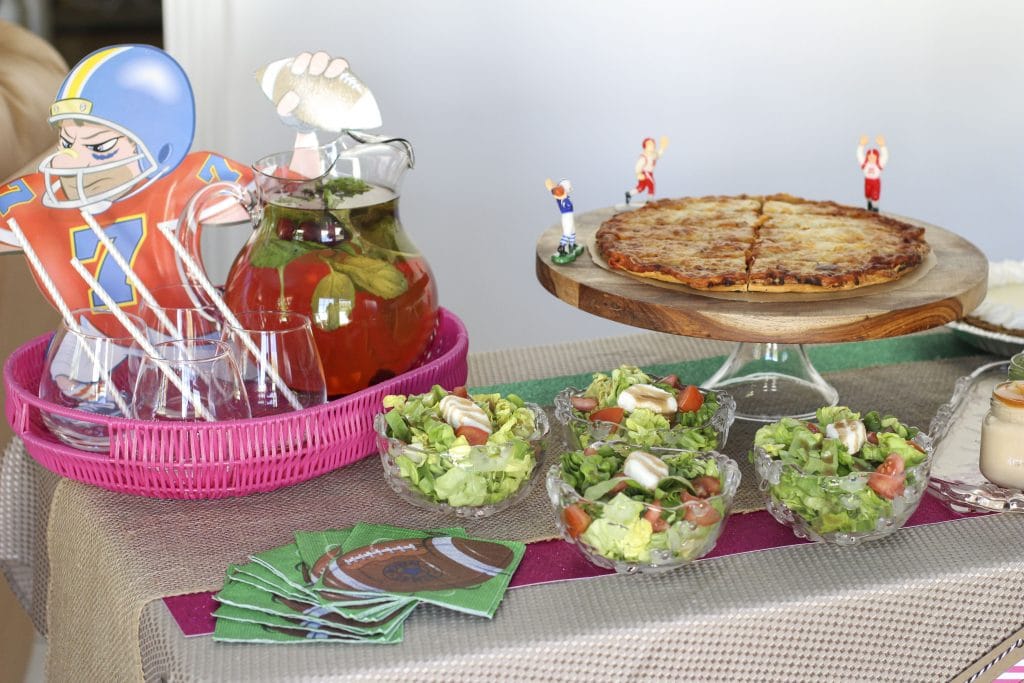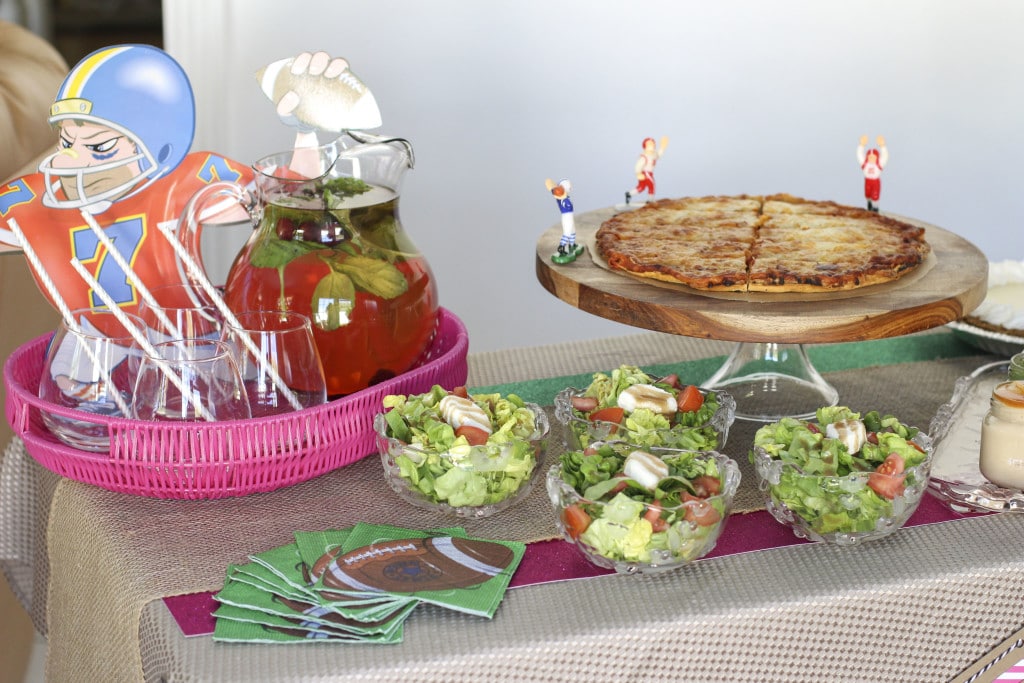 Game Day Menu
Cheese Pizza Dippers
Garlic Parmesan Cauliflower Dipping Sauce
Broccoli Pesto Dipping Sauce
Zesty Buffalo Cauliflower Dipping Sauce
Mixed Greens with Cherry Balsamic Dressing & Goat Cheese Footballs
Avocado Chocolate Pudding with a Pistachio Crumble
Key Lime Pie
Cherry Basil Tea
Game Day Theme
For the party theme and decorations, I wanted it to feel feminine. Every football party I've ever been to always has the same green, black and white color scheme. Boring.
Why not throw some hot pink and sparkles in to mix it up? Yeah!!!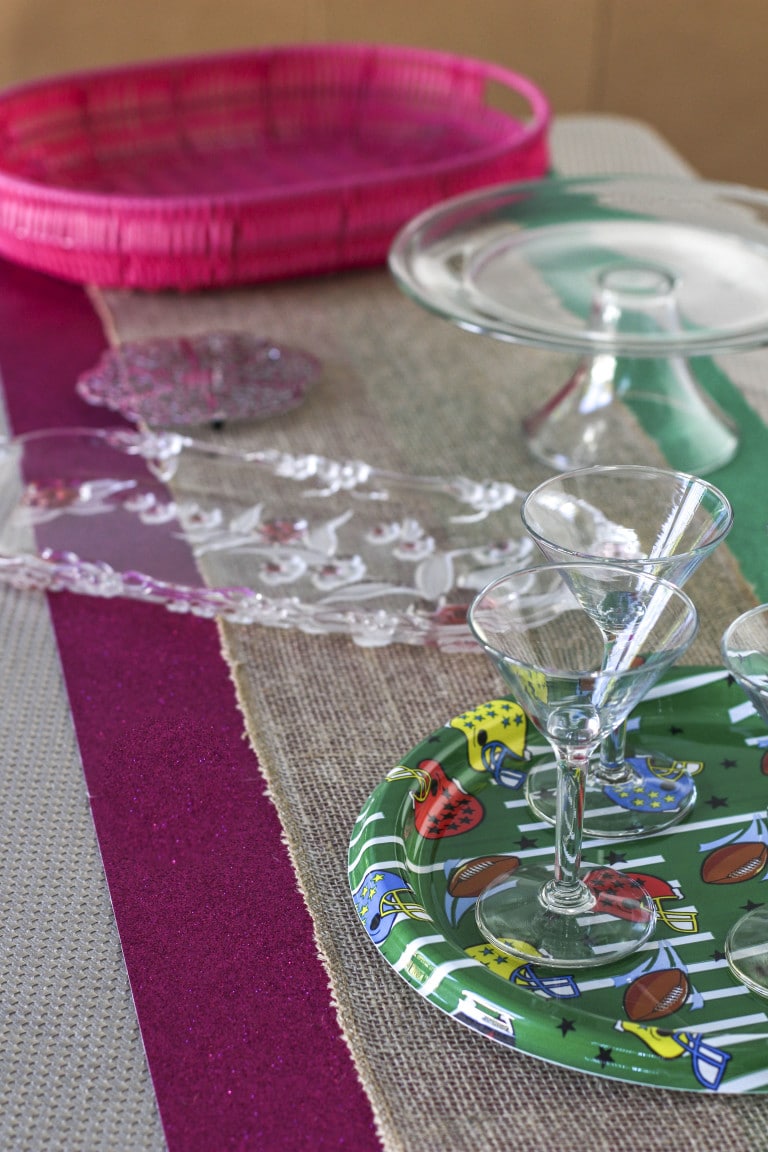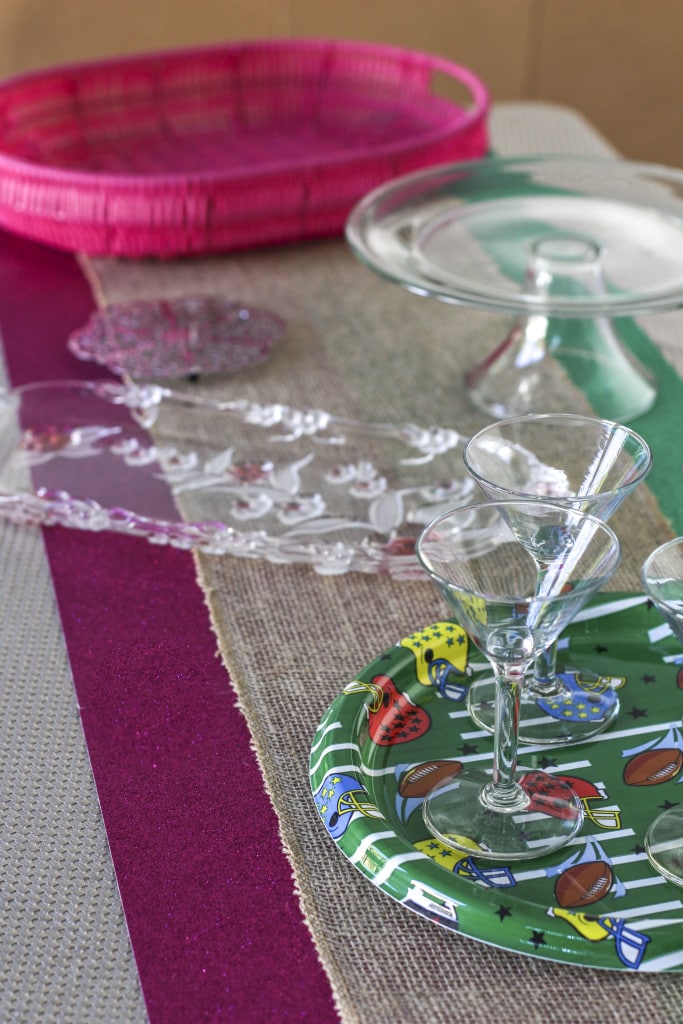 I still used green touches plus some neutrals and burlap to ensure it still felt like a "football" party. I found sparkly green, pink, and burlap runners at a craft store to layer on the buffet table. I like to create visual interest on the table by using different textures– glass, plastic, burlap, sparkles. All very different but somehow it just works! When you use only one color scheme or texture, it looks either very formal or pretty bland IMO.
Tip – If you don't have glassware or serving plates/dishes, check out your local thrift store for unique pieces you can pair together to create your vision!
I also made my own G-A-M-E—D-A-Y banner to hang on the table. I think it came out pretty cute and it was really simple to assemble! This is how I made it…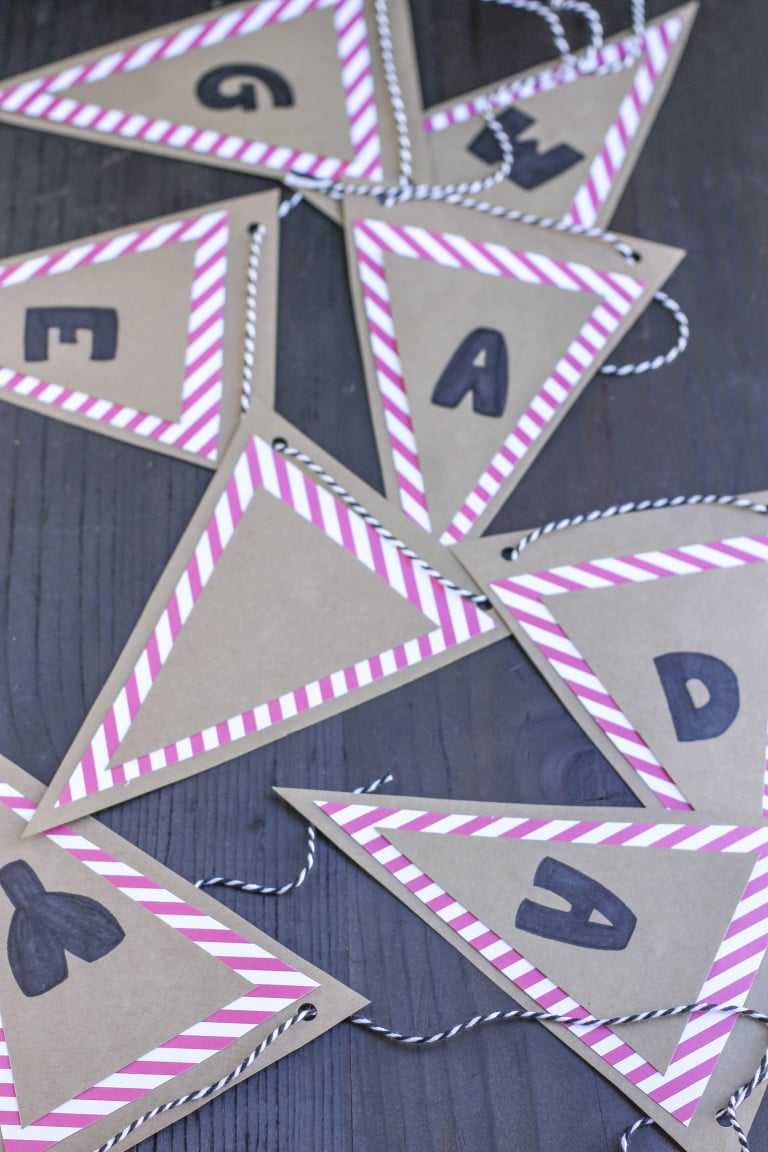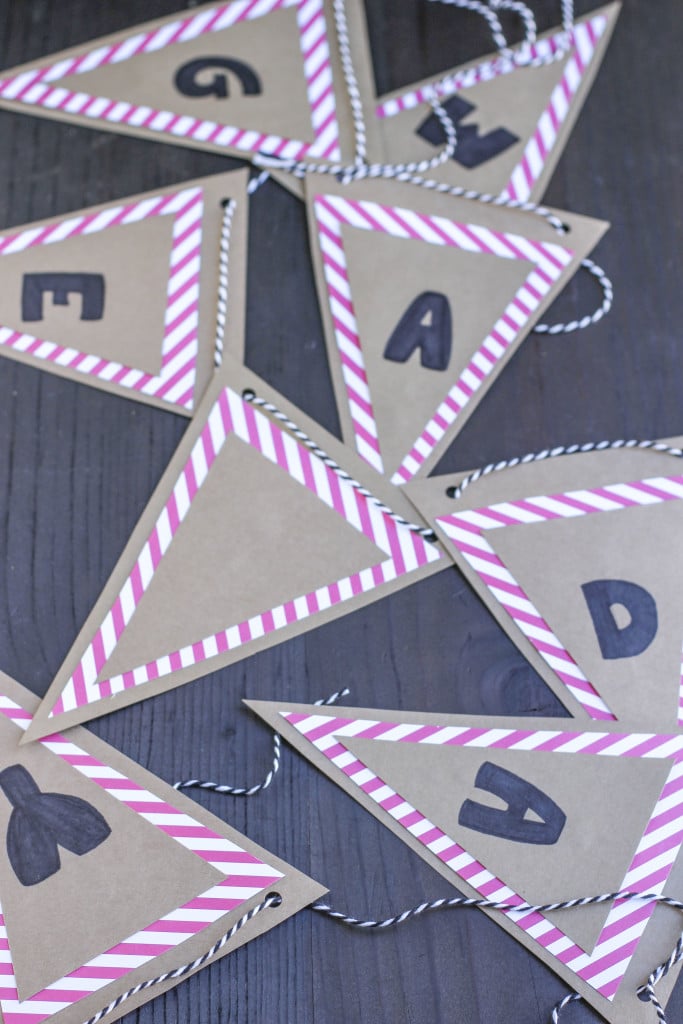 Supplies –
Scissors
Glue gun
Black Sharpie or sticker letters
Ruler
6 pieces of dark brown card stock paper
3 pieces of pink striped or solid pink card stock paper
Hole punch
Twine or string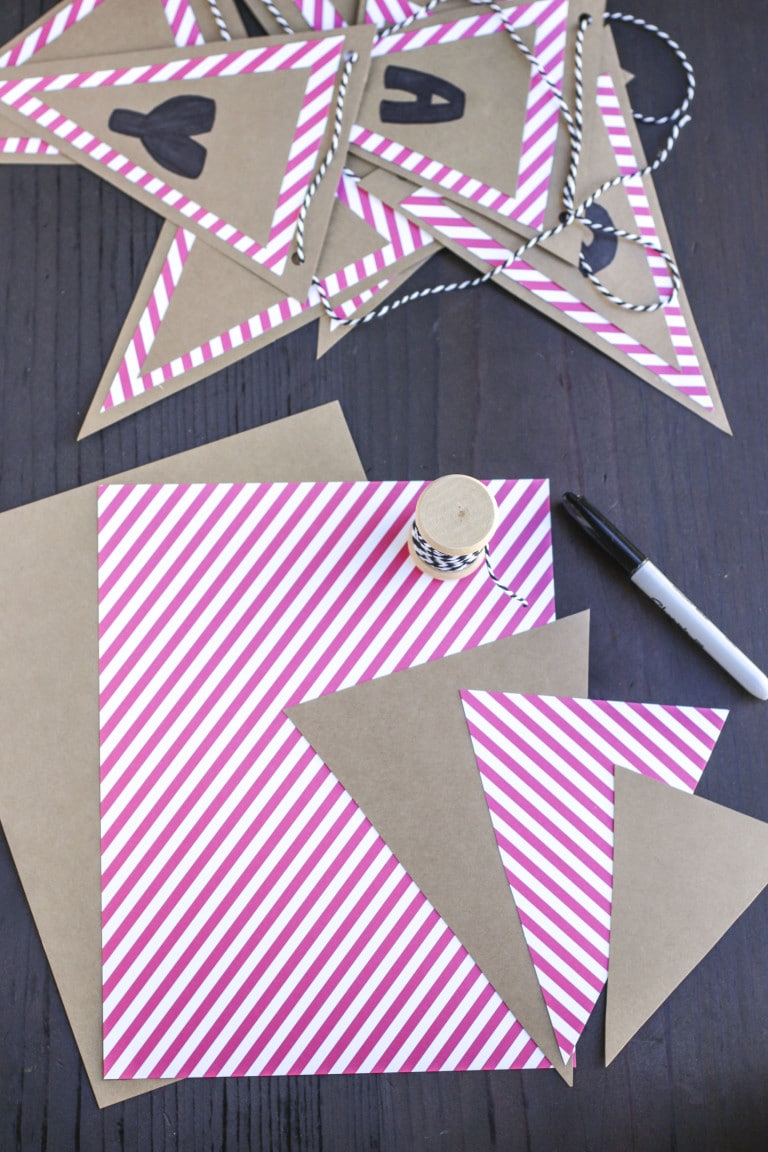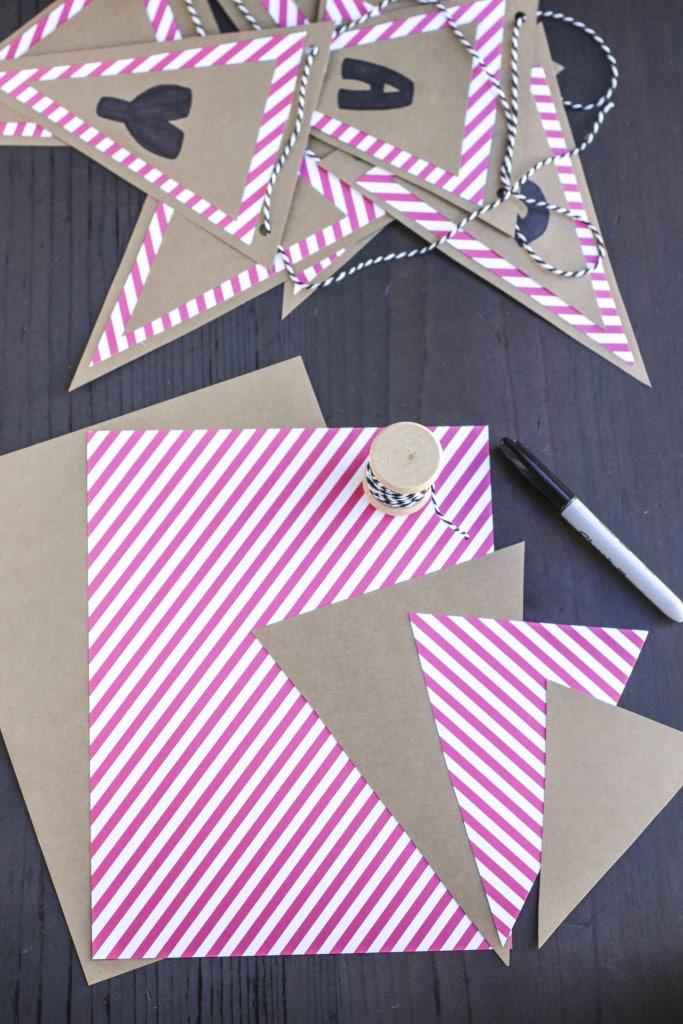 Step 1 –
Using a ruler, start at the bottom of the paper & draw two angled lines to a point. Cut it out and then trace it 7 times to make sure the other 7 pennants are the same size. Repeat this step 2 more times, making 8 pennants a 1/2 inch smaller for each round. You should end up with 24 pennants total.
Step 2 –
Gather all the smallest pennants and either draw the letters on or add letter stickers to each piece. I spelled out game day–but you can use this banner for anything!
Step 3 –
Glue the small pennants to the medium pennants, and the medium pennants to the large pennants.
Step 4 –
Use a single hole punch to punch holes in both corners of each large pennant. String the twine through the holes of each pennant.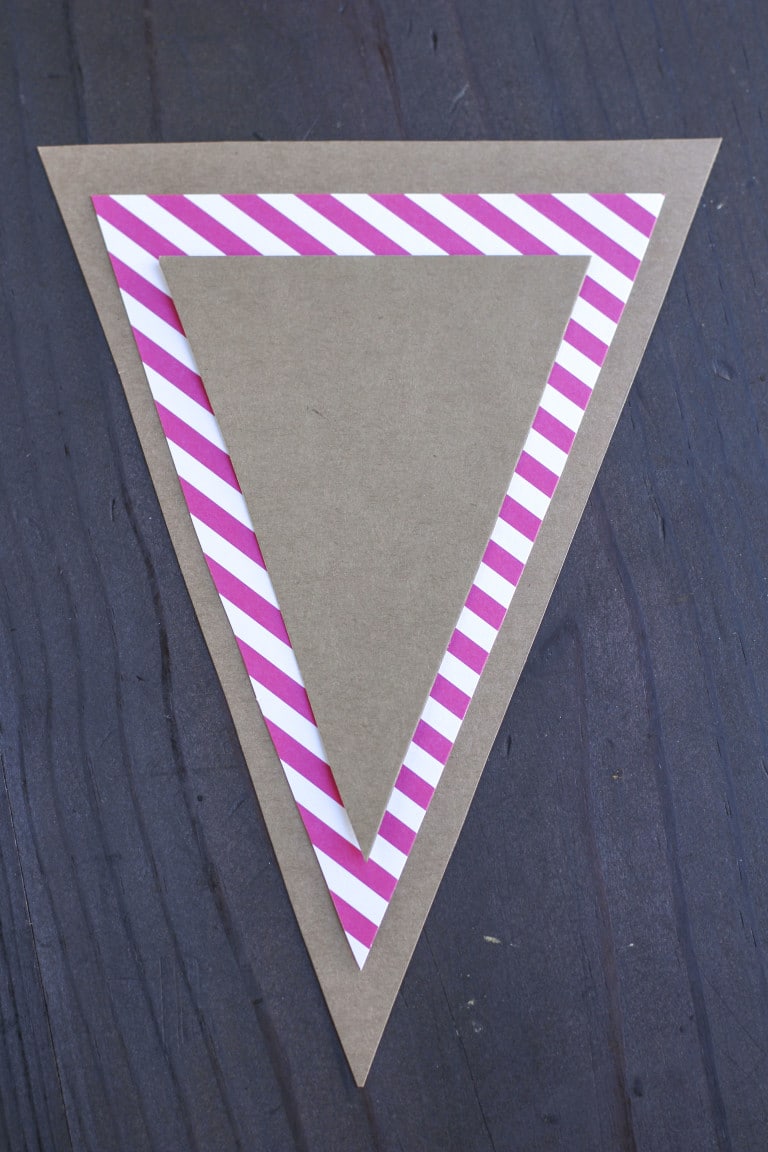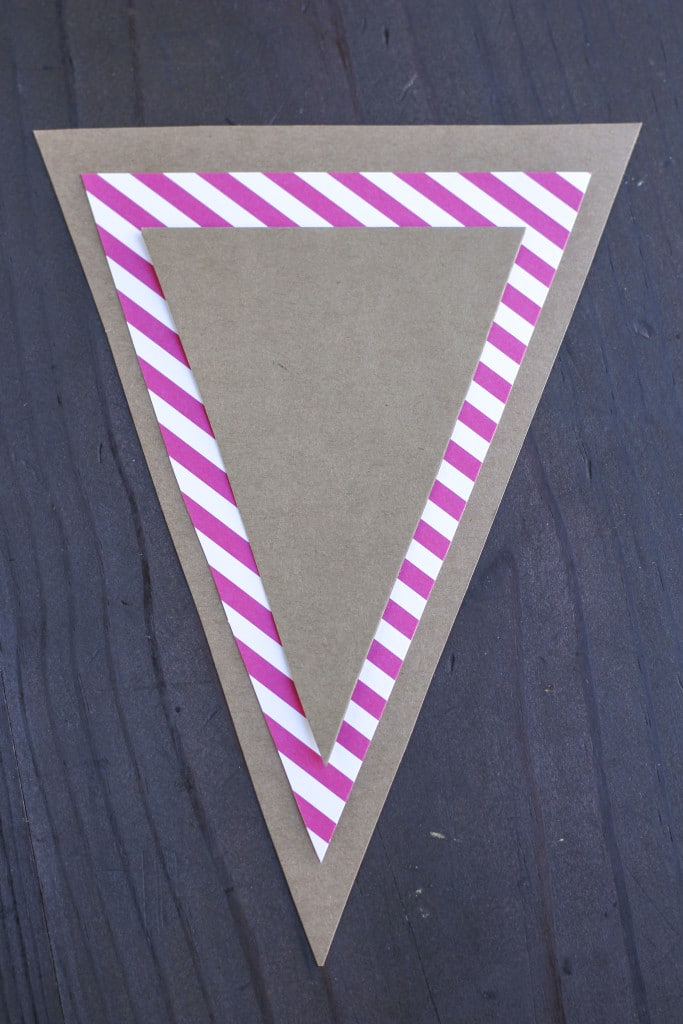 Hang it on your buffet table for a festive, crafty touch! After you've made your decorations, and set the table, it's time to lay out the food.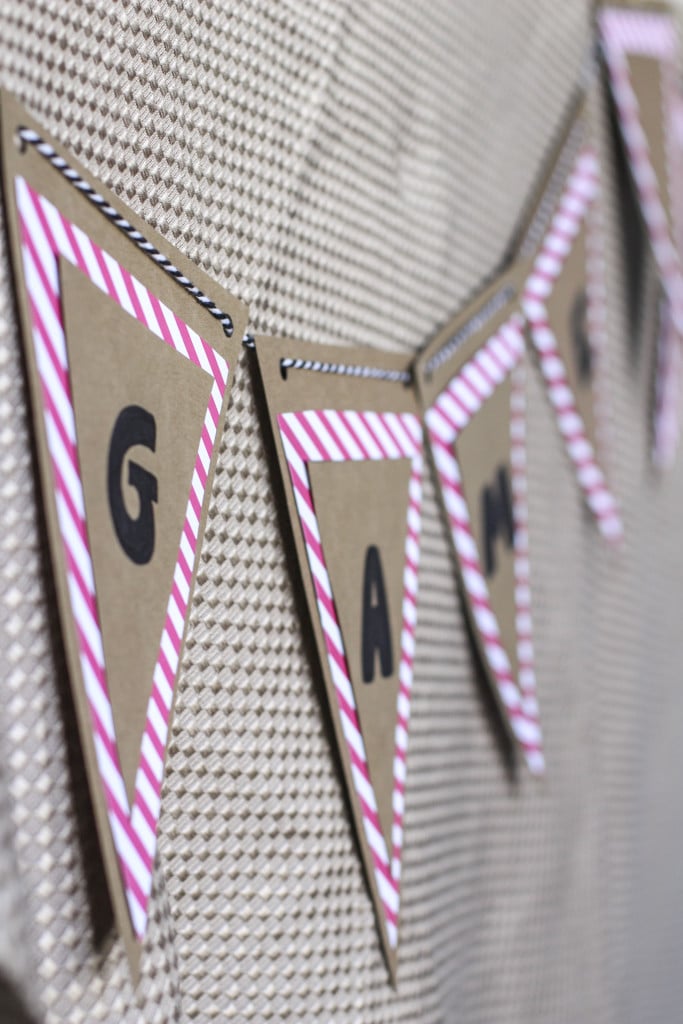 Game Day Recipes
Everyone loves pizza, so that was a no-brainer. Since pizza is a treat for us, it's the perfect party food! I don't know about you, but I would much rather have a hot cheesy pizza than a hamburger or a hot dog.
I picked up a Red Baron Three Cheese Brick Oven Pizza from Walmart for the party. I loved being able to ✔️ one menu item off my game day list because I knew it would be easy to prepare and convenient. Definitely, a great option if you're looking to minimize your prep stress and time in the kitchen on party day!
So, what goes with pizza? Salad! They're pretty much besties. Not just any salad though. Salad with cherry balsamic dressing and little football-shaped goat cheese balls. Fun and so easy to make! With clean hands, slice a 4 oz log of goat cheese into 1/2 inch slices, roll into a ball and shape into a football shape. I put one on each individual salad, but you can put as many as you like.
Don't prepare this ahead of time, do it right before you want to serve.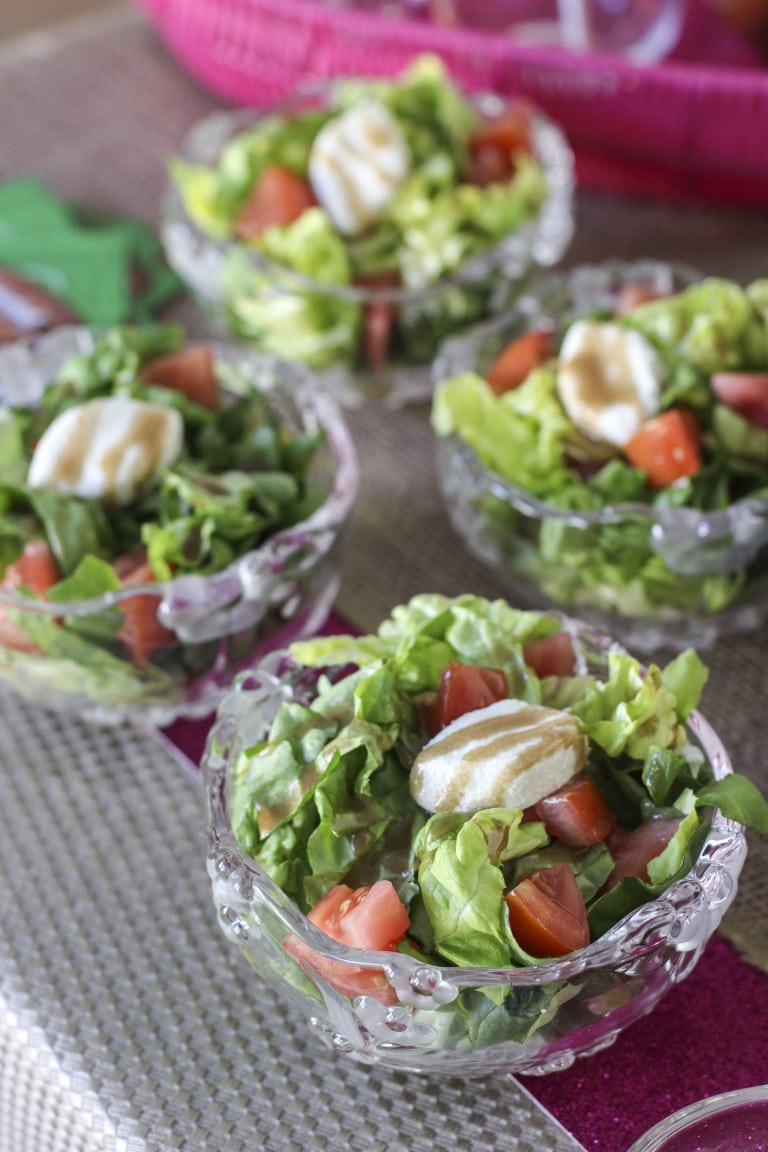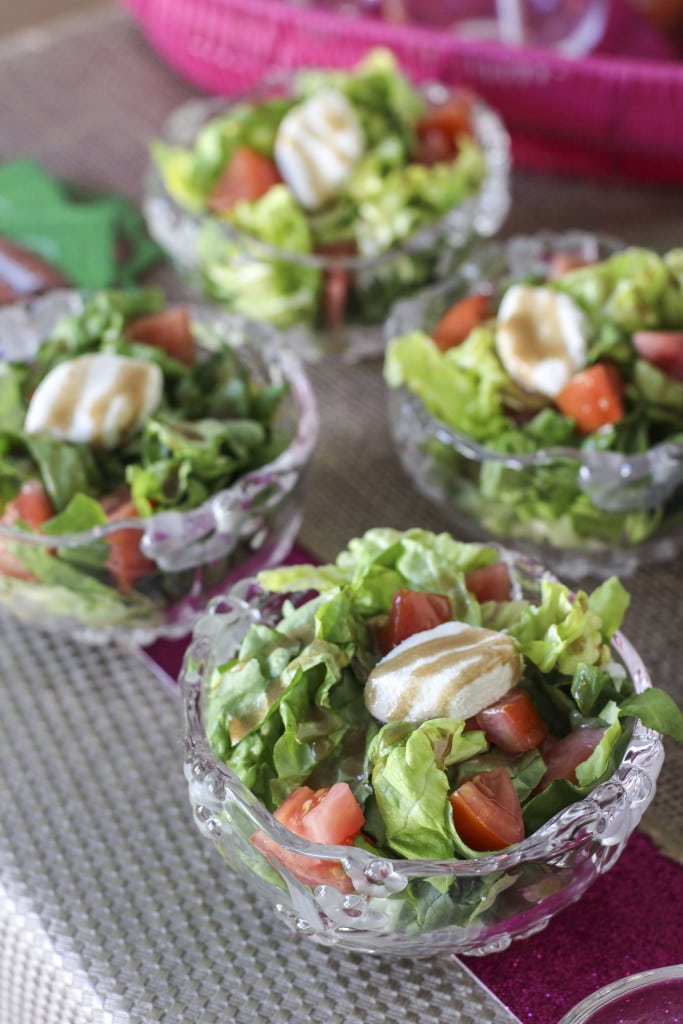 You have to have dipping sauces for your pizza! How could you eat the crust without sauce to dip it in? You know how people usually go for the garlic butter sauce, ranch, or traditional marinara? Well, garlic butter sauce and ranch are loaded with fat, and marinara is eh, pretty regular. I wanted to serve something different, & loaded with flavor but still be on the healthy side.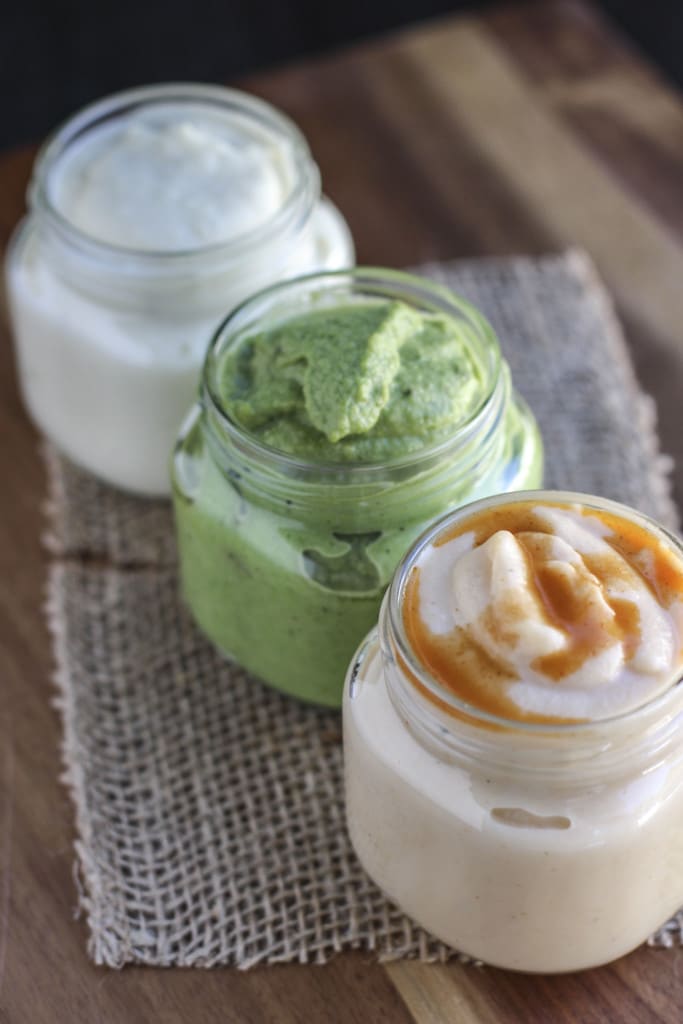 I decided on 3 dipping sauces –
Garlic Parmesan Cauliflower Dipping Sauce
Broccoli Pesto Dipping Sauce (roasted broccoli blended with store-bought pesto sauce)
Zesty Buffalo Cauliflower Dipping Sauce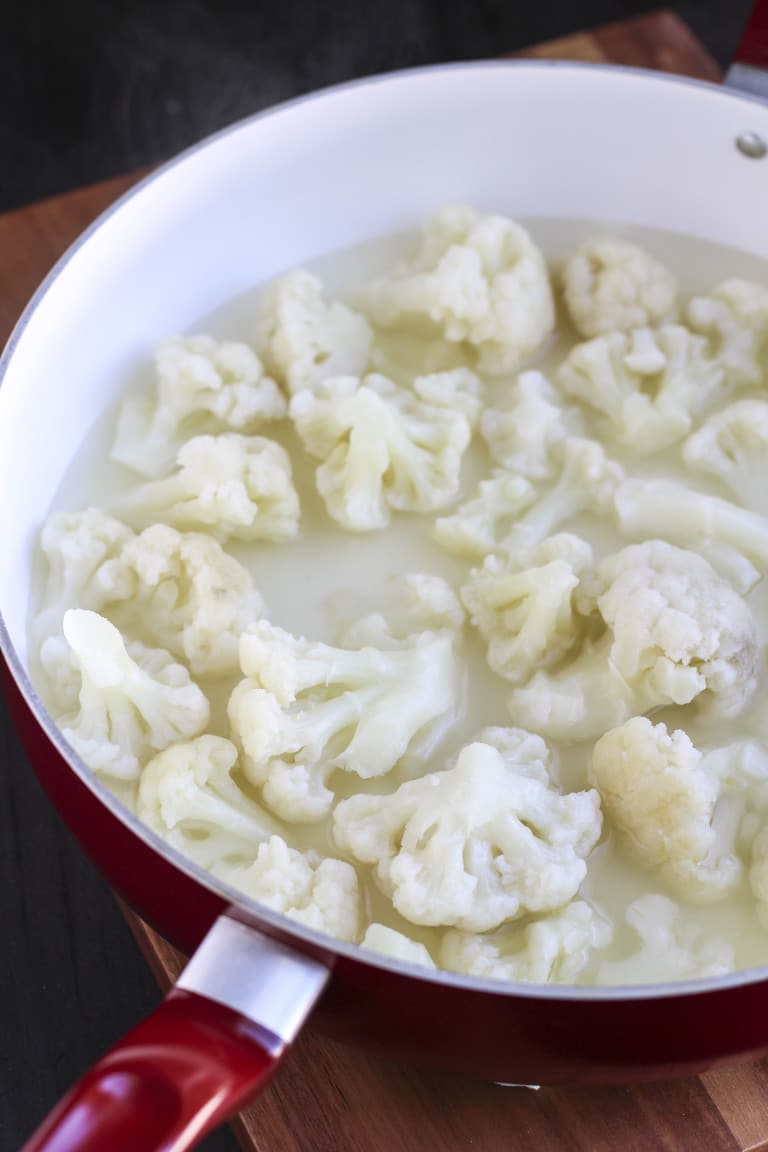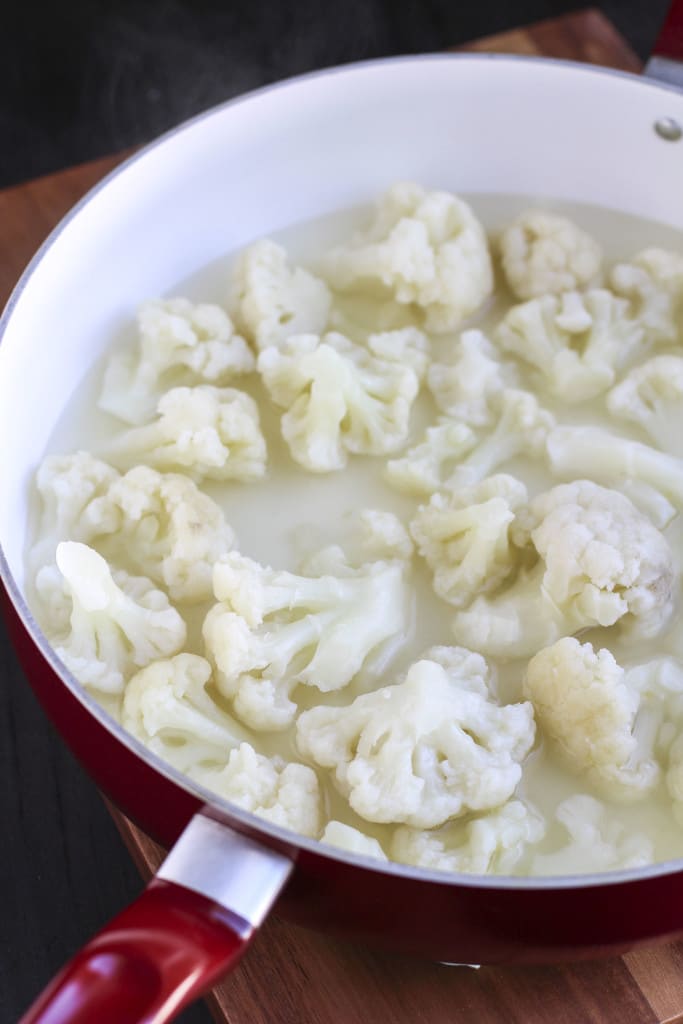 No joke, these sauces are so simple to make and take the pizza experience to the next level! Not to mention, two are white creamy sauces that have no butter, cream, or flour in it.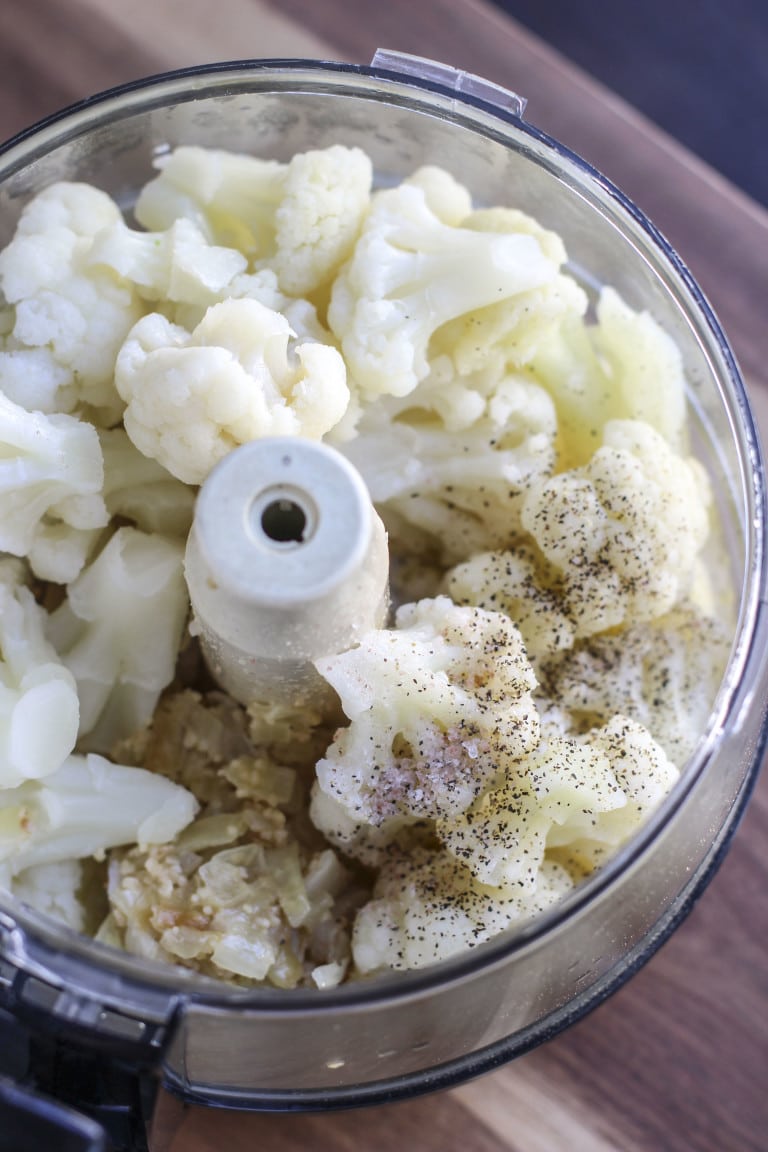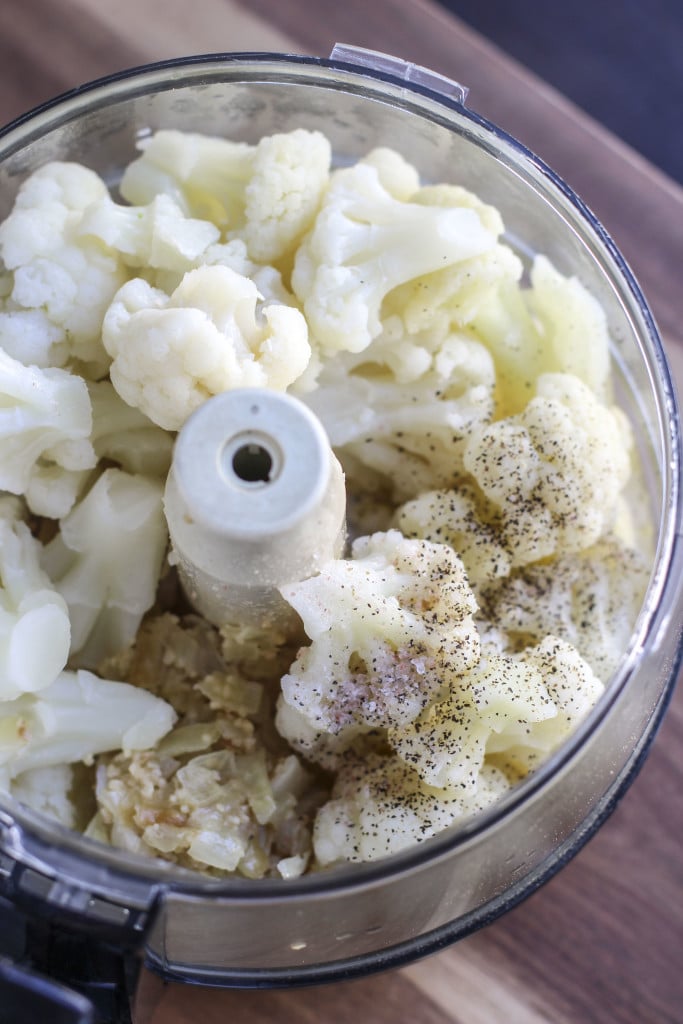 How is that possible you ask? The magic ingredient is cauliflower! When you cook it and puree it in the blender, it magically turns into a silky smooth & creamy sauce that's perfect for dipping! Cauliflower has a very mild flavor, so it's perfect to use in a sauce because it pairs well with whatever you blend it with. I blended it with garlic, parmesan cheese, and onions and it magically mimics a creamy alfredo sauce!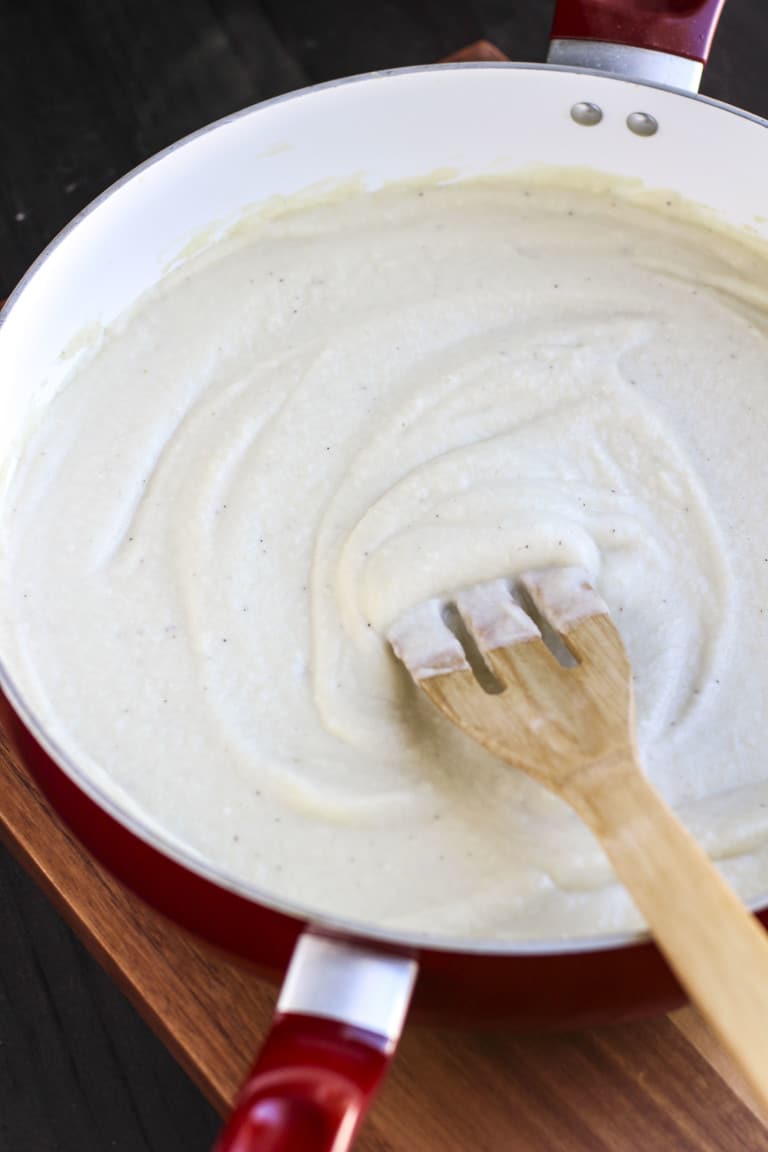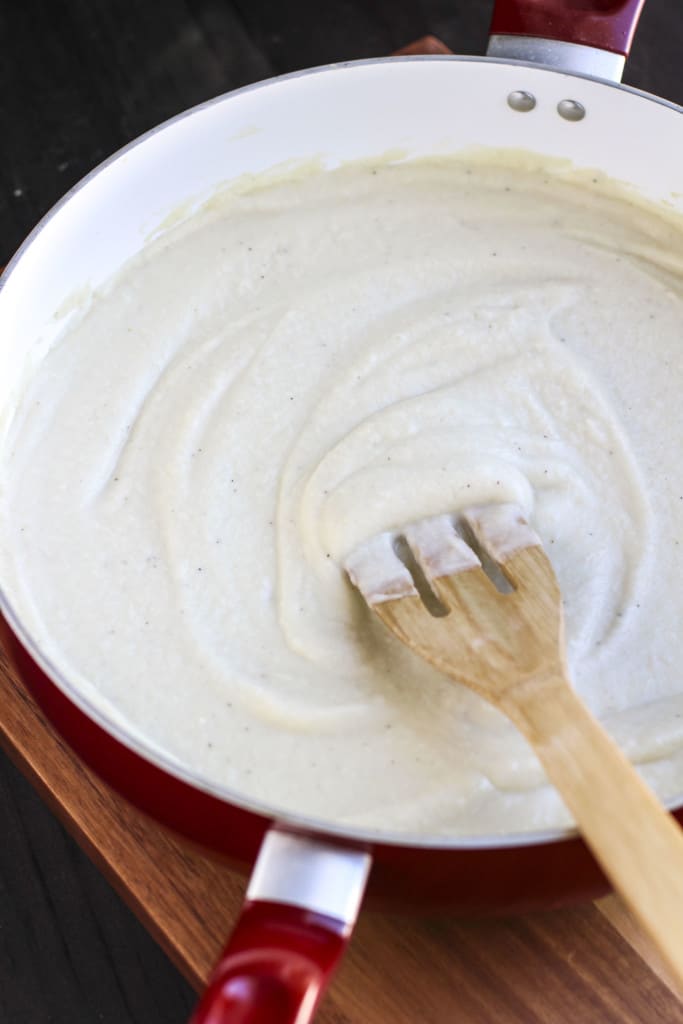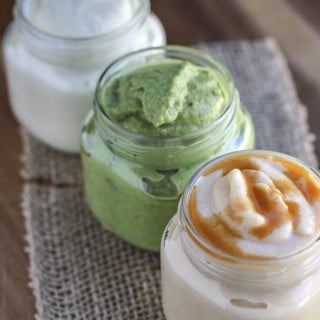 Garlic Parmesan Cauliflower Sauce
Creamy garlic parmesan cauliflower sauce that is better than any alfredo sauce you've ever had! Less calories, low-fat, and a secret ingredient your kids will never guess!
Print
Pin
Rate
Ingredients
2

Tbsp

olive oil

1

large

onion,

diced

5-6

garlic cloves,

minced

1

large head cauliflower,

cut into florets

4-5

cups

water

1/2

cup

unsweetened coconut milk

1/4

cup

parmesan cheese

Himalayan pink sea salt & pepper
Instructions
In a large pan, saute onions in olive oil for 8-10 minutes. Add a pinch of salt. Add garlic and sauté for 30 seconds. Remove ingredients from the pan and put them into the food processor bowl.

Add cauliflower florets to the same pan, add water. Bring to a low simmer for 8-10 or until cauliflower is soft. Use a slotted spoon to remove the cauliflower and add it to the food processor bowl too.

Add 1 cup of water, 1/2 cup coconut milk, 1/4 cup parmesan cheese, salt & pepper to the processor. Blend on high until smooth & creamy. Add additional liquid if you want it creamier.
After you make the garlic parmesan cauliflower sauce, divide it into two bowls. Add 2-3 Tbsp buffalo sauce to one bowl and mix it in. That is all it takes to make the zesty buffalo cauliflower sauce!
Of course, I tested the sauces first on my pizza-loving fiance, and his favorite is the Zesty Buffalo Cauliflower sauce. He loves anything spicy or with a zip. So, if you want sauce with a kick– go for this one!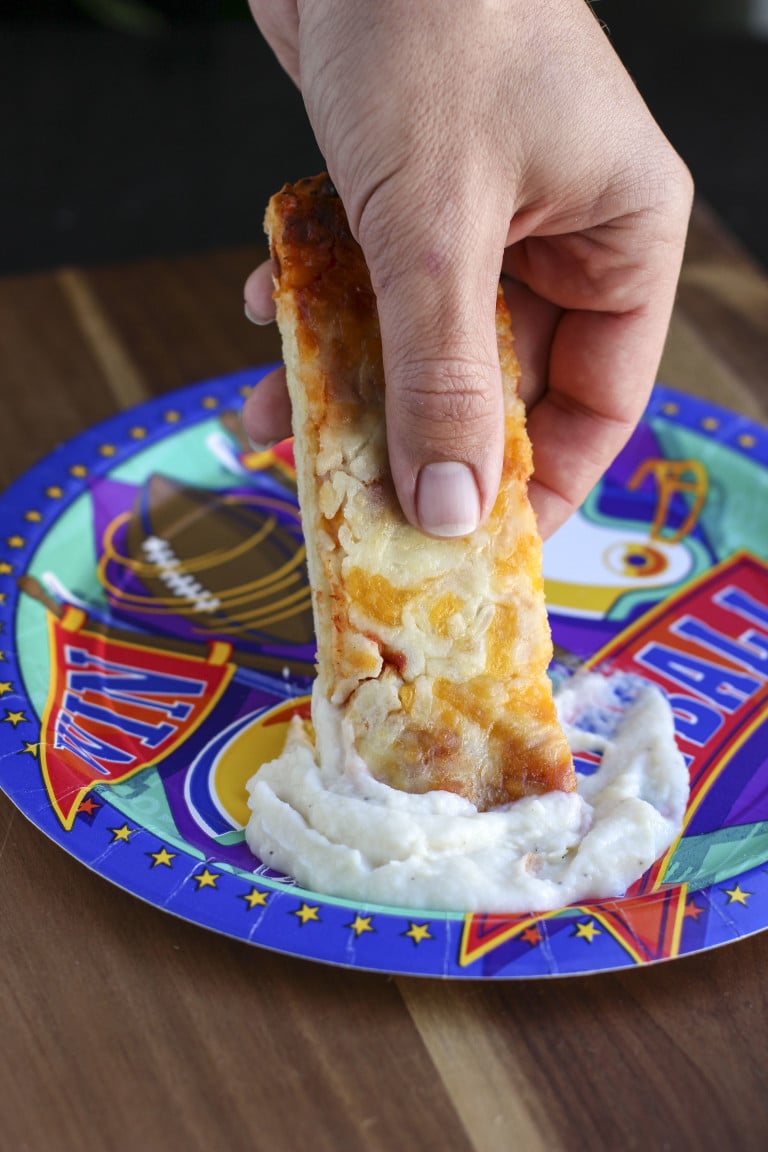 When I served it, I poured a little extra buffalo sauce on top so no one would get confused and think they were getting the garlic parmesan cauliflower sauce.
Game Day Dessert
You've got to have more than one dessert at the buffet, a girl has to have choices!
I decided on avocado chocolate pudding with pistachio crumble for a lighter dessert option. Have you tried avocado chocolate pudding before? I swear you can't tell the difference between it and regular sugar-filled chocolate pudding. It's so tasty and really hits the spot if you're craving chocolate. The pistachio crumble topping is the perfect crunchy contrast to the silky smooth pudding.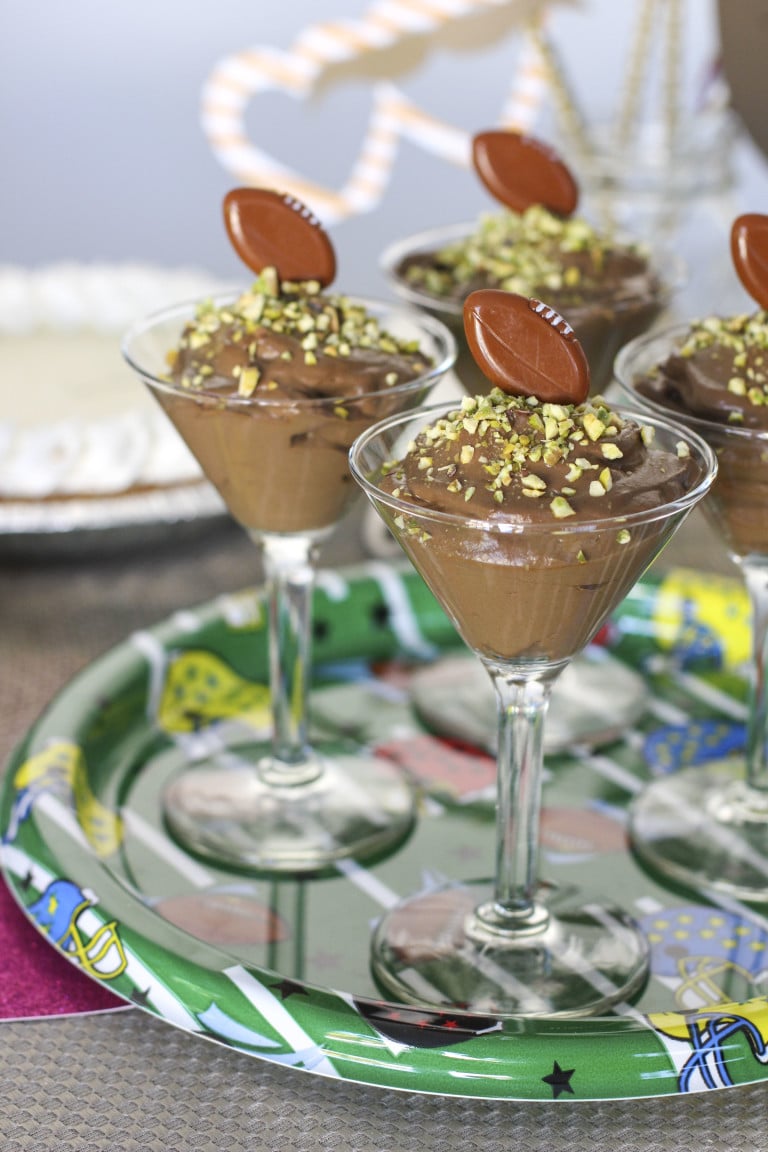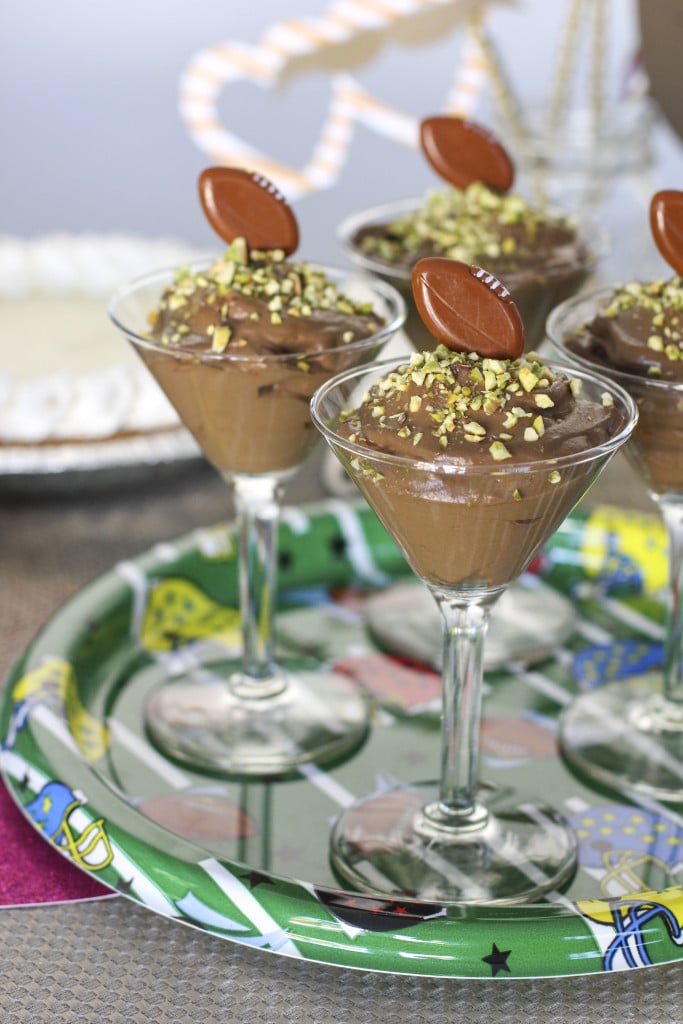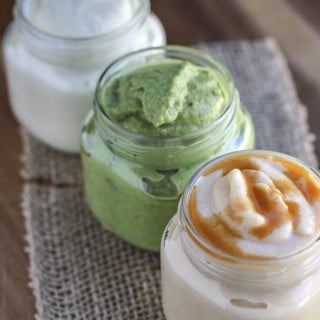 Avocado Chocolate Pudding with Pistachio Crumble
Lightened up, super creamy chocolate pudding that's made with avocados and coconut milk. A healthy snack that tastes indulgent!
Print
Pin
Rate
Instructions
Add all ingredients except pistachios to the blender or food processor and blend on high until silky smooth. Add more coconut milk if you want a thinner consistency. (I like my pudding thick!) Spoon the pudding into cups.

Put the pudding cups in the fridge to chill for 1-2 hours before serving. Sprinkle chopped pistachios over each pudding cup right before serving.
Game Day Decorations
Okay, now that you're stuffed and the game's over, it's time for a little fun. A simple DIY photo booth that you can make by taping any color wrapping paper to a corner or a large, open wall in your house! It makes for a fun background for silly pictures with your friends!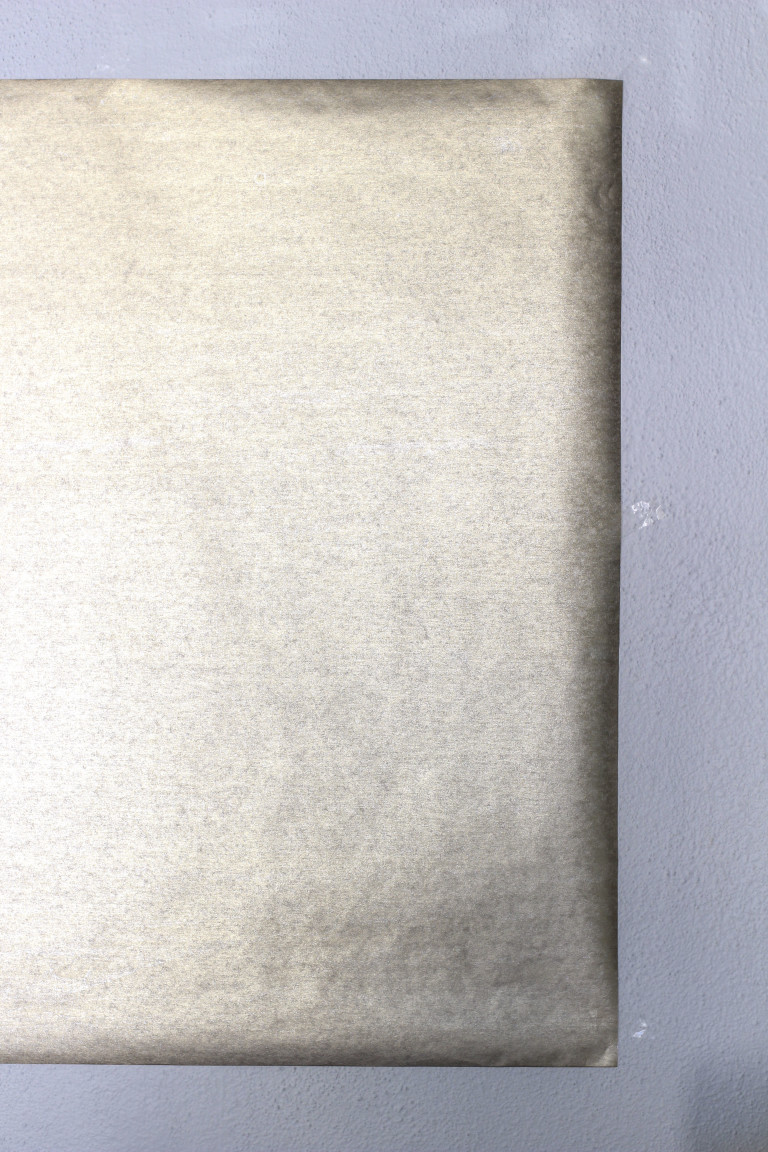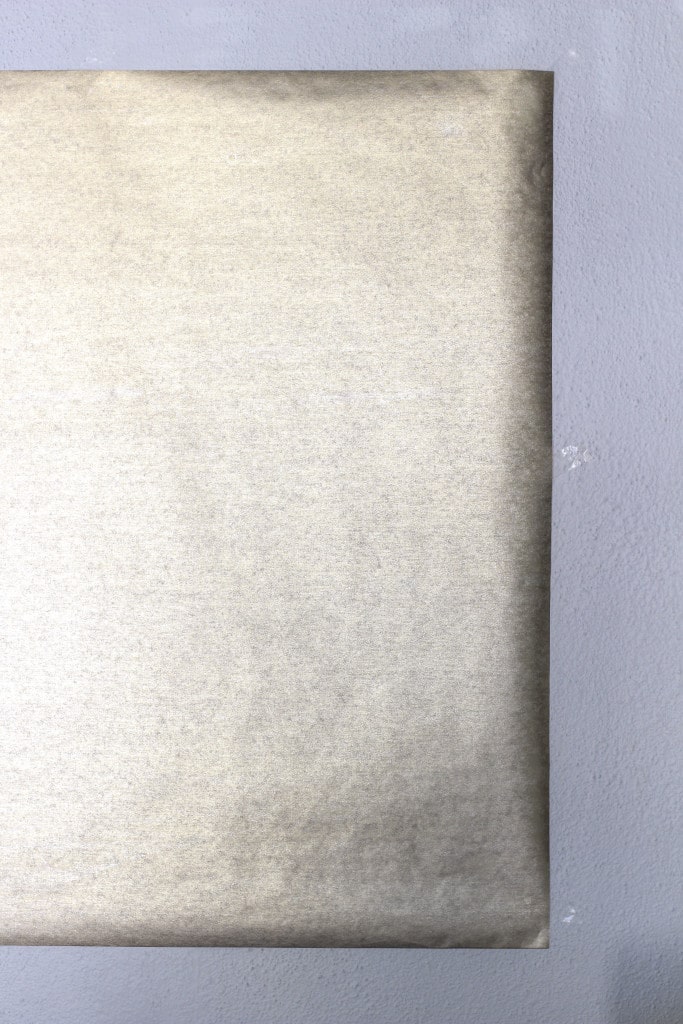 I made my own props with card stock shapes I drew, cut out and glued to straws. Pick a prop and jump into the "photo booth" for a few group selfies!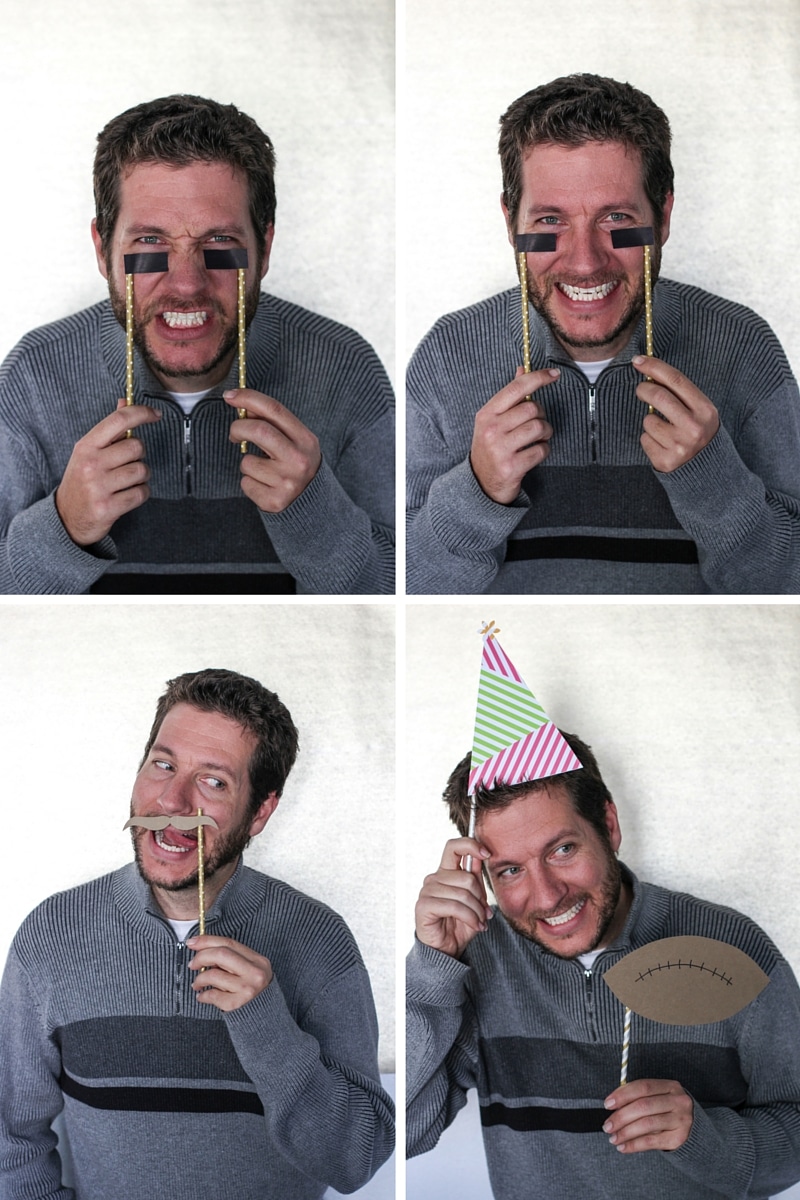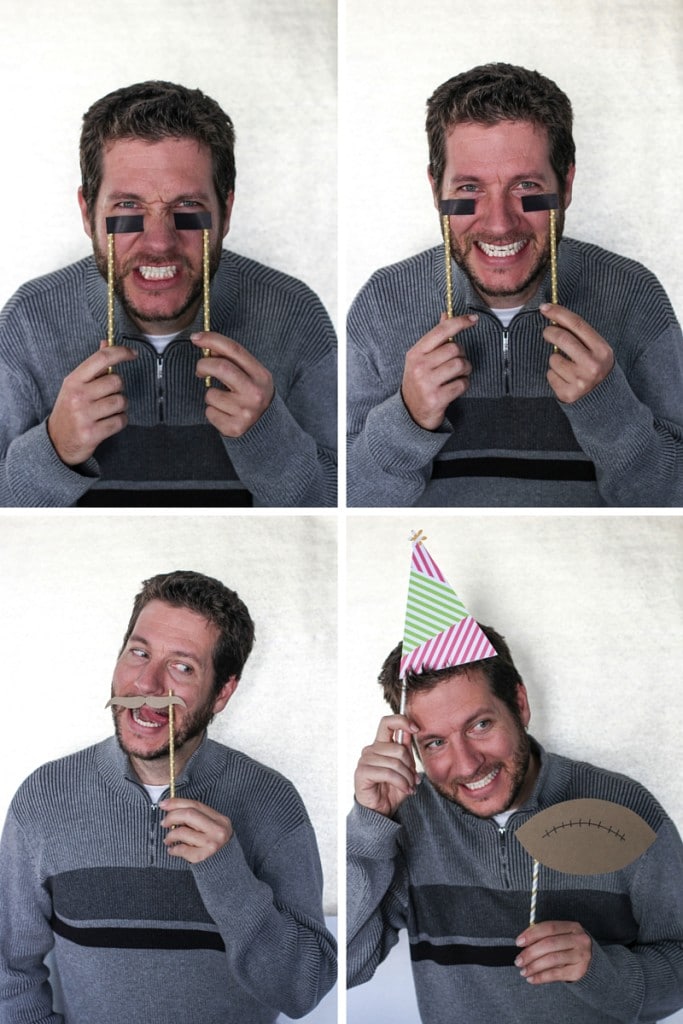 Sorry, Travis couldn't stop himself from trying out the photo booth first!
I hope I've given you a few ideas on how to throw your own lightened up, girly, game day party with your girlfriends!
What's your favorite dish to eat on game day? Let me know in the comments!

NEVER MISS A STACEY HOMEMAKER CREATION!
FACEBOOK / INSTAGRAM / PINTEREST / TWITTER