Make your Easter morning egg hunt extra special with these DIY jeweled Easter eggs! Super simple to create and you don't need a glue gun!
***This post contains affiliate links.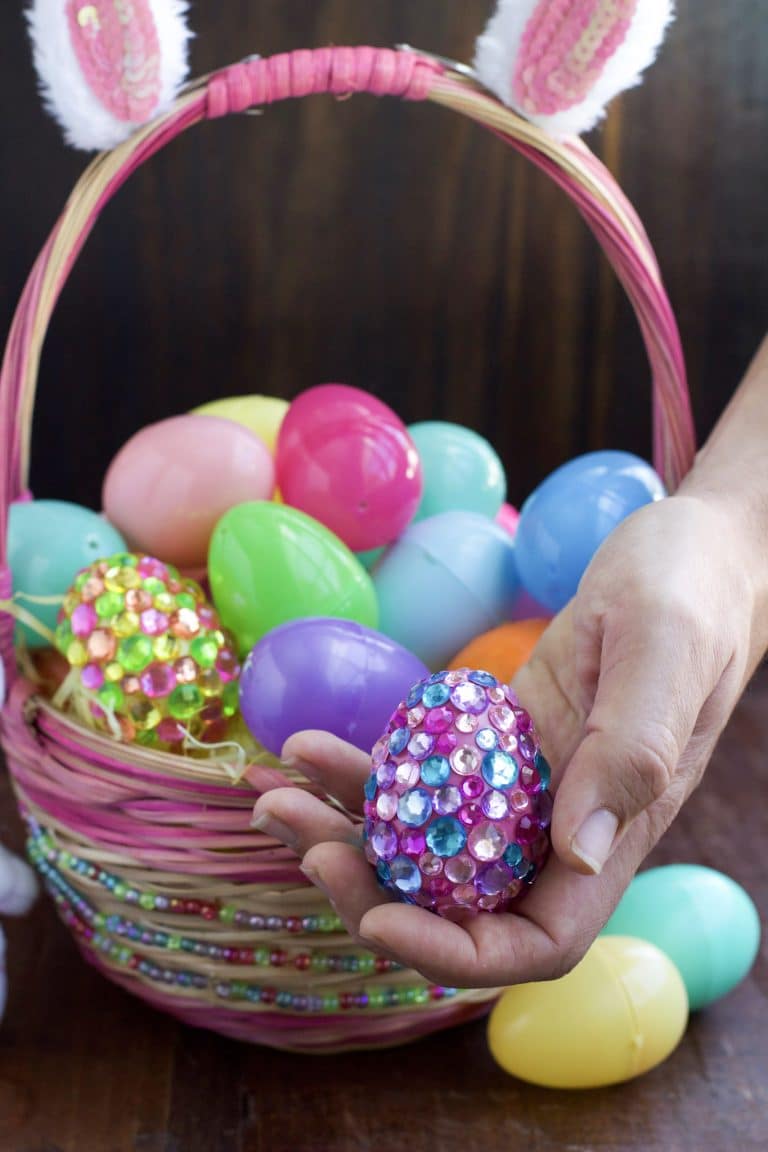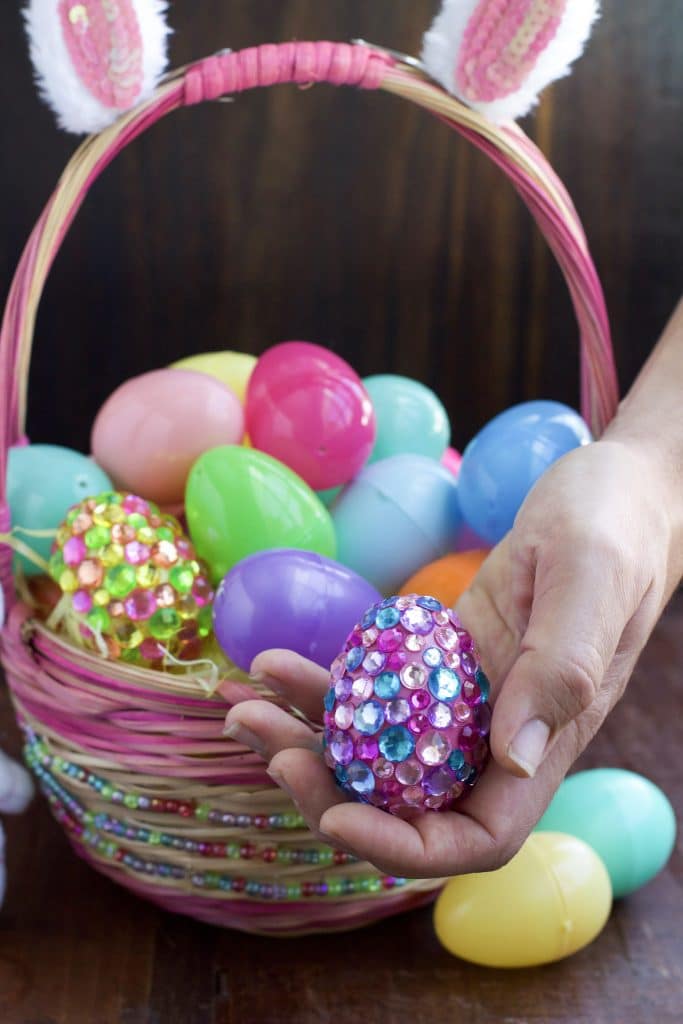 When I was little, my parents went all out for Easter!
My mom stuffed lots of eggs and made us the most beautiful baskets, and my dad dressed up as an Easter bunny and hopped around our side yard dropping eggs for us to collect.
My mom would wake us up early and we would excitedly run to the big window that overlooked the side yard. We stood up on our tippy toes to see over the windowsill and looked for the daddy-sized Easter bunny. Without fail, our Easter bunny showed up every year. It was like magic!
Instinctively, Brian and I both knew to look for the special eggs. Yes, of course, we wanted all the eggs but there were a few eggs that stood out from the rest.
The illusive metallic eggs.
All the eggs had candy in them, except, the shiny gold and silver eggs had little toys or money in them!
I think my mom liked to build the anticipation because after we got to look out the window, we had to get dressed in our special Easter outfits, comb our hair, brush our teeth, etc. before we could line up with our baskets by the front door.
We would be practically dying from excitement by the time we took a few pictures and inched our way around to the side yard. Once we could see Easter eggs within reach, there was no distracting us. As soon as mom said we were free, we would both take off as fast as we could.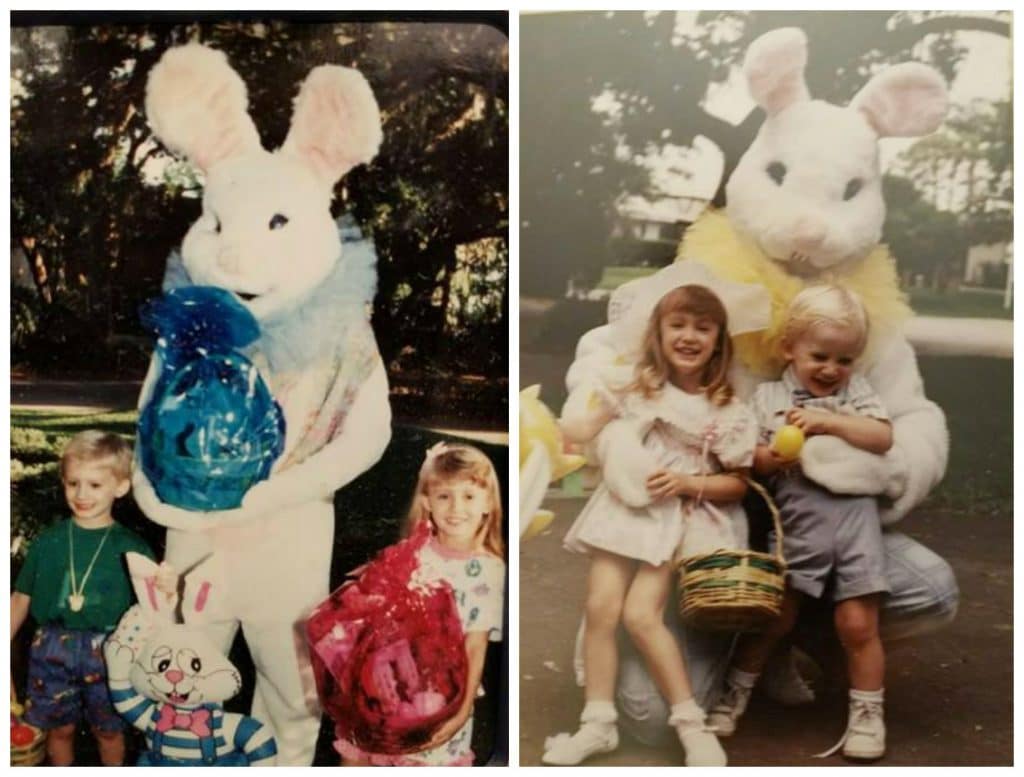 Easter Egg Hunt Goals —>
Collect as many eggs as possible but go for the metallic eggs above all else!
Try not to lose any eggs when you bend over to pick more up because your basket is overflowing.
Don't get too close to the bunny or you'll have to stop to take pictures and you'll lose valuable egg collecting time.
Must be faster than Brian, he can't get more eggs than me!
As soon as all the eggs were collected the Easter bunny would magically disappear and my dad would walk out of the front door with a towel around his neck like just took a shower. We had no idea, we really thought he was so bummed that he missed that darn bunny again!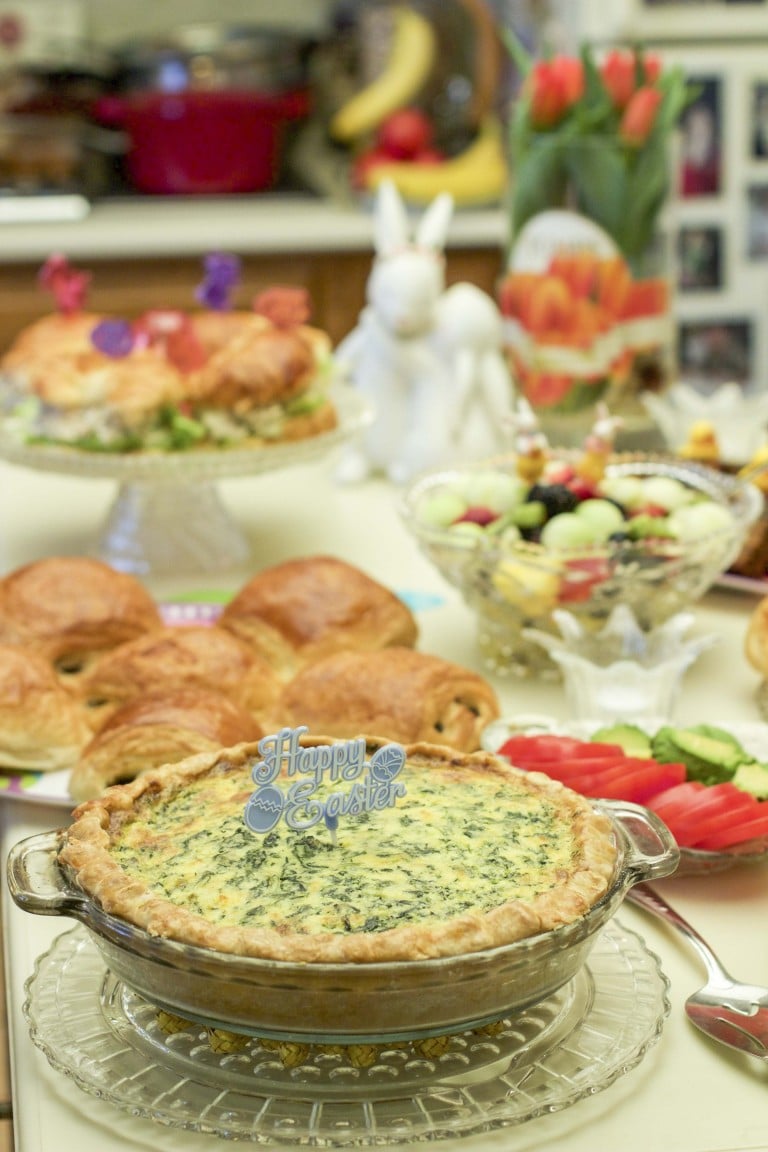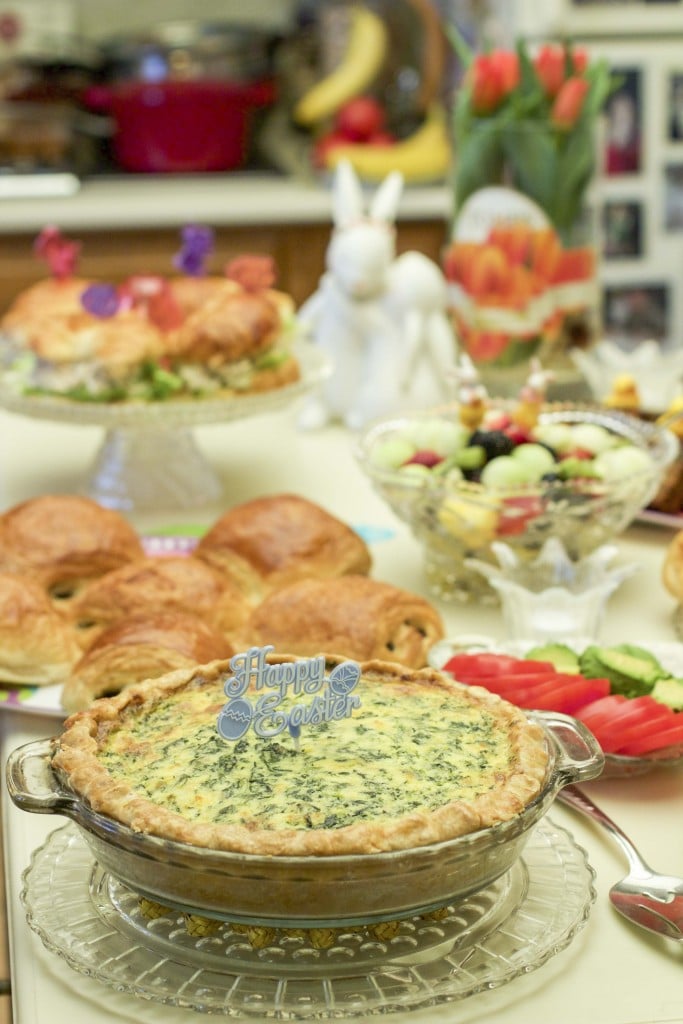 After the egg hunt, we went inside, opened our Easter baskets and enjoyed my mom's special Easter brunch with her secret recipe chocolate chip cookies, my favorite mini cherry cheesecakes, and granola bird nests.
Jeweled Easter Eggs
My moms special silver and gold eggs gave me the idea to create a different type of special prize egg! You could definitely bedazzle all of your eggs if you feel like it but I think making 3-4 of them look extra special is much more fun!
Imagine this, your kids will be racing around collecting eggs and out of the corner of their eye they will see an egg half hidden in the grass that is sparkling in the sunlight. They'll zero right in on those eggs and the hunt just got 10x more exciting for them! Or you could put these special eggs in their Easter basket!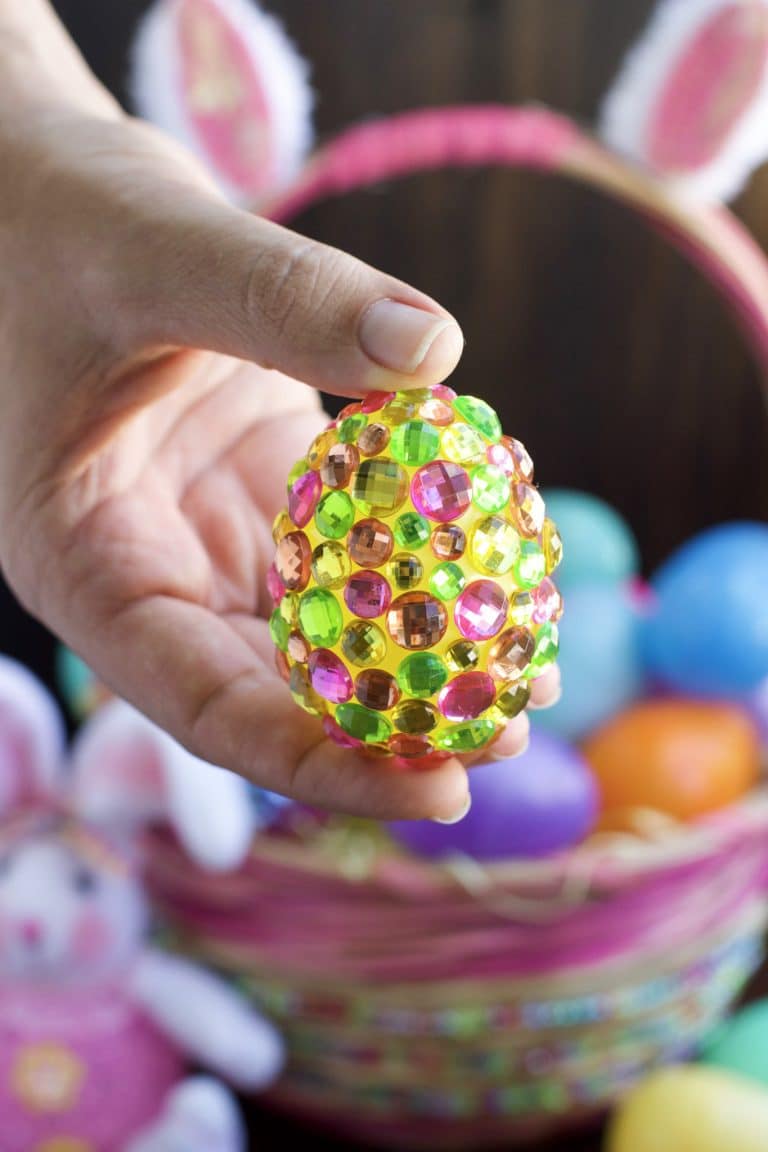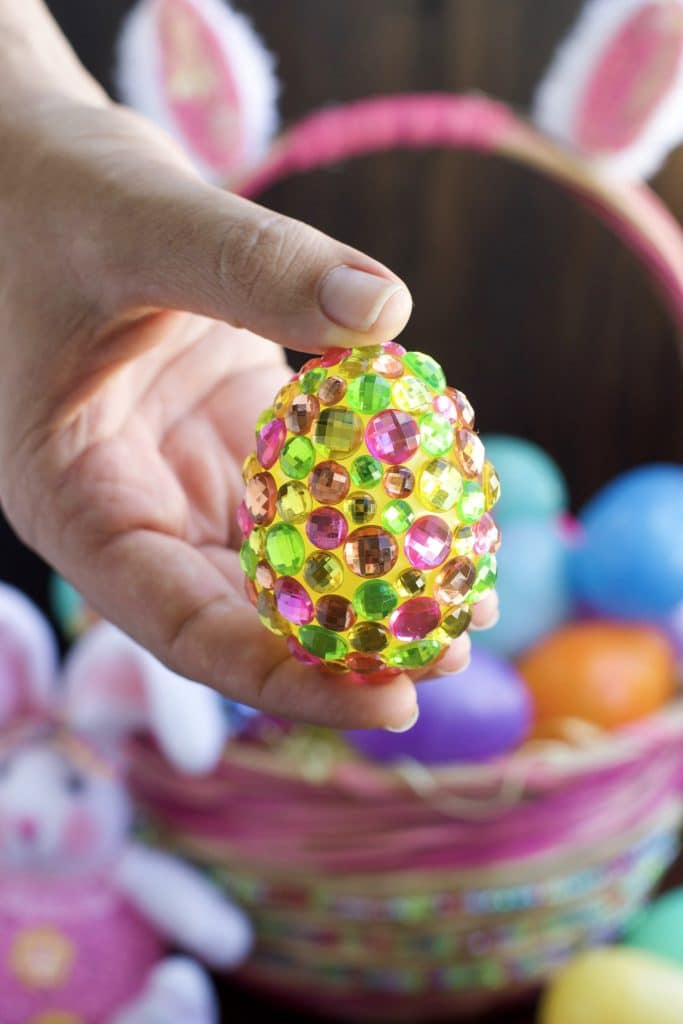 When we got older, the special eggs got a little bit bigger and were hidden a little bit harder; in tree branches, under rocks, behind plants…you name it. Bedazzling eggs will work for any size egg!
Bedazzled eggs would also be a fun activity for the kids to help you with instead of dying eggs!
[tweetthis]Kids will love hunting for these #DIY jeweled #EasterEggs on #Easter morning! #EasterCrafts[/tweetthis]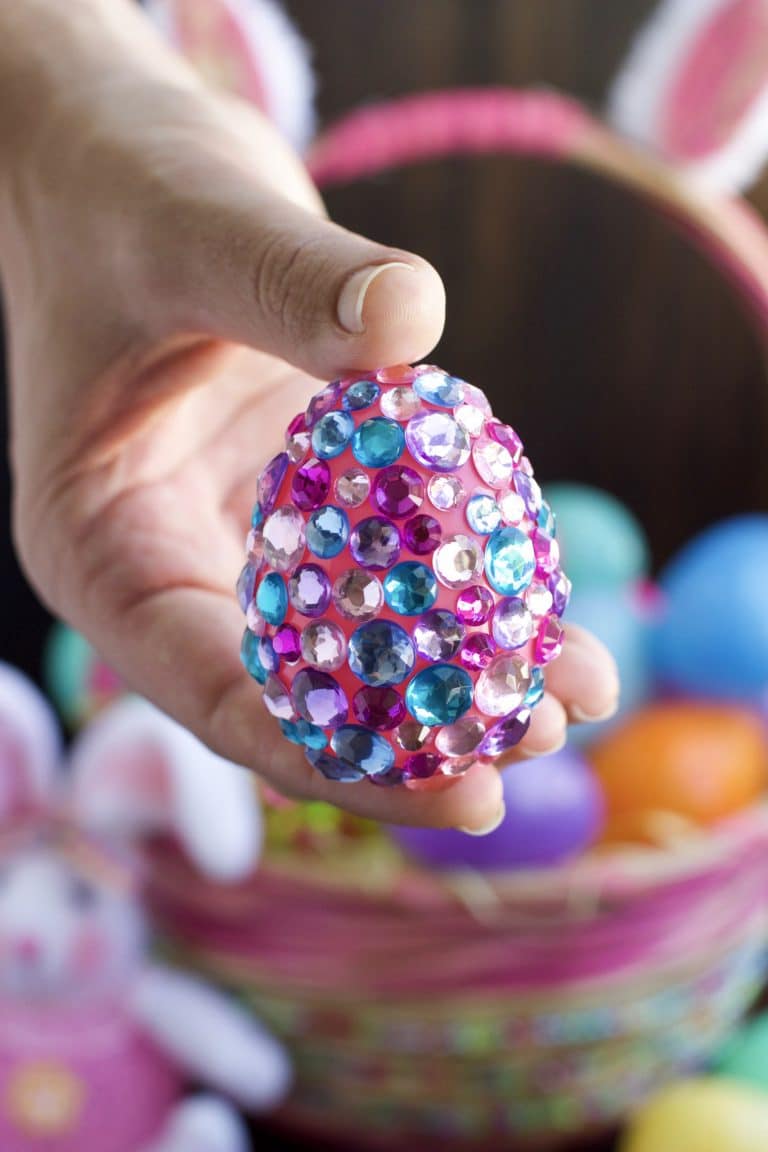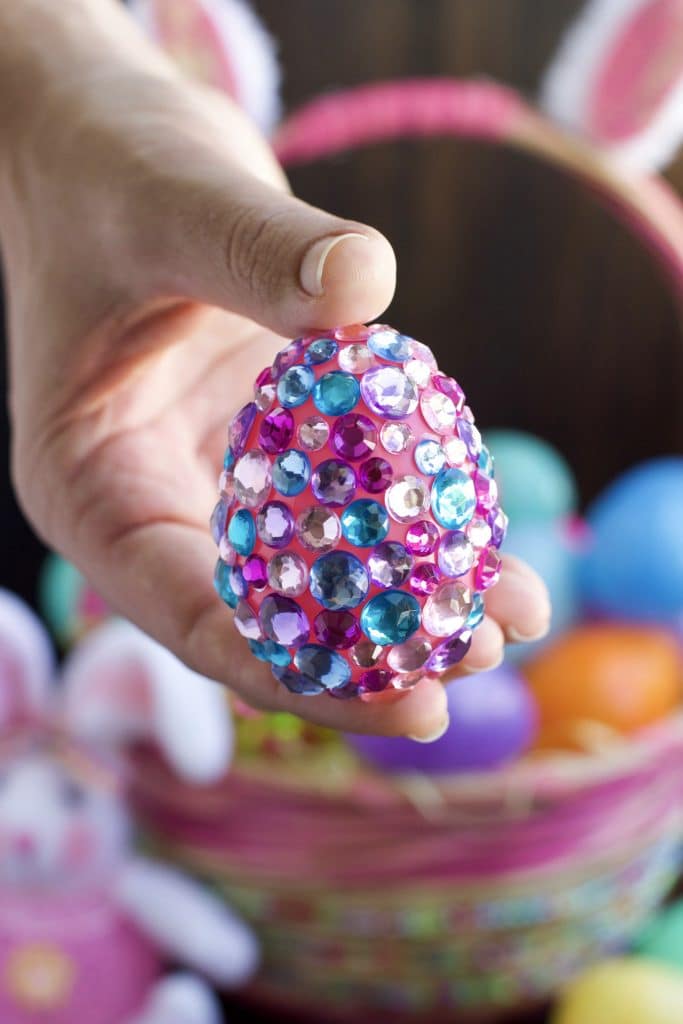 DIY Jeweled Easter Eggs Instructions
It's so easy to make these jeweled Easter eggs, you only need an egg and a sheet of sticky jewels. That's it, no glue gun required! If you want to make these jeweled Easter eggs as a decoration to keep for a long time, you might want to glue the gems in place with mod podge. Otherwise, the jewel stickers should be sticky enough to last for one egg hunt.
I tried making stripes with the sticky gems but they didn't end up being straight so I scratched that and started over. An abstract design, swirls, or polka dots are much easier to create.
Supplies:
Instructions:
Carefully peel off the rhinestone stickers and place onto the egg in whatever design you choose.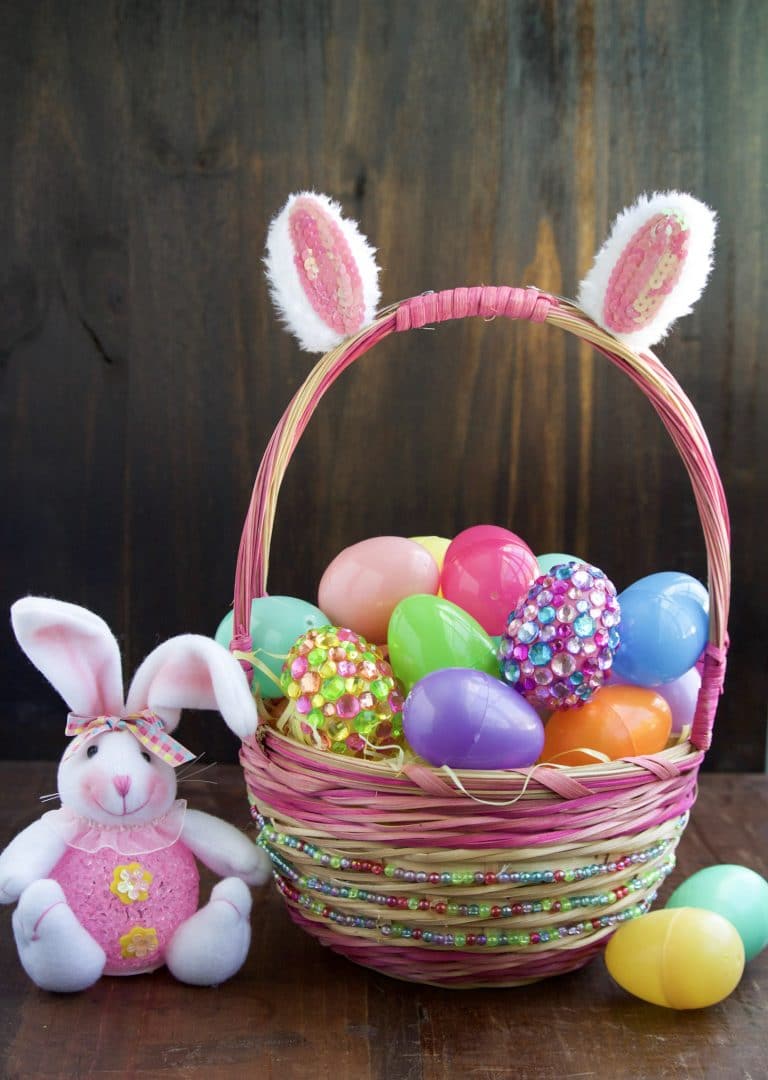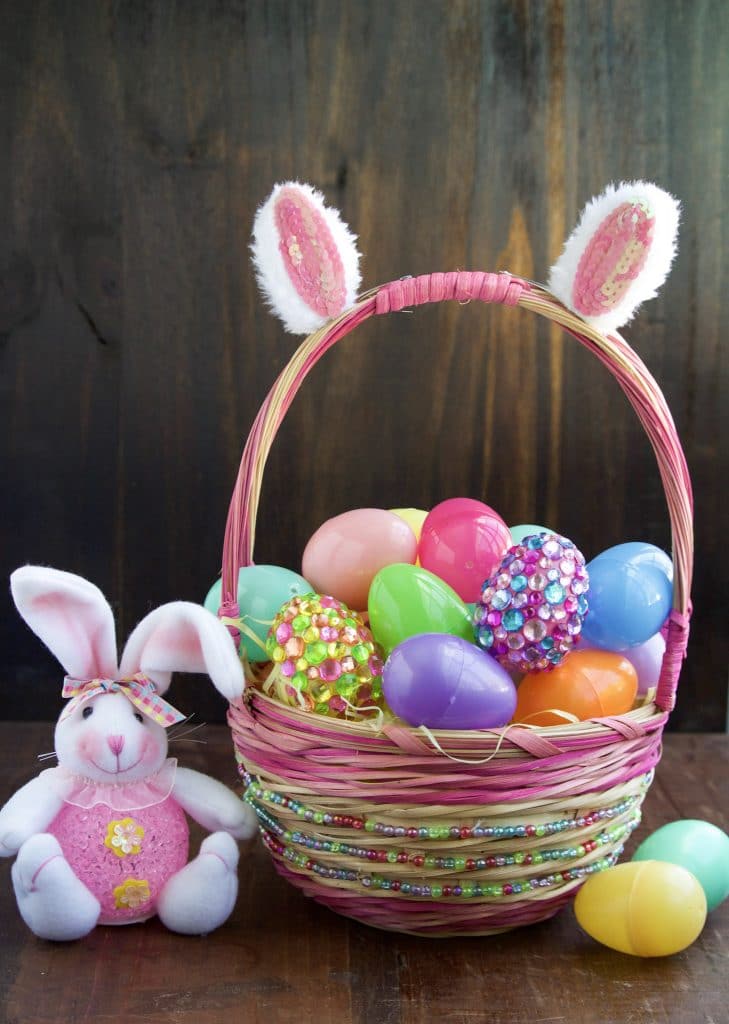 If you make these jeweled Easter eggs and post it on Instagram, please tag me using the hashtag #StaceyHomemaker so I can see your creation!
Do you make any special Easter crafts? Let me know in the comments!


NEVER MISS A STACEY HOMEMAKER CREATION!
FACEBOOK / INSTAGRAM / PINTEREST / TWITTER
Add me on SnapChat to see what I'm cooking today! – StaceyHomemaker
You may also like…
Granola Bird Nests with Easter Eggs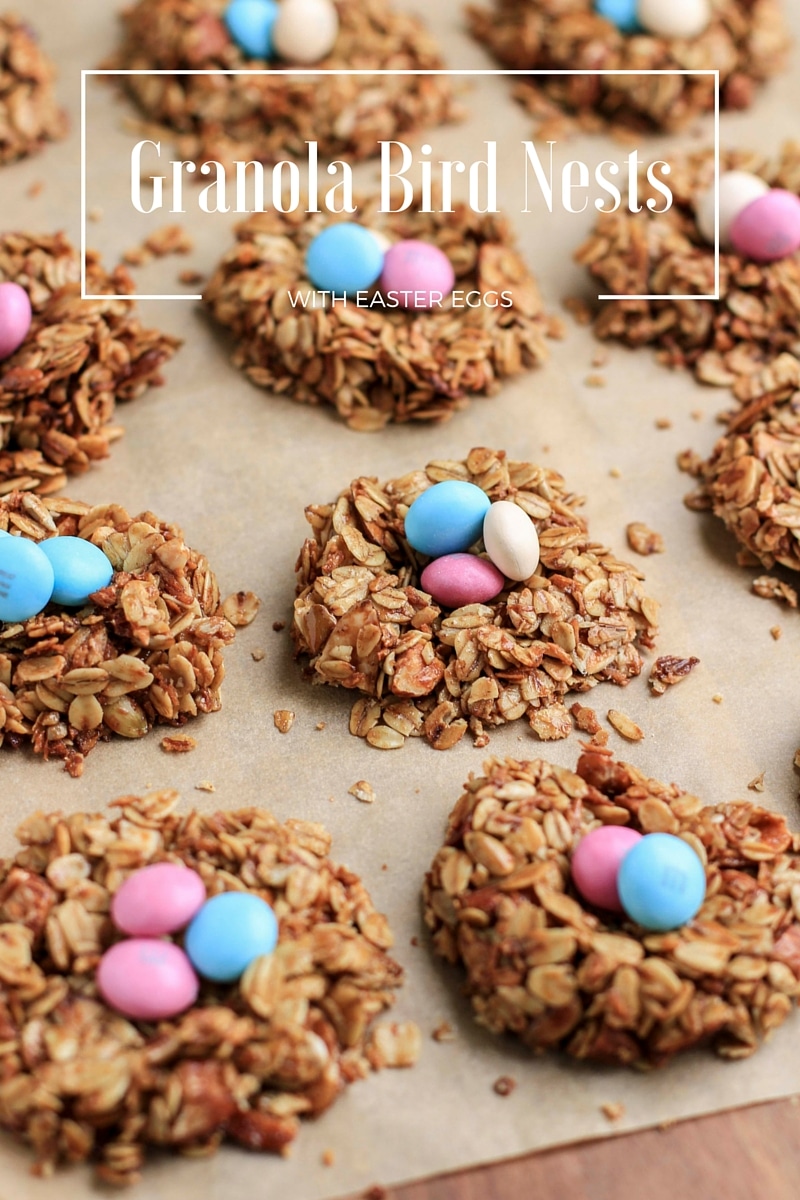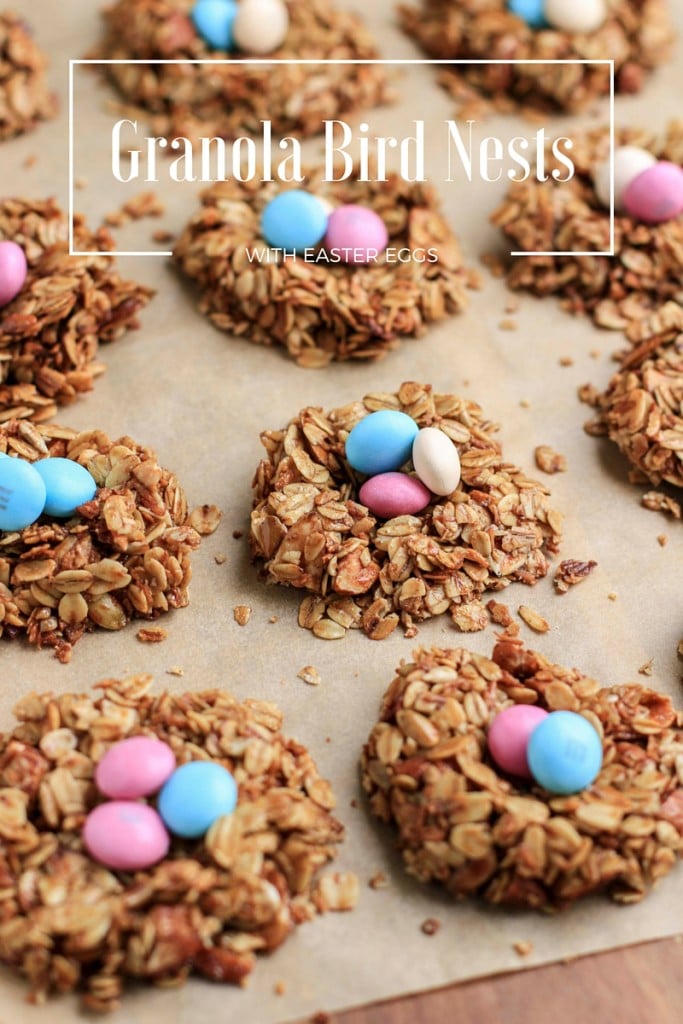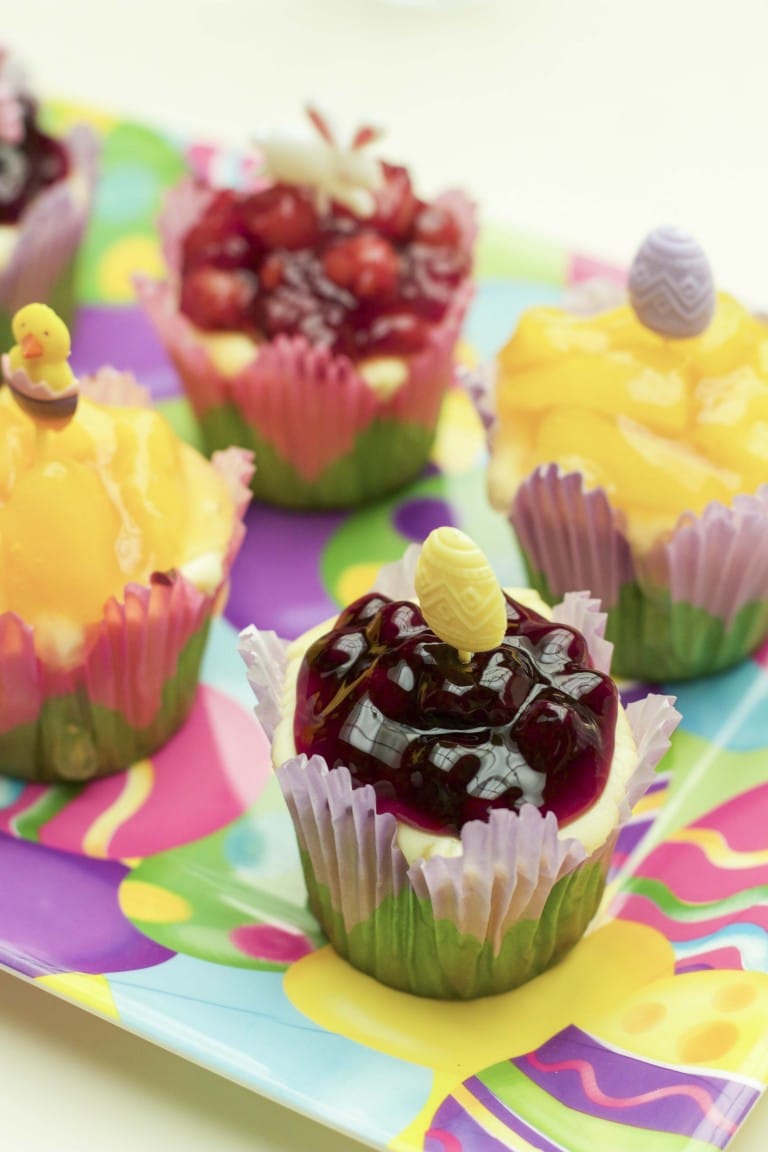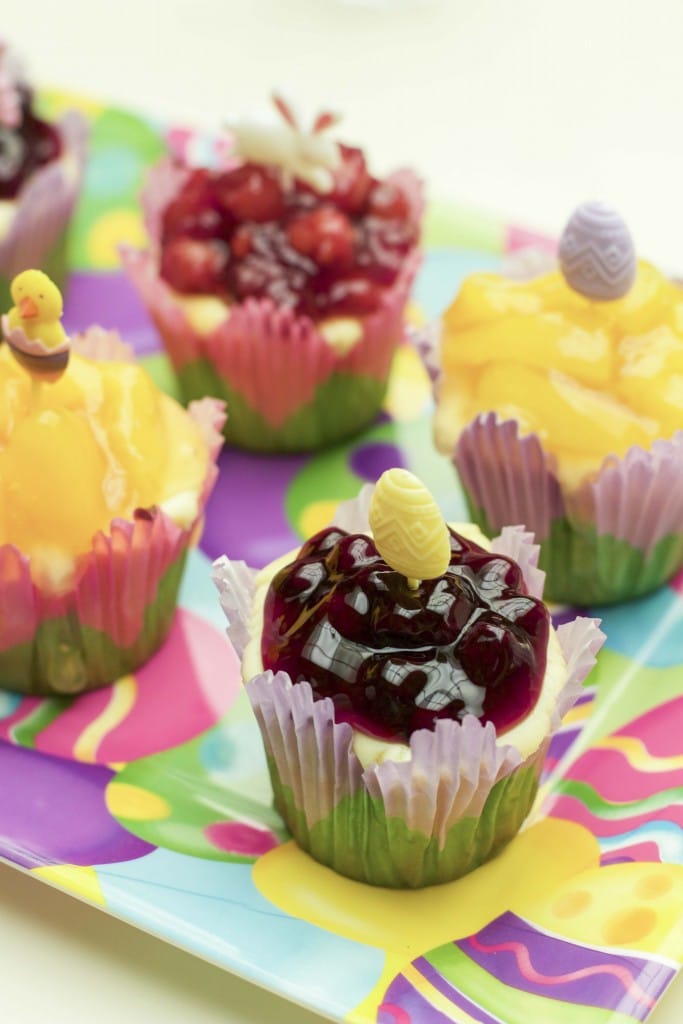 DIY Easter egg Gift Card Holder