On a hot summer day at Disney World, all you want is an ice cold treat to help you cool off. Here are 6 places to get a double scoop, waffle cone or a cup of the best ice cream in Disney World.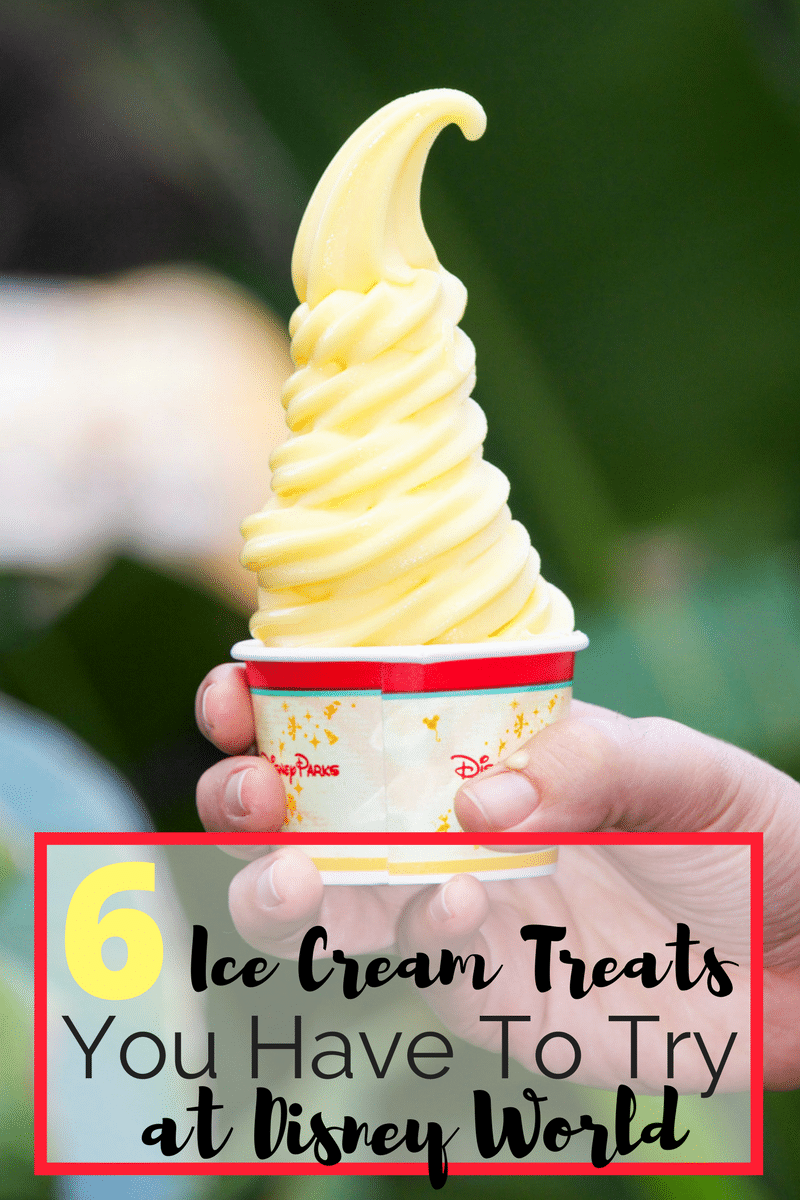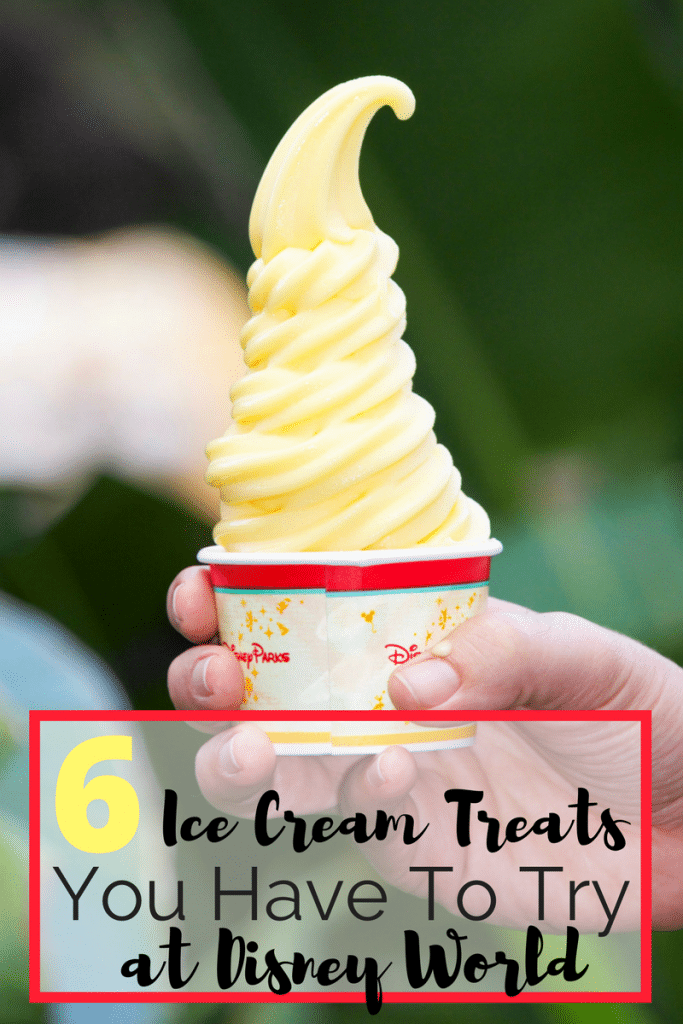 We loveee ice cream! Who doesn't?
Especially when you're in Disney World and it's so hot outside, there is nothing better than a double scoop of ice cream melting all over your hand.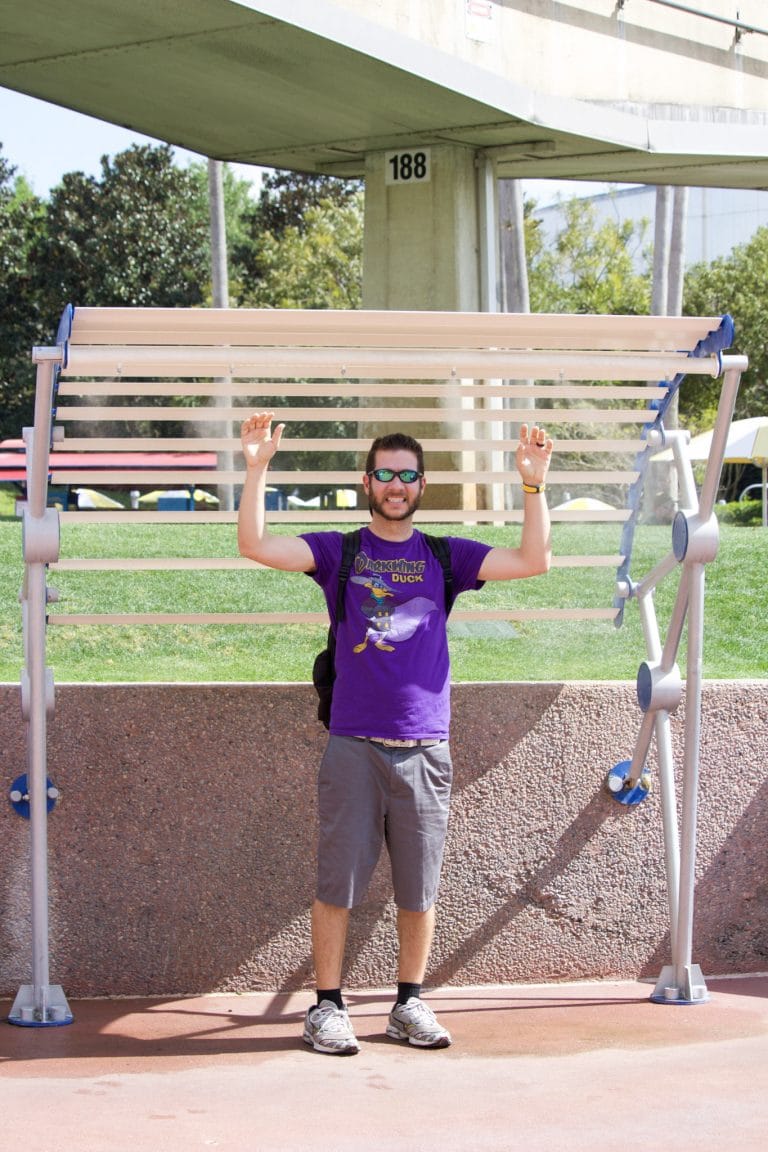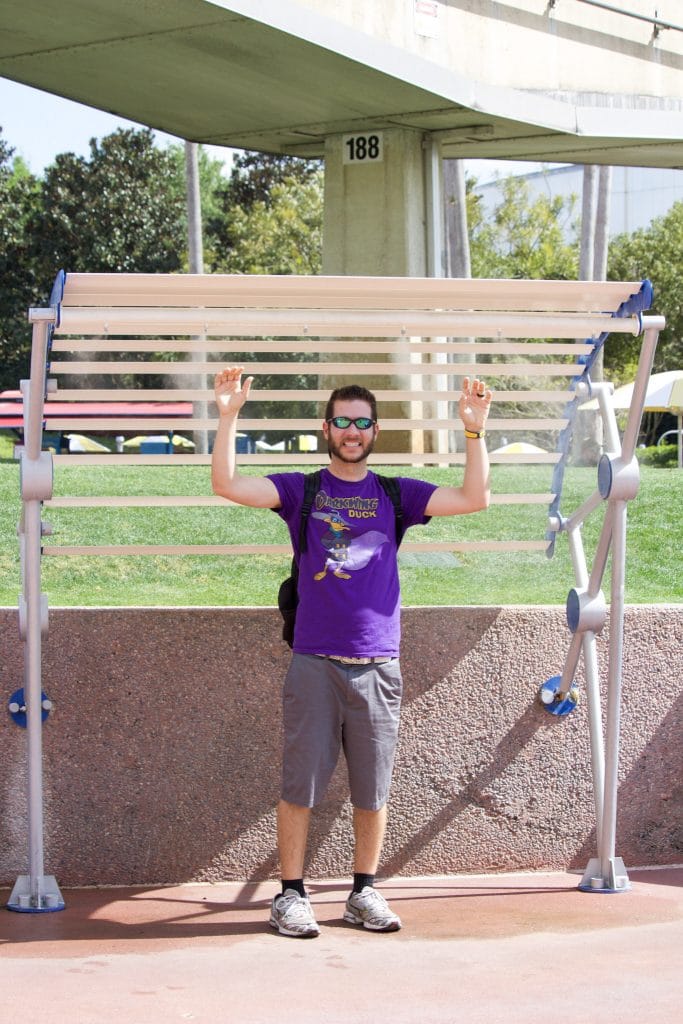 There are only a few ways to beat the heat at Disney World. Don't get to the park until the sun starts going down, eat lots of ice cream to cool yourself off from the inside out, hang out under the misters, or wear a fan necklace to continuously cool yourself!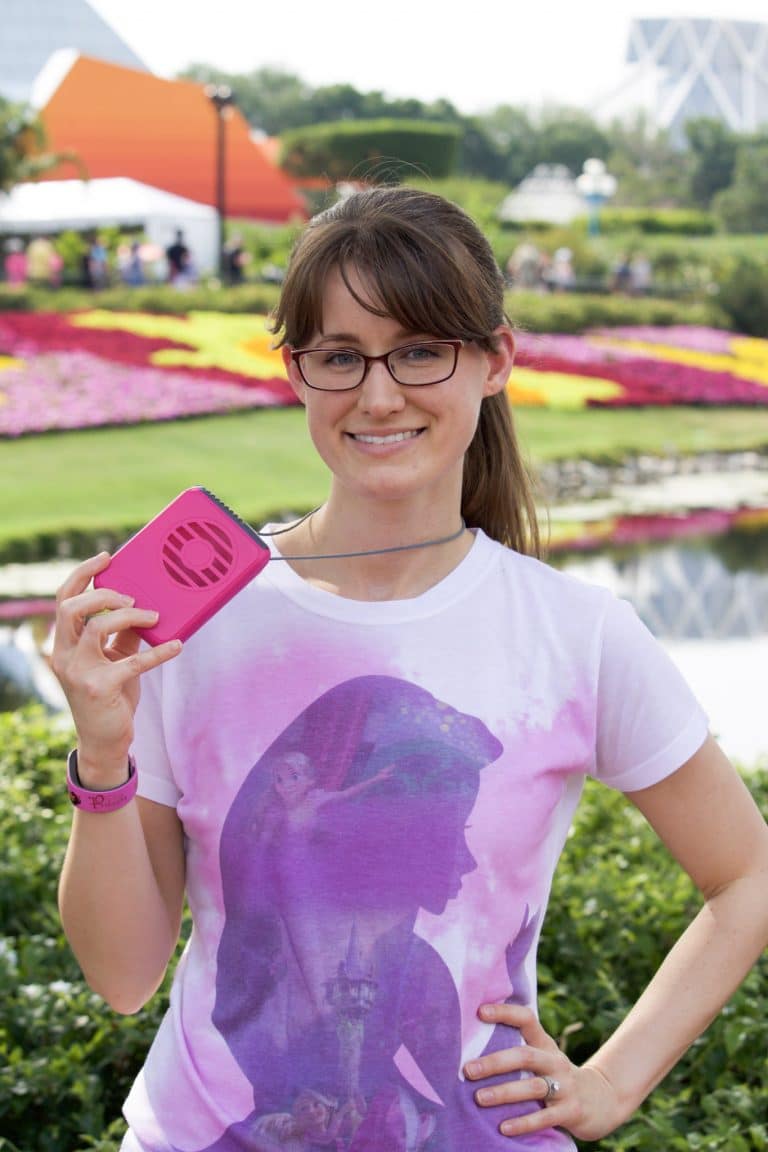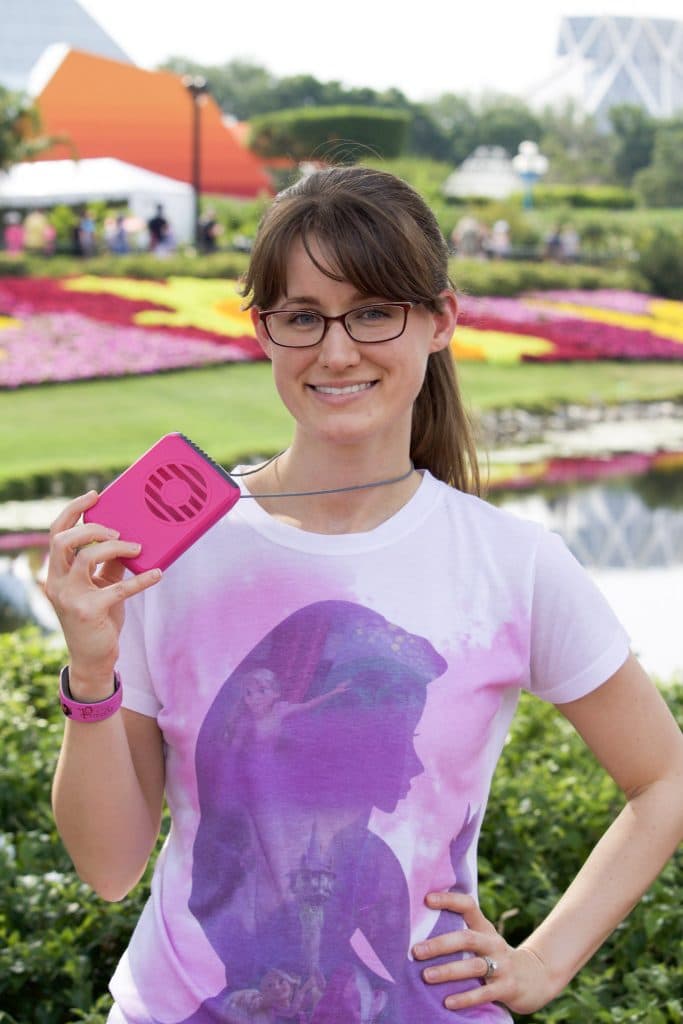 I wouldn't make it without my fan necklace, it's the only way I can bear the heat for the whole day + ice cream cones, of course.
Buy the fan here –>
We've tried lots and lots of ice cream places while visiting Disney over the years. The following 6 treats are our all time favorites!
6 Places to Find the Best Ice Cream in Disney World
1. Aloha Isle in the Magic Kingdom – Pineapple Dole Whip
The Dole Whip is Travis' #1 all-time favorite ice cream treat! The pineapple dole whip is basically famous and loved by most Disney fans. A pineapple dole whip is a delicious, refreshing, tangy pineapple ice cream soft serve that you can get with or without fresh pineapple juice.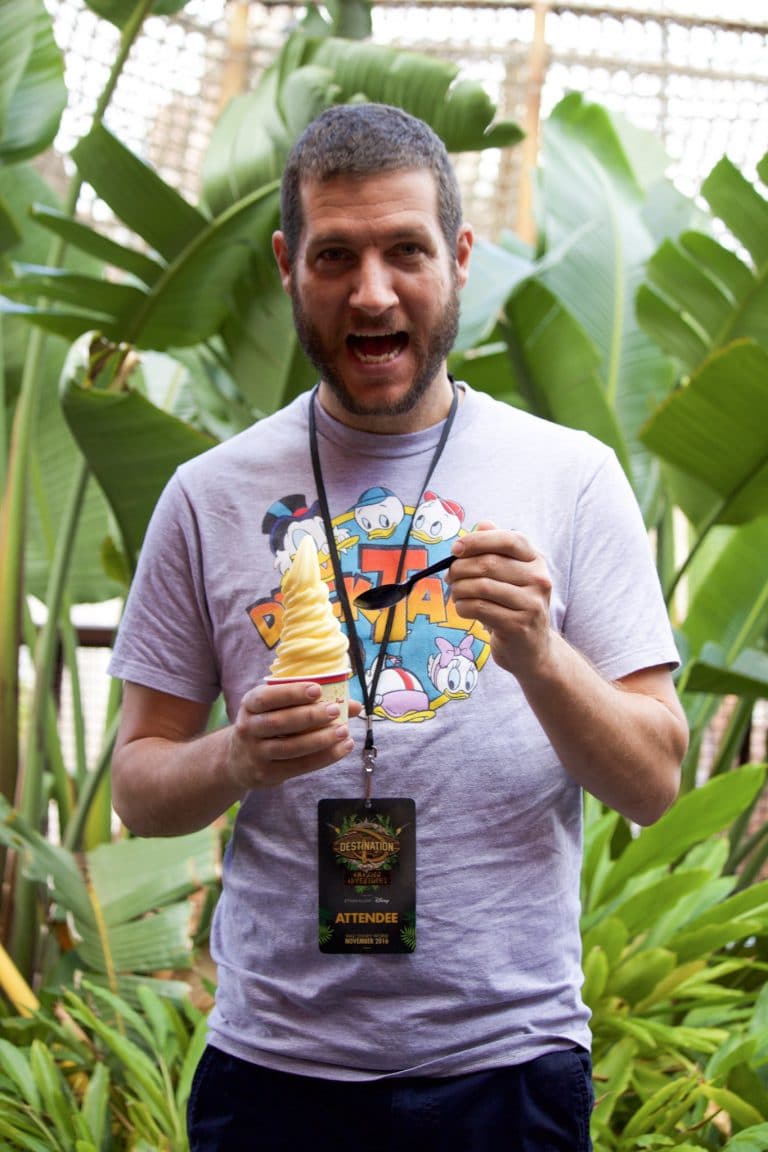 You can get a pineapple dole whip at Aloha Isle in Adventureland in the Magic Kingdom, at the Pineapple Lanai at the Polynesian Village Resort, or at one of the booths at the Flower & Garden Festival. You can also try a boozy version of the classic dole whip at the Food & Wine Festival.
2. Ample Hill Creamery on the Boardwalk – Handcrafted Ice Cream Cones
The first time that I tried ice cream from Ample Hills Creamery was on a cold rainy night in NYC on a girls trip with my mom. She kept insisting that we had to visit Ample Hills Creamery because they have the best ice cream– she was right!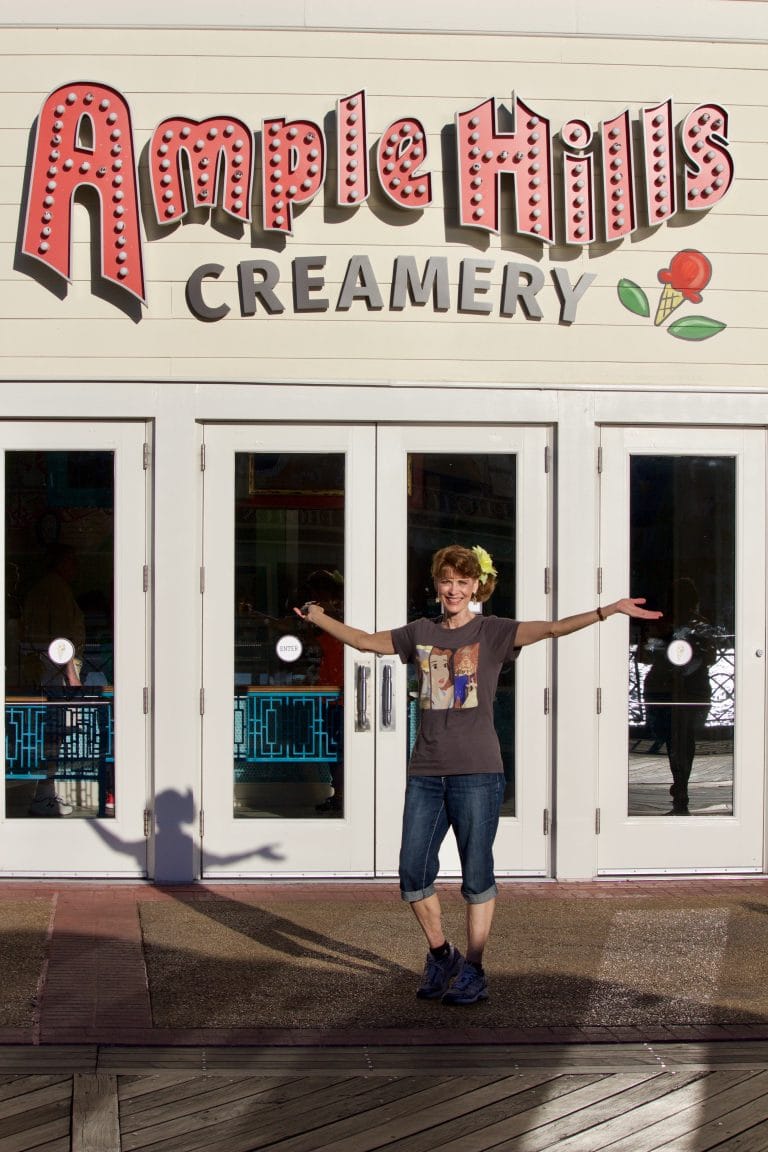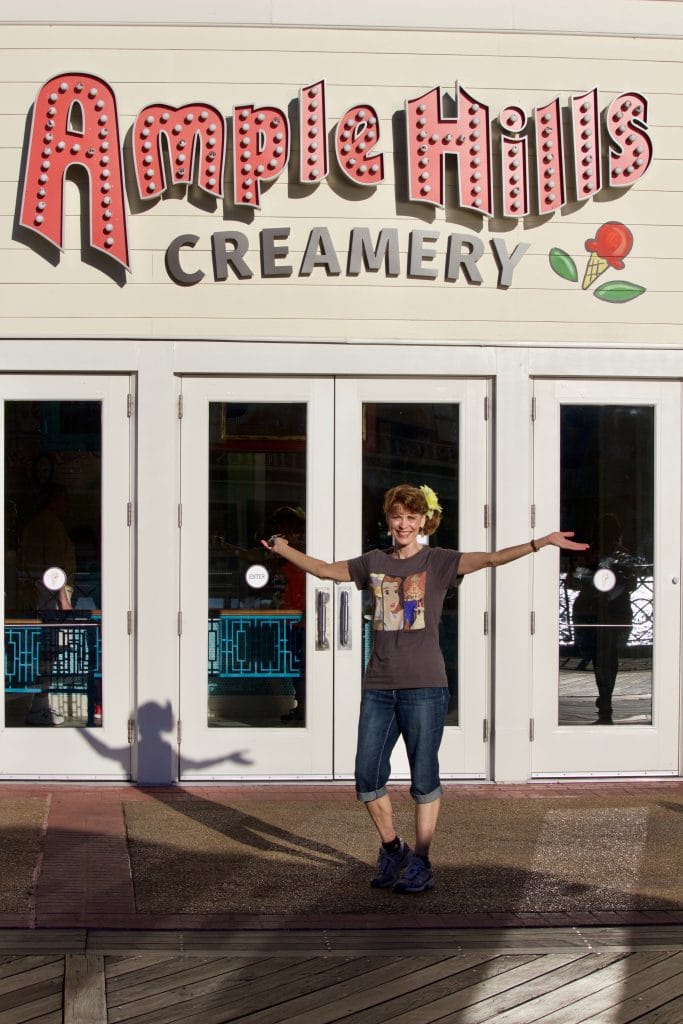 Recently, Travis and I were walking around the boardwalk in Disney and low and behold we see a brand new ice cream parlor! Ample Hills Creamery opened a location in Disney World! Woohoo!!! Needless to say, my mom was so excited to hear this news!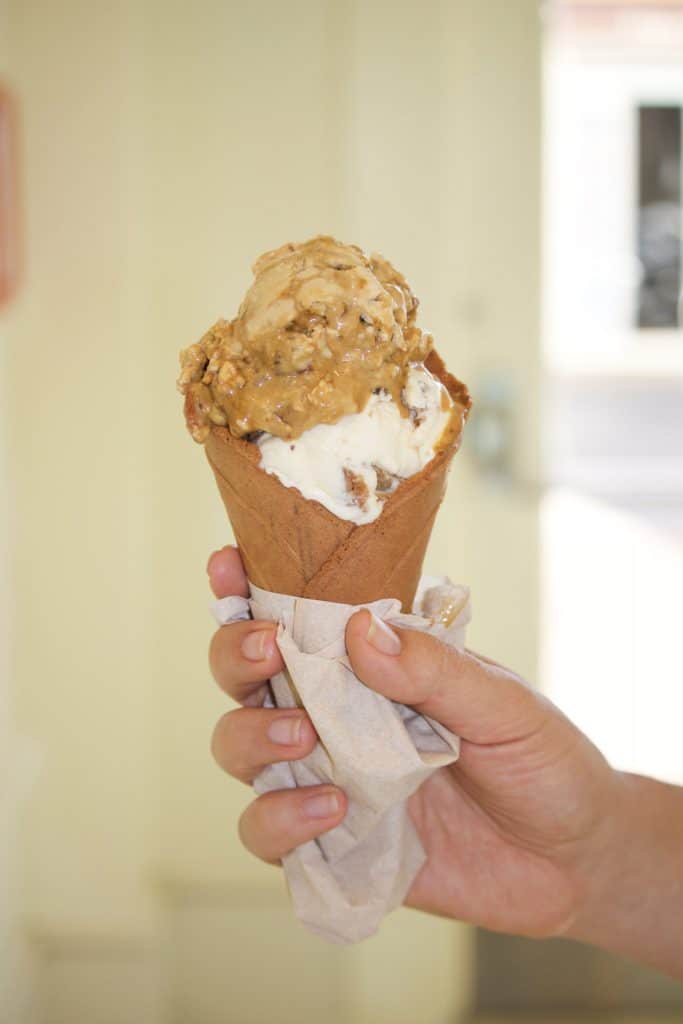 If you're looking for a handcrafted, rich and buttery soft serve ice cream then this is the place for you!
I ordered a small cup and I really liked that you could pick two flavors because I was having a really hard time deciding what to get. They really pack the cup too, a small was plenty for me. The amount you get is really worth the price.
Another bonus to this ice cream parlor is that they give samples. They let me try 4 samples before I decided on half peanut butter half coffee ice cream. It's a little softer than most ice creams but it's super thick, rich and delicious!
3. L'Artisan des Glaces – Artisan Ice Cream Cones
We just tried this ice cream shop in France at Epcot for the first time on our last visit to see the final Farewell to Wishes at the Magic Kingdom. The ice cream shop is to the left of the bakery at the back of France. I can't believe we waited this long to try this place, it's so delicious!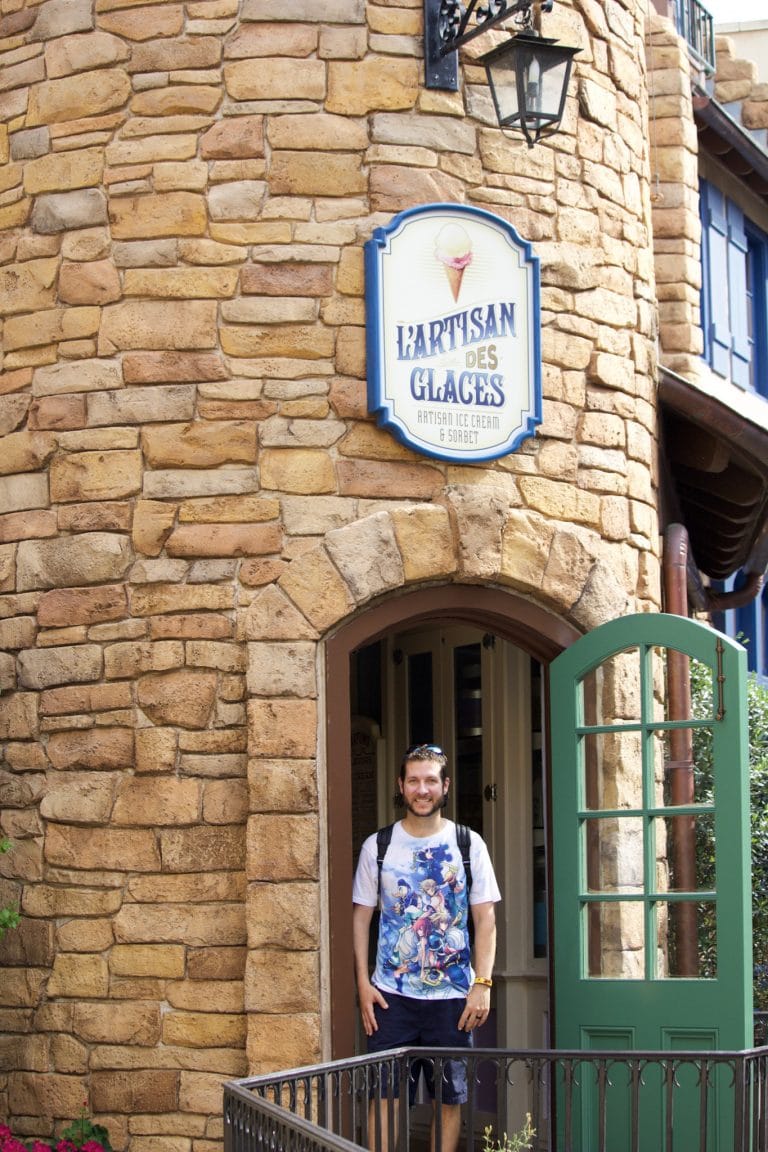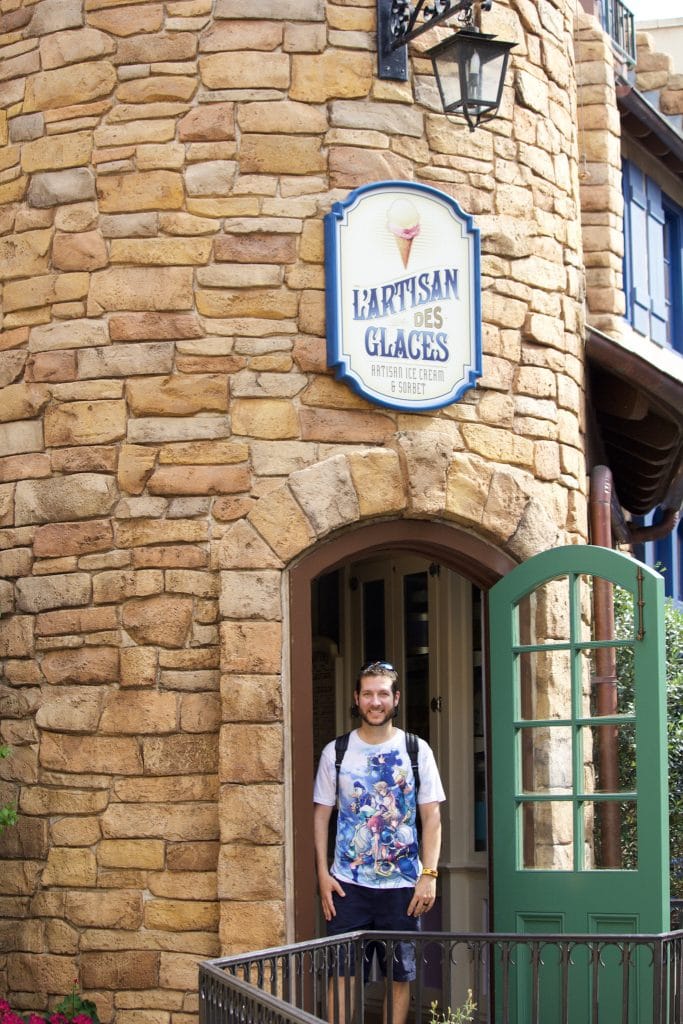 I would definitely consider this to be artisan ice cream– it's handcrafted and extremely decadent. They have macaron ice cream sandwiches, pressed brioche with ice cream in the middle, and specialty ice cream coffee drinks. Even the ice cream flavors are fancy!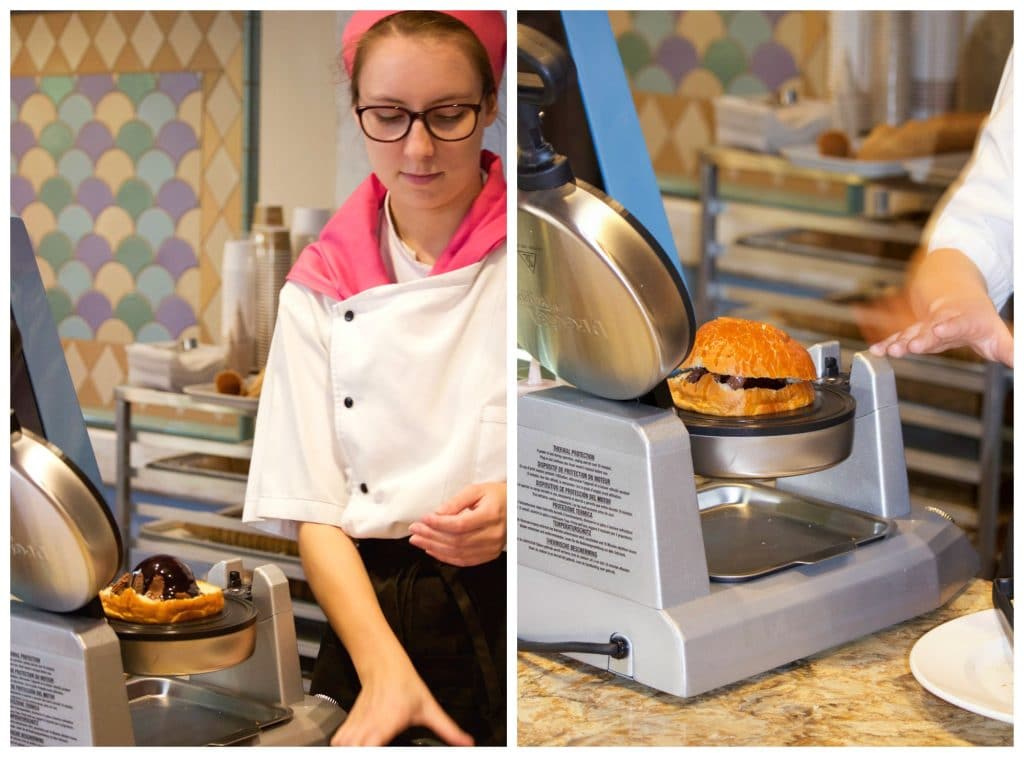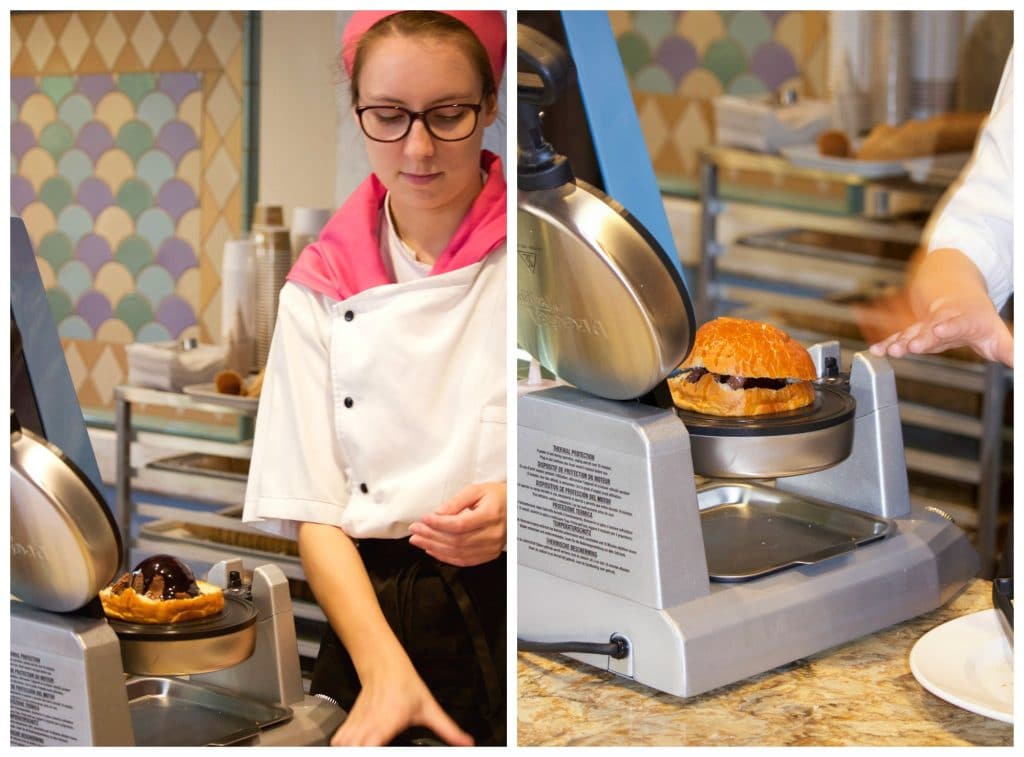 The cones are a bit pricey, I got a pretty small single scoop of caramel fleur de sel in a waffle cone and it was almost $5 with tax. It was absolutely delicious hand-crafted ice cream cone that I really enjoyed but you could get double the ice cream at Ample Hills Creamery. I'm just saying.
I also thought it was odd that they don't give samples. Not a huge deal but it would be nice to help you decide between flavors.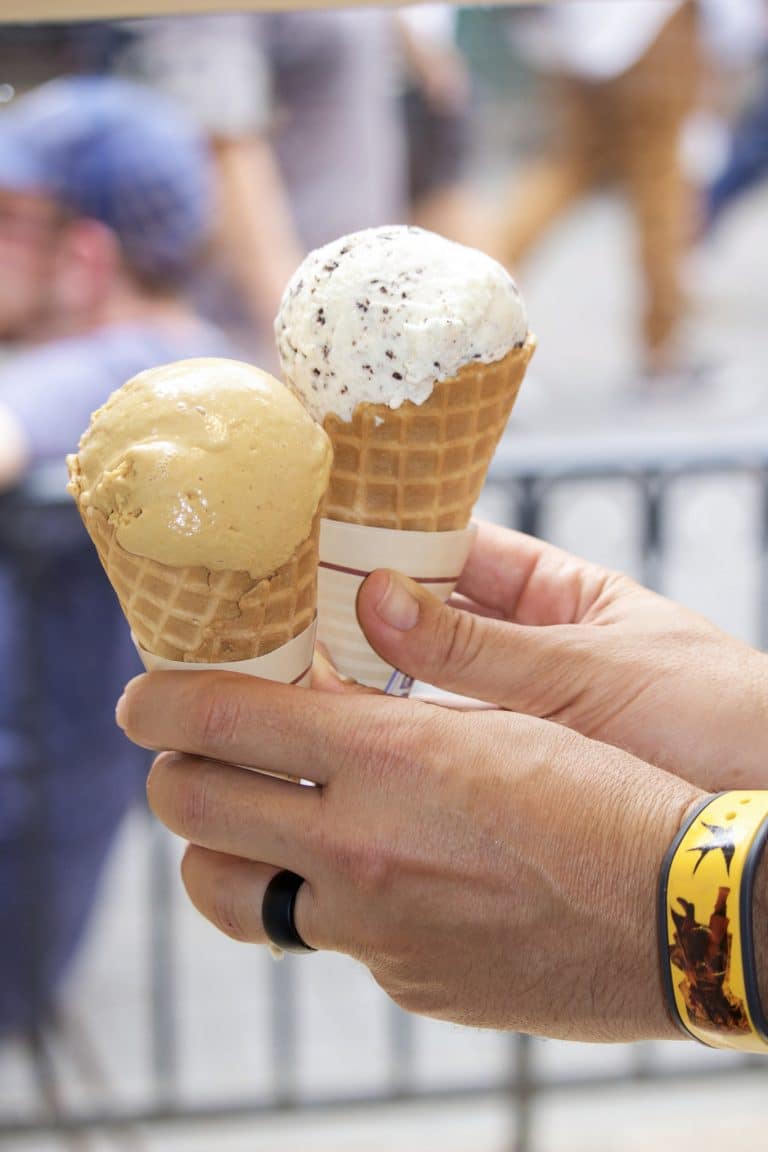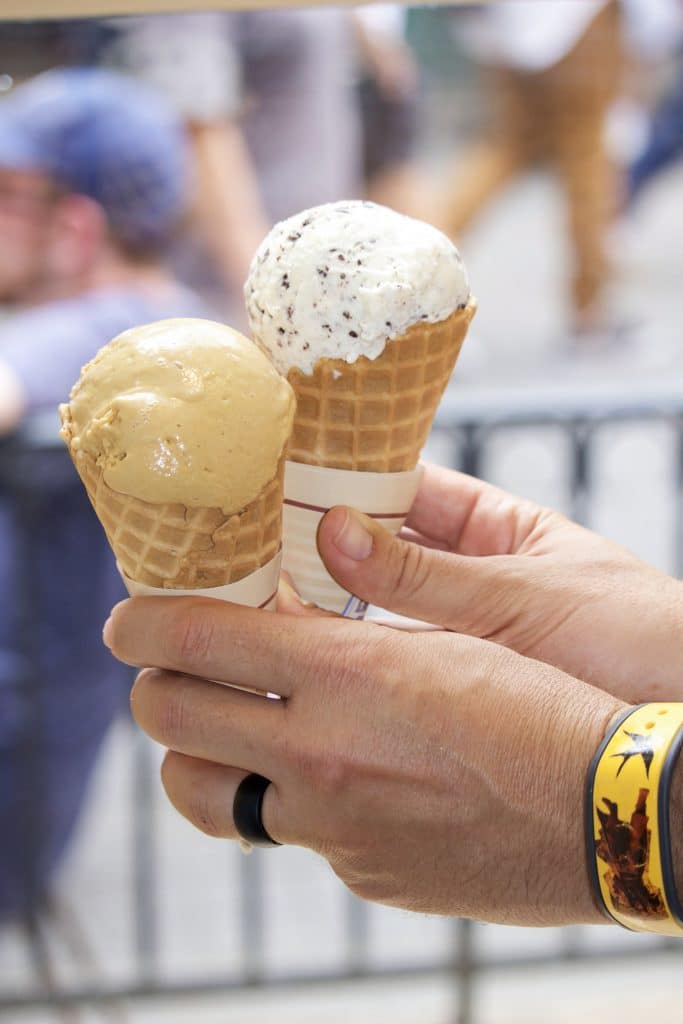 So, if you're in Epcot and craving ice cream, I would skip the quick service ice cream machines and definitely give this place a try. However, if you want the most bang for your buck and don't mind walking then you should make the trek out the back exit of Epcot and head over to Ample Hills Creamery on the boardwalk.
4. Disney Parks & Resorts – Mickey Bars
Mickey bars have been a long time favorite treat of ours, we almost always get one or two when we visit Disney World. There is nothing better than biting the ice cold crunchy chocolate ear off the mickey bar and getting to the creamy vanilla ice cream filling in the middle.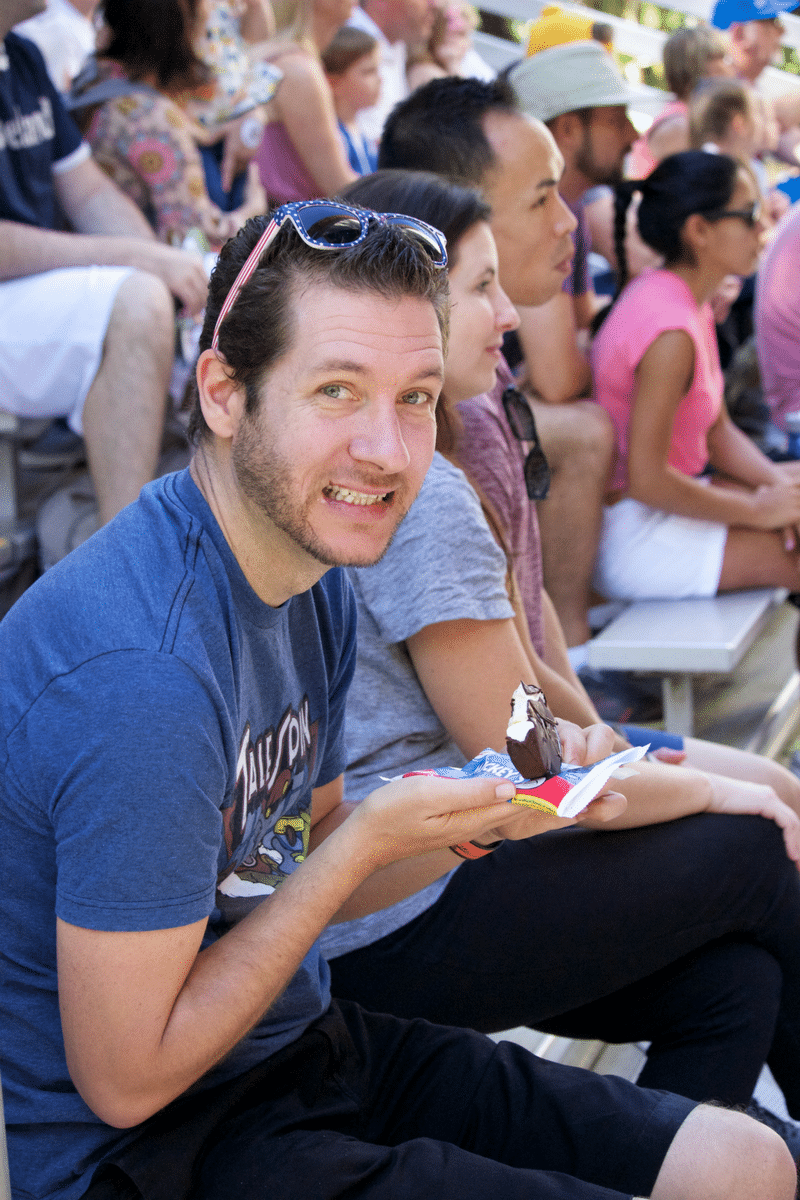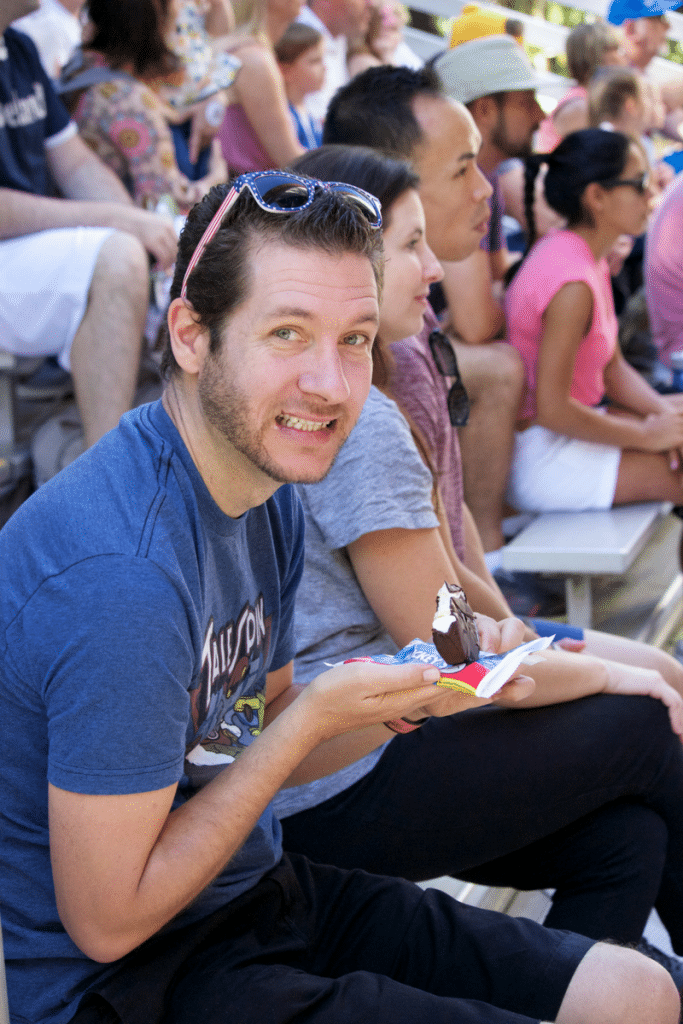 Mickey bars can get a little messy but it's so worth it.
Mickey bars are a classic treat that everyone knows and loves! You can get them at all the Disney theme parks, at Disney resorts, and on Disney cruises.
5. Sunshine Tree Terrace in the Magic Kingdom – Citrus Swirl
The citrus swirl is my mom's #1 favorite ice cream treat. The citrus swirl is a refreshing orange slushy swirled with vanilla soft serve ice cream. It has a very bright and tangy flavor, my mom likes to describe it as the yin and the yang factor. The tart orange mixed with the sweet vanilla = pure yumminess!
6. Ghiradelli Soda Fountain – Double Scoop in a Chocolate Dipped Waffle Cone
After the pineapple dole whip, a double scoop of mint chocolate chip ice cream in a warm chocolate-dipped waffle cone is Travis's favorite ice cream. I always go for one scoop of coffee and one scoop of dark chocolate.
The scoops are huge and the waffle cones are always fresh and delicious.It's not exactly artisan ice cream, it's more mainstream, but it will definitely please any ice cream lover. They also have delicious ice cream sundaes that should definitely be shared because they're huge!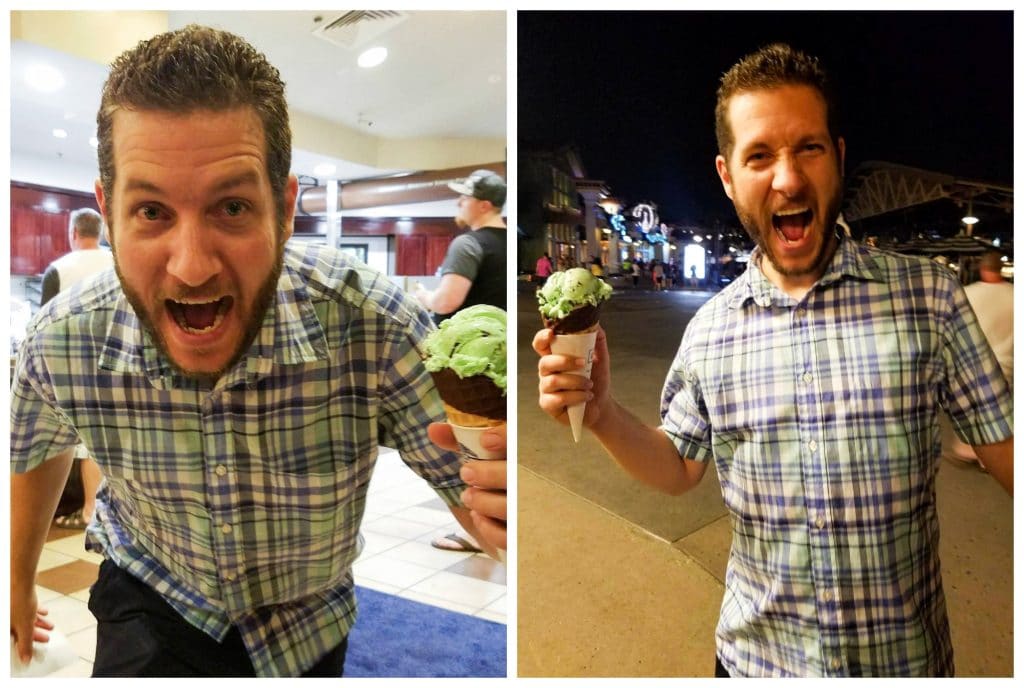 Ghiradelli is located at the new and improved Disney Springs. Make sure you get a free piece of chocolate on your way in or out of the store!
We love all of these treats and usually get a few on each of our visits to Disney World. I hope you enjoy them as much as we do!
What's your favorite ice cream in Disney World? Let me know in the comments!