This shop has been compensated by Collective Bias, Inc. and its advertiser. All opinions are mine alone. #TimelessPizza #CollectiveBias
Easy instructions to setup and throw your own under the sea pizza party! Sea creature recipes and an aquarium in a jar craft included!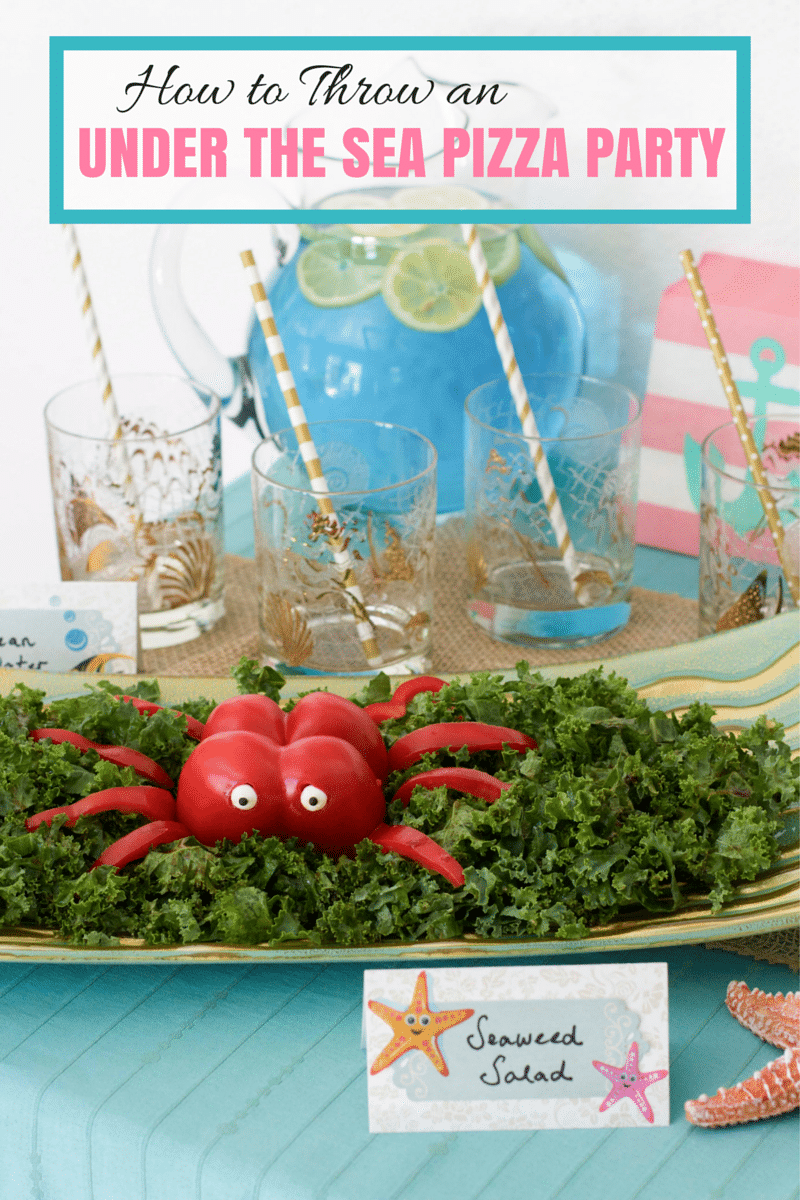 Summer is less than one week away!
It's felt like summer here in Florida since April. It's hot and humid every day and we usually get quick afternoon thunderstorms and the occasional magical sun shower.
Have you ever seen a sun shower before? It's strange and beautiful at the same time. If rain comes from clouds, how can it be perfectly bright and sunny but it's drizzling too? I'm sure there's a logical explanation but I don't want to know the answer because it'll take away some of the magic of sun showers.
Have you seen that meme going around on Facebook of two pictures of Florida weather? The left side shows a dark and stormy thunderstorm passing through the beach, and the right side is a perfectly bright and sunny beach day that is captioned, "5 minutes later." It's so true. One minute it's raining and then it's bright and sunny and time to go back to the beach!
Long summer days at the beach are one of my favorite childhood memories. My parents always had activities planned for us but beach days were the best!
We lived less than 30 minutes away from the beach, so my parents would pack my brother and I in the car with all of our beach toys, and we'd be on our way!
We'd get to the beach and mom would slather us in lotion while dad started blowing up our rafts and floats.
When we needed a break from swimming, my mom would take us on seashell walks. Little did I know, she had previously bought big beautiful shells from the craft store to hide for us to find. I always thought I found these fancy shells all on my own, but I found out the truth a few years ago. Now that I think about it, I can remember my mom walking a little bit ahead and digging a small hole with her toe that she could drop a shell in.
Brian and I would excitedly "dig out" our special new shell and add it to our pails. We obviously had the eye for shell picking, we always found the best ones! I'm definitely going to do that for my kids one day, it's something I've always that was really special.
After a long day of fun, we would pack up the toys, change in the back of our Aerostar van and head to the pizza shop across the street from the beach.
Brian and I got tricked again, but I'm totally okay with it because it made it so much fun! As kids, we only wanted plain cheese pizza. My parents wanted pizza that was loaded with veggies. How could they get us to happily eat veggie pizza? By telling us that it was pizza that had sea creatures on it of course! That wasn't a piece of broccoli, it was a mermaid tail obviously.
We searched for eels (onions), shells (mushrooms), fish (red & green peppers), black pearls (olives) and whatever else my mom thought of when we suspiciously asked what this green thing was on our piece of pizza! Hehe.
Decoration for an Under the Sea Pizza Party
What could be better than an under the sea pizza party to welcome the beginning of summer?!
Travis will use any excuse to eat pizza, so he had no problem going along with my party plan. This party theme is fun for kids and adults, who doesn't love pizza?!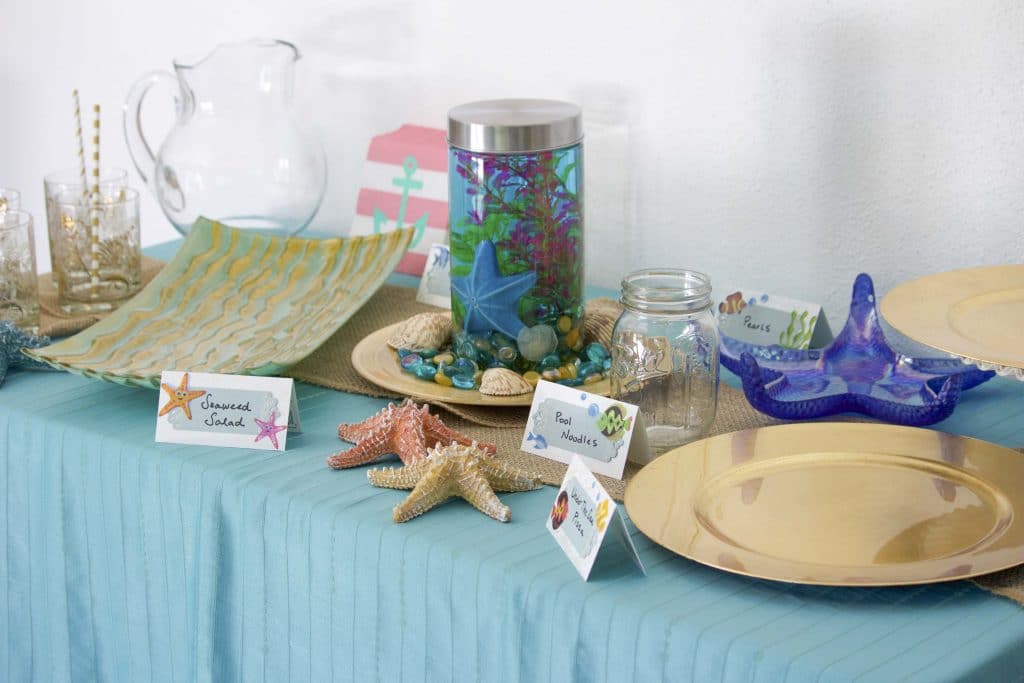 For table decorations, I decided on aqua and burlap with touches of blue, coral, and gold. The gold felt very nautical to me and I like to add a bright touch to give some contrast.
Aquarium in a Jar Centerpiece Craft
To really make it feel like an under the sea party, I thought the centerpiece should reflect the theme. I used a large 57 oz jar to make a mini aquarium that was filled with seaweed, shells, sea glass and a starfish. It's a really simple and fun craft that you can do on your own or have the kids help too!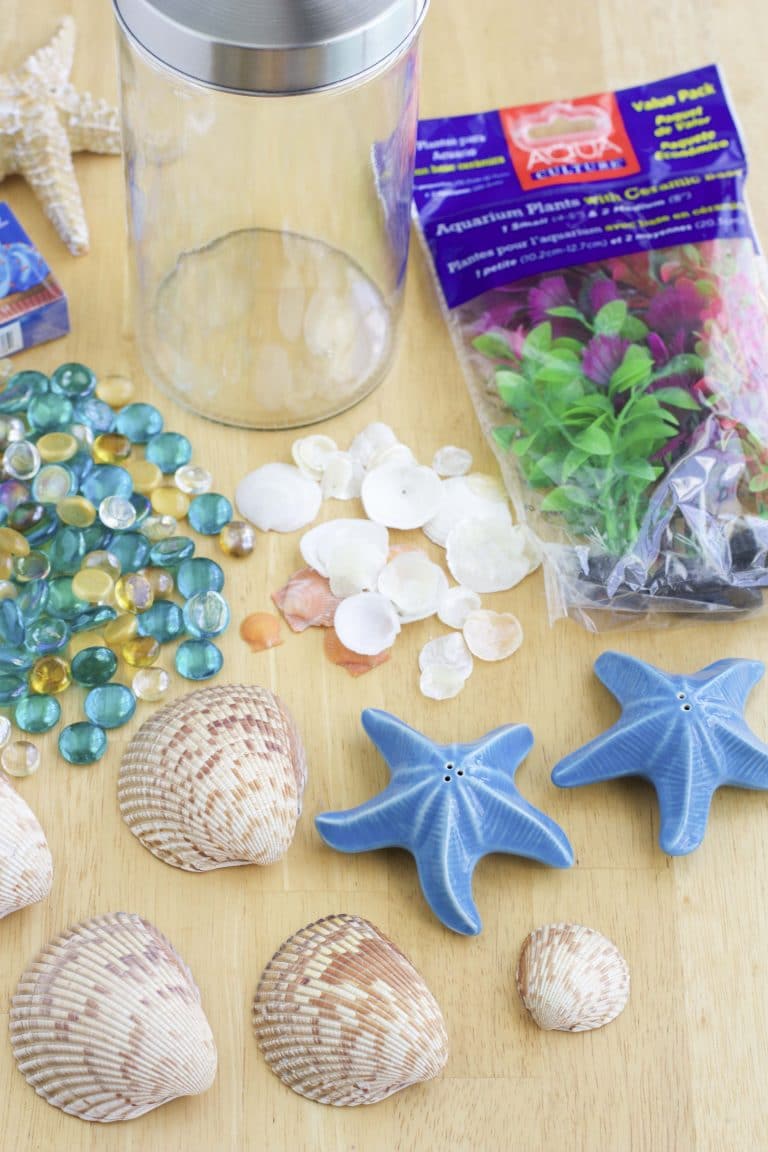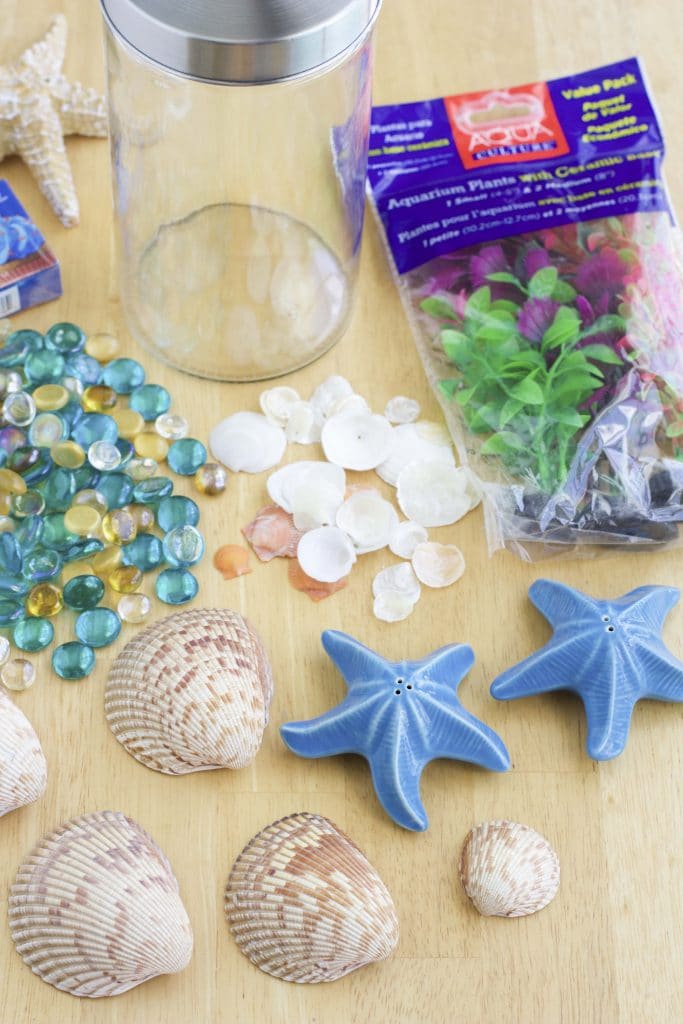 Supplies –
1 large jar (I used 57oz but you can use any size you like)
1 cup of "sea glass" stones (It's really just colored stones that are used in flower vases). You could also use gravel or sand
A few shells to mix in with the sea glass
2-3 plastic seaweed props
1 starfish or any props you want to use
2-3 drops blue food dye
Water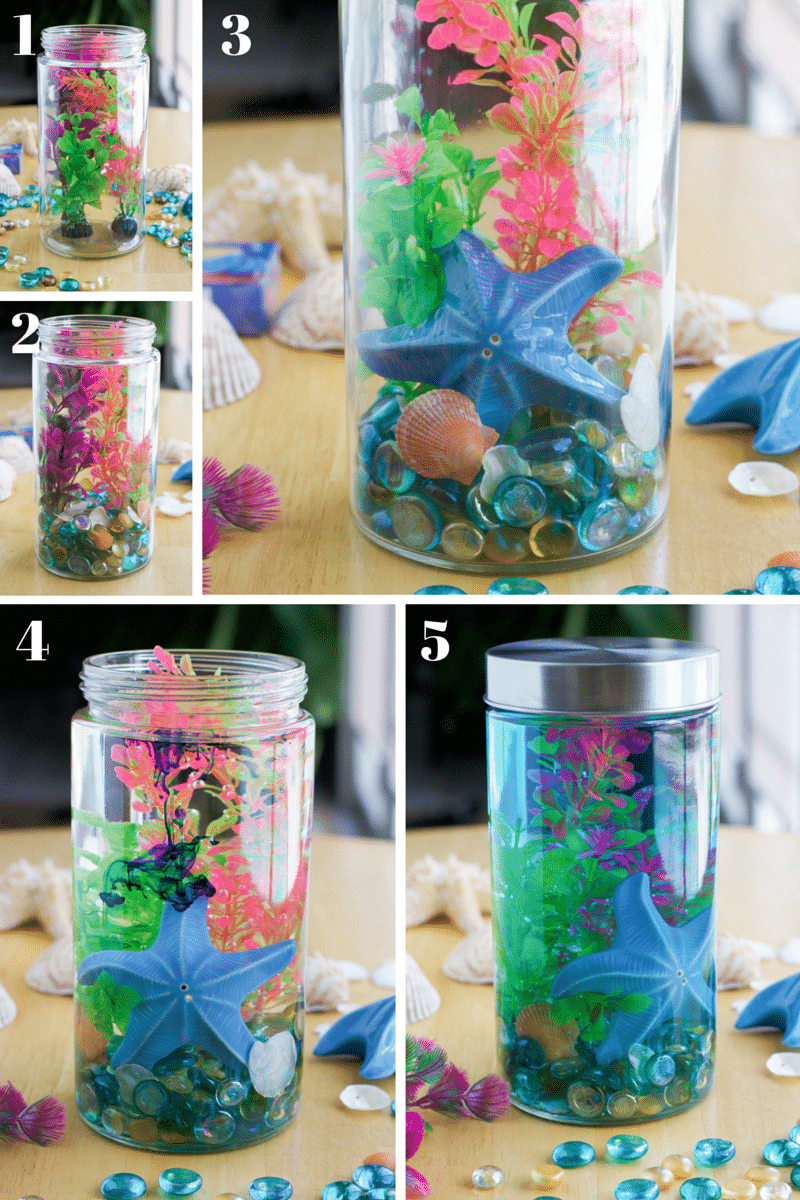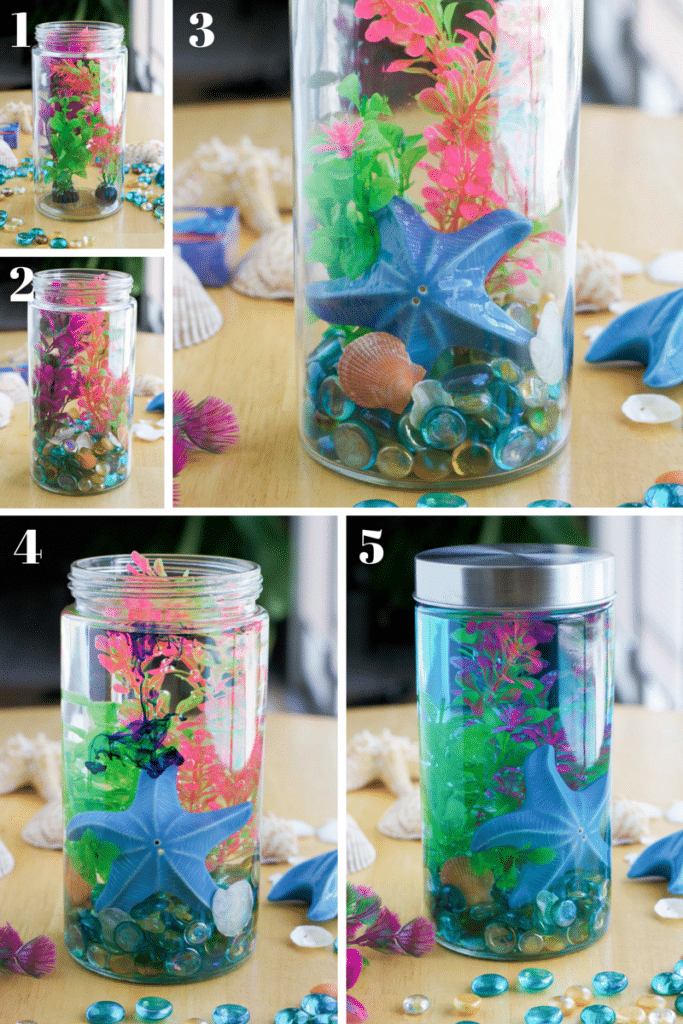 Instructions –
Add the seaweed and shell props, arrange them how you like it.
Pour the sea glass stones into the bottom of the jar, cover the base of the seaweed.
Add the centerpiece, I used a starfish but you can use anything you like. A fish, shark or scuba diver would be fun ideas.
Fill to the top with water and add 2-3 drops of blue food dye, stir until completely dissolved.
Replace the lid and use as a centerpiece.
I used the aquarium jar as the centerpiece of my buffet table, so I put it on a gold charger and added some more sea glass stones and shells around the sides to enhance the effect that it's on the ocean floor. You could also do a few different sized jars to make a larger centerpiece if you have a bigger spread. I found all the props I needed to make this aquarium at Walmart, mostly in the craft and aquarium section.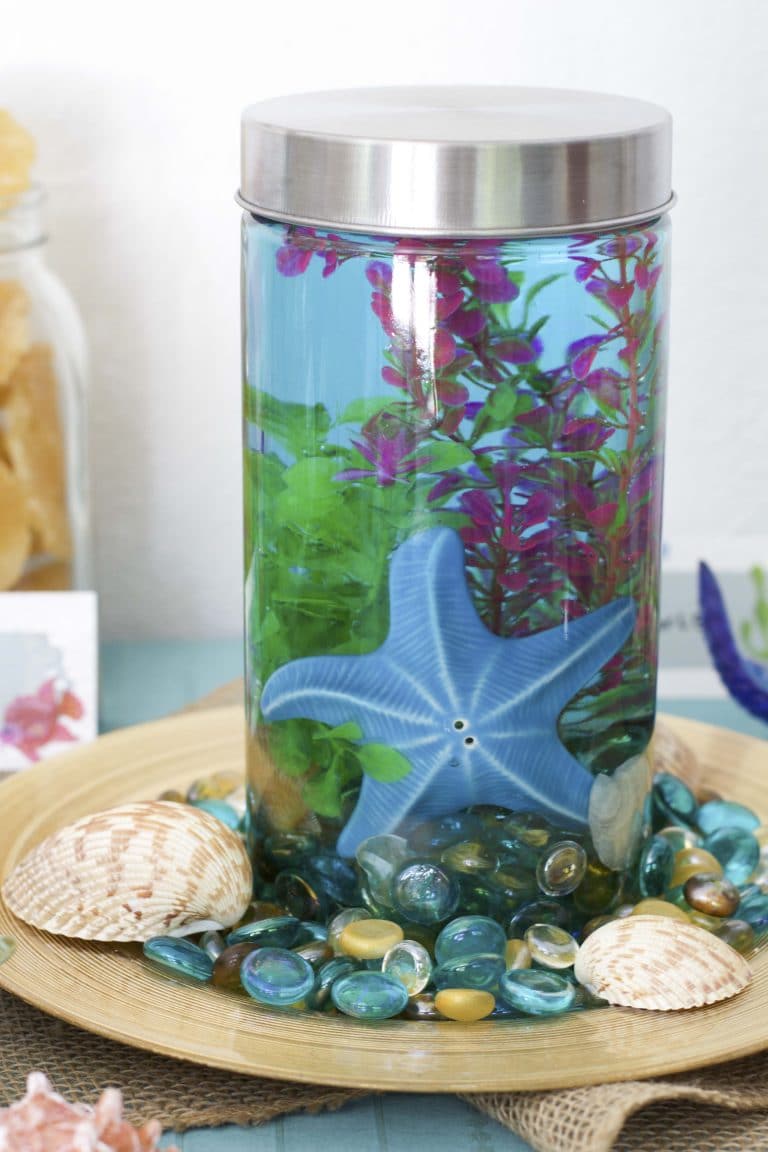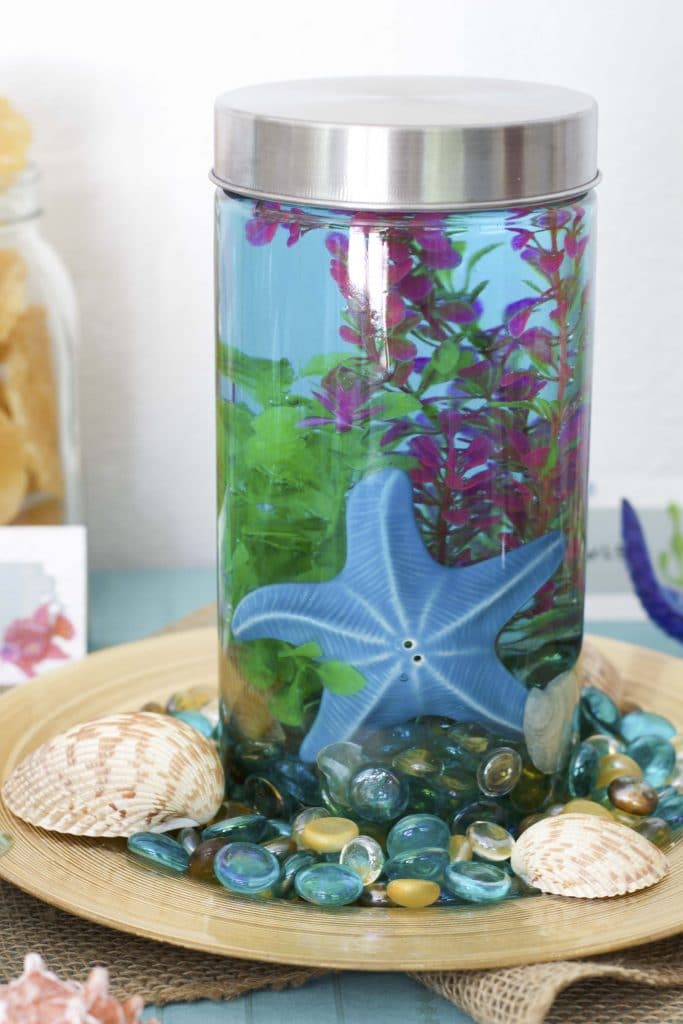 Menu for an Under the Sea Pizza Party
For an under the sea pizza party menu, I wanted snacks that all resembled things you might find at the beach:
MENU
Sand Dollars – Pineapple Chews
Pearls – Almond butter date energy bites
Seaweed Salad – Kale salad with a red pepper octopus and ginger dressing
Sea Creature Pizza – Red Baron Supreme pizza
Pool Noodles – Licorice sticks
All of the side dishes are very simple to assemble and you can do most of it the day before the party if you would like to get ready early. I would wait until right before the party to cook the pizzas and cut the red pepper octopus.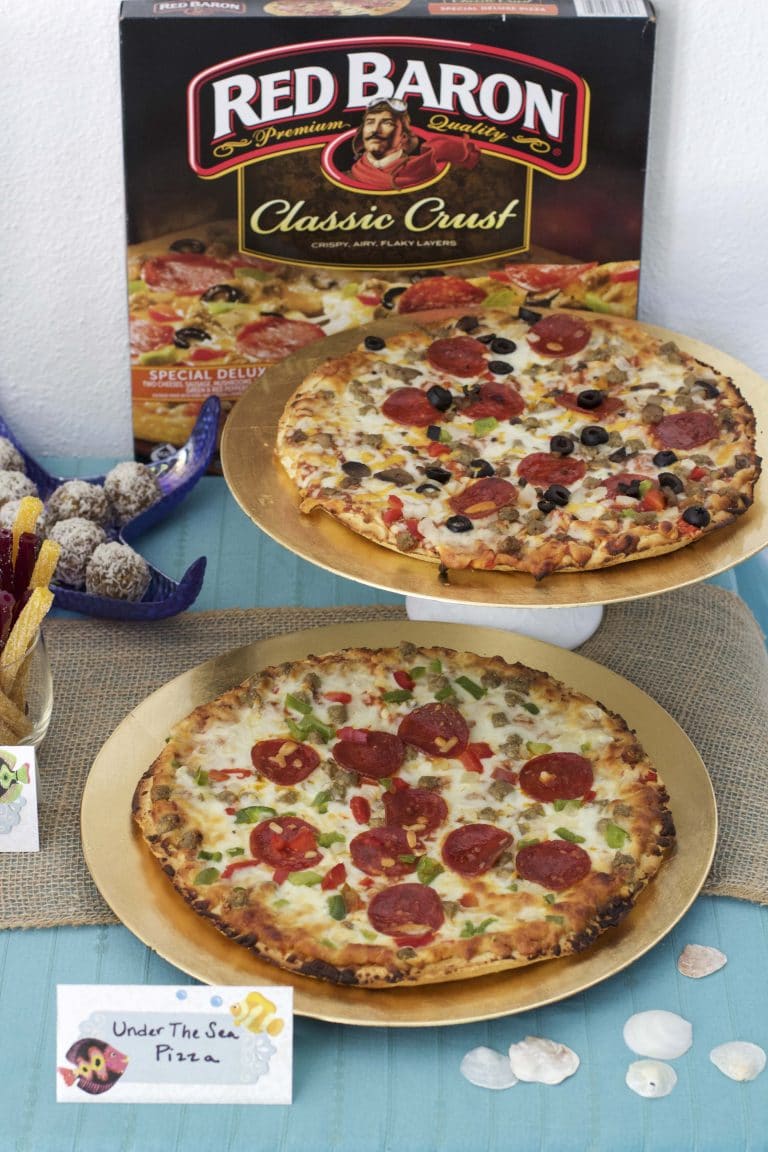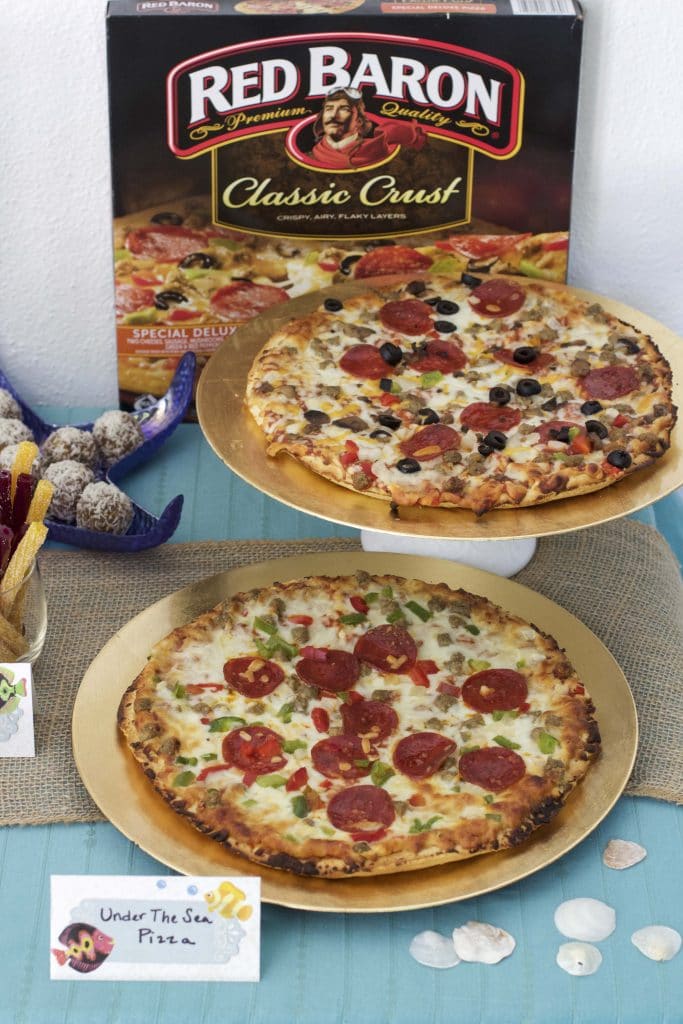 We chose the Red Baron Classic Supreme and Special Deluxe pizzas from Walmart for our under the sea party because of all the toppings! I wanted it to be just like when I was little when we went for our favorite pizza and had to name all the sea creatures that were hiding in the cheese. Plus, it's easy for everyone to come together over the timeless pizza.
Make sure you tell the kids at your party to call out when they find a sea creature on their slice of pizza! After one bite, everyone will be asking for more because they'll want to keep searching for mermaids, sand dollars, and octopus tentacles!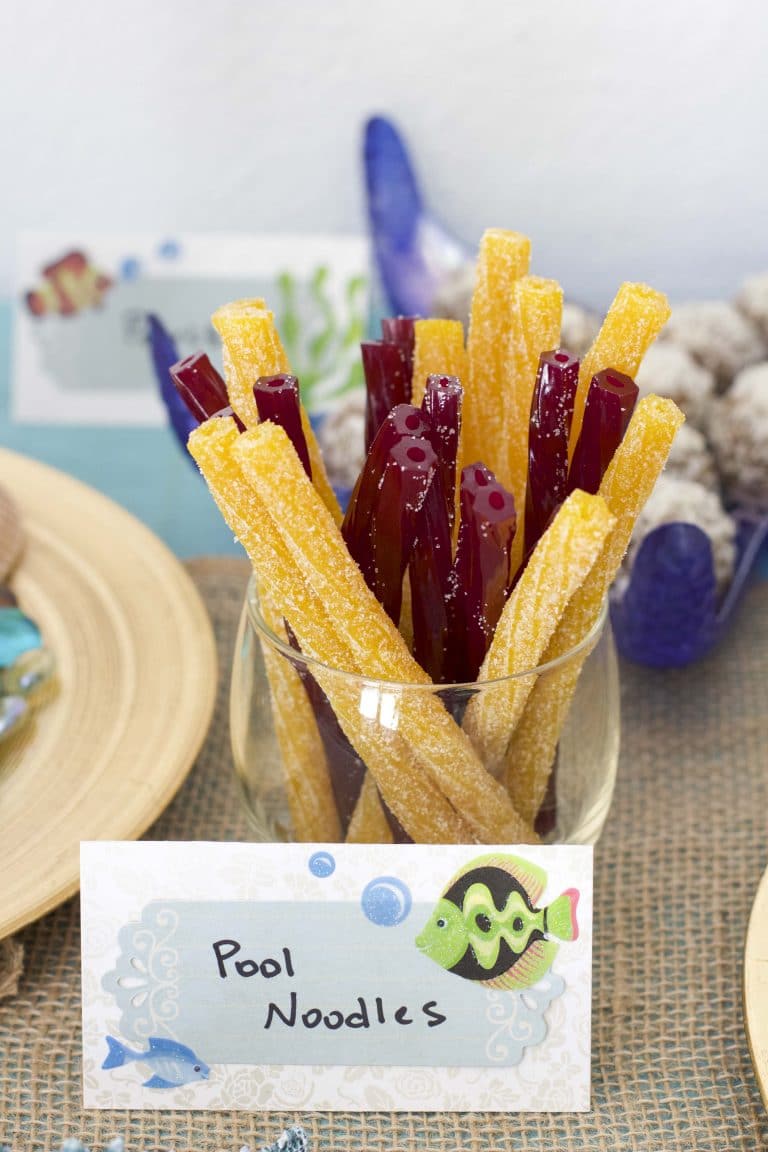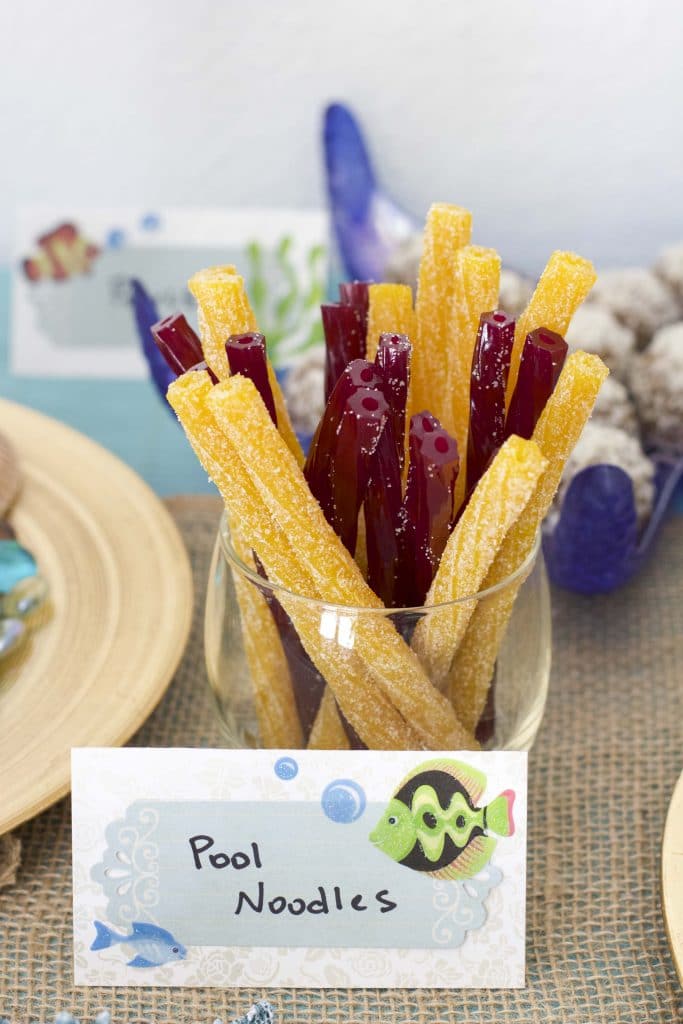 Almond Butter Date Bites
We love these almond butter date bites! You can use peanut butter if you don't have almond butter, but almond butter definitely kicks it up a notch!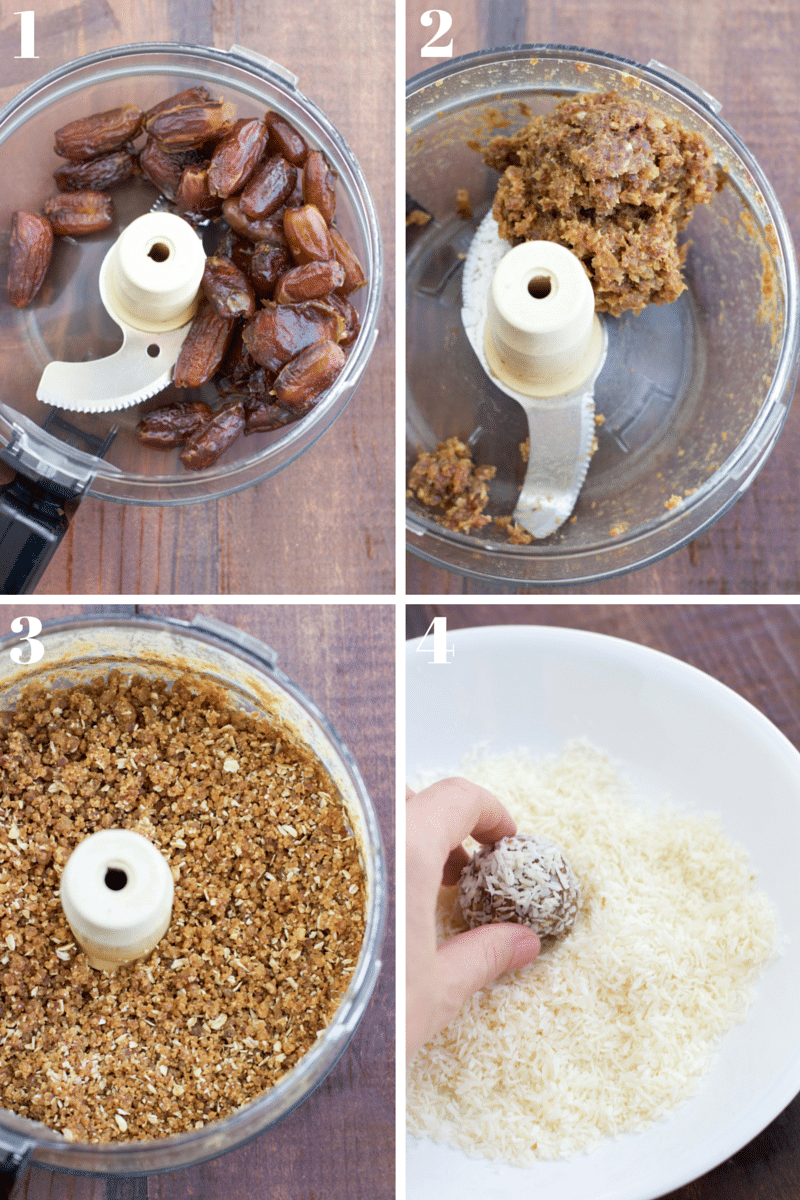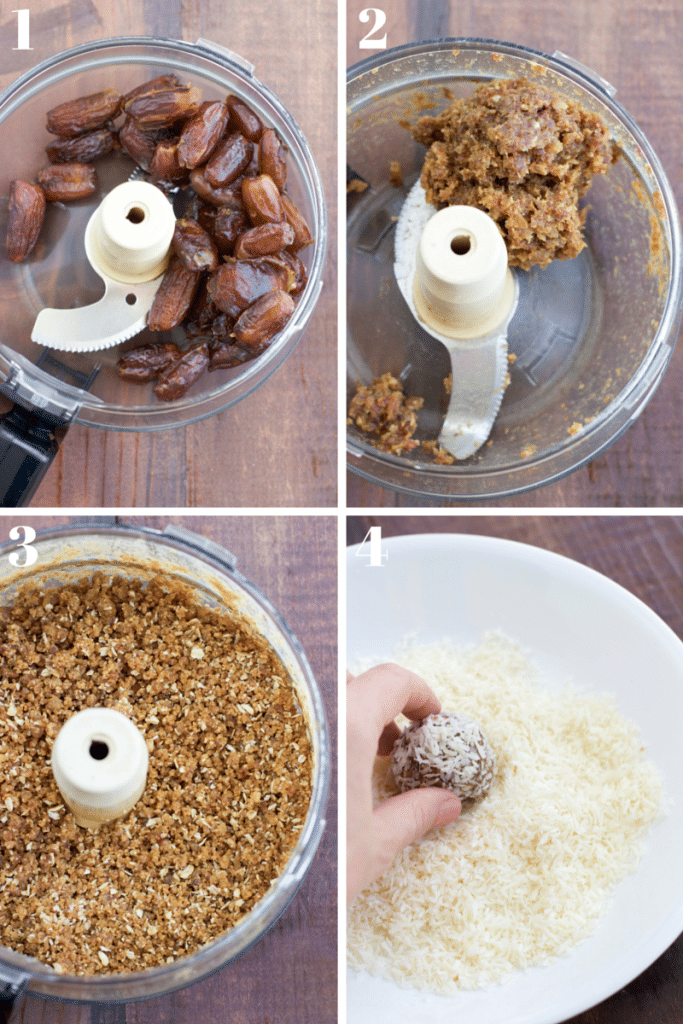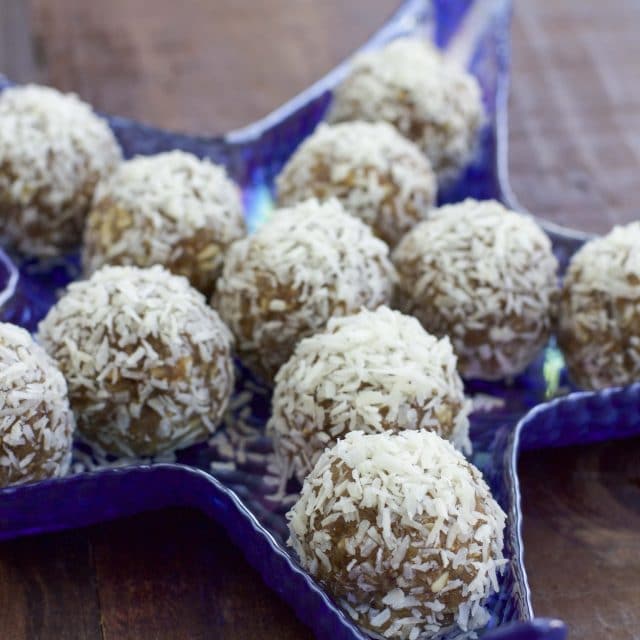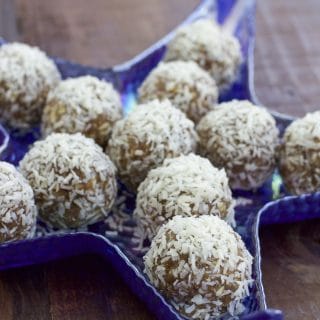 Instructions
Add the dates to a food processor and blend until they clump up in a ball. Add the oats, almond butter, honey, and almond extract to the processor. Blend until you see a fine crumble consistency. It should be slightly sticky but not wet feeling.

Use a 1 Tbsp measure to scoop out the filling and use your palms to roll into a ball. Roll the date ball in shredded coconut.

Store in an airtight container for up to one week.
Nutrition
Serving:
12
g
|
Calories:
181
kcal
|
Carbohydrates:
28
g
|
Protein:
3
g
|
Fat:
7
g
|
Saturated Fat:
1
g
|
Sodium:
11
mg
|
Potassium:
263
mg
|
Fiber:
3
g
|
Sugar:
21
g
|
Vitamin C:
0.1
mg
|
Calcium:
47
mg
|
Iron:
0.8
mg
They're so creamy and buttery, but also full of protein and have no refined sugar in them. You can easily serve these as a snack, side dish, or dessert! If you don't like coconut you could roll them in cocoa powder or finely crushed nuts.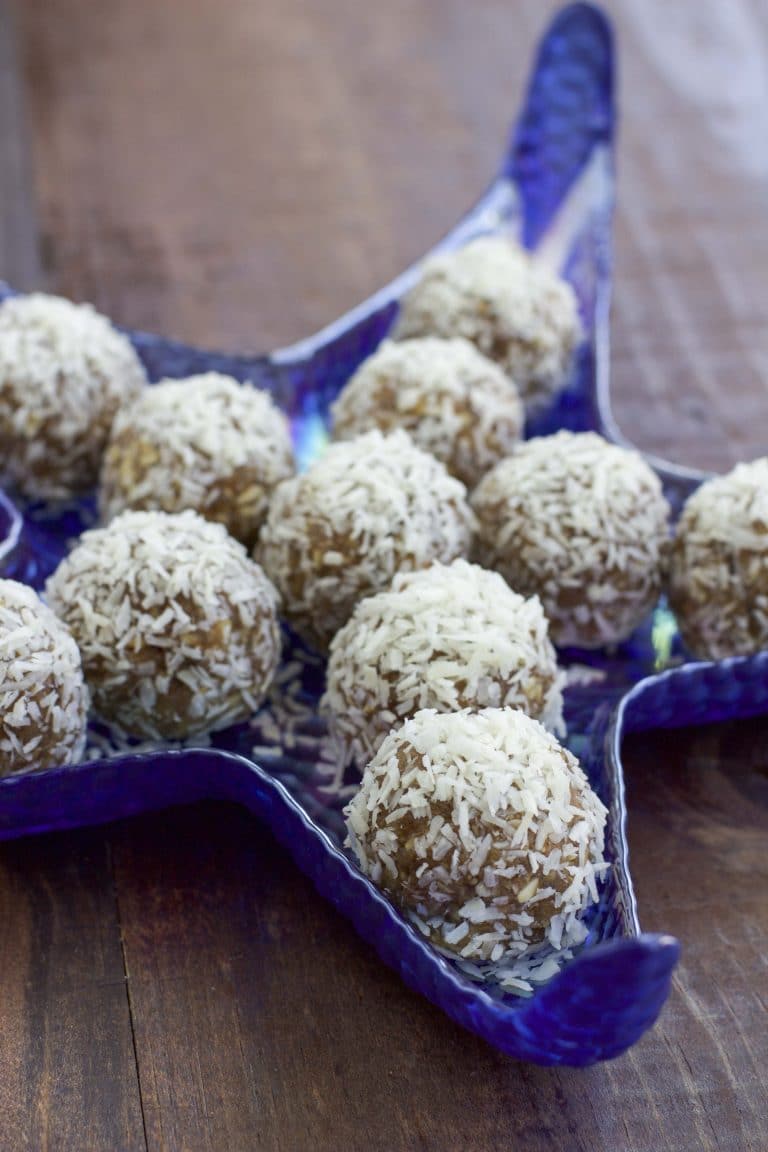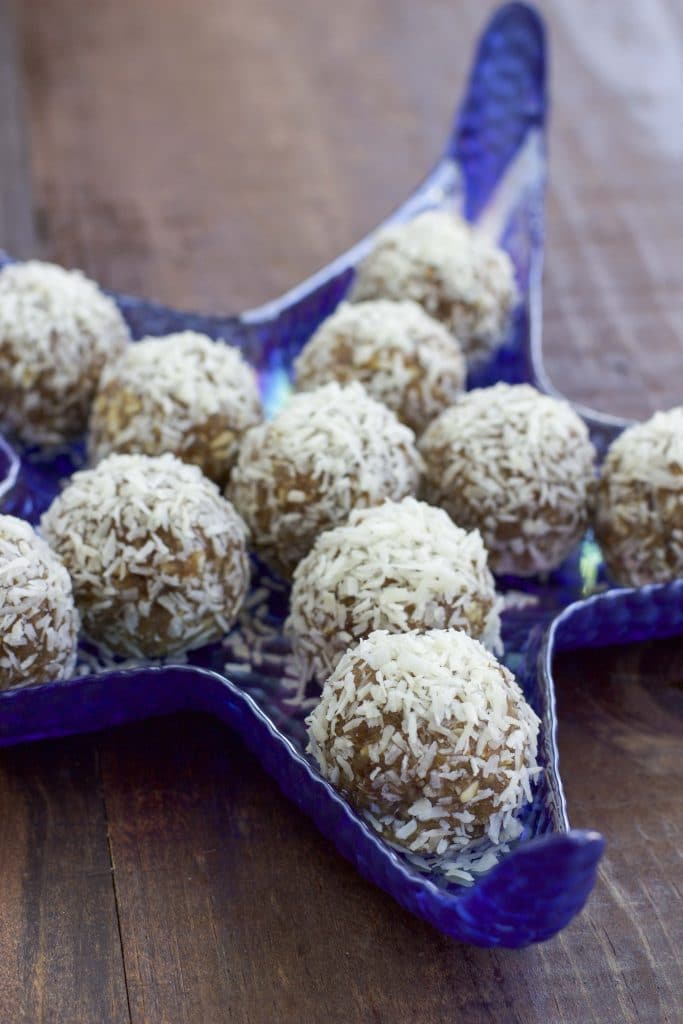 Seaweed Salad with Red Pepper Octopus and Ginger Dressing
Isn't the red pepper octopus so much fun!? You just have to have a giant sea creature guarding the pile of seaweed salad, right? I chose the red pepper to make the octopus because the pizza had red pepper pieces on it. That makes it easy for kids to see the connection of red pepper octopus on the salad and red pepper octopus tentacles on the pizza.
The red pepper octopus is very simple to make…
Pick a large red pepper and lay it on its side on the cutting board.
Measure 1 1/2 inches from the top of the pepper, cut the top off.
Scoop out all the seeds and inside white pieces.
Flip the pepper upside down so the bottom of the pepper is on top.
Use a sharp pairing knife to cut two small holes for the eyes. Insert the small candy eyes. (I got the candy eyes from Walmart too.)
Slice the top part of the pepper into 8 thin legs and arrange them around the body.
Note – You could easily make this into a spider for a Halloween party by using an orange pepper and reduce the number of legs!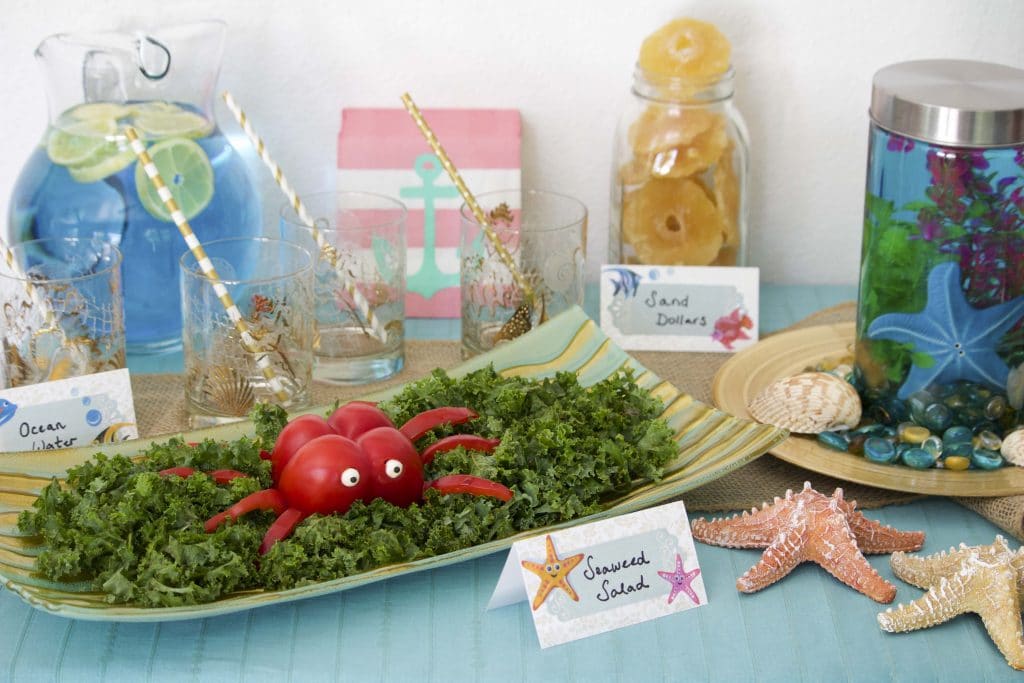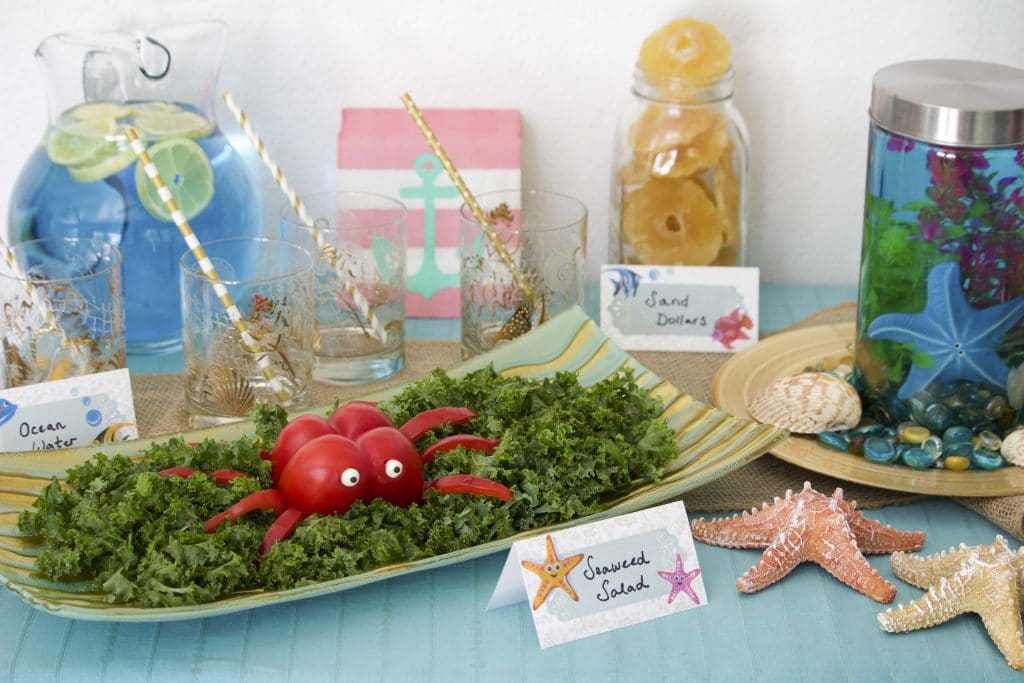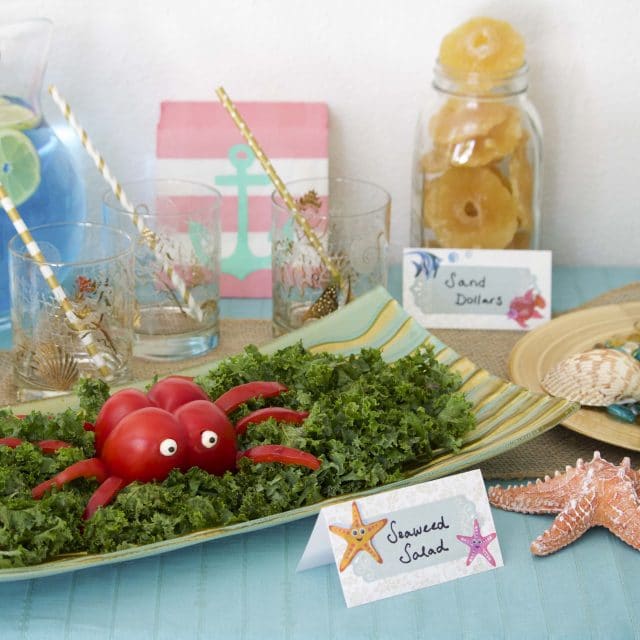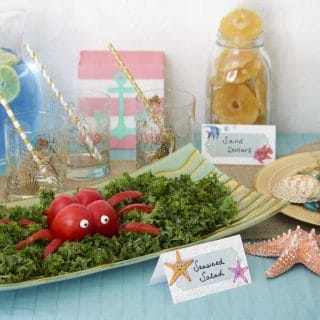 Instructions
Put all ingredients except kale into the food processor. Blend on high until smooth. Pour the dressing over the kale and toss to coat each leaf.
Nutrition
Serving:
4
g
|
Calories:
502
kcal
|
Carbohydrates:
2
g
|
Protein:
3
g
|
Fat:
54
g
|
Saturated Fat:
7
g
|
Sodium:
2012
mg
|
Potassium:
76
mg
|
Iron:
1.2
mg
The trick to making kale taste sweet and tender instead of tough and bitter is to massage it. I like to pour the dressing over the kale and jump right in with my hands and start rubbing it between my fingers for a few minutes. It really helps to break down the fibers and change the texture and flavor.
How to Make Ocean Water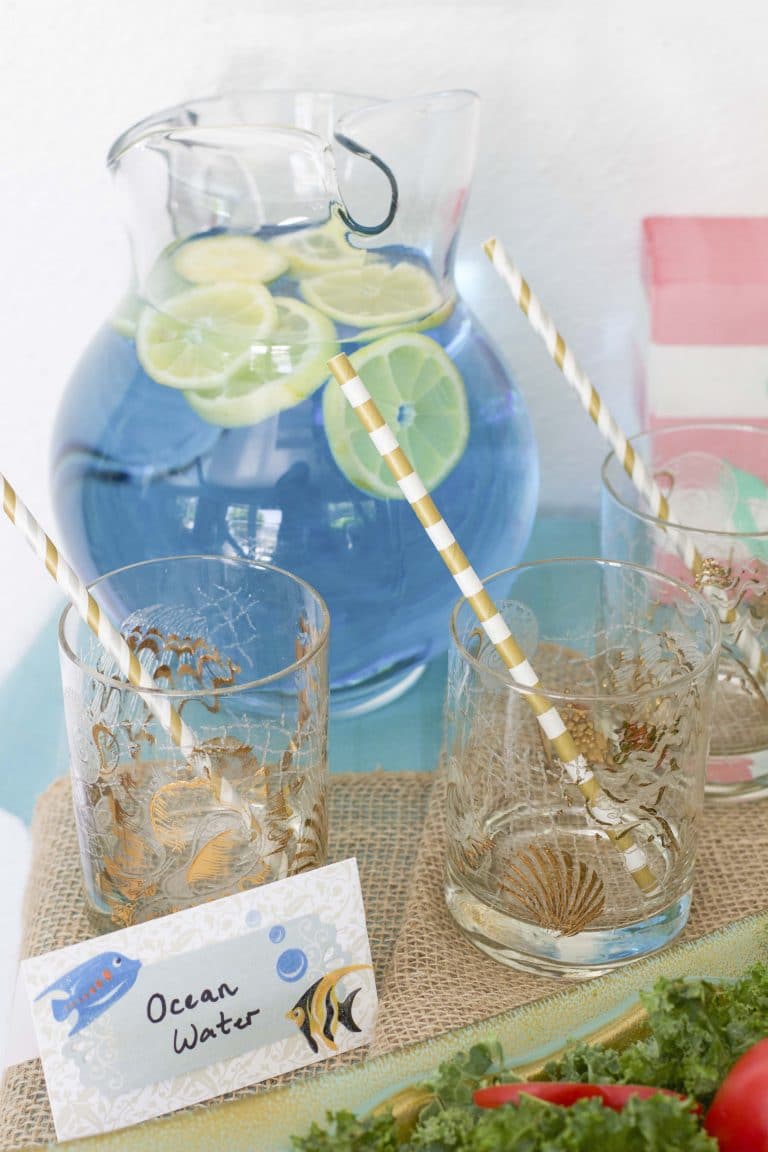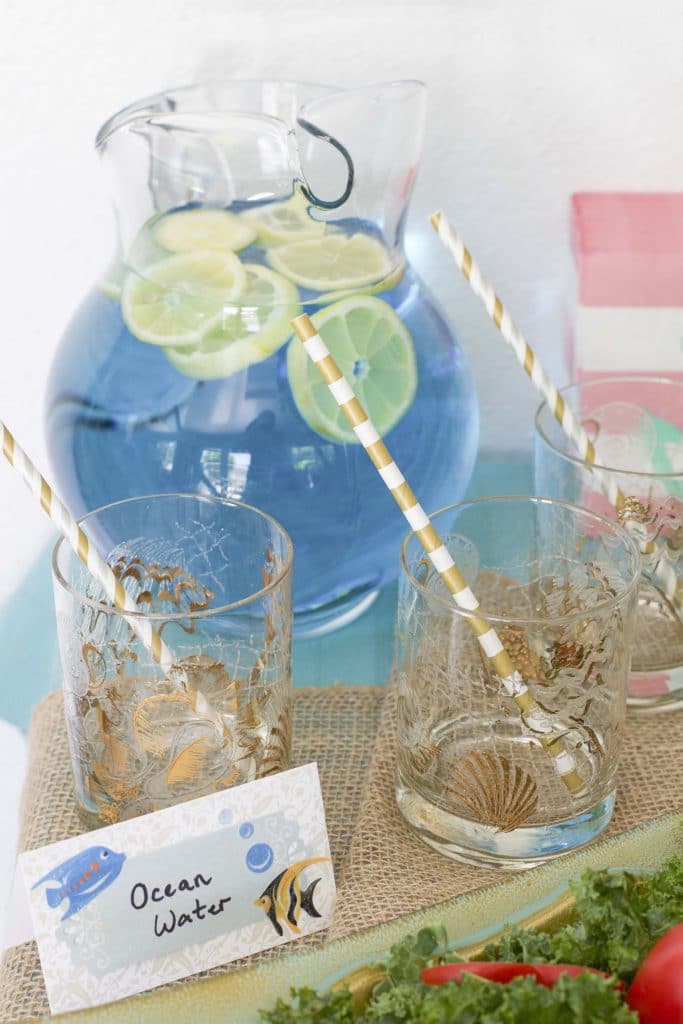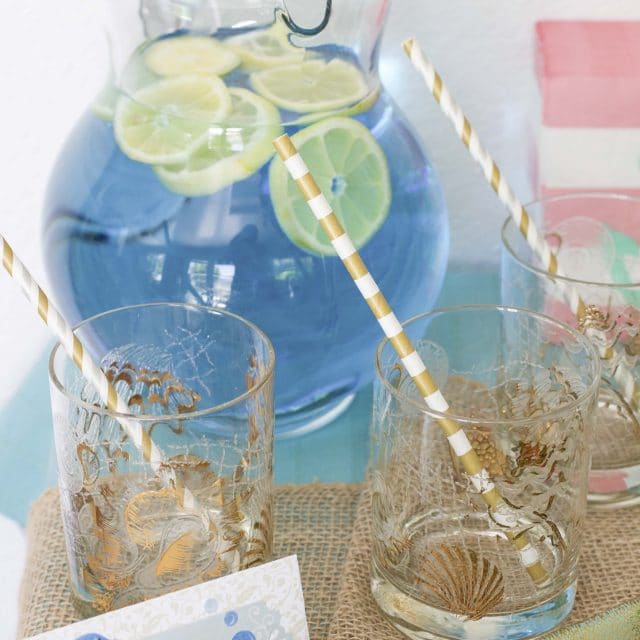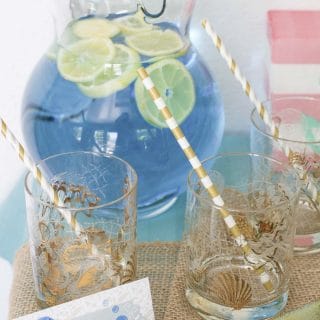 Ocean Water
Make this ocean water for your next beach themed party!
Print
Pin
Rate
Ingredients
Water

1

small

red cabbage

1/4

tsp

baking soda

48

oz

lemonade

1

lemon,

sliced
Instructions
Slice the cabbage and add it to a pot of boiling water. Let it boil for 10 minutes or until you can tell the water has turned purple. Remove the cabbage and set aside.

Add the 1/4 tsp baking soda to the hot water. It will cause a chemical reaction that will change the color from purple to blue!

Let the water cool and store it in the fridge until you're ready to make the lemonade.

Pour the lemonade into the pitcher and add 2 or more Tbsp of the blue water to the lemonade until you're happy with the color. Add the lemons and ice. Serve chilled.
Nutrition
Serving:
8
g
|
Calories:
108
kcal
|
Carbohydrates:
26
g
|
Protein:
1
g
|
Sodium:
69
mg
|
Potassium:
172
mg
|
Fiber:
1
g
|
Sugar:
22
g
|
Vitamin A:
790
IU
|
Vitamin C:
40.4
mg
|
Calcium:
32
mg
|
Iron:
0.6
mg
My number one best tip for finding themed party decorations is to go to the thrift store! You can find the coolest props there! Just look for things that are in good condition and know your prices before you go thrifting. I've found most of my tablecloths, platters and fun props for parties at my local thrift store.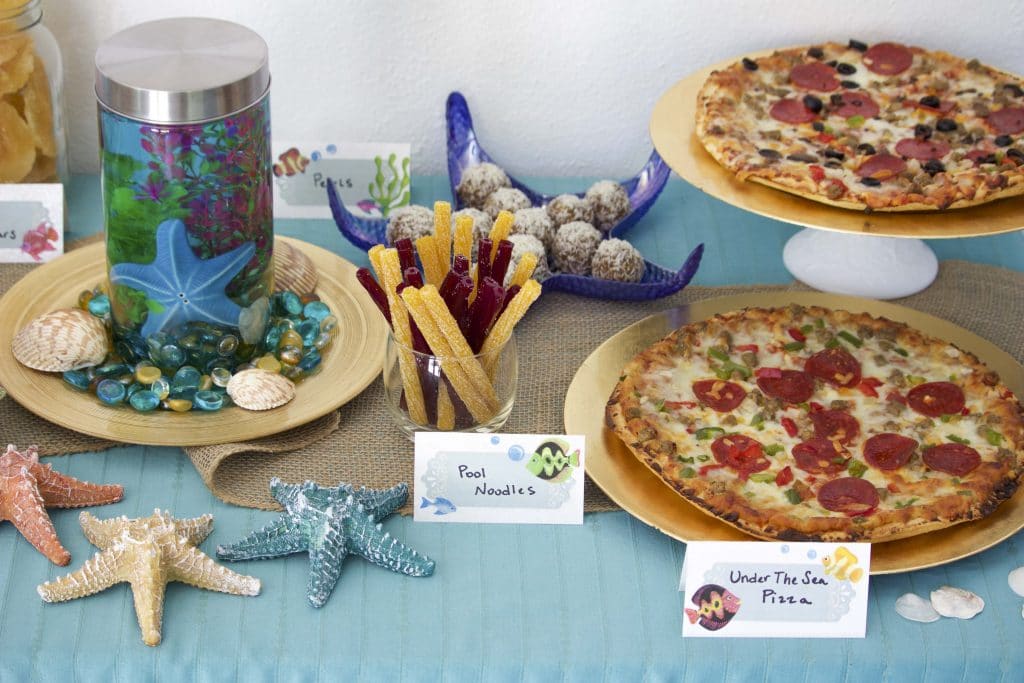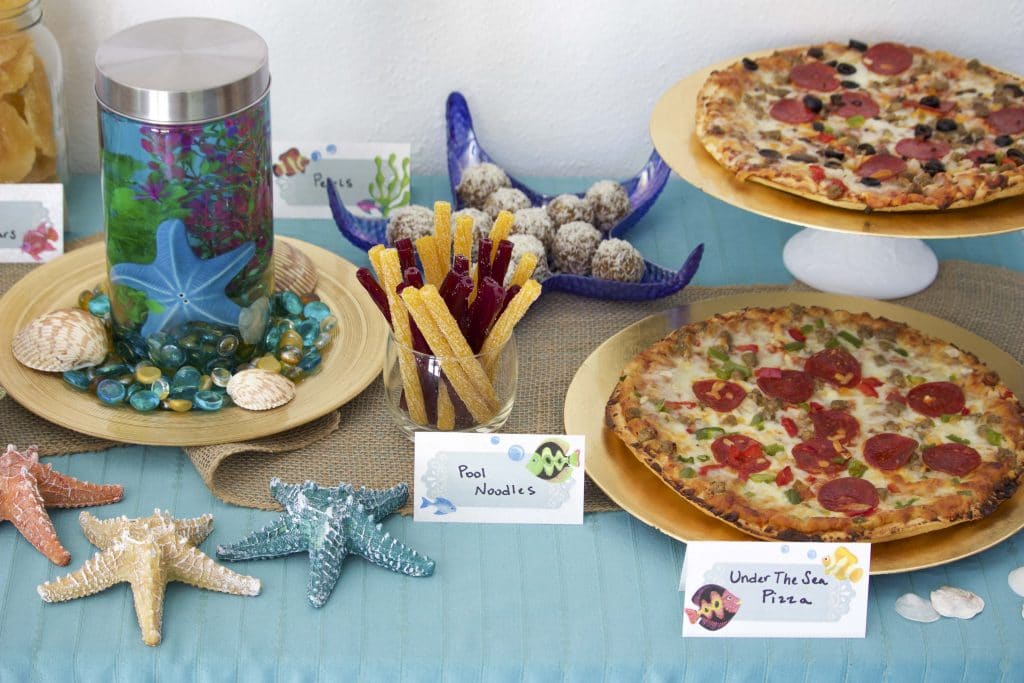 Another thing I always do for all my themed parties is to make my own food labels for the buffet table. It's so simple to do and you can easily make them match any theme you want by using different colored labels and matching stickers.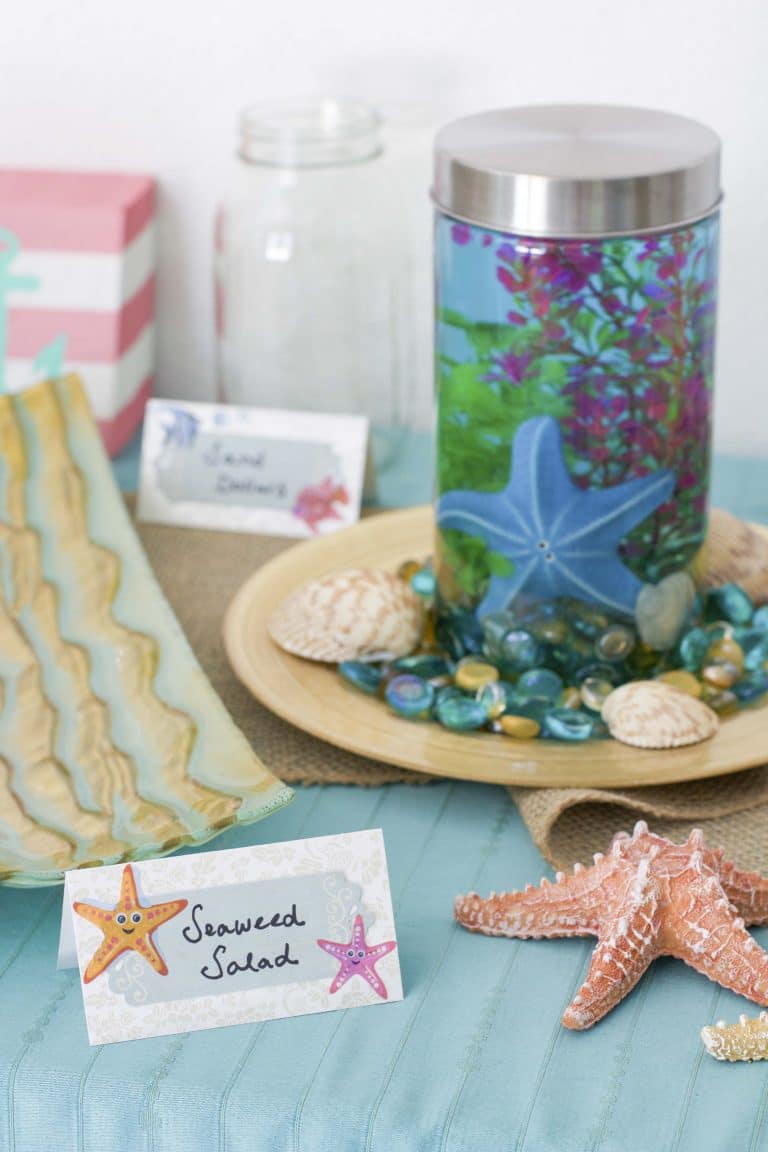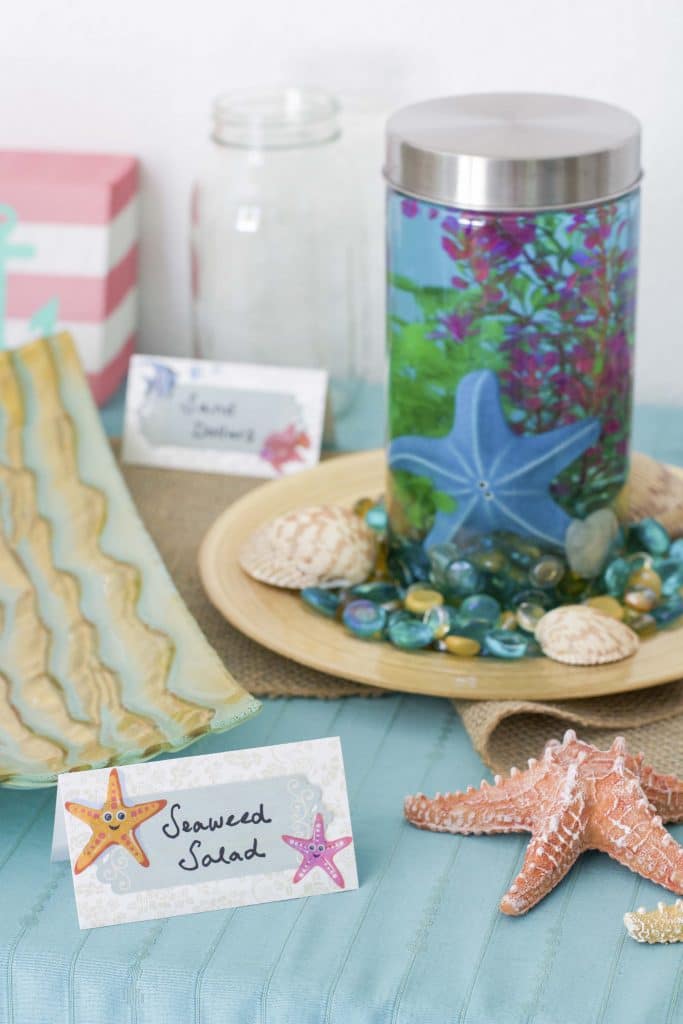 I hope you enjoyed our under the sea pizza party and got some inspiration to throw your own party to kick off the summer season!
How will you celebrate this summer? Parties, vacation, summer camp, movie night? Let me know in the comments!