This shop has been compensated by Collective Bias, Inc. and its advertiser. All opinions are mine alone. #TryALittleGoodness #CollectiveBias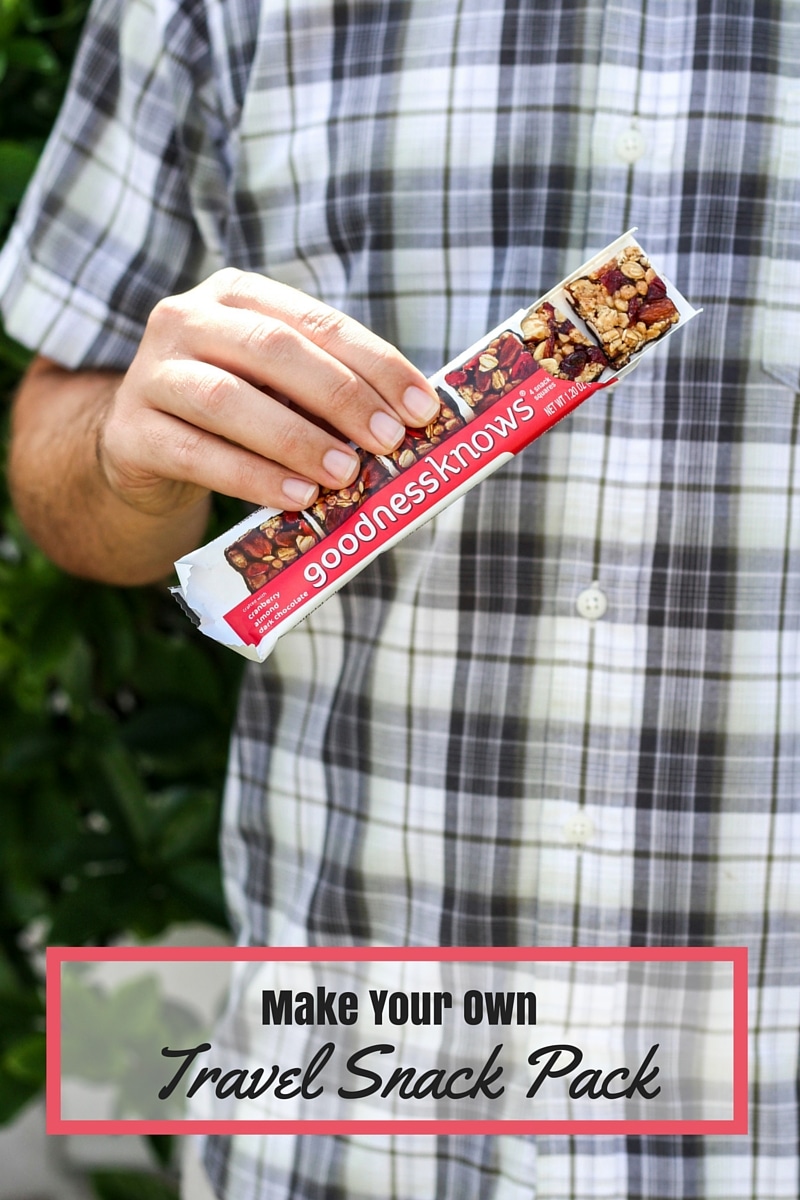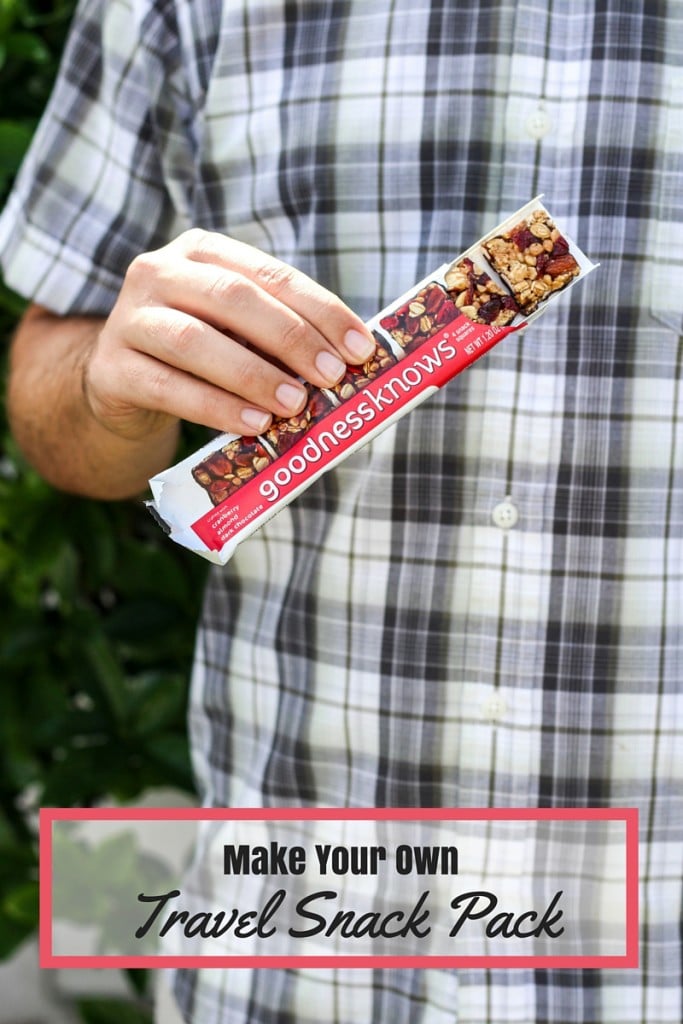 As I'm typing this, I'm surrounded by piles of clothes and necessities I'm trying to fit into my suitcase, while keeping it under the 50 lb limit. I'm currently getting ready for a girls trip to NYC with my mom. We're leaving the boys at home, and we're going wild in the city! No, not really. We're not going wild, but we're definitely going to eat a lot of pizza, donuts and macarons. Clearly, a very well balanced diet.
I 100% believe that it's okay to cheat a little bit while you're on vacation, and eat outside of your normal routine. There's a high probability that we will be eating donuts for breakfast, sticky buns for lunch and a Shake Shack burger for dinner on some nights, so I like to pack a healthy snack pack to balance all the sugar and not so healthy foods.
I've always packed a snack pack when we went on vacation. It actually started when Travis and I started going to Disney World a lot. Mickey bars, and turkey legs aren't the healthiest snacks, and they're pretty expensive. They let you bring your own food in, so why wouldn't I? I would pack us snacks for breakfast and lunch, and then we would go for a really nice dinner. Since I munched on healthy snacks throughout the day, I felt like it was okay to indulge and eat whatever I wanted at dinner. When my mom and I started going on our girls trips, I thought it would be smart to bring a snack pack with us too.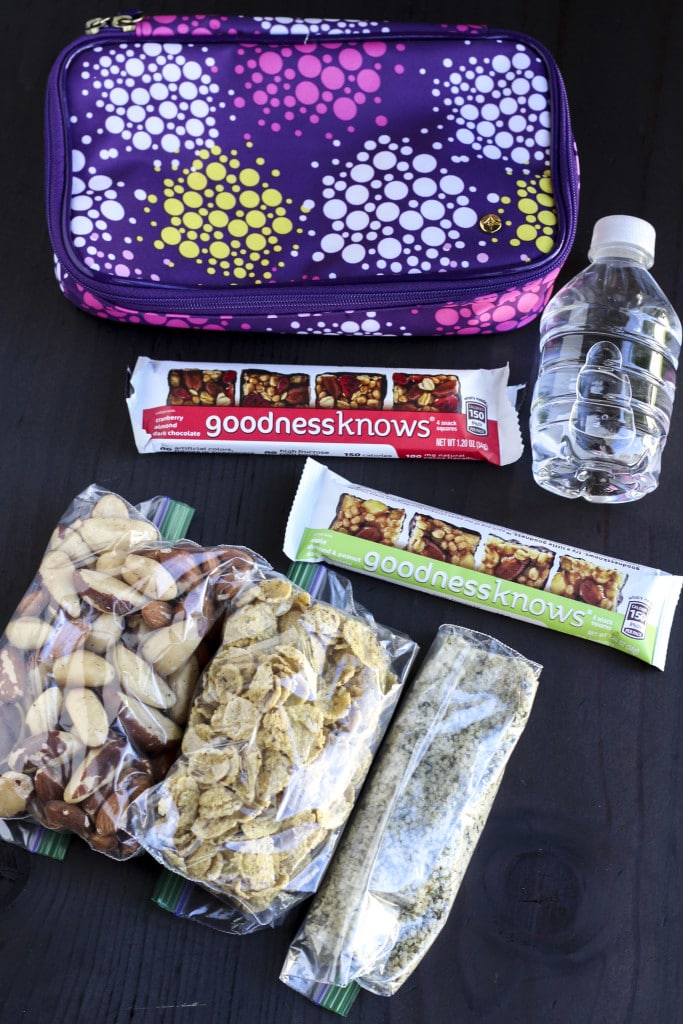 I will definitely be packing my travel snack pack to bring with me while we're out and about in the city. It's not that I'm trying to watch what I eat, it's about balance. If I have a cronut for breakfast, I'll pop a few brazil nuts on the way to the next bakery to even it out. Or, If I eat a heavy meal the night before, I will probably want something light for breakfast. I'll have my snack pack with me so I'm prepared for any eating situation.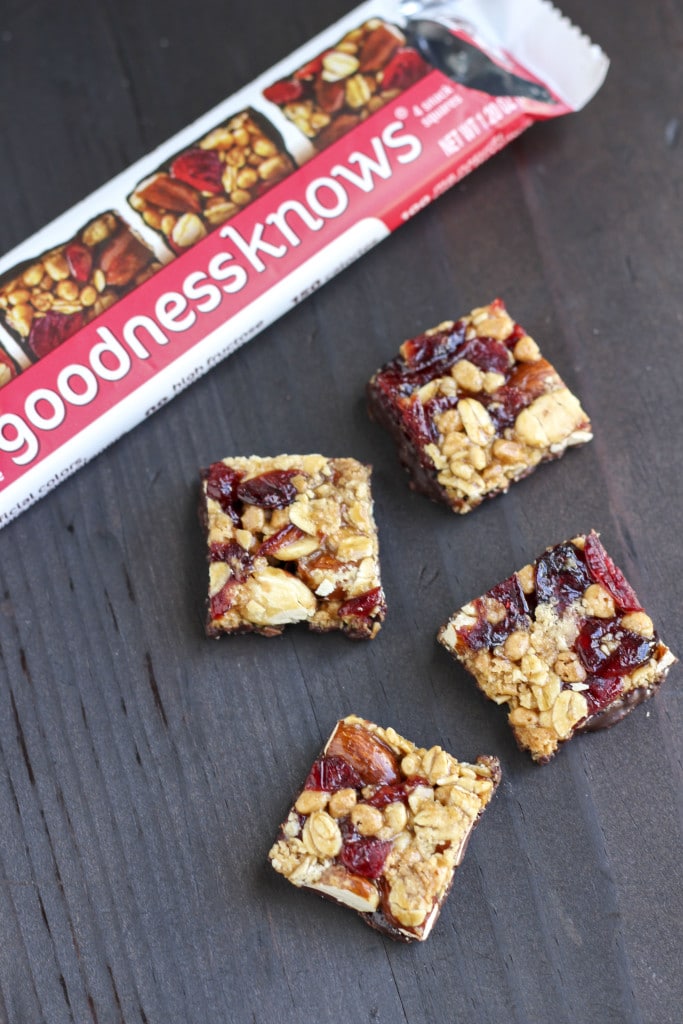 I like to have an assortment of healthy bites in my travel snack pack, you never know what you might want. My favorite new addition is goodnessknows® Cranberry, Almond, Dark Chocolate snack squares, that I recently picked up from Walmart. The snack squares are packed with fruit, whole nuts, and dark chocolate! Nom, nom, nom. I love that they don't have any artificial colors, flavors, sweeteners or high fructose corn syrup. Why pick a good snack, when you can have a great one?
#tryalittlegoodnesssweepstakes
This is my snack pack, I like to pack…
goodnessknows® Cranberry, Almond, Dark Chocolate snack square
goodnessknows® Apple, Almond & Peanut, Dark Chocolate snack square
goodnessknows® Peach & Cherry, Almond, Dark Chocolate snack square
Assemble all your snacks into individual plastic baggies, and place them into your small zippered pack. Make sure you pack snacks that travel well, and don't need to be refrigerated. Snacks like these are easy to zip up in the pack, and toss into your backpack. Now you're prepared for any situation! Just because you're away from home, and your regular routine, doesn't mean you can't snack the same way.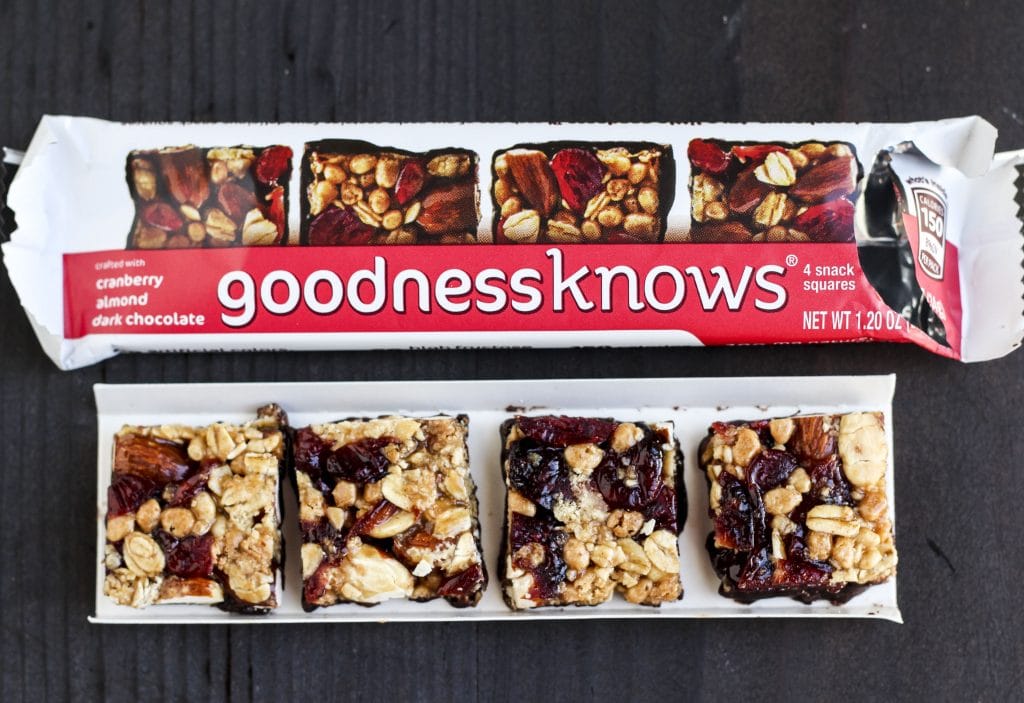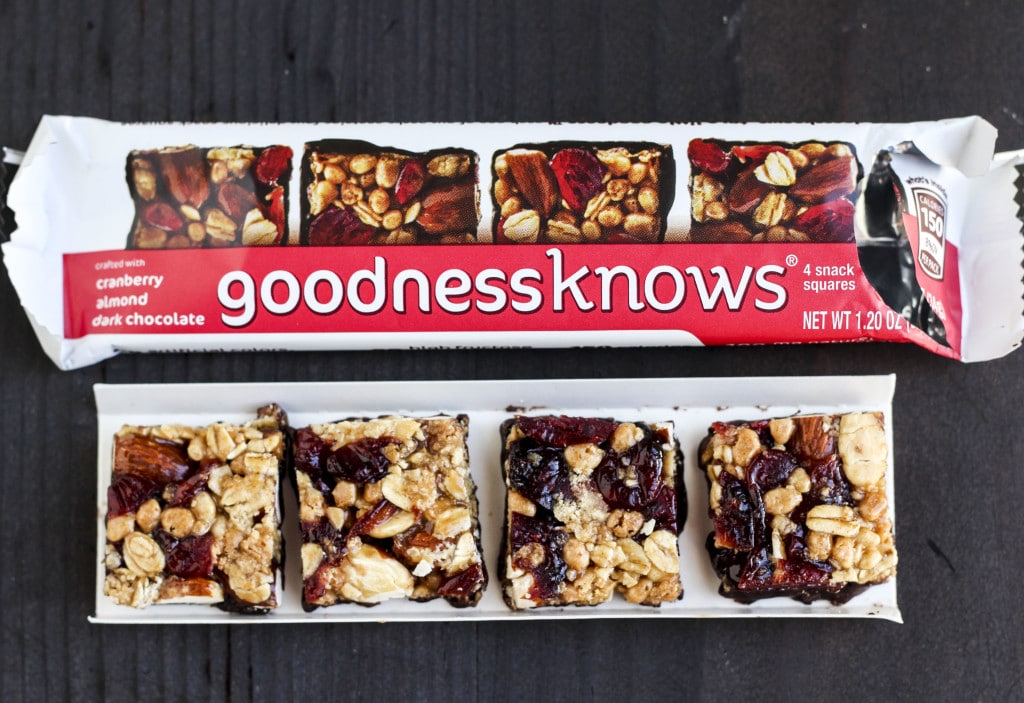 What I really love about these snack squares, besides being super yummy and having dark chocolate in them, is that they look exactly like the picture on the package! I hate when you buy something because the picture on the label looks so delicious, but when you open it, it looks nothing like the picture. It's such a disappointment! Looking at the picture above, the snack squares are identical to the picture, even the size is true to life.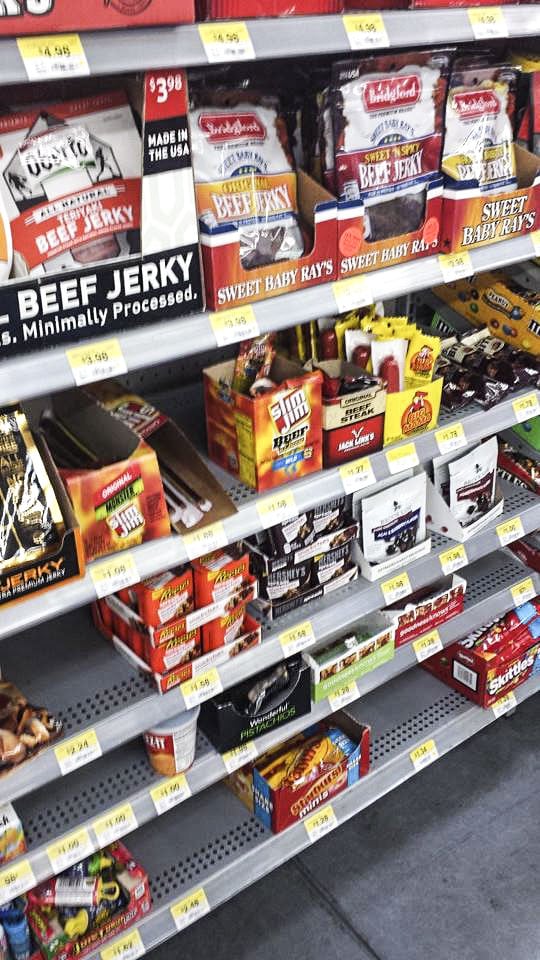 Before your next trip, make sure you pick up a few of these snack squares from Walmart to add to your travel snack pack, you'll be hooked after one bite! If you pick up a couple of these snack squares just because, hide them in your secret snack spot, other wise they'll go quick! I left a few snack squares on the counter, and I came back to find one was missing. I went outside to ask Travis if he'd seen it, and sure enough, look who I found taking a snack break!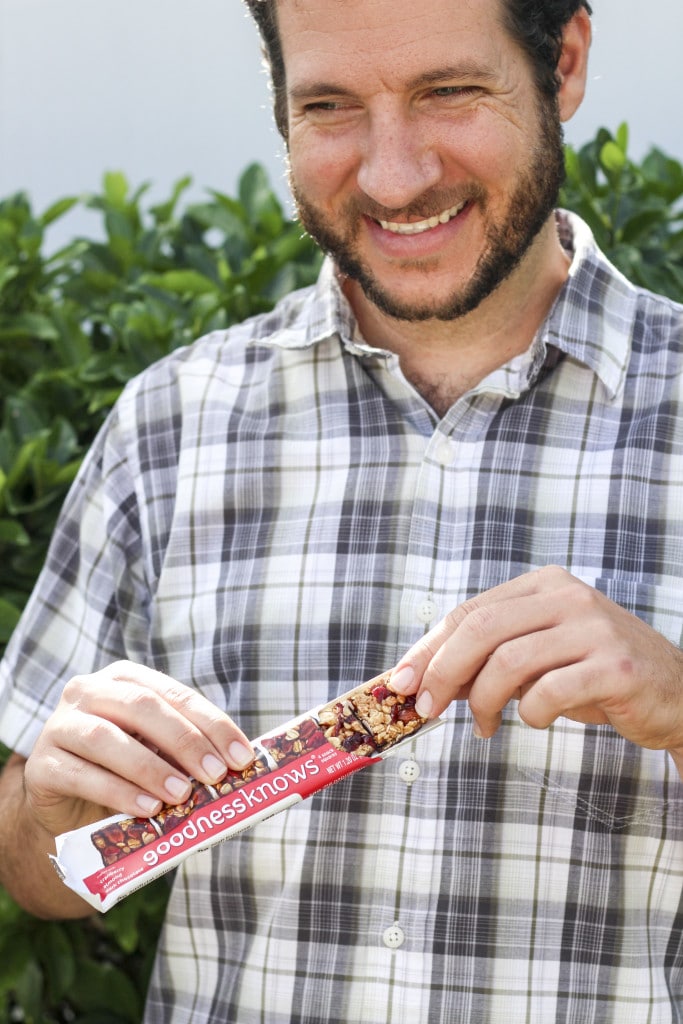 Once you try the snack squares, take a fun picture like this one and share it for a chance to win a variety of prizes! I hope you win! Which variety of goodnessknows® snack squares are you going to try first? Don't forget to use your coupon! Let me know what you're going to try first in the comments!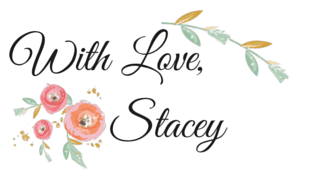 NEVER MISS A STACEY HOMEMAKER CREATION!