This is a sponsored post written by me on behalf of NABISCO Cookies and Crackers for IZEA. All opinions are 100% mine.
Follow my easy tips and tricks for planning and hosting a stress-free Friendsgiving!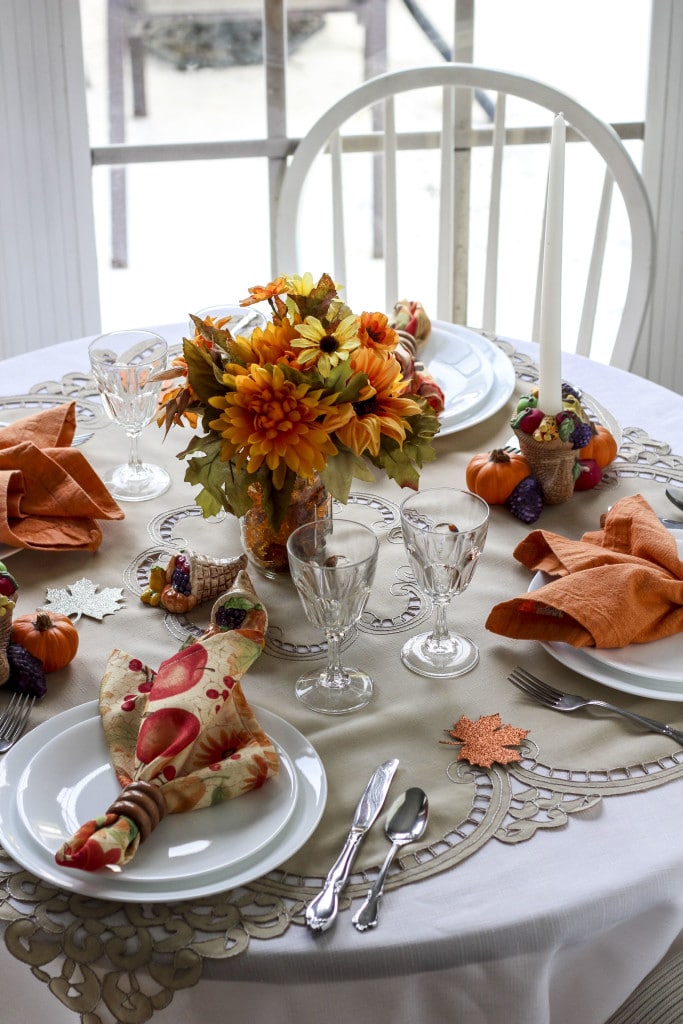 Generally, I always plan way ahead and have everything written out on my calendar. I love being prepared and always having things ready ahead of time. Except, sometimes you just get a great idea and want to do it immediately. That's exactly what happened with my last-minute idea to have a Friendsgiving celebration, just three days before Thanksgiving.
So, I set out to throw a fabulous Friendsgiving party. I wanted it to be simple but festive, stress-free, and of course, have lots of delicious food for my friends to enjoy. Besides being with your friends and family, food is the main focus of Thanksgiving dinner, right?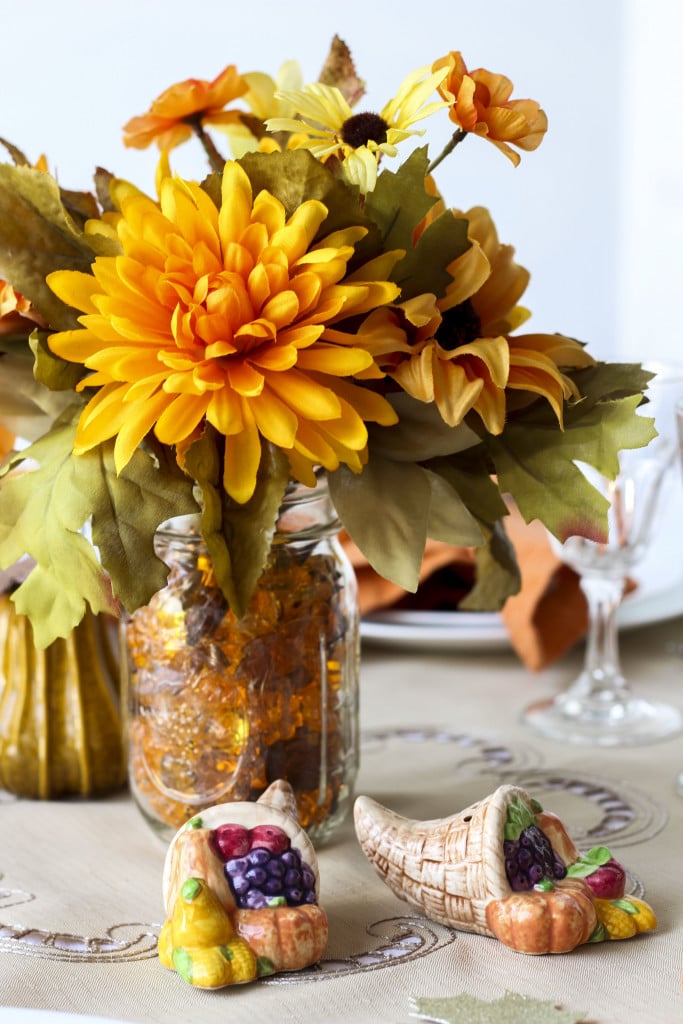 To me, the most stressful part of throwing a party is preparing all the food. Making sure it's all ready on time, keeping everything hot, and having enough for everyone. When I was younger, I remember watching my mom cook all the food and set up for our Thanksgiving dinner. She was like a machine! She had everything scheduled out perfectly, and list after list to double-check herself. Everything always came out perfect. By the time dinner was ready to serve, she was exhausted, and everybody inhaled the food in 20 minutes that took her days to prepare.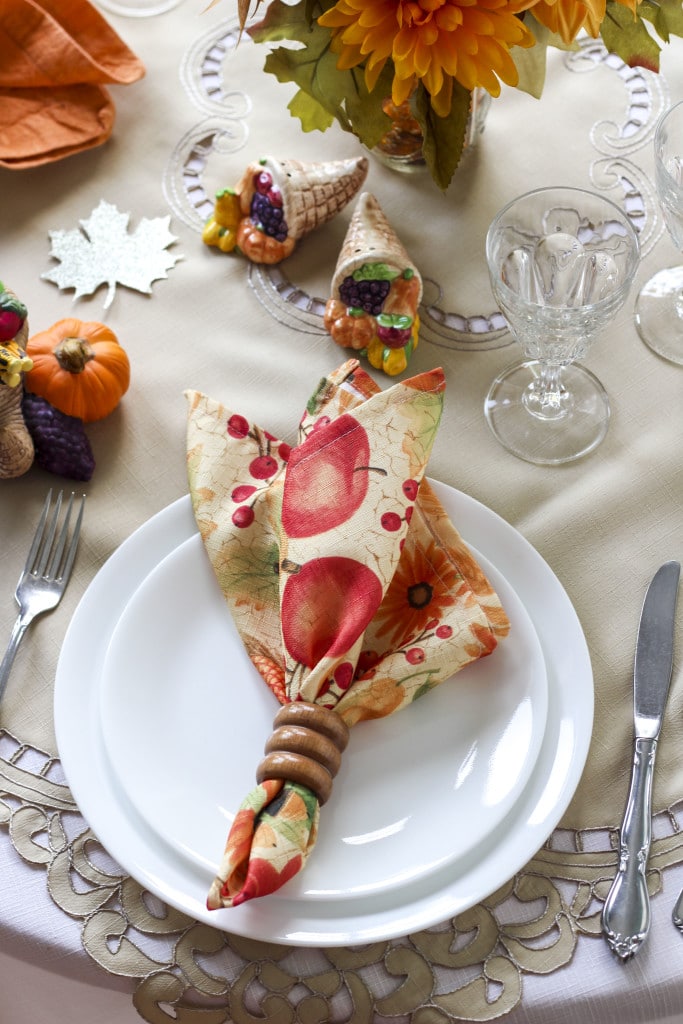 Friendsgiving Food
In order to keep this Friendsgiving meal stress free, and easy to host, I decided on having a luncheon instead of a traditional dinner. Hosting an afternoon party gave me some leeway on the menu too. Instead of a full-blown Turkey dinner, I decided to serve Thanksgiving-inspired dishes. By doing this, it reduced the time I had to spend cooking in the kitchen, which gave me more time to spend with my friends.
Menu
Baked Brie Dip
Roasted Turkey Sandwiches with Cranberry Sauce
Butternut Squash Risotto
Garlic Mashed Potatoes
Pecan Pie
Cookies
The baked brie dip was definitely the hit of the party, everyone loved it! You can never go wrong with serving a hot cheesy dip, but baked brie just feels fancy and is perfect for a special luncheon, like Friendsgiving.
Besides being delicious, this appetizer was so simple to whip up that it's basically foolproof. With everything that could possibly go wrong when cooking for a party, an easy three ingredient appetizer is exactly what you want to have on your menu.
Brie is one of my favorite cheeses, it's great for a hot dip because it melts well, and is slightly stringy when you dip into it. It's super creamy and rich tasting, which is also great for sandwiches or grilled cheese.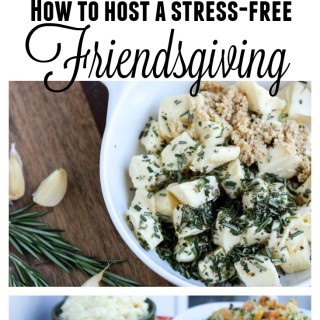 Baked Brie Dip
A delicious recipe for a tress-free friendsgiving!
Print
Pin
Rate
Ingredients
1

Lb

Brie cheese,

rind removed

2

tsp

Rosemary

finely chopped

2

Garlic cloves,

minced

1

Box Wheat Thins
Instructions
Preheat oven to 375 degrees.

Cut the cheese into 1/2 inch cubes and place it into a baking dish. Add the rosemary and garlic, stir to combine.

Bake 8-10 minutes, or until cheese has melted.
Instead of serving a turkey, I served roasted turkey sandwiches with cranberry sauce spread. Roasting a whole turkey is the most time-consuming part of preparing a Thanksgiving dinner. By cutting that out, I saved a ton of time and work but still gave my guests a Thanksgiving-inspired sandwich. They still got all the classic turkey and cranberry sauce flavors, but in a much easier to assemble meal. I also served extra whole cranberry sauce on the side for dipping the sandwich into. Isn't dipping the best part?!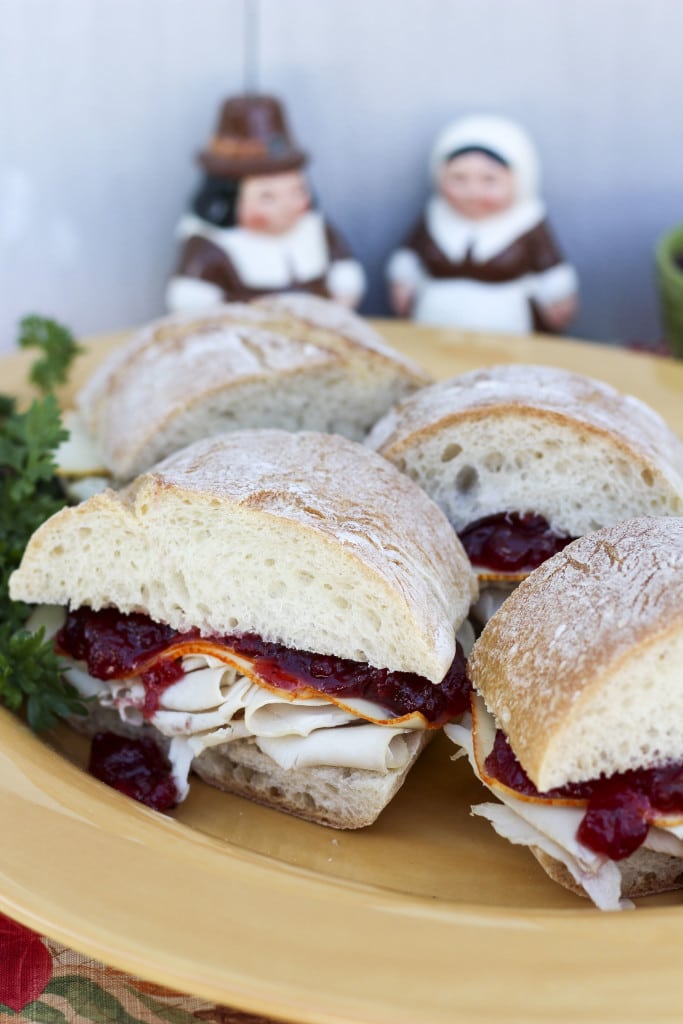 I'm going to share one of my secret party hosting tips with you. Ready?
See that beautiful butternut squash risotto? It's semi-homemade. Yep. It's a store-bought, doctored up side dish. Buying pre-made foods, and then adding to them to give it your own twist is a great way to save time and cut your kitchen work even more!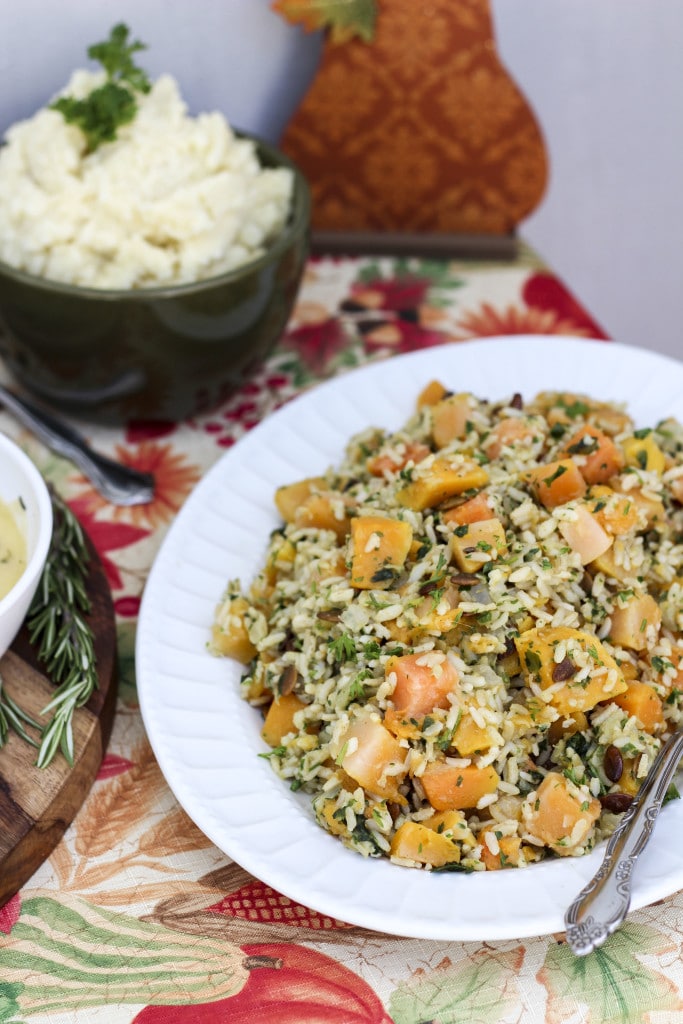 I would suggest that you serve dishes that you've tried before. I've had this risotto before so I knew that I really loved the flavors. You wouldn't want to just pick anything to serve at your party, so try it before you purchase a few pounds of it.
Usually, store-bought prepared foods aren't loaded. Like this risotto, it had a few small pieces of butternut squash chunks, but I wanted more. It looks homemade and more decadent with the extra chunks of squash in it. Another shortcut I took was buying frozen butternut squash chunks. Whole butternut squashes take a bit of time to roast and cut up, so this was much simpler.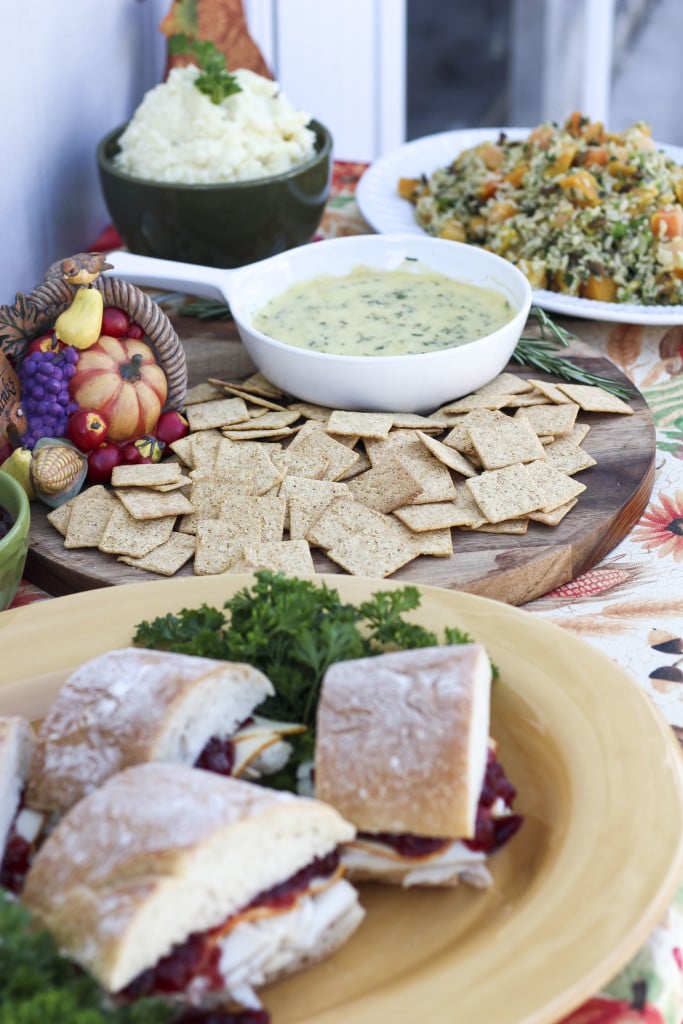 Also, if you're going to use a pre-made food choose dishes that take a long time to prepare, like risotto. Who has all that time to stand at the stove stirring the rice? Not me! I have guests to entertain!
I also served homemade garlic mashed potatoes because they're a Thanksgiving staple. Even though this is a luncheon and not a full-fledged dinner, I wanted to make it feel like it had touches of a classic Thanksgiving dinner. Mixing and matching what type of dishes you will serve is an easy way to customize your menu and give it your own special touch. If your favorite Thanksgiving dinner food is macaroni and cheese, then you should serve that.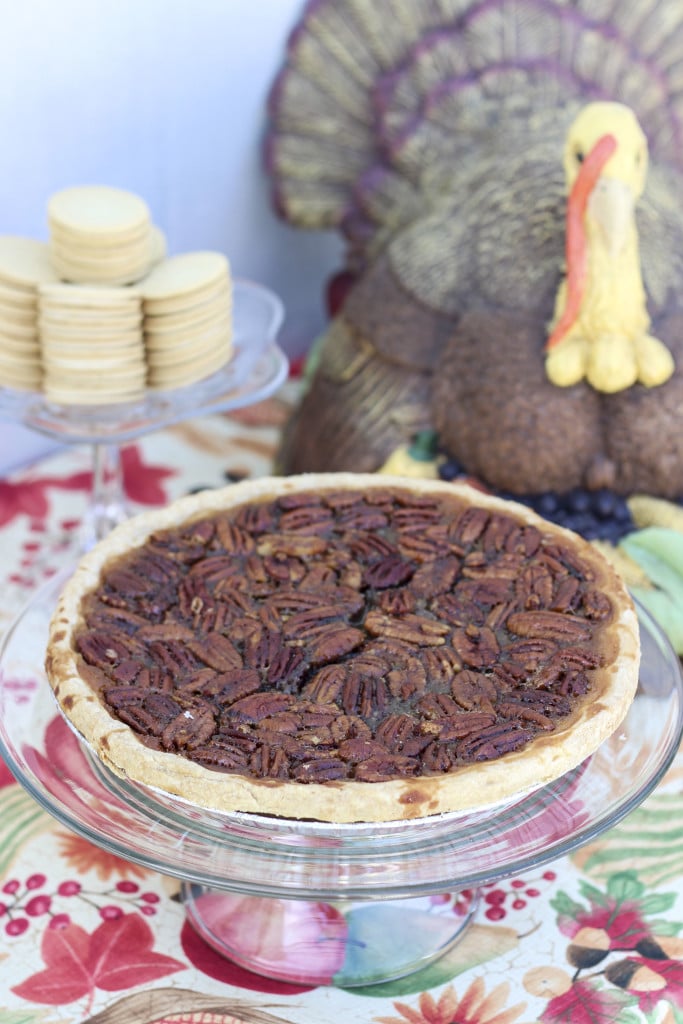 For dessert, we had pecan pie. My friend offered to bring dessert, so that worked out perfect. When you're having friends over for dinner, it's completely acceptable to ask them to bring something. Either an appetizer or dessert is something simple they can bring. I was raised to always offer to bring something, but if they don't offer, don't feel bad asking.
Tip – If you're going to a party or dinner, ask the hostess if you can bring something. If they say they have all the food and dessert covered, then you should bring a bottle of wine or flowers as a hostess gift. If they tell you they need an appetizer or dessert, bring that.
Thanksgiving Timeline
After I finalized my menu, I started planning my table setup and buffet table layout. I tend to stick with classic and old fashioned themed decorations. I like a touch of sparkle, with lots of mixing and matching of patterns and textures. Don't be afraid to pull decorations that you already have in your home. The turkey I used for a centerpiece on the dessert table is the same centerpiece I use on our mantle inside.
Tip – I've gotten many of my favorite decorations from the day after holiday sales. Always shop the sales to find the best deals on your holiday decor. I've also found many beautiful plates, glasses, and decorations at garage sales and thrift stores. Just be choosy, remember your theme and piece things together. You can set a whole tablescape for the same price of one dinner plate at an expensive home decor store. Being a young almost newlywed, this is how I've been able to collect so many pieces for my own holiday table settings.
I found the buffet table cloth last year while I was shopping on Black Friday. It came with matching napkins, so I used those on the dinner table to tie the theme on both tables together.
I like to set up the buffet table and dinner table the day before, so it's one more thing I can check off my list. I try to start preparing for a party about 3 days before. Here's my party prep timeline that I try to stick to whenever I plan a party.
3 days before the party –
Create and finalize the menu.
Start pulling out any dishes and decorations I will use for the tables.
Work on any handmade touches I want to use on the table (place cards, centerpieces, etc).
2 Days before the party –
Shop for the food needed for the party.
Prep small things, like washing the garnishes.
Clean the house.
Wash the dishes and glasses I will use for the party.
1 Day before the party –
Set and decorate the dinner table and buffet table for the party.
Prepare dishes that are fine to make ahead of time, like the mashed potatoes and cranberry sauce.
Select music I want to play in the background.
Day of party –
Finish cooking and preparing the food.
Lay out the drinks and appetizers right before everyone is expected to arrive.
Get ready and enjoy the dinner party!
By planning a few days before, and taking a couple shortcuts, it's easy to throw a planned or last-minute Friendsgiving!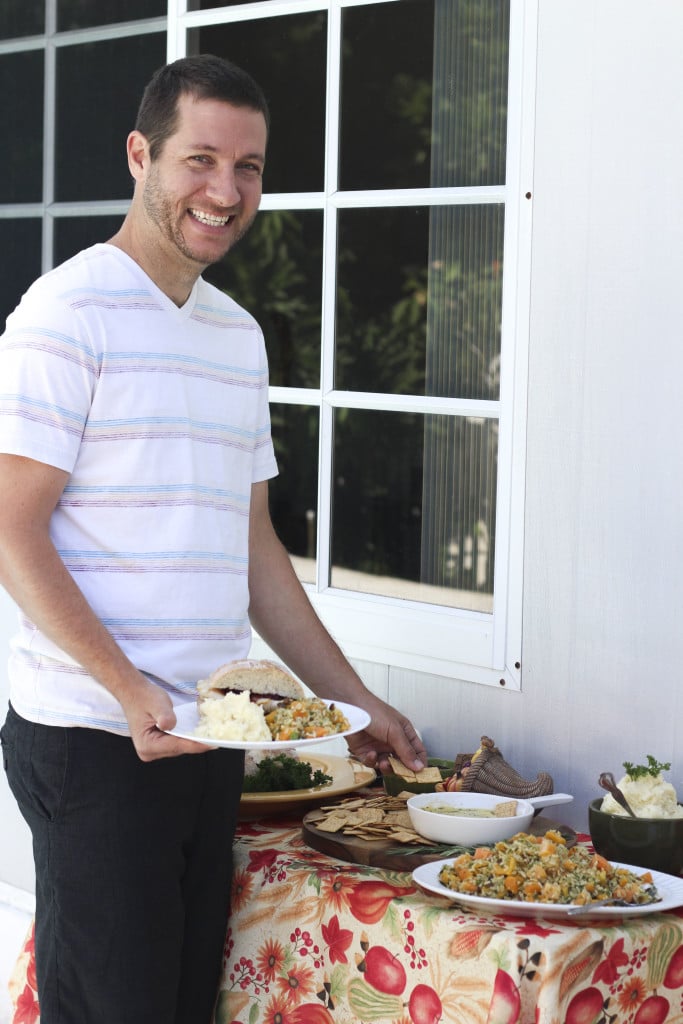 I hope I gave you some inspiration and ideas to use for your own Friendsgiving party! Happy Holidays!
What's your favorite dish to bring to a Friendsgiving luncheon or Thanksgiving dinner? Let me know in the comments!
More Posts You'll Love!
Baked Chocolate Donuts with Coffee Nut Crumble
How to Build the Ultimate Snack Stadium
How to Throw and Under the Sea Party
Tips for Glamping in the Backyard