This shop has been compensated by Collective Bias, Inc. and its advertiser, MARS. All opinions are mine alone. #BOOitForward #SweetSquad #CollectiveBias
Learn how to make your own BOO bucket to surprise someone this Halloween! Plus, get the recipe for these terrifying Halloween peanut butter monster bites!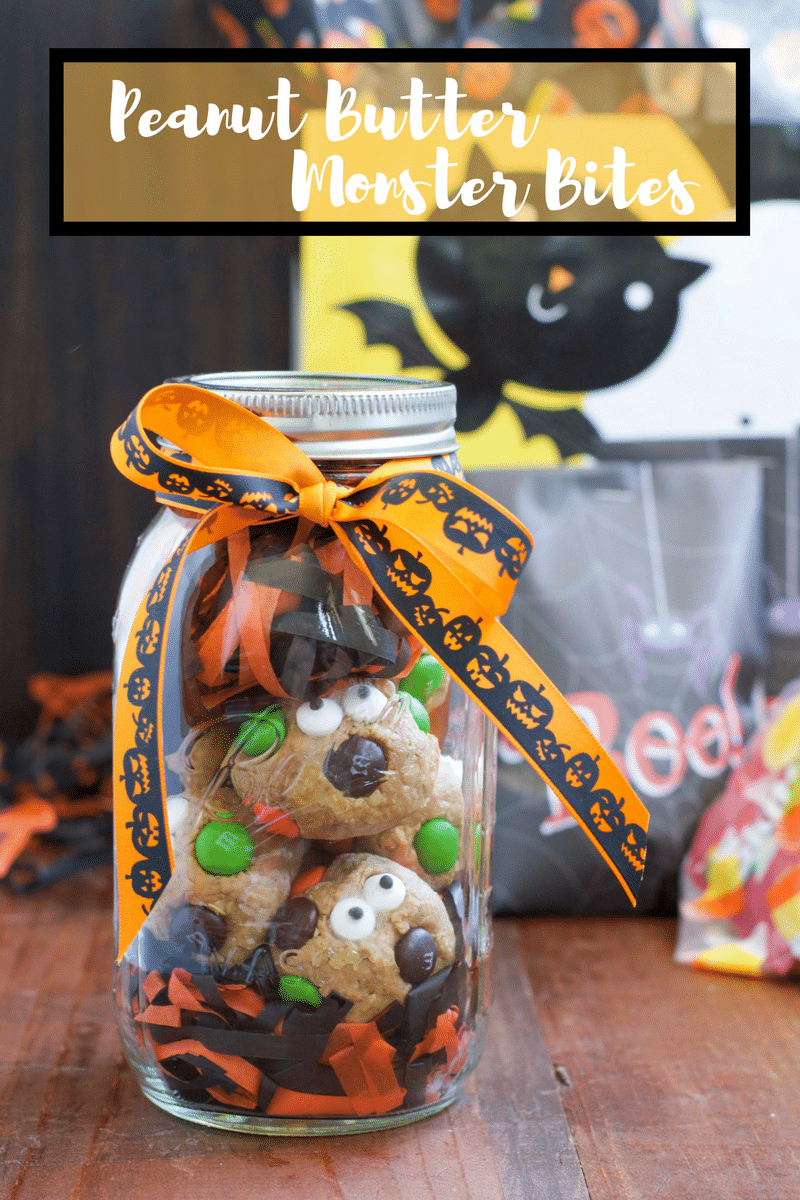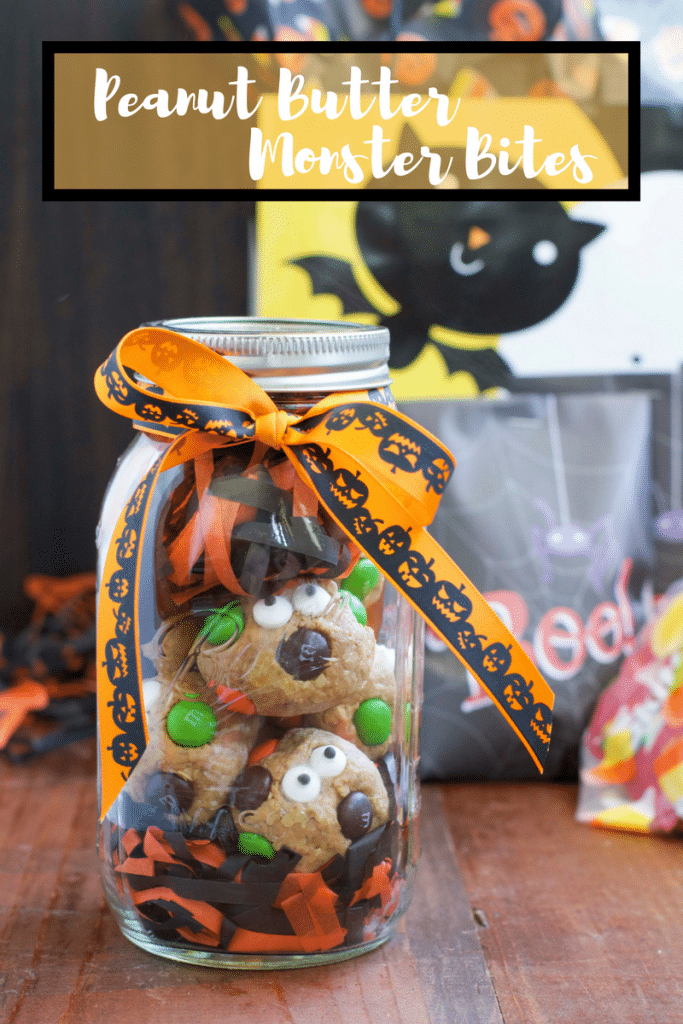 Can you believe that the official start of fall is in one week!?
I'm so pumped! Not like it's going to magically change seasons here in Florida, we pretty much have one long humid, warm season. But I'm still excited!
I have to be honest with you, fall is already in full swing at our house! I just couldn't wait any longer, I decorated the whole inside of our house last weekend. We don't start decorating the outside of our house until October 1st because we don't want our neighbors to know that we're holiday-crazy!
I know, I know. I'm early but I can't help it. I love holidays, especially Halloween and Christmas. My fiance, Travis, loves it too. At least we can be holiday-crazy together!
Surprise Someone with a Halloween BOO Bucket
I happen to know that one of our elderly neighbors loves Halloween just as much as us. I usually bake bread and treats during Christmas to deliver to our neighbors, but I thought it would be fun to deliver a surprise BOO bucket to her to celebrate the beginning of fall! I just know she's going to love it!
A Halloween BOO bucket is perfect to deliver to friends, parents, grandparents, teachers or anyone in your life that you want to brighten their day with a spooky surprise!
In the BOO bucket that I made for our neighbor, I included a sparkly pumpkin card and treat bags with a mix of SNICKERS®, TWIX®, Skittles®, STARBURST®, and Life Savers® candy in addition to my spooky Halloween peanut butter monster bites.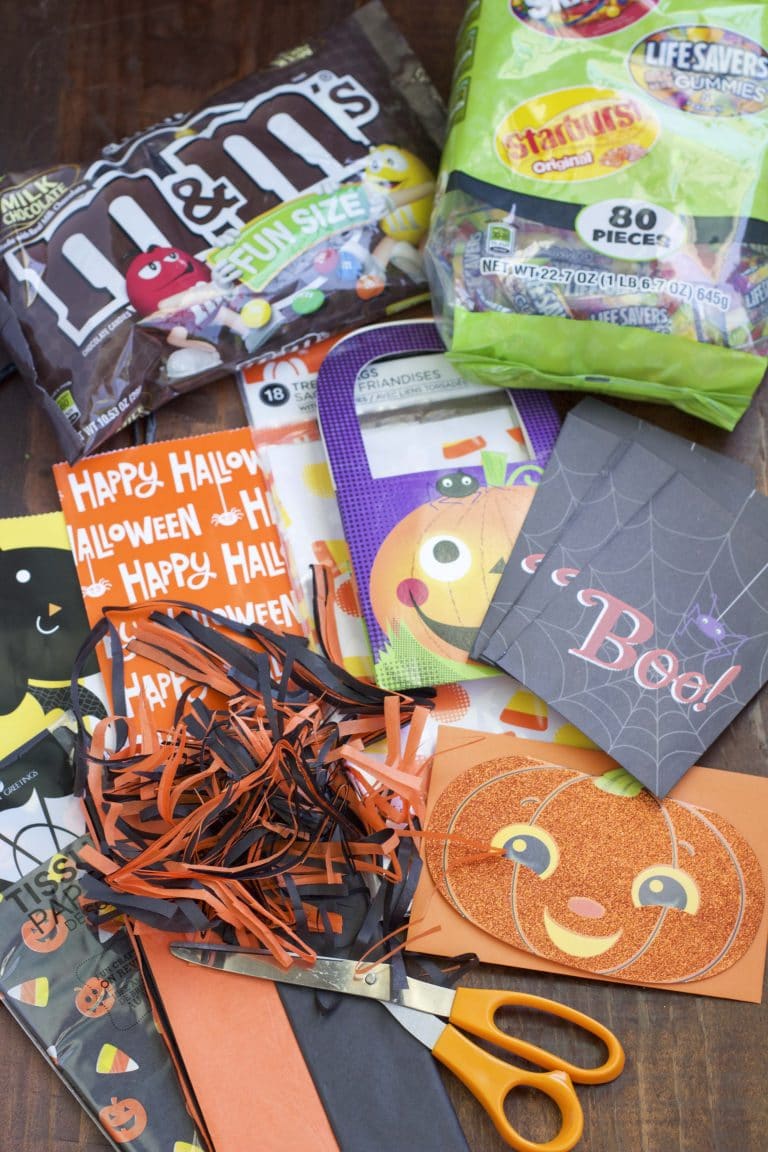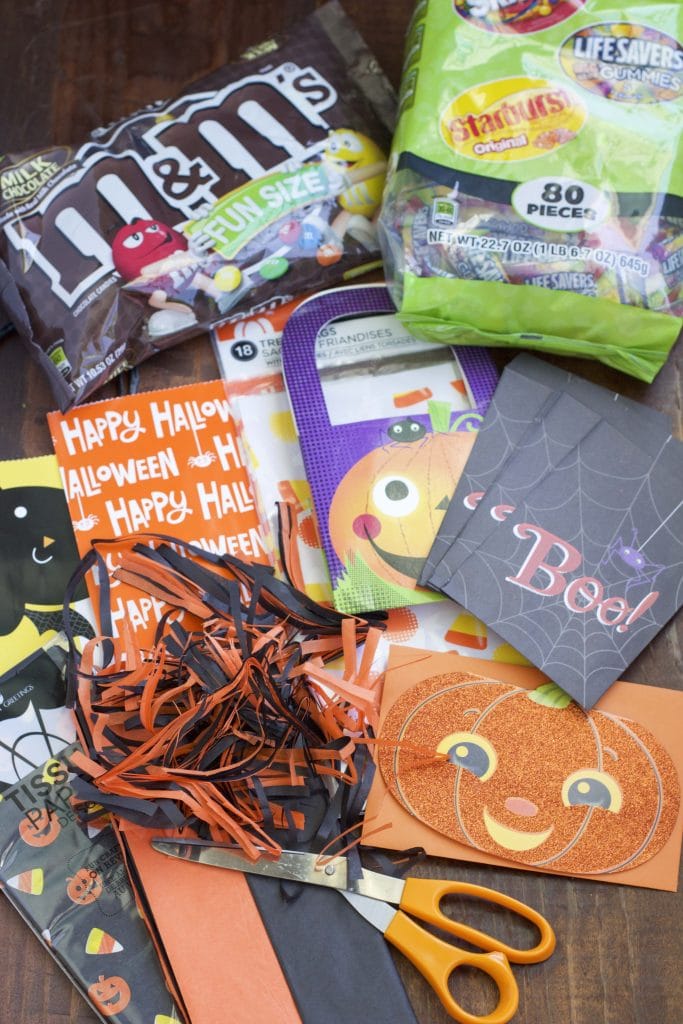 Growing up, my mom always gave us holiday treats in those crinkly, paper treat bags. Have you seen them? She loved them when she was little so she always gave them to us too. She told me that when she heard that crinkle sound it meant fun and treats! Since I grew up with them, I love using them too.
I found the cutest little American Greetings® spider web paper treat bags online at Walmart.com along with Halloween themed tissue paper, gift bags, and card.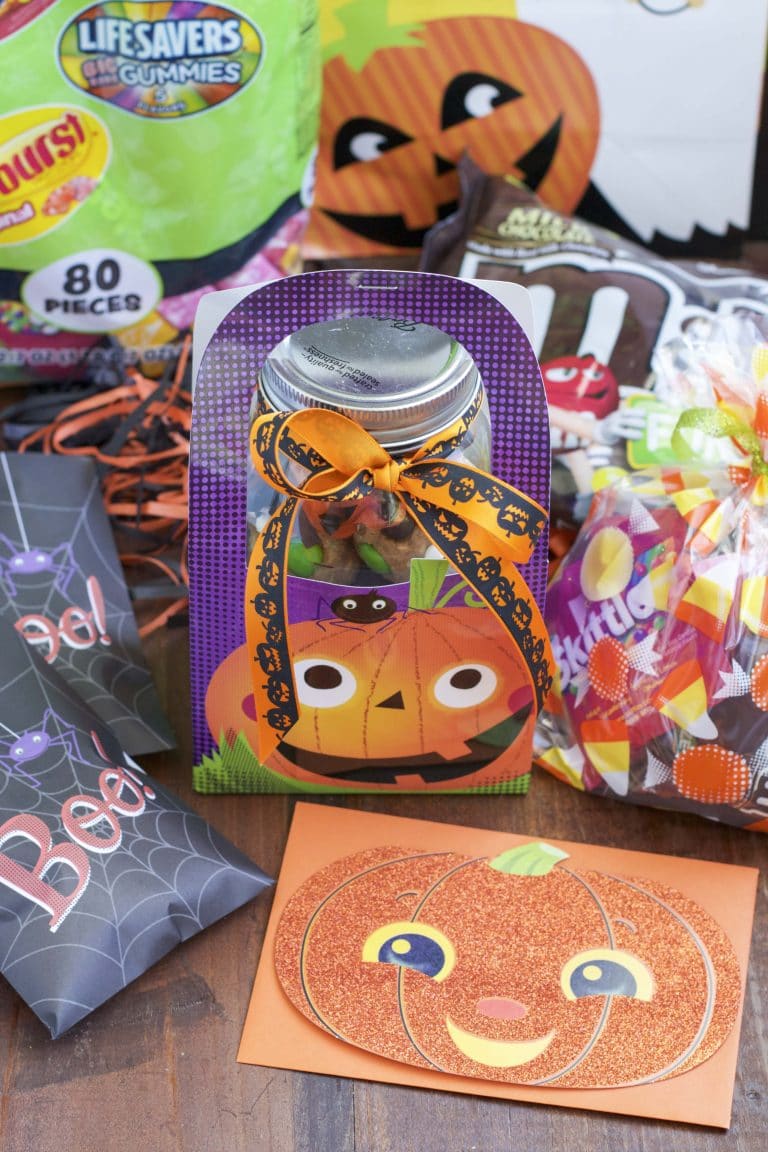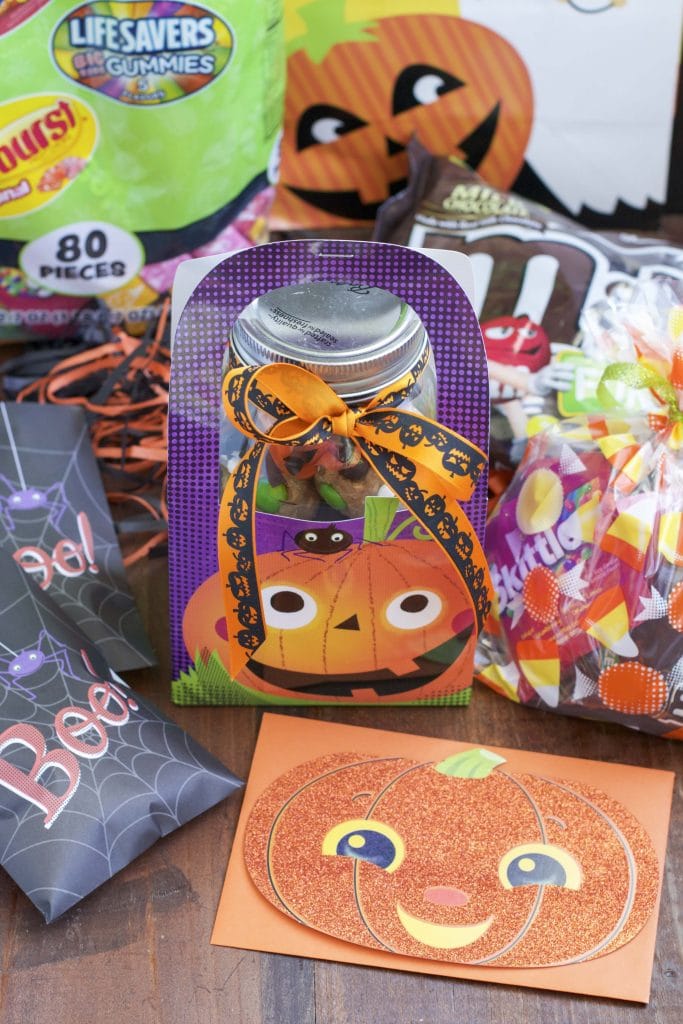 I went to Walmart to pick out the candy treats I wanted to include in the BOO bucket, along with the candy eyeballs I needed to make my peanut butter monster bites. Here are a few other ideas for treats you could put in your BOO bucket!
Other Treats You Could Put in a BOO Bucket:
The new Ghostbusters® movie (It's available on DVD in stores 10/11)
Candy apples wrapped in plastic cellophane with an orange ribbon
Halloween inspired toys like vampire teeth or spider rings (age appropriate)
Harvest whoopie pies in a mason jar
A Halloween costume or hair accessory (like a witch hat headband)
Halloween socks
The best chocolate chip cookies with Halloween M&M'S®
Pumpkin carving tool kit
Pumpkin-flavored coffee
Halloween t-shirt (Walmart has really cute holiday shirts)
Halloween Peanut Butter Monster Bites
I wanted to make a tasty treat to put in my BOO bucket, so I made these scary peanut butter monster bites! Don't the eyes creep you out? I feel like they're staring at me no matter what angle I'm looking at them from! Ahhh, I love it!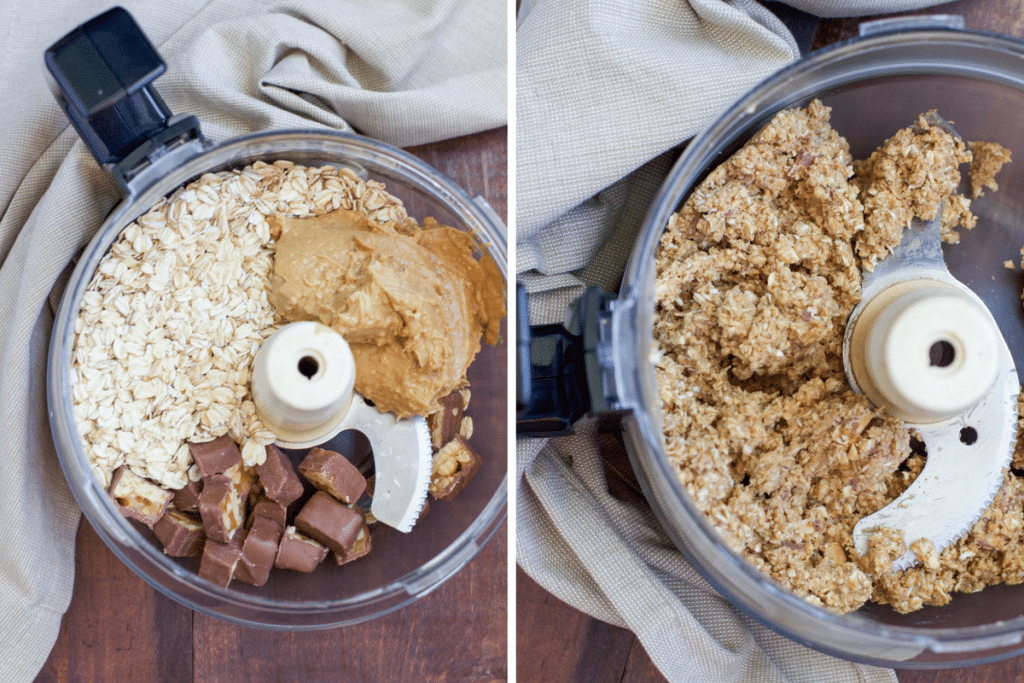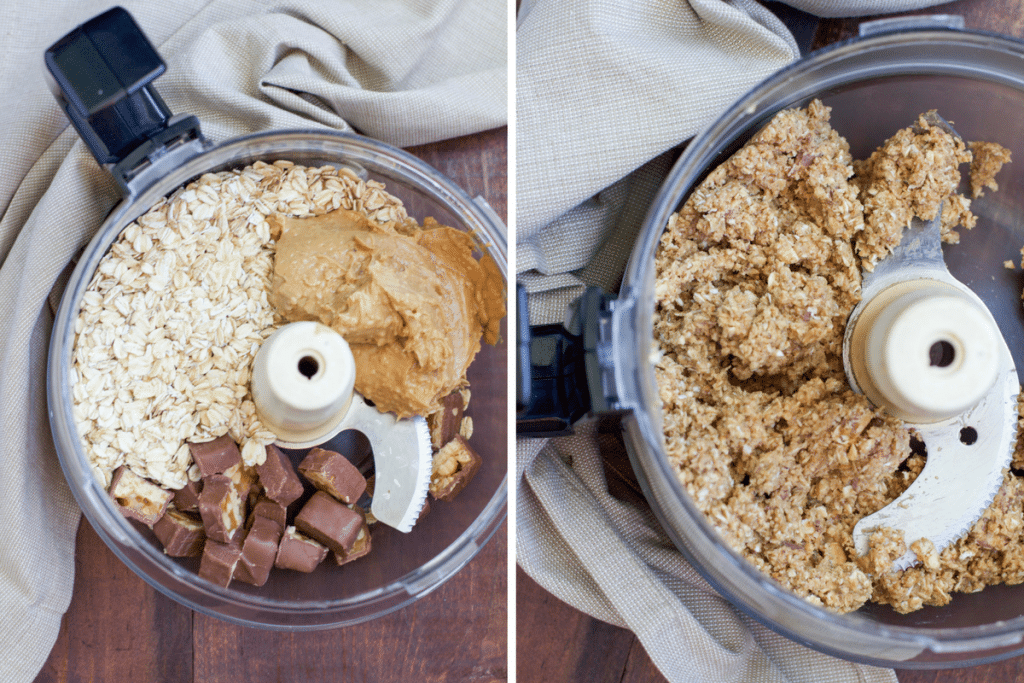 The Halloween peanut butter monster bites are so easy to make. You only need a food processor to blend everything together and your hands to roll them into balls.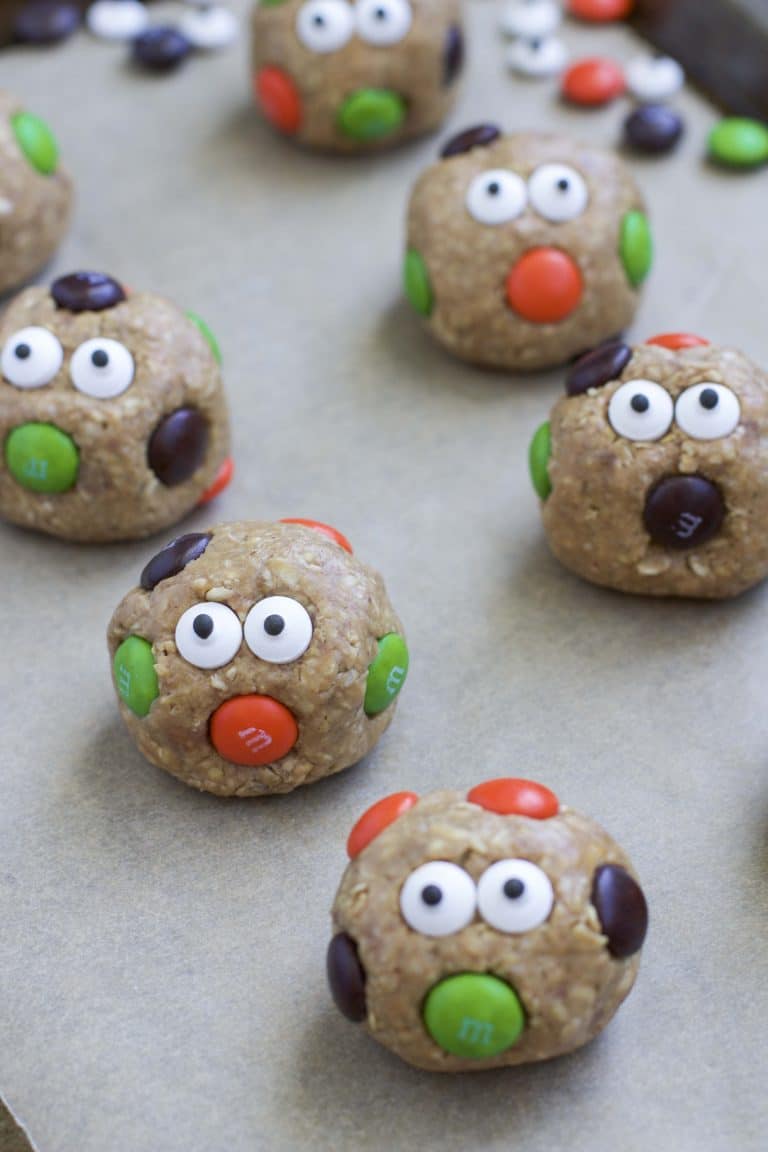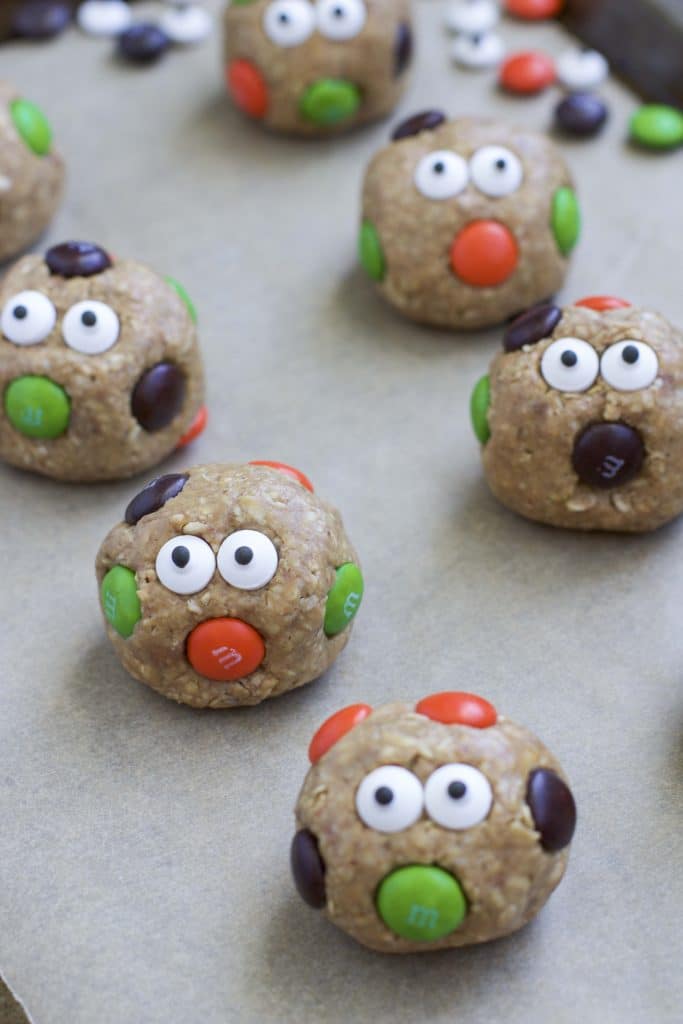 I considered putting the eyeballs randomly all over the monster bites, but I thought it might look a little wonky. So I just put two eyes looking right at ya, and an M&M® for a mouth! Feel free to decorate them any way you like, the crazier the better!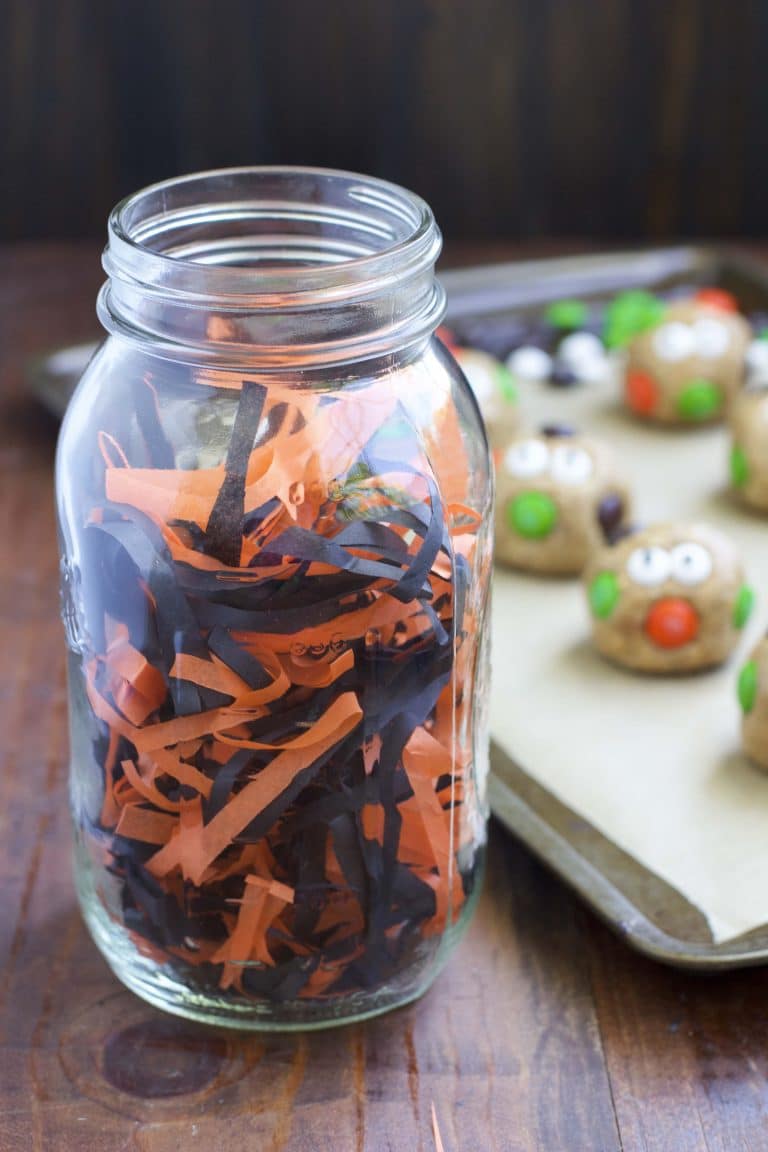 I cut up and crinkled strips of black and orange tissue paper to stuff the bottom of a large mason jar before I put the Halloween peanut butter monster bites in. I also put a handful on top after I added the monster bites. I added a Halloween ribbon and put it in a super cute pumpkin gift bag.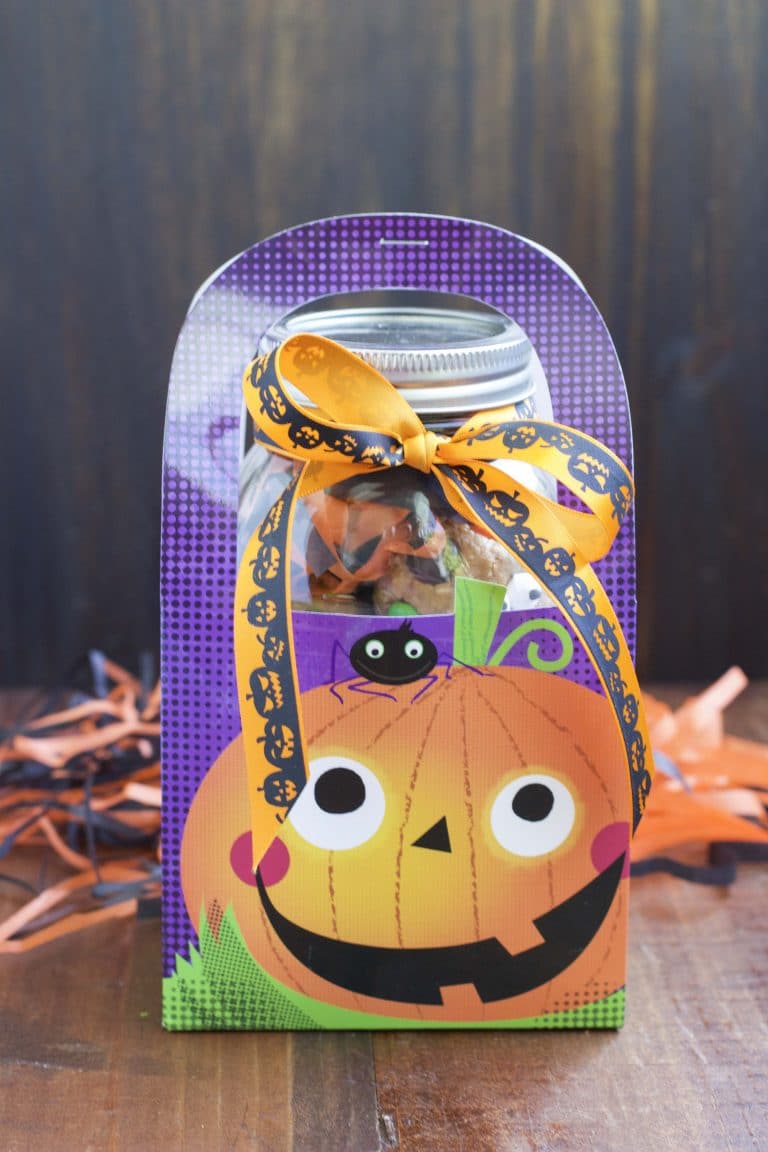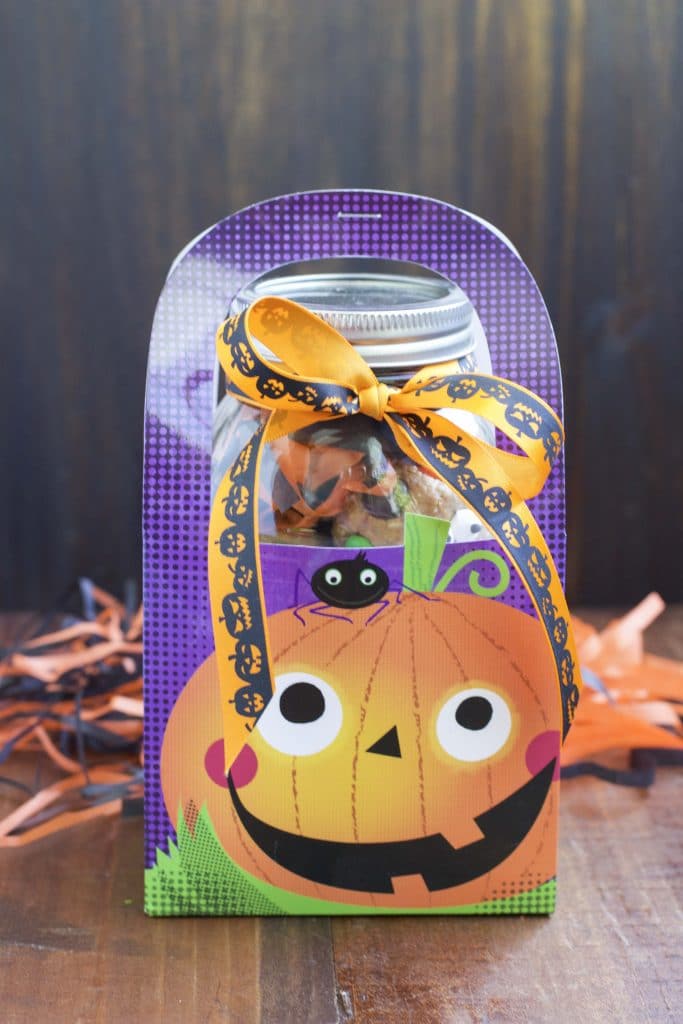 Once you've assembled the Halloween peanut butter monster bites in the mason jar or container, add them to your BOO bucket with the other treats and goodies. Make sure you print out the BOO'd card and add it to your BOO bucket before you deliver it!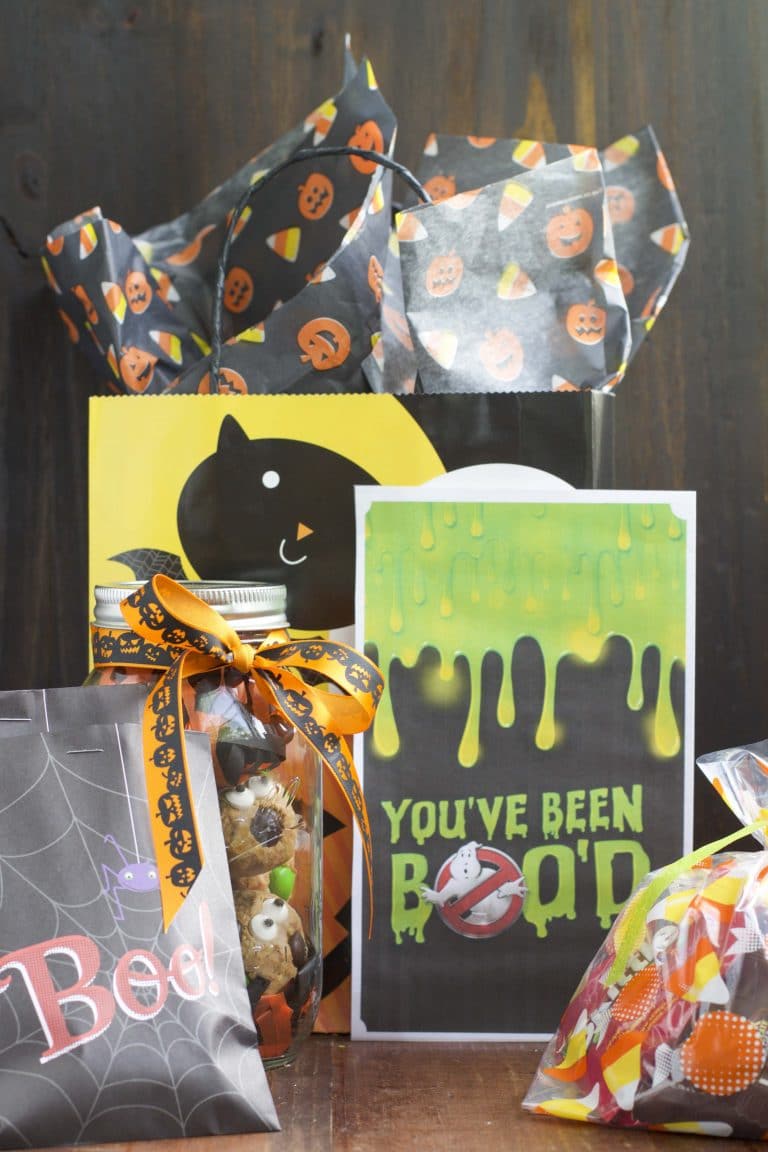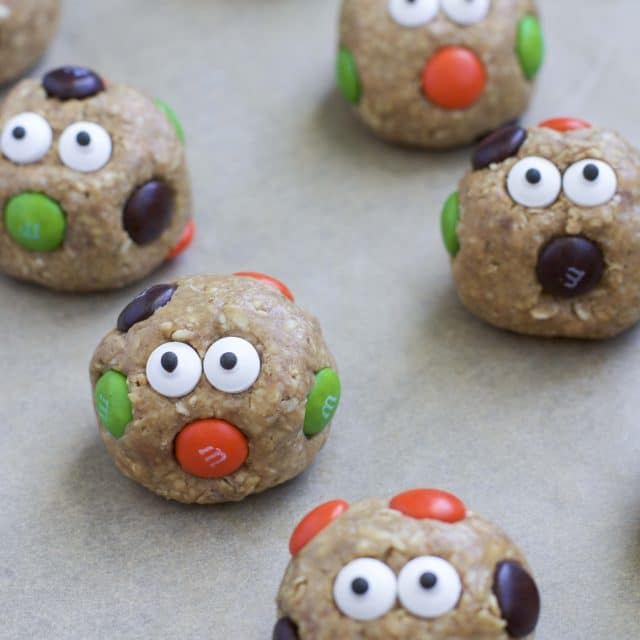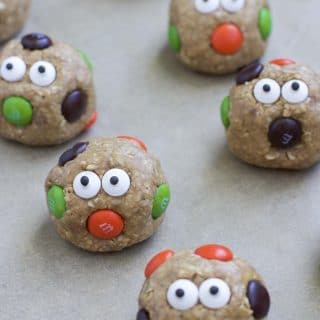 Halloween Peanut Butter Monster Bites
Learn how to make your own BOO bucket to surprise someone special to you this Halloween! Plus, get the recipe for these terrifying Halloween peanut butter monster bites!
Print
Pin
Rate
Instructions
Add oats, vanilla, peanut butter, and SNICKERS® to the food processor. Blend until you have a chunky dough.

Use a cookie scoop to scoop out the mix and form it into golfball-sized balls.

Decorate with eyeballs and M&M'S®.

Store in an airtight container on the counter.
More Fall Recipes You'll Love!