This post may contain affiliate links.
Please read my disclosure.
Classic gingerbread Christmas cookies with a South African flair and and sweet orange glaze.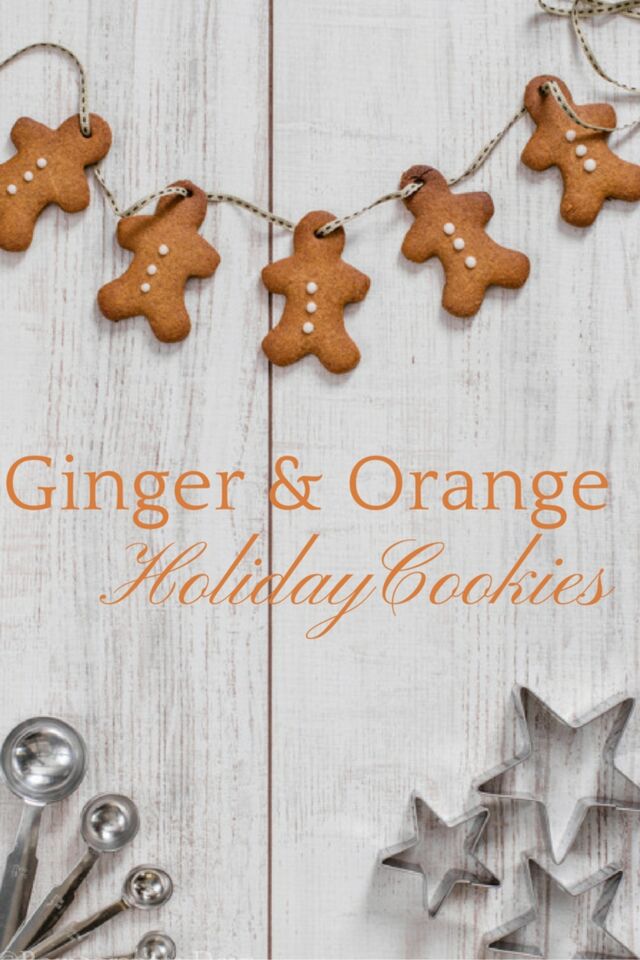 Hello Friends of Stacey Homemaker!
I'm Sam, and I blog over at Pomegranate Days. Pomegranate Days is my space in the world which marries together my love of creativity and that of eating well. Stacey and I connected via a Facebook group for bloggers. I love checking in on her site to see what's new and I frequent her weekend recipe link up parties.
I live in the Cape Winelands of South Africa, about a 40 minute drive from Cape Town and our well known Table Mountain. If you have never visited South Africa before, our winelands, with their soft rolling hills and vineyards which stretch out in every direction look not unlike your own Napa Valley. The winelands affords our two children a country atmosphere in which to grow up. We live a pretty laid back lifestyle out here. As you might guess our lives are rich with wine, great food and outdoor living.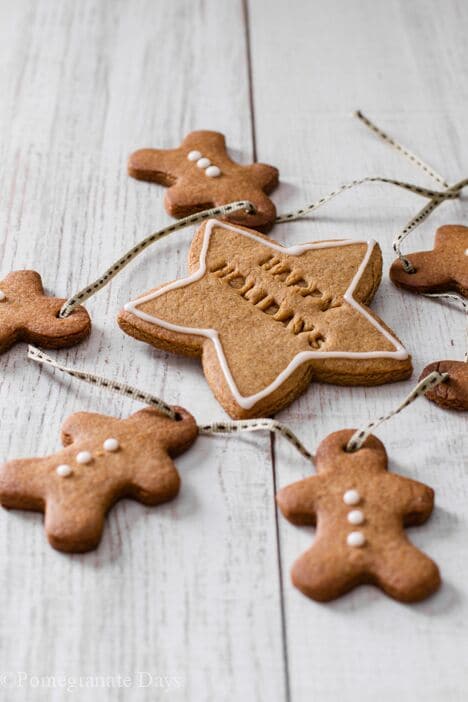 I was just thrilled to prepare a holiday recipe post for Stacey, but as I began doing some brainstorming, my initial excitement turned into crippling anxiety. My problem: we are currently heading into high SUMMER. How was I going to find a recipe that is typical of something we would make during the holidays, but which would appeal to the readers of Stacey Homemaker also?
Our Christmas Holidays are marked by mornings spent on the beach or around the pool, leading to light al fresco salad lunches before we head indoors to escape the scorching afternoon heat. By evening we venture out again onto our stoep (porch) to await the sunset, which in high summer is past 9 pm.
We rarely cook up full roasts, with root vegetables and all the trimmings on Christmas Day, opting instead for a turkey (yes, a turkey, we do not celebrate Thanksgiving). We are not adverse to glazed hams, roast duck, lamb or beef either, but you rarely hear of someone cooking up a "traditional" Christmas goose around here.

The chosen main dish is likely to be cooked in an outside Dutch oven style braai (BBQ) and served with roasted potatoes and fresh in season salads. No heavy, hot puddings around here either; beautiful trifles, Pavlovas and summer fruit, simply sliced chilled watermelon and ice cream, these are typical desserts on our menus.
What a holiday quandary I found myself in.
And then it hit me. Cookies. We all love holiday cookies. Holiday Baking – it's a thing here too!! Although our kiddos await Father Christmas and not Santa on the 24th of December, you can be assured that the hardworking man is getting his fill of milk and cookies here in Africa too.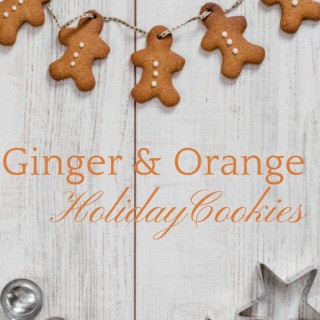 Ginger & Orange Cookies
Classic gingerbread Christmas cookies with a South African Flair and and sweet orange glaze.
Print
Pin
Rate
Ingredients
125

g

½ C butter, softened

125

g

½ C shortening, softened

375

ml

1 ½ C white sugar

1

egg

10

ml

2 t orange essence

45

ml

3 T treacle

2.5

ml

½ t salt

1000

ml

4 C cake flour

finely grated zest of one orange

10

ml

2 t bicarbonate of soda

10

ml

2 t ground cinnamon

5

ml

1 t ground ginger

Orange Glaze

250

ml

1 C icing sugar

juice of 1 orange

strained

few drops of orange essence

warm water
Instructions
Beat together the butter and the shortening in an electric mixer fitted with the paddle attachment until the butter has paled and the mixture is creamy.

Add the sugar and beat well.

Add the egg, orange essence, and treacle and beat for a few minutes more.

Sift together the salt, cake flour, bicarbonate of soda, cinnamon and ginger.

Add the flour mix to the egg mixt and beat until the mixture comes together in a medium soft cookie dough.

Roll the dough into two balls and wrap with plastic wrap.

Chill overnight or for at least 2-3 hours before using.

Roll the dough out evenly on a floured surface or between two sheets of baking paper.

Use cookie cutters to cut out the dough into shapes.

Transfer the cookies to a baking sheet that has been sprayed with non-stick spray or lined with baking paper.

Bake the cookies in an oven preheated to 180˚C for 10 – 12 minutes or until the cookies are golden brown.

Transfer to a wire rack to cool.

To make the orange glaze, sift the icing sugar into a bowl.

Mix together the orange juice and the orange essence and heat gently.

Whisk the warm orange juice into the icing sugar a little at a time, until the mixture forms a thick glaze.

Use a little warm water if necessary to correct the consistency.

Place the orange glaze into a piping bag and use it to decorate the cookies

Recipe Notes:

Where the recipe calls for:

Treacle - you can use molasses

Cake flour - you can use general all-purpose flour

Bicarbonate of Soda - you can use baking Soda

˚C is 350 ˚F or gas mark 6
I have flavoured these Ginger & Orange Cookies with the zest of South African Valencia oranges, but any orange that is pungent will give you a great result. I love how the orange flavour cuts sweetly through the spice.
Ah, spiced cookies baking in the oven are a sure sign that the holidays are on their way. As you can tell, I am not quite the intricate cookie decorator, easily appeased with a simple taste of orange glaze in each mouthful. You should feel free to do as much or as little embellishment as you care to.
If you would like to see more South African inspired Christmas recipes please visit my blog here.
Wishing you and yours a wonderfully peaceful, and very happy holiday season.
What are your Christmas meal traditions? Let me know in the comments!
Never miss a Stacey Homemaker creation!
FACEBOOK / INSTAGRAM / PINTEREST / TWITTER