Vegan food review of Gasparilla Island Grill at the Grand Floridian Resort in Walt Disney World. Check out the special vegan menu + the delicious vegan lunch we enjoyed!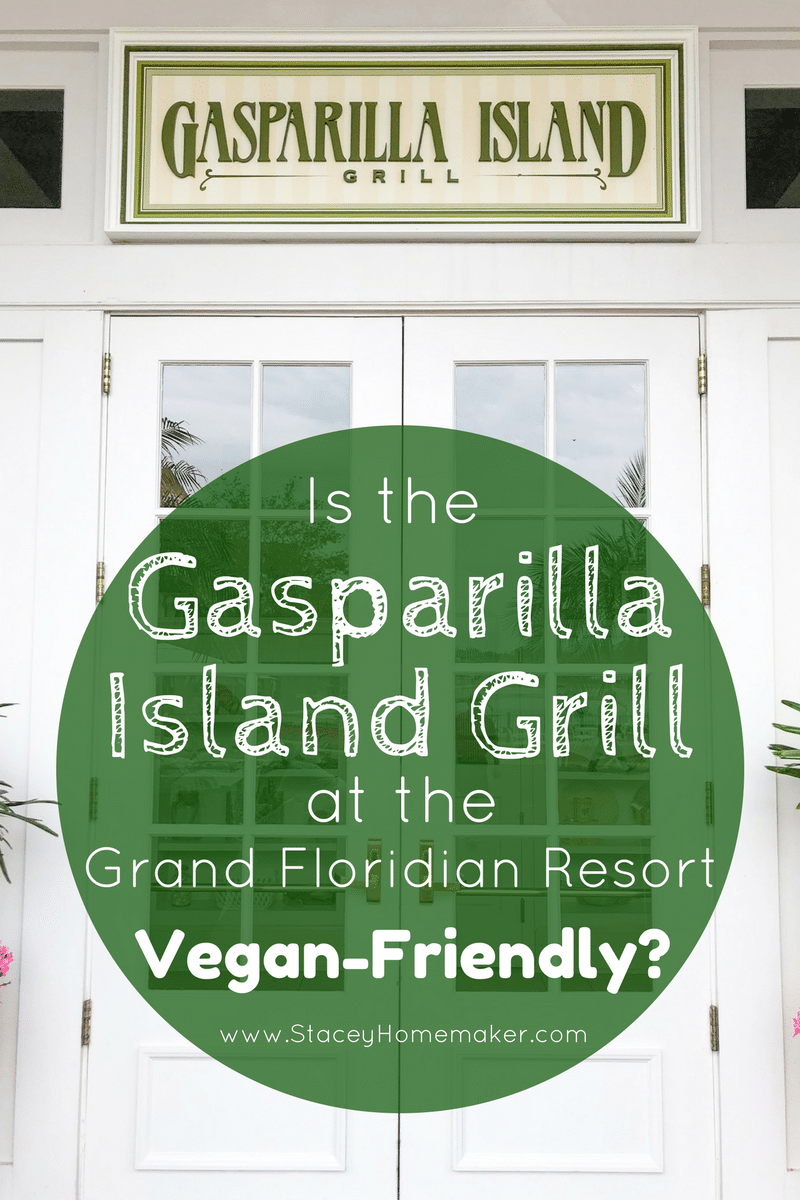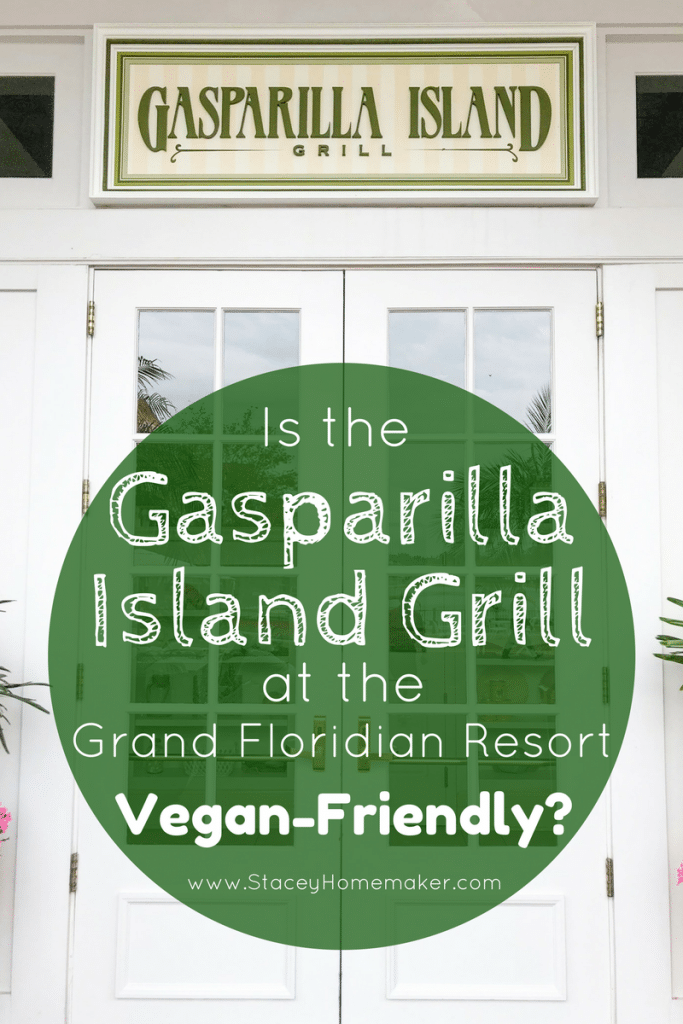 Travis and I love visiting Disney World and checking out all the restaurants that have vegan options. I don't know how we've gone this long without eating at the Gasparilla Island Grill!
Read this post to see our favorite quick service spots in Epcot.
The Gasparilla Island Grill is the quick service restaurant located at the Grand Floridian Resort. The Grand Floridian Resort has a special place in our hearts because it's where we got engaged four years ago!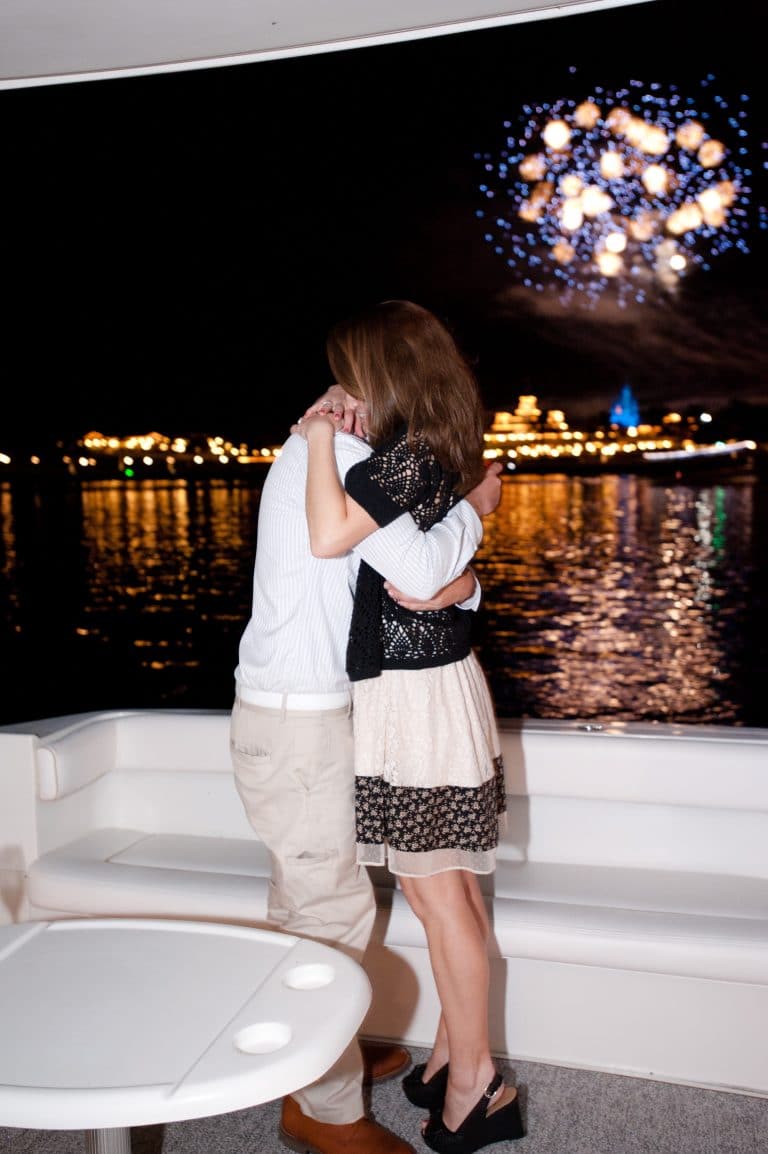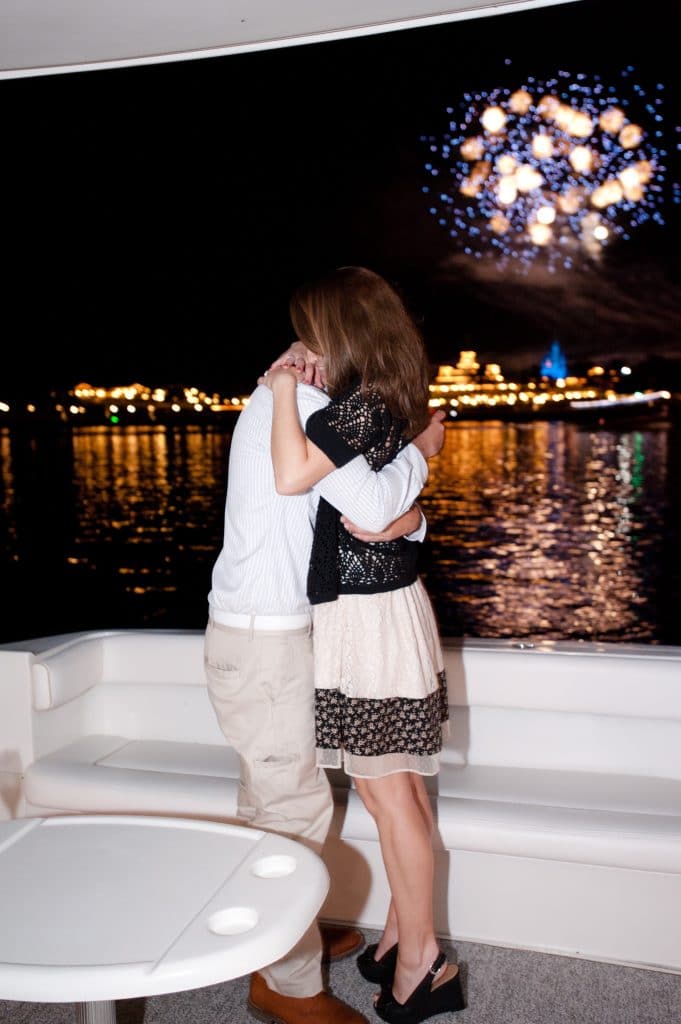 When we were at the Grand Floridian Resort last week, we stopped by the boat dock and took a picture by the Grand One Yacht just for fun! I can't believe it's already been 4 years since that magical night!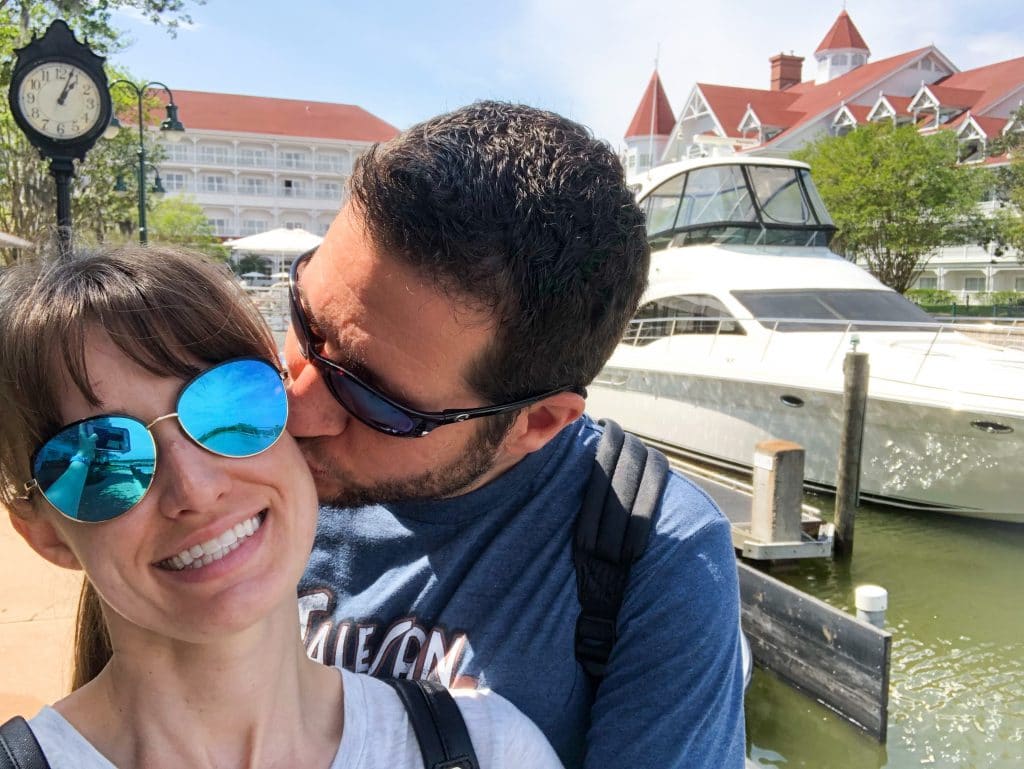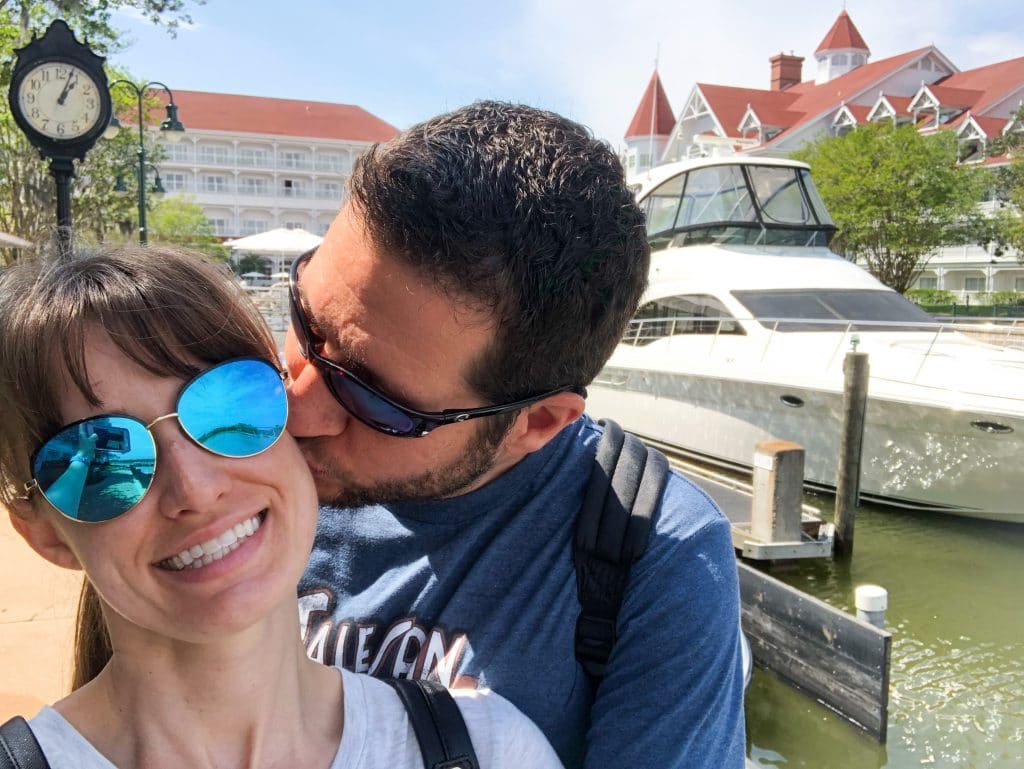 Captain Cook's Experience
On the last day of our trip, we decided to explore the resorts on the monorail loop and see what we ran into. Nothing was planned so we ended up at The Polynesian Resort around lunch time. Travis had to get a dole whip and then we went to Captain Cook's to get coffee and lunch.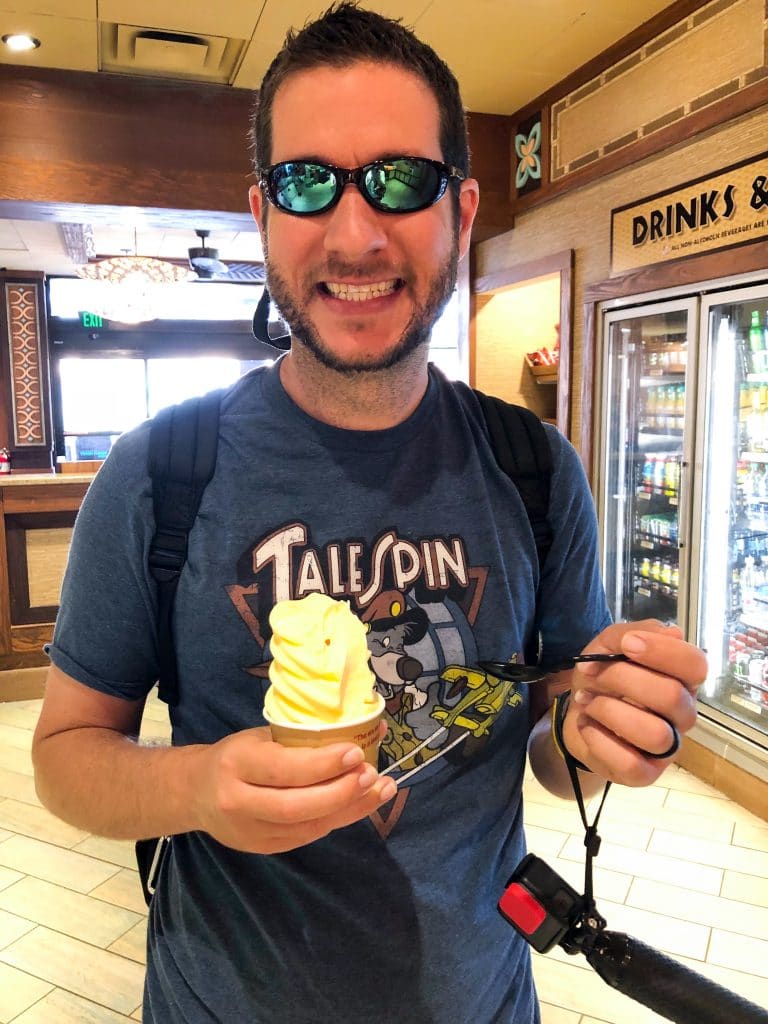 Before I ordered the food, I asked if they had any dairy-free milk that I could use for the coffee that I wanted to order. The cashier looked at me like I had two heads. I then asked a different cashier who told me to check the cooler for dairy-free milk. I explained that there was none in the cooler but I didn't want a juice box anyways– just a little dairy-free milk for the coffee that I wanted to order.
I got another blank stare from her so I found another employee standing by the door to the kitchen. He said he could run upstairs to get soymilk for me. Great!
Unfortunately, he came back with a vanilla flavored soymilk juice box. First of all, I'm not paying separately for dairy-free milk when coffee creamer should come with your coffee. You don't have to pay extra for dairy creamer, do you? Second, I don't want vanilla flavored coffee. I put it back in the cooler and we left Captain Cook's feeling very frustrated. We didn't even want to try ordering vegan food if they couldn't understand why I was asking for dairy-free milk.
Ugh. Why is it so hard when there's such a simple fix!?


We had the same issue with the vanilla soymilk being offered with coffee at Tusker House in the Animal Kingdom for lunch but the food was fabulous so it was worth it, watch this video to see all the vegan options on the buffet.
Gasparilla Island Grill Restaurant Review
We decided to take the ferry over to the Grand Floridian Resort so we could get lunch and hopefully coffee there.
I didn't have high hopes for Gasparilla Island Grill after our experience at Captain Cook's but we went anyways…and I'm so glad we did! It was fantastic and definitely one of my new favorite quick service restaurants!
Read this post to see our other favorite vegan-friendly quick service restaurants in Disney World.
I walked up to the ordering counter and Gabi greeted me with a smile and a super-friendly "hello!" I asked her if they had any vegan options and she said, "actually, we have a full vegan menu!"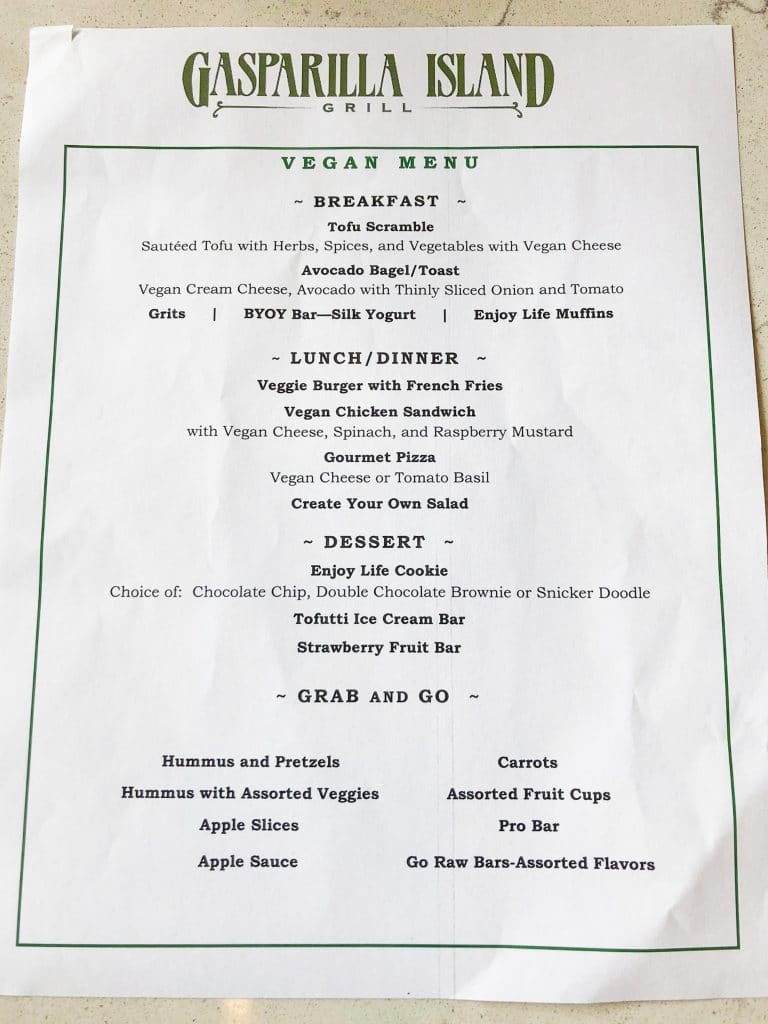 Um whattttt? Could you repeat that please?
Gasparilla Island Grill has a full vegan menu when I couldn't even get dairy-free milk at the resort right across the lake?
It was so easy to order from the special vegan menu, it had choices for breakfast, lunch, dinner, dessert, and grab-n-go! I wish all the Disney restaurants had a separate vegan menu!
I decided to order the vegan chicken sandwich with fries for lunch. I asked if the fries were made in a shared fryer and Gabi said that they're fried in a separate gluten-free fryer. However, they also make gluten-free chicken nuggets in that fryer if someone requests it. Gabi checked with another employee, Nikki, and she went to check if any meat had been fried in the allergy fryer yet that day. Nope, no meat yet so we were good to go on the fries.
Just make sure you ask them to check first if a shared fryer is an issue for you.
I also asked Nikki if she had the vegan chicken sandwich ingredient list. She looked it up right away and showed me the list. Good news– it's a Gardein chicken patty! So if you love Gardein products like we do then you'll love the vegan chicken burger at Gasparilla Island Grill.
To top it off, Gabi went above and beyond and got the almond milk for me so I wouldn't have to wait for the barista to get it since he was busy making a specialty coffee and I just wanted a regular coffee.
After you order your food, you're given a table number and your food will be delivered to your table. It only took a few minutes for our lunch to be made. The bun was warm and toasty, the fries were hot and crispy, and I loved the raspberry mustard sauce on the vegan chicken sandwich.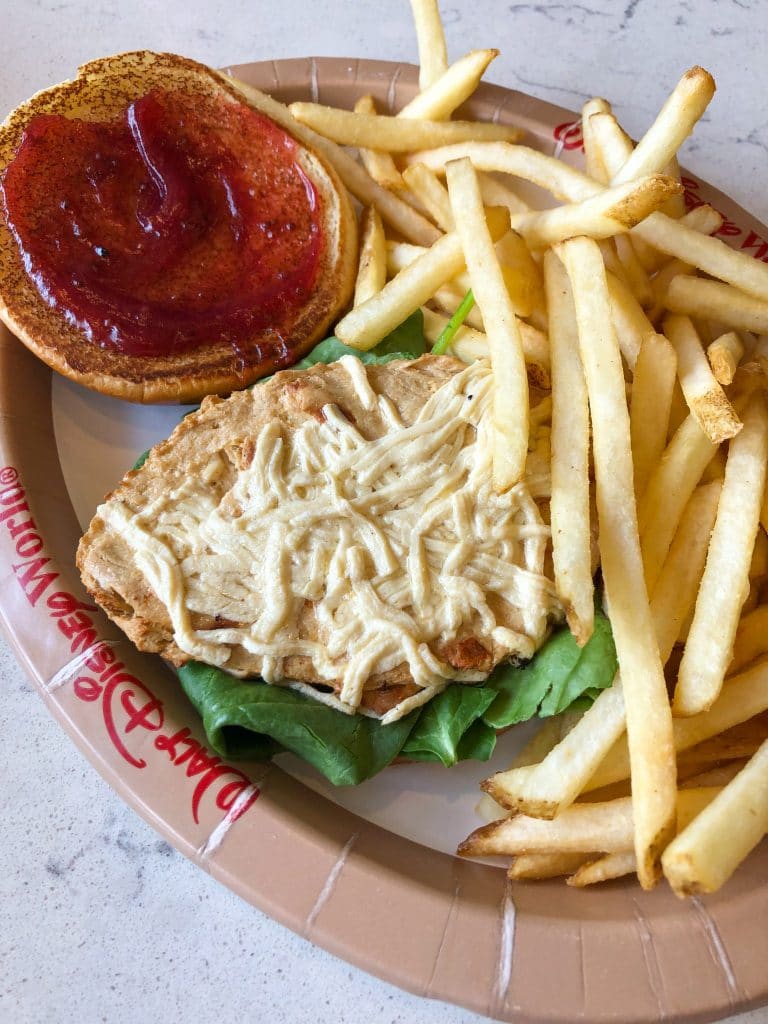 Everything we ate was absolutely delicious and I'll definitely order the vegan chicken sandwich again the next time I visit Gasparilla Island Grill. I really want to go back for breakfast to try the tofu scramble!
If you prefer a buffet or a character dinner, we love 1900 Park Fare too.
I don't think that our experience at Gasparilla Island Grill could have been any better.
A full vegan menu
A choice of almond or soy milk for coffee
Exceptional customer service
Delicious food
Allergy informed staff
I was really impressed with the tasty food, the level of customer service, and with the allergy training that the staff had. I would say that the Gasparilla Island Grill is extremely vegan-friendly, maybe the most vegan-friendly quick service restaurant that we've been to in Disney World yet!
Tip – If you visit Gasparilla Island Grill at night, the outside courtyard is a great spot to watch the Magic Kingdom fireworks from.
We'll definitely be going back to eat at Gasparilla Island Grill on our next trip!
Have you visited the Gasparilla Island Grill? Let me know in the comments what you thought of the restaurant!
More Disney World Posts to Help You Plan Your Next Trip!
Guide to Eating Vegan on a Disney Cruise
Epcot Party for the Senses Review
5 Activities You Don't Want to Miss at MVMCP!
159 Disney Cruise Tips I Wish I Would've Known Before My First Cruise