Learn how to decorate your front porch with hay bales, scarecrows, pumpkins, and flowers to create a beautiful Fall display! These Fall front porch ideas will inspire you to easily and inexpensively choose the right pieces so you can set it up in September and leave it up until after Thanksgiving!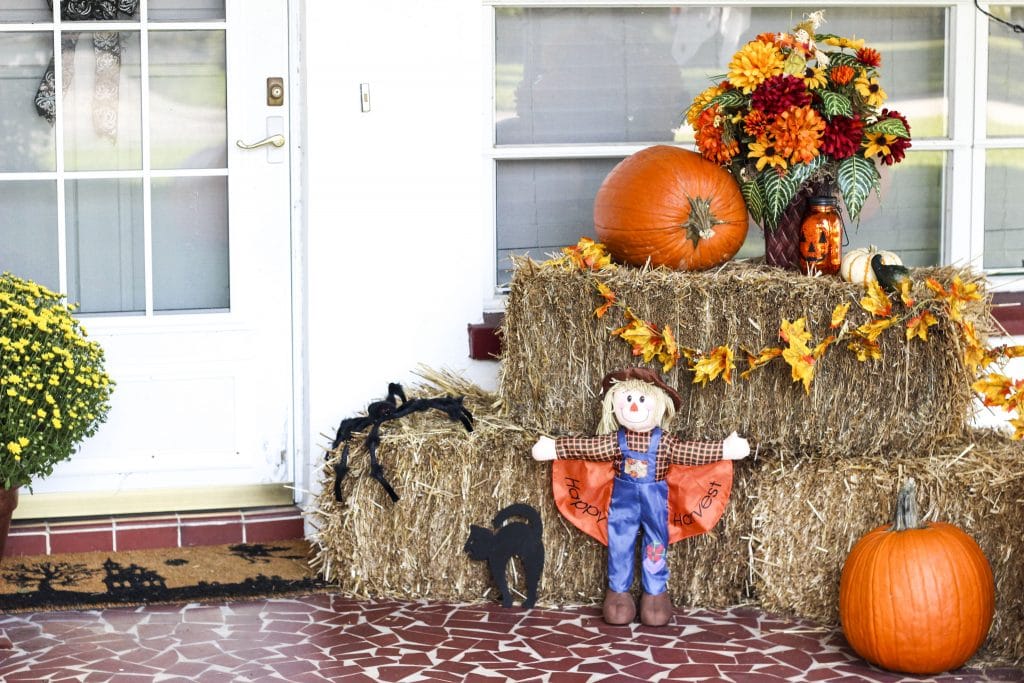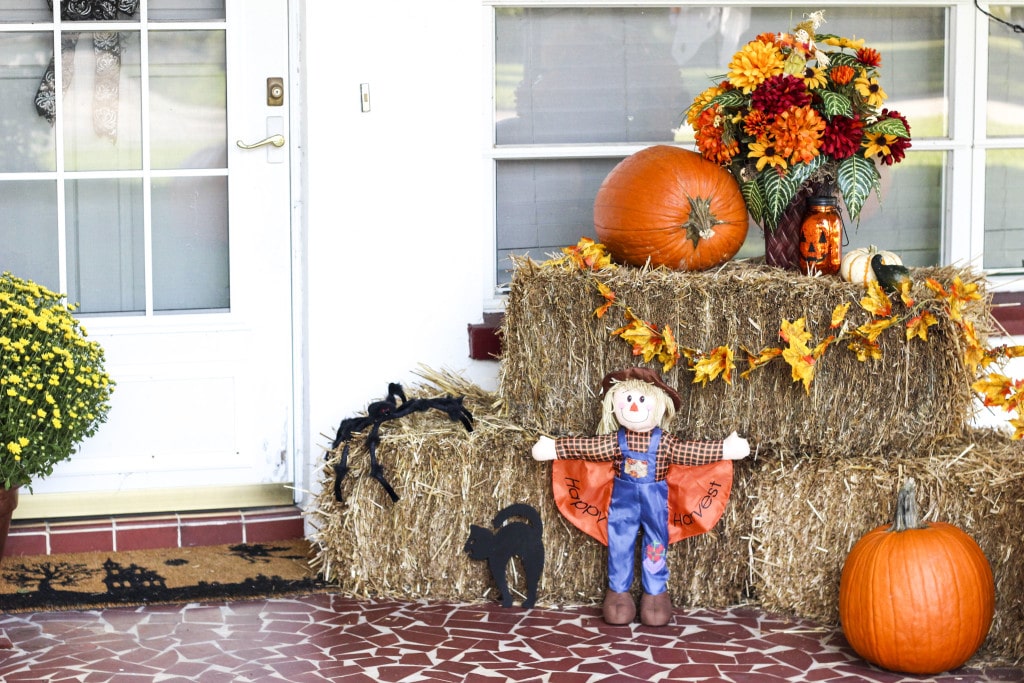 Every September, I decorate my front porch for Fall. It's my favorite part of decorating and I love walking up to my front door and looking at the traditional display every day. It's so festive! I have so many Fall patio ideas to share with you, that I know you're going to love!
It's especially great when I see people slowing down and stopping to look as they walk by our house. Talk about curb appeal! One time, we even had a family ring our doorbell and ask if they could take a picture in front of it to use for their fall family portrait!
I'm going to show you how you can easily and inexpensively decorate your front porch with these Fall front porch ideas too! Plus, how you can do it using a few key pieces and some props that you can switch out to transition your display from Halloween to Thanksgiving without spending a lot of money.
When Should I Decorate My House For Fall?
You should start decorating for the harvest at the beginning of September. By doing that, you can enjoy the Fall decorations for as long as possible.
How Do You Decorate Outdoors In The Fall?
The only outdoor decorations that I put out for Fall (in September) are my front porch Fall decorations. We wait to decorate the rest of the front of the house (with lights and spooky props) for Halloween until the first week of October.
How Can I Decorate My House For Fall Cheaply?
You can decorate your house for Fall cheaply by using second-hand props and decor! Instead of buying cheaply made, inexpensive decorations from a big box store, try checking out your local thrift stores and garage sales for high-quality decor. You'd be shocked at the beautiful decorations that I've found at garage sales and thrift stores at rock-bottom prices.
Small Front Porch Decorating Ideas on a Budget:
Buy second-hand props from garage sales and thrift stores.
Use pieces that can work for both Halloween and Thanksgiving.
Go shopping early the day after Halloween and Thanksgiving to find new pieces on sale that you can use next year.
Supplies You'll Need to Decorate Your Front Porch
Hay Bales (or boxes, bench, or table)
Pumpkins (real or fake)
Fall Garland
Scarecrow
Flowers (real or fake)
Halloween and Thanksgiving Props
Fall Yard Decor
Fall Wreath (for your front door)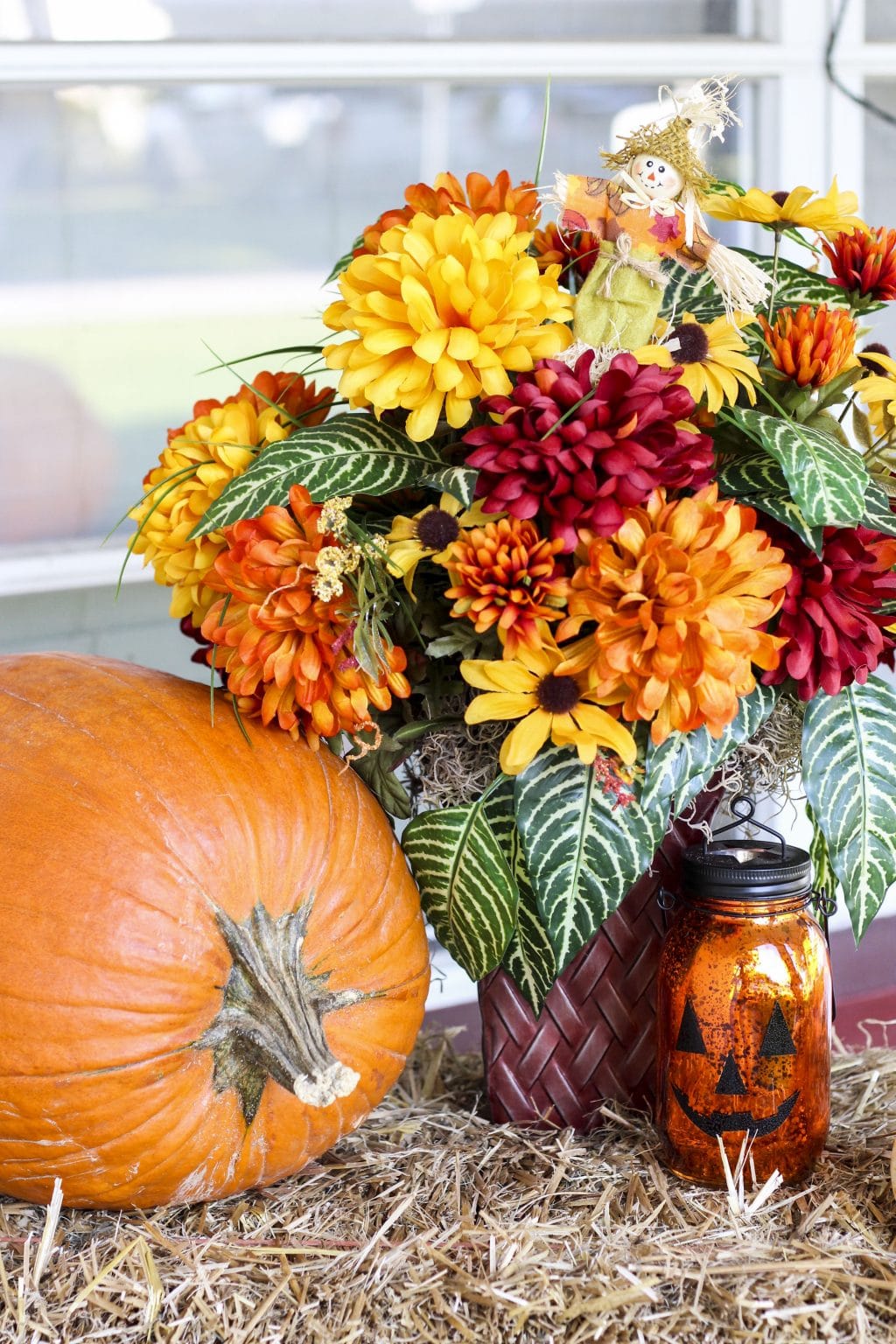 Fall Decorating Ideas DIY
If you'd like to decorate your front porch with Fall decor to look like my display, this is how you do it, step by step.
Fall Front Porch Ideas: Hay Bales
You can find small hay bales at craft stores like Michael's or Home Depot, or you can buy them on Amazon. If you want large hay bales (4ft x 2ft x 2ft), like in my display, you're going to have to call around. Check out local markets, local farms, and farm supply stores.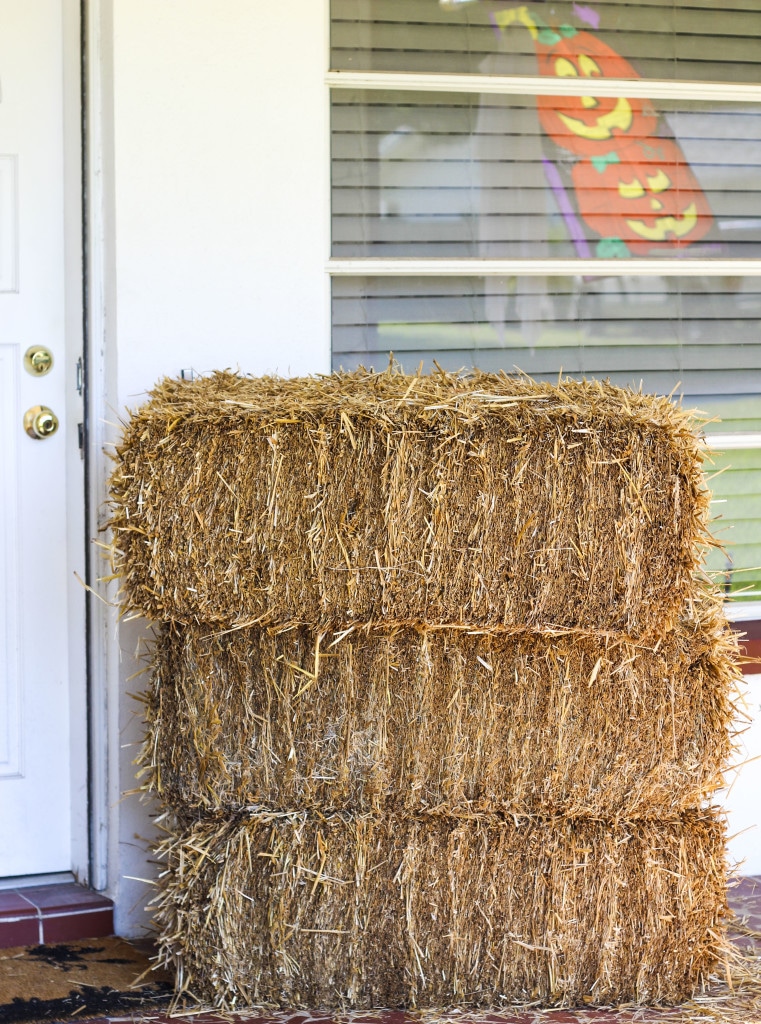 I called around and the best price that I could find was $11 per large hay bale from a local mom n' pop grocery store. That was the most expensive part of my fall display. I left the fall decorations up until the day after Thanksgiving, so I think that the cost was well worth it for almost three months of enjoyment.
Pro Tip - If you're able to locate large hay bales, lay a large blanket down in the back of your car (for easy clean up) or ask someone with a truck to help you pick up the hay. Hay bales are extremely messy and the little pieces of hay go everywhere.
If you can't find large hay bales, you could:
Set up large boxes and cover them with a festive fall blanket.
Decorate a small table or bench.
Just set up decorations on the ground around your front door.
How to Arrange the Hay Bales
Sweep and clean the front porch and surrounding area.
Place the bottom two hay bales in a wide V formation.
Add the third hay bale on top of the other two at an angle, so they are staggered,
After you get the shape you want, sweep again to get rid of the little pieces of hay that fell out while you were arranging the bales.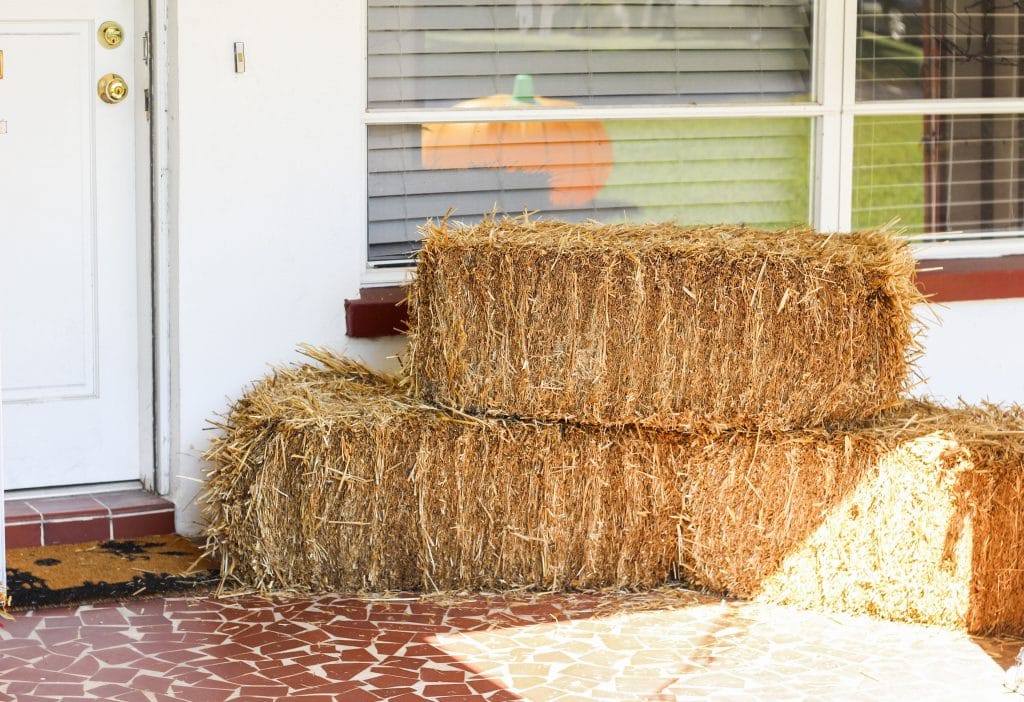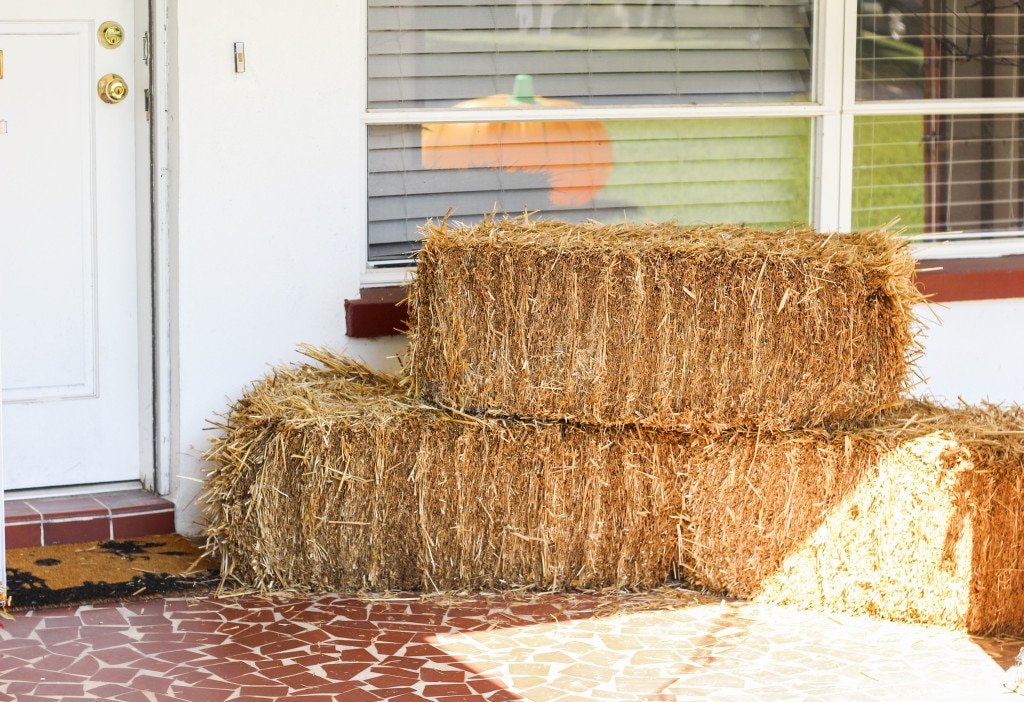 Fall Front Porch Ideas: Decorations
I recommend that you use simple decorations of varying sizes, shapes, and colors to add variety and depth to the display. The following props should be your key pieces, so look for decorations that can work for Halloween and Thanksgiving.
Focus on using Fall decor pieces in these colors:
Gold
White
Green
Brown
Orange
Yellow
Purple
Dark Red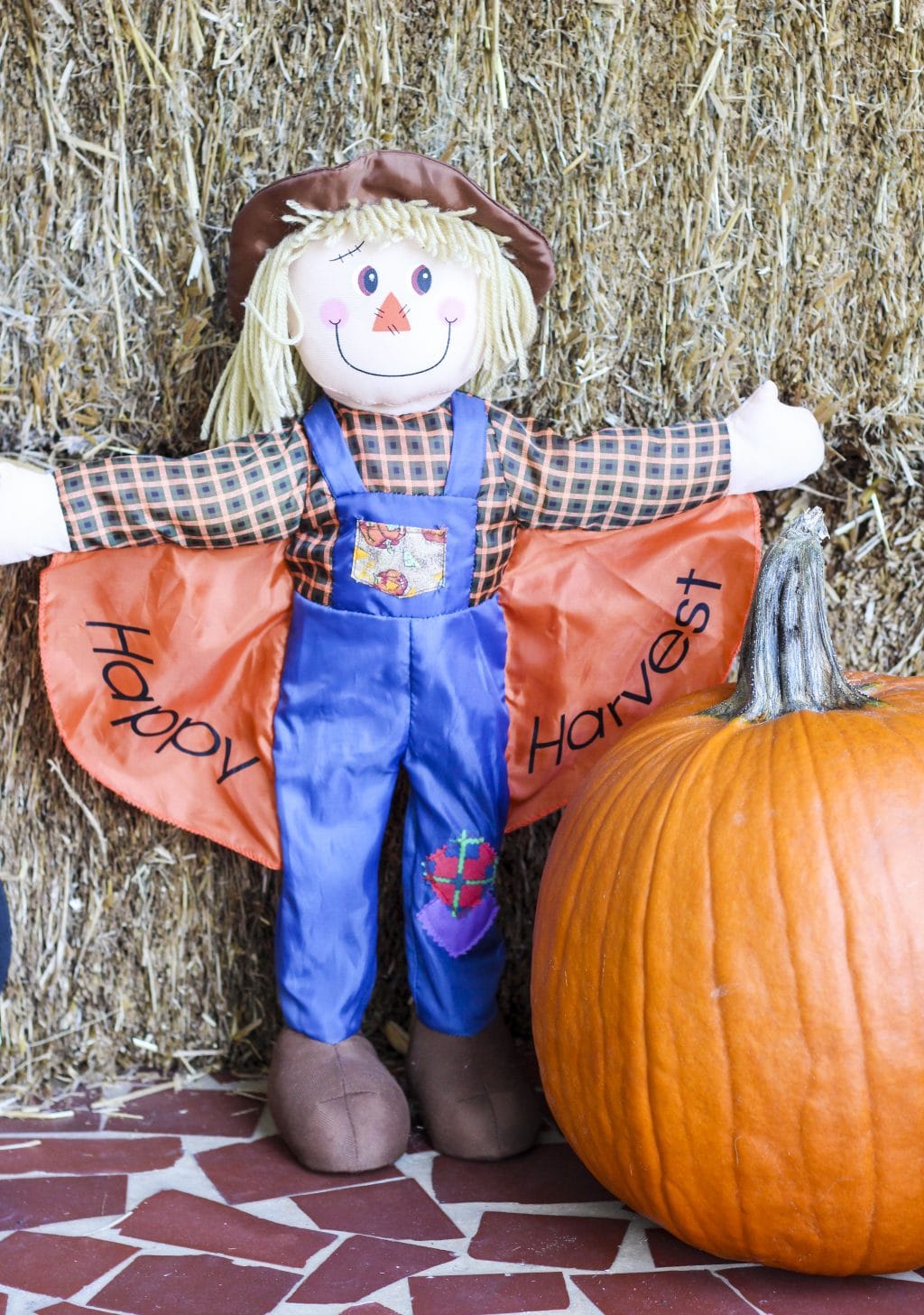 Real Pumpkins - Real pumpkins are beautiful and will last from September till the end of November if you don't carve them. If possible, try to keep them out of direct sunlight to help them last longer. Check around for the best prices.
Fake Pumpkins - Buying fake pumpkins is a great way to save money because you can use them over and over again each year. The best time to buy fake pumpkins is from a craft store (like Michael's) the day after Halloween.
Scarecrow - You want to look for a 2-3 foot tall scarecrow for your fall display. I found the one in the picture at a thrift store but you can also find one like this on Amazon or at a craft store (like Michael's). Wait for a coupon or until the day after Halloween for the best price.
Garland - If you buy a fall leaf garland then you'll be able to use it from September - November. I got the garland in the picture from a garage sale but this

fall leaf garland

is very similar.
Real of Fake Flowers - I found the fall-colored display of elegant faux flowers at a craft store the day after Thanksgiving (for a few bucks!) a few years ago and it's still holding up perfectly! I also like to buy a large pot of mums (only $11 at Costco!) to put on the other side of our front door.
Small Gourds - These are perfect for scattering around the display to fill in any small gaps. I bought a bag of them the day after Thanksgiving from a craft store.
Light-Up Pumpkin - At night, a glowing pumpkin face is super spooky and will make your display come alive! I also love that this

light-up pumpkin

connects to your speaker and you can play scary music!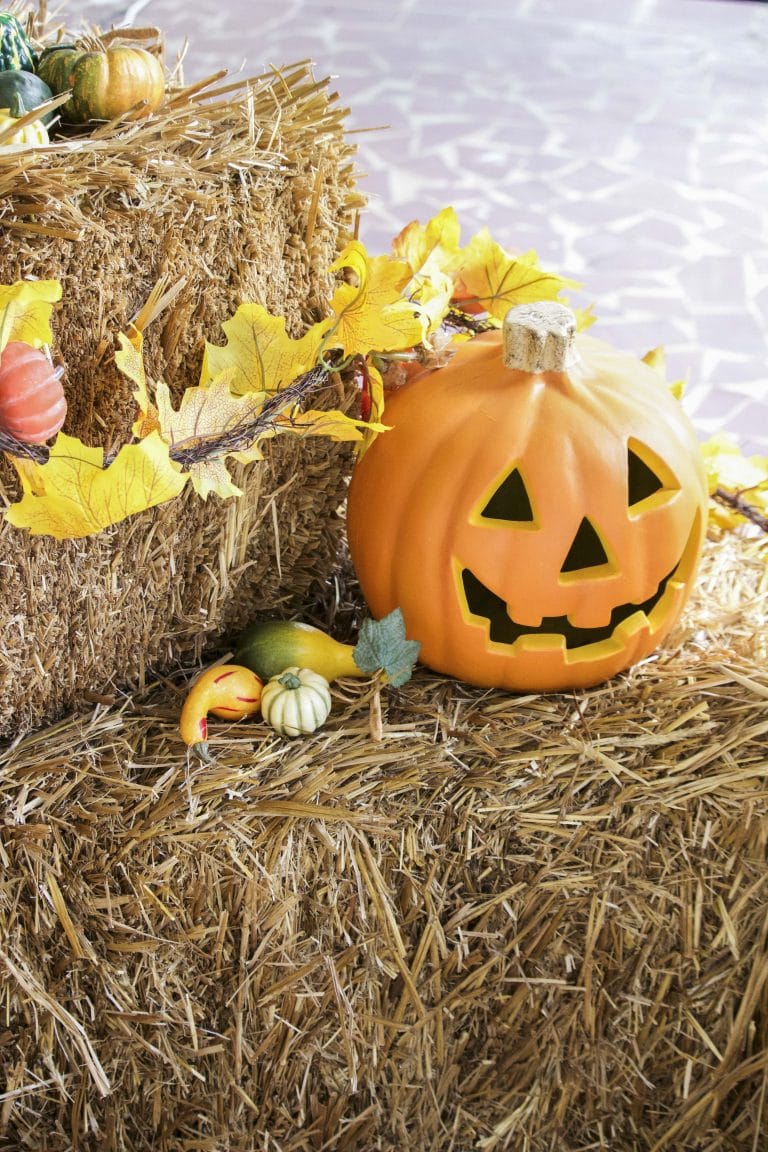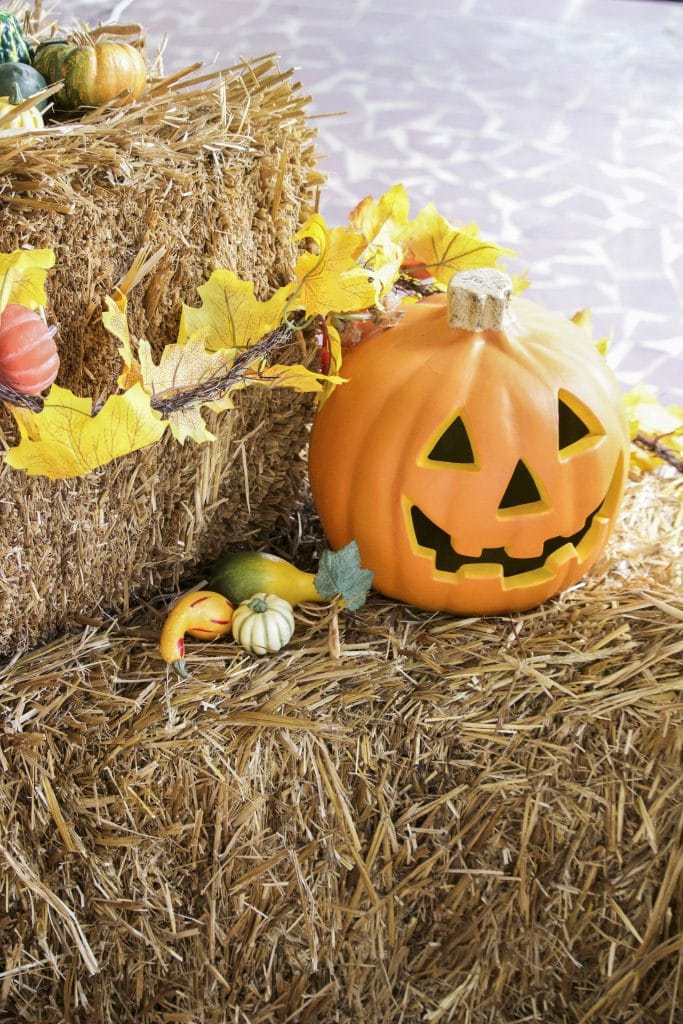 Fall Front Porch Ideas: Real Flowers or Fake Flowers?
I like to use a mix of both real and fake flowers for my fall decor design.
Mums are my favorite fall flower and I've found that the best place to get them is at Costco. You can buy them from other stores but Costco sells huge plants for a low price. You can add these mums to the display or put them in front of your house.
In addition to the mums, I used a faux flower centerpiece for the hay bales so I can re-use it each year.
Tip - If you want to use a faux flower centerpiece like I did, don't buy it now. Wait until the day after Halloween or the day after Thanksgiving when they will go on clearance! I got mine the day after Thanksgiving a few years ago at Michael's for 75% off! Woohoo!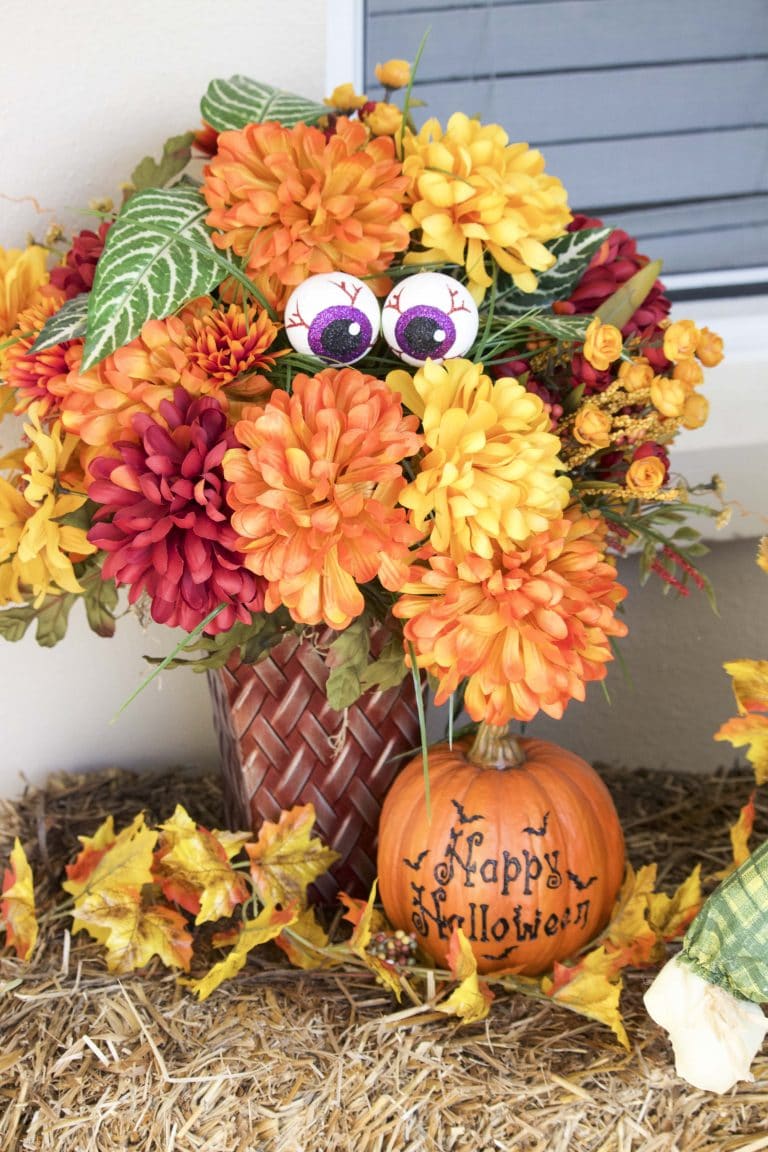 How to Transition From Halloween to Thanksgiving
By using a few general fall decor pieces, you can leave your front porch fall decorations out from September to Thanksgiving and you're maximizing the value you get from your display! After Halloween, swap the Halloween decorations out for Thanksgiving decorations, like this: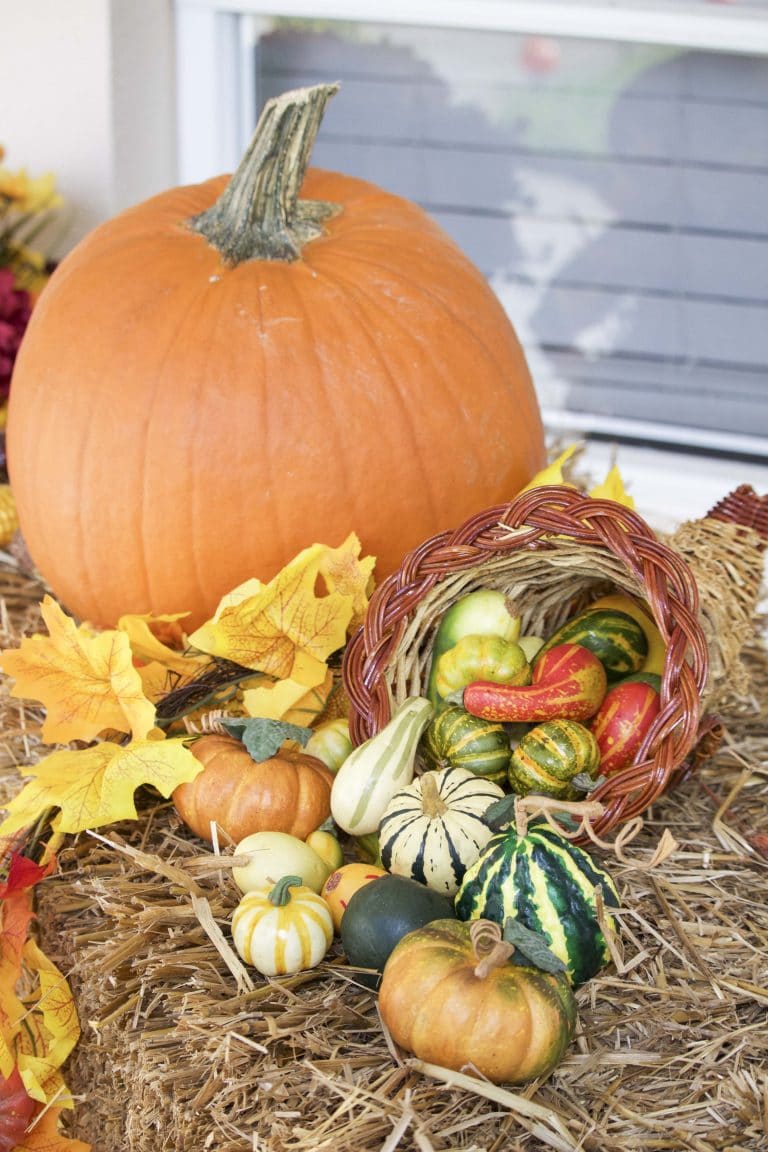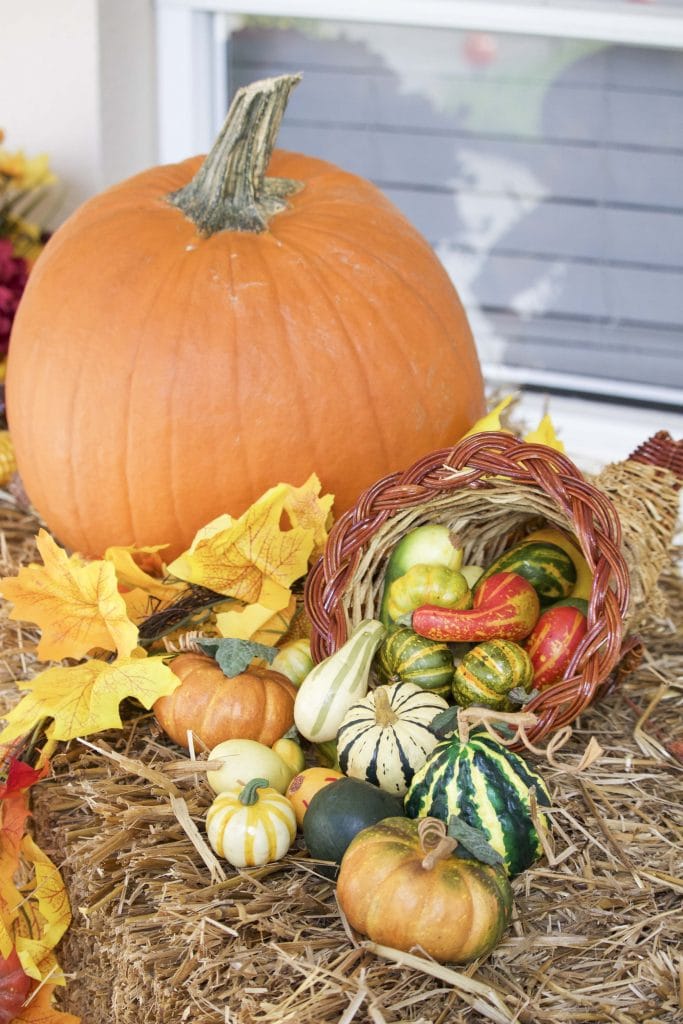 Use fake flowers that have Fall colors, so you can use the bouquet for both holidays.
Turn the plastic jack-o-lanterns around so you can't see the faces.
If you didn't carve your real pumpkin, leave them out for Thanksgiving.
Remove any decorations that are clearly Halloween-themed, like eyeballs, black cats, and signs.
Add your Thanksgiving decorations: a cornucopia, gourds, and signs.
Leave the scarecrow, fake flowers, and garland out for Thanksgiving.
Switch out the wreath on your front door if it's Halloween-themed.
I hope you find these Fall front porch ideas to be helpful, have fun decorating your front porch! Please post a picture of your display and tag me on Instagram @Stacey_Homemaker so I can see your fabulous fall decor!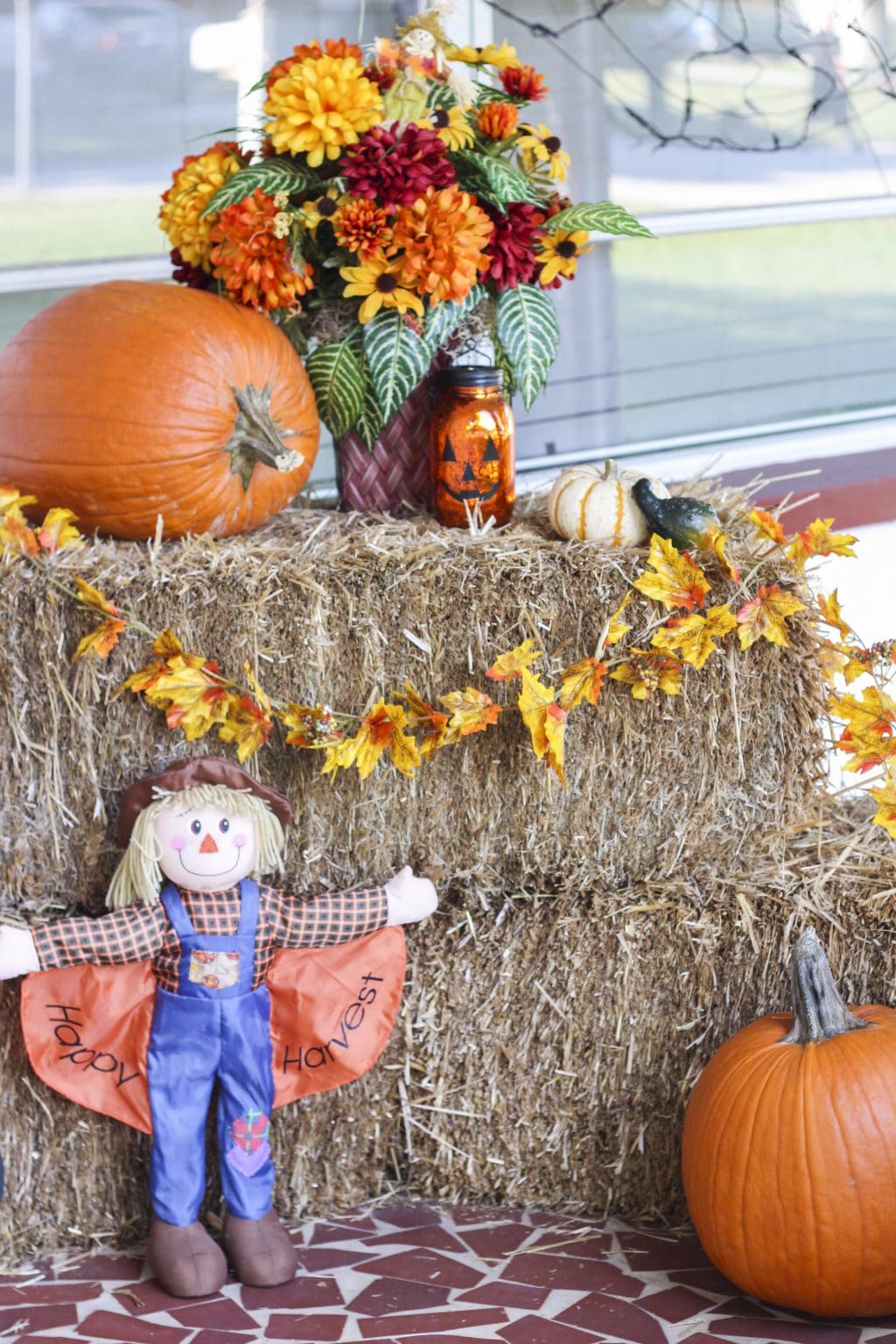 More Autumn Posts You'll Love!