Read this review of the French Family Meal Traditions lunch at the Epcot Food and Wine Festival to see what it's like before you book this special event!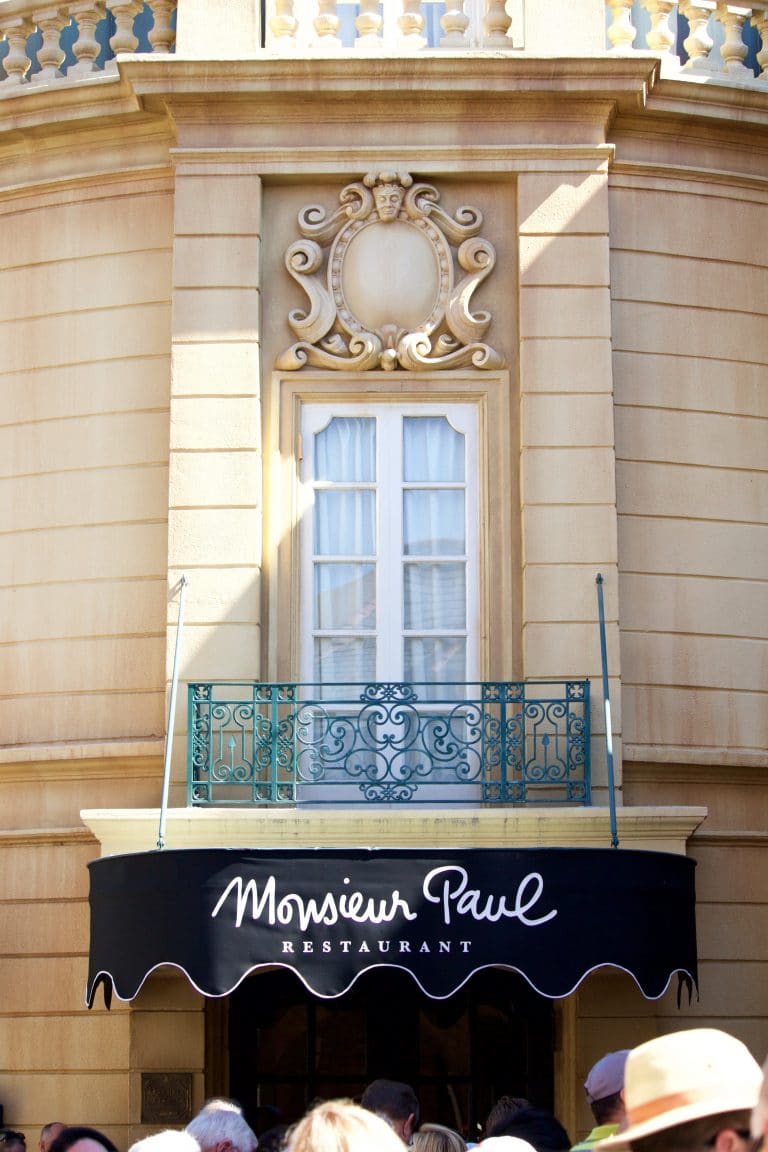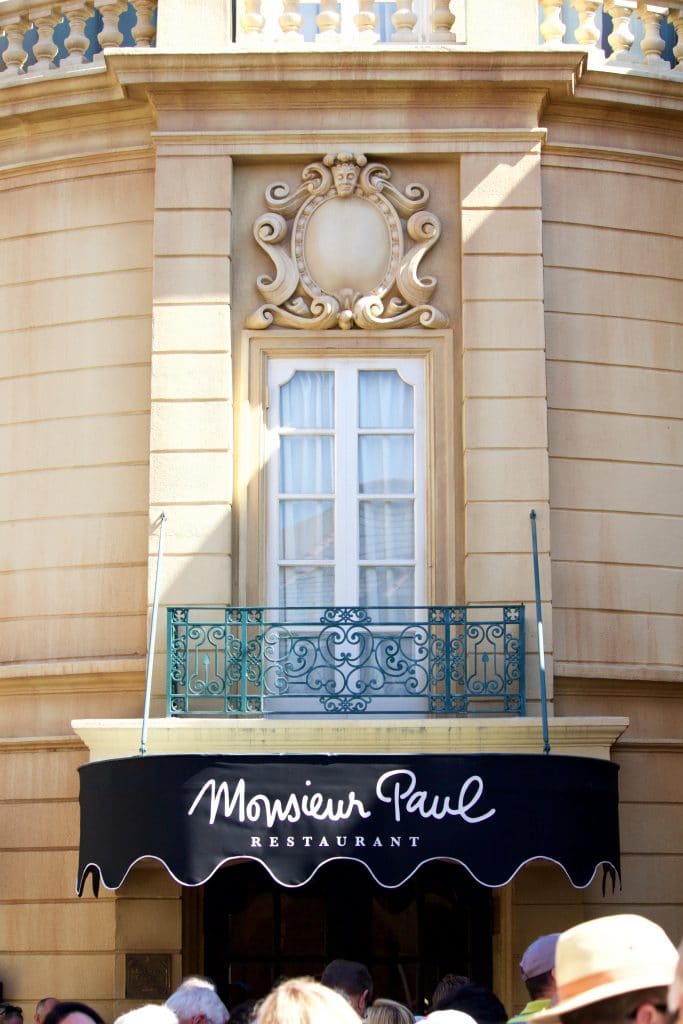 We just got back from a week-long foodie extravaganza in Walt Disney World for the Epcot Food & Wine Festival. We ate our way around the world, went to the Tequila Lunch in Mexico, the Party for the Senses, and we checked out the newly renovated Disney Springs! Every day was a blast!
French Family Meal Traditions Luncheon Event Details
This special event is only offered on select days during the Epcot Food and Wine Festival. You have to book in advance in order to get tickets for this event. Make sure that you book early because this event is very popular and it usually sells out quickly!
Tickets for this event went on sale in mid May of this year, while in previous years, you couldn't purchase the tickets until late July.
Location: Monsieur Paul, France Pavillion at Epcot
Date: Select Fridays and Sundays during the festival
Time: 12:00 PM to 3:30 PM
Price: $95 per Guest—plus tax, gratuity is included
French Family Meal Traditions Luncheon Experience
We arrived to Monsieur Paul in the France Pavillion at 11:45am and there was already a very long line of hungry guests waiting to get inside. The doors weren't opened yet so we had to wait outside in line until they opened the doors and started checking guests into the event.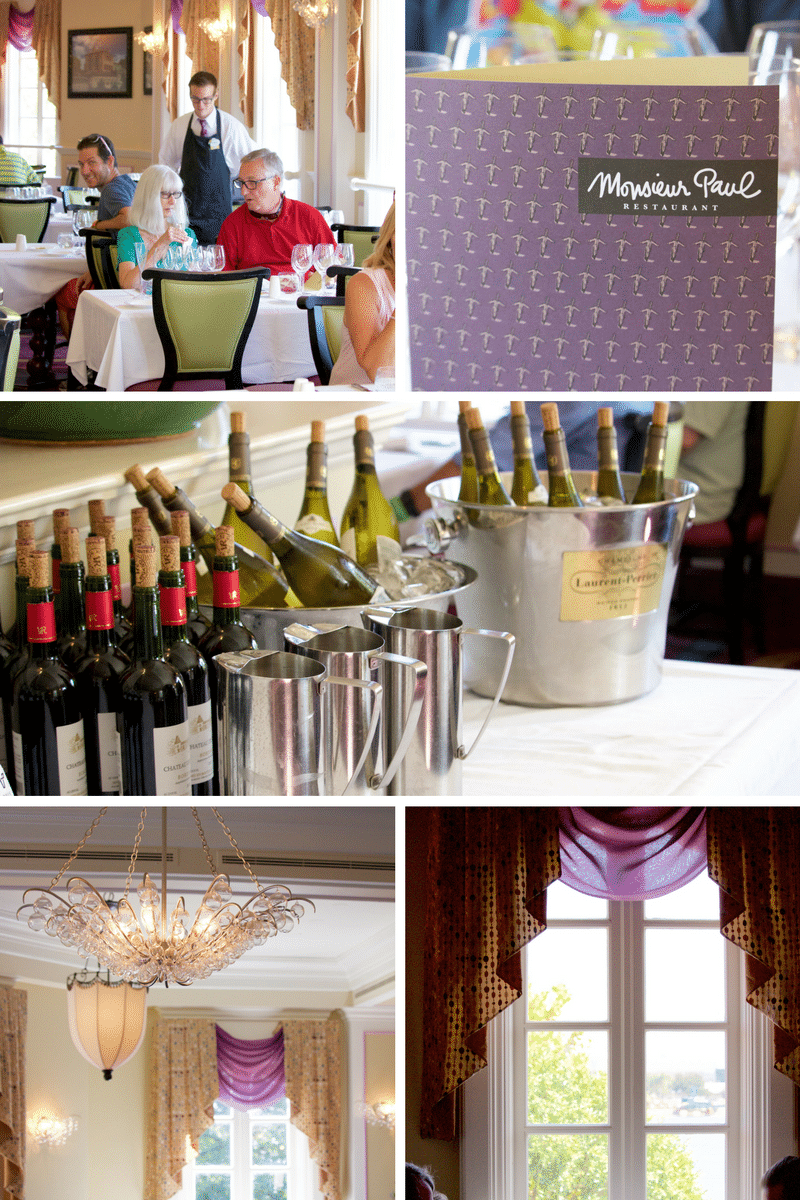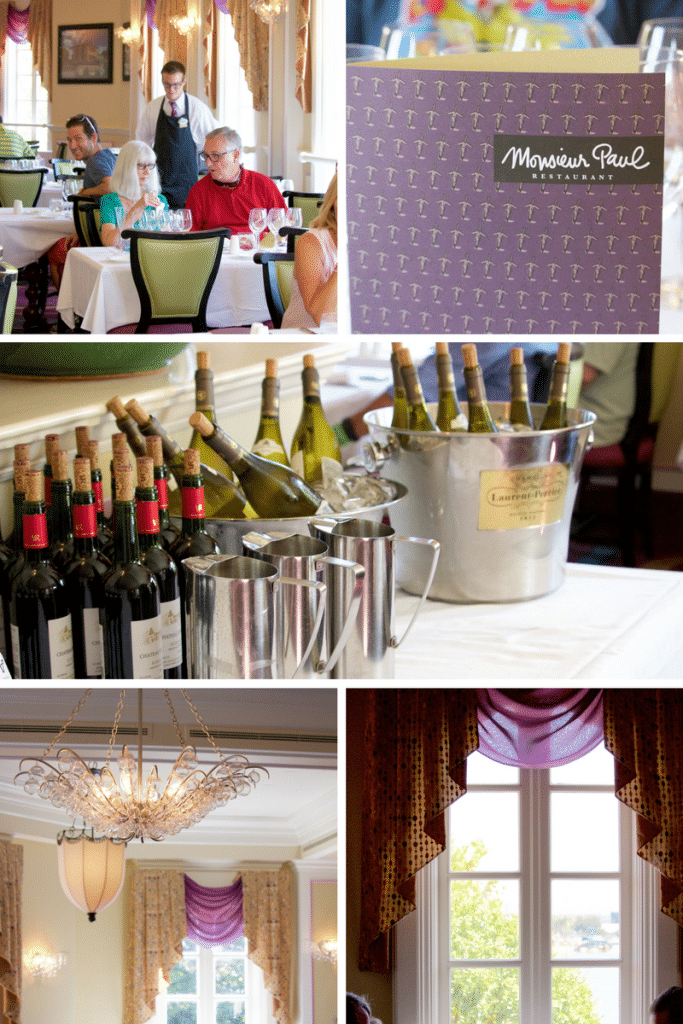 The doors opened promptly at 12pm and everyone began to slowly file in. We were checked in at the door and wound our way up the winding staircase to the restaurant on the second floor.
When you get to the top of the staircase, there is a host waiting to take you to your assigned table. You can make a request if you'd like a window seat but it's not guaranteed.
We sat down and were immediately greeted with a lovely cocktail, a Lillet Tonic. It was lightly sweet and bubbly with a bright red strawberry floating in the glass, it was absolutely delicious!
Then the host of the event gave a short speech and then handed it over to the main speaker. He was very knowledgeable and told us about each course and the wine pairing as it was being brought out.


First Course – Bread
The first course was a freshly baked cheese stick. I know that doesn't sound like much but it was light and crispy and you could tell it had just been baked that morning. We gobbled the allumette au fromage (cheese sticks) up real quick, they were very tasty!
In between the first and second courses, small fresh baguettes were brought out to each of the tables. They were fabulous too! Crusty on the outside and chewy on the inside, just the way I like it!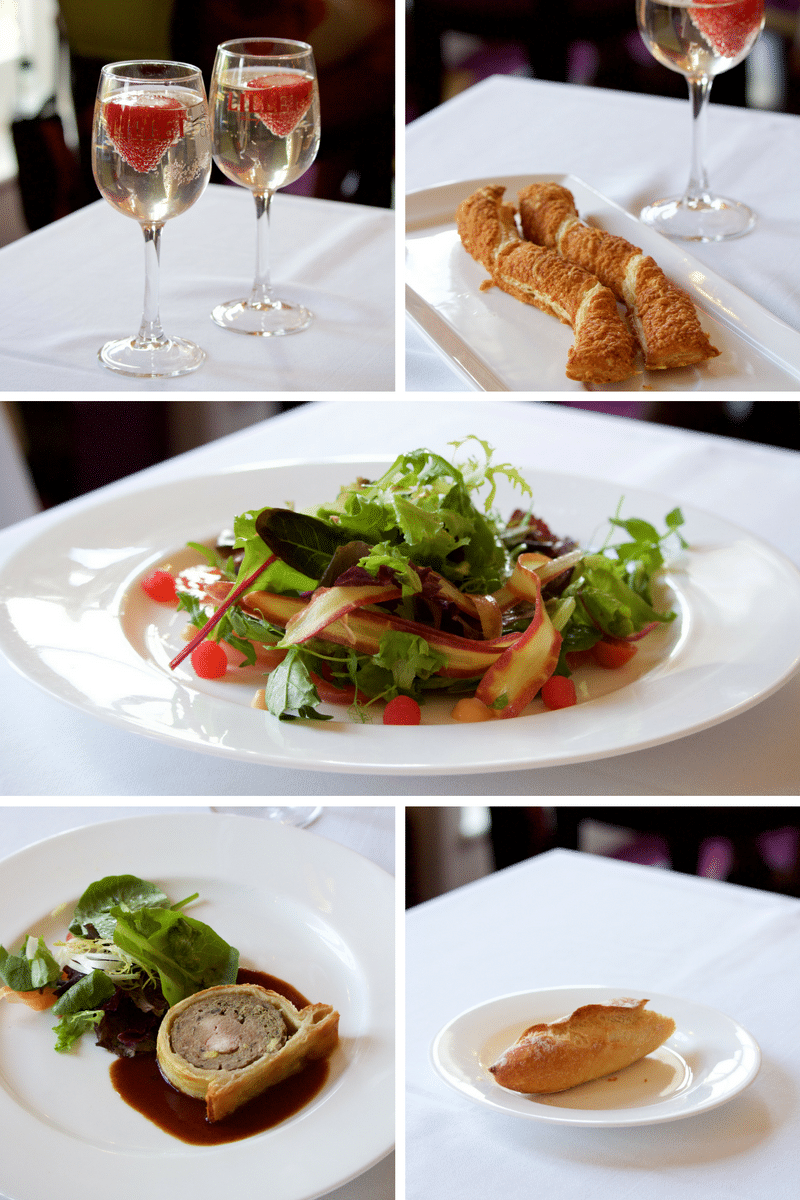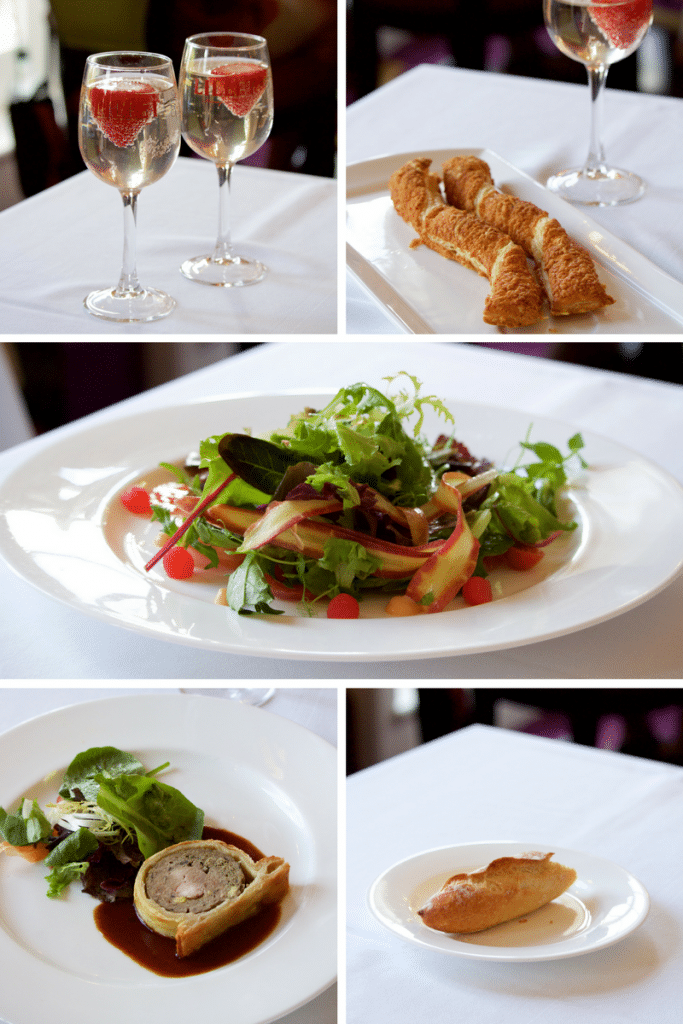 Second Course – Appetizer or Salad
The second course, was a warm pork and poultry pate with pistachios and Bordelaise sauce paired with a generous glass of Beaujolais Village, G. Duboeuf wine. The pate wasn't my favorite, Travis enjoyed it but it wasn't for me. The sauce was delicious and the crust was light and flaky but the filling wasn't doing it for me.
If you're not happy with one of the courses you can ask for something else instead. I didn't like the pate so they brought me a huge, beautiful salad instead.
Third Course – Main Entree
The third course, was a chicken breast in a creamy sauce with wild mushrooms and rice. The chicken was served in our own individual Le Creuset pot and it was a lovely presentation. Rice was served on the side and we were told to add it into the pot and stir it all together.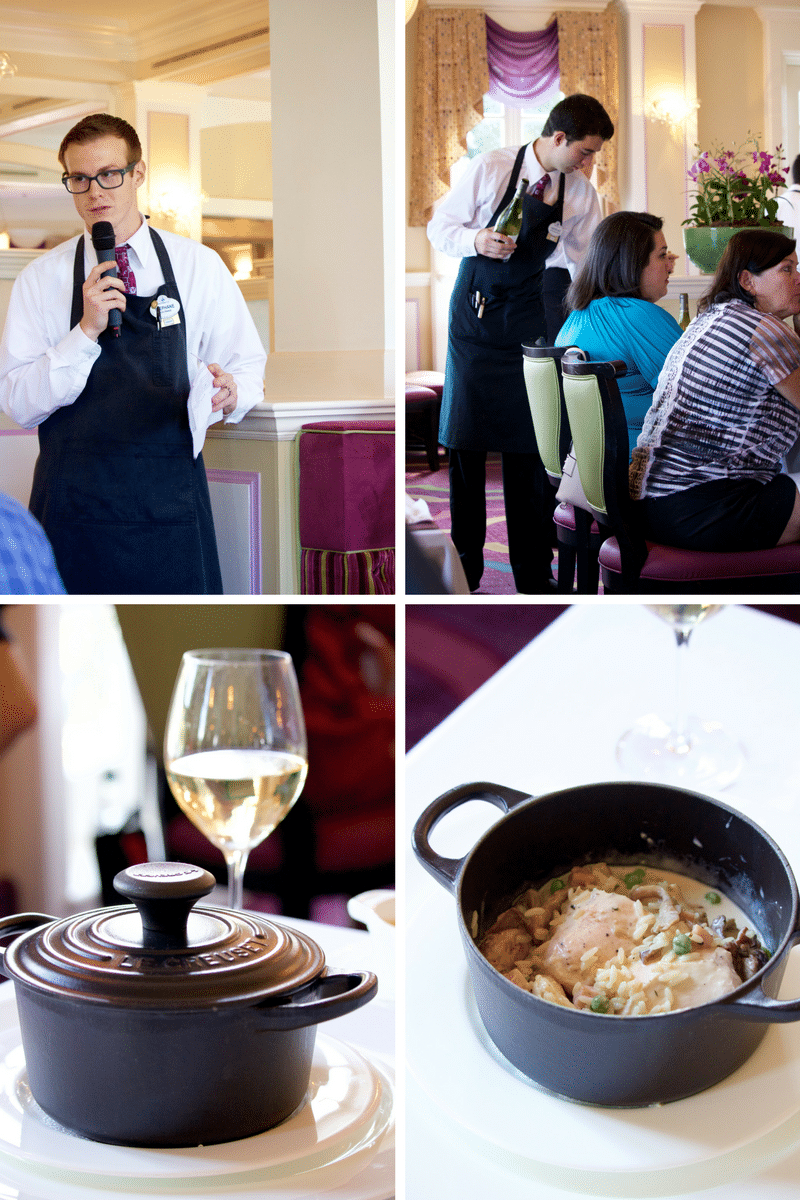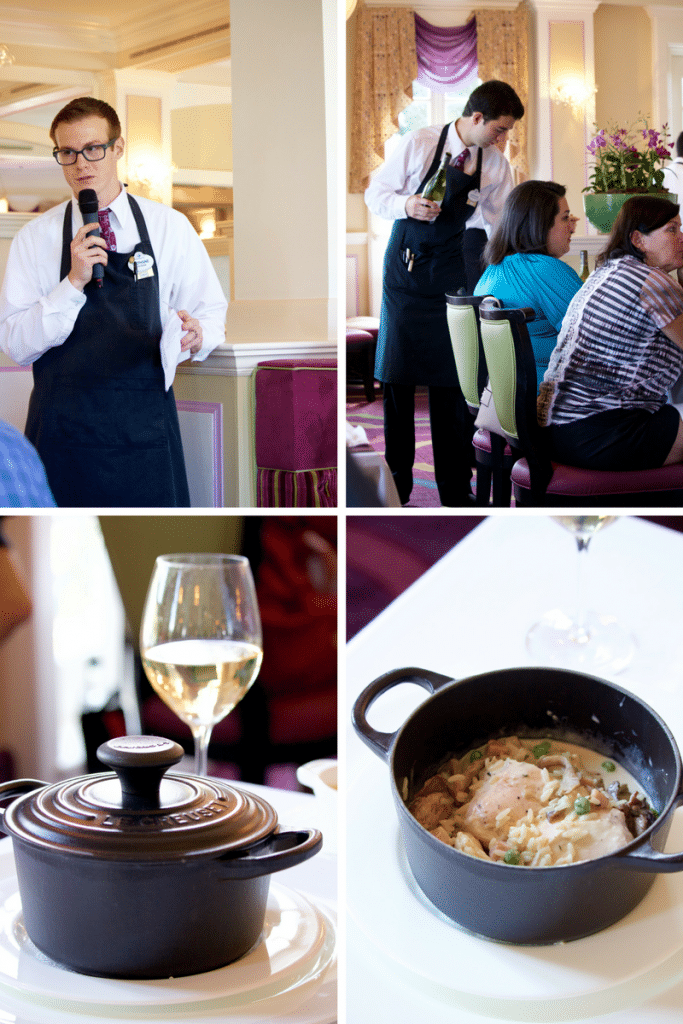 The sauce was so rich and creamy, and the chicken was so tender. I wish I had skipped all the other courses so I could've finished eating this one. The Macon Villages, Albert Bichot wine served with this course was delicious too!
Fourth Course – Cheese Plate
The fourth course was a cheese plate paired with a Bordeaux, Chateau De Bon Ami wine that ended up being my favorite. The cheese plate consisted of the creamiest slice of brie that I've ever tasted, a few greens, walnuts, and the most delicious apricot jam. Even though I was stuffed, I somehow found room to devour my whole cheese plate!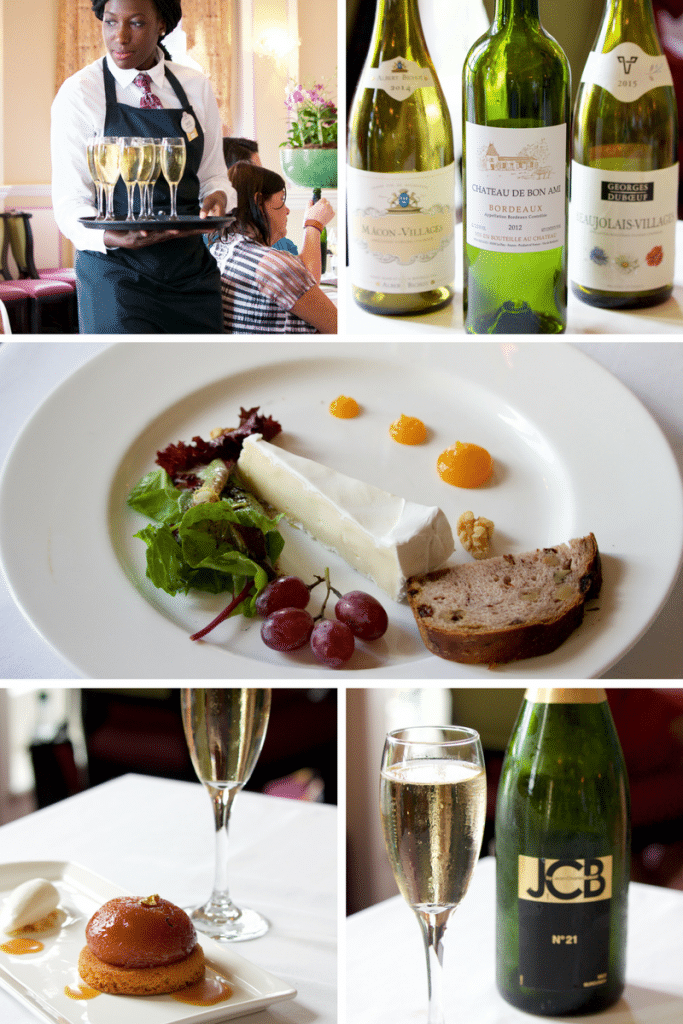 Fifth Course – Dessert
Dessert was the fifth and final course. Thankfully, because I was about to explode at this point! They served an artfully crafted Tarte Tatin with homemade cream fraiche and lime ice cream. The Tarte Tatin was like an individual apple pie without the crust on top, it was fabulous! I especially loved taking a bit of the pie and the lime ice cream together. Oh mama, that's good stuff right there.
To really put it over the top, they served the dessert with a glass of Cremant de Bourgogne, JCB21.
Every bite was so delicious and so worth the overly-stuffed feeling I had walking it off around Epcot for the next two hours. The picture below shows Travis at the start of the event on the left and at the end of the event on the right! Ha!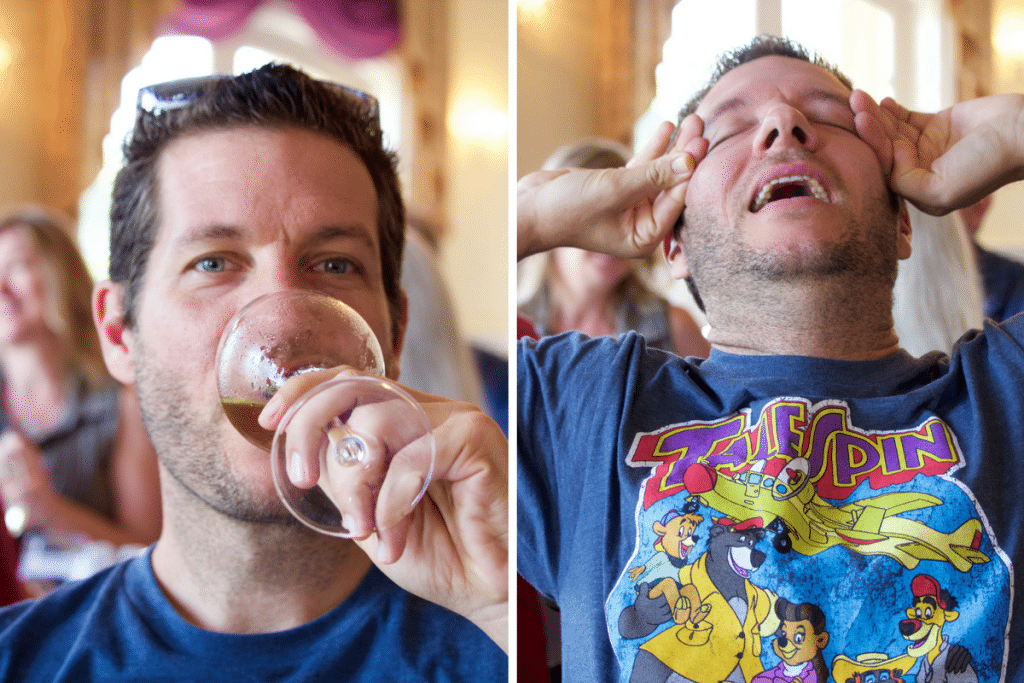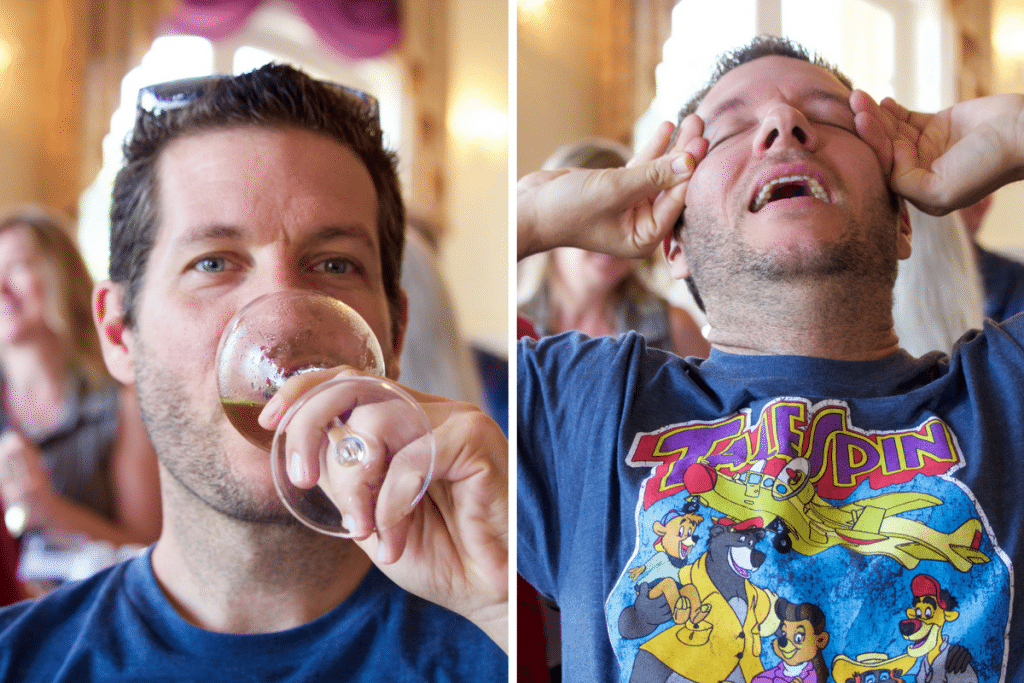 Something that I was (happily) surprised by was that as soon as you finished your glass of wine, someone was right there filling it back up! They were more than generous with the wine and I feel that really made the event worth the price.
UPDATE! Vegan Options at French Family Meal Traditions Luncheon
The original review is from 3 years ago but Travis and I are now both vegan. We went back to this event last year and experienced it as vegans and it was great! You can see the vegan food options below.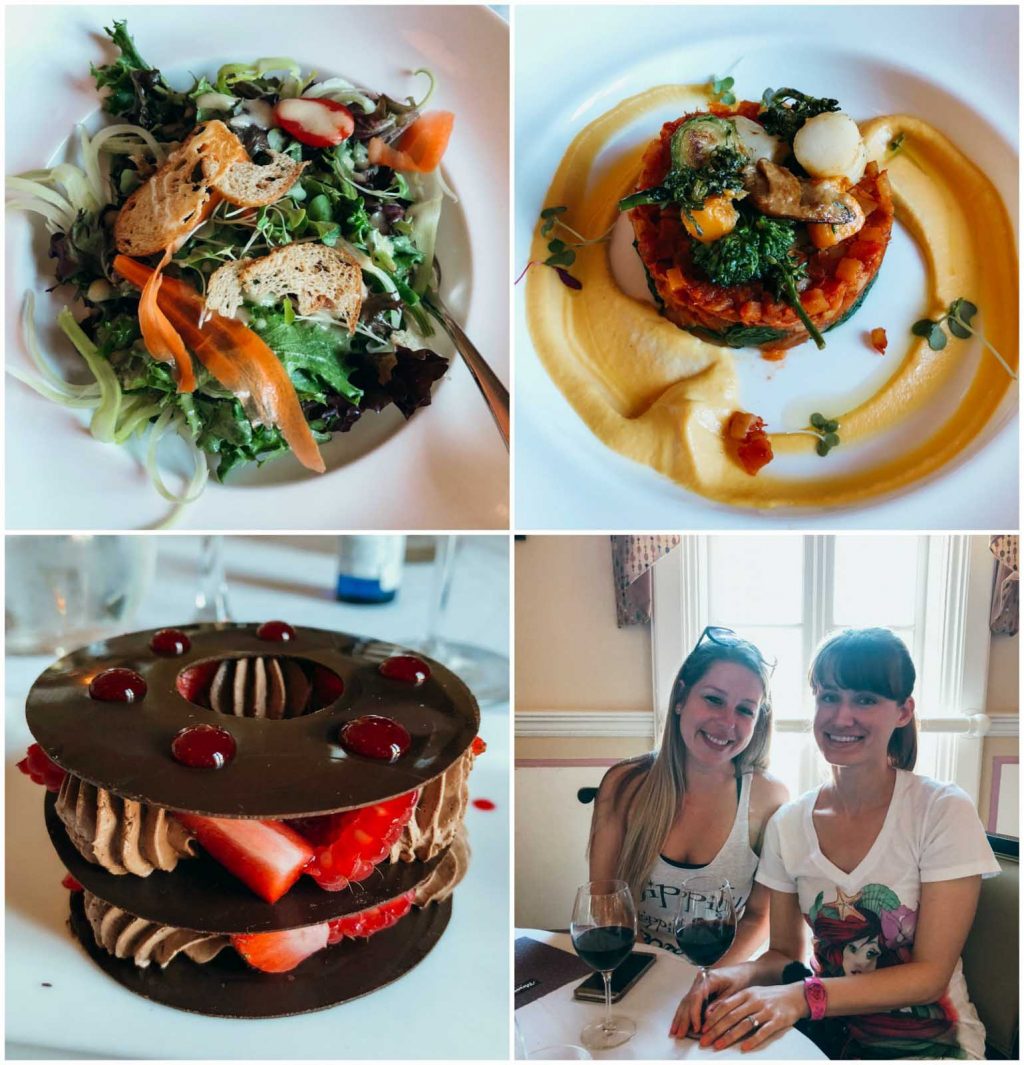 The vegan options were tasty and the wine was just as plentiful as I remember from the first event! You can watch our video of the event, here.
The first course was a small cup filled with a carrot puree with carrots and microgreens. This was not my favorite course but it was very pretty to look at.
The second course was a large and artfully prepared salad and they still brought the small baguettes around to all the tables. The delicious fresh baguettes were the same baguettes that they sell in the bakery downstairs.
The third course was a deconstructed ratatouilie on top of a roasted butternut squash puree. This was my favorite course, it was so delicious and filling.
Instead of getting a cheese plate for the fourth course, we were given a small cup with applesauce, fresh greens, walnuts, and dried cranberries. I did not like this course and I thought it was a very strange combination.
Dessert was amazing! We enjoyed a decadent tower of wafer thin dark chocolate disks that were filled with fresh berries and vegan chocolate mousse. It was delicious and the best dessert that I've ever had in Disney World, vegan or not!
Overall, as a vegan, I still thought that the event was worth it and I enjoyed it just as much as when I attended the event when I wasn't vegan.
Is French Family Meal Traditions Worth The Price?
I highly recommend this event (vegan or not!) if you're looking for something new to try this year at the Epcot Food and Wine Festival. All of the food and wine at the event is delicious and I think it's well worth the cost of the event.
What really made the event enjoyable was the pace of the event. It wasn't rushed at all and lasted 3 1/2 hours. Having that much time to enjoy each course allows you to sip and savor everything you taste!
More Disney World Posts to Help You Plan Your Next Trip!
Guide to Eating Vegan on a Disney Cruise
Top 12 Best Restaurants in Disney World
5 Activities You Don't Want to Miss at MVMCP!
159 Disney Cruise Tips I Wish I Would've Known Before My First Cruise